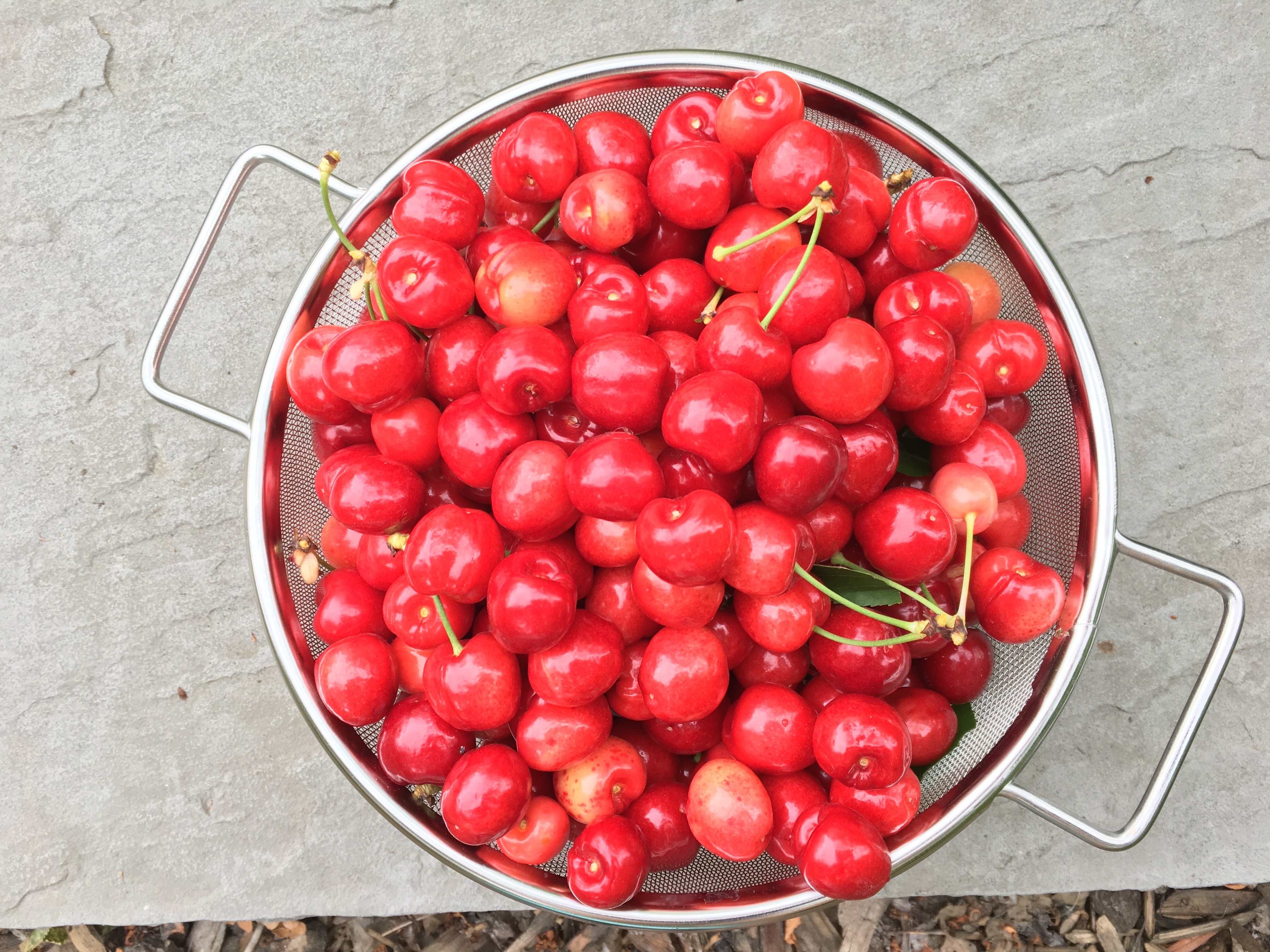 GUYS! The cherry tree is doin' it's thang.  It's amazing.  I started picking them a teeny bit early because if I don't get them now, the birds will get them alllll.
I forgot to take pics of their breakfast, but I did get a picture of mine.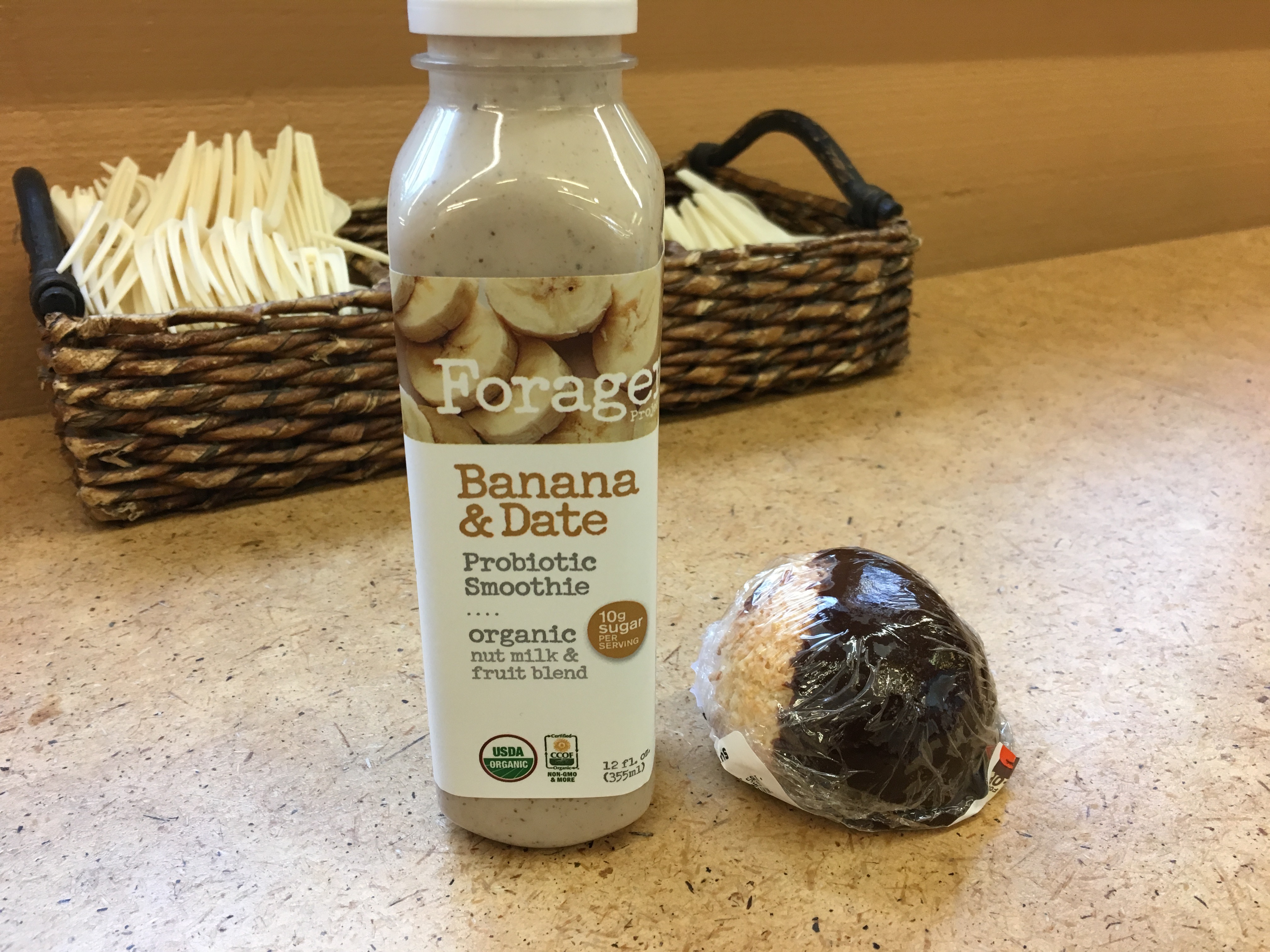 At the start of this year, I specifically left one of the mornings that P was in school unscheduled so V and I could have a weekly breakfast date.  We went sporadically throughout fall – usually to WF – and then I just sort of fell out of the habit.  Especially after WF closed.  Also, I'm way too frugal to spend money on the reg when I could just as easily make my own smoothie/eggs/whatever at home.  But Kyle was insistent I restart the tradition this week because the kids have been difficult and I need to treat myself.  So I tried out the co-op.  I thought they had a breakfast bar akin to the one at WF but I was wrong.  They had a bunch of pre-made breakfast burritos (vegan options too) but nothing else…and I'm not really a breakfast burrito person.  But I was starving by that point and only had 30 minutes until library story time so I made do with a forager cashewmilk smoothie and a house-made chocolate covered coconut macaroon.  The macaroon was definitely in the dessert section of the store but whatever.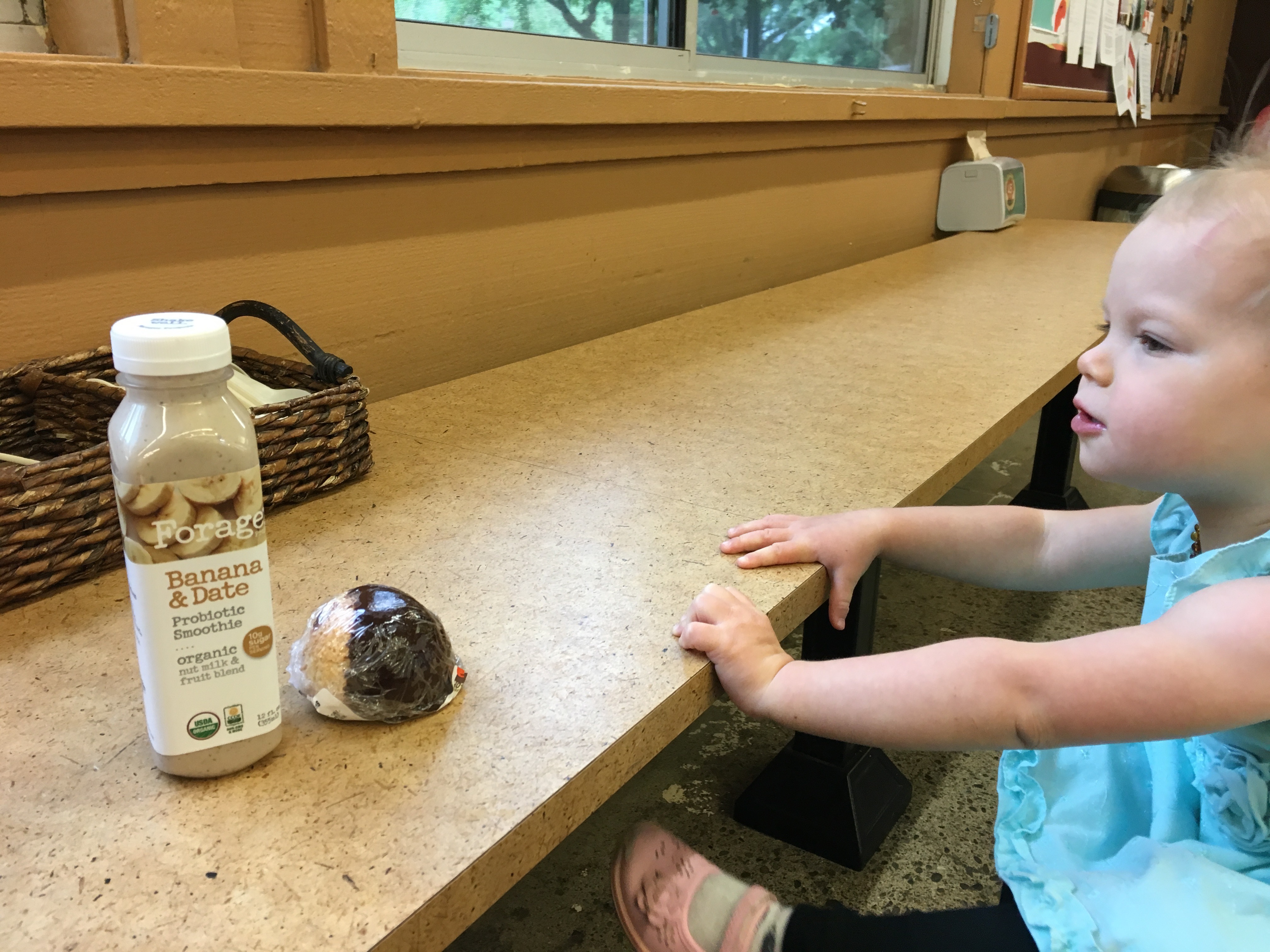 I shared a little with my mini me, but didn't give her any of the chocolate.  Probably need to find a different place if I'm going to try this breakfast date thing again.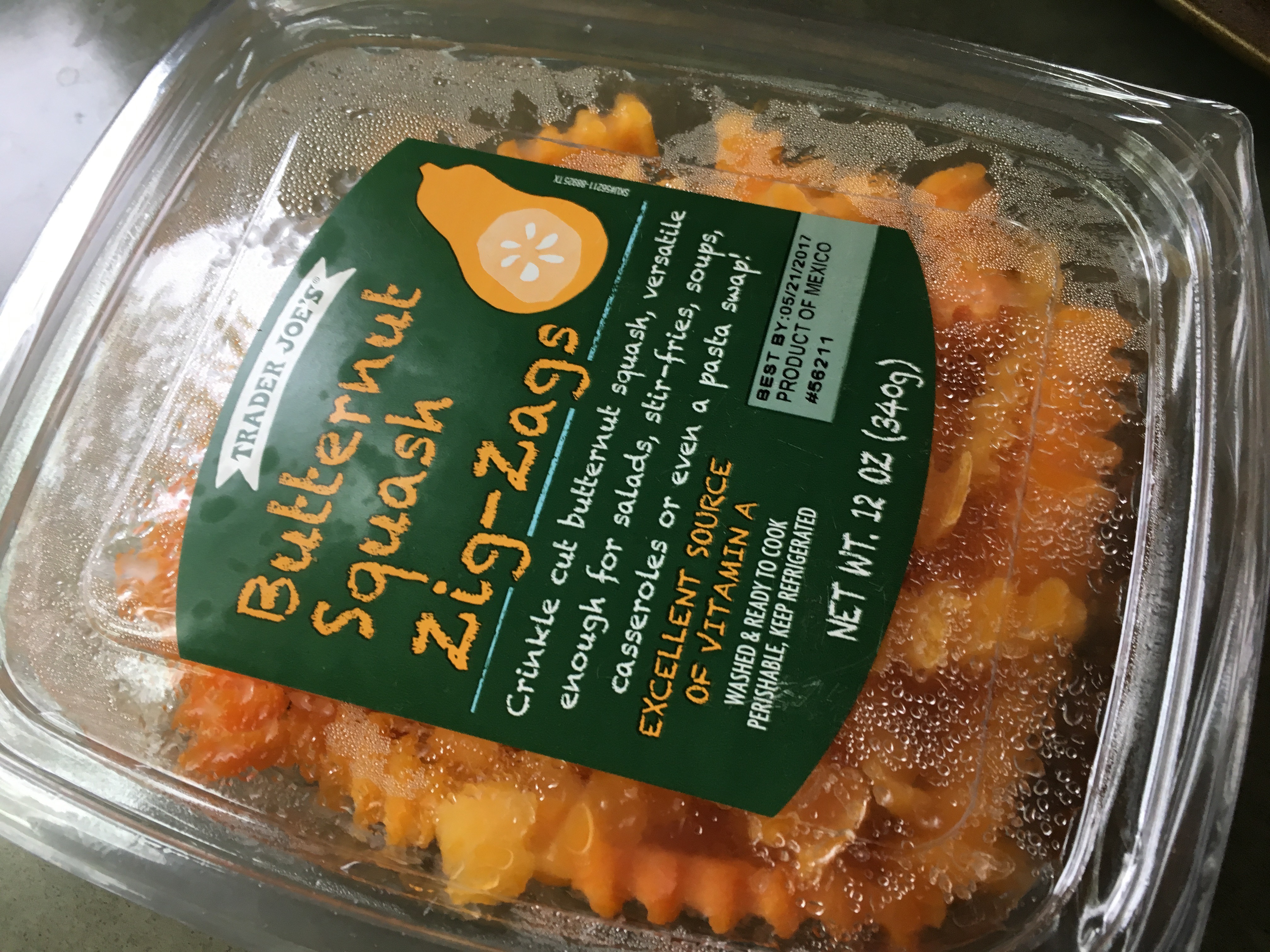 I feel like I've been in a rut with their food, so I am trying to keep things new and exciting.  I got these butternut squash krinkle cuts from TJs and baked them for lunch and they ate every single one!  Awesome!  Paired with chickpeas and watermelon and cucumbers to round out the meal.
I baked a bunch while they were napping and having quiet time, including these banana muffins. P smelled them and came from the toy room wondering what I was making, but I told him he'd have to wait to enjoy them at a different time.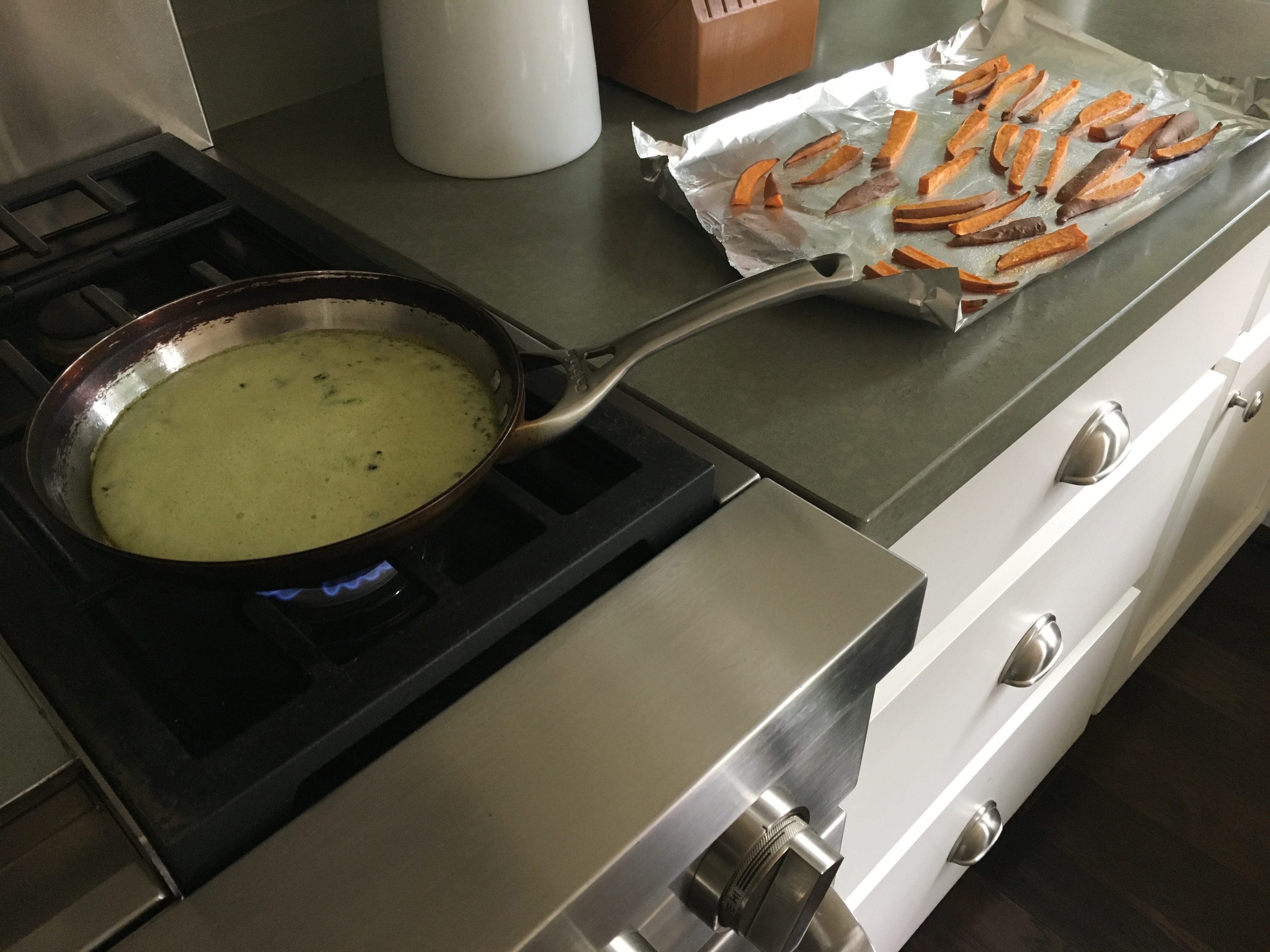 Once everyone was up, I made snacks.  I was offering up so many things, but they kept getting shot down, and then I saw a few kale leaves and asked if they wanted green eggs…and they said yes!  So I blended three eggs with some kale and tamari and cooked it up. Man did they love that! I gave them some raisins and (just out of the oven) sweet potato fries.  And as if that wasn't enough, we then went out back and they hit up the garden for strawberries and chard.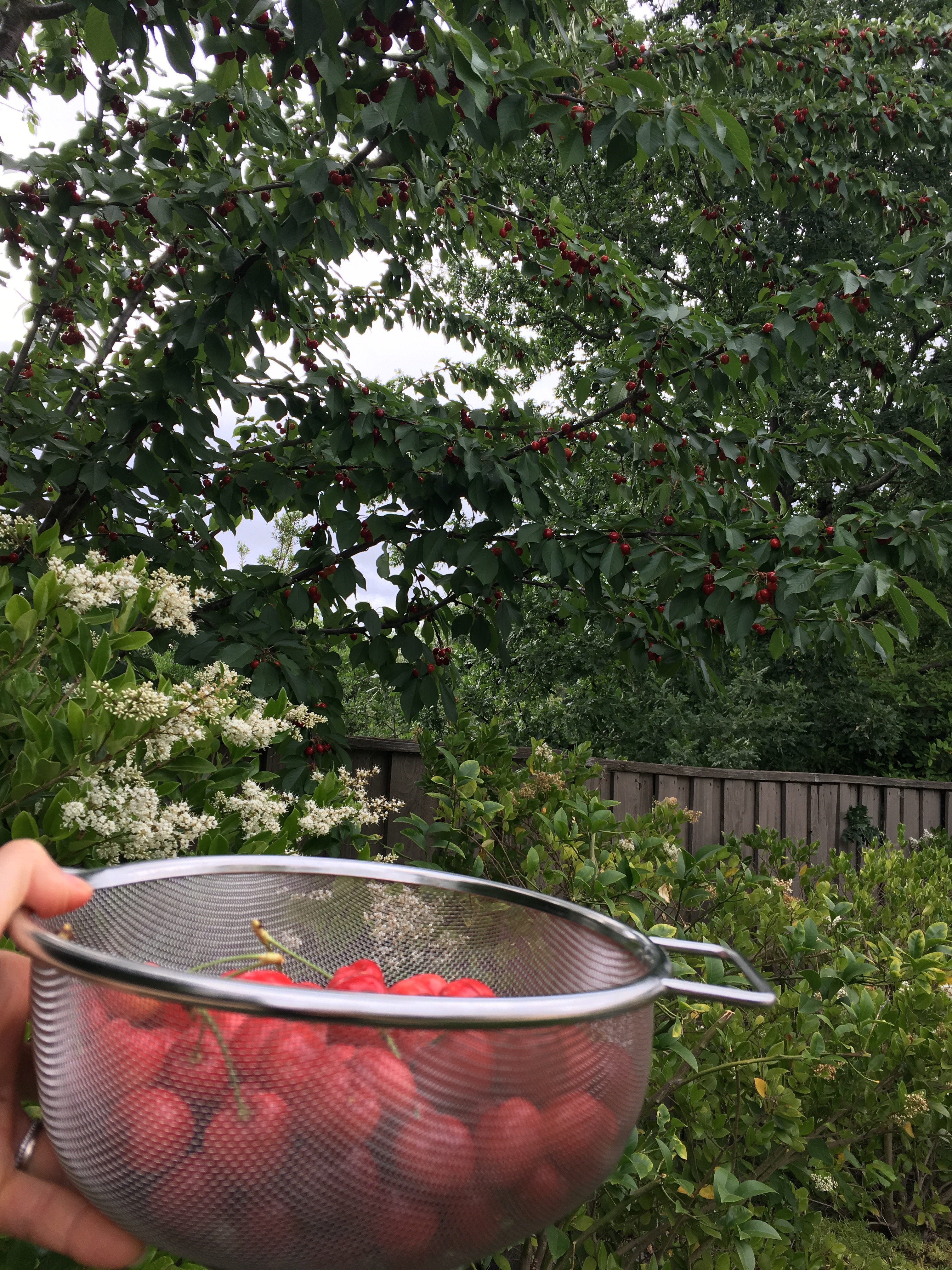 And then cherries!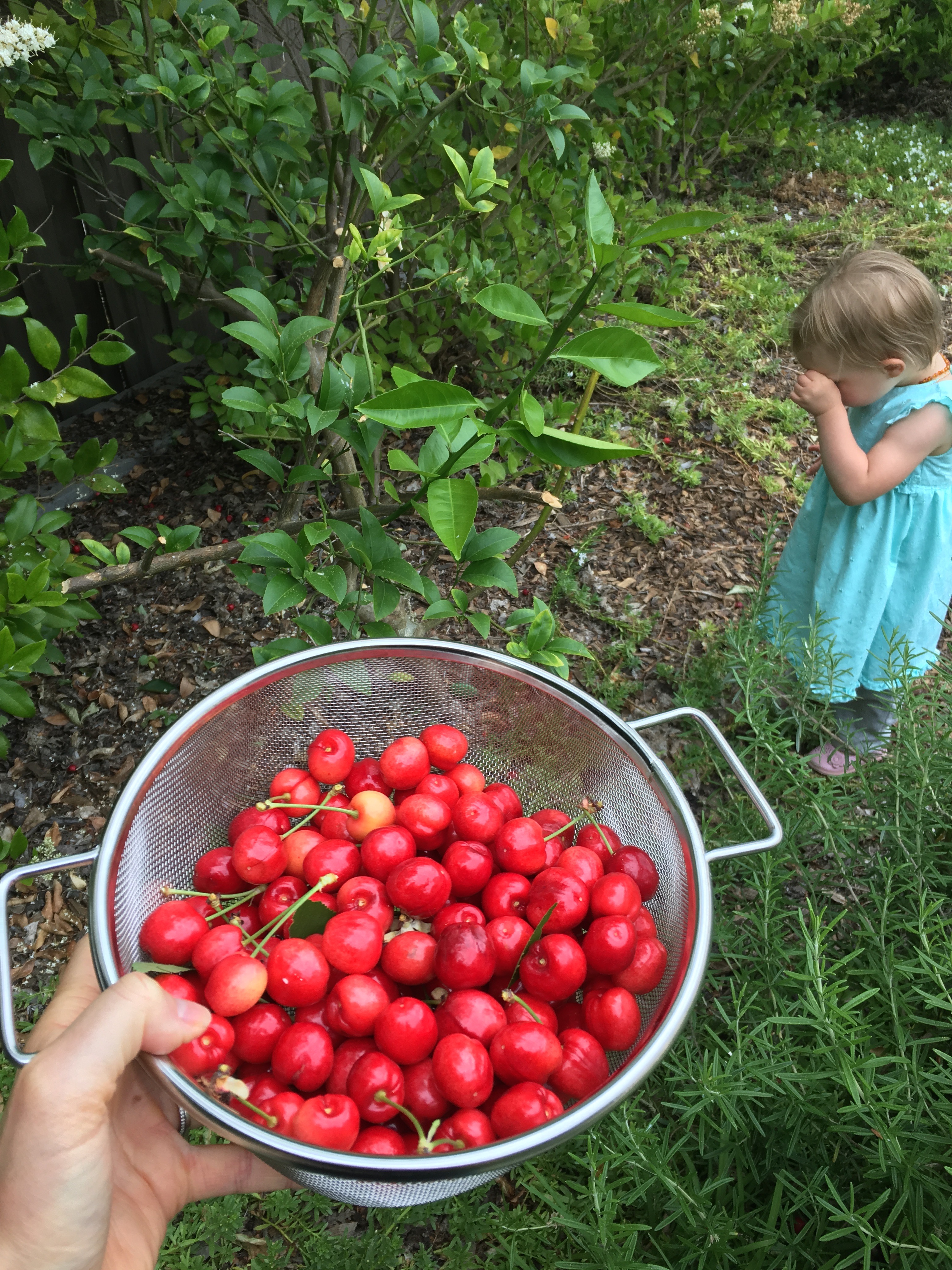 I only stopped picking because I ran out of room in the bowl.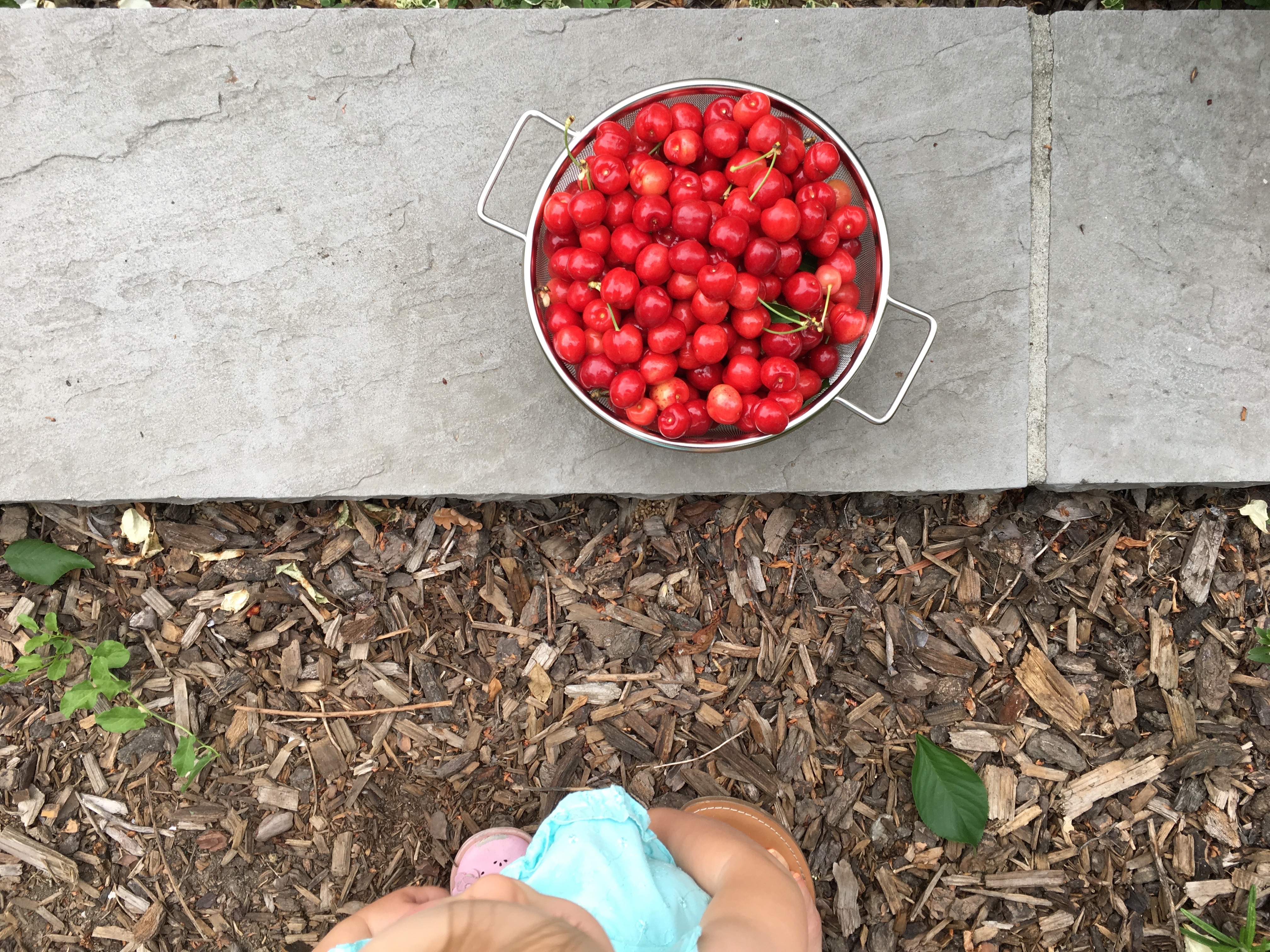 They were so excited to eat them, but we had to go to tee ball, so I promised them more after dinner.
Tee ball was fine but one of his teammates was eating a PB filled cracker before batting so that was ugh.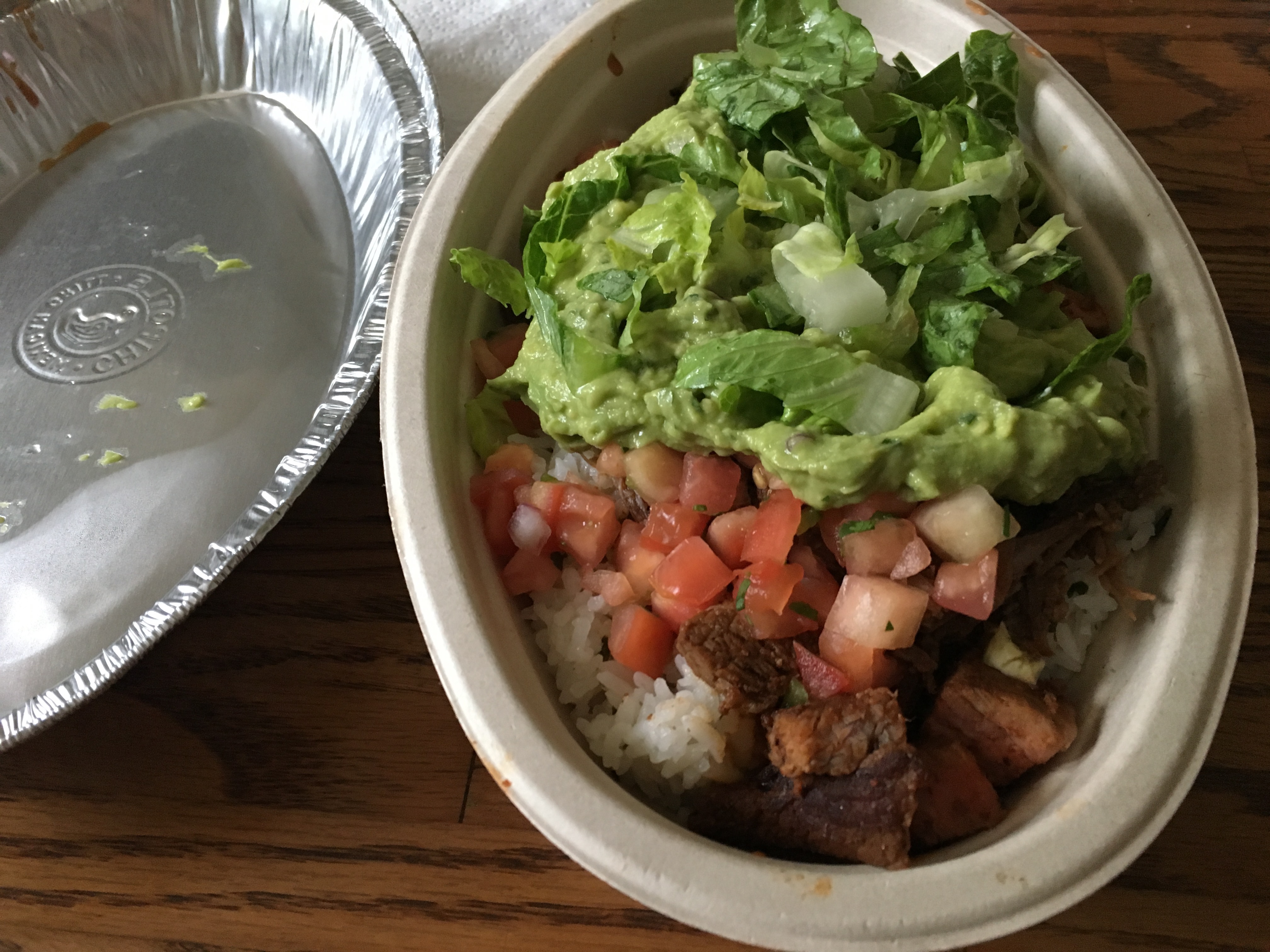 We had a fundraiser at Chipotle that night – they were donating 50% of all the money spent that night to P's preschool, so we obviously had to go support the cause.  I shared my bowl with V, but made P his own taco.  Honestly, I may actually trust Chipotle with his allergies because their website is so clear and transparent about ingredients and they seem to understand allergies. Maybe next time…I've only been a few times but I could see myself going back more frequently.  I like Chipotle.  I think they have a good mission.
P had no issues with either one of his doses today!  Woohoo!
After we gave the kids baths, I went out to meet up with friends because one of my girlies is moving away.  Sad face.  They are an awesome family that we will miss.  I alllmost stayed out past my bedtime but still made it to target on the way home to get a very important item.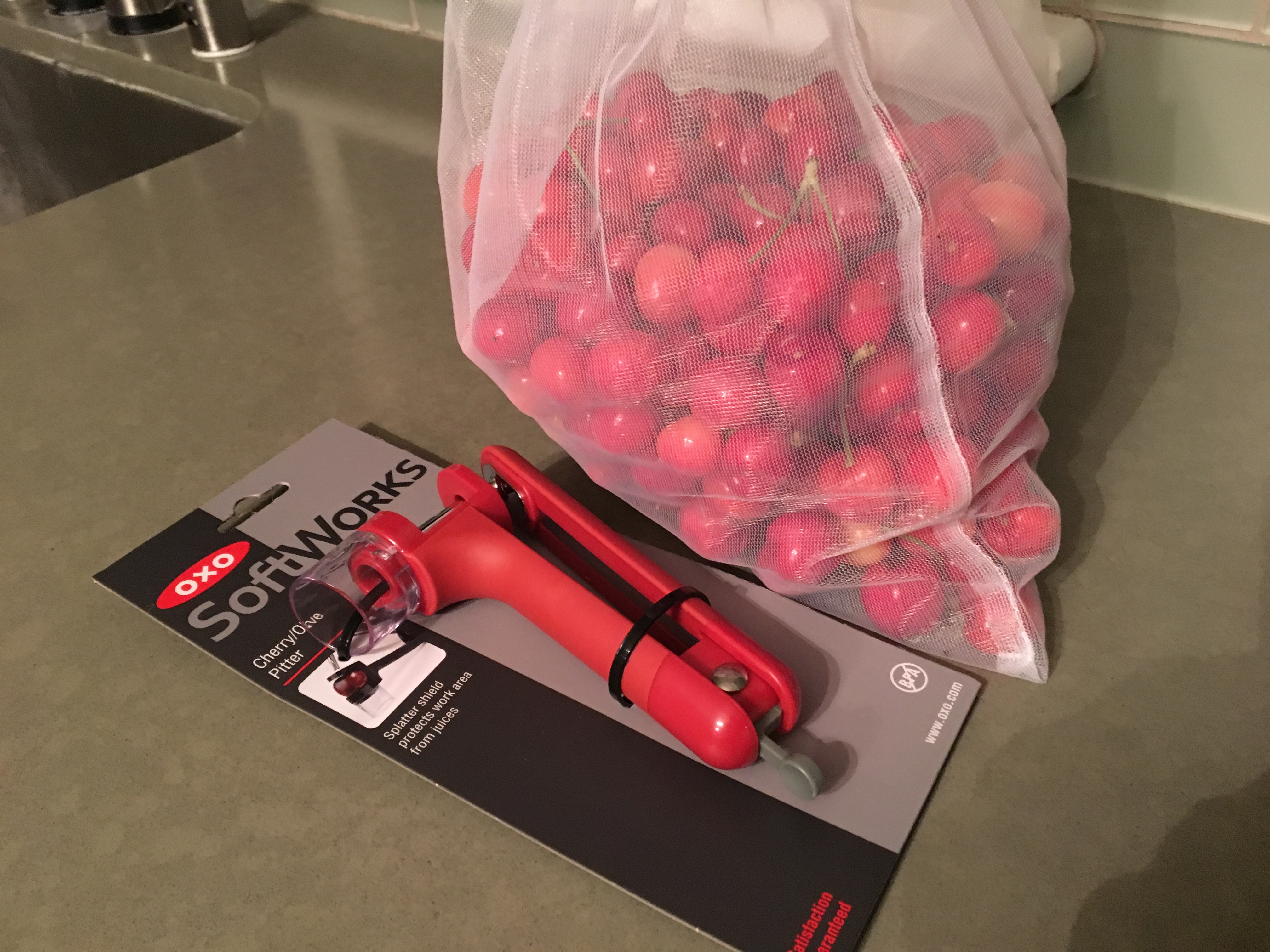 V swallowed the pit of the first cherry I gave her and P is so scared to do the same that he basically eats the skin off and calls it a day unless I take the pit out for him.  I did that all last summer and my nails always looked gross and dirty from it.  Also, it's pretty freakin time consuming.  So I bought this $10 solution and it is WONDERFUL.  Highly recommend.  Bring on the summer fruit!