There's quite a bit of confusion surrounding the difference between corn flour and cornmeal.  They are not entirely different, but after doing further research, I found the following. 
1. Corn flour is ground finer than corn meal
2. Corn flour has a stronger taste
3. Corn flour is more commonly used as an ingredient in a recipe, whereas cornmeal is a staple in many countries' diets.
4. Cornmeal can be made from white, yellow, or blue corn (or any combination of the three).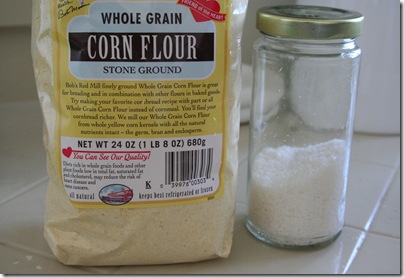 I chose Bob's Red Mill Corn Flour on a whim.  Theirs is freshly stone ground and contains all of the bran, germ and endosperm.  Mmmm…whole grains.  As per the company, when corn flour is used in part (or entirely) instead of cornmeal, dishes end up richer and less crumbly.  Sure, why not.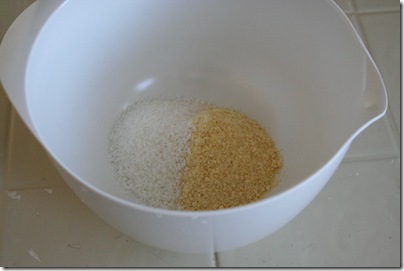 I added equal parts shredded coconut and corn flour to a medium sized mixing bowl.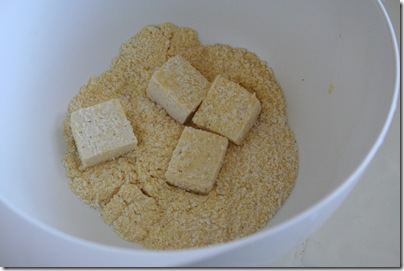 Then I coated each pressed and cubed piece of tofu in it.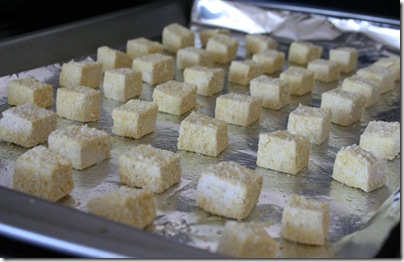 Put them on a sprayed cooking sheet.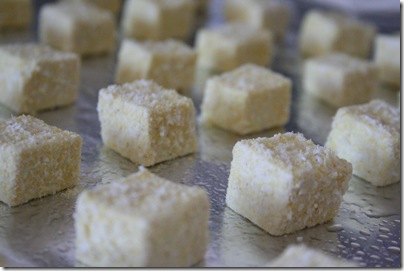 And baked them at 350 for 30 minutes.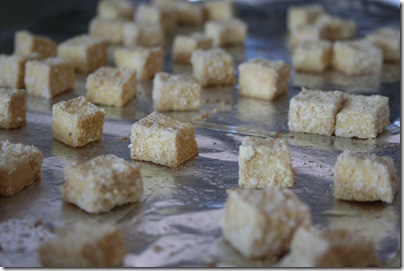 A little on the dry side, but they make a perfect add in to any dish.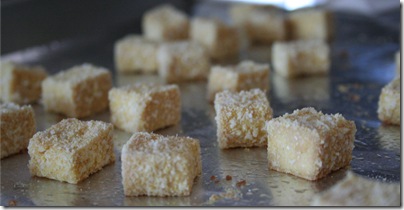 I stored them to use throughout the week (as you've seen a couple times already).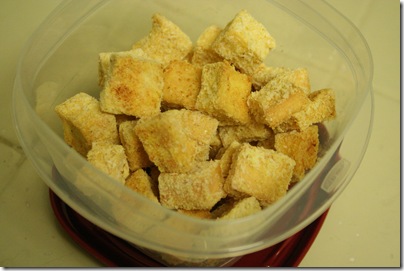 The best meal I've made with this tofu thus far is the following.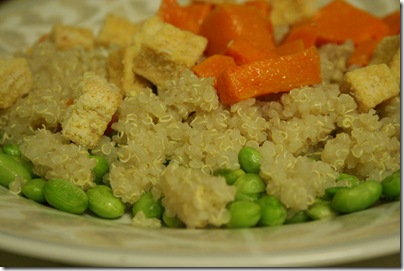 It's a take on this sweet and soy quinoa dish I made. 
First I heated up quinoa, edamame and butternut squash. 
Then I added chopped apples on top.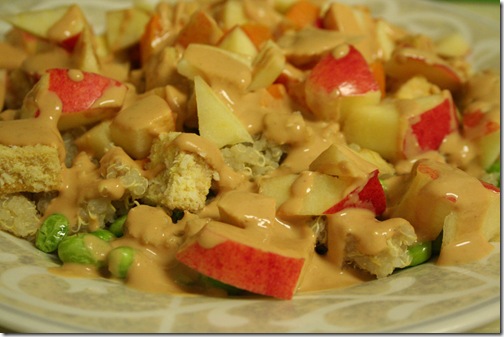 And finally, I drizzled a peanut sauce all over the top (peanut butter thinned with coconut milk). 
I've yet to find something that coconut doesn't go with.  Seriously, I dare you to think of something.  Maybe I'll even try to prove you wrong?  Unless it's gross, then I preemptively rescind my offer.