Bad news: Day 7 was our last one in Buenos Aires.
Good news: We weren't heading home, we were off to Uruguay!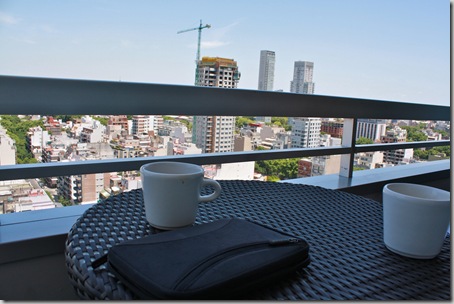 Phew.  I definitely wasn't ready to ditch my relaxing morning routine (and by that I mean lack of routine).
For lunch Kyle and I wanted to go back to Palermo SoHo.  It was such a cute part of town, we figured it would be the best way to end our time in BsAs.  Also, we had been dreaming of this salad since we first had it earlier in the trip.  Randomly, Mark's was closed, so it was time for plan B.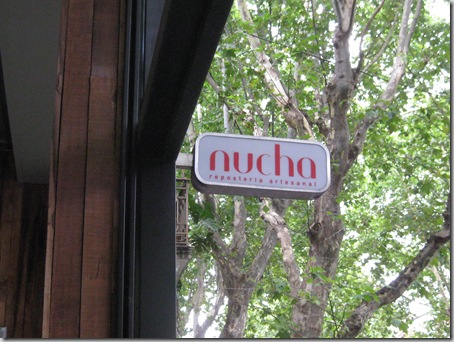 What a blessing in disguise!  We wandered around and found this cute little cafe called Nucha that had a delicious sounding menu and adorable decor.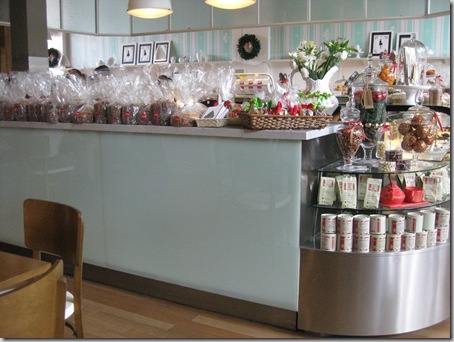 Look at all those Bûche de Noël!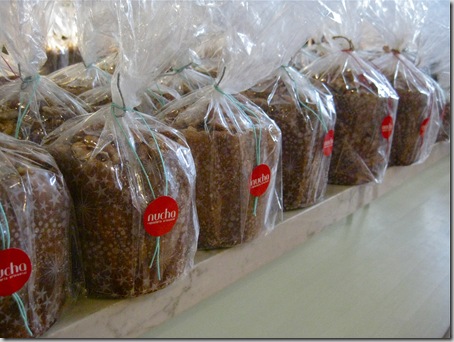 I guess there are certain Christmastime traditions that are internationally recognized.  I think they're called Panettone in Buenos Aires.  Not a big fan, but there were other dulces that caught my eye.
This place had mouth watering baked goods everywhere you looked.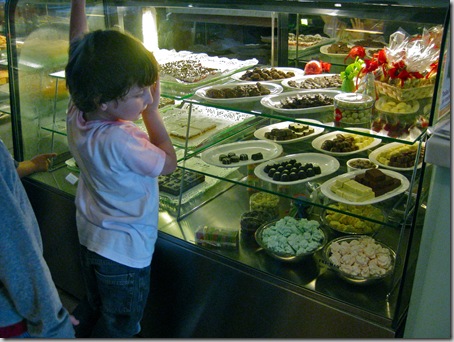 So cute, right?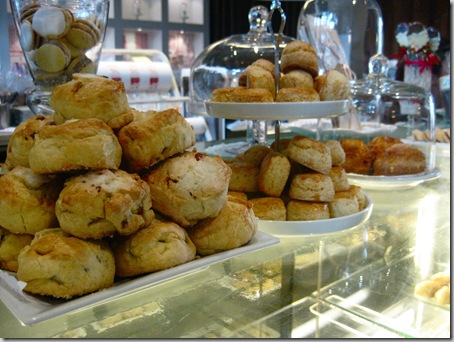 You can check out all their yummy goodies here.  But be forewarned, it will make you hungry.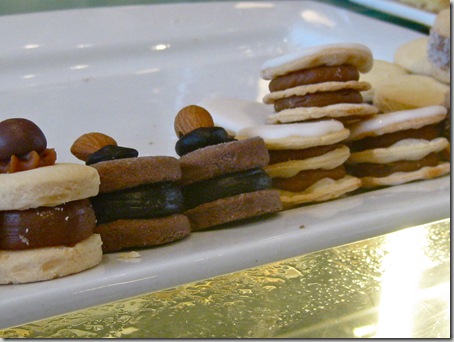 Look at all the flavors of alfajores. :)  Have you gotten sick of me showing alfajores yet?  Well, get used to it, because you still have another week of Uruguay's famous cookies to get through, too. 
They had cute bakers clothing like aprons and oven mitts and stuff.  And a wall of deseos.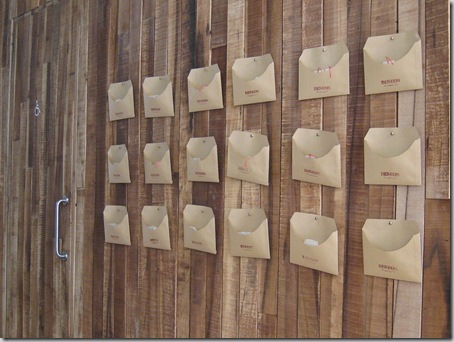 I'm not sure if this was a regular thing or a Christmas thing, but you could write down a wish and put it in the envelope.  I thought it was a really cute idea. 
Food!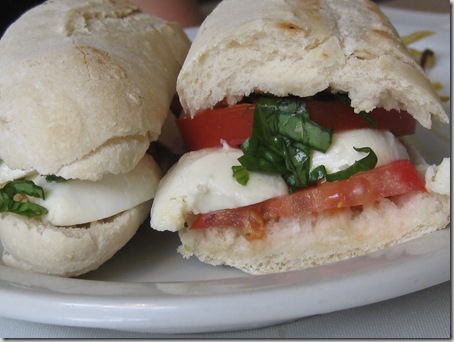 Kyle got a Caprese sandwich with buffalo mozzarella, tomato and basil. 
He also got a lemonade (with a cool straw thingy), while I got the Deep Africa rooibos tea.
It was pretty dainty, as far as sandwiches go.
Have you ever seen a smaller serving of fries?  Ha!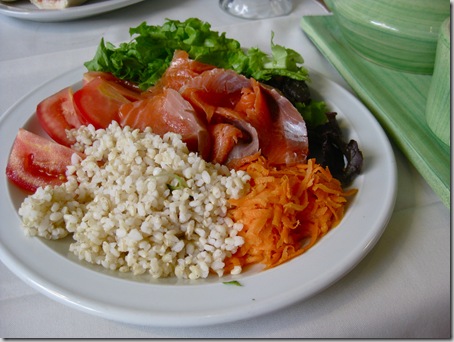 For my meal, I chose a salad with greens, tomato, carrots, brown rice, and salmon.  Balsamic vinegar and oil on the side. 
A quick tangent:  Rumor has it service in Buenos Aires is horrible.  We had been warned repeatedly before going – by friends, by books, by websites.  We were kinda expecting the worst.  So it came as a surprise when we had zero issues whatsoever.  A good surprise, but a surprise nonetheless.  Granted, we were in no hurry at any point of the vacation, especially when dining (that's my favorite thing ever, why would I rush it?).  It could be that whole "plan for the worst, hope for the best" mentality…but all our concerns were for naught.  So there you have it.  To anyone planning travel to Buenos Aires, don't believe the hype. 
The point of that story was to explain why we found this particularly amusing.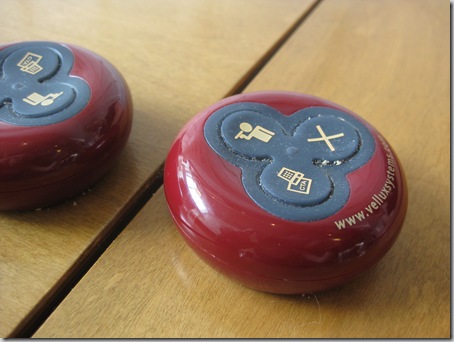 It's a button to page your server when you need something.  Poor service my ass.  We were scared to use it though, for fear we would seem like those needy diners.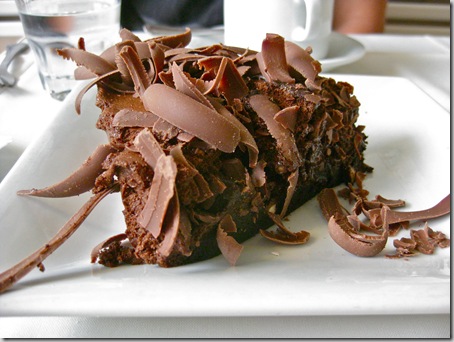 And then there was this.
I. Have. No. Words. 
Kyle spotted another couple sharing this when we first entered the restaurant and it never left the back of his mind. 
I think he was actually kinda relieved that his sandwich was small because it gave him an excuse to order dessert.  I wasn't one to complain.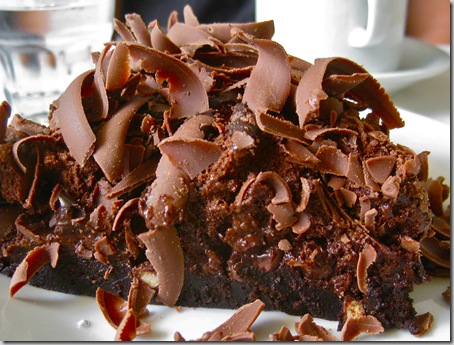 He also got a coffee (I still had my tea to finish).
I wasn't going to participate in dessert at all, but when it arrived I couldn't help myself.  I was good and only had a few bites so I didn't feel terrible afterwards.  So worth it. 
Dinner was at another Palermo spot called Mama Racha.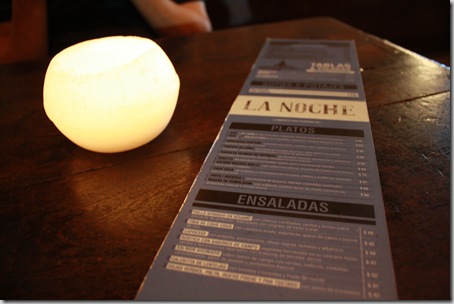 Last supper 🙁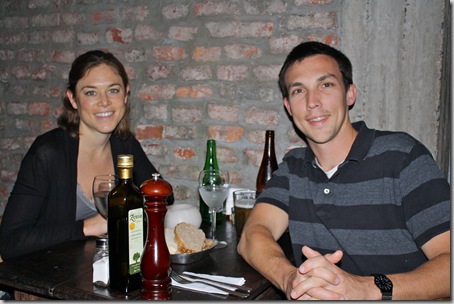 Bread.  Obviously.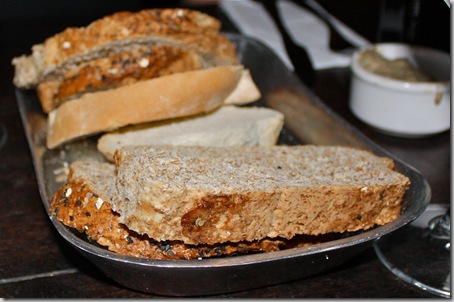 I think offering home-made bread must be a thing in Buenos Aires because it was the one commonality in every restaurant we went to.  No lame rolls or simple sourdough to be found.  Every place had something soft and hearty to give guests.  Most of them were made from whole grains too.  Bio had the best bread, but Mama Racha was a close runner up.
Kyle and I continued our communal ordering style and got three entrees to split.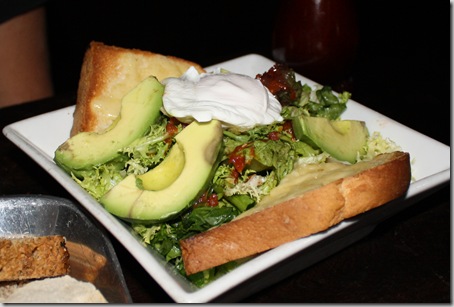 First up, salad with spring greens, avocado, poached egg and cheesy toast on the side.  Oh my goodness, this was truly the best salad ever. 
If you recall me mentioning a meal from this vacation that led to my love affair with eggs, this was the dish.  It was so good I wanted nothing more than to push Kyle's fork aside and devour the entire thing myself.  Oink.
But we had more food!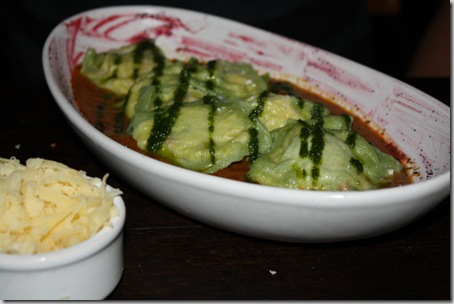 Kyle got the Ravioles de Ricota Salvia y Almendras (aka Ricotta Ravioli with Sage and Almonds).
I got the Wok de Tofu (tofu stir-fry).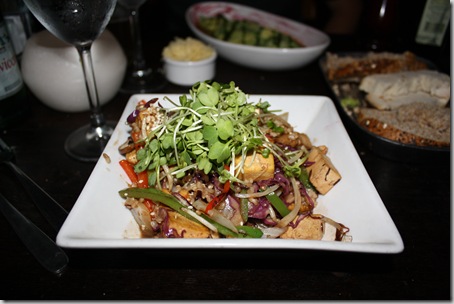 Once I tasted this I was really wishing I hadn't gone to town on the salad.  So good!  It was saucy, salty perfection.  The tofu was actually the best I've had in a really long time – far better than the preparation in most US restaurants.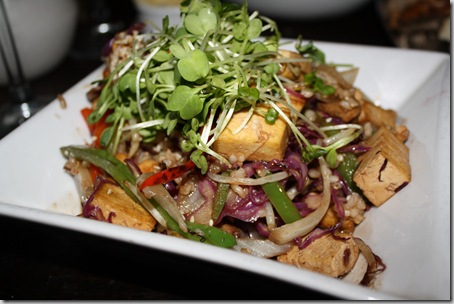 And the bowl was so much bigger than it appeared, too!  I was extremely full by the time I was half way through the dish, but it was so tasty I didn't wanna stop.  If we weren't leaving the next day for Uruguay I would definitely have taken the extras home.  Instead I just stuffed my face til I felt like I was gonna pop.
You would have too if you had tried it.  Promise. 
Truthfully, the two places we went to eat on our last day in BsAs were some of my favorite meals of all time. 
Argentina certainly set the bar high.  Poor Uruguay.