For the first time on our vacation we had to set the alarm.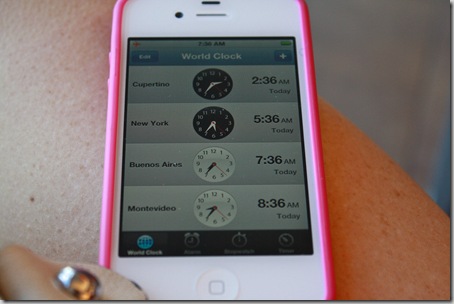 By 7 am we were at the sea port, waiting to board the Buquebus for a quick day trip to Colonia del Sacramento, Uruguay.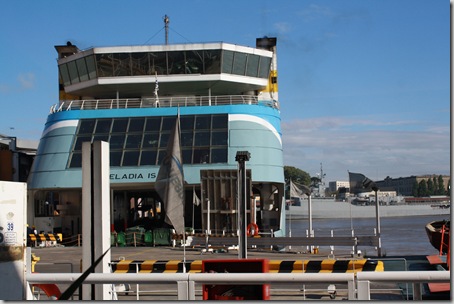 We went to buy tickets the previous day, but failed to remember our passports.  Dumb.  Obviously you need to know your passport number to buy tickets (duh, it's a different country), but having just done the whole name change thing, I had a new passport and couldn't even tell you the first digit.  Not that I ever memorized my old passport number…
Anyway, it was especially frustrating because I had both of our passport numbers in my email inbox but I couldn't get wifi access anywhere to check it (on my iPhone)!  Note to future travelers: enter your passport # in your cell phone (under a fake phone number or using some code in case it gets stolen) so you always have access to it.  Or you could just memorize it.  Either way, you do have to bring it around with you when you travel to a new country.
Cheap crafty girl that I am, I dragged Kyle 2 miles across town to a Starbucks where I got free wifi and looked up our numbers.  It pays to be a caffeine addict.  FYI, I didn't buy a coffee from Starbucks once on our vacation.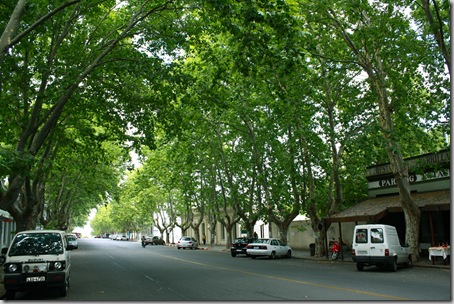 Hello Uruguay! 
We rented a golf cart to tour the city.  It's kinda walkable, but it would definitely be a workout.  Also it was raining.  No thanks.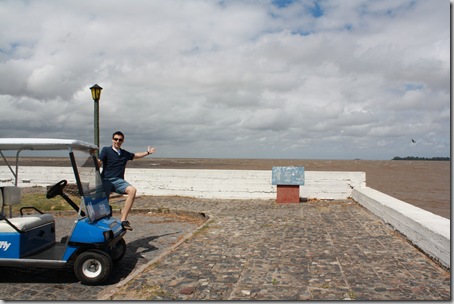 Even with the time change, the city was still pretty dead.  We were the only ones searching for a cafe at 9 am, but we finally found a place that was open.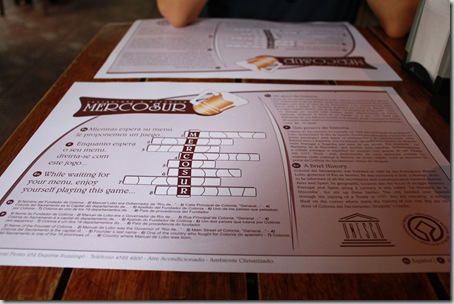 Kyle was thrilled to get a history lesson with breakfast.  If I had a pen, I definitely would have filled in the crossword.  Such a nerd.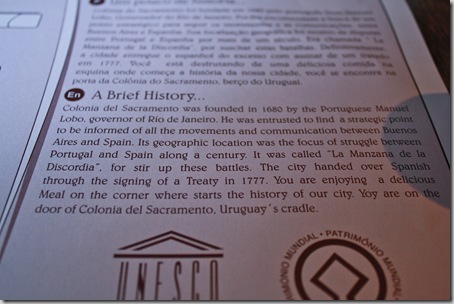 Feel free to educate yourself about the discord between Spain and Portugal in conquering Colonia.  I'll wait…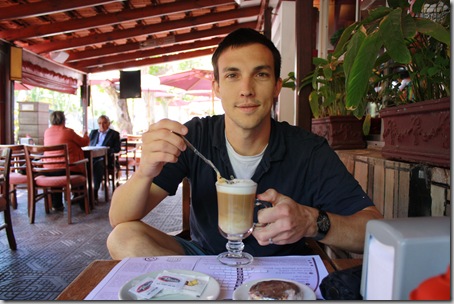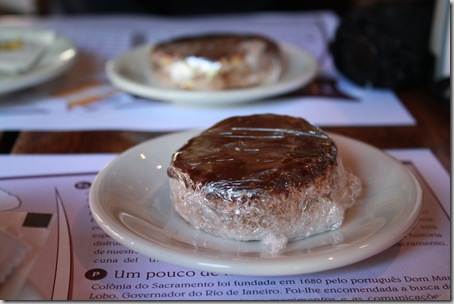 We spent the rest of the morning entertaining ourselves by driving the cart all over.
We got a map from the rental company with noted "sites" on it, but after cruising up and down the beach we began to realize they were kinda arbitrary locations.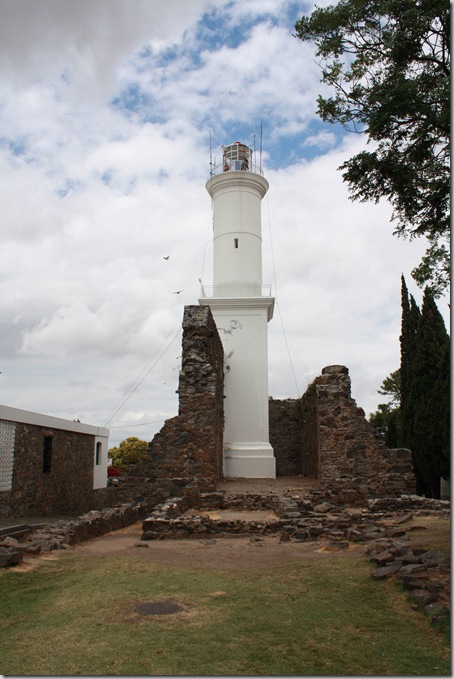 At least the lighthouse was something real.
We paid the 50 cents (or whatever it was) to climb 70 steps to the top.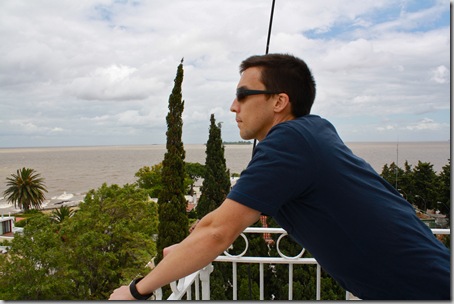 The brown water is really not very scenic.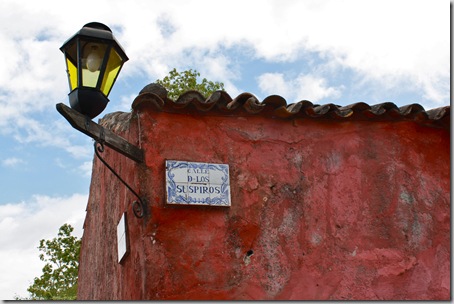 Next on the agenda, the Street of Sighs.  This is famous for some reason, but I couldn't tell you why.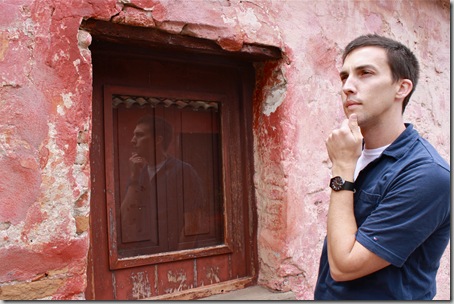 Kyle acted pensive.
I tried not to freeze.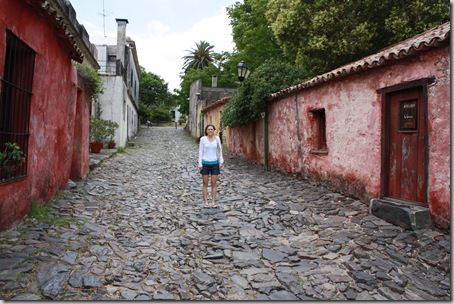 At this point we were majorly bored.
We weren't yet hungry, but we ate anyway because there was literally nothing left to do.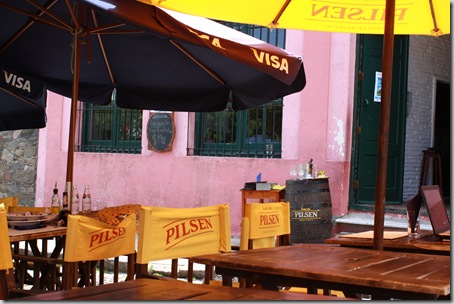 The bustling lunch scene.
It was raining throughout our meal, and by the end of it, the drizzle had escalated to full on downpour. 
We drove around the island a bit more and finally decided to just go back to the boat terminal.  We still had an hour until our departure time back to Buenos Aires but we were 100% out of things to do and see.  I was also soaking wet from the open golf cart ride.  Ordinarily, being drenched, freezing, and bored would be pretty annoying, but it was actually pretty hilarious.  The entire time we kept wondering why people took day trips to Colonia.  What could possibly keep someone entertained for a full day?  Were we missing something? 
After perusing the terminal gift shop (and buying a magnet to commemorate the trip) the skies opened up and the sun came out.  Hooray!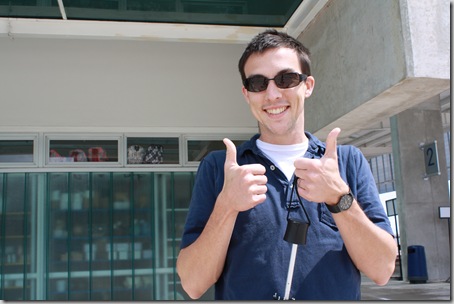 Kyle was already done with Colonia, but I convinced him to take one more ride around the town with me.  The seats had puddles on them but I'd already lost feeling in my hands and feet so it didn't much matter if the rest of my body turned numb as well.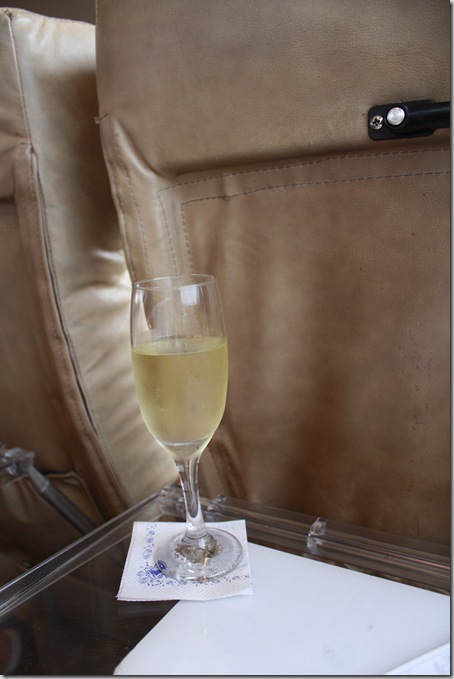 The good news about the ferry ride home was that we were in "first class."  This meant we got a "free" glass of champagne and leather seats.  Look at me now mom, I'm a baller.
Ok, so it wasn't remotely fancy, but we all know how I feel about champagne.
The good news is that the commute home flew by because Kyle and I were both passed out for 90% of it.
Where was the last place you visited that didn't live up to the hype?  Vacation.  Restaurant.  Whatever.