Last year I hosted a giveaway with Doctor's Best.  A year later, I'm thrilled to be able to share the same package of supplements.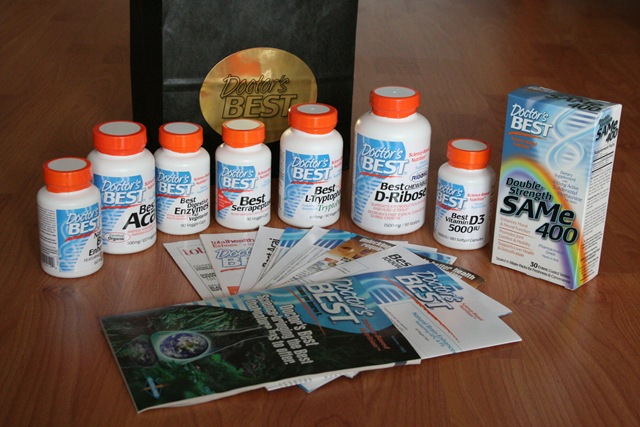 Thanks to the generosity of Doctor's Best, you could win every nutritional supplement you see above, which includes:
Best Digestive Enzymes – digestive aid
Best Acai (organic) – antioxidant benefits
Best D-Ribose – cardiac health
Best L-Tryptophan – serotonin production from a veg source
Best Serrapeptase – good bacteria for healthy gut activity
Best Natural Brain Enhancers – GPC/PS combo for brain cell structure/function
Best Vitamin D3* – immune and cardiovascular benefits (you need more than just the sun)
Double Strength SAMe 400 – mood enhancement
The winner will receive all of these supplements, plus tons of information on the health benefits.  Knowledge is power, no?
I'm so excited to do this giveaway because it's something very near and dear to my heart.  Wellness through natural means is something I'm passionate about, especially when it comes to digestive health.  The digestive enzymes are a hugely important part of my life.
To enter, visit the Doctor's Best website and then leave a comment telling me something you learned about any product.  For an additional entry, tell me which supplement is the most appealing to you and why.
I'll announce one lucky winner on Feb. 10th.
Cheers to a 2012 full of good health and happiness!!
*These capsules are vegetarian and gluten free, with the exception of Vitamin D3.  They are all of exceptional quality, but are only recently becoming available in WF (you can find a store that carries them in your area here).
**Although Doctor's Best provided the products for this giveaway, I am not affiliated with the company.