Last I left off, we were finishing lunch at Mama Terra…and heading to one of Sevilla's most impressive sites, Plaza de Espana.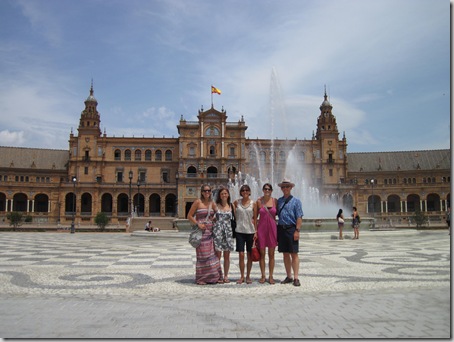 When I studied abroad in 2002, the entire plaza was fenced off and covered in green mesh due to construction.  So I had never seen the famous square with it's tiled alcoves representing each province of Spain.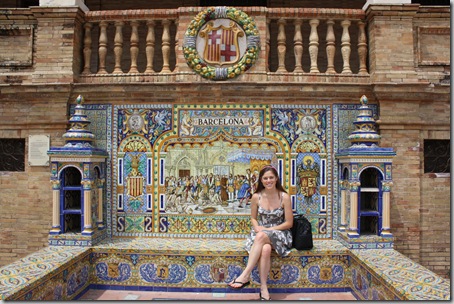 I took a photo in the alcove of my favorite province (BCN).
Now imagine 49 more of these surrounding a fountain, with bridges and water throughout…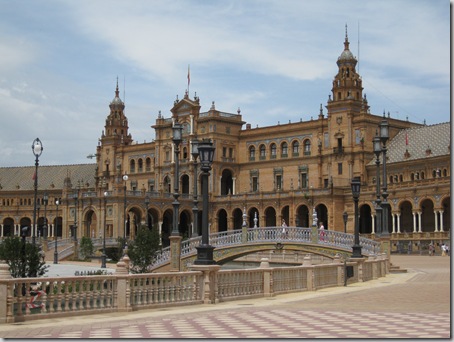 GORGEOUS.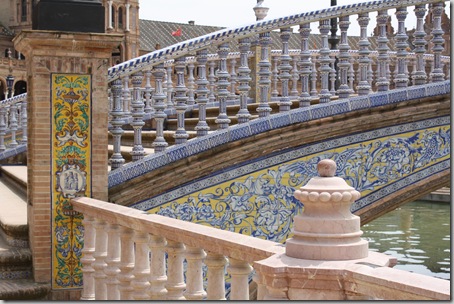 The photos don't even come close to showing the beauty of the tile work.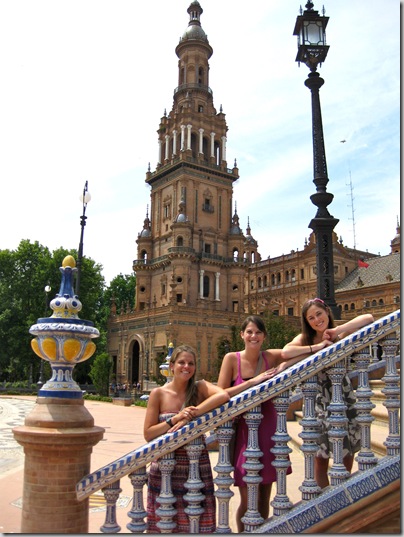 We took lots of cheesy family photos (of course), including our classic sister pose.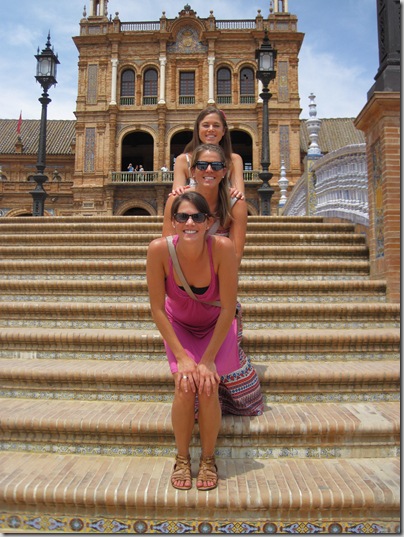 We have so many like this from over the years.
After taking it all in we strolled back to the center of town, stopping for an iced passion fruit tea on the way.
That turquoise door was how I knew where to turn to get back to our hotel.  I love all the windy streets and alleys, but they made it very easy to get lost.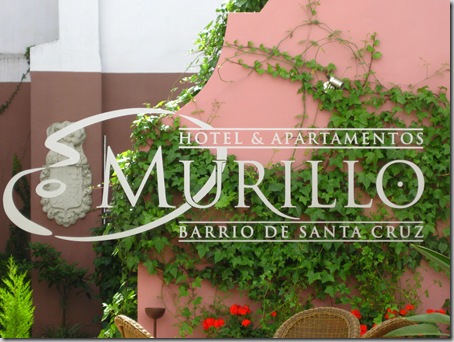 We stayed at the Murillo Apartamentos in the Barrio de Santa Cruz. 
We should have taken advantage of the nice courtyard area, but we were always on the go!  There was a communal rooftop area too, which we went up to one night when we heard fireworks going off.  Randomly cool.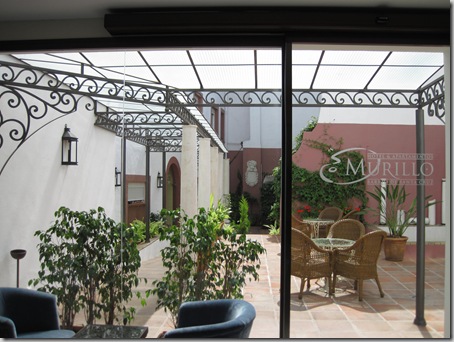 The rooms were small, but by European standards they were plenty spacious (plus we were sleeping 5 people in a 2 bedroom and a few of us [ahem, Marie] had enough luggage for 2 months of travel). 
The staff was really friendly and helpful, and we didn't have to share a bathroom with our parents, so those were definitely positives.  They also had a knight in shining armor…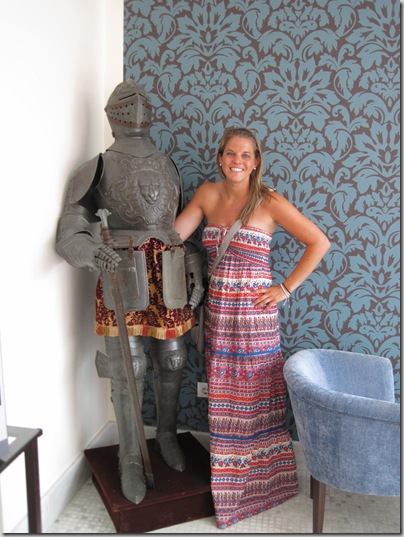 Laura may have finally found her man!
The only negative thing I have to say about the place is the garbage collection.  I like clean, but I don't like it at 5 am.  Waking up to the sound of multiple trash bins drag across the cobblestone was less than ideal.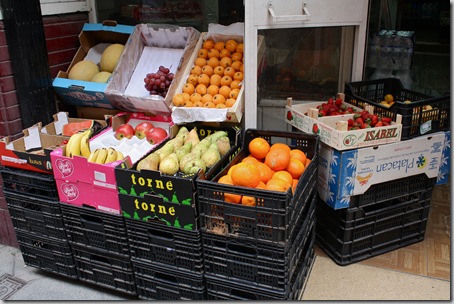 Anyway.  After a snack back at the casa (apple and muesli) I wrote in my journal…took a mini-siesta and then showered up for dinner.  
As you may have noticed in my previous Sevilla recaps, finding vegetarian and/or vegan options hadn't been a huge struggle.  The city wasn't hosting seitan parties by any means, but the restaurants almost always had vegetable dishes that could be manipulated to be dairy or meat free. 
There was, however, one night of disappointment, and that was this night.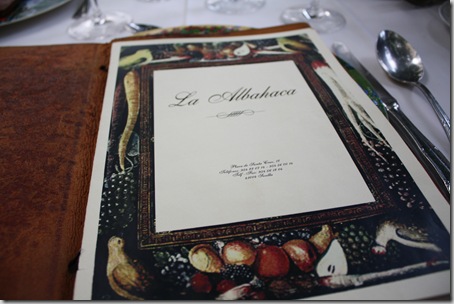 The restaurant, La Albahaca, was a fancy one which required a reservation in advance.  We found this out after trying (unsuccessfully) to get a table the night before.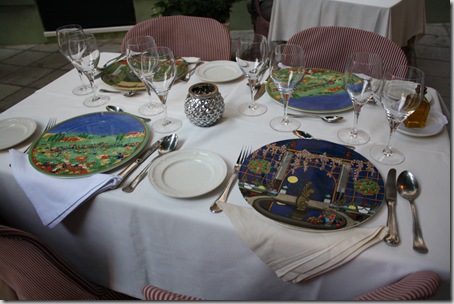 The table setting was so pretty, I loved the painted serving ware.  We were seated in the outdoor courtyard, which was absolutely picturesque.  I never went inside, but I saw photos and it reminded me of the Royal Palace in Madrid.  Seriously fancy. 
The menu was about as traditionally Spanish as it gets.  It was very limited, with only a few main courses, and nothing remotely vegan.  It also changes based on what's fresh and available.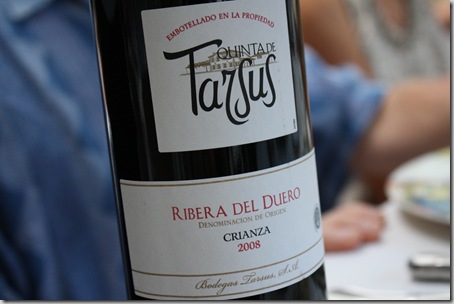 We started with wine and bread, the staples.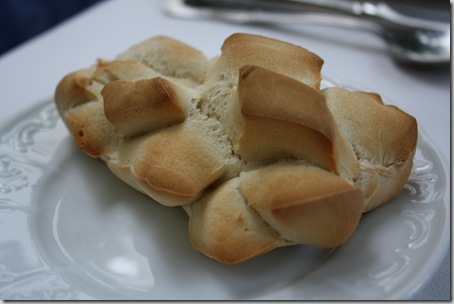 The olive oil was perfect, as always, making the already heavenly bread that much better.  It could easily have been my entire meal (and it nearly was).  Communion food never tasted so good.  😉
Since there was literally nada on the entree menu that I could eat, I got an appetizer salad as my main course.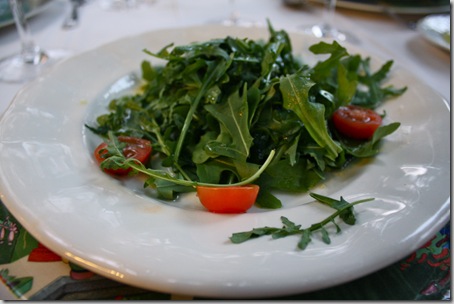 It was supposed to have duck on it, which is why it looks so pathetic, but I was seriously struggling.  The best part of the night was when I was ordering, and trying to remember how to say "duck" in Spanish (clearly, they gave us the English menu).  I wanted to be sure that I (a) got my salad when everyone else got their entrees, and (b) it was without duck.  Having years and years of Spanish under my belt, I didn't have a hard time conveying this…once I remembered how to say "duck."  Laura helped me out.  Does the game "pato, pato, ganso" ring a bell?  That would be "duck, duck, goose" en Espanol.  🙂
The salad was fine.  Arugula and cherry tomatoes with olive oil.  Whatever.  My mom and Marie don't eat much meat, so they were at a loss as well.  Even my dad was a bit surprised.  I can't remember what they got, but it was on the Anthony Bourdain "No Reservations" end of the spectrum…
Oh well.  They can't all be winners when you're dining in a foreign country.  That's why I paid the extra $$$ on my heavy luggage.  Smuggling Larabars into Spain was never so rewarding. 
Marie's IBS led to an early departure from dinner…followed by my mom.  My dad, Laura and I hung around 'til the end, stopping for gelato on the way home.  I had quite a bit of packing ahead of me when we got back to the apartamentos…next stop, Cordoba! 
Do you travel with back-up bars in case of emergencies such as this sad salad dinner?