Time for a change in my running gear.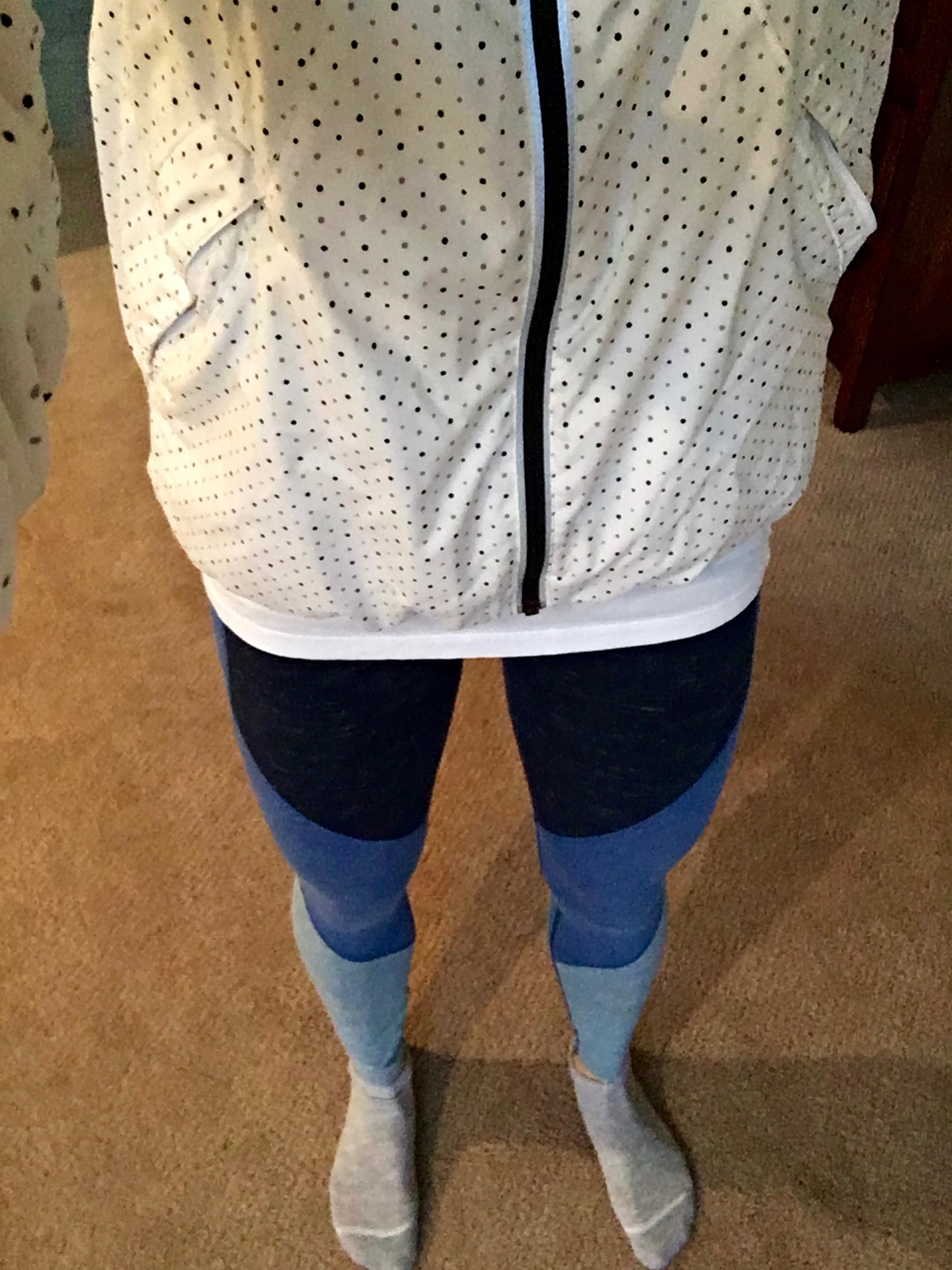 It's been slowly getting cooler and cooler and this morning I was full on layered. I don't mind it though.  Crisp and chilly are ideal workout conditions in my opinion.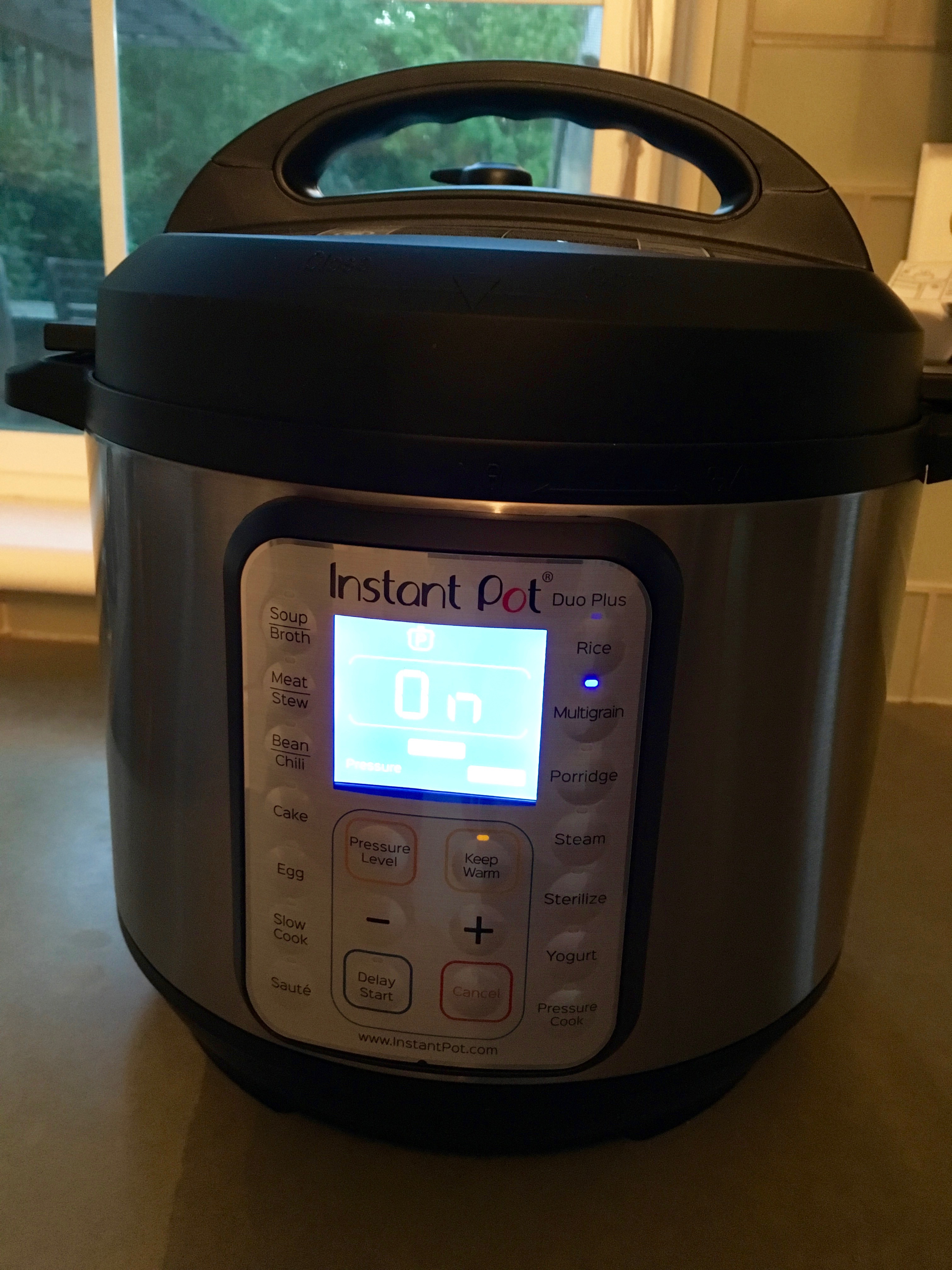 I used my instant pot for the third time in 24 hours on steel cut oats.  It may seem pointless to make steel cut oats in the instant pot since I can just as easily make them in the crock pot overnight…I mean there's no need for them to be done any quicker. But as it turns out, they are extraordinarily creamy when cooked in a pressure cooker!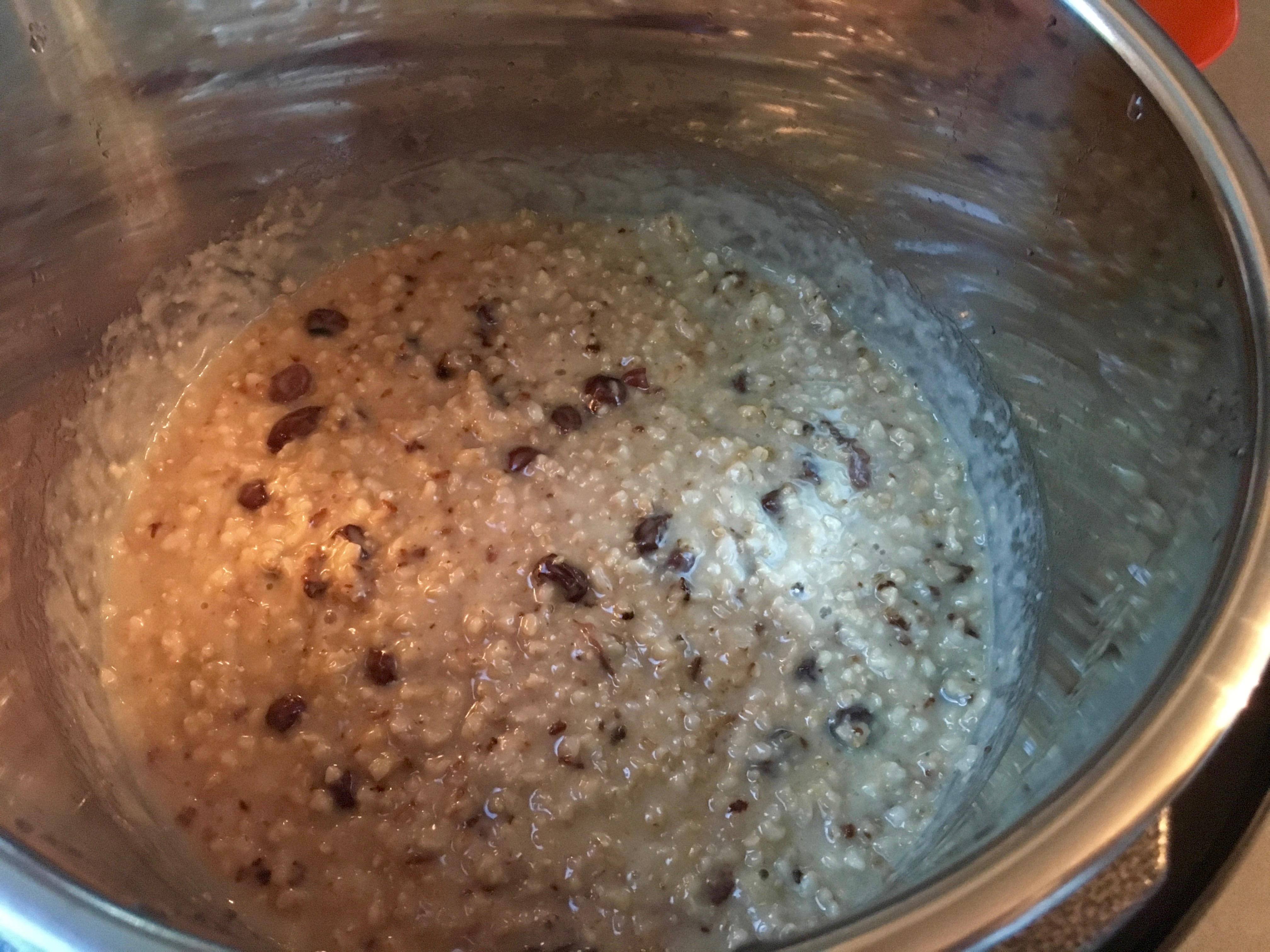 I set it for delay so it did nothing on the counter for 11 hours until right before it was time to eat.  Next time I'll set it to be done earlier though because I had to do the quick pressure release (and they were hot) in order for Kyle to eat them and get to work on time. Still learning the ins and outs of the timing of thing…it takes time to get to pressure and release pressure and that varies depending on how full it is and what's in there, etc.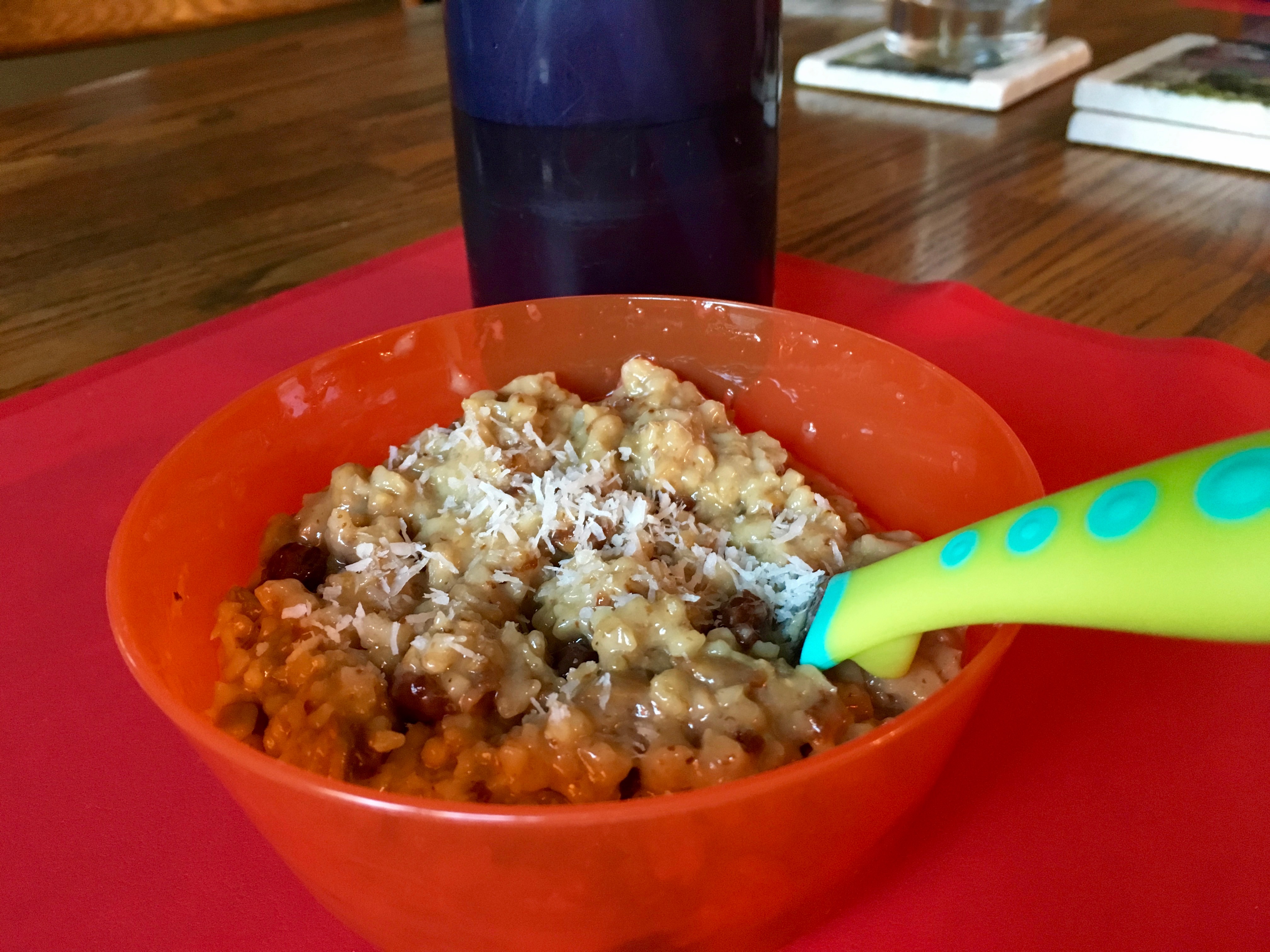 The kids were happy with them.  I used half canned coconut milk, half water, and added brown sugar, cinnamon, and salt and nothing else.  I didn't want to bother with apples or bananas on the first try.
I added sunflower seeds and shredded coconut after.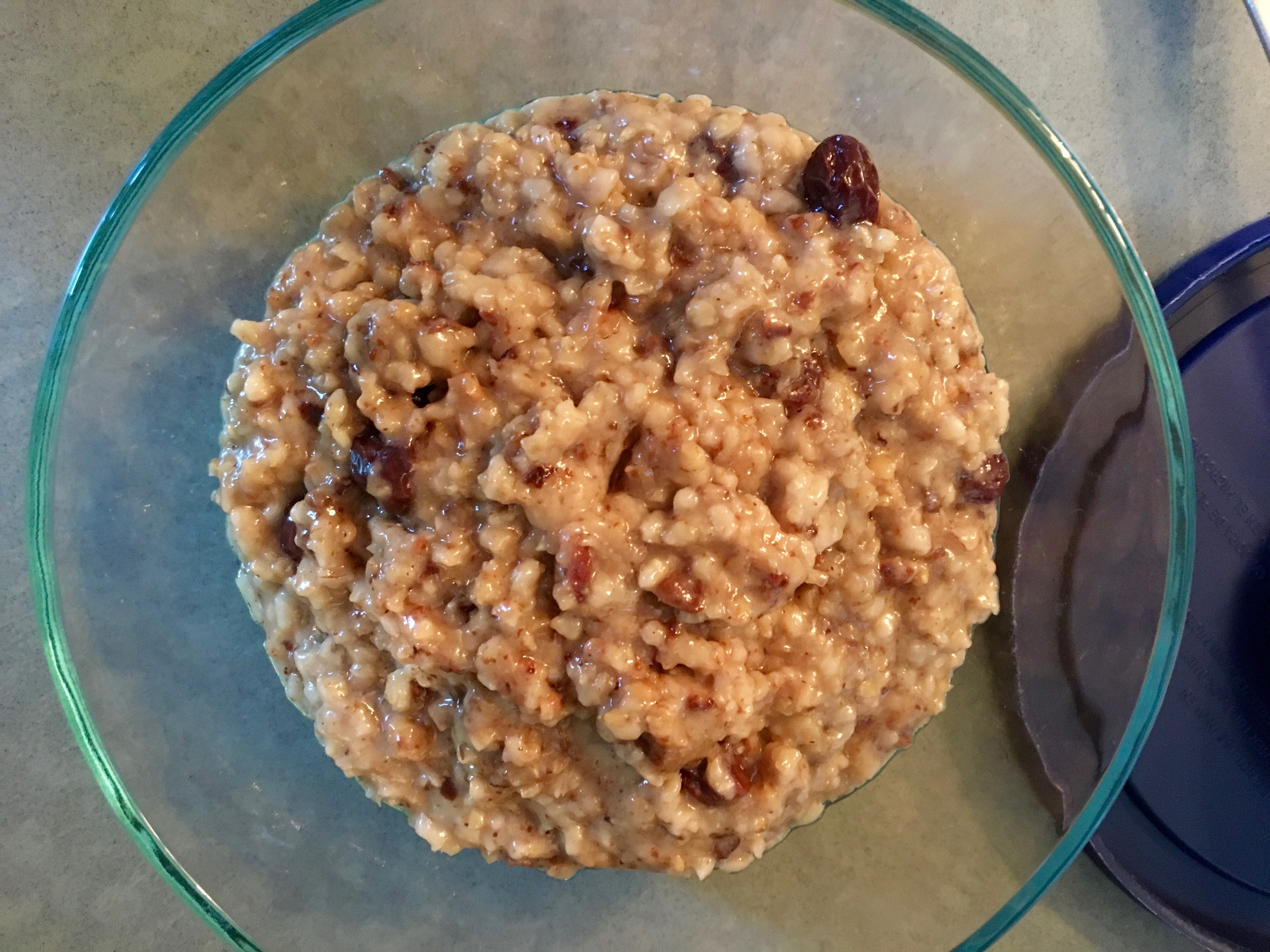 Perfect texture!
I used the instant pot AGAIN for dinner.  I know, I know, you are sick of it already.  First lunch.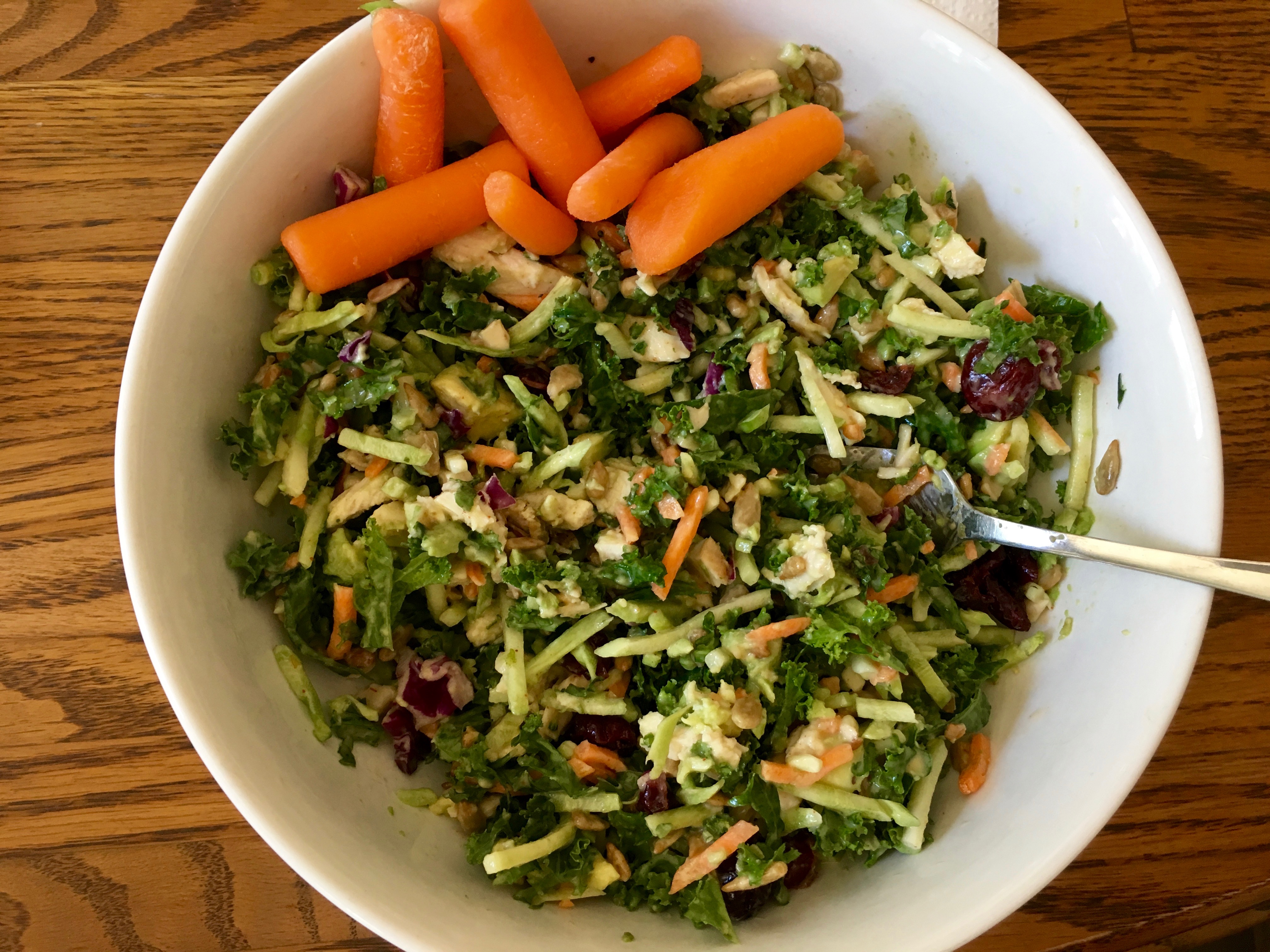 When I was telling Kyle how annoyed I was that I was re-addicted to these TJs salads, he told me "Elise, being addicted to salad is in no way a bad thing" which made me think he's right and even though I feel a little bad about spending money on prepared salads, I should just check myself, because there are worse things to spend my money on.  And these are delicious and save me time mid-week. I got two of them (the spicy dressing is soooo good), even though I could easily eat them every day.  I always add avocado too.
After lunch, I got to work on dinner.  The thing about the instant pot is that you can make slow cooker recipes, but you don't have to get it going before 10 am.  I love my slow cooker dearly, but mornings are busy and between breakfast and shuttling everyone to their various activities, it's hard to get everything in the slow cooker.  Nap time is much more manageable, and is typically when I make dinner – either in it's entirety or prepped to be finished off closer to meal time.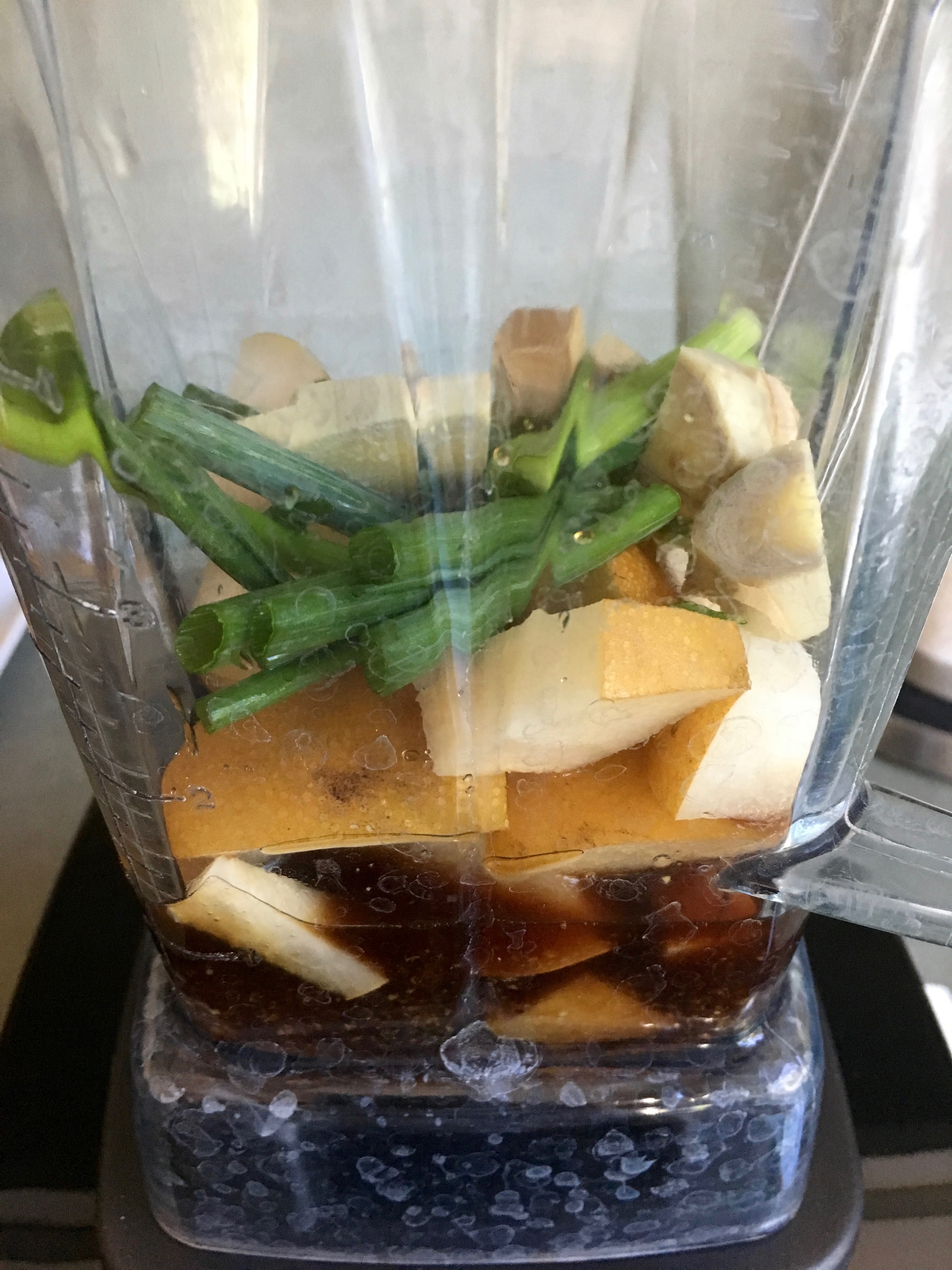 I used this NOM NOM PALEO recipe for Korean Short Ribs.  The idea of making the sauce in the blender at first seemed annoying until I realized it meant no chopping or sautéing or anything else.  You literally throw a bunch of stuff into the Vitamix, blitz until it's saucy, and then pour it over salted meat.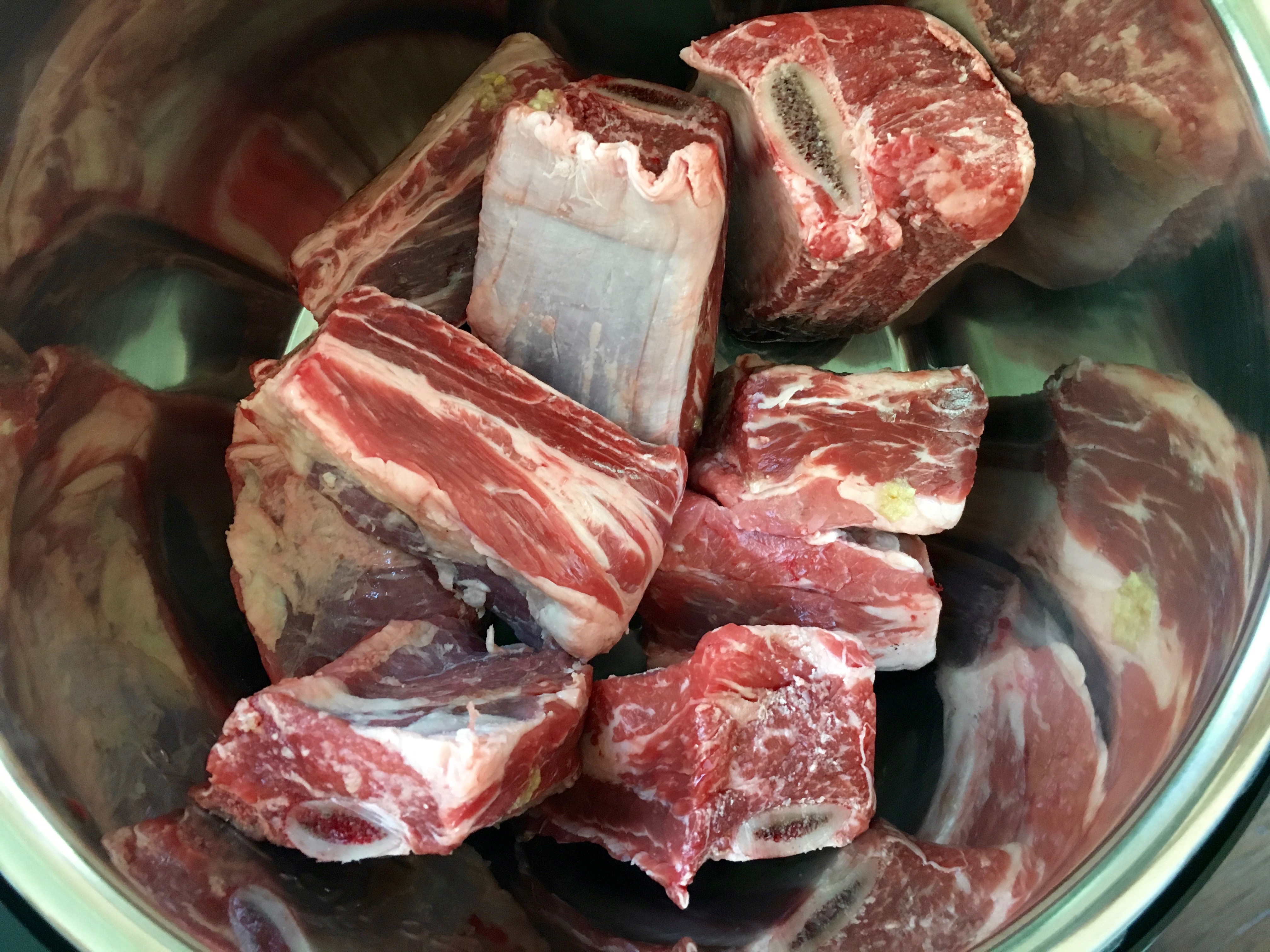 Give it a quick stir and shut the lid.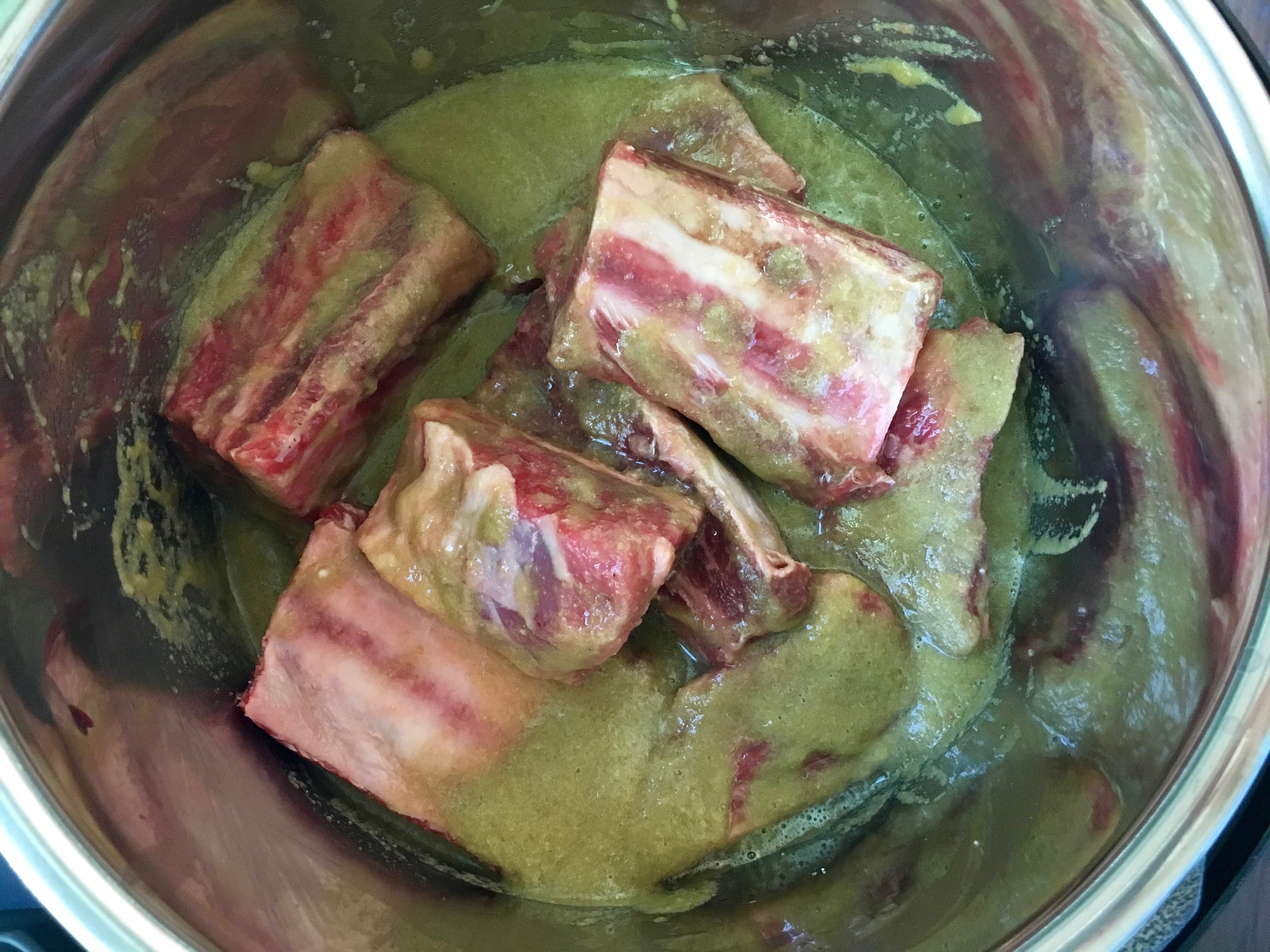 Push some buttons and forget about it until 6 pm.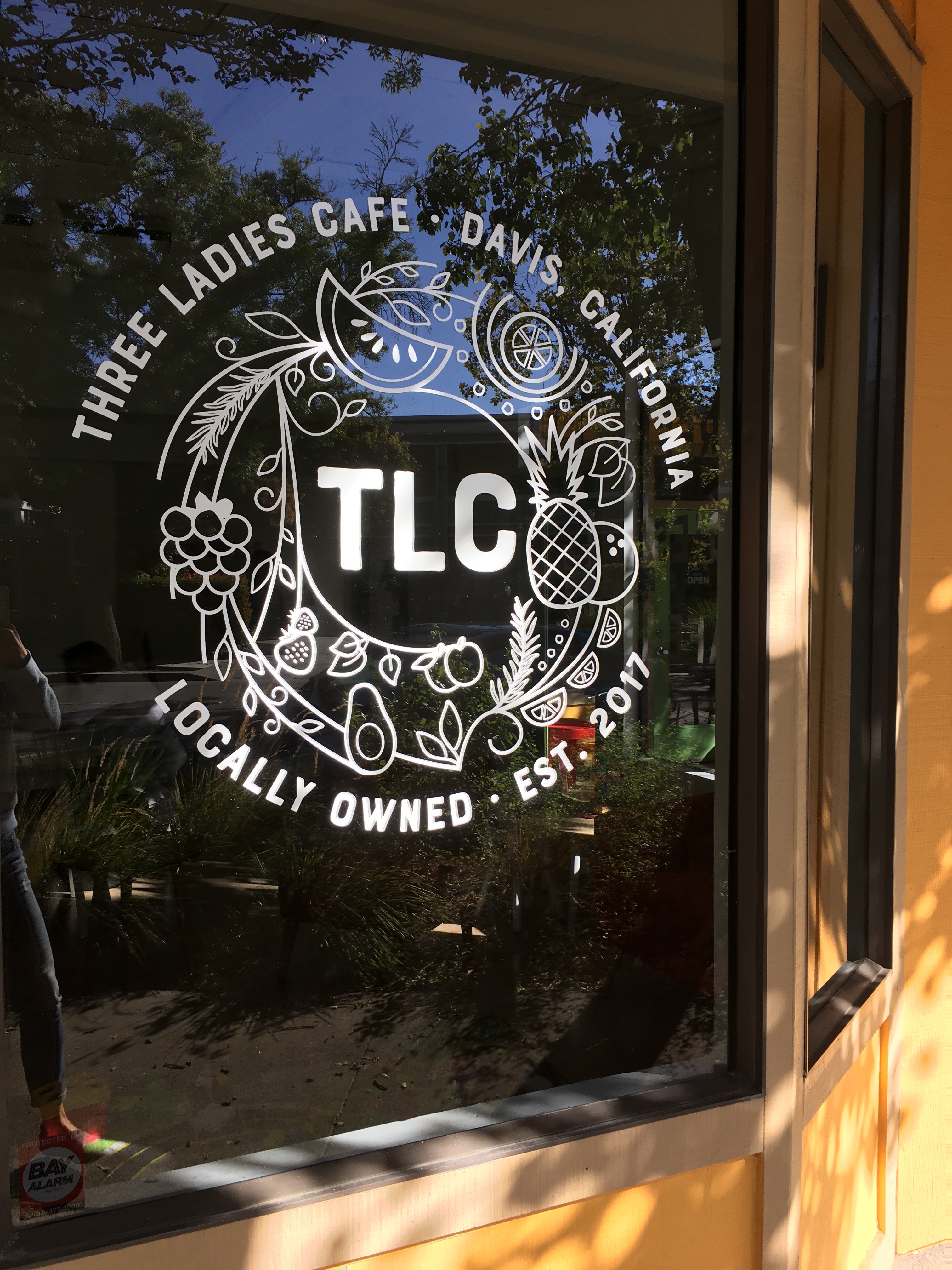 In the meantime, a new cafe opened in Davis and I wanted to give it some love.  Today was it's soft opening, and having seen updates along the way, I was sooooo excited to go in.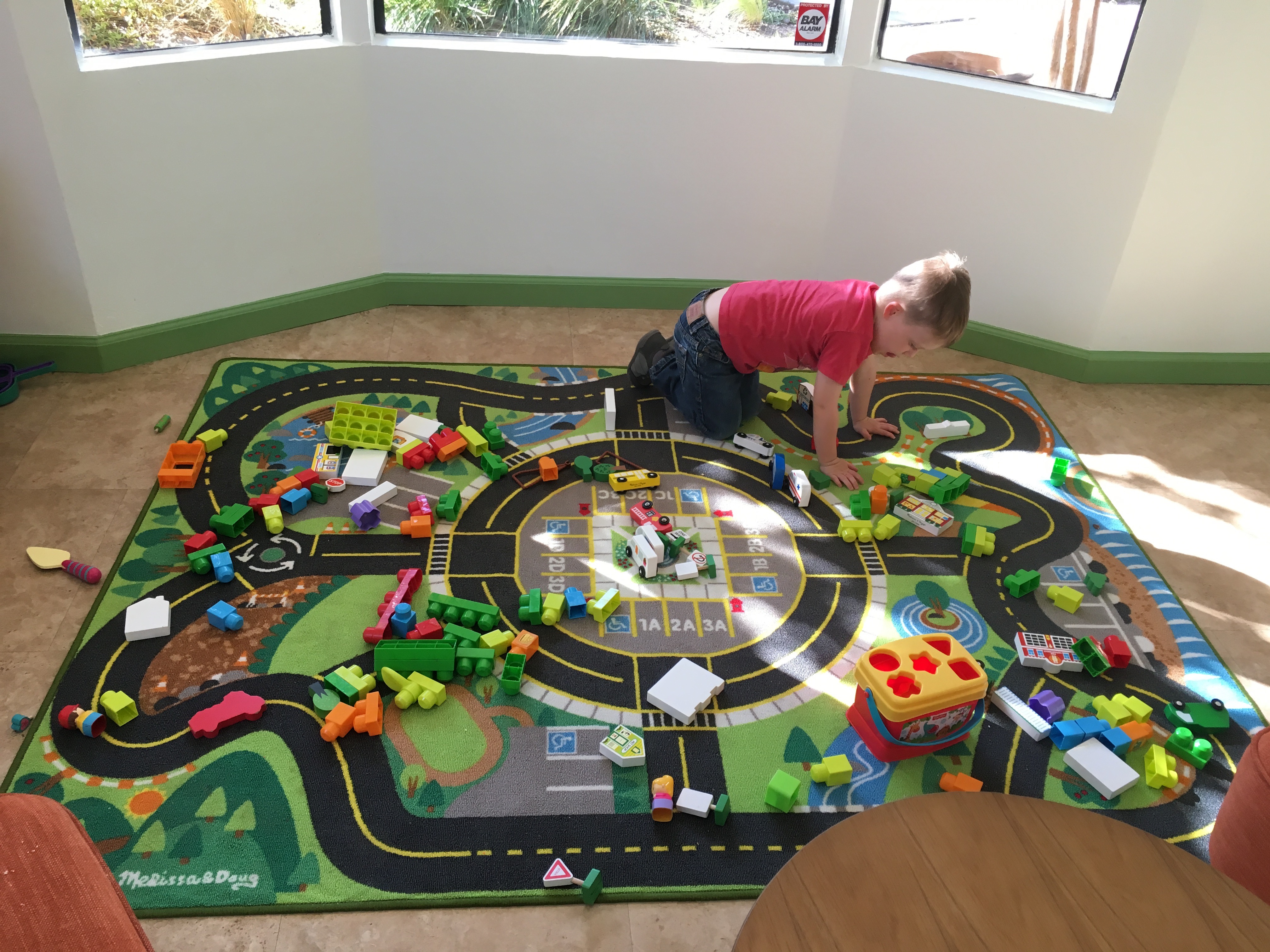 It's kid friendly, and the menu is SUPER allergy friendly, with vegan and gluten free options aplenty.  And thanks to their awareness it is PEANUT FREE as well.  !!!!!  I had emailed them when they were menu planning just to put the idea in their heads in case they didn't have anyone else bringing it to their attention, and they said they had been playing around with some recipes initially but decided to keep the place peanut free in the end because it didn't add much value to the menu. I was so thrilled.
We met friends there and I chatted with one of the "three ladies" Julie who was as nice as could be.  She gave me a tour of the kitchen and we discussed all the ideas she had for the future of the place.  She is hoping that in the future there will be kiddo events there, moms groups, and potential birthday party rentals.
The kids played for a while and then we walked down the block to watch some trains come in before heading home.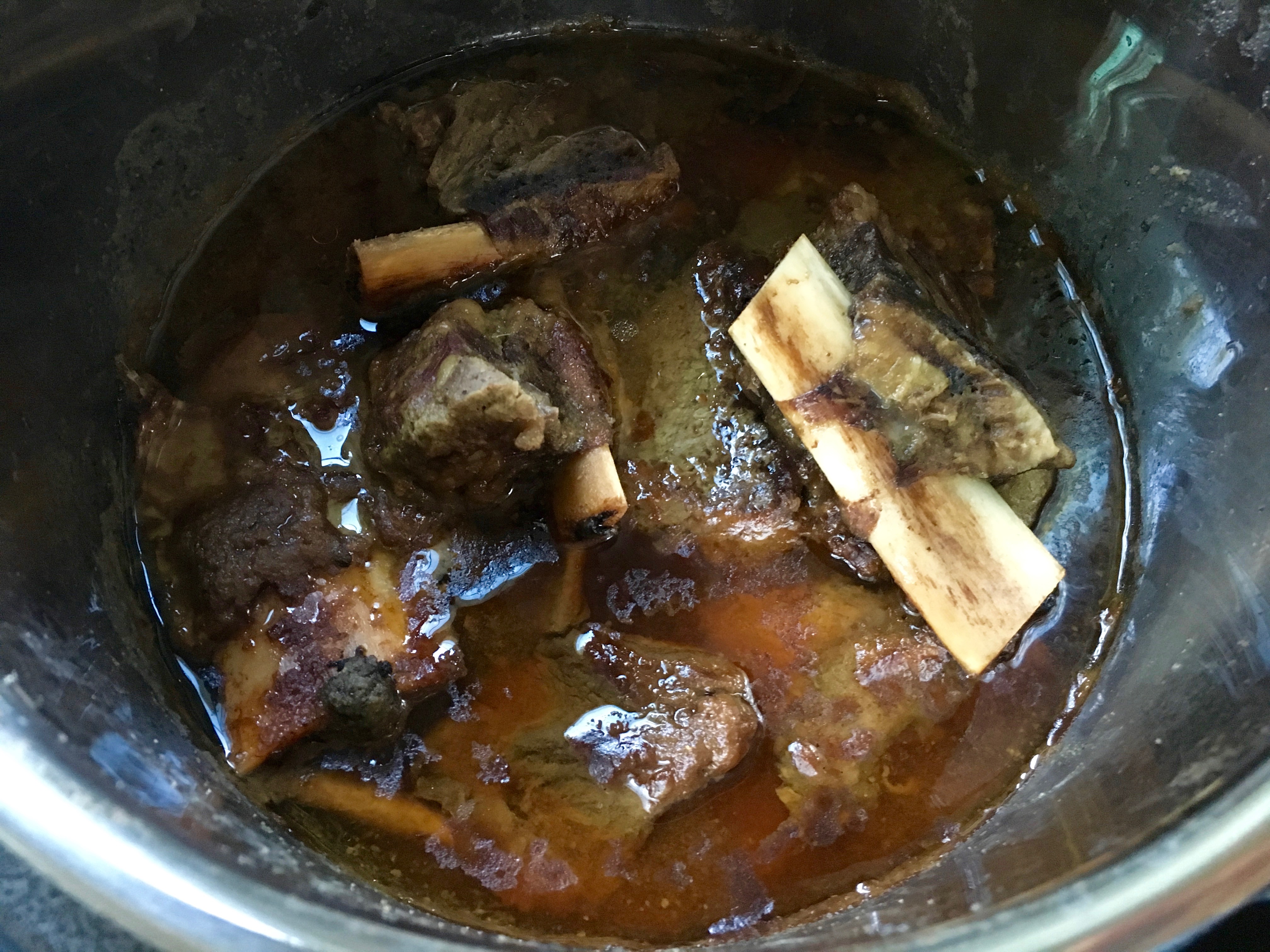 The house smelled bonkers good.  And the meat fell apart like it had been cooking for days.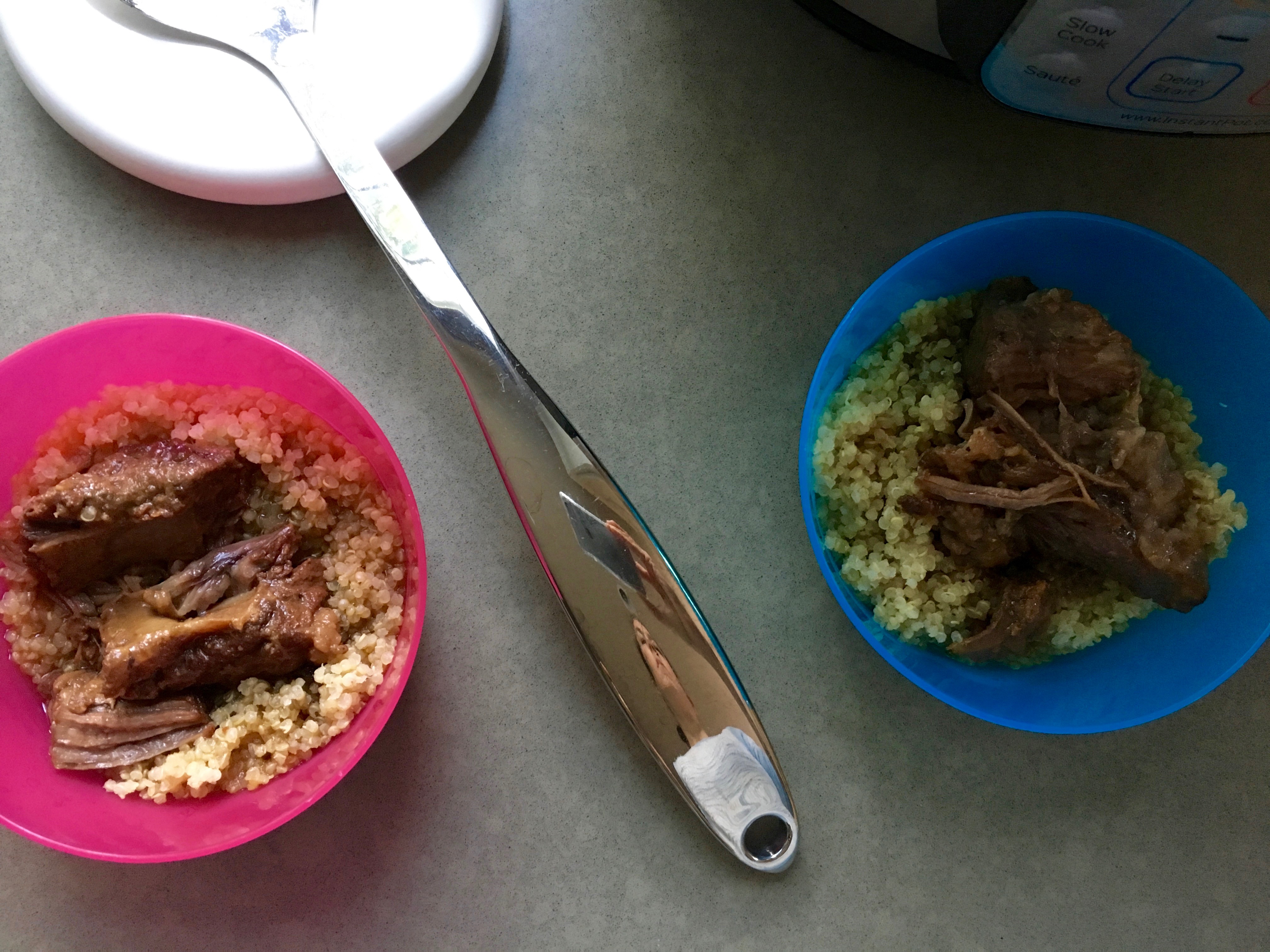 Daaaaang.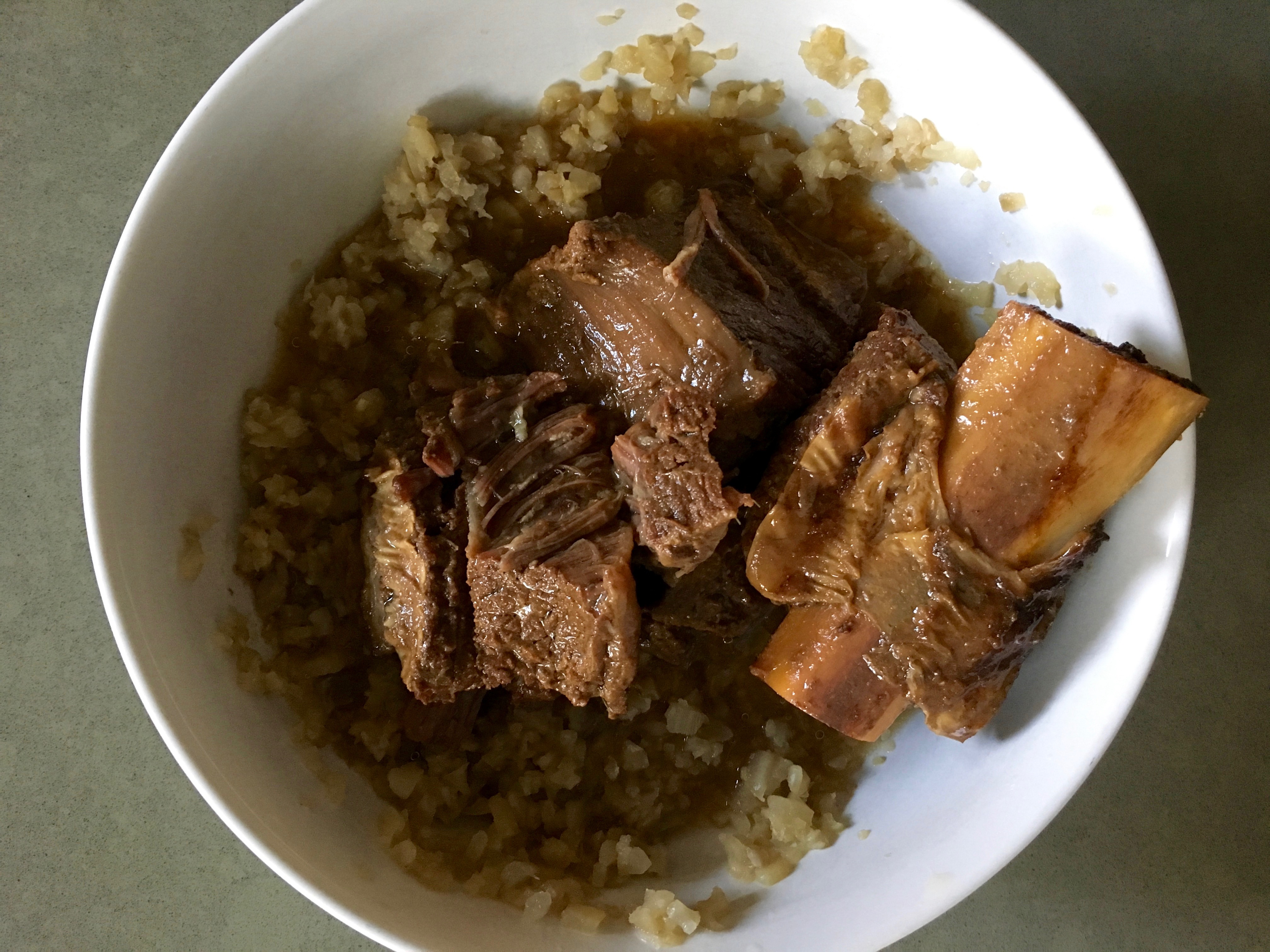 This meal knocked our socks off and was the first meat test for the instant pot that made my cooking heart go pitter patter pitter patter.  I can't wait to try so many things!!!
O U T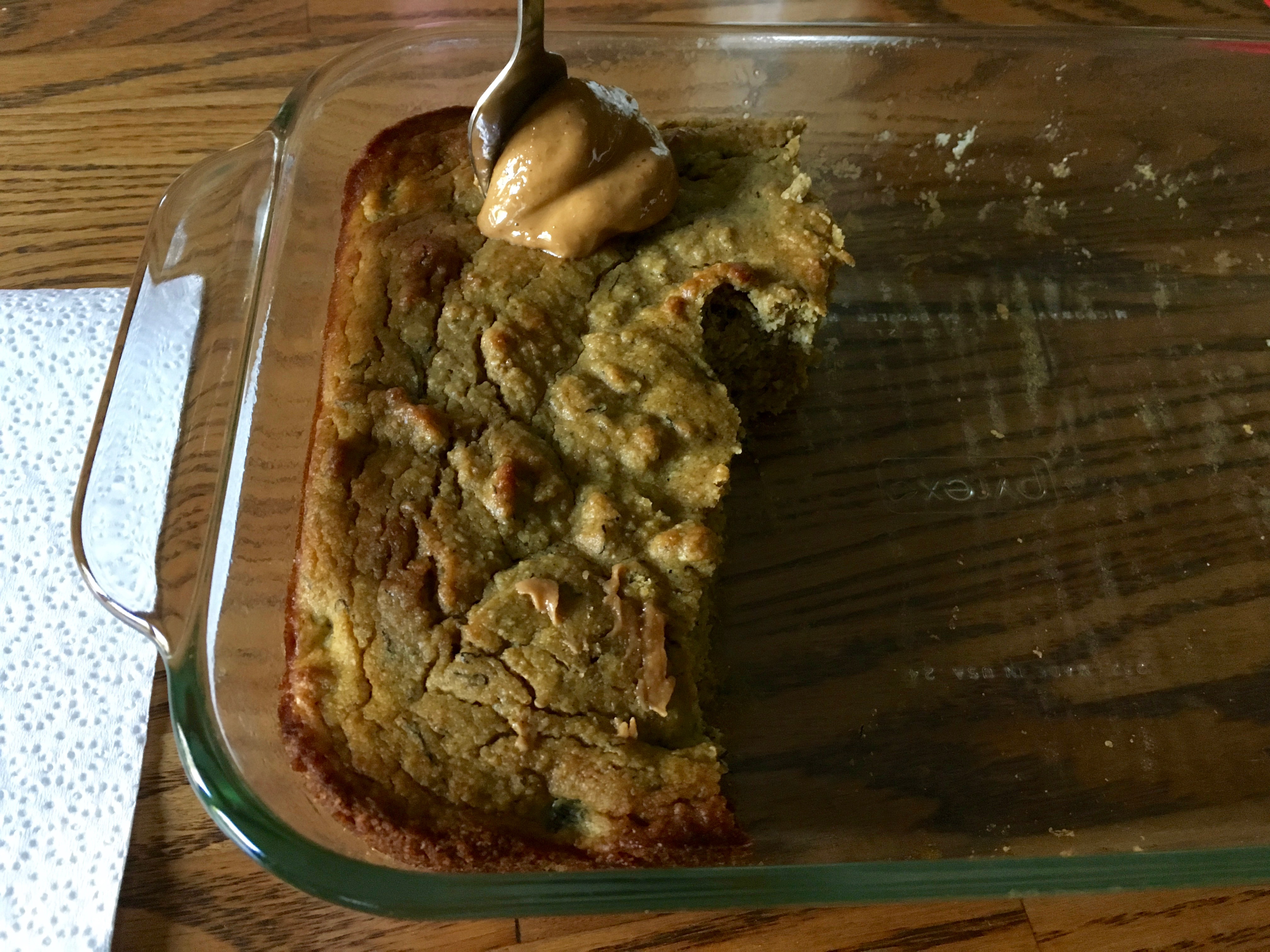 Breakfast deliciousness right here.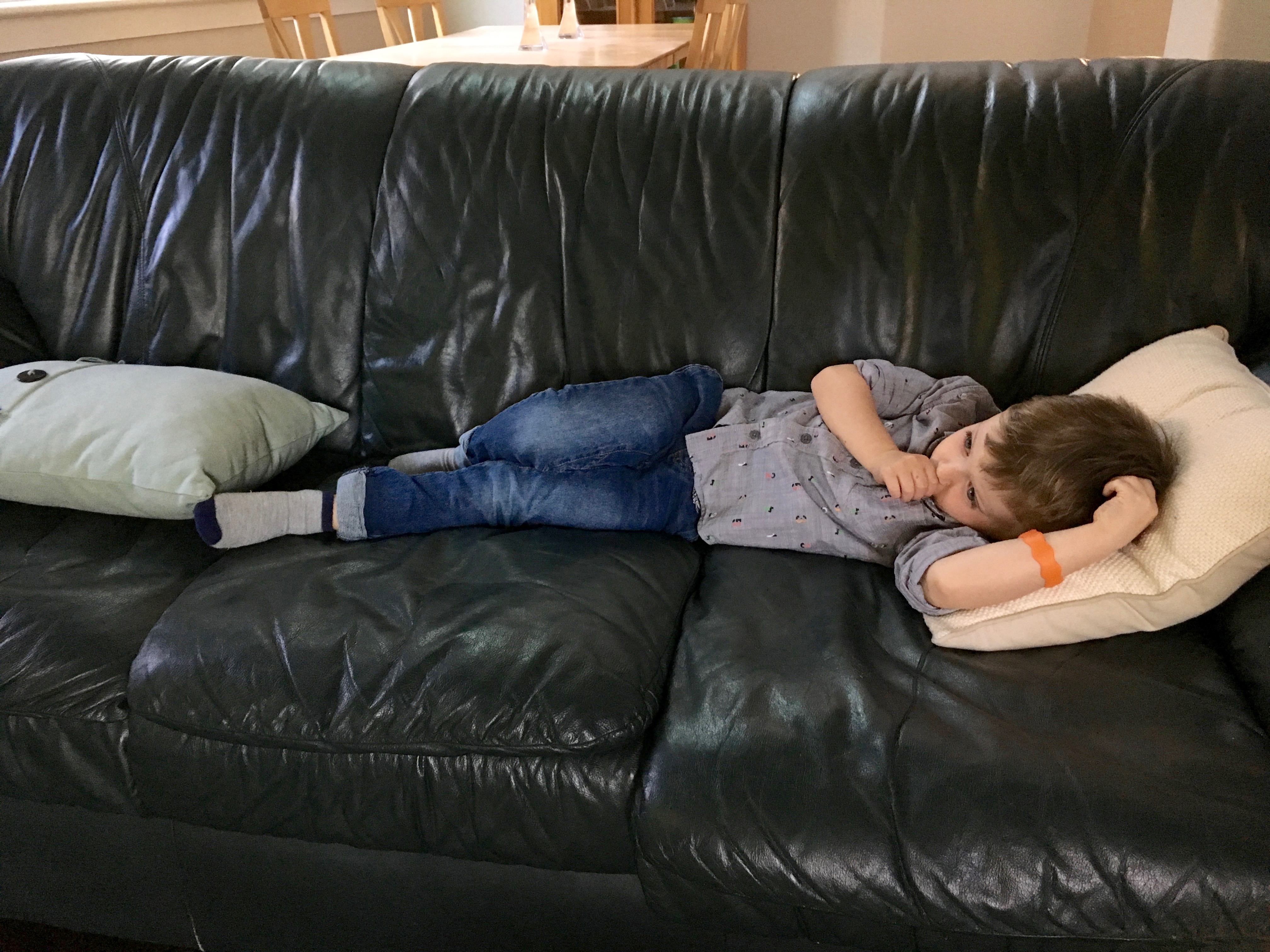 Snuggle fest while staying calm (post milk dose) and waiting for school to start.
I came home quickly after his drop off because I realized I hadn't pulled anything from the freezer the day before for the kids' lunches (I keep deli meat in there).  Knowing it wouldn't thaw in time, I grabbed frozen sausage too, and threw it in the instant pot with a cup of water and left for library.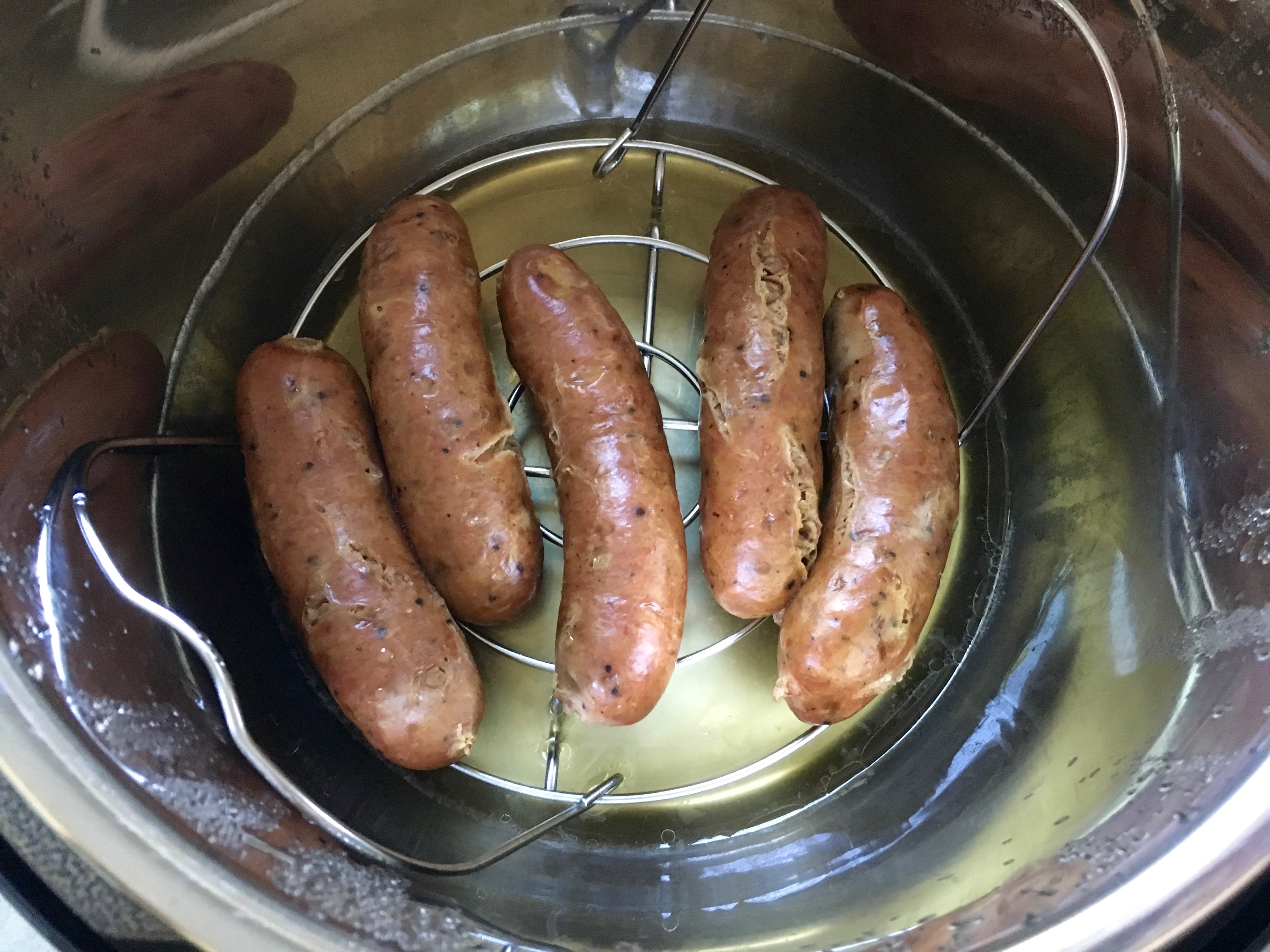 Once again, the instant pot has my back!  Now I am definitely in the fan club.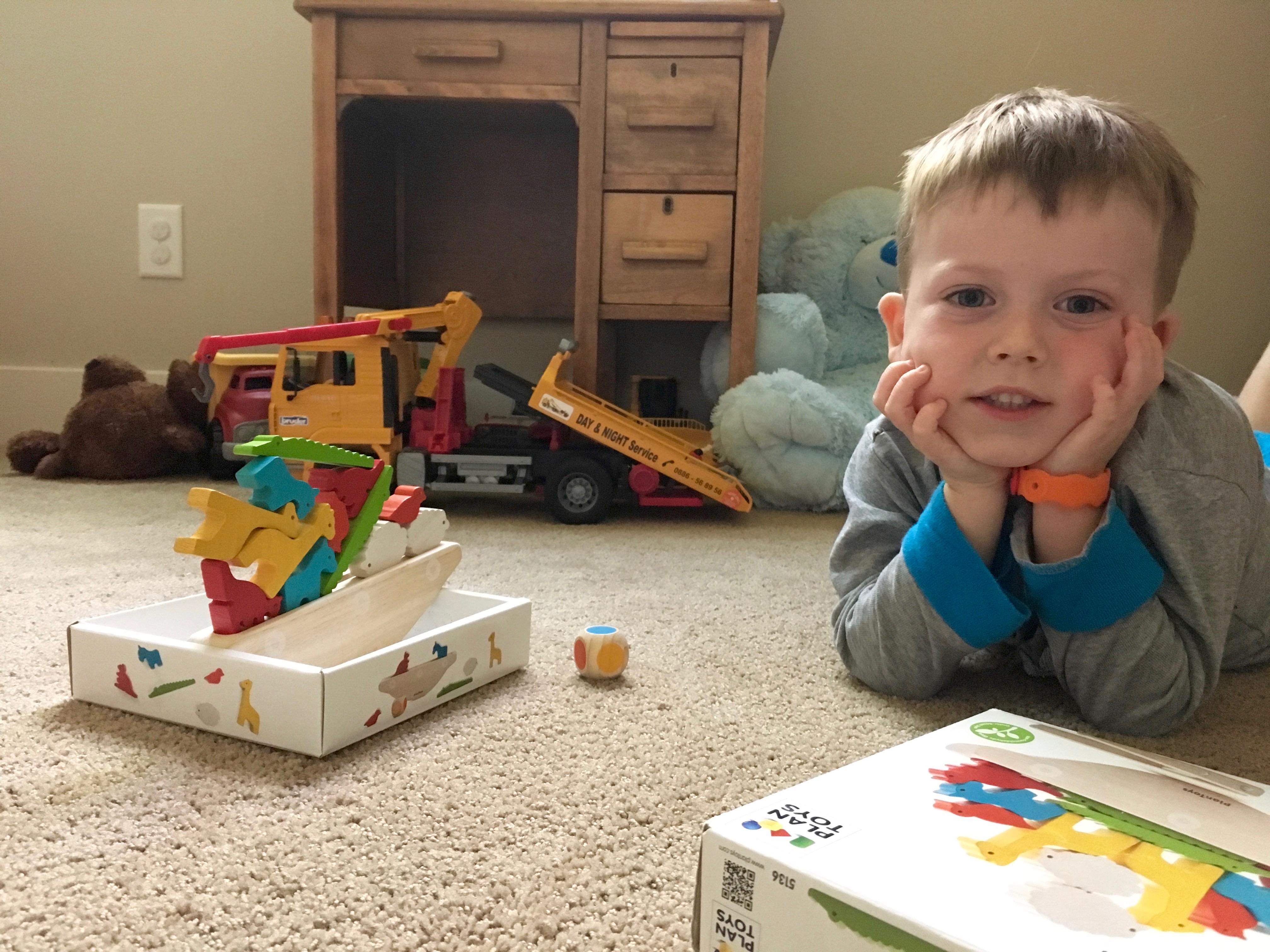 He balanced every single animal on the boat!  [I can't even do that]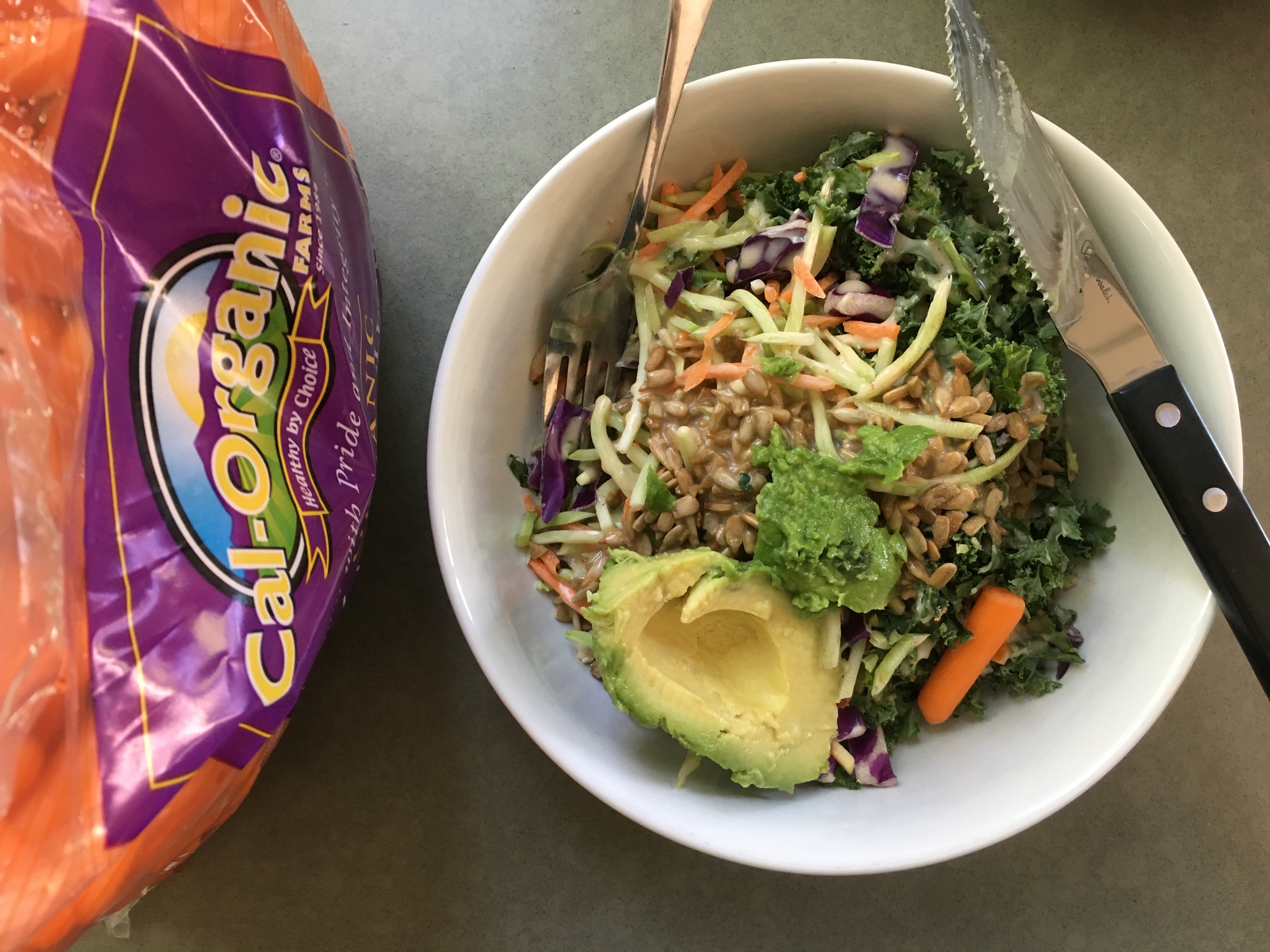 Again.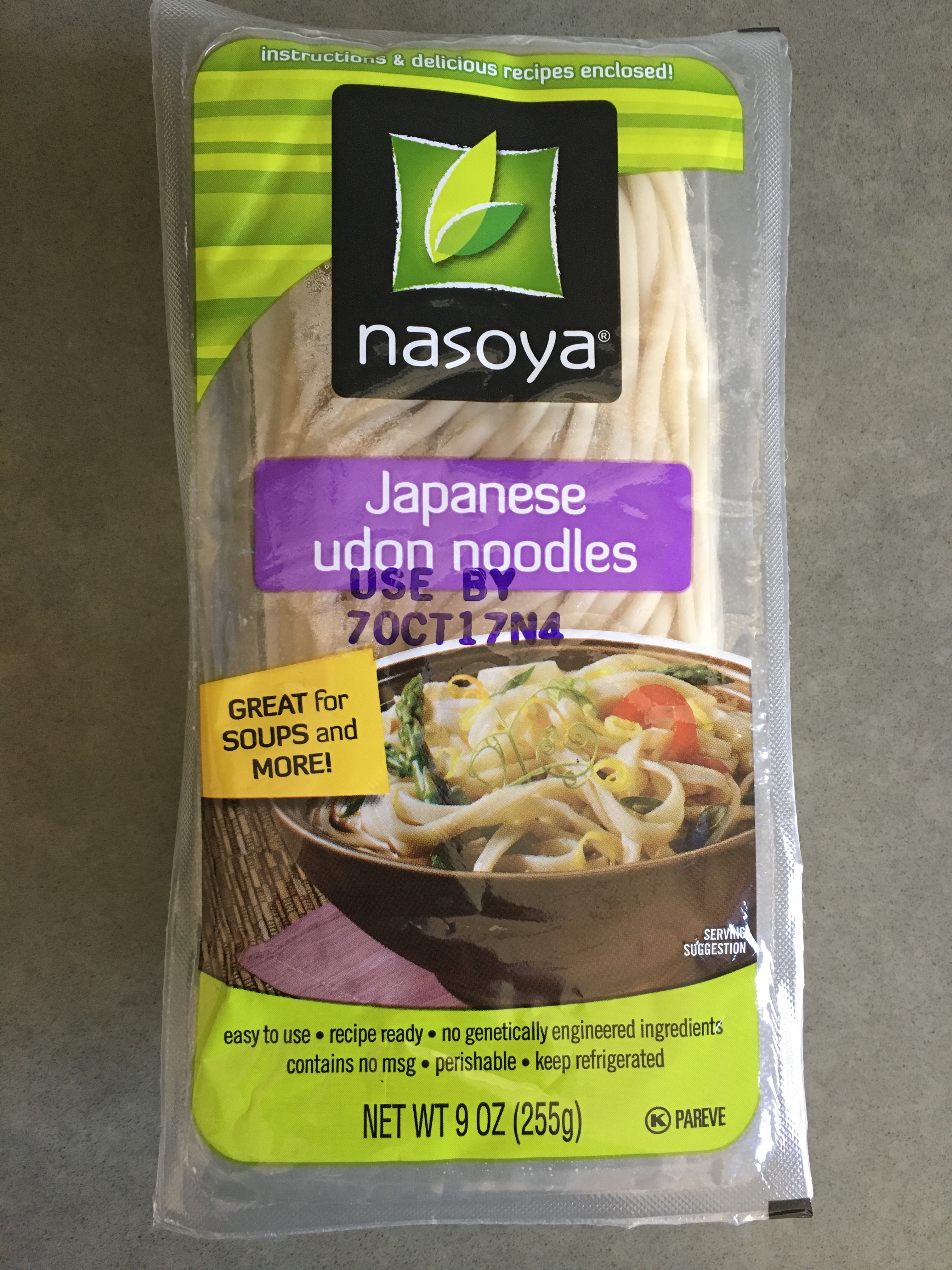 Once again, it was time to make dinner.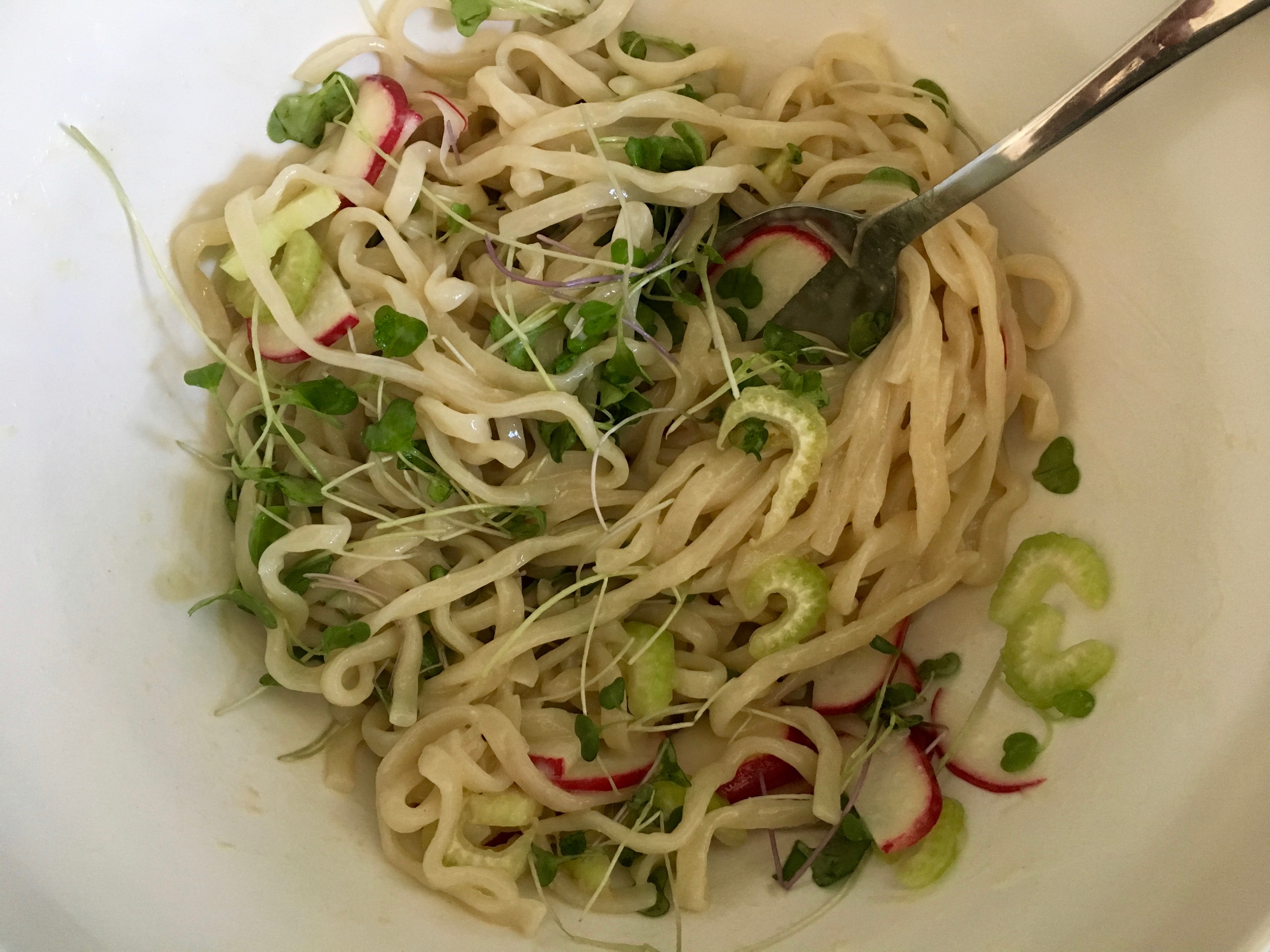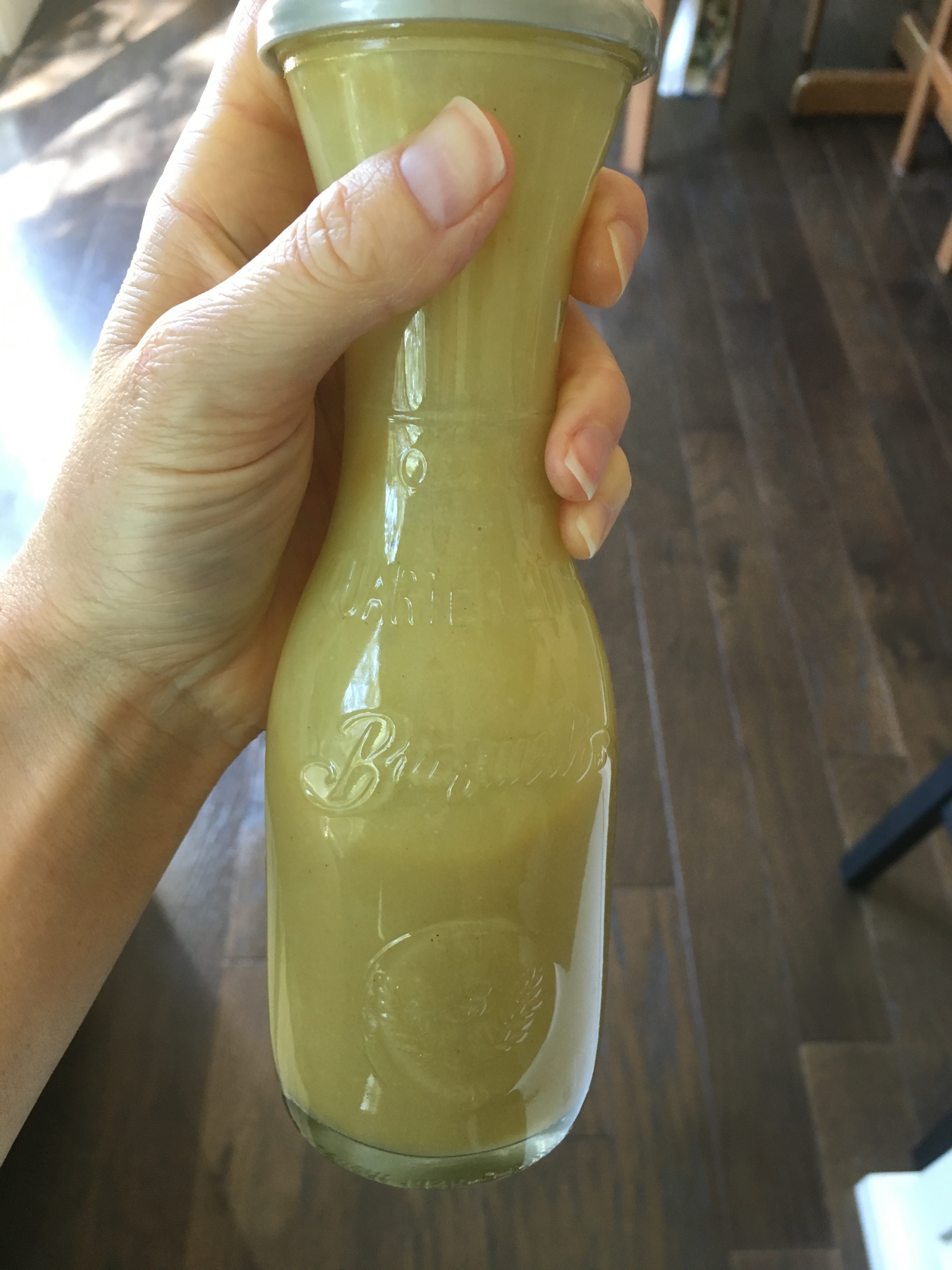 Bon Appetit's June issue had a bunch of noodle bowl riffs that I've slowly been making my way through.  We had the streak one a while back and the sesame dressing was to die for, so this time I gave the miso mustard dressing a shot.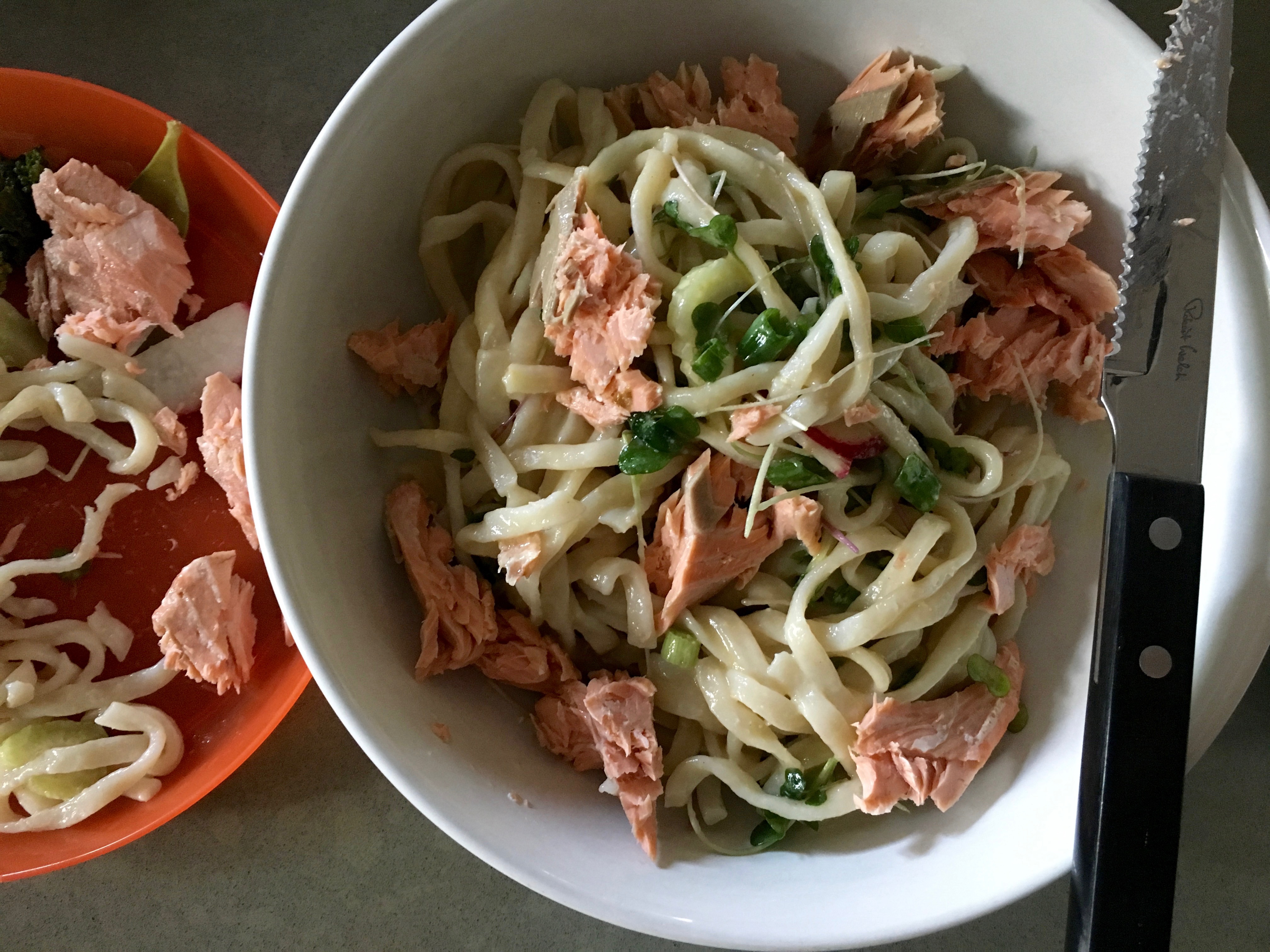 I used the leftover salmon that Kyle grilled on Sunday so it was super quick to assemble once the veggies were chopped, the noodles were cooked, and the dressing was made.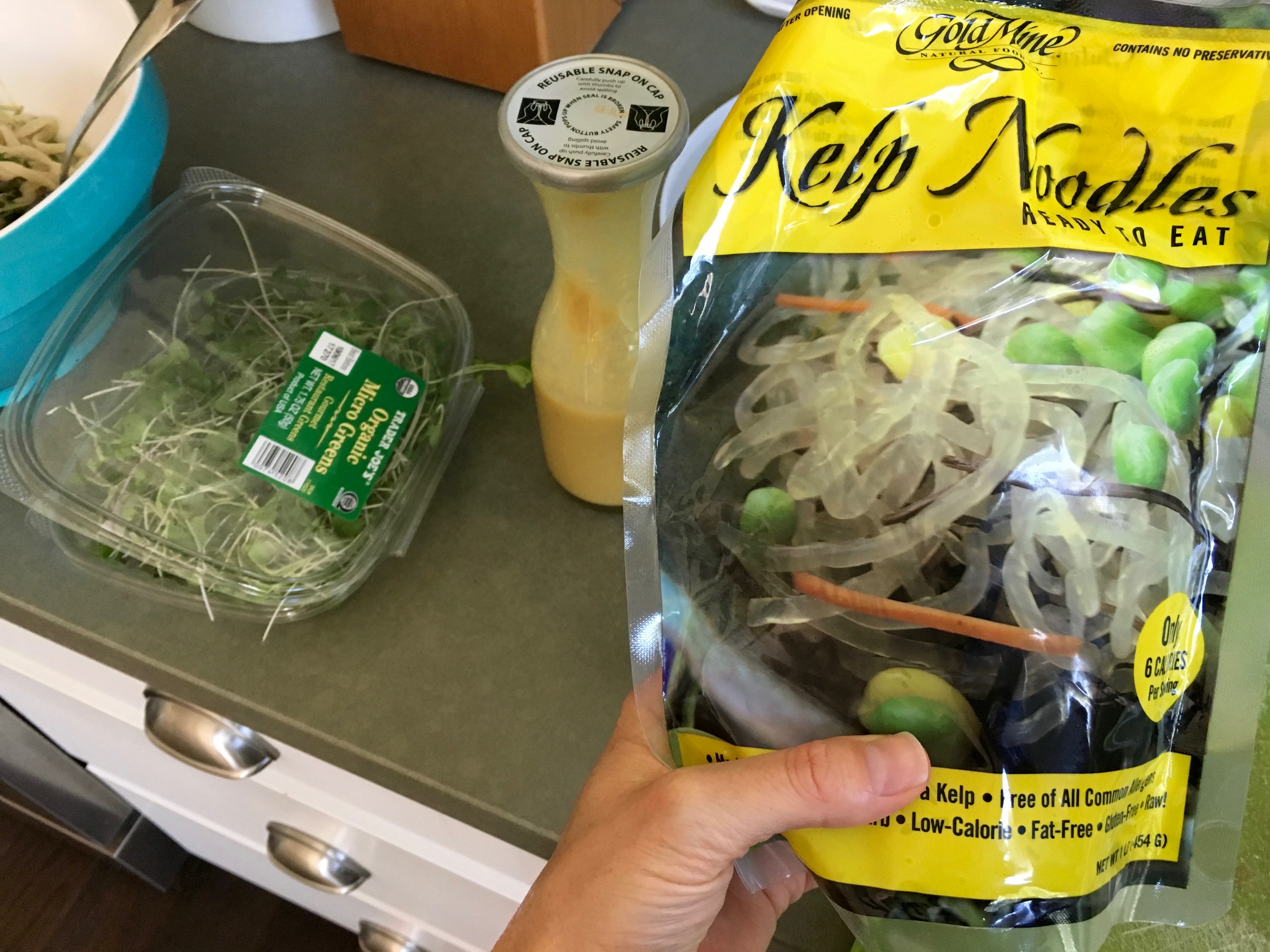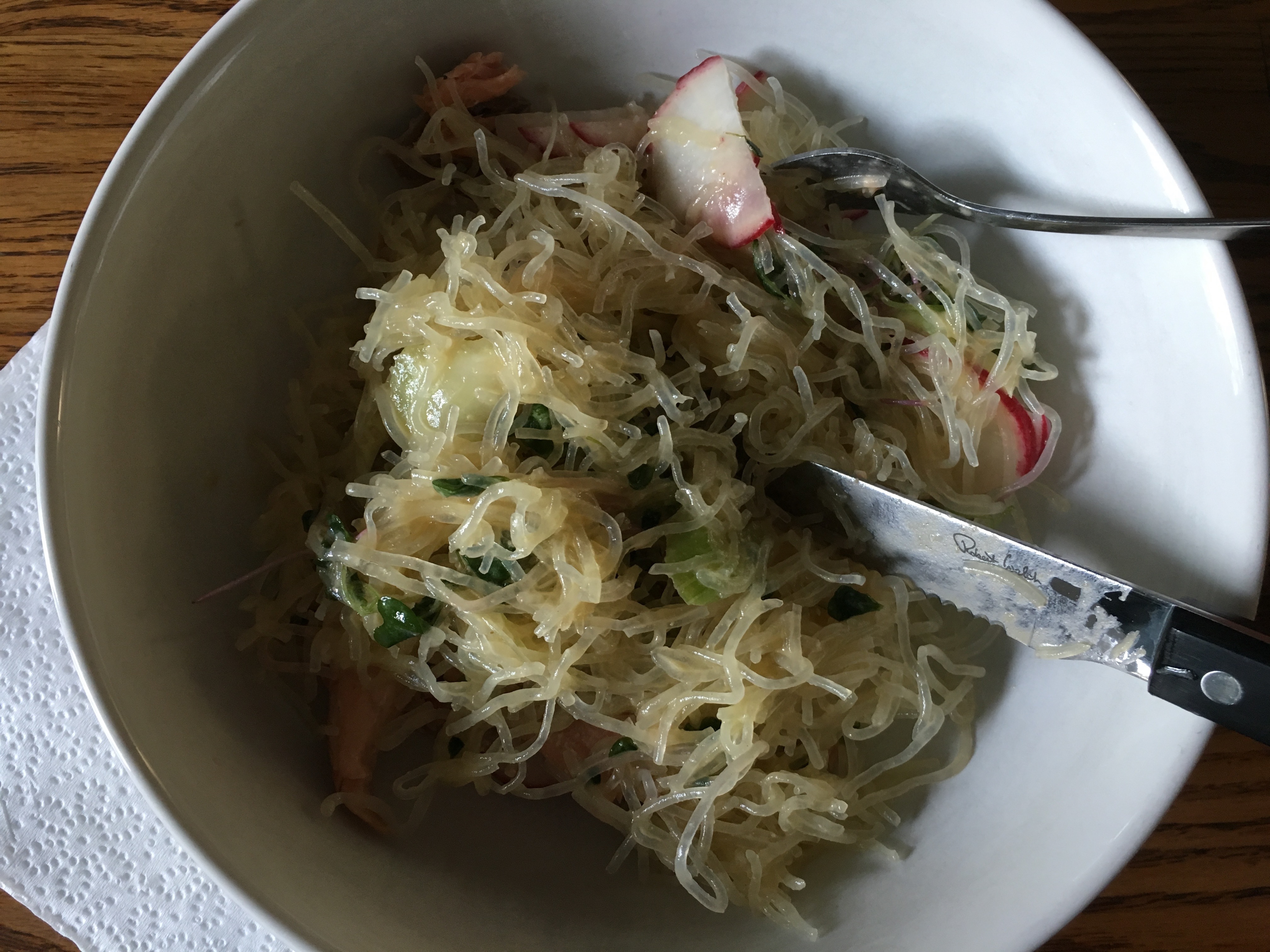 I love me some udon, but I only had one packet and these kelp noodles were nearing expiration (although I'm not sure if they actually expire) so I made both.
My experience with kelp noodles is limited, so I'm far from a pro, but I've made them before so I knew what to expect.  They were ok, but I forgot that cooking them doesn't really do anything to loosen up their texture.  Still good, but the steak noodles bowl was better.  I still have two more to try from that month's mag so stay tuned…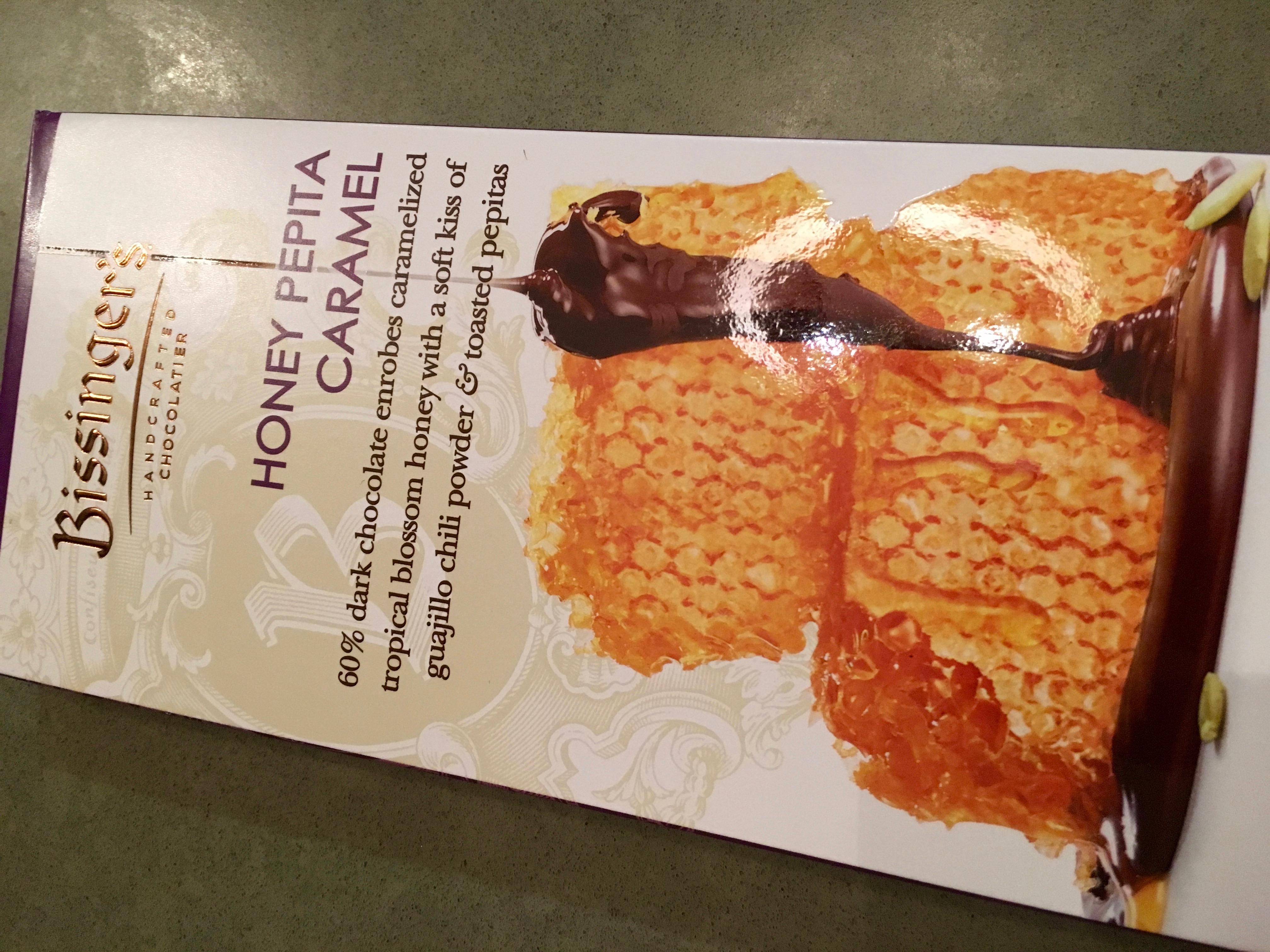 I was very excited for dessert because right after dinner I left to volunteer at P's school for a couple of hours.  They're having a massive rummage sale fund raiser and it's all hands on deck.  So by the time I got home I was needing something sweet to kick back with.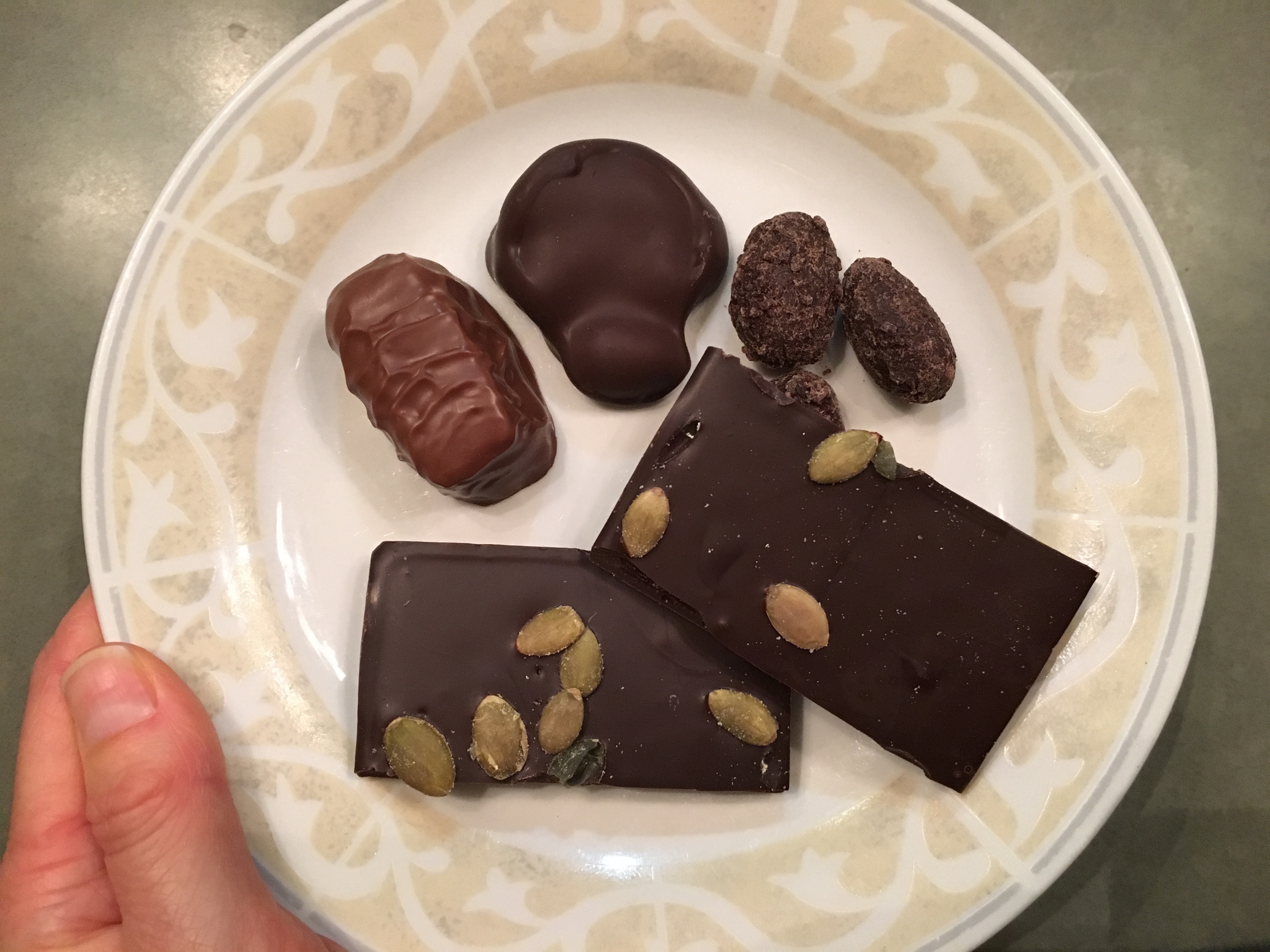 A little bit 'o this, a little bit 'o that.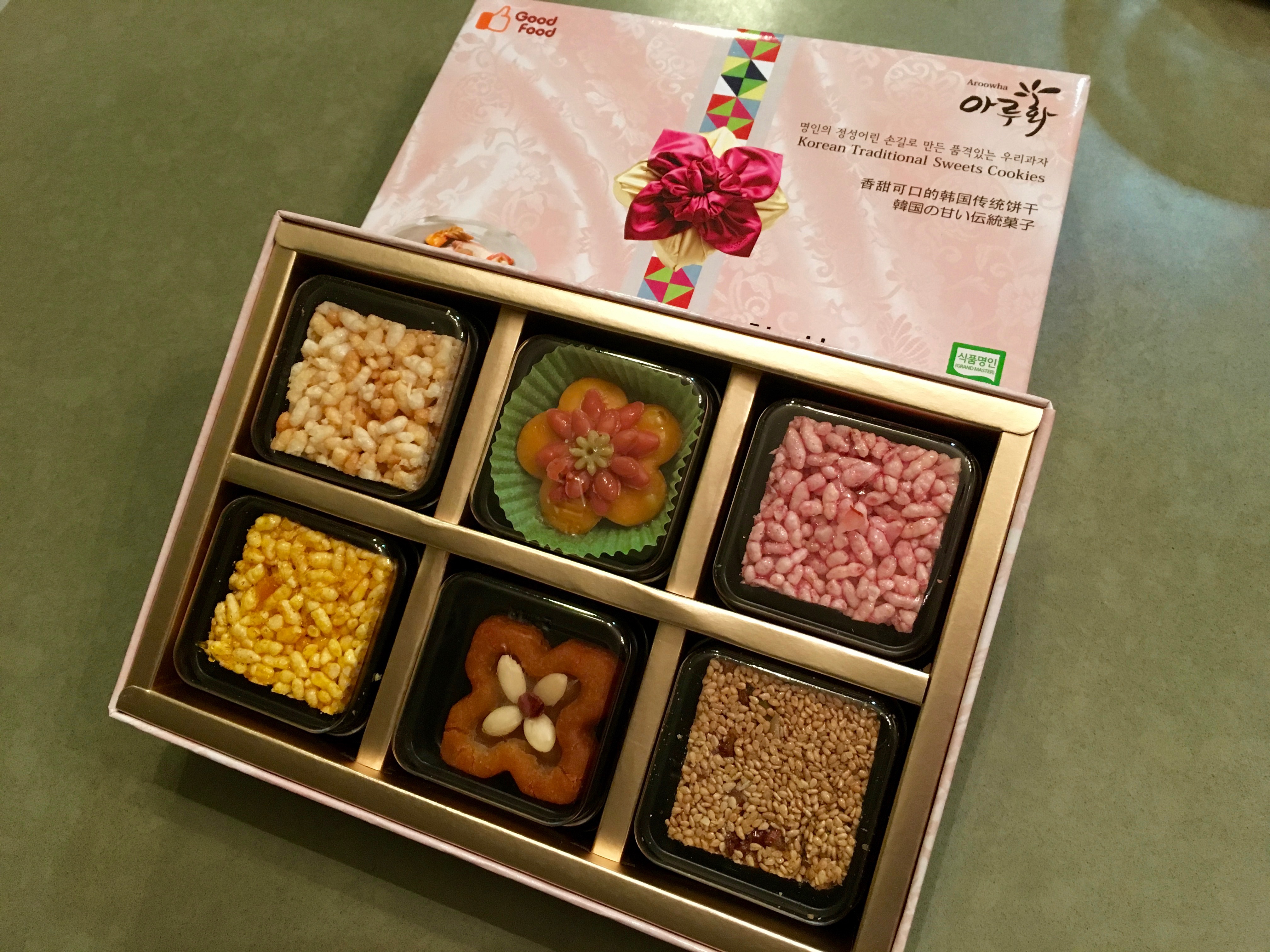 Kyle got these treats from a Korean coworker.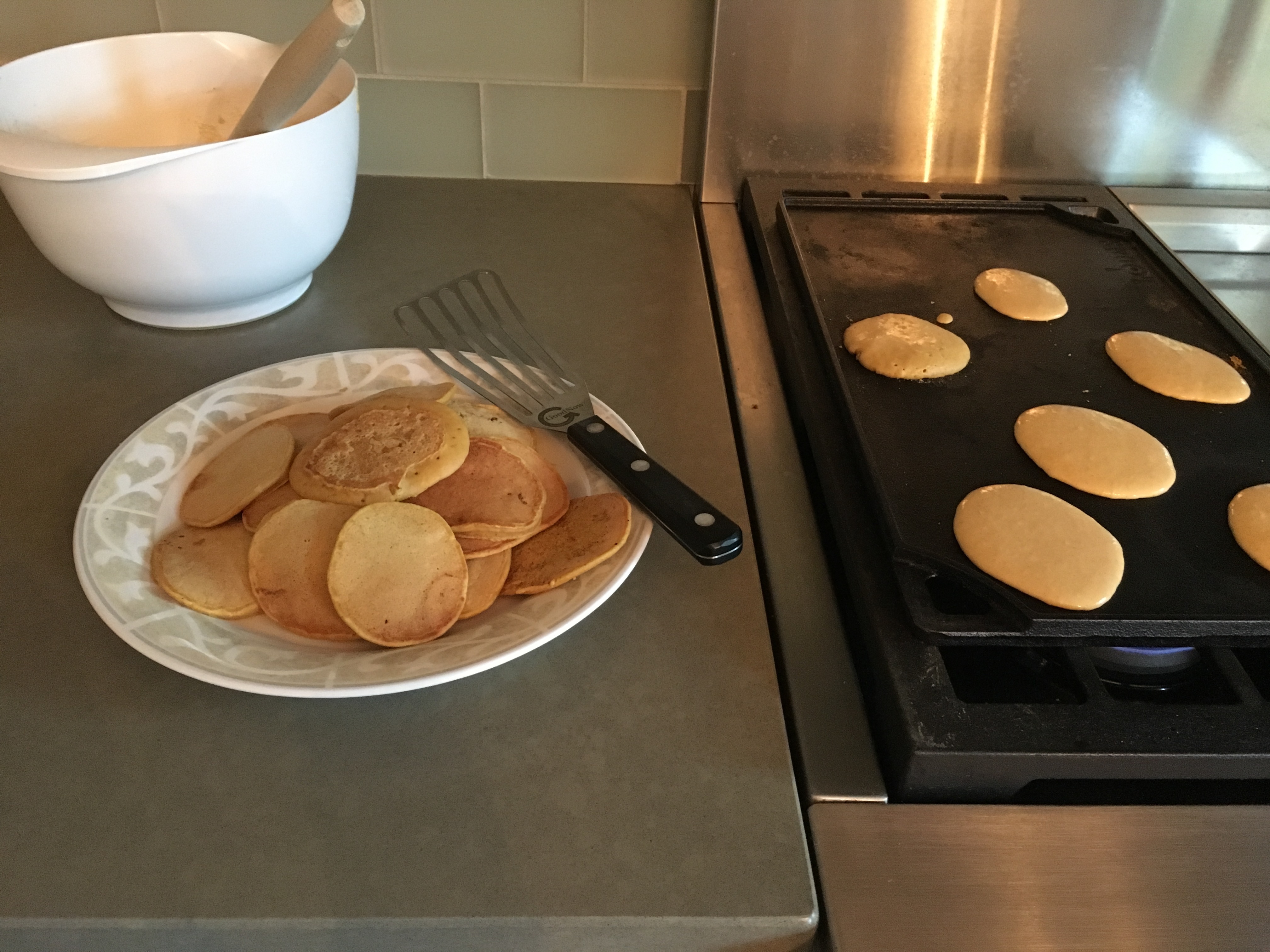 Looky look!  It's the first batch of pumpkin pancakes of Fall. I used some puree leftover from when I made this as well as home-made applesauce from the ones we "picked" last weekend.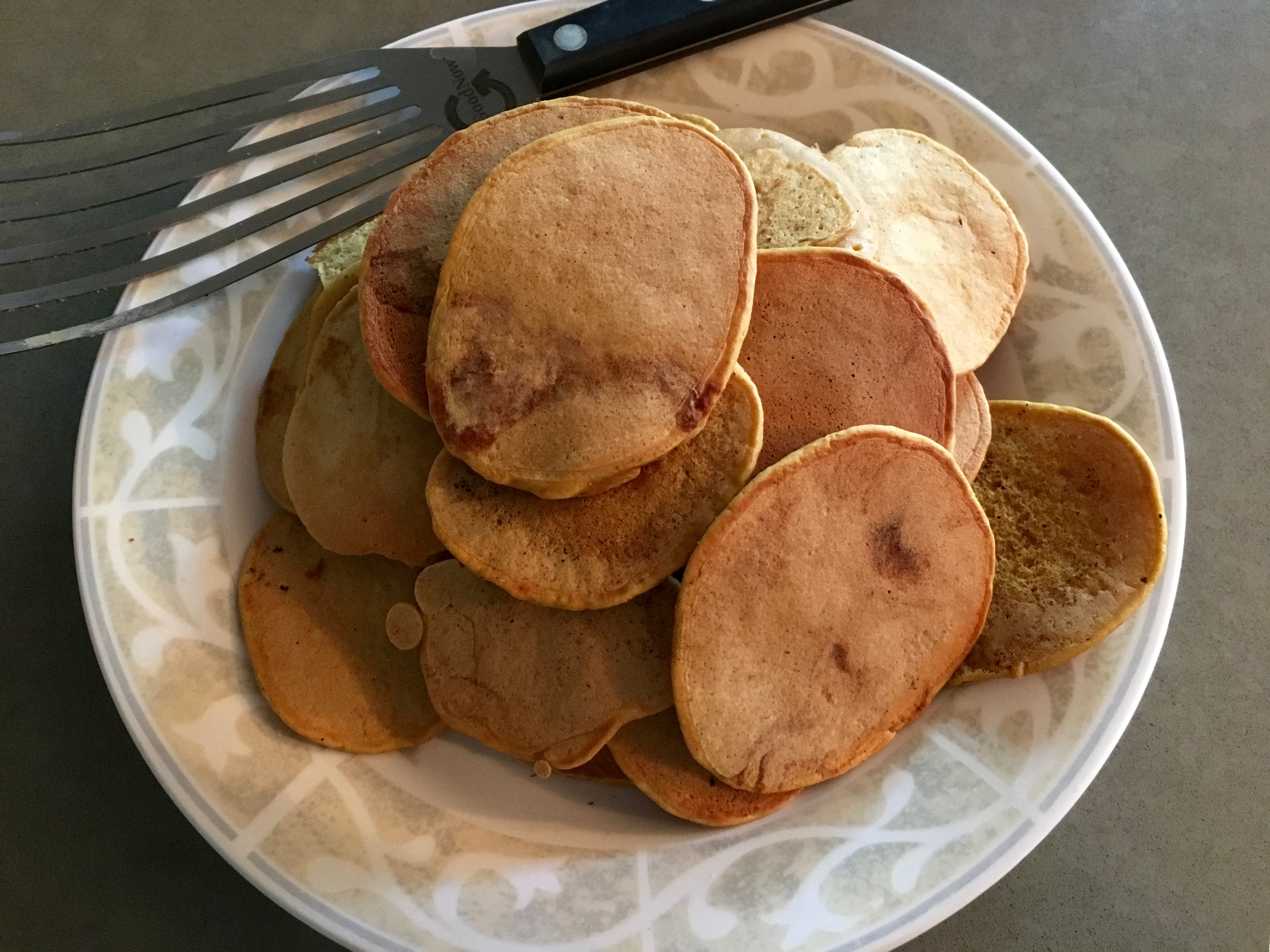 Wednesdays are the best days to make them in bulk because I have extra time in the morning since I don't workout before school and instead go to stroller strides after drop off.
V and I had an extra few minutes to ourselves after breakfast because Kyle took P to school as a special treat. 🙂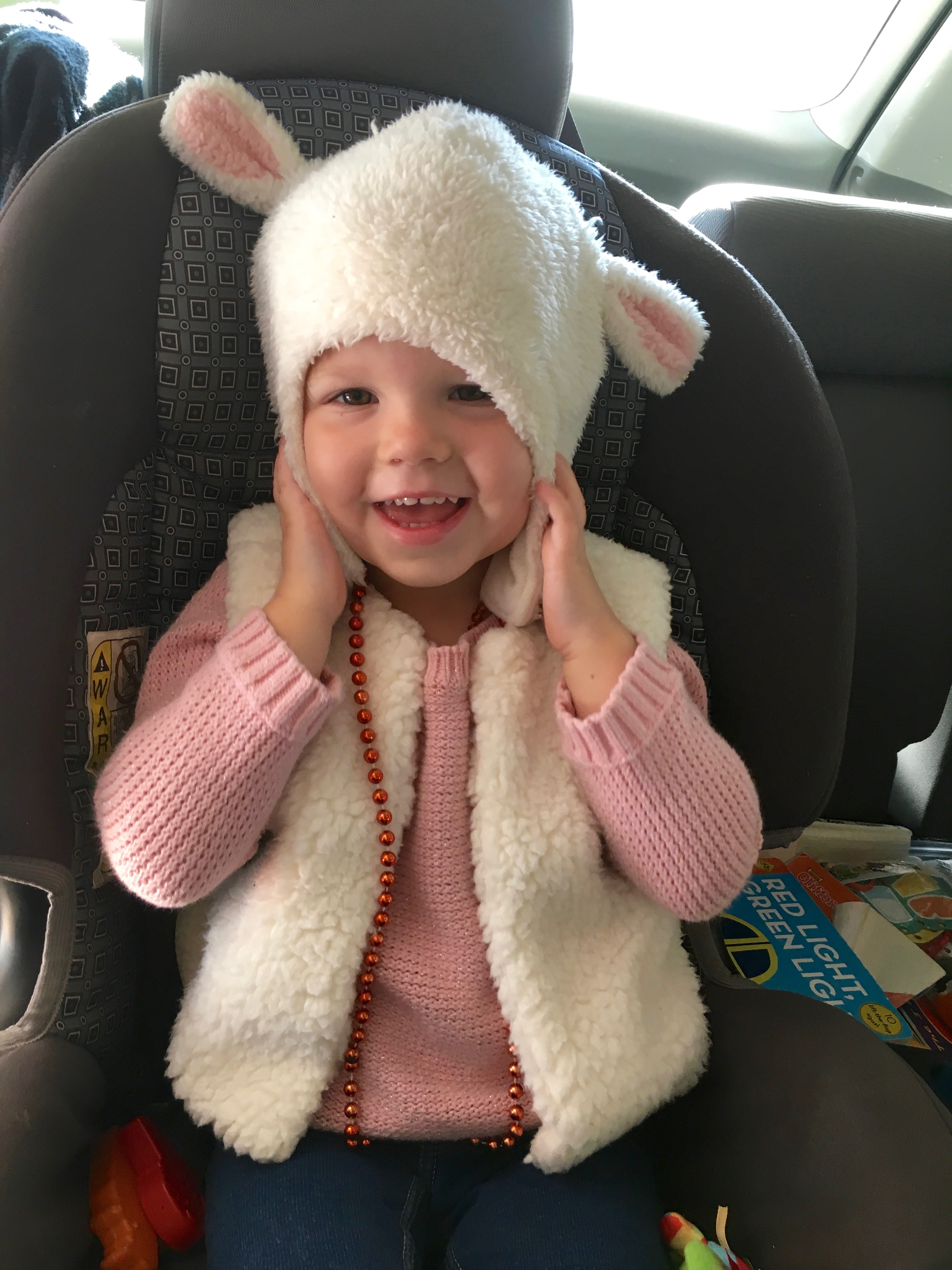 My little lamb can brighten up even the dreariest of days (the world is so freakin' depressing right now). Truth be told, I stepped back from blogging earlier in the week because I just couldn't bring myself to it.  Like the rest of you I'm sure, I was in a bit of a fog, and didn't feel like doing anything with this space.  Bringing it here is semi-inevitable (hence me bringing it up now), but the issues we are facing are so much bigger than whatever could be said on the internet (let alone this little blog) that it feels trivializing to just touch on it.  Which is why I've avoided the blog, I guess.  My heart is hurting, my head is angry/confused/frustrated/all of the above, and I feel helpless.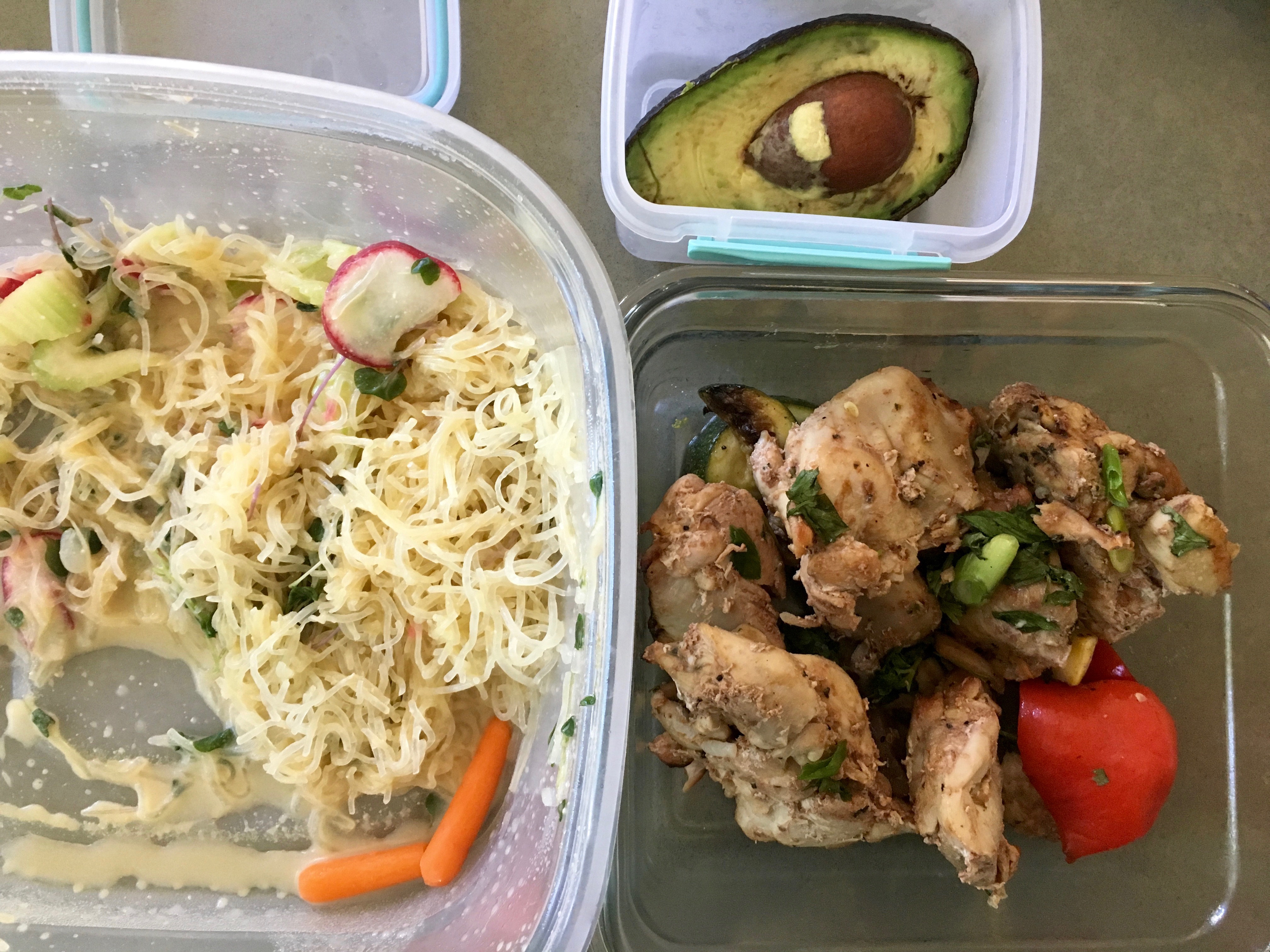 Leftover lunch.  I finished off all the noodles with the avo and some of the chicken.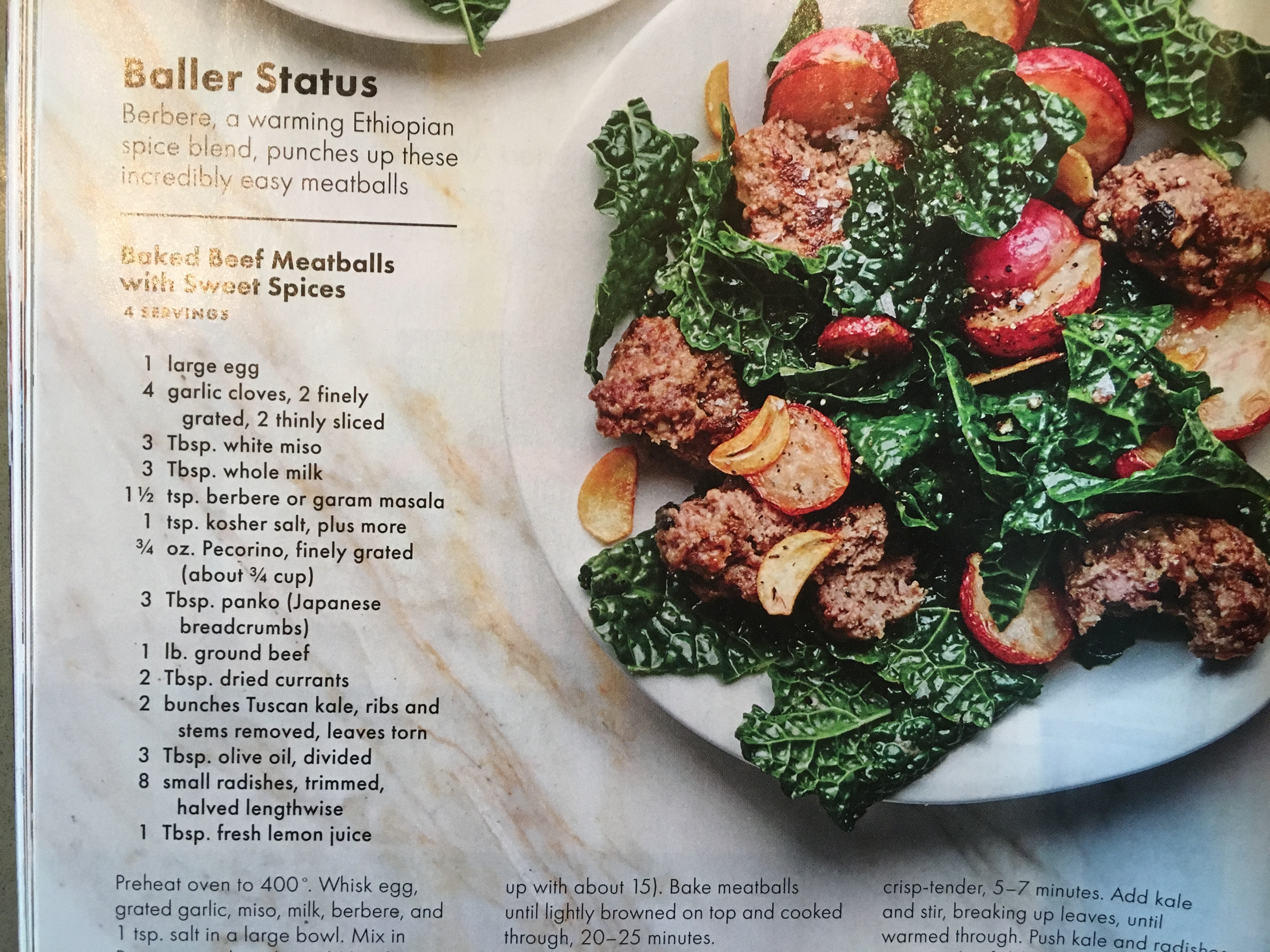 And then got to work on dinner, which was another Bon Appetit recipe.  I made some changes – used coconut milk instead of whole, used almond flour instead of panko, used less pecorino and garlic.  I also made my own berbere mix following some online directions but starting with garam masala per the BA recipe.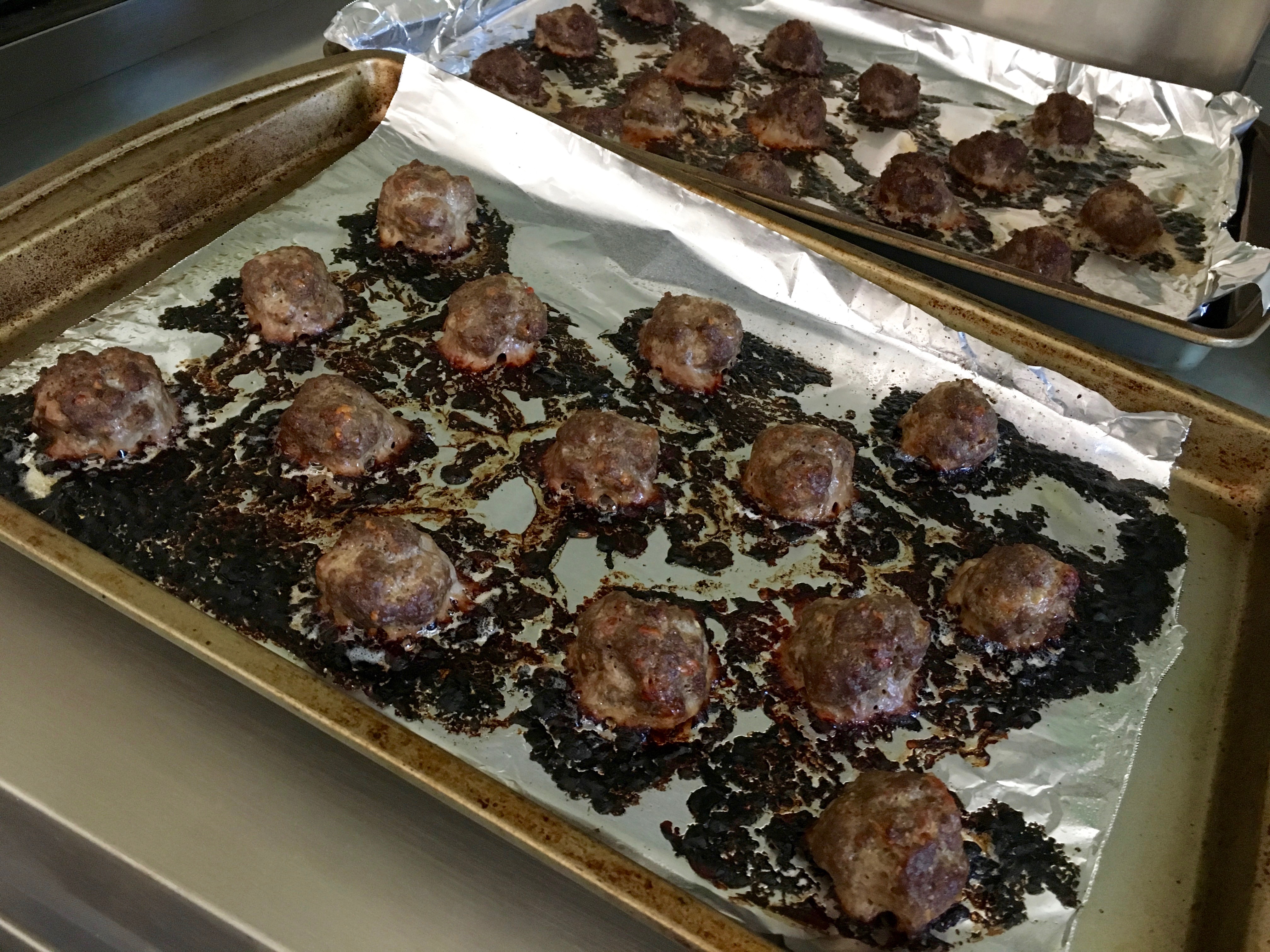 Never in a million years would I think to mix all those ingredients together (miso and cheese and berbere spices?!?!) but WOW oh WOW did the smell of the cooked meatballs tease me the rest of the afternoon.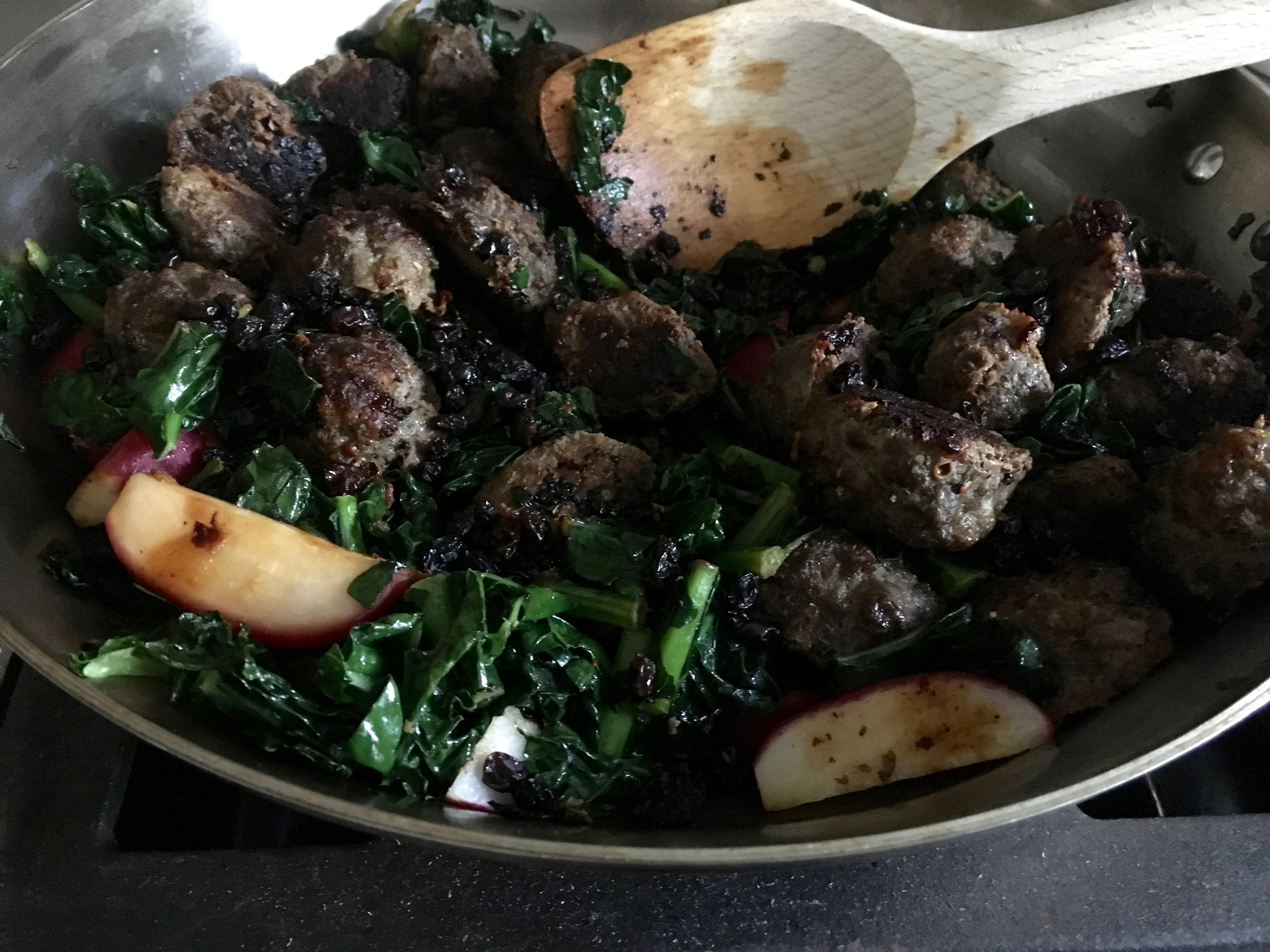 I actually forgot the currants in the meatball mixture so I just added them into the skillet with the kale and radishes.  No difference.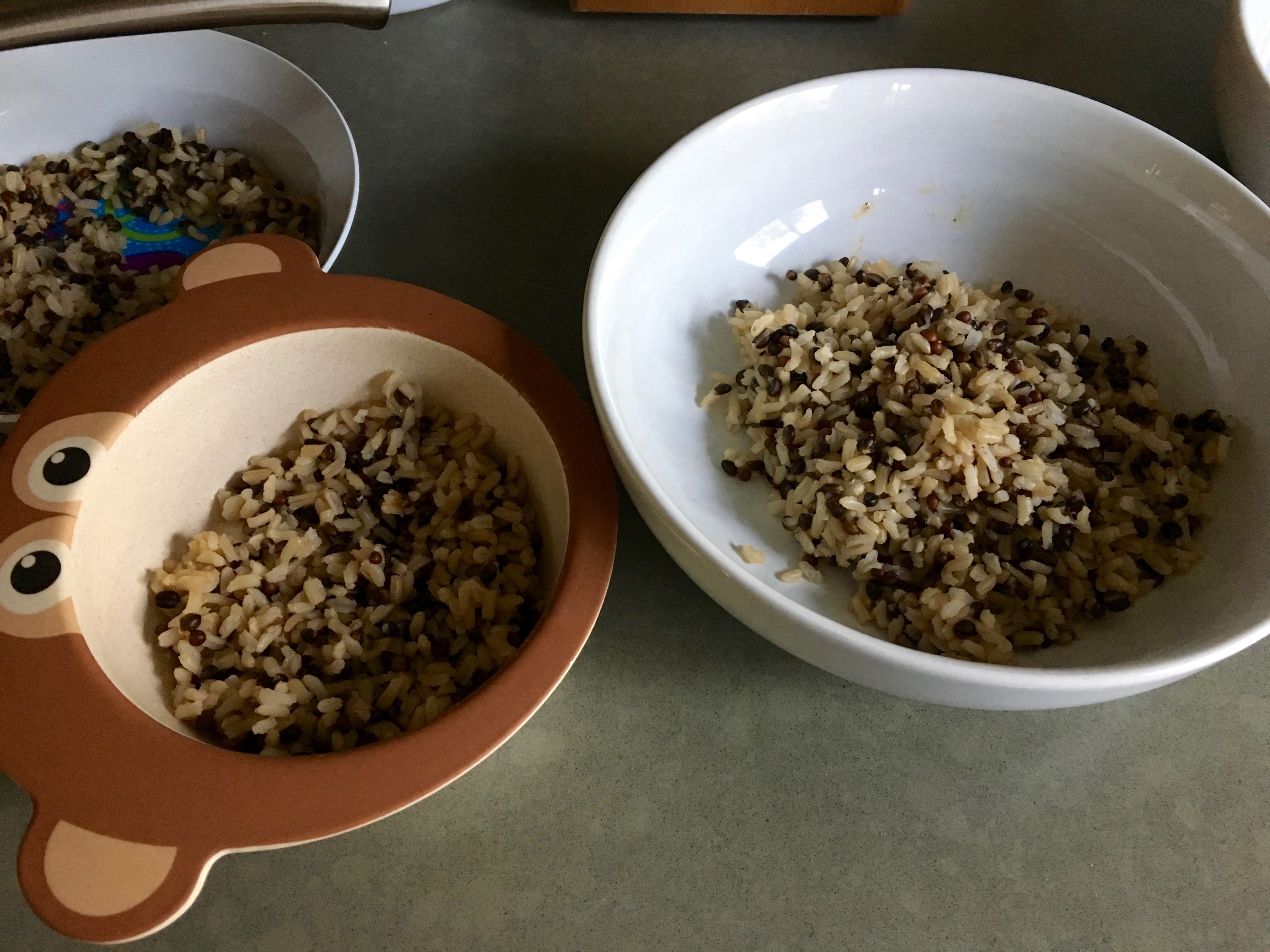 Served with wild rice. Yum!
I feel like this was so good I could have eaten the entire batch of meatballs by myself.  Seriously the umami situation was crazy delish.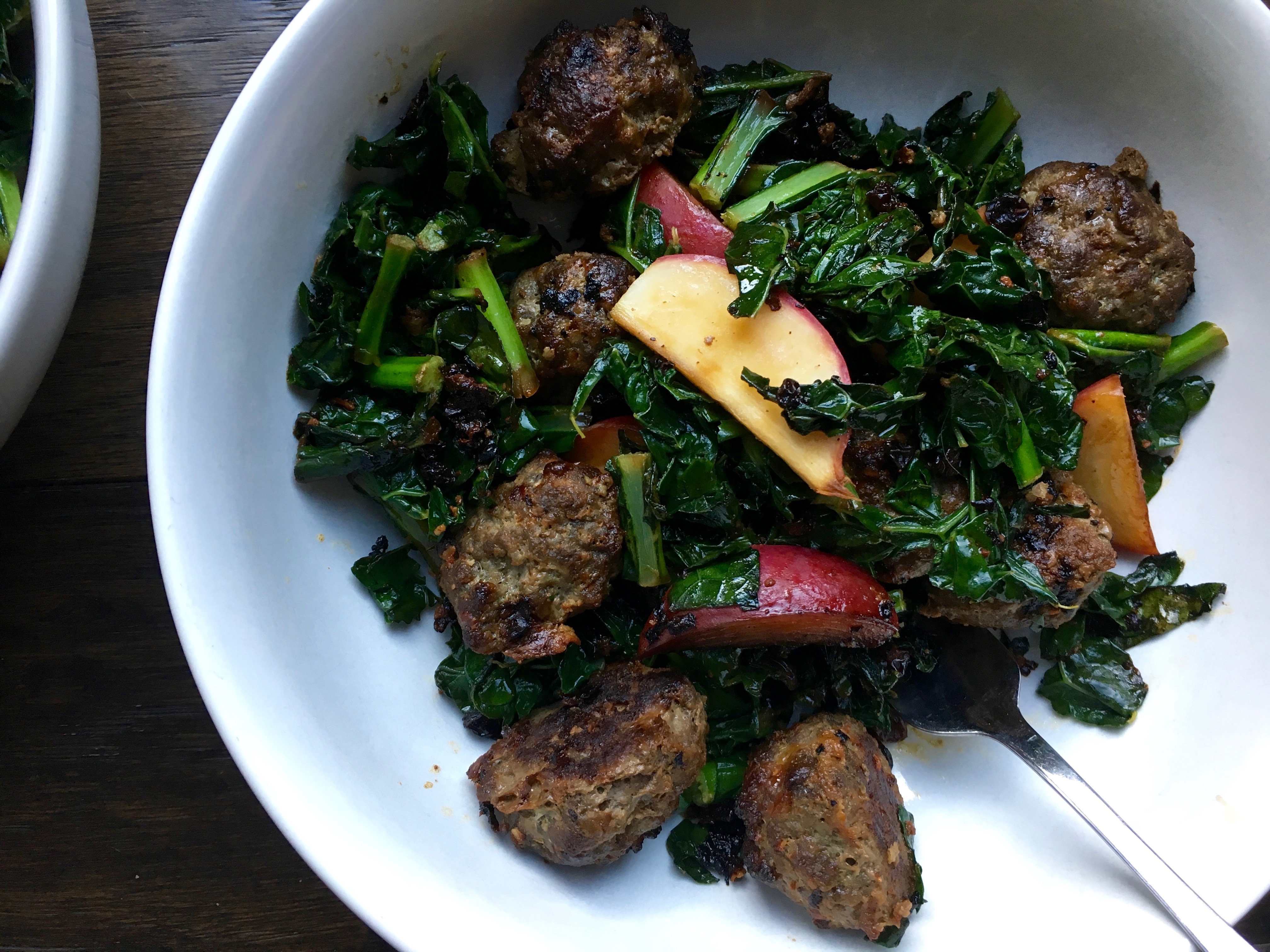 And I even managed to trick the rest of the fam into eating radishes!  They aren't spicy when they are sauteed in deglazed meat goodness (even though you bake the meatballs in the oven, you add them to the kale/radish pan with any extra juices at the end).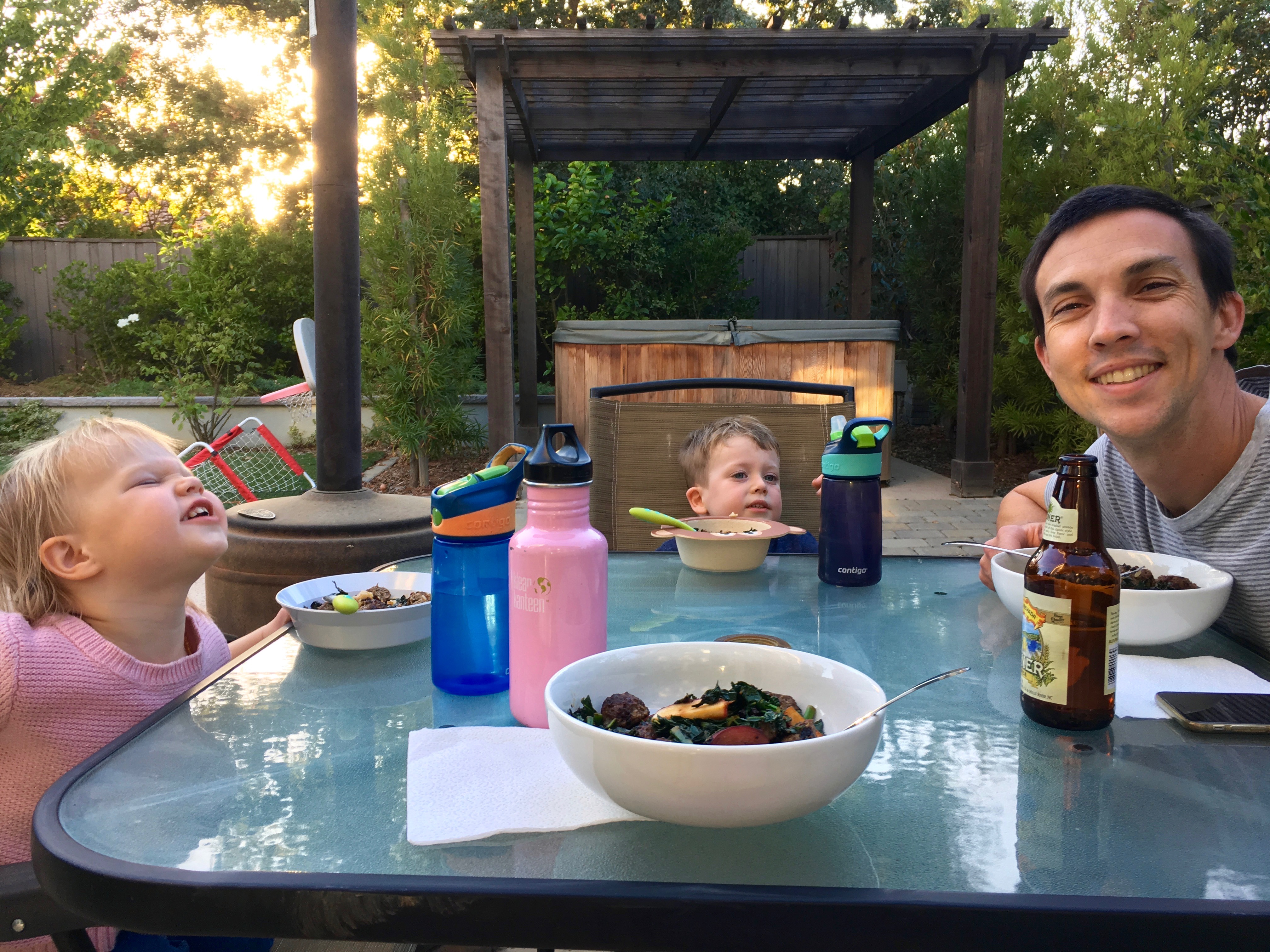 The weather was perfect so we ate outside, which was a stretch.  The kids (more specifically V) aren't ready for that level of freedom yet and she basically ended up wandering around the yard coming back for bites every so often until I was done and could put her on my lap and feed her.  Our outside chairs are too big for them to reach the table so they were having a hard time, which led to P eating standing up.  V is too independent for that.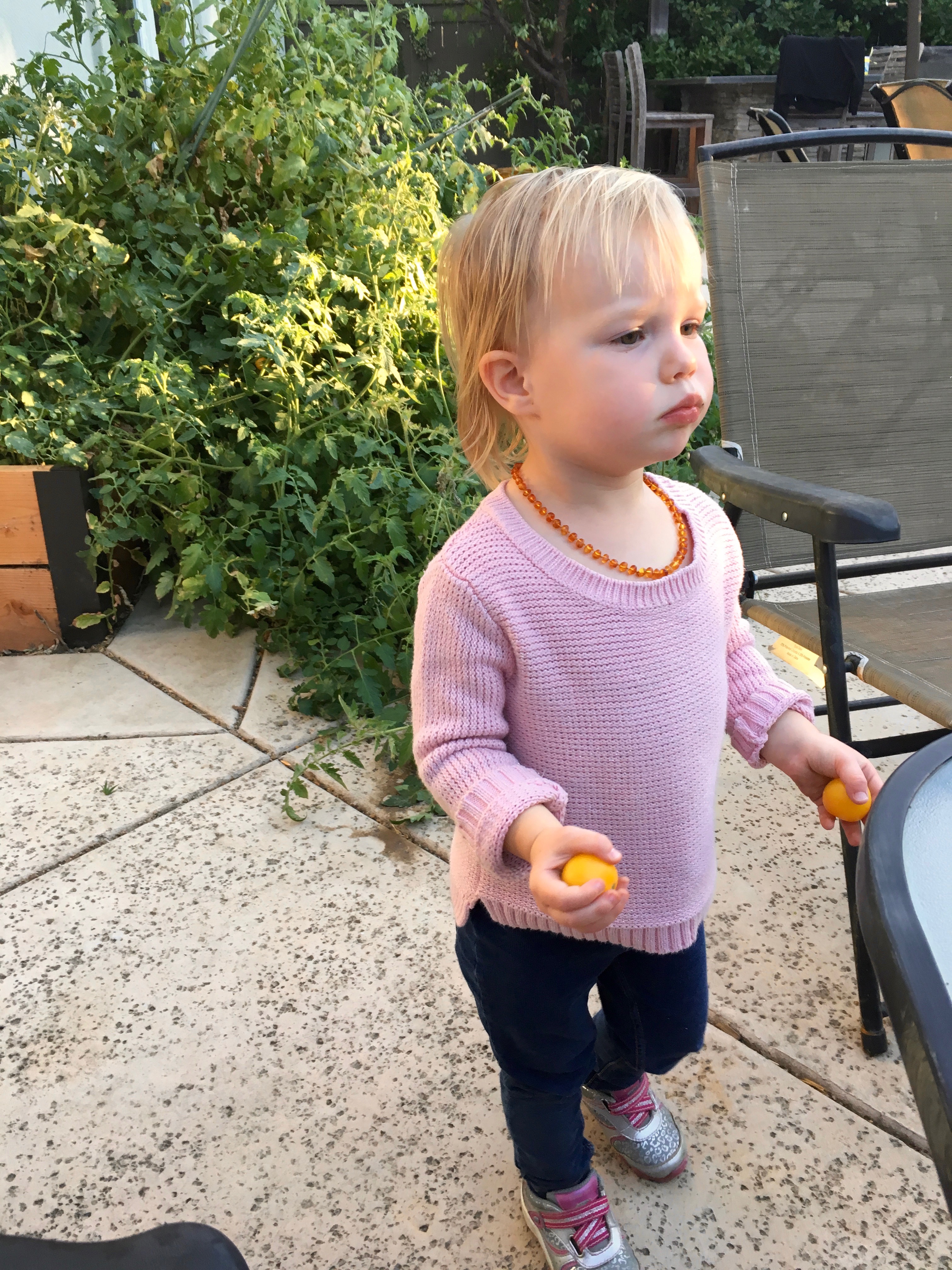 On the plus side, she did end up eating a bunch of tomatoes and then helping me pick another 4 pints after dinner was done.  I think I'm going to make salsa with them.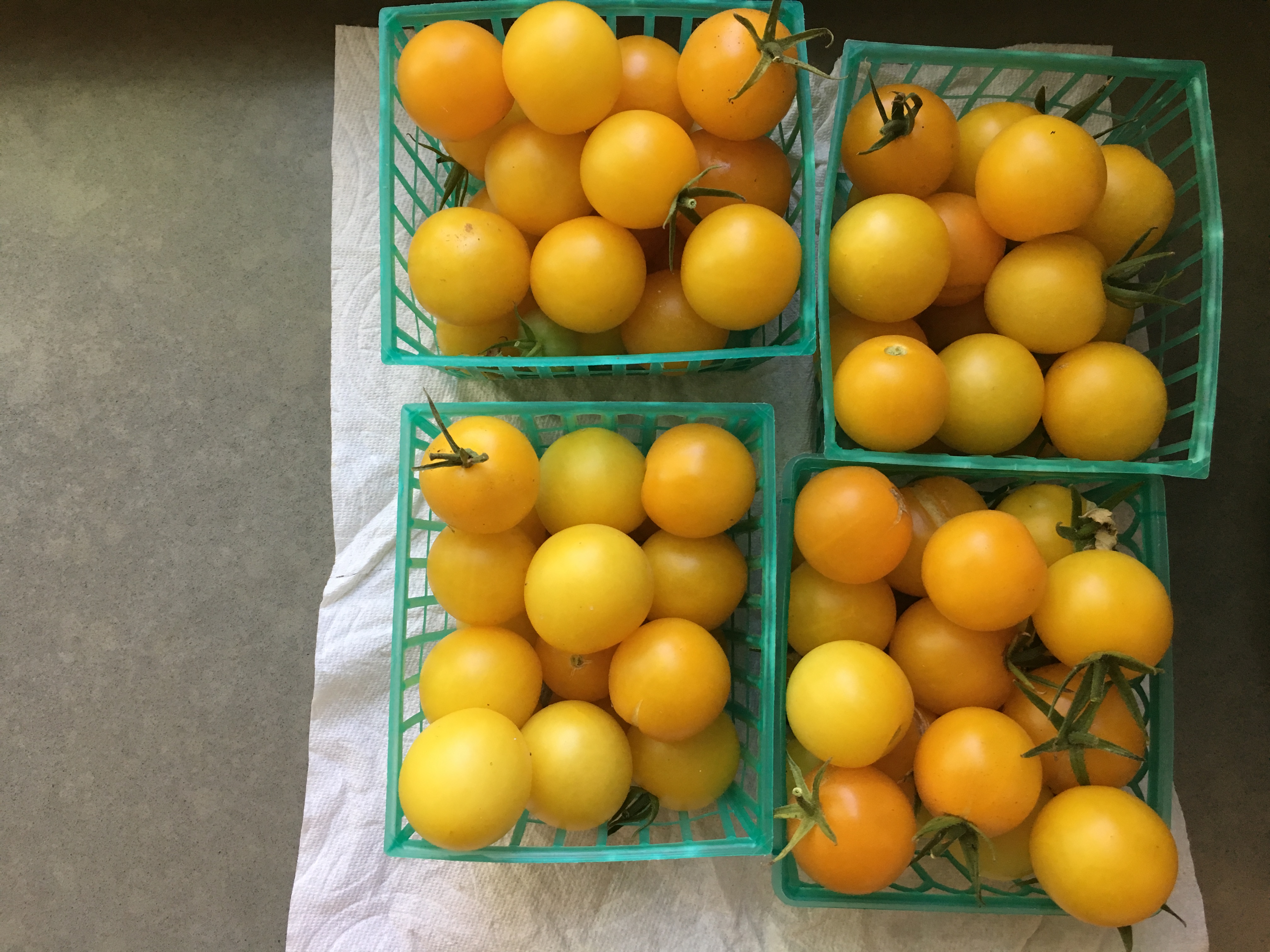 I wasn't going to have dessert, but then, I did.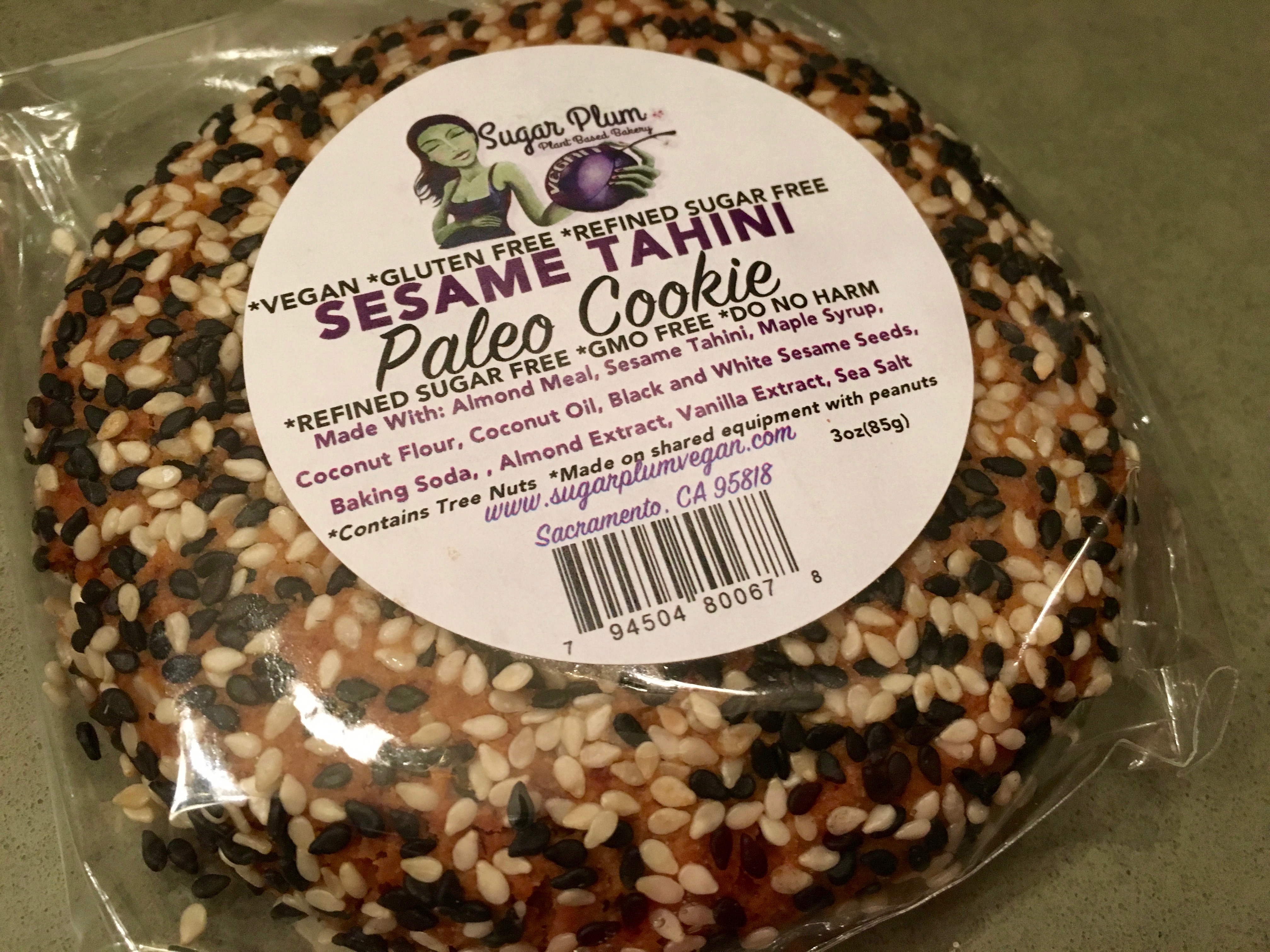 And I was going to stick to half the cookie…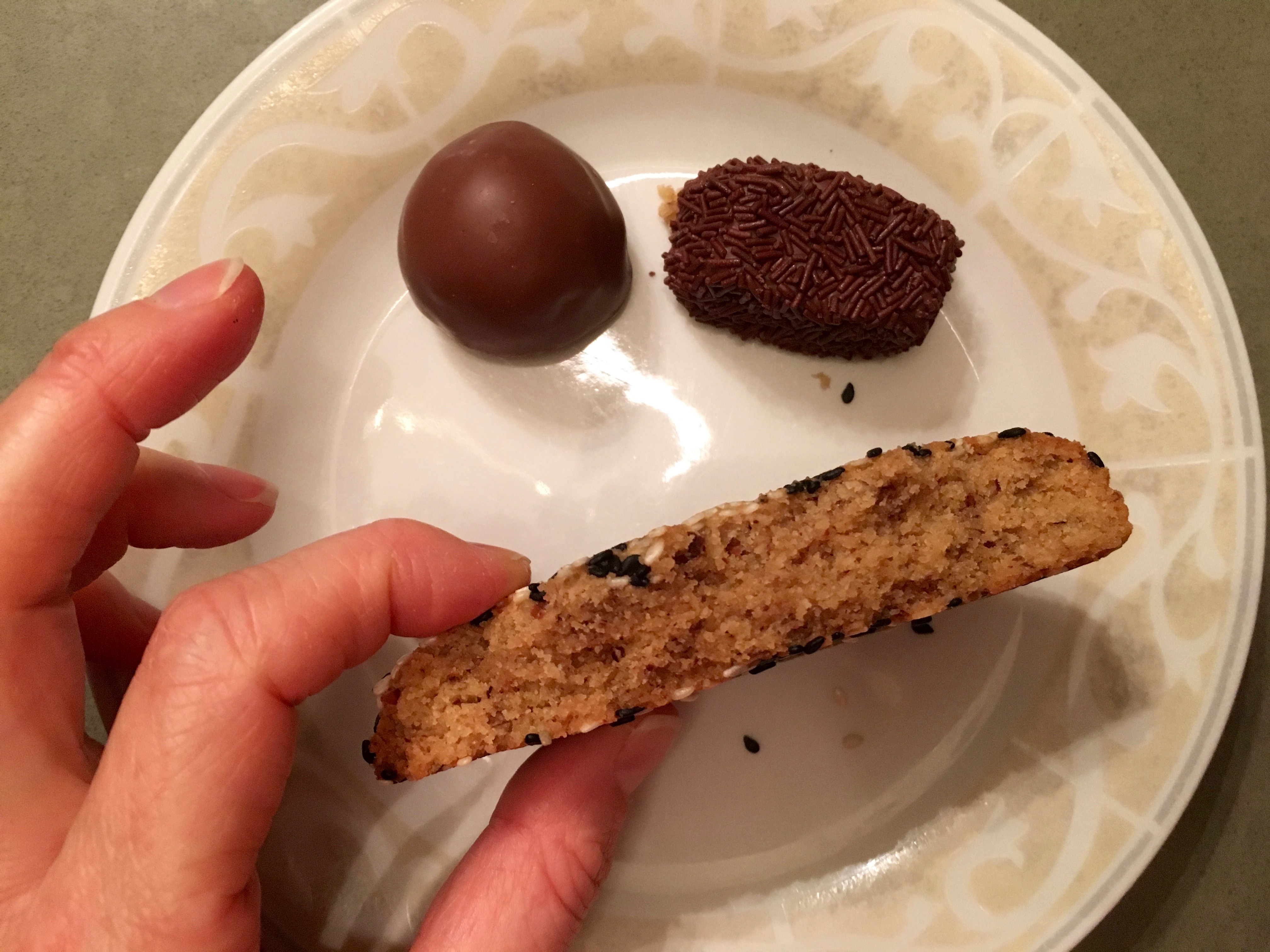 But then I didn't.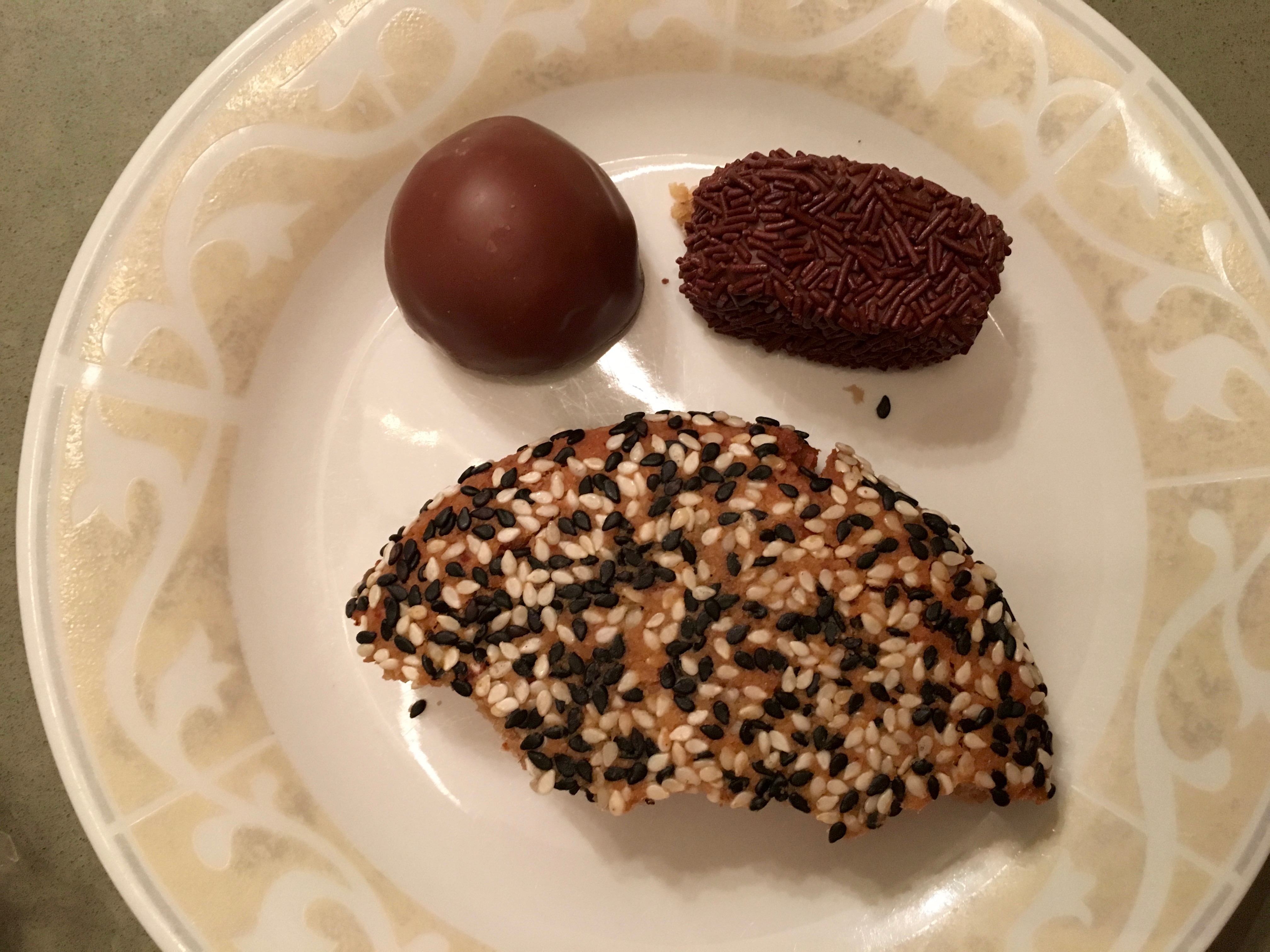 Now I am going to have to find this again or make a copycat version because it was SOOO GOOD.  I'm not even a cookie person (chocolate all the way baby), but I actually put the See's pieces back and had the rest of the cookie instead so there's that.  It's sweet but in a subtle way.  But not a healthy way.  Like it's not not sweet.  And the sesame flavor is perfect.  It's also soft, not crispy, which is how I like cookies anyway.  But not in an overly bread-y way.  It's hard to describe, but that's because it's unlike any cookie I've ever had before.  I got it at the WF near my parents' house so who knows if I'll ever see it again. Fingers crossed.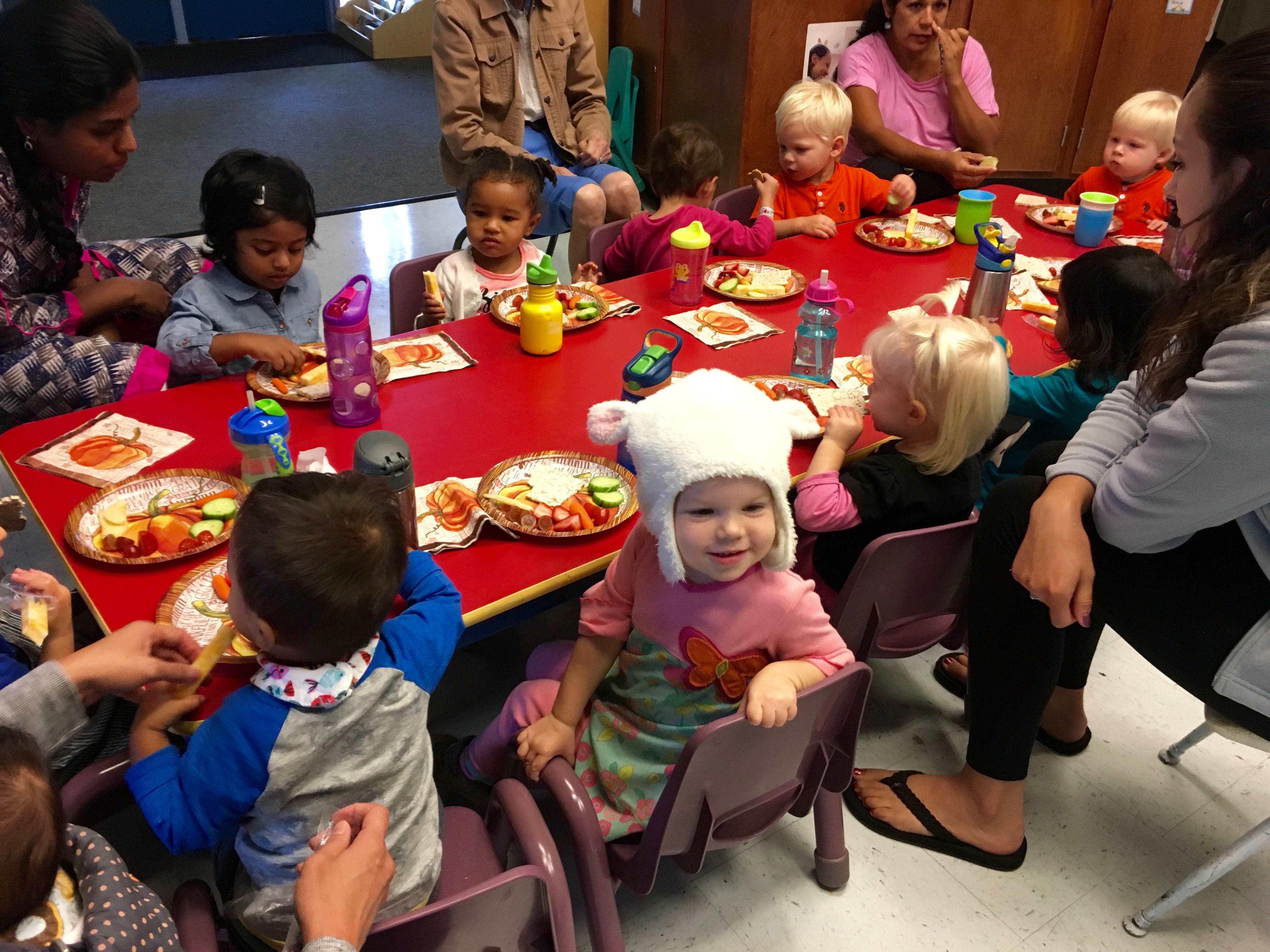 And before I peace out, how about some snack time cuteness.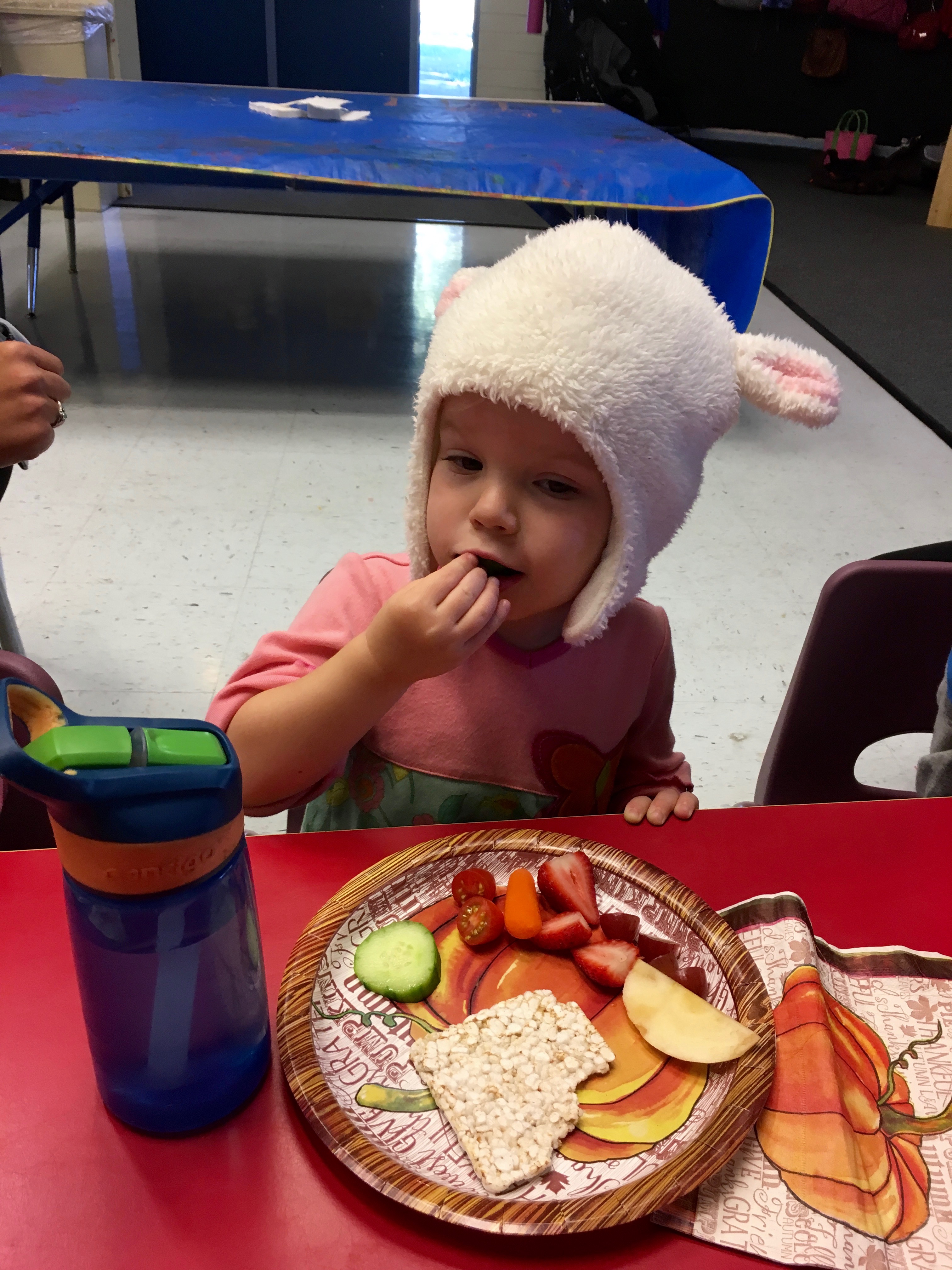 Hope you have fun plans for the weekend.  I'm very happy to be staying an extra night at my parents' house after OIT and having dinner with all my sisters and their husbands too.