I am…
[So many ways to end the phrase]
(a) crazy – from being by myself with an infant for almost two weeks
(b) tired – for the same reason
(c) proud – for landing an awesome job
(d) nervous – for accepting said job
(e) excited – for a visitor this weekend
(f) lonely – because I haven't met many people in Davis (yet!)
(g) anxious – to begin a new chapter
(h) happy – to spend money without feeling guilty
(i) relieved – that Kyle is returning home today (fingers crossed)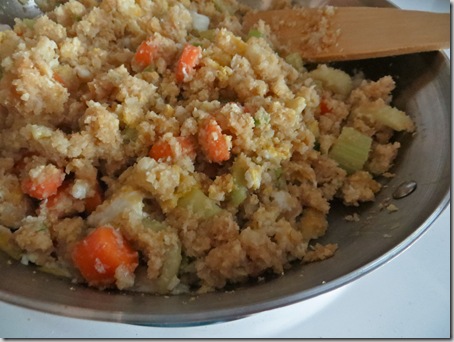 Oh!  And I'm full. 
I made cauliflower "rice" and I'm pretty sure it's one of my new favorites.
I know what you're thinking.  Cauliflower is not rice and it cannot replace rice.  To which I say, correct, I agree.  BUT!  I think it's honestly delicious in it's own right.  And for the record I was just as skeptical of the whole cauli rice concept prior to making it.  [Although I think that's because I've only had it in the past in a raw "rice" form, which was not flavorful and way too rough on my gut]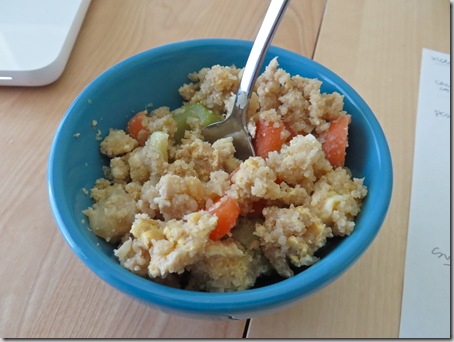 This is definitely not lacking in flavor.  And I felt fine after eating it, despite the fact that cauliflower is a FODMAP food (I tolerate the polyols category best of all the FODMAPs though).  For other FODMAPs people, < 1/2 cup is generally considered a safe serving (unless you are especially sensitive to polyols). 
I'll get to the recipe later.
First I'm gonna share my day 'o food.  Because I took lots of pics and I feel like it.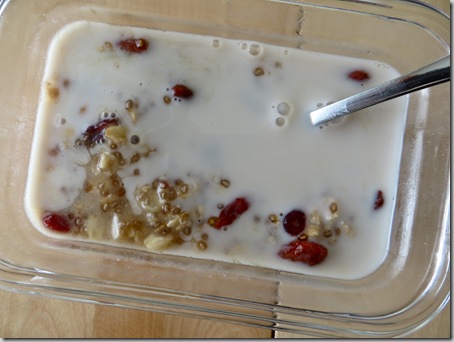 Breakfast numero uno.
Can you even tell what's going on under there?  Probably not.  Here's the situation pre-almond milk.
Overnight oats: whole rolled oats, chia seeds, goji berries, stevia and cinnamon.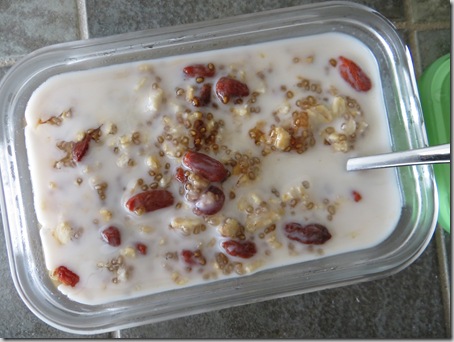 I'm lovin' on the goji berries as of late.  Superfoods up in hurrr.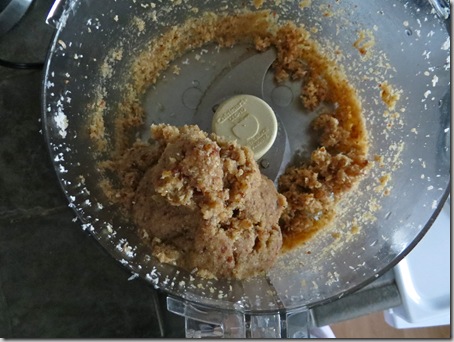 Breakfast numero dos was a lot lot lot of nuts (eaten while I made the above balls).  I single handedly finished an entire Costco tub of roasted nuts while Kyle was gone.  And then I went to the Co-op and bought more and finished those off.  Yeah.  I'm blaming it on breast feeding.
For lunch I had the cauli rice stir fry that I made the previous night.  Technically I made this over the course of the week because I "riced" the cauliflower several days ago, but didn't use it right away.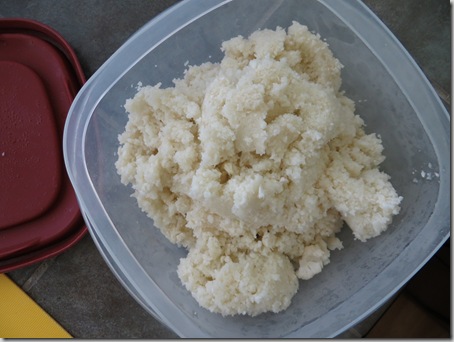 Cauliflower meet food processor. 
I just pulsed (and scraped the sides down in between) until everything was super teeny tiny.  It took less than five minutes.  Then I tupperwared it up and waited until I had time to do something with it.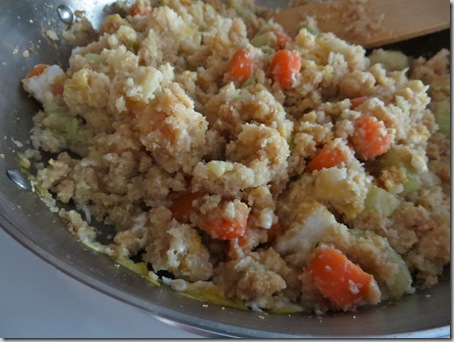 Cauli Asian Stir-fry [vegetarian, gluten free, dairy free]
Ingredients:
1 medium head of cauliflower, "riced" in a food processor/blender
3 eggs
1/4 cup sliced carrots
1/2 cup chopped celery
1 tbsp sliced green onion (green part only for low FODMAP people)
1 tbsp sesame oil
2-3 tbsp tamari
[optional] sesame seeds / peanuts
Directions:
First rice the cauliflower in a food processor as described above.
Next add the sesame oil to a pan, heat to medium/hot and add the cauliflower.
Let it fry up and cook.  Once it starts to get soft add the carrots, celery, and onions. 
Let those cook a bit, then add tamari (the amount varies due to the variable size of the cauliflower used).  Then the eggs.
Continue to work a spatula through the stir fry so the eggs mix into the cauliflower and everything cooks.
Serve with sesame seeds or peanuts (if you want). 
Some of the pics are blurry because I did a lot of the frying (and photography) while holding P.  And he's not exactly into being still. 
I like talking to him while I cook and telling him what I'm doing.  Because I'm a nut job. 
Ta-da!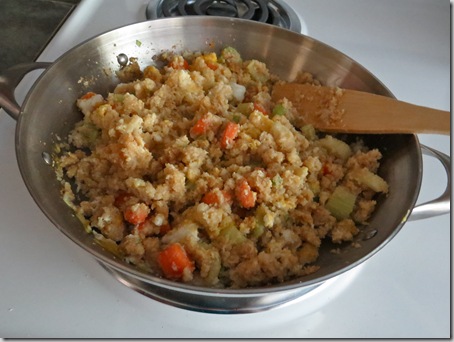 This was really really good.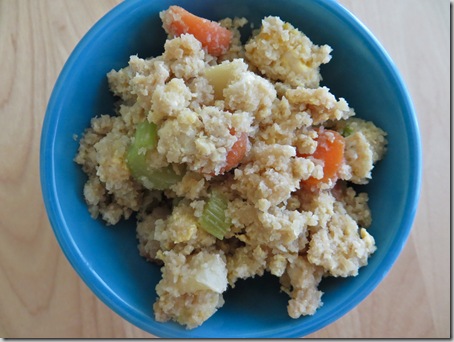 I ate it in two servings, separated by only an hour.  Because after I had some I realized it was way too good to not finish. 
Cauliflower is impressively versatile.  I never thought it could get fluffy like it does in this recipe.  It's soft and risotto like, making this a cross between a scramble and a paella type of dish. 
If you don't eat eggs, try it with tofu, I'm sure it'll be great that way too.
After lunch I went on a walk with with my sidekick, showered, made a smoothie, (see below), changed and fed him, and went to the Co-op to get a treat for dinner.
Fresh strawberries, frozen banana, almond milk, lactose-free plain yogurt, ice.
And for my dinner…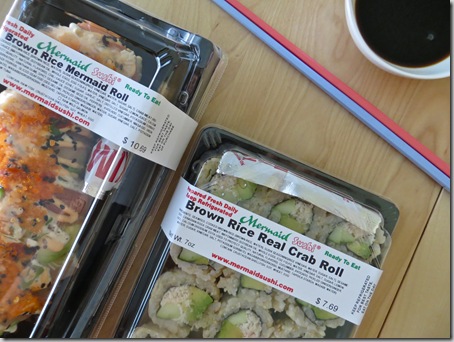 This sushi is pricey but that's because it's good stuff.  Sustainable and made to order at the Co-op.  I consider it a treat though because I can't justify spending $20 on 2 rolls very often.  But I was feeling like I deserved a splurge since I got a job and had made all my other meals (except the lunch my mom treated me to) while Kyle was away. 
I get these same two rolls each time: brown rice real crab roll and brown rice mermaid roll.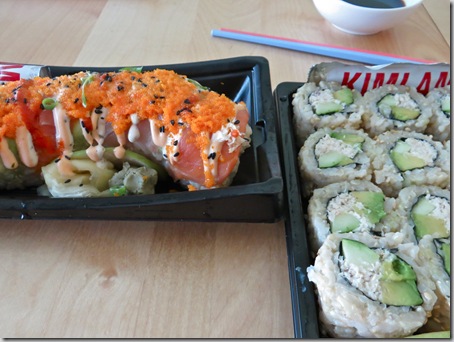 The mermaid roll is out of control awesome.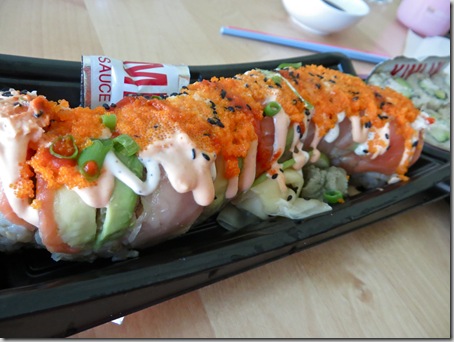 I ate it way too quickly.  It's sooooo goooood though.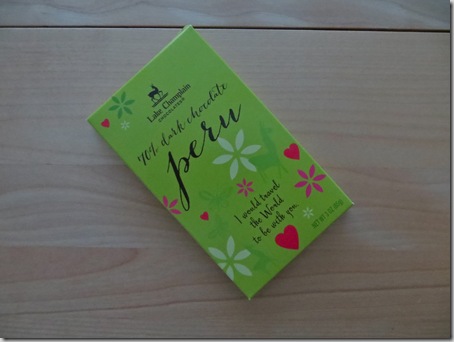 After the bedtime routine I had twp squares of this guy.  I can't find this exact bar online to pink to, but it's by Lake Champlain, and was a post-partum gift from Kyle that got lost in the hospital-to-home shuffle, but reappeared in the Santa-Monica-to-Davis shuffle.