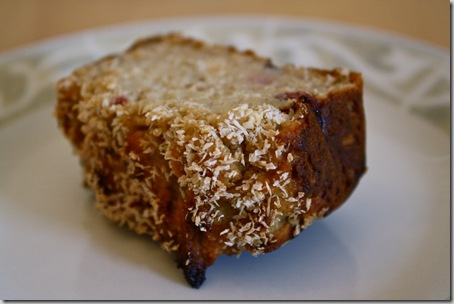 Coconut Cranberry Banana Bread  [gluten free, yields 2 mini loaves]
Ingredients:
1 cup oat flour
1/2 cup coconut flour
4 tbsp sugar
1 1/2 tsp baking powder
pinch of salt
1 banana, mashed
1 cup vanilla greek yogurt
2 eggs
1/3 cup fresh cranberries
1 tbsp shredded unsweetened coconut (for topping)
Directions:
Pre-heat oven to 350 degrees F.
Combine dry ingredients (flours, sugar, baking powder, and salt) in one bowl.  In a separate bowl, combine wet ingredients (banana, yogurt, and eggs).
Add wet to dry and mix.  Fold in cranberries.
Pour (or scoop – batter is thick) into mini loaf pans sprayed with non-stick. 
Sprinkle shredded coconut on top.
Bake at 350 degrees for 38-42 minutes (or until a toothpick comes out clean).
Notes:
I used Chobani non-fat vanilla Greek yogurt.  The yogurt and cranberries gives it some tang, which pairs really well with the coconut. 
This bread isn't very sweet.  If you want it to be a more traditional sweet bread, add 1-2 tbsp maple syrup.  The texture will still be fine.
Coconut flour is a very absorbent flour, so the texture is pretty dense for a bread.  For this reason I made it with real eggs.  I suspect a vegan substitute (ie chia seeds or flax seeds) won't really work as well, but feel free to try and let me know.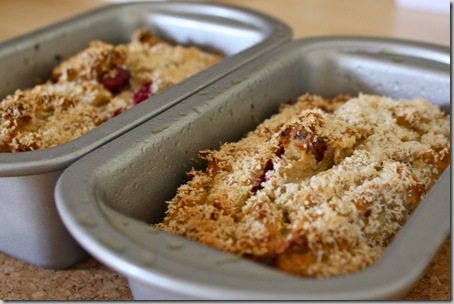 Not much else to say.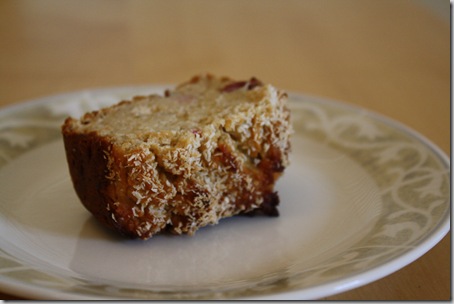 Pretty good stuff.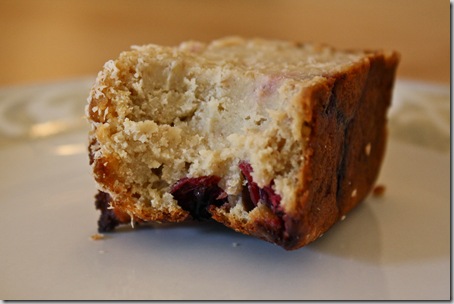 Breakfast.  Dessert.  Snack.  It's all good.