I'm 26 weeks pregnant – almost done with the second trimester.  Here's the proof.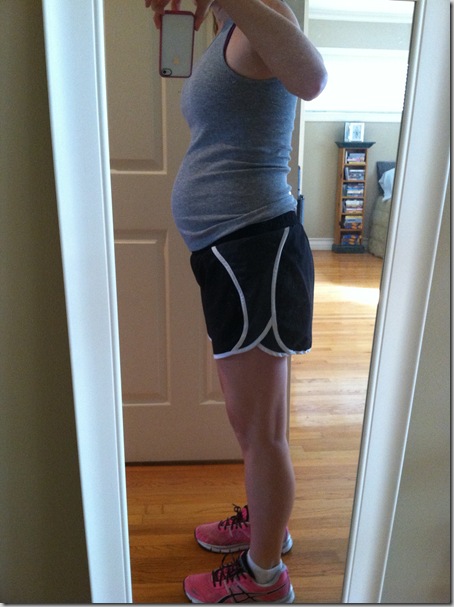 I've come to the conclusion that you really can't tell how big I am from these photos.  My belly is so much larger in person.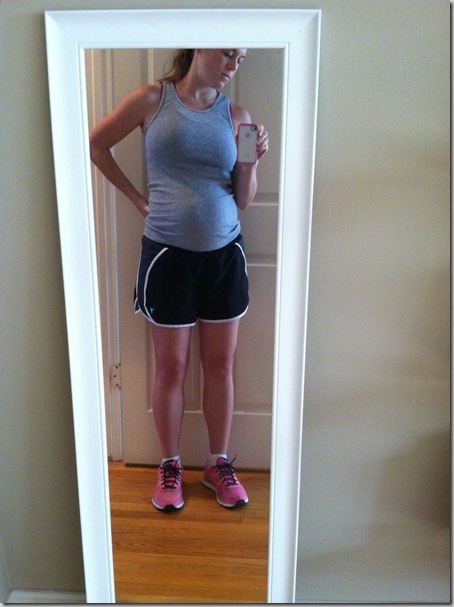 I think this front view is a bit better. 
Anyway, right after this photo sesh I headed off on a walk/jog.  I was so amused by all the spooky decorations in the neighborhood I decided to take some photos.  The people who live in the Palisades go all out!!  [Side note: I don't live in the Palisades.  I'm not a trust fund baby and I didn't win the lottery.] 
But seriously, I've been watching decorations go up over the past month and each is more amazing than the next.  In the beginning there were mostly just spider webs covering the perfectly manicured shrubbery (still very cool looking, in my opinion).  But decorations have gotten more and more elaborate over the past 31 days.  It seems like a contest (rich people problems, much?).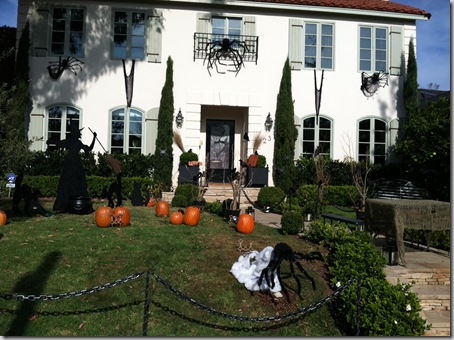 This one had eerie music playing and that spider jumped out and scared the crap out of me.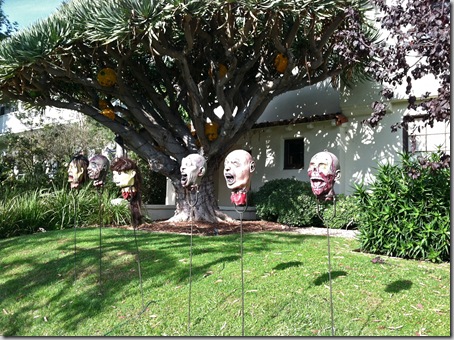 Heads on stakes.  Lovely.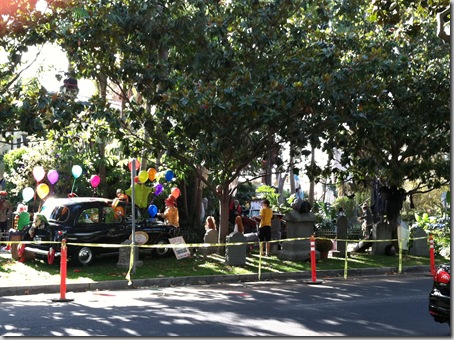 This house was still in progress, but I'm pretty sure it's going to be the most visited house of all.  That old car had creepy clowns and dead zombies in it, while the rest of the front yard was made to look like a graveyard.  But then you turned the corner…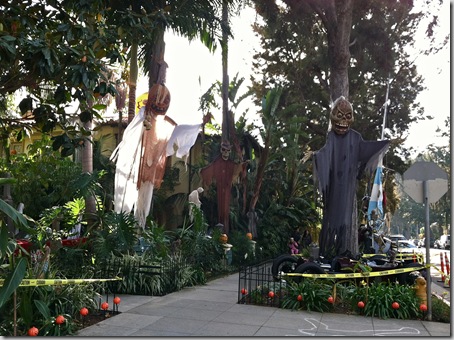 And there were several huge ghosts in the trees and chalk figures on the sidewalk.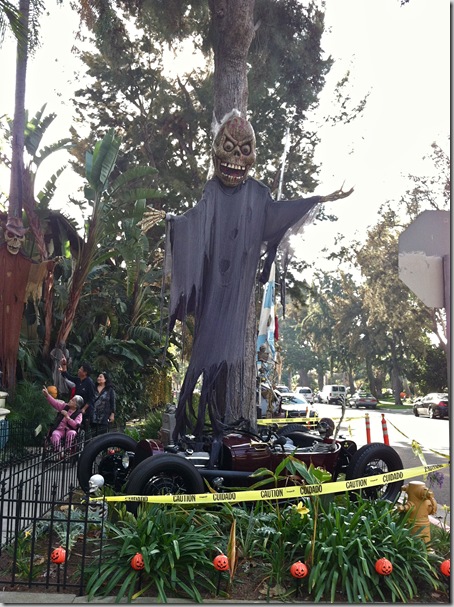 For the sake of comparison I included those pedestrians (although it's pretty obvious how massive these ghosts were since there's also a car in the shot).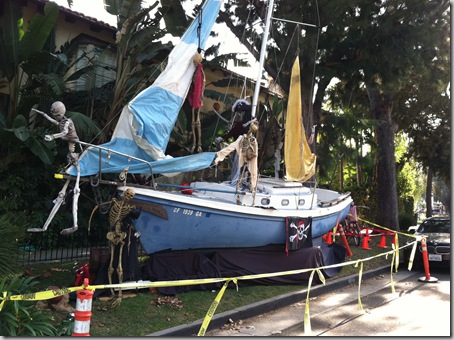 Further down the side of the (same) house was a pirate ship with skeletons at the helm.
And then this…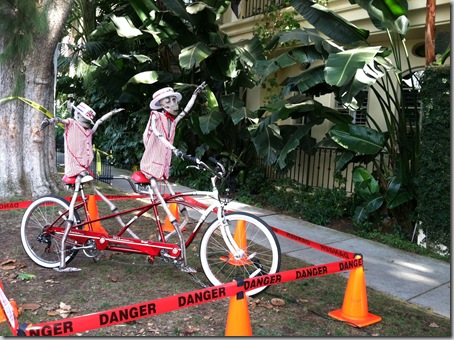 While the upstairs balconies had their own creepy guests.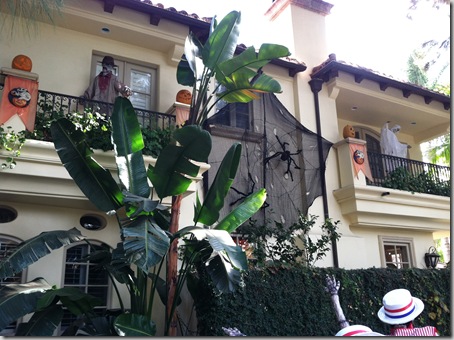 I mean, wow.  These people must really love Halloween.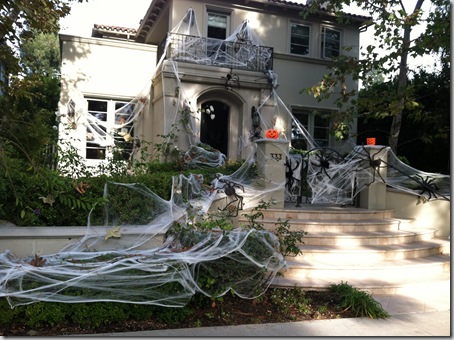 This is the more typical house.  And yes, I realize it's kinda silly calling this million dollar mansion by the sea "typical". 
Anyway, I hope we get some trick-or-treat-ers (although if I were a kid living in Santa Monica I'd go straight to the Palisades).  We have some candy just in case.  But I'm planning on giving out boxes of crayons.  Insert eye rolling.  While I don't want to be the lame person who hands out raisins or toothbrushes, I really hate giving tiny tikes crap.  Had I planned ahead I would have probably gotten some of this unreal candy.  At least it's natural sugar and fat, as opposed to hydrogenated, chemical, and dye filled nastiness.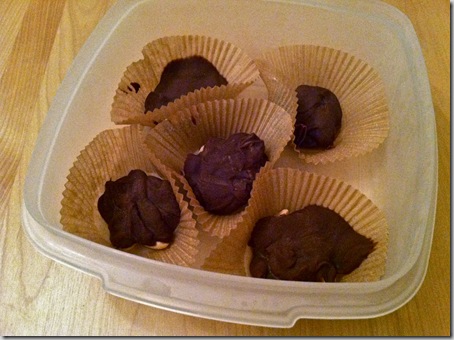 I made fudge with peanuts last night so Kyle wouldn't be tempted to dig into the bag of Nestle minis.  It's just dark chocolate, coconut oil, Earth Balance and peanuts. 
Too bad I don't have a costume.  I still wish I had gotten this one…if only to answer the door in.
Isn't it awesome!! [source] 
Hope everyone had a fun Halloween!