We covered some serious ground on Laura's last day in LA!
I'm a horrible sister considering I've lived in LA for over 6 years (four in college and two currently) and never taken her to see the touristy sights.
We started at the Chinese Theatre.  She saw the stars…and some other characters…and quickly realized why I avoided that part of the city.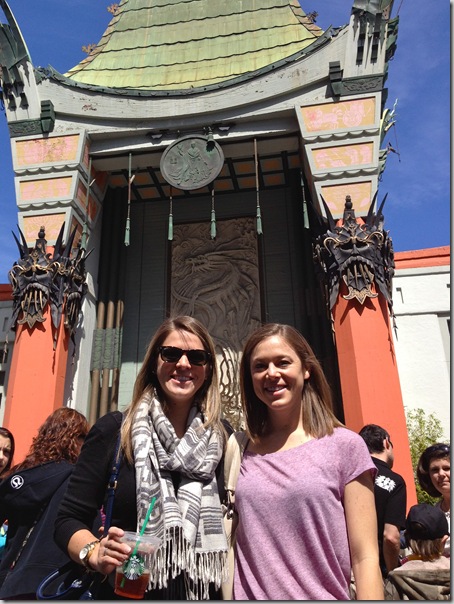 For lunch we headed over to Mendocino Farms, a place I've been meaning to try for a while.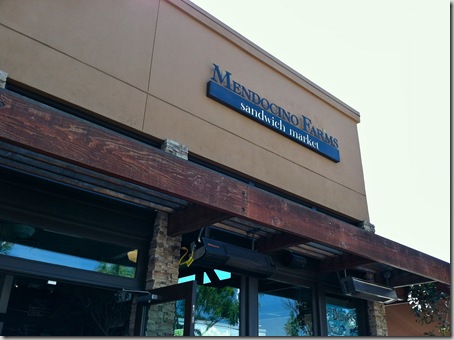 I'm so lame when it comes to leaving the Westside.  I fully admit it.  It's not that I'm a Santa Monica snob, it's the hideous nature of LA traffic.  Once you venture east of the 405 you are setting yourself up for potential bumper to bumper nastiness.  But I have to stop thinking this way because it's obviously cock-blocking my taste buds from some pretty epic bites.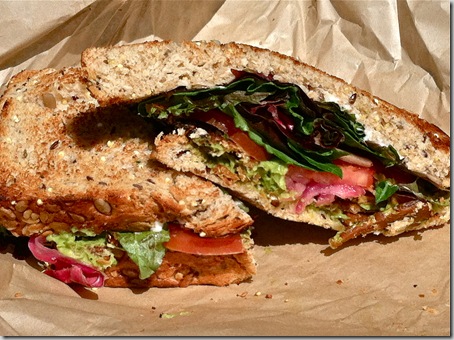 Case in point: The Traditional Vegan Club.
I had a hell of a time with this menu…they have a full category of vegan sandwiches…and I didn't even have a chance to scan the salads section, lest I get overwhelmed.
When it comes to menu reading, I'm easily distracted.  This drives Kyle bonkers.  When more than one thing looks good, I cannot make a decision for the life of me.  Most of the time he has to pull the trigger for me otherwise we would never order.  Waitresses love me.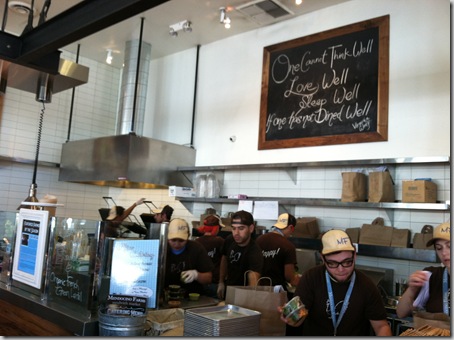 Anyway, the ordering process is kinda unique at Mendocino Farms.  You get to sample side salads as you ponder the menu.  Then there's someone who writes your order out and you take the slip to the counter to pay.
I still managed to deviate from my OG choice in between the ordering and paying stations…swapping buckwheat bread for mom's whole wheat.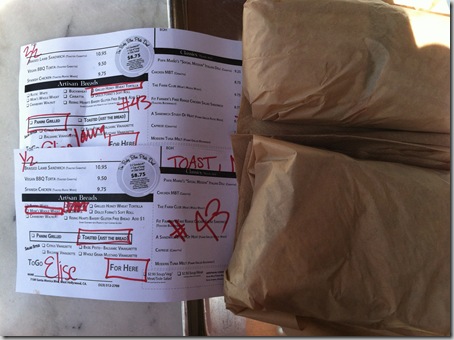 Laura got the Vegan Spicy Soyrizo & Black Bean Wrap.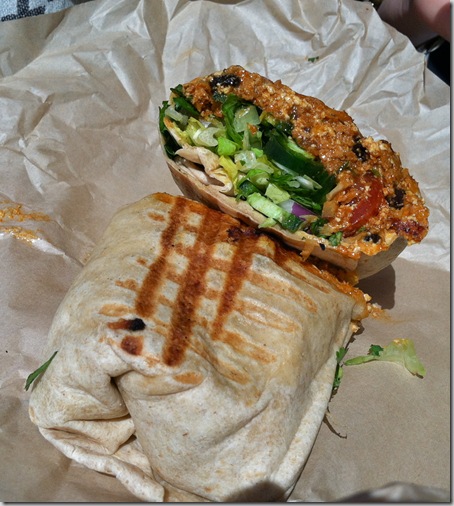 It had spicy vegan soy-chorizo with black beans, vegenaise, red onions, cilantro, fresh jalapenos, tomatoes and shredded romaine on a grilled honey wheat tortilla wrap.  They also have a vegan tortilla option available on request, but she stuck with the honey wheat wrap.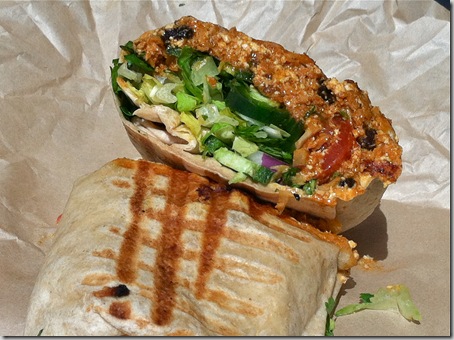 She got the whole thing grilled on a panini press.  Aside from the overwhelming amount of onions and jalapenos, she loved it.  She picked out a pretty sizeable amount of both and still had semi-toxic onion breathe for the rest of the day (that no amount of tic-tacs could conquer).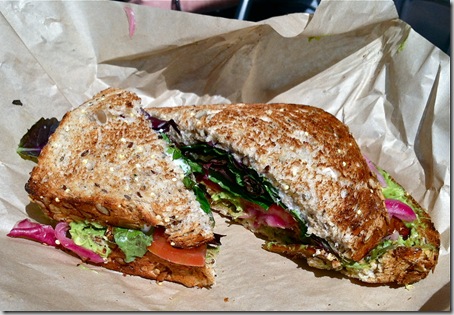 I got the traditional vegan club, which had their house marinated organic vegan tempeh bacon with smashed avocado, vegenaise, pickled red onion, tomatoes, and Scarborough Farm's greens on toasted whole wheat bread.
Holy deliciousness.  I wanted to marry this to my face.
Post lunching, we hit the road and headed further away from the Westside to visit my cousin in Glendale. 
My Aunt was babysitting her kiddos for the day so Laura and I went over to help out hang out. 
Tuesdays are her day to babysit Finn and Ivy and since Laura's only going to be in the US a little bit longer, we convinced my other cousin to come over and join in the family fun.
Photo captions from left to right:
Ivy teething on my iPhone [aka Steve Jobs rolling over in his grave]
My view of Ivy crawling up my front (she was after the iPhone, nevermind the fact that she was scaling my chest like a professional mountain climber while completely exposing my bra) [Steve Jobs would be proud of this one]
Ivy learning to walk (with a less than impressed Hazel in the background)
Me picking gnats from Ivy's hair examining her faux-hawk
We had fun. 
For dinner we made our way to Larchmont.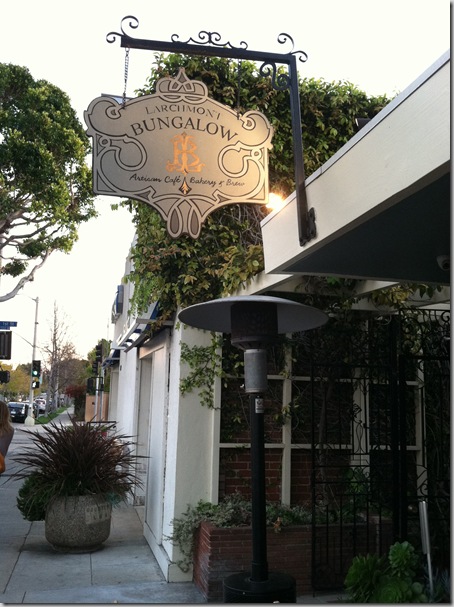 Kyle recently went here for brunch and told me I'd go crazy over the menu, so I finally got to check it out.
And he was right.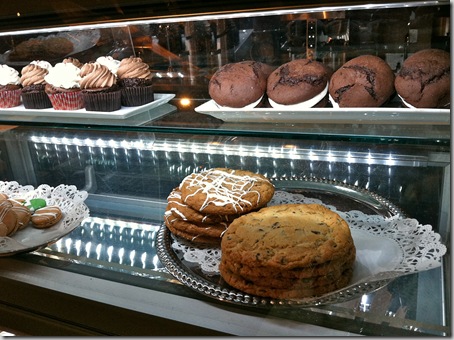 Larchmont Bungalow is an eco-friendly, artisan bakery and brew house.  It's in a cute little area too. 
On the left, Laura's (iced) black tea and on the right, my (hot) chai.
On the left, Laura's salmon spinach salad, and on the right, my vegan cobb salad. 
The menu was hard to narrow down – too many to choose from!!  But if you know me in real life, you know why I ordered this. 🙂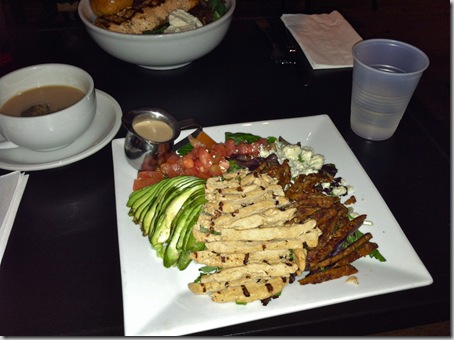 It had smokey-maple bacon tempeh, vegan mock chicken, avocado, chopped tomatoes, vegan mozzarella, and creamy vegan Caesar dressing. 
Too bad they effed up my order and gave me real Bleu cheese.  This was a huge fail on their part because (a) I don't eat cheese (hence the vegan order) and (b) I hate bleu cheese.  HATE it.  Long before I went dairy free, I excluded this pungent beast from my life.  Pee-yoo. 
At first I thought I was wrong about the ingredient – maybe it was just really good faux cheese?  But when I looked at the menu again and saw it was supposed to be vegan mozz I realized it was definitely an error on their part.  I picked my way around it, but it tainted the meal.  Sad.
Dear Bungalow,  If you're going to call a dish vegan, you better make damn sure there are no animal products in it.  Fondly, Elise
Laura and I headed home afterwards, at which point I had to face the reality that I was working the next day.  I set about my usual pre-hospital routine – making my lunch, setting out my scrubs, etc. and went to bed soon after.
In the morning I said goodbye to Laura and headed off for a long day of nursing.  I miss her already.