Whenever I go home to visit my parents I'm reminded about how lucky I am to have been raised with health in the forefront.  The importance of eating well and staying active was a given, so I have never seen wellness as a chore.  Eating balanced meals and participating in sports were, quite simply, just the norm.  I now know that I was very fortunate to have grown up this way.  Thank you mom and dad!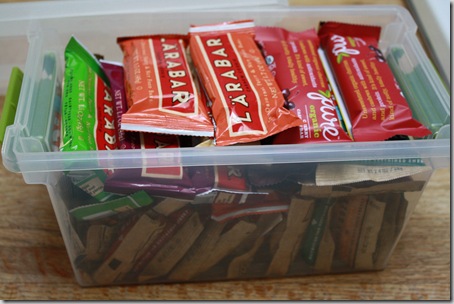 Prior to my arrival, my mom had been to TJs to restock the bar stash.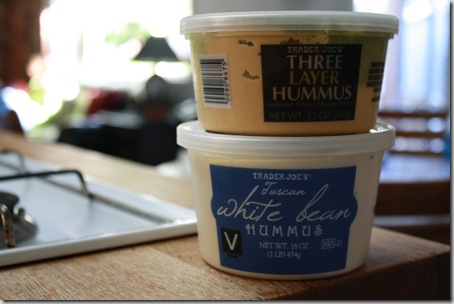 And hummus stash.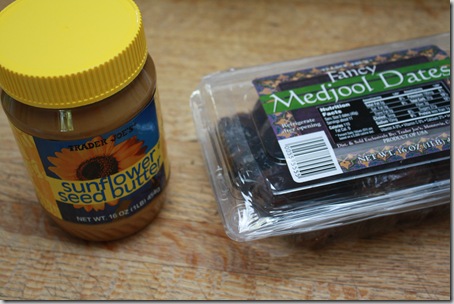 And nut butter stash.
Having a family that's supportive of my plant-based diet is one thing…but having a family that's just as devoted to eating well is a whole other thing. 
Here are some meals created while raiding my parents' fridge/pantry…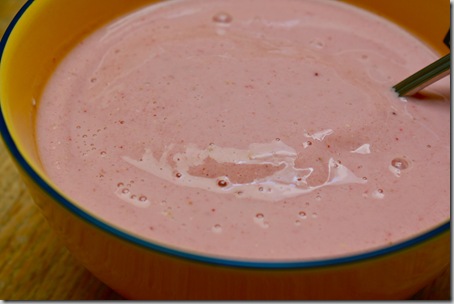 Smoothie in a bowl.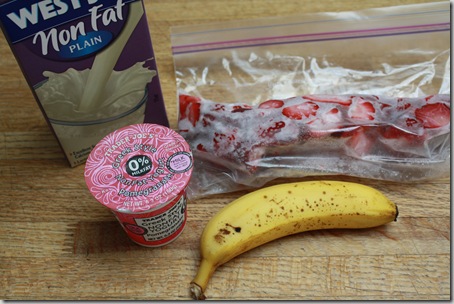 My parents have frozen fruit already cut for smoothies in the freezer, so all I had to do was choose which fruit I wanted!  The peaches were tempting, but in the end I went with the oh-so-classic strawberry & banana combo.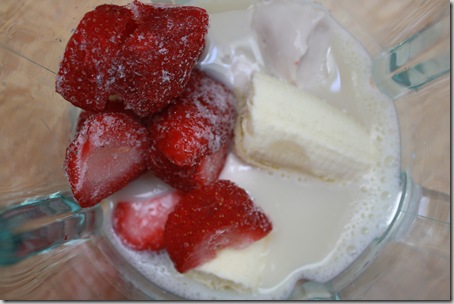 1 cup soymilk
1 container TJ's pomegranate greek style yogurt
1 cup strawberries, frozen
1 banana, frozen
3 ice cubes
1/4 cup oats
Pulse everything until it's thick and smooth.  Add more oats for thicker results.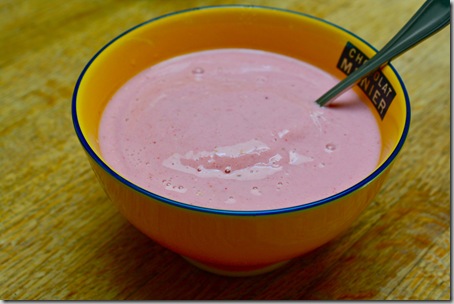 Pour in a bowl, grab a spoon, and enjoy!  The addition of raw oats to smoothies is mostly for staying power.  Having complex carbs to balance out the smoothie's simple sugars helps hold me over longer.  Flavor-wise the oats don't offer too much though…if anything there's a very subtle chalky, protein-powder-like taste.  I like it though.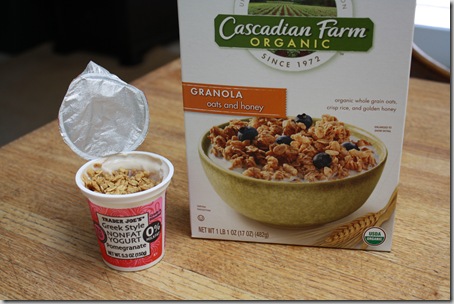 Previously I didn't think big companies like General Mills had much to offer in the health foods world (silly rabbit, Trix are for kids full of chemicals).  However, I recently learned they are making big changes to create healthier products.  So even though they do sell some crap (ie Lucky Charms and Fruit by the Foot), I'll admit I was pleased to find out they also have a line of cereals/granolas that are organic with whole grains.  Cascadian Farm organic products aren't perfectly pure, but they're definitely a step in the right direction for a major company like GM.  Not everyone can shop at Whole Foods and not everyone looks at the ingredients listed on a box, which means it's up to the big corporations to act responsibly and offer products that are nutritious and affordable.  As long as we, the consumers, show there's a need, the demand will be met.  Having these healthier options in mainstream grocery stores is a good step…for now.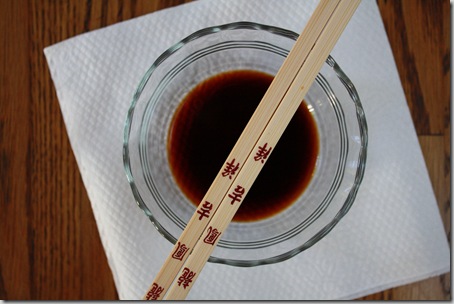 Having sushi for my pre-race meal is a tradition.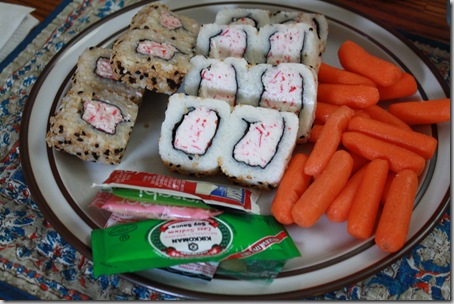 Early to bed, early to rise.  Like I said, I'll do a more thorough recap of the triathlon later.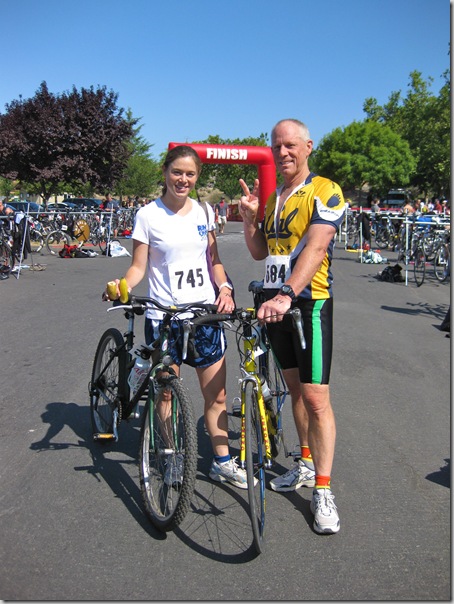 I didn't eat much of anything before the race, and focused on hydration during the event. 
When I got home, I showered and made breakfast.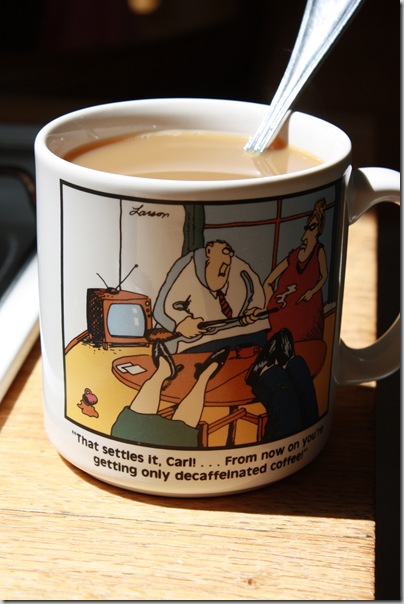 First up, coffee [the message on the mug is something I can relate to].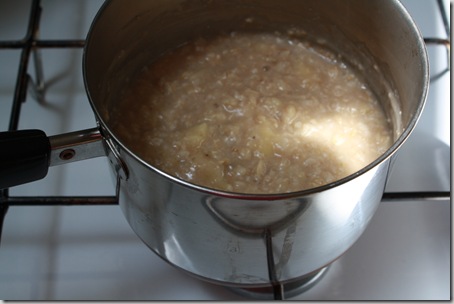 While my oats cooked, I snacked on a baggie of roasted almonds.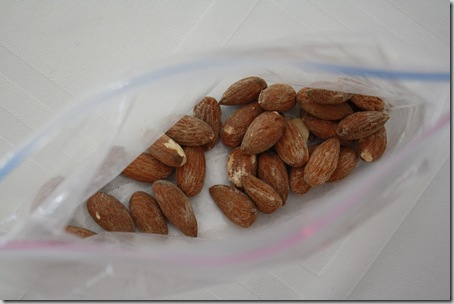 In the oats went…an entire banana, soymilk, vanilla & almond extract.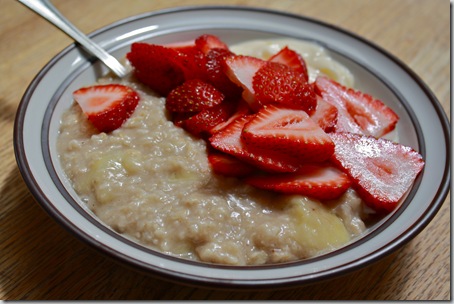 To make it even more hearty and filling I added peach greek yogurt and fresh strawberries.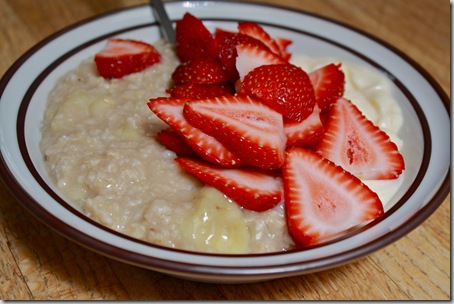 This was the first of two bowls.  🙂
After breakfast my dad napped, my sister went to work, and my mom made jam.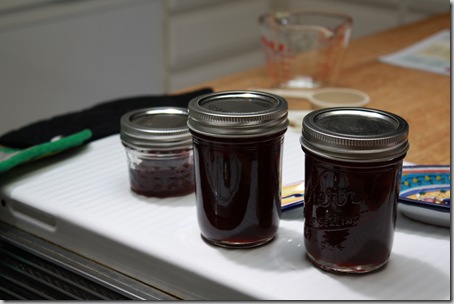 Being the crazy active family that we are, we decided to spend the afternoon on the golf course.  My parents are good but  I don't play with any regularity, so I really went to spend time with them and soak up the sunshine.  I had a few randomly decent shots, but we weren't keeping score or anything.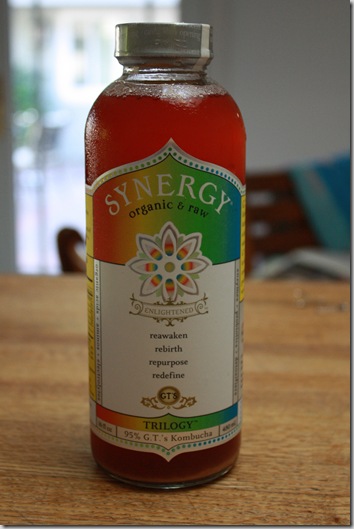 On the way home we stopped at the grocery store for some dinner time shopping.  I enjoyed a Trilogy Kombucha while helping prep for dinner.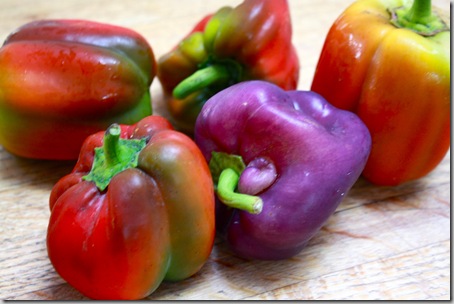 Salad ingredients came from my parents' CSA (multi-color bell peppers above) and mom's garden (below).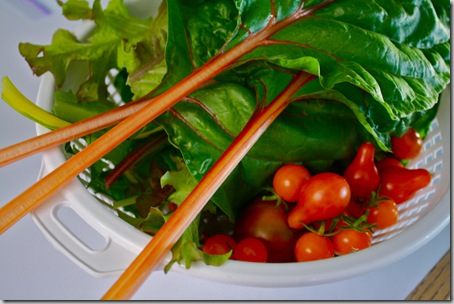 Trust me, when things are picked and eaten within the same hour you can taste it.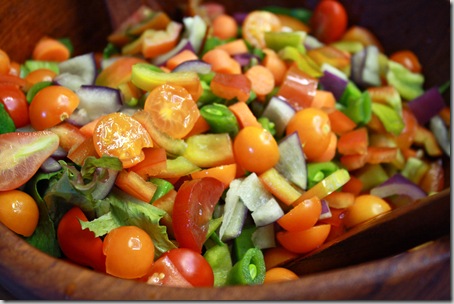 In addition to the salad, the rest of the menu included sausage (for my 'rents), Amy's Bistro burgers (for moi), corn on the cob, and bread.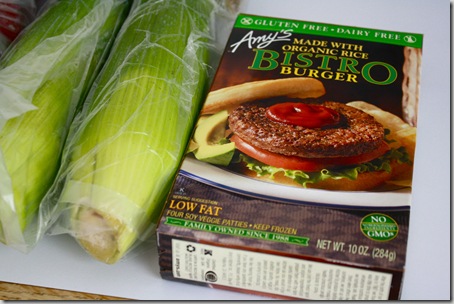 While I was waiting for my dad to finish BBQing, I stole a wedge of bread.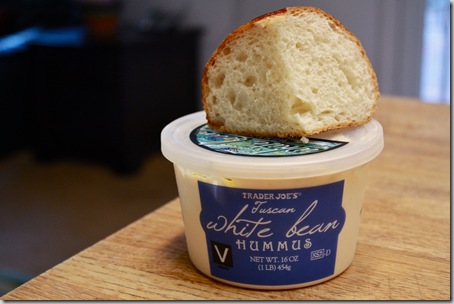 I couldn't help myself, the aroma of the fresh sourdough was teasing me.  Even Kona was looking in longingly.  I made sure to add copious amounts of white bean hummus.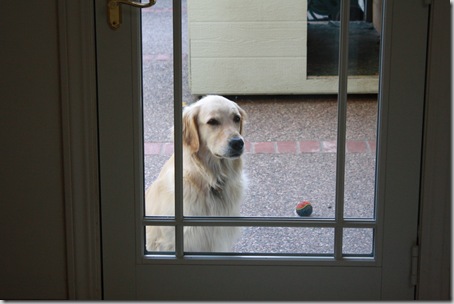 Semifreddi's addiction may be a San Francisco exclusive infliction.  The rest of you are missing out though.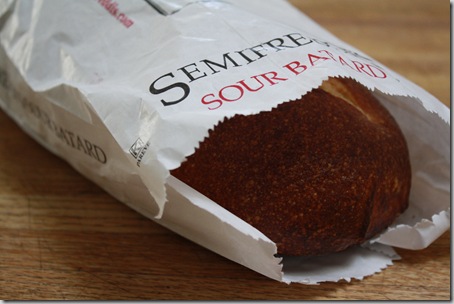 Man can live off bread alone.  I promise.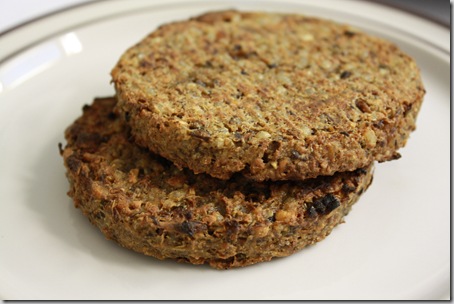 Veggie burgers hot off the grill.
It's not like you can mess up a veggie burger on the BBQ, but there is something to be said for getting that smoky grilled crispiness to the outside of the burger.  At my own apartment, I rarely cook veggie burgers in a skillet (I almost always thaw them in the microwave).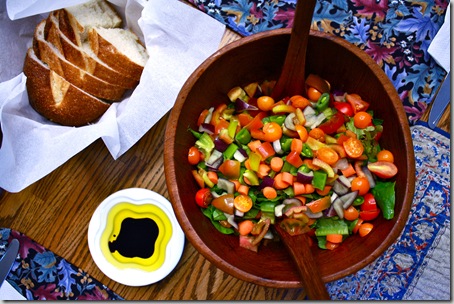 All ready for our feast.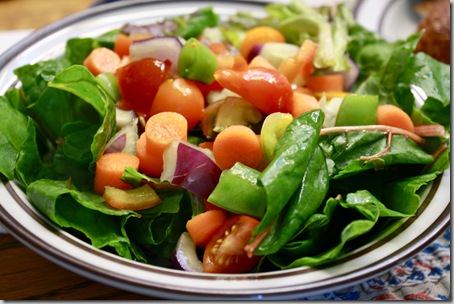 Salad first, courses one (and two) after.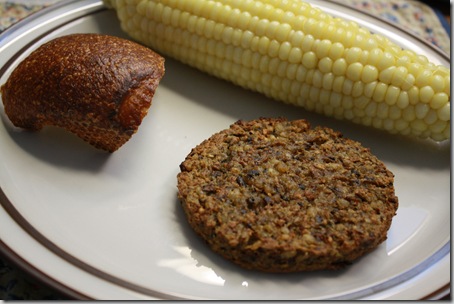 And that's how the hippie household eats.  Home sweet home. 
How does your current lifestyle relate to how you were you raised?  Did you grow up on whole foods and/or balanced meals?  Did your family focus on health?  Were you into sports and fitness when you were younger? 
I find it very interesting learning the different ways people came to learn about diet and exercise.  Some people seem to have always been into it, whereas others only came into their own fitness-wise later in life.