Look at all these powders!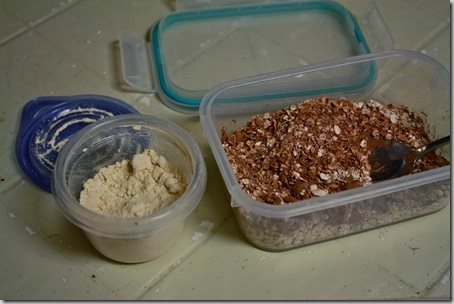 I'm a mad scientist! [not really]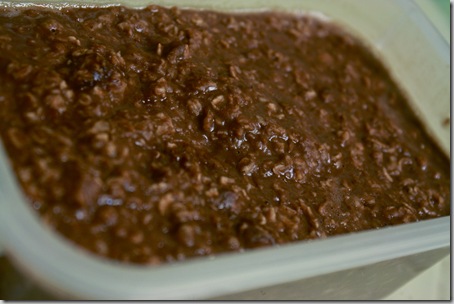 My head was in the clouds when I was making these oats.  The amount of cocoa powder was nearly double what I ordinarily use, which made it the color of…well…tar.  I tried to balance it out by adding more oats, which made it look like chocolate at least, but resulted in a pretty monstrous breakfast.  Then I went and increased it's volume even more by adding some protein powder.
I don't know who makes it, what's in it, or where it's from because my sister gave me the tupperwared sample to try out.  That sounds shady, huh.  She's a trainer, so I don't think she's trying to drug me.  Plus she's got food sensitivities too, so I know it's dairy free.
*Edited to add* The sample is vegan vanilla protein powder from Arbonne (which I think is a Canadian company?). Despite some internet searching, I have yet to find the powder's ingredients so if you know it please share.  I want to be sure it isn't sweetened with fructose before I try a larger amount.  There are there are numerous different kinds of protein powders out there, so see what's best for you.
The final product tasted like a chocolate brownie.  Not too bad for a breakfast dessert.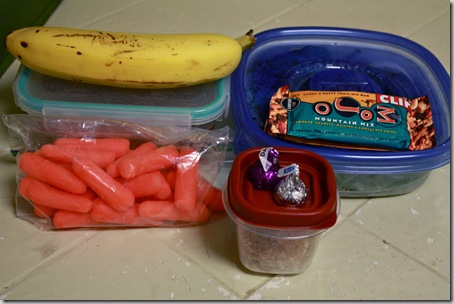 The rest of the lunch crew.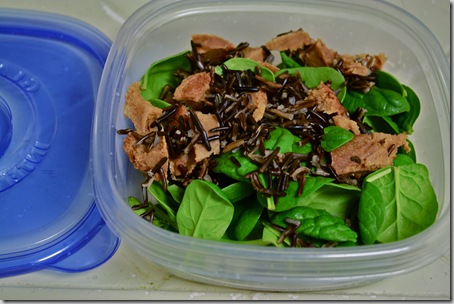 Spinach, forbidden rice, seitan, and Bragg's liquid aminos on top.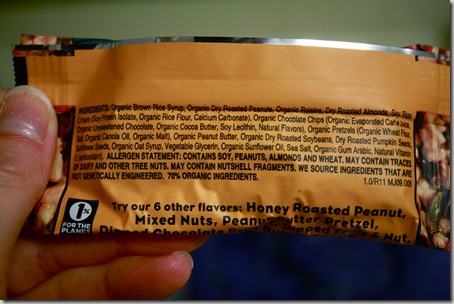 I studied the ingredient list for this Clif MoJo Mountain Mix bar forever.  It's long, that's for sure, but it's partially-redeemed by the fact that it's organic.  Fructose is my deal breaker.*  So although the bar has processed soy protein isolate (from the soy rice chips), which I didn't like, the sources of sweetener were brown rice syrup, oat syrup and chocolate chips, which works for me. *For more details on why see this site.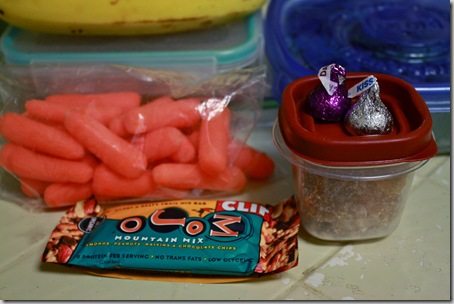 Other goodies included candied ginger, dark chocolate kisses, banana, and carrots.
And why not round out the WIAW nature of this post with dinner…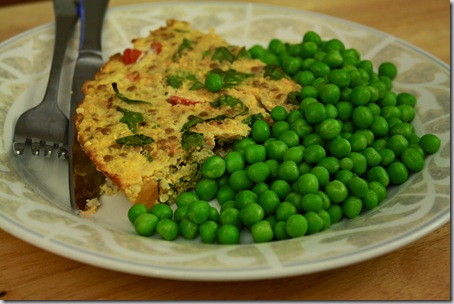 Quinoa quiche (this version made in a pie pan) with a side of peas.
I had this granola for dessert.
What's your ingredient list deal breaker?
It's hard to find the time to make things as opposed to buy them…from bread, to seitan, to nut butters, to health bars…it gets exhausting.  However, budget and GI woes are huge factors in why I spend my days off in the kitchen.  Plus I love cooking.  And eating.  The fact of the matter is, I have been feeling way better since following a low FODMAPs diet and knowing exactly what's in my food is what makes it possible.
PS Low FODMAPs update here. <– last night's live #fodmap twitter chat recapped
PPS Giveaway here. <– you have until tomorrow to enter!