Anyone see the latest Modern Family?  Well, whether you did or didn't, you'll be happy to know that veg friendly foods are getting major shout-outs on sitcom TV as of late.  In addition to the aforementioned episode highlighting kale as the new "it" green leafy veggie, a few weeks ago seitan was featured on Parenthood.  Hooray for making vegan cuisine more mainstream!!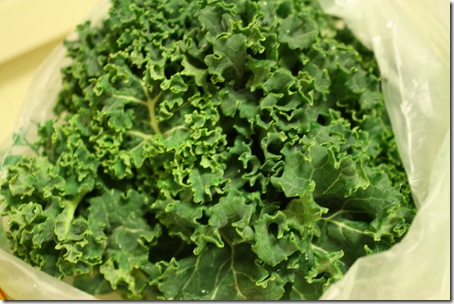 One giant leap for vegankind…
On that note, I finally got around to making a dish I'd been toying with brainstorming for a few months (yes, months).
Vegan Creamed Kale
Ingredients:
kale, 4-6 big leaves
1/4 cup soaked cashews
2 tbsp honey mustard
2 tbsp nutritional yeast
1 tsp lemon juice
1/2 cup non-dairy milk
1 tbsp garlic salt (more or less to taste)
1 tbsp onion powder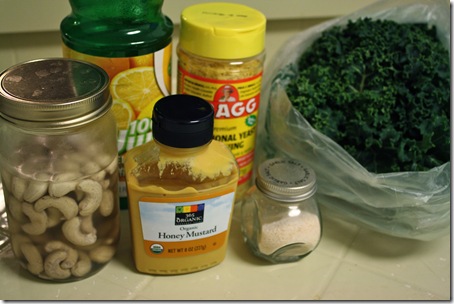 Directions:
Rinse and drain soaked cashews and combine with all other ingredients in a food processor.
Pulse until smooth.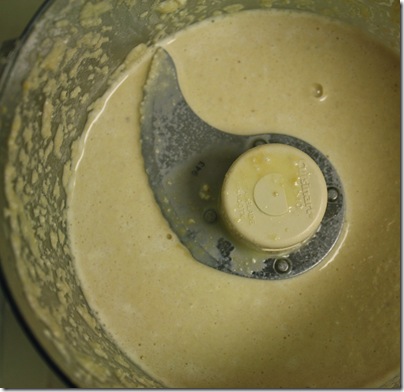 Taste test 🙂
Sautee kale in a pan with a glug of EVOO.
While a "glug" may not seem a technical instruction, it's not rocket science.  Just add the kale, cover with a lid, and let the steam do most of the work.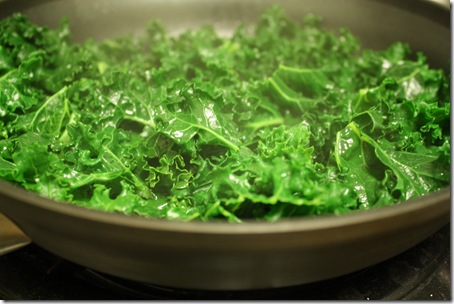 Steamayyyy.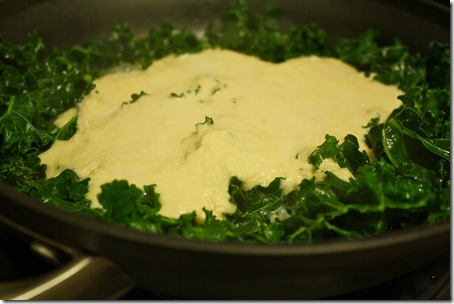 Once the kale starts to get a little wilty, pour in the cashew sauce.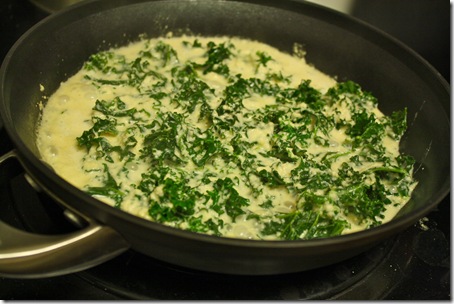 Fold the sauce into the kale so the leaves all get evenly coated.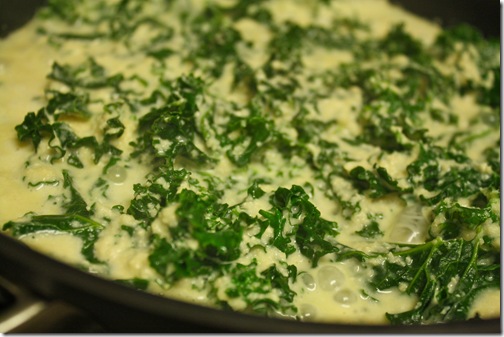 Let it simmer for another few minutes until the sauce heats up and starts thickening.  And voila!  Creamed spinach kale.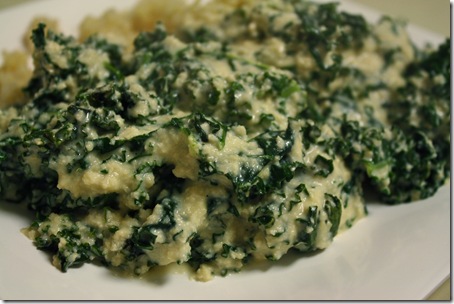 I served mine up alongside a big heap of fresh-from-the-rice-cooker quinoa.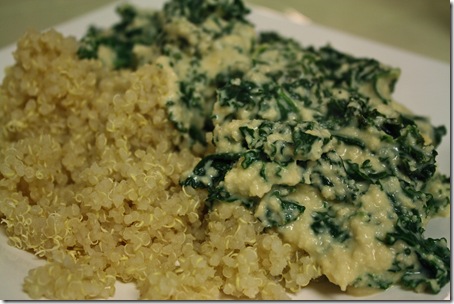 And then I mixed it all together.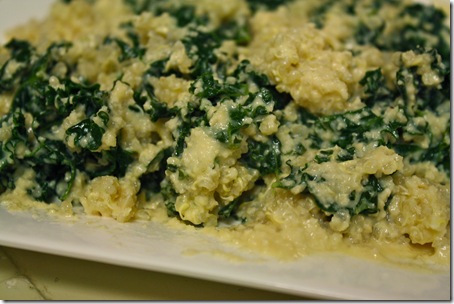 Holy. BLEEP.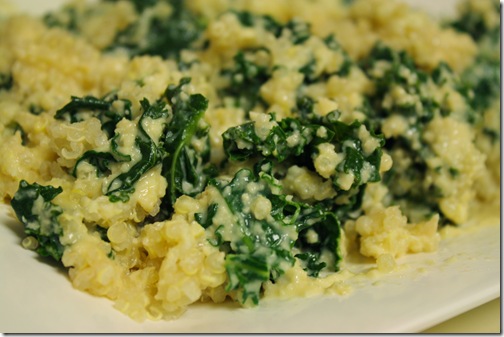 I'm pretty sure this is the best recipe I've made to date.  How is it that cashews make the most insanely simple concept so freakin' fantastic?  This tasted like a creamy, warm-your-belly, comfort dish.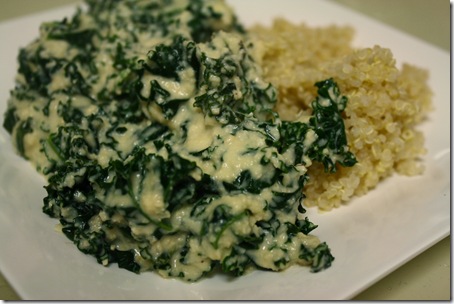 I am definitely bookmarking this one for future Thanksgiving and/or Christmas dinners because I know everyone will love it – vegans, carnivores, even my picky little sister who finds some ingredient she doesn't like in every recipe on earth (sorry bee, you know it's true!).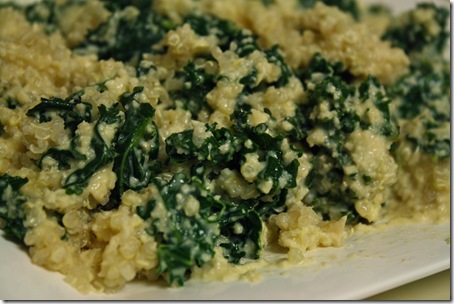 I had seconds (duh) and then added the last of the quinoa to the drippy drops of sauce left in the food processor so as not to waste even a nanogram of cashew cream.
If there weren't the risk of slicing off my tongue I would have licked the entire blade clean too.  Kyle always jokes that I am like a cat because I lick EVERY inch of food clean on my plate/utensil.  What can I say?  I don't like waste like food.  🙂