I love salads.  Old news right?
I'm in a major salad phase.  I crave big bowls of greens.  I crave cookies too, so don't think I'm a total freak.  But yeah, I can't get enough veggies lately.
This Caesar was one of my more creative ones.  For the most part, though, I just wing it.
I get lots of questions about my salad combos, but the truth of the matter is I just throw everything from the crisper drawer into a bowl and top it with whatever proteins are leftover (tempeh, tofu, hard boiled eggs, fish, etc.) and whatever fats match the theme (nuts, seeds, avocado, oil, etc.).
If I'm really hungry I add quinoa or brown rice in too.  And then there are the fun toppings – like daiya cheese, tortilla chips, sesame crackers, roasted seaweed, Sabra hummus, guacamole, etc.
I wrote a whole post about making a salad a meal here.
But as you'll soon see, I'm quite content eating the same salad on repeat over the course of the week.  It makes grocery shopping super simple, that's for sure.  If it aint broke…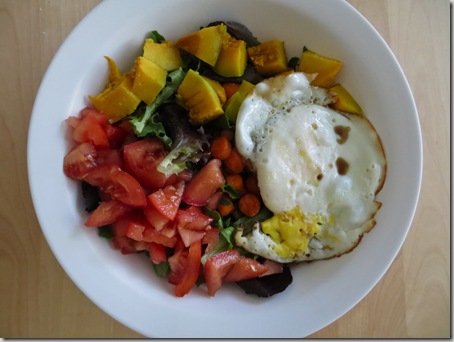 Spring greens, tomato, carrots, avocado, kabocha squash, fried egg & Bragg's aminos.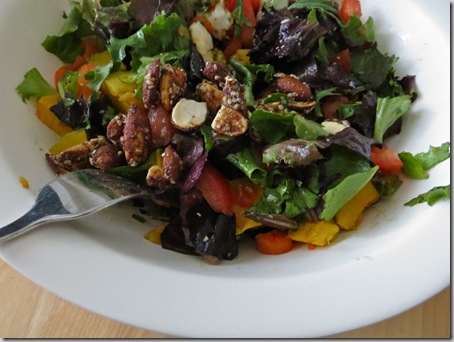 Spring greens, tomato, carrots, kabocha squash, almonds & sesame seed clusters & Bragg's aminos.
And again.
Those almond sesame clusters, by the way, are insanely good.  I got them from the co-op bulk bins and plan to make them on my own soon.  They are like a savory granola with nuts.  Sounds weird, but they make for an awesome salad topping.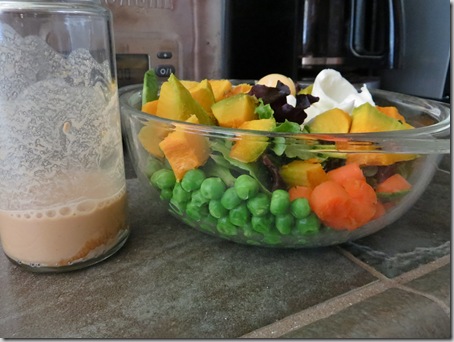 If I'm low on fresh produce, frozen works too – peas and corn being the usual go-to items.  I made this peanut soy dressing for the above salad.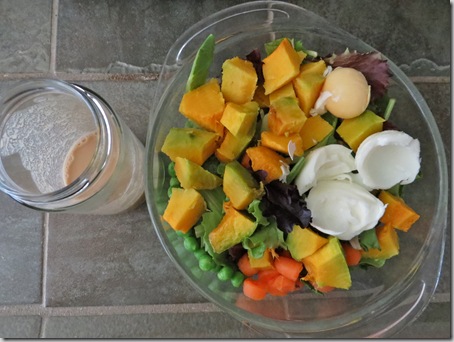 As you my be able to deduce, roasting veggies and hard boiling eggs before the start of the week allows for quick salad assembly.  That kabocha squash really made it's mark on my meals this past week!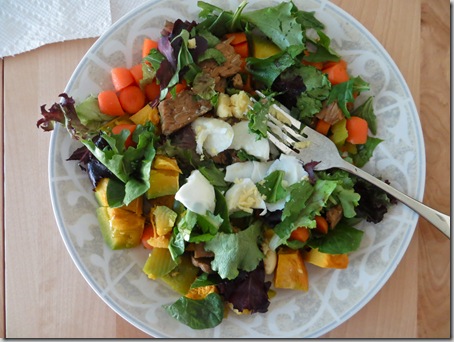 Yay for salads!
Oh and I just found out May is salad month.  Apparently.  Maybe my body sensed it?  Makes sense.  Spring.  New growth.  Fresh fare just sounds so appealing don't you think?  Humor me.  😛
Turns out you can win an iPad for being a salad fiend, too… [I just entered]  Rock on Green Leaf's!  🙂
Celebrate the start of National Salad Month by entering Green Leaf's iLove Salad iPad® Giveaway!
Click the link, fill out the form, and you'll be in the running to win one of 3 iPad® Mini's
Winners will be chosen on June 6, 2013!
This sponsorship is brought to you by the Green Leaf's & Bananas who we have partnered with for this promotion.