I don't want to sound like a whiner, but DAYAM, being a mom is hard work.
I always thought I knew this, but when Kyle was out of town I really realized it.  For real.  Trying to be productive during those 5 days was a joke.  I gave up after the first day.  So much for finishing moving in (I had wanted to surprise Kyle by having the house all done when he returned from his trip).  But how realistic is vacuuming and hammering the art up on the wall during P's limited napping time?  It's a miracle I even did laundry.  For the record, I didn't take a shower that lasted longer than 2 minutes, I ate massive bowls full of roasted salty nuts as a meal (and felt like crap afterwards), and there are still suitcases full of clothes in the guest bedroom.  Basically, I watched a lot of TV while holding Patty-cakes.  He's turned into quite the attention demanding little man.  I'm interpreting it as he is brilliant and therefore requires as much stimulation as possible to challenge his growing brain.  All parents think that, right?
Anyway, before I get even more off topic, I figured I should share one of the more decent meals I threw together.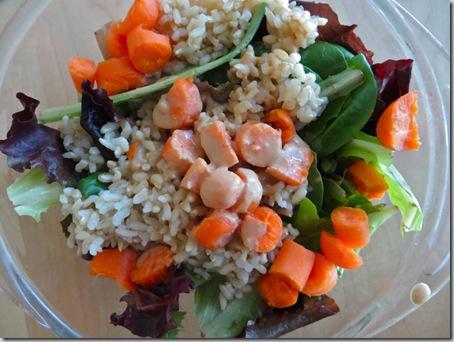 Greens, carrots, brown rice, peanut soy dressing.
You don't need a recipe for the salad, but here's what the dressing had.
Peanut Soy Dressing:
3 parts organic peanut butter (I used PB's organic PB spread)
2 parts water
1 part tamari
1 part sweetener (maple syrup, agave, honey)
Blend or whisk until smooth.  Tweak as your taste buds desire.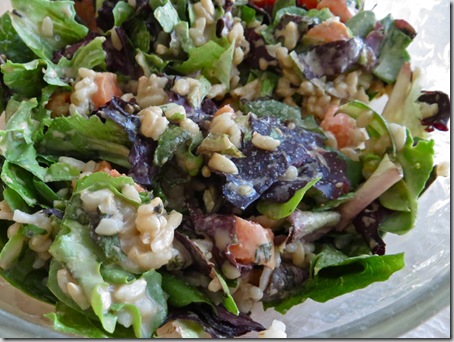 It's hard to tell, but the dressing coated everything and was awesome.  I'm totally adding edamame to this salad next time.
This snack plate?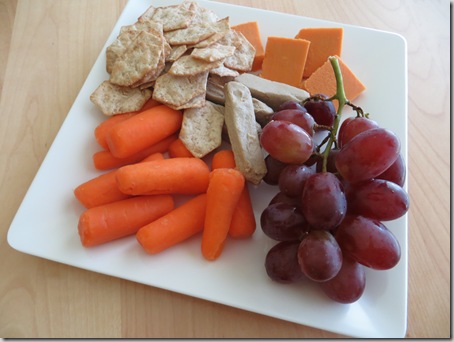 Took 2 hours to eat.  And I had 3 of them that same day.  Because as fancy as it looks, it involves zero prep.
Carrots.  Grapes.  Beyond Meat vegan "chick'n".  Follow Your Heart vegan cheese.  Van's gluten free multigrain crackers.
These are new to the market and I found them at Safeway (of all places!).  I'm always up for trying new GF products.
The ingredients list is FODMAPs friendly too with brown sugar as the sole sweetener.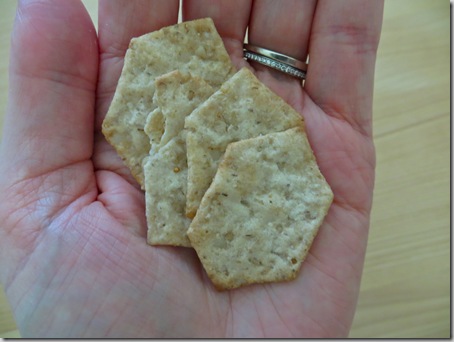 I was surprised by how small they were when I first opened the box, but there are actually a lot in there.
As someone who often eats an entire box in one serving, I managed to not do that this time.  And it was hard too because they are really salty and really good.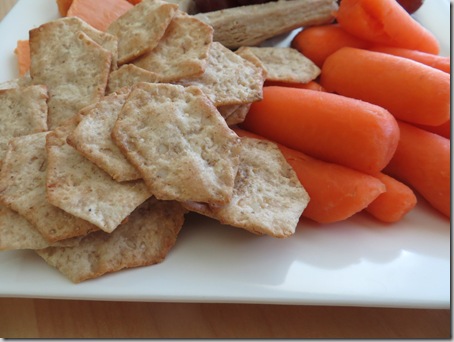 Yum.
These will definitely be a new addition to the GF cracker rotation I have going on now.  They are cheaper than Mary's Gone crackers, so that's a plus.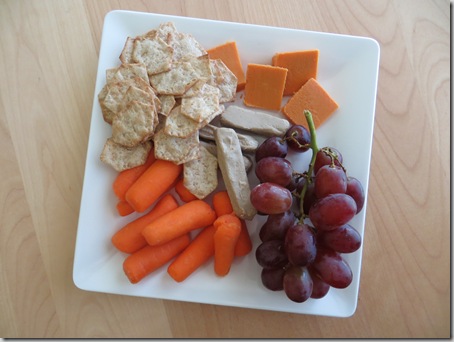 So yeah, picture the above plate, but then imagine a bunch of refills.
Because I ended up eating most of it like this…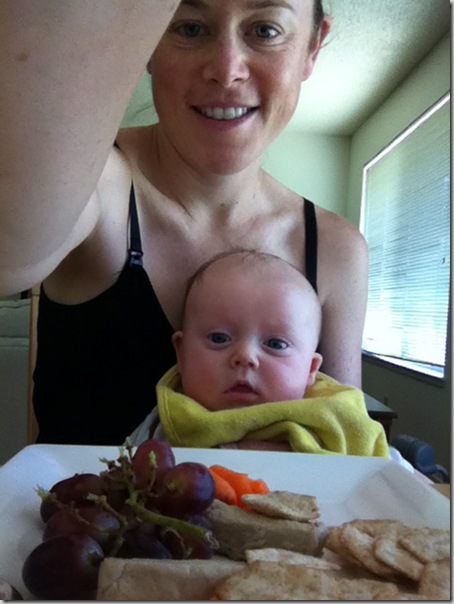 Which meant it took for-eh-ver to actually eat.  And so I required more.  And more.  And more.  I'm not good with grazing.  It confuses me.  I like solid meals.
Can you tell I'm SO ready to cook again!?!  I just need to find a way to do it.
Oh and by the way, I did end up vacuuming the whole house.  It's spider central out here in the 'burbs!
*Edited to add: Don't forget about the buy 2, get the 3rd jar free deal on PB spreads