Meals and musings from a marvelous Monday…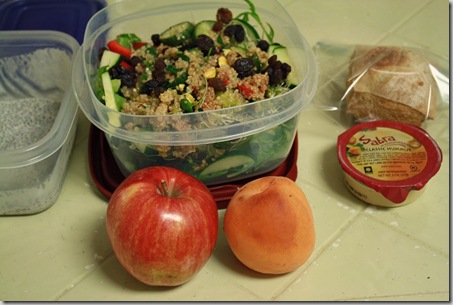 All together now: chia pudding/overnight oats, big salad with leftover quinoa, apple, apricot, WF ciabatta roll, Sabra hummus.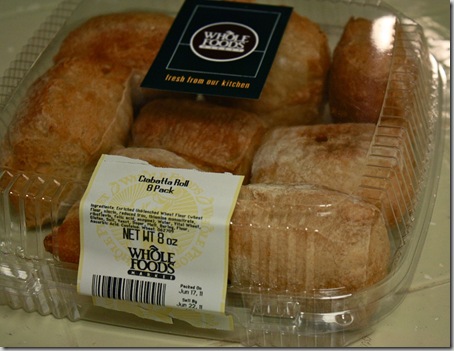 I found these at Whole Foods and thought they'd be perfect for lunches.  I usually bring a pita, tortilla, or a slice of sprouted bread to dip in hummus, but Ciabatta rolls sounded like the perfect change up.  I had one for my first breakfast (pre-work eaten in my car) with almond butter.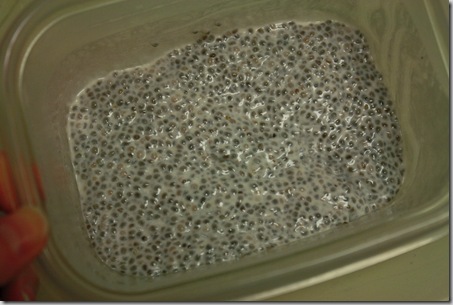 Second breakfast (eaten after grand rounds in the break room) was the last of the leftover chia pudding which I bulked up as overnight oats (made with oats, soymilk, and frozen blueberries).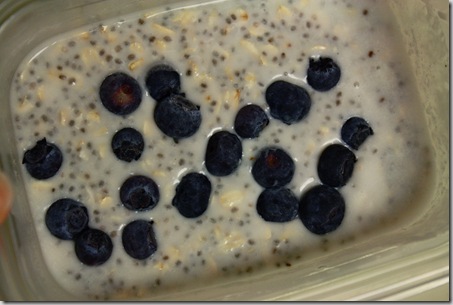 There's a certain level of anxiety that comes with the end of the weekend.  Monday is the only day of the week that I am constantly aware of (since I work random days including weekends, I don't keep track of what day it is and hardly ever know).
However Mondays I am definitely aware of.  Why? Because of the (aforementioned) tension that consumes the hospital with the start of the new week.
Over the weekends things kinda go into cruise control mode.  Aside from transplants, there are no scheduled surgeries, so patients are generally stable, and unless a procedure is emergent, it probably won't happen.  Then, when Monday rolls around, things go into crazy overdrive.  Aggressive ordering keeps nurses, physical therapists, pharmacists, X-ray techs, case managers, and any other consulting staff members (nutritionists, speech therapists, etc.) busy all day long.
I suspect this is due to the fact that attending MDs have weekends off and whatever poor intern is on call doesn't wanna make too many solo decisions without the consult of a more senior doctor.
This weekend was the last call shift for several interns…meaning this Monday was expected to be extra chaotic…but guess what?  It was sublime.  I had such a marvelous day, it seemed like I was in a dream.  My patients were so kind and the new orders came in at a steady pace, allowing me to talk with them for much of the day while still making progress in their healing.  🙂
I love when I have the time to talk with patients.  And I love when patients are nice, interesting, and enjoying chatting with me.  It's one of the reasons I was drawn to nursing.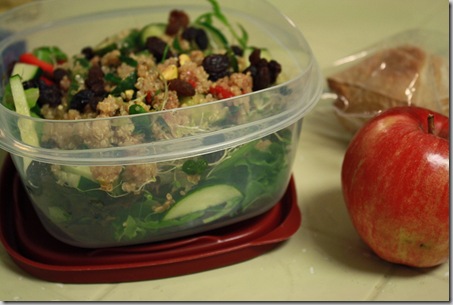 For lunch I dug into my massive salad.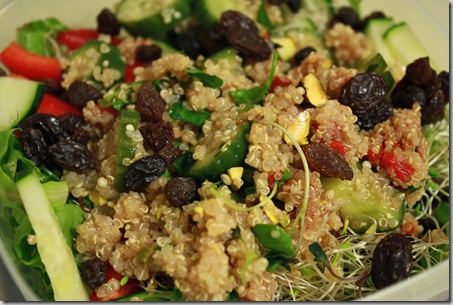 The quinoa and cucumber salad on top was leftover from our dinner at The Misfit (I avoided eating them at the time because the cukes were pickled and Kyle can't tolerate pickles, even on my breath).  I added it to lettuce, sprouts, raisins, and extra veggies.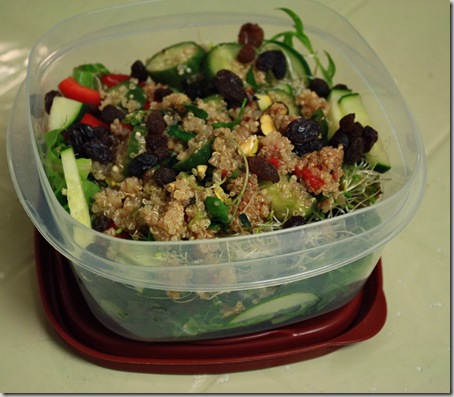 After lunch I discharged one patient home (so great to send such a nice and motivated person home in good health after aortic valve surgery).  The next ICU patient I got was just as much of a dream.  A sweet and compliant individual willing to work hard to get well.  In other words, the best patient.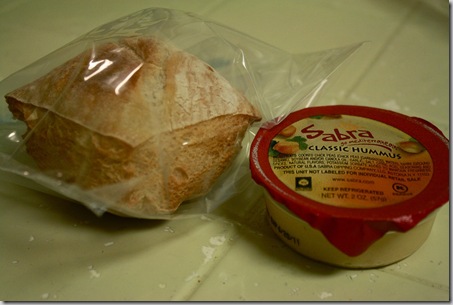 I wish all Mondays were this way.
Do you have a favorite or least favorite day of the week?