Nothing too interesting going on in this casa.  Simple weekend fun.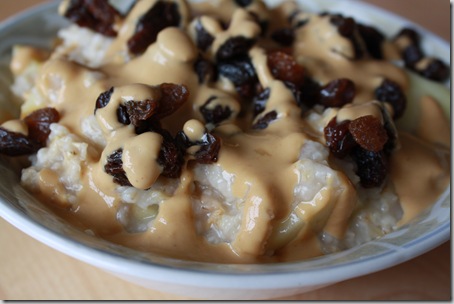 I woke up at 8 feeling much better than yesterday (thanks for all the well wishes).  It's funny how every time I mention I'm not feeling well the first question people ask is "are you pregnant?"  In fact, anytime anything remotely baby related comes up in conversation people think it's appropriate to ask when I'm planning to have kids.  I can't even say "awww" to a cute little toddler without people assuming it means I'm getting ready for mommy mode.  I don't really mind because people mean well.  But it is a pretty personal decision and awfully intrusive for strangers to ask (so yeah, ok, it can get a bit annoying).  I mean, I finally got past the "when are you getting married?" question and already it's on to the next major life thing.  Ugh.  Ok, that rant came out of nowhere.  My bad!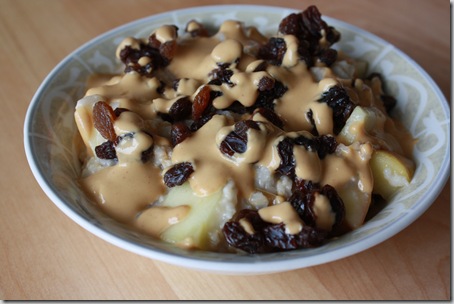 Kyle had a waffle meeting this morning, so I was left to my own devices.  I made oatmeal with baked apple slices (I add the apples in when I first add the oats).  And then I drizzled the entire thing in melty coconut peanut butter and raisins.  It tasted a lot like cookie dough.  I guess that's what happens when you mix PB, coconut, and raisins.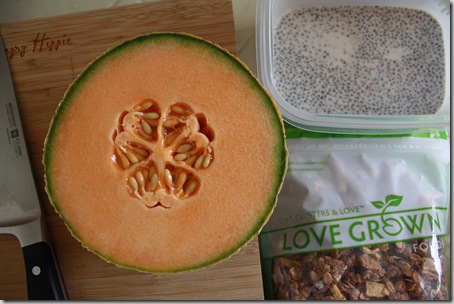 When lunch time rolled around I wasn't overly hungry.  I decided to make a small (second) breakfast.  I had cantaloupe so ripe that I could smell it's sweetness from across the room.  Every time I walked within 20 feet of the fruit basket, I was reminded that it was ready for me to ravage.  So cantaloupe it was!  Now what to put in it…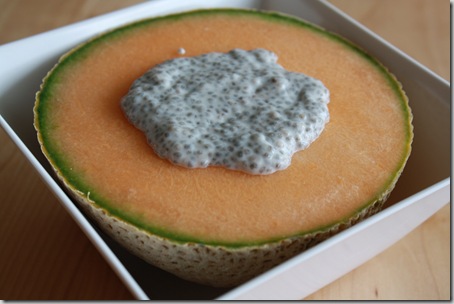 Lucky for me, Kyle came home from his waffle meeting with extra chia seed pudding.  I don't know the exact recipe Isaac used, but it tasted almost identical to a recipe I've made in the past, so I'm guessing it has chia seeds, soy milk, vanilla, and some kind of sweetener (agave, maple syrup, or stevia). It was really really rich, and thus a great contrast to the fresh melon.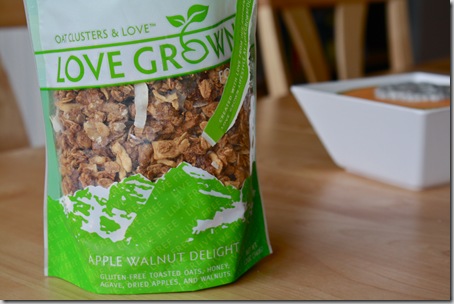 Never one to neglect my carbs, I decided to add Love Grown Apple Walnut Delight Clusters on top.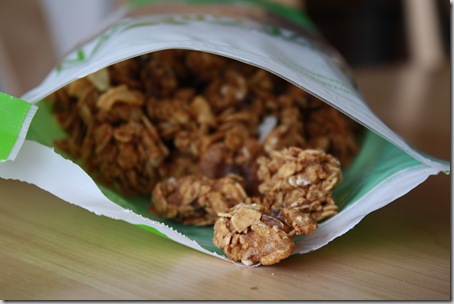 This is the first time I had this flavor and it was way more nutty than the others.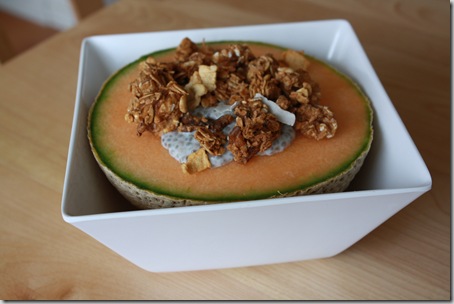 It was good, but I didn't get very much of the apple flavor.  Of course that could be because the first serving always has way more bigger clusters, so maybe the dried apple parts were concentrated at the bottom.  If you're a cluster lover like I am, that's usually a good thing. Do you ever shake the bag to get the fatty chunks of granola crunch to the top? I do.  My g-ma taught me that.  🙂  But since the whole walnuts were the biggest things in the mix, they were dominating the granola ratio.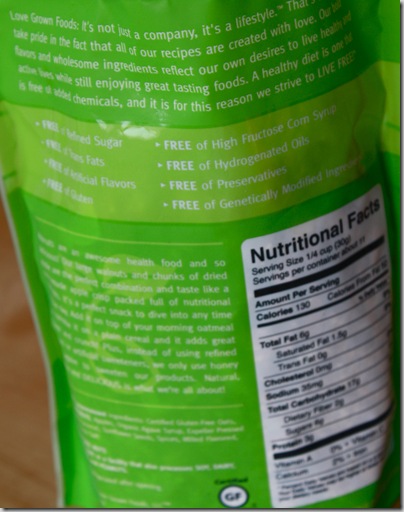 I have to say, I'm pretty proud of myself for a few reasons.  (1) This turned out to be very gorgeous meal, what with all the colors and pretty display.  (2) I ate the walnuts, which were basically whole and undisguised (for new readers, I used to hate hate hate nuts and am only recently learning to tolerate certain ones).  (3) The meal was freakin' delish.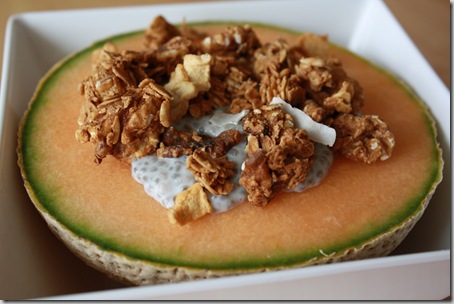 Sweet melon, crunchy, nutty granola, and an ooey gooey pudding holding each bite together.  Not only were the flavors complementary, but the varying textures made my mouth very happy, and the nutritional stats were superb!  Love me some omegas.
The rest of the day went by in a blur.  I did the Shred (level one) and then went on a quick 2 mile jog.  Post shower, I snacked on an apple, candied ginger, and then Kyle and I went shopping for him.  He got a few pairs of slacks from Banana Republic and then my stomach started growling again.  Since we still had to do grocery shopping it was a WF hot-bar kind of night.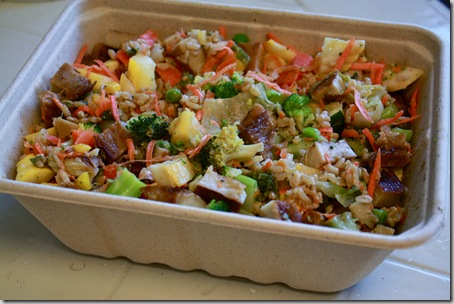 That's a LOT of veggie fried rice with seitan.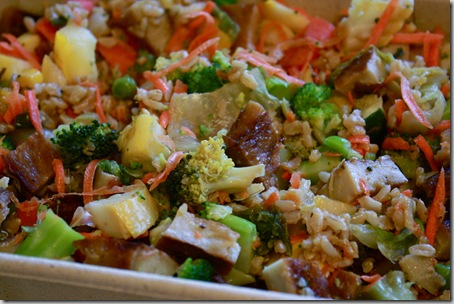 Oh.  Yes.
Dessert needs a whole post in and unto itself.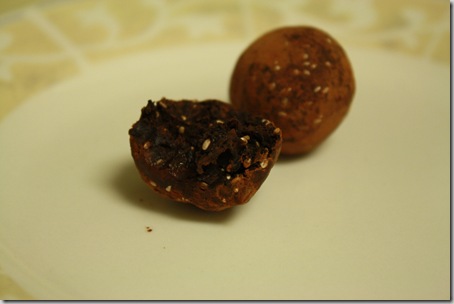 Raw.  Vegan.  Delish.
***In case you missed it: for the Tropical Traditions coconut giveaway winner click here***