Over the past few years I've grown to love a certain hard ass trainer.  However, it wasn't until I looked at our DVD collection the other day that I realized it may be bordering on obsession.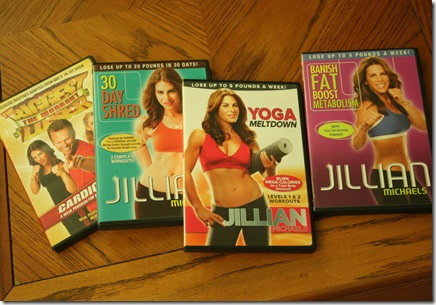 Don't worry, no restraining orders need to be filed.  But I do think Jillian Michaels is a fitness genius. 
I used to poo-poo home workout videos, thinking they were so 80's.  Then I moved to the East Coast, where the nasty weather kept me indoors far more often than I liked.  Rather than go stir crazy pent up in our tiny apartment, I decided to try some programs on ExerciseTV.  I wasn't really into, though.  Coming from a soccer player turned runner background, I thought cardio was life.  I had no interest in weights or strength training.  So I dabbled in the kickboxing stuff and maybe did a few cardio dancing things.  But truly, I thought it was stupid.  And so I resigned to schlepping my behind to the gym on my days off for hour long dates with the treadmill.  Oh how I missed running outdoors during those New York years!  I packed in as many races and Central Park runs as possible during the months weeks of tolerable weather (can you tell I'm a California native). 
Cut to 2009 when I had a wedding dress fitting looming over my head.  Clearly I wanted to look toned (and drop dead gorgeous) because what bride doesn't?  That's when I discovered Jillian. 
The 30 Day Shred was so widely discussed in the blog world, I decided to give it a shot.  I never would have thought such quick workouts could be so intense, but I can't deny that these routines got my heart pumping.  The first time I did Level 1 of the Shred, I thought "that's it?" when I got to the end.  But the next day I was singing a different tune.  I remember wondering how in the world I could feel so sore from just 20 minutes.  I was used to logging 6-8 miles a few times a week. 
That's when the world of strength training began to reveal itself to me.  All that time I thought I was such a badass because I could run and run and run.  But my core was nothing compared to what it is now. 
Since then, my body has gotten so much leaner and I know it's due to the diversity of my workouts.  In hindsight it seems so obvious that my body had clearly hit a plateau with running day in and day out.  After just a few weeks of strength training, I was already seeing (and feeling) the benefits.  Now, after almost a year, my entire philosophy on fitness has changed. 
I'm now a die hard Jillian fan and I know that my devotion has caused numerous friends and colleagues to follow suit.  These DVD routines are my favorite way to start my work days because I end up feeling energized for the rest of the day.  And on my days off, I get to log miles outdoors. 
I will always consider myself a runner.  Running is the best release for me – I get high off the endorphins.  But for anyone who thinks that cardio is the only way to workout, trust me, you are missing out on so much. 
I'm not going to show before and after pics because (a) there are creepers on the internet and I'm not cool with that; and (b) I don't have any.  Ha!  But I do have this bicep shot.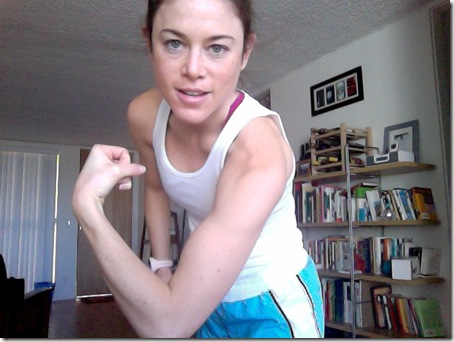 It's post workout (last week), so cut me some slack on the sweaty look, but I just wanted to prove that weights don't mean bulk.  If you are one of those girls who's too afraid to touch weights because you are worried about turning into the hulk, I used to be in your shoes!  Strength training with weights has done nothing but create tone for me, and I love it.  I don't want to look like a beast, but I certainly don't want to be scrawny either.  Because I'm a more petite person, I get underestimated at first glance all the time (by coworkers and patients), but I love the look of surprise when they see I'm not a wuss at all.  :)  Bring it. 
If you have any questions, feel free to ask away.  I'll do my best to answer them.