I've been very uninspired lately.  In the kitchen, in my day-to-day routine, in lots of ways…I just feel like I'm tired and bored all the time.  It's weird.  My days off are so lazy.  I read, I draw, I read some more.  But I miss my desire to be in the kitchen.  I don't know where it's gone.  Thinking of dinner ideas is hard for some reason.  And it's never been like that before.  I ask Kyle to suggest things since I seem incapable of coming up with anything other than eggs and toast and I kinda shrug as he lists off things and eventually agree to something or other, but it's never like OH YES THIS SOUNDS AMAZING I WANT IT TONIGHT!  What's that all about?  Needless to say, there's been a fair amount of take-out (not my bank account's fave).  And when it comes to exercise, I'm definitely getting sick of my walking/jogging sessions.  My back and feet hurt when I go for long distances.  Truthfully, I want to ride my bike so badly, but I'm scared of getting hit and I know it's risk that's not worth taking.  Anyway, I've been in this little rut for a week or so and I'm just trying to wait it out because I'm getting bored with myself. 
I packed this for work the other day.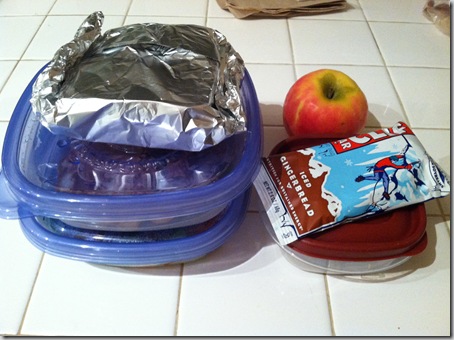 But then I discovered that I wasn't actually working (I swear, I never know my schedule).  So I saved it for the next day (which I was, in fact, supposed to work). 
Before you start freaking out on me, you should know that's an old iced gingerbread Clif that I've been hoarding for all of 2012.  So no, the seasonal Clif bars aren't yet in stores.  But as soon as they are I'm going to re-stock my stash so I can enjoy them in September of 2013, too.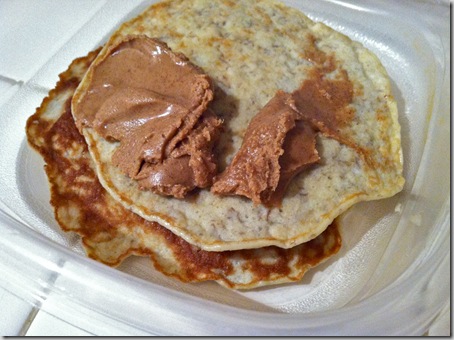 Breakfast pancakes made with just banana and eggs – topped in almond butter.  I've been seeing this little two ingredient pancake trick pop up everywhere and it intrigued me so I decided to give it a go.  I'll report back.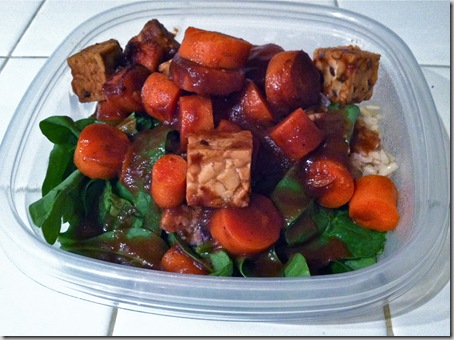 Lunch was leftovers from a BBQ tempeh and carrot crock-pot dish I threw together the previous night.  I served it over brown rice and spinach.  [More on that in a bit]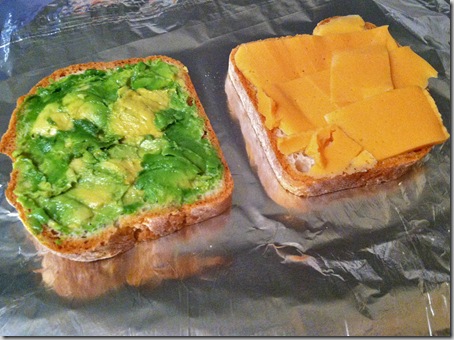 In between meals, I snacked on this sandwich.  It's just avocado and vegan cheese on Udi's GF white bread.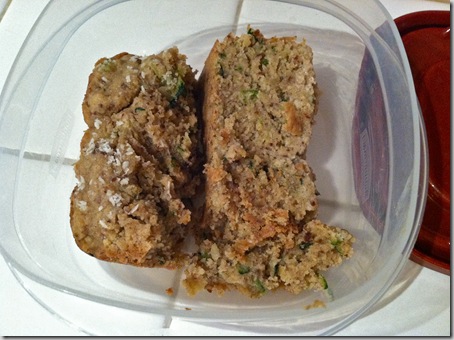 And to round out the snack pack, some zucchini bread. 
So back to the BBQ tempeh & carrot dish…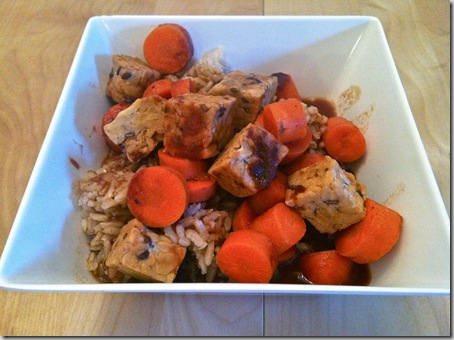 Here's the "recipe" in photo format.
Crock-pot BBQ tempeh & carrots
Ingredients:
5 large carrots, chopped
1 (8 oz) block tempeh (I used Lightlife's flax tempeh), cubed
your favorite BBQ sauce (I used Annie's organic [vegan] original)
water
Directions:
Chop everything to a similar size (I used large chunks, but if you're short on time smaller pieces will cook faster)
Add everything to the slow cooker
Top in BBQ sauce (be generous)
Add water to about 2/3 the way up the ingredients (I added too much and left the lid slightly ajar so it would steam off and reduce, so it's not the end of the world if you over water it)
Cook on low for 8 hours (again, if you are in a time crunch, you could go for smaller pieces/less time/higher heat, but I can't vouch for how it'll turn out)
Serve over brown rice/quinoa/millet/whatever grain you have on hand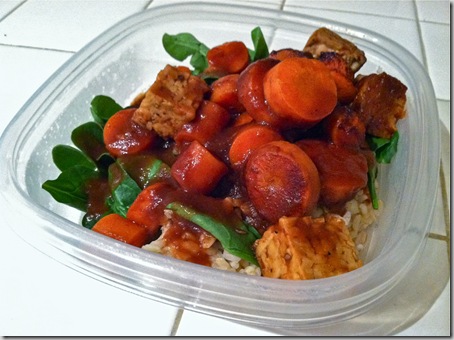 The prep for this is virtually effortless.  And then you can put it in the slow cooker and forget about it.  My kinda meal.  As you can see it makes great leftovers, too.