Did anyone play a joke today?  Or fall for someone else's April Fools?  I was forwarded this by a few people (who know of my love for the 'Bucks), and I definitely fell for it at first.  HA!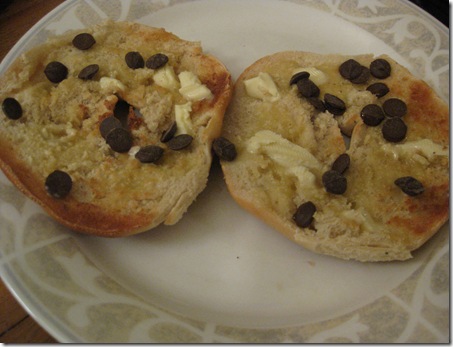 Anyways, I don't feel like posting today, so I'll just give you my breakfast and the recipe from the falafel I made the other day.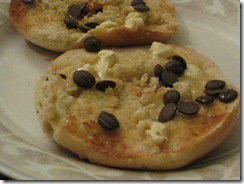 I toasted a plain H&H bagel then added a mountain of Earth Balance (the green one that's soy free) and carob chips.  Decadent for so early in the day, huh?  What can I say, I'm living it up!!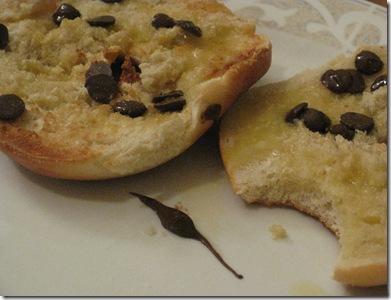 Now that's some melty perfection.  Yup.  Me likey.  Now onto the chickpea lovin'
Lazy hippie's baked falafel
chickpeas
wheat flour
matzo meal (or just omit and add more wheat flour)
dried onion powder
parsley flakes
garlic powder
coriander
cayenne pepper
cumin
celery seed
white pepper
*I measured ABSOLUTELY none of it, so I apologize for the lack of recipe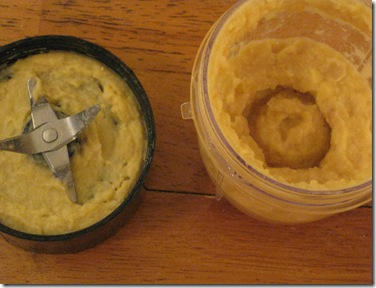 Here's a little somethin' somethin' I learned: DON'T add hot, freshly cooked garbanzos into a bullet and then close the lid.  The dang thing nearly blew up in my face!  So scary.  As I was unwinding the top after I was done pulsing, I could feel the pressure and got really nervous.  I lost at least 1/4th of the chickpea mash on the table and wall. 
Mix it all together and scoop/shape into balls.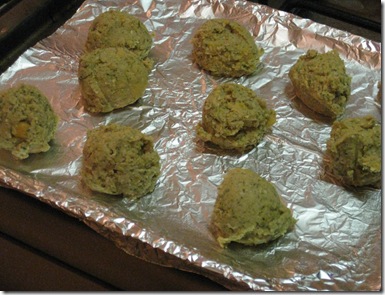 Then bake at 350 degrees x 30 minutes (or, if you live in New York, until you set off your smoke alarm).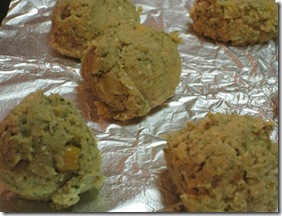 Pre-oven above, post-oven below.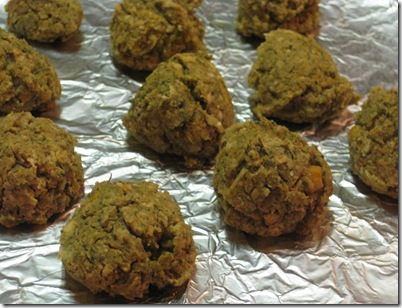 I know they aren't true falafel (since they aren't fried), but I definitely don't trust myself with a bubbly vat of oil…pretty sure that's how you lose your rent deposit.  So let's just pretend that my baked version is in the name of health.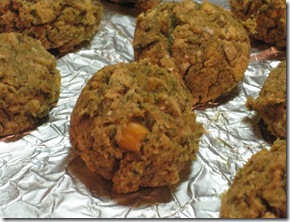 Enjoy!