Taste testing went down over the summer (I know, I know, that was so long ago!) and I'm ready to offer you my thoughts on the variety of mainstream non-dairy creamers on the market.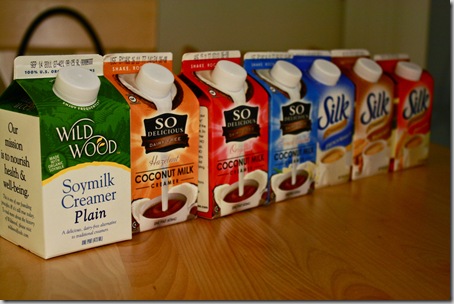 Ready for reviews?
Wild Wood soymilk creamer
Pros:
plain flavor didn't distract from coffee/tea
thick texture mixed well with beverages
organic (but not advertised as such – oddly enough?)
low sugar content (1 g per serving)
no sodium
Cons:
long ingredient list after soymilk (maltodextrin, tapioca starch, etc.)
lacking in flavor (it was more bland and less soy tasting than other soy creamers)
Would I buy again?  No.  I'd rather use plain almond milk.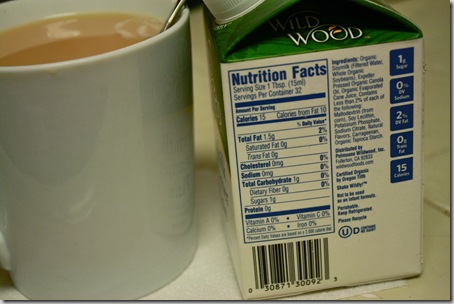 ******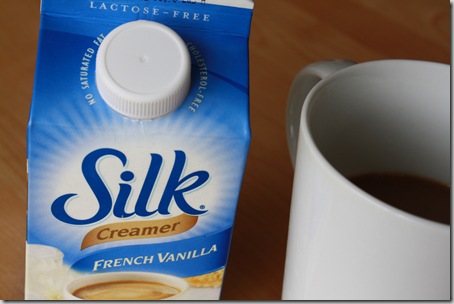 Silk Soymilk creamer
Pros:
thick and creamy consistency like real creamer
good flavor (when I tasted them on their own, they were really yummy)
available in most mainstream grocery stores
Cons:
non-organic
higher sugar content (3 g per serving)
flavored varieties (like French Vanilla and Hazelnut) tend to dominate whatever they are added to
didn't mix well in coffee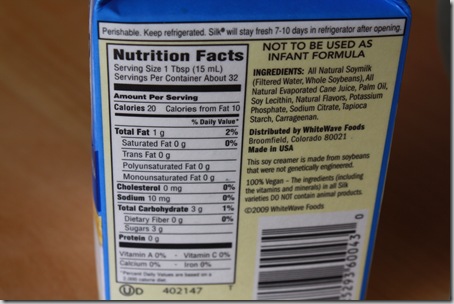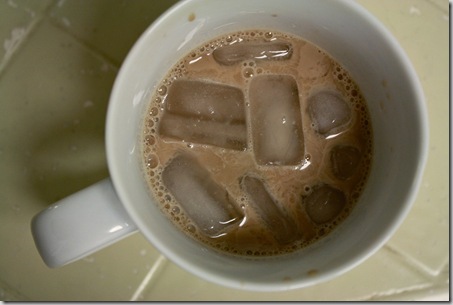 Flavors:
French Vanilla – pretty sweet (almost too sweet) but great for imparting rich vanilla flavor in baked goods
Hazelnut – so-so flavor, tasted artificial
Original – the best of the three in terms of neutral flavoring
Would I buy them again?  No, despite some of them being delicious on their own, they didn't work in coffee (which is presumably their primary use).
******
So Delicious Coconut Milk creamer
Pros:
non-soy and non-dairy (good for vegans with allergies to soy)
Cons:
doesn't mix well in hot beverages (this is my main issue with the creamer since this is why I buy them); unlike a real creamer, the coconut creamers didn't seem to impart their creaminess uniformly throughout liquids
slightly sour aftertaste (Kyle didn't like them on their own, but I disagree)
Used in baking, like this oat bake (above) or in drinks, like Peet's English breakfast tea (below) they are good, but otherwise I wasn't a fan.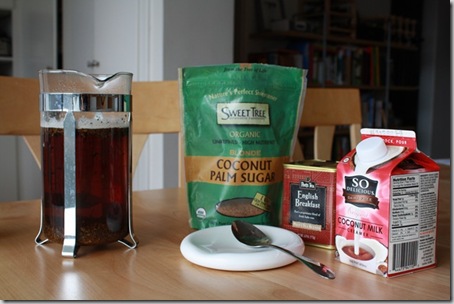 Flavors:
French Vanilla – best flavor for baking (sweet, rich, vanilla-y)
Hazelnut – not a fan, it was pretty sour
Original – best for cooking
Would I buy them again?  No.  The point of creamers is to be used in hot beverages and these were great for cooking or baking, but not for coffee or tea.
******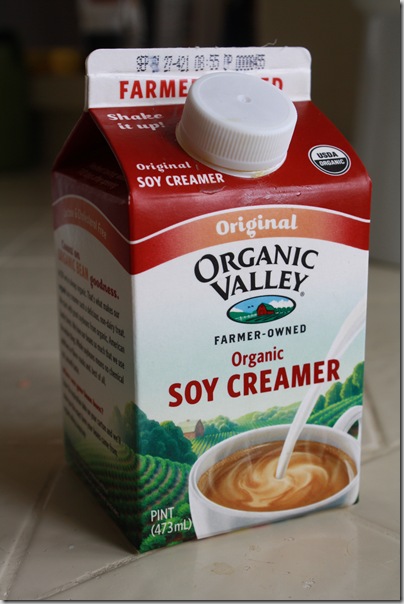 Organic Valley Soy creamer
Pros:
good flavor that's slightly nutty with a hint of vanilla
thick texture that mimicked dairy cream decently
mixed well with hot beverages
organic
low sugar content (1 g per serving)
one of the most pure ingredients lists (including fair trade cane sugar)
doesn't contain carrageenan, an ingredient in many other non-dairy creamers
Cons:
it's soy based, which doesn't help vegans with soy allergies/sensitivities
Would I buy it again?  Yes.  This was both Kyle and my favorite. 
******
Reviews aside, almond milk is actually our preferred coffee "creamer."  It mixes the best.  It has the best flavor.  It doesn't cause any GI issues.  It's low in sugar, calories, and still imparts a delicious creamy quality to hot beverages.
I've tried many brands and Almond Breeze's unsweetened vanilla is the #1 beverage in the HHH household.
Runner ups: Almond Breeze's sweetened plain and Silk's pure almond