Home-made veggie burgers are a tricky thing…  Will they hold together?  Will they be hearty enough?  Will the texture be appetizing?  Will they taste good?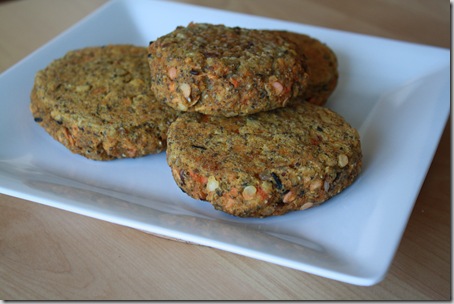 In the past I've used oats and beans as the main ingredients in various veggie burgers, but the recipe I'm about to share is definitely my best one to date, and it used neither of those aforementioned foods. 
What you'll need to recreate this heavenly patty…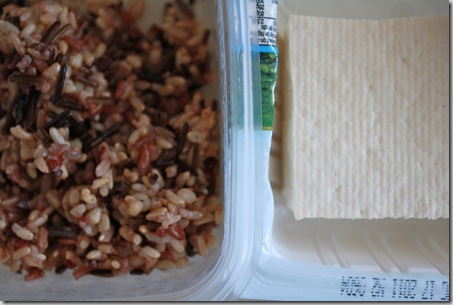 Wild rice and extra firm tofu.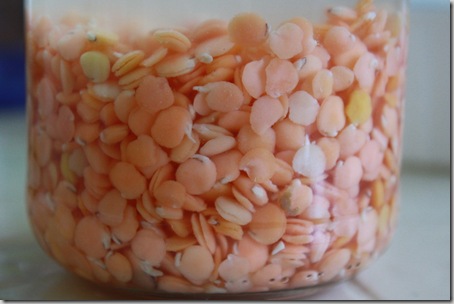 Lentils.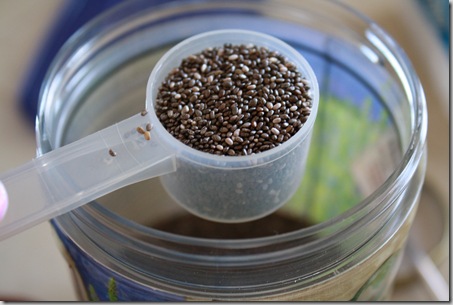 Chia seeds.
And carrots.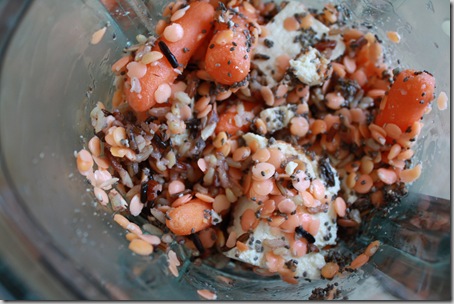 Pink veggie patties (v, gf)
4 oz. extra firm tofu (approx. 1/4 a normal package)
1 cup (cooked) wild rice
3/4 cup (cooked) pink lentils
8-10 (raw) baby carrots
2 tbsp chia seeds
1/4 cup water
1 tsp onion powder
1/2 tsp garlic powder (or more to taste)
1 tbsp ketchup
1 tbsp dijon mustard
1 tbsp Bragg's liquid aminos (or tamari/soy sauce)
As an FYI:
My lentils had already been soaking in the fridge for a few days so they took minutes seconds to cook. 
I also had leftover wild rice, so it was chilled and a bit more dry than freshly made rice. 
My tofu was drained, not pressed, so there was probably a bit of extra liquid in it still. 
Given these factors, be cautious with the amount of water you add (erring on the side of less water at first, and adding more as you need it to reach the quarter cup I noted above).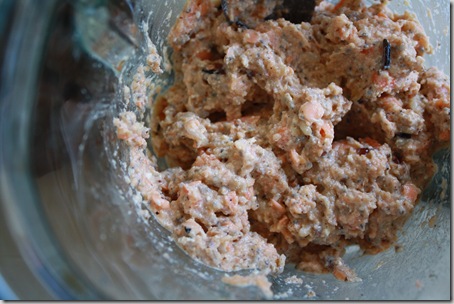 Add all the ingredients to the blender and pulse, pulse, pulse, stopping to scrape down the sides of the blender and manually stir in between.  It's not necessary to get everything completely pureed because small chunks of rice, lentils, and carrots give the burger a nice texture.  As the water and chia seeds have time to gel, the mixture will begin to hold together well.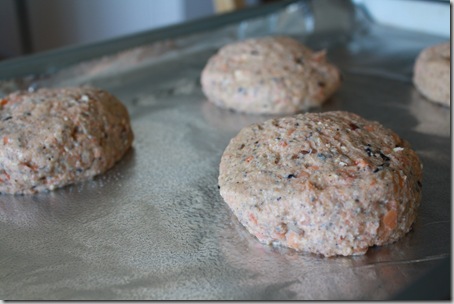 Spray a baking sheet with non-stick spray, pre-heat the oven to 375, and let the mix sit for a few minutes.  This lets the flavors all meld and gives the chia seeds enough time to act as a binding agent.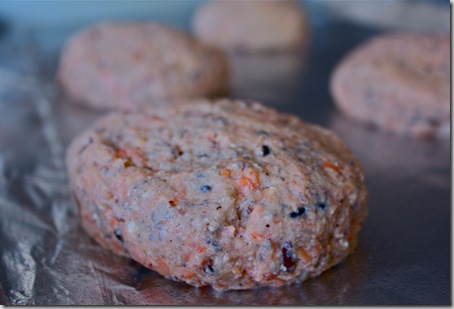 Form patties in your hands and plop them onto the baking sheet (the plopping action helps flatten them uniformly into burger shapes).  This recipe yields 4 medium sized burgers. 
Cook them for 30 minutes at 375.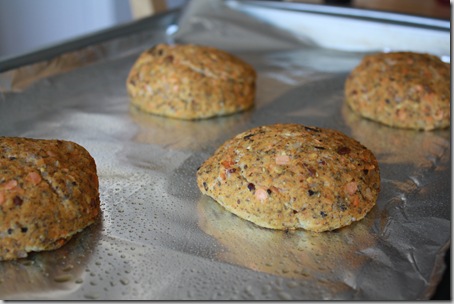 After 18 minutes in the oven, I pulled them out to flip.  As you can see, the outsides of the burgers were already getting golden and crispy.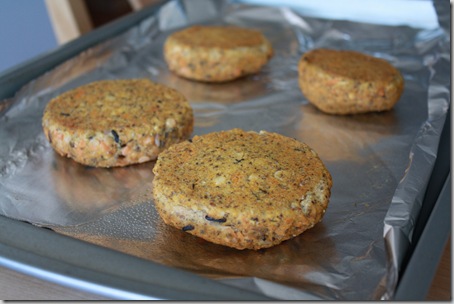 After the remaining 12 minutes, I left them on the counter to cool (and photograph).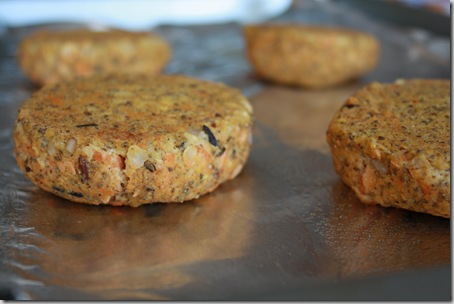 Have you ever seen such pretty pink patties!?!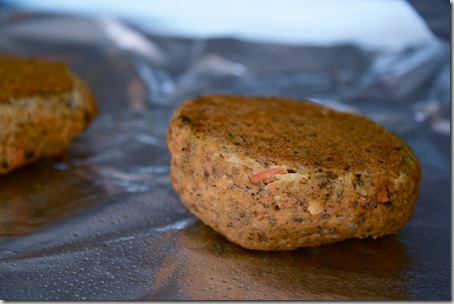 One was a bit fatter than the rest (I guess I didn't plop him as well), but the rest were the most gorgeous veggie burgers I've ever seen.  Ok, I'm biased.
I'm really not one to toot my own horn, but these actually turned out PERFECT.  Like, not even a single teeny tiny change to be made.  100% amazing.  The flavors were clean but not bland, allowing this burger to be extremely versatile in it's uses.  On a salad, on a bun, in a wrap, on it's own.  All good options.
This may sound strange, but their aroma reminded me of a meat loaf…however, they tasted almost like a rice and tofu stir fry…in a patty form.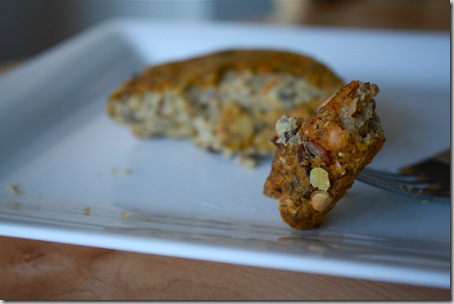 I love carrots in veggie burgers.  And wild rice gives them such a chewy texture.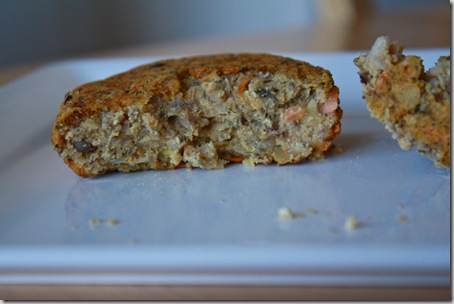 Mmmm… see how the inside texture is a mix of puree with some chunks?  Heavenly.
Ok, let's talk stats.  This is just a rough estimation, but here's the nutritional profile as calculated for one veggie burger.
Calories    170.9
Total Fat    4.1 g
        Saturated Fat    0.5 g
        Polyunsaturated Fat    2.5 g
        Monounsaturated Fat    0.8 g
Cholesterol    0.0 mg
Sodium    387.6 mg
Potassium    374.8 mg
Total Carbohydrate    24.5 g
        Dietary Fiber    6.4 g
        Sugars    1.4 g
Protein    10.0 g
Vitamin A    101.4 %
Vitamin B-12    0.0 %
Vitamin B-6    11.7 %
Vitamin C    7.1 %
Vitamin D    0.0 %
Vitamin E    0.7 %
Calcium    5.9 %
Copper    11.0 %
Folate    24.4 %
Iron    15.3 %
Magnesium    13.7 %
Manganese    31.3 %
Niacin    7.2 %
Pantothenic Acid        4.0 %
Phosphorus        17.6 %
Riboflavin    5.9 %
Selenium    8.1 %
Thiamin    8.1 %
Zinc    10.0 %
Healthy, hearty, yummy, yes please!  Make these!!!