As I mentioned before, Saturday was a late night, so Sunday didn't really get under way until noon.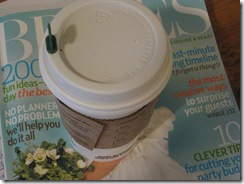 Before anything, we went to WF for (our last) huge grocery trip.  On the way home, I got a soy misto.
Even though we were still waiting for our groceries to arrive, I still had everything on hand for a perfect lunch.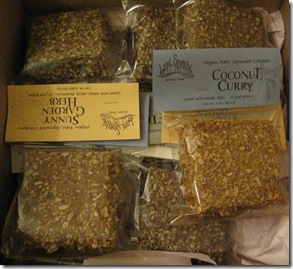 The other day I got a delivery from Livin' Spoonful in the mail, with tons of raw, vegan, sprouted goodies.  I can't even tell you how long I had been waiting to try these…
I tried the Sunny Garden Herb flavored crackers first, which was packed with organic flax seeds, sprouted sunflower seeds, carrots, celery, onion, raisins, kale, basil, cilantro, lemon, celtic sea salt, oregano, and rosemary. 
WoW!  This was my first time sampling raw dehydrated goods and I have to say, I was pleasantly surprised at how GREAT they were!  I was nervous that they would be dry or stale, but they weren't at all!  In fact, upon opening the bags, the aroma was the first thing I noticed.  Then I took a bite, and couldn't stop…
I had Kyle try a bite and even he was shocked by how great they were…I'm going to have to keep him away from them because I need these in my life.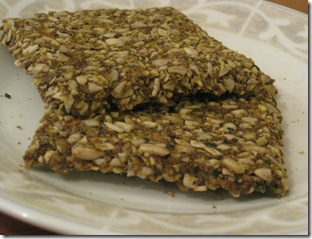 My intention was to enjoy them with hummus, but they were SO great on their own that I just ate them plain.  Seriously, I will be getting these in my OpenSky shop stat because you all MUST try them.  The Sunny Garden Herb flavor kinda tastes like pizza bites.  How do they do that?  The Livin' Spoonful people must be geniuses to make a vegan, raw, sprouted cracker taste like something as classic as pizza!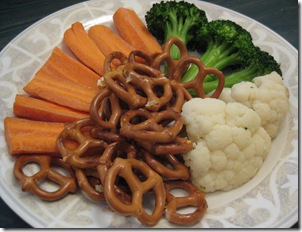 The items on this platter I did dip in hummus.  For the record, unsalted pretzels suck (WFs was out of the spelt kind that I usually get, and this was the only 365 variety left, but I do not recommend). 
And then for dessert, I had fresh strawberries and apple slices.
As much as I realllly didn't want to go to the gym, Kyle had an appointment with his personal trainer (he has a guy that works him out semi-regularly) so I tagged along to see if I could eke out something of the cardio nature.
Since I failed to post this past weekend, unless you follow me on twitter, you wouldn't know that I was in serrrrrious agony from doing Jillian's shred two days in a row.  That b!tch Broke. Me. Down. 
I mean every single muscle (large or small) in my body was aching to the point that just walking to the gym was more physical activity than I thought I could handle.  Needless to say, 50% of my time at NYSC was spent stretching on the mats.  Then I did some low resistance elliptical-ing and biking just to loosen up.  Despite the lack of intensity (that I usually associate with a successful exercise sesh), I felt MUCH better afterwards. 
Once home, I showered and started prep work for dinner.
There were a few things that I was especially excited about, including the return of corn and avocados. 
I know it's not quite their season yet, but it's just around the corner!!!  I love me some raw corn.  The crunch, the association with warm weather, the way it accents salads, all good things.  But best of all?  Making a huge vat of guacamole packed with fresh produce.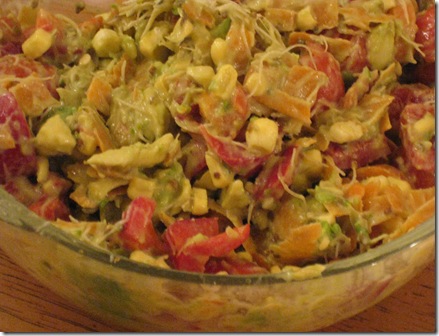 This bowl of avo coated goodness contained:
1/2 avocado
alfalfa sprouts
red bell peppers
cherry tomatoes
carrot shavings
raw corn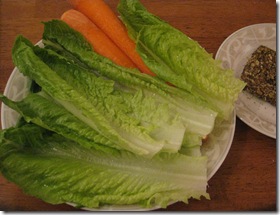 For dipping, I had romaine shafts on the side, a few carrots, and more Livin' Spoonful raw sprouted crackers. 
I swear, you guys, these crackers are addictive as all hell.  I ended up eating EIGHT of them today…and that was practicing MAYJ self restraint.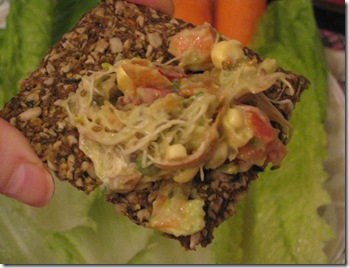 Later on, I had more fresh fruit for dessert.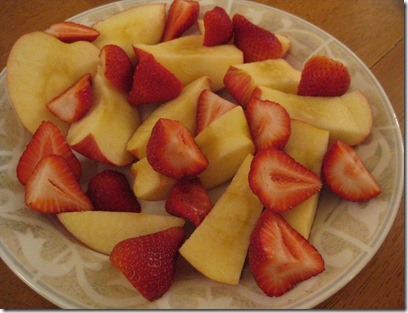 TWO apples, and a whole lotta strawberries.  I had a fiber belly after, but I was so content.  It was so friggin' good, I may just want the exact same meals for the entire upcoming week.
P.S. Looking back on this post, I just realized how high-raw the day was…aside from the pretz for lunch, my eats were (inadvertently) 99% raw!