This is the recipe I use time and time again (I've strayed but none are as good as this simple whole wheat loaf).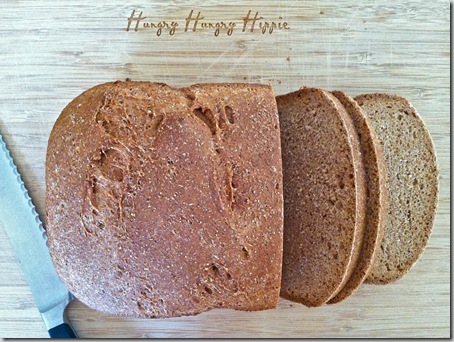 Whole Wheat Breadmaker Bread [vegan]
For a 1.5 lb loaf
Ingredients:
1 cup + 2 tbsp warm water
1 tbsp + 1 1/2 tsp Earth Balance
1/4 cup sugar (I usually use coconut sugar, but I've used cane sugar too)
1 1/4 tsp salt
3 1/2 cups whole wheat flour
2 1/4 tsp yeast (1 packet)
Directions:
Add to breadmaker in the order listed above.  For the yeast, make a small indentation in the flour and pour it into it so it doesn't contact the water.
Turn machine on, set it to wheat bread and 1.5 lb setting, select light/medium/dark color setting (I pick medium), and start.
With my machine, it takes about 3 1/2 hours until it's done.
I have this breadmaker.  I think it's fantastic.  It's relatively inexpensive (as far as breadmakers go) and works great.  I'm definitely not an experienced baker (after I got this machine was the first time I even attempted using yeast), so I feel comfortable calling the appliance idiot proof.
This bread makes perfect sandwich bread.  It's soft in the middle with a nice crust.  It's also great toasted, piled high with Earth Balance, and dipped in yolk.
The reason I make this wheat bread is because it comes out every single time.  I've tried gluten free breads, but they've all been mediocre at best.  The ones with the best texture (bouncy and fluffy) contain chickpea/fava flour, which really messed with my GI system (and caused way more symptoms than wheat flour).  And so I've given up with gluten free yeast breads. 
If anyone happens to know a good breadmaker recipe for GF yeast bread I'd greatly appreciate it.  Especially if it doesn't call for 8 different rare flours.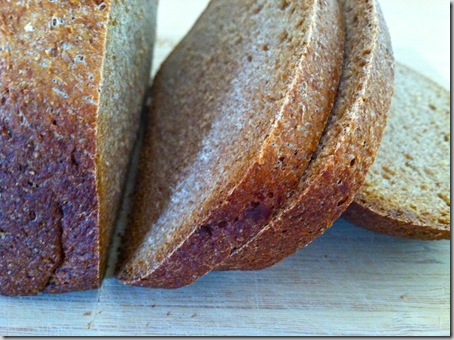 In the meantime, I'm happy to keep eating this lovely stuff.