I got asked to do this post a loooong time ago, but only just got around to it.  Better late than never I suppose. 
Ready for my ALWAYS on supply stash? 
10 hungry hungry hippie grocery staples
1. Oats
2. Quinoa
3. Fresh fruit (apples, bananas, something)
4. Spinach
5. Sweet potato/potato
6. Hummus
7. Almond Milk
8. Carrots
9. Nuts (almonds, cashews, something)
10. Brown Rice
There should be an asterisk to let you know that tomatoes would normally be on this list, but I grow my own now.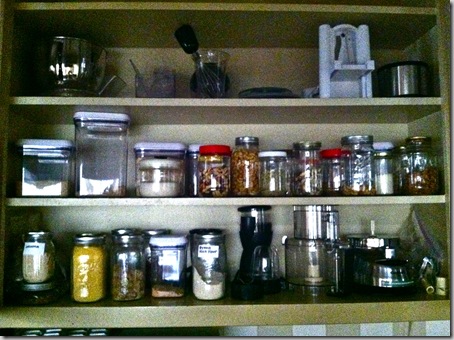 Most of these items are bulk bin things that I have huge containers of.  Brown rice, quinoa, and oats, for example, are things I'll never be without because if I see a container is getting low, I'll add the item to the grocery list.  I store them in big containers from Crate & Barrel.  Most of the other bulk pantry things I store in mason jars.  These include nuts (of all kinds), dried beans and lentils, TVP, corn meal, almond flour, brown rice flour, oat flour, and coconut.  I can do almost anything with this stash alone (grain + legume = meal).
Of course fresh produce is good to have on hand, too, for obvious reasons.  Spinach and carrots are the top grocery list items that I will never be without.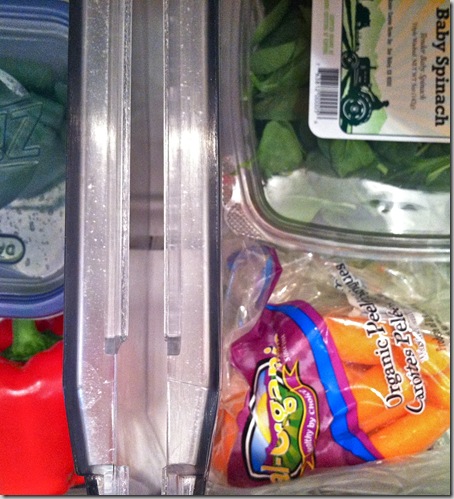 I also stock frozen veggies, like peas and corn, because Kyle turns to those often when I'm not around to make something.  Don't get me wrong, I use them too.  They're the perfect way to round out my grain + legume combo.  Most recently (ie since pregnancy laziness kicked in), I've taken to frozen collard greens and frozen broccoli too. 
You may think it's weird I didn't put tofu, seitan, or tempeh on the list, but I was trying to go with things I have 100% of the time.  Vegetarian proteins are always on rotation in the HHH household and Kyle and my preferences change based on our moods.  Sometimes it's nice to splurge on Field Roast and sometimes I feel like making seitan.  Also, Kyle favors tempeh, whereas I prefer tofu.  But we are never without hummus.  Ever.
We go through almond milk faster than anything else on the list.  It's a coffee staple.  It's an oatmeal staple.  It's a drink-with-dessert staple.  And since there are often sales at WF, I buy the smaller ones to keep as back-up in the pantry just in case.  We go through at least of the big cartons of unsweetened vanilla each week, but the fridge is never without the unsweetened plain (for cooking) either.
Fresh fruit goes without saying.  If the fruit basket is empty, there's a problem.  Aside from apples and bananas, I try to stick to whatever is seasonal and/or local.  Organic is a must, naturally.  In spring and summer, we get lots of melon and stone fruit.  In fall and winter, it's apples and pears galore (plus squash!!!).  Kyle's picky about fruit, but I'll eat just about anything.  Lucky for me, our neighbor has a lemon tree that keeps my fizzy water tasty almost all year long. 
So there you have it! 
The top ten things I'm never ever without – hope it gives you ideas.
If you have a question or readers request topic you'd like me to address, ask away!  I'll try to get to it faster than I did this one. 🙂