Some of these may seem lame or boring, but when you want a semi-home-made (healthy) meal lickety split, you can't be too picky. 
While I mostly prep for the week in advance, I do leave some days open.  These "wing it" dinners are typically made from either leftovers (revamped to be something else) or various ingredients I know I have ready in the fridge.  As I've shared before, I keep certain staples on hand at all times for exactly these scenarios.
1. Stir fry
2. Pasta with veggies
3. Veggie burger
4. Hippie bowl
5. Big salad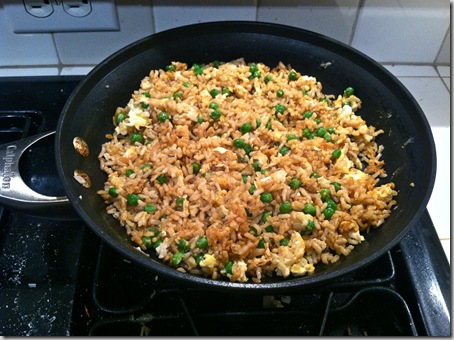 Stir Fry.
With a stir fry, you have the option to add your grain into the mix, or keep them separate and serve the fried portion over it. 
You can also switch up the grain – quinoa, rice, millet, couscous, whatever.
If you're vegan, you can use tofu, tempeh, edamame, or beans.  And if you're vegetarian, you can scramble in eggs. 
My favorite veggies are greens (spinach & kale), peas, and carrots.  But you can buy frozen mixes too. 
Here are some stir fry recipe posts:
broccoli quinoa & mandarin orange chik'n
Etc.  Etc. 
Pasta with veggies.
Doesn't matter what kind of past you choose – spaghetti, penne, rice noodles, fusilli, whatever.  Cooking pasta is fast.  And toppings can be anything you have in your fridge – TVP with tomato sauce, lemon & vegan butter, or just plain old veggies. 
Keep your pantry stocked with marinara at all times.  And if you make pesto or some other sauce, make a ton and freeze the extra.  And if you get really desperate, just use canned soup as a pasta topping (a minestrone over fettuccine is a pretty decent meal, as is coconut Thai soup over rice noodles).
creamy tomato greek yogurt summer pasta
spaghetti with marinara & meatless "meatballs"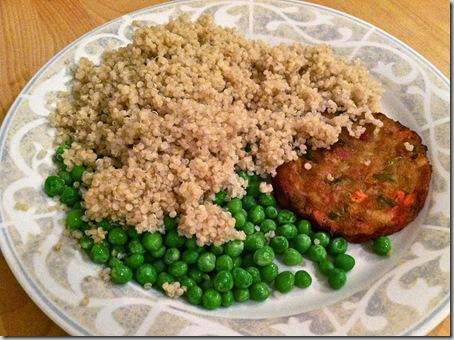 Veggie burger.
Yeah you could make your own and freeze them, but that's not really what this post is about.  I'm trying to give you last minute quick meal ideas.  Given that, it's always wise to keep a box of burgers in the freezer, just so you aren't stranded when your fridge and pantry supplies are depleted.  I seriously can't remember the last time I didn't have a veggie burger in my freezer.
Rather than point out the obvious (there's more ways to eat a burger than on a bun/in a sandwich), I will just tell you a few of my favorite kinds of veggie burgers. 
Amy's – this company makes the best veggie burgers; with a ton of different kinds they something for everyone (mock meat-like, vegetable packed, bean based, etc.); my favorites are Amy's California veggie burger (vegan & soy free) and the Sonoma veggie burger (vegan, gluten & soy free)
Trader Joe's – they have a veggie burger (contains wheat, soy & eggs) and a masala burger (vegan, soy free); I like both  [FYI, they also have an organic tofu burger (in the refrigerated section, not frozen) which I've never tried]
SoL cuisine – they have a large selection of veggie burgers; my favorites are the Mushroom Rice burger (vegan, gluten free) and Spicy Black Bean burger (vegan, gluten free)
Sunshine burgers – these are fabulous but expensive; the original (vegan, gluten & soy free, FODMAPs free) and the falafel are my favorites
Boca – these were the first veggie burgers I ever tried so I have a loyalty to them, but they aren't my favorite (be careful, some have cheese!), on the plus side, they're often the cheapest available and can be found in most conventional supermarkets; the vegan burger made with non GMO soy is the only one I buy
I'm not a fan of GardenBurger or Dr. Praeger's – too mushy.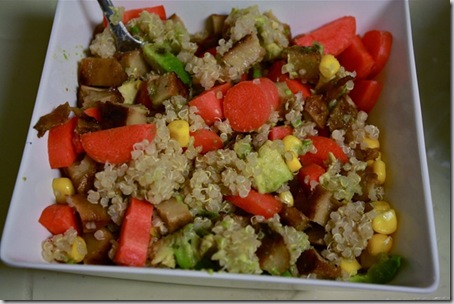 Hippie bowls.
If you search the phrase "hippie bowl" on my site, you'll get more than you bargained for.  So rather than direct you to a million combinations of grain + veg + protein, how about some basic posts on the concept.
Here are a few days of hippie bowls.
And another play by play of the formula is here.
My #1 is quinoa + carrots + seitan.  I swear, I feel like I've eaten that exact meal hundreds of times in the last year alone.  Never gets old.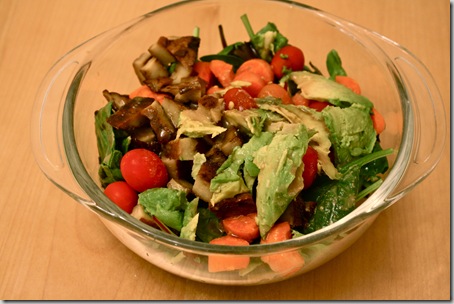 Big salads.
Not much of an explanation needed here, right?  Take every vegetable you can find in your fridge and chop it up and put it in a massive bowl.
I often have things pre-chopped, but even when I don't this really doesn't take very long.  Avocado and hummus are the best ways to top off massive salads, but a simple oil & vinegar mix will work too (the rule with dressings is fat plus acid equals yum). 
Here's my post on how to make a salad a meal.
Hope those ideas help!
Quick ways to revamp leftovers: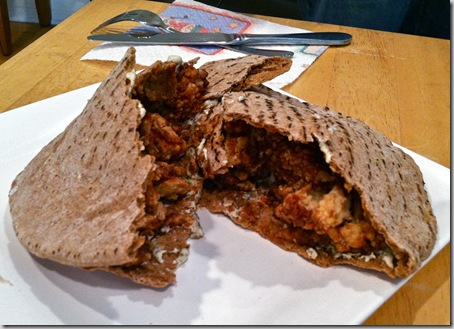 For another post that gives lots of simple weekday dinner ideas, click here.