I feel like I could be one of the luckiest people ever because my husband craves (as in, actually requests without arm twisting) big salads and tofu dishes for dinner.  Seriously.  I'm either the world's best cook (nope, that's not it) or I won the lottery in finding my soul mate (sounds more likely).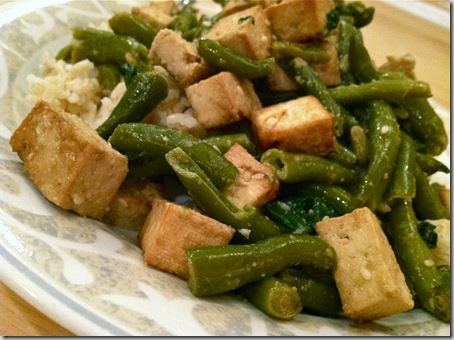 Naturally I oblige 100% of the time (I approach his veggie cravings like a rare bird watcher, not wanting to scare them off by making any noise or ruffling any feathers).  So even if I'm in a comfort food kind of mood, I make what he wants.
I'm a people husband pleaser.  With a vegan agenda.  😉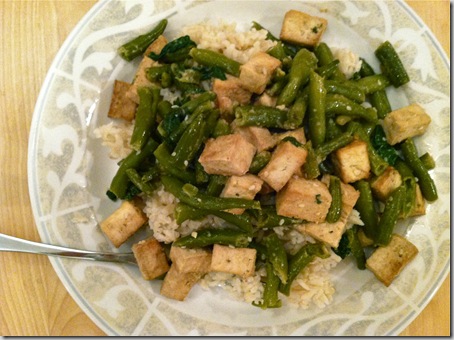 Green Beans & Tofu for Two
[vegan, gluten free*]
1 (16 oz) block firm/extra-firm tofu (either will do, just don't get anything softer)
2 cups chopped green beans (or 1 can)
1 handful spinach (or 1/2 cup frozen)
2 tbsp sesame oil
1 tbsp agave/honey/maple syrup (honey for the non-vegans, agave for the non-fructose sensitive, maple syrup for FODMAPs people)
1 tbsp tamari/soy sauce (tamari for the GF folks)
1 tbsp tahini
1 tsp sesame seeds
1 tsp onion powder (sub arrowroot/cornstarch for low FODMAPs diet)
salt to taste
*I tried to address all possible dietary and cooking variations in the ingredients list so whether you're vegan or vegetarian, gluten free or not, making it with fresh produce or pantry staples, you should be covered. 
First, drain and press your tofu.  [I use a tofu x-press, but a towel and heavy object work just as well]  Once it has most of the moisture removed, cut it into cubes.
To get restaurant-esque tofu you need oil.  Hot oil.  Get over your grease-phobia and put away the cooking spray.  It's not gonna do the trick.  Sesame oil is Buddha's gift to Asian cooking.
Let the pan warm before you add the sesame oil.  [I don't think you're supposed to do this with non-stick pans as it decreases the life of the pan, but I do it anyway]  Oil heats faster than metal so I prefer letting the pan heat up a bit before I add the oil.  If you're really worried about the shelf life of your cookware, go ahead and spray non-stick on it first (before adding the oil).
Once the pan and sesame oil are heated, add the tofu.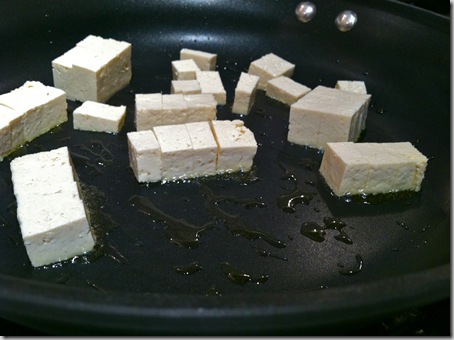 While the tofu is frying, combine the soy sauce, agave, and tahini and stir until well mixed.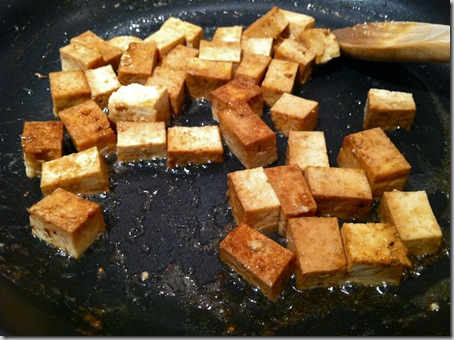 Once the tofu has begun to bronze add the soy blend and let it continue to sizzle.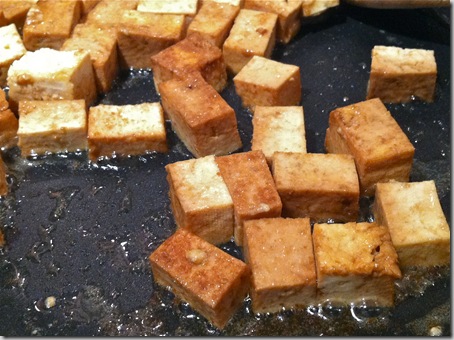 Rotate sides of the cubes so that they all get exposed to the hot pan.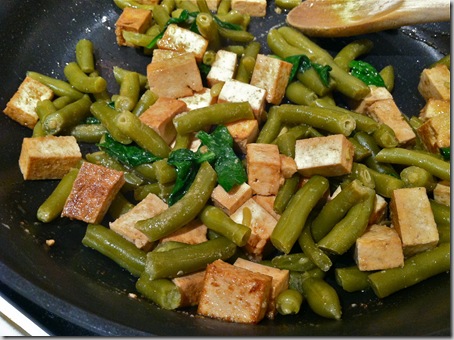 Add the green beans and spinach and let them wilt.  Then turn the heat down to low and go set the table or something.
After a decent amount of time (be patient!) add the onion powder and sesame seeds.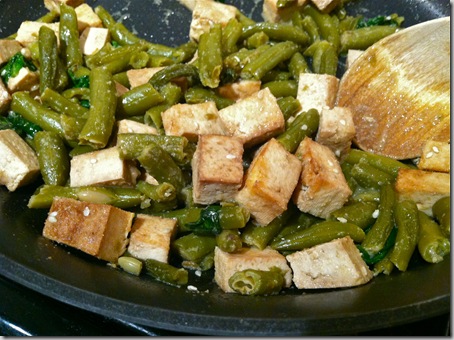 Keep stirring with the heat on low and let the sauce thicken and stick to the tofu and green beans.  [If you need more liquid start with 1 tbsp water]
Serve over brown rice.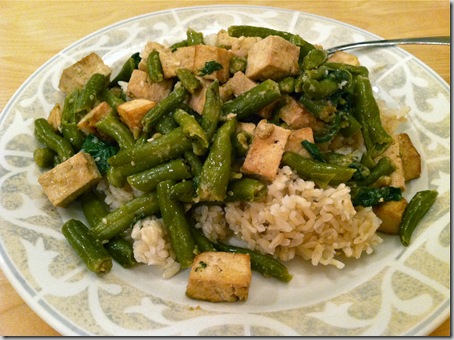 It's deceptively greasy.  Because it's really not greasy at all.  Since the entire recipe only calls for 2 tbsp sesame oil, it's actually quite healthy.
I can envision this recipe being great with other veggies too – like mushrooms, peas, and bok choy.
But this was created from the random things I had on hand (when my husband called from school saying he wanted tofu for dinner), so it was a miracle it turned into something worth blogging about at all.  [For the record, I have stopped taking pics of my seitan, quinoa, & carrot bowls because they are an every other day occurrence and it's boooooring]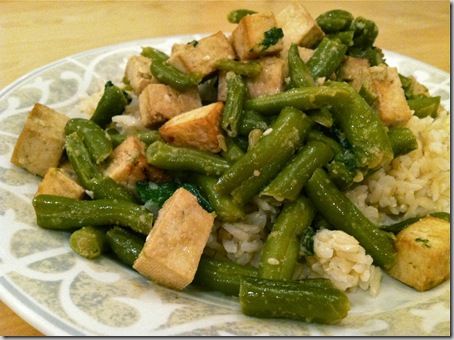 Kyle loved the sauce so much he even licked the wooden spoon when we were doing the dishes afterwards.  And since "wooden spoons give him the willies" I know that means he reallllly liked the dish.  I don't know how a person can have an issue with serving utensils, but whatever.  Licking wooden ones really freaks him out.  [I just wrote licking wood really freaks him out but decided that could be interpreted very wrong]  Probably a weird note to leave on, but oh well.
Guess what!  My cheesecake is being featured on fitsugar – check it out!!