Necessity is the mother of invention.  At least that's how the phrase goes.  Desperation is more like it…
The other night was just a typical night in the scheme of my pregnancy.  I wasn't craving anything remotely healthy, but I also couldn't figure out what I even wanted to eat.  Even though we had plenty of options in the fridge, I wasn't feeling any of it.  Kyle made himself dinner, but I didn't want what he was having either.  So I held out, waiting for my appetite to reveal itself.  Finally I decided I wanted Thai noodles of some kind.  Which is when I had to get crafty.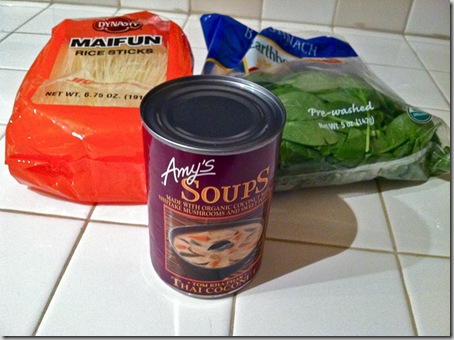 I came up with rice noodles, spinach, and Amy's Thai Coconut soup. 
I boiled water and made the rice noodles first, then added them to a bowl of spinach, followed by the can of soup.  The noodles made the spinach soft and semi-wilty and the soup flavored them both.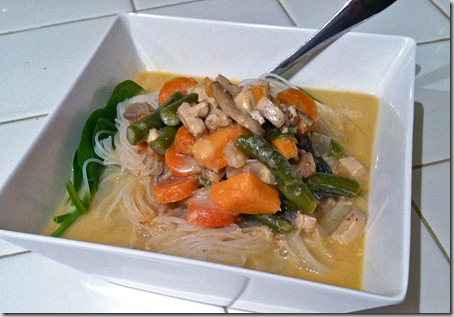 The soup had veggies and tofu in it, and was really delicious.  And the coconut broth had the perfect Thai flavor profile I was after.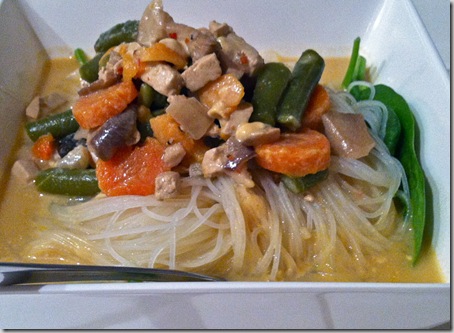 Winner.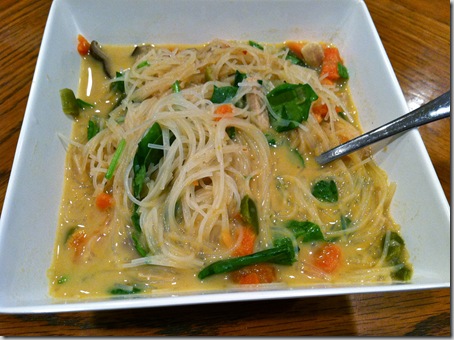 It was so quick to make and so yummy that I'm pretty sure I'll be adding this to my rotation. 
Other random semi-home-made eats include the following:
Amy's veggie burger with avo crème on top (greek yogurt and avocado). 
Millet bowl with LightLife smoky tempeh and eggs.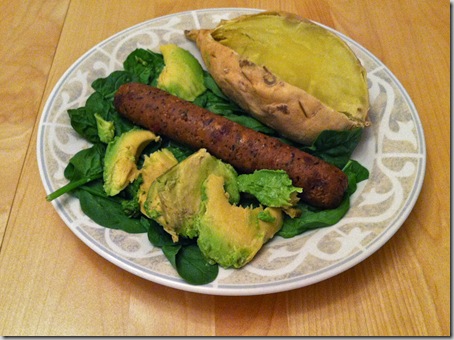 Field Roast sausage with spinach, avocado, and yam (only finished half the yam). 
But what can you do? 
After such an awesome time in Santa Barbara, I didn't want Monday to come.  But (obviously) it did.  And after Kyle and I got home, we planned out our meals for the week and went grocery shopping.  Fridge stocked.  Meals set.  Bring on the work week. 
In spite of that, my interest in food has been (and remains) minimal.  I used to love trips to Whole Foods and browsing cookbooks and blogs for recipe inspiration and now I loathe it.  I have zero interest in cooking, and yet, I am desperate to maintaining both my standards and budget.  I want quality meals, not take-out.  So even if I throw together whatever, I guess it's at least "made" by me.
My other issue is discomfort due to the crowding of my body parts (my son is taking over the space where my food usually goes).  I wake up starving, eat a few small breakfasts, and by lunch time I'm full and uncomfortable and out of room in my belly.  The meals that happen later in the day are way more annoying and I don't even want them.  This is probably why I wake up starving and the cycle continues. 
But I digress.  The point of this post wasn't to whine about my pregnant appetite.  It was to show how desperation is the mother of invention.  I'm trying!