I really love seitan and because it's so simple to make I really have no excuse for not doing so more often.  I spend so much cashola on the prepared kinds at Whole Foods.  That's not okay.  Especially because I just dropped a thou$and smackers on flights to Spain and Paris (and there may be some car damage repairs in my poor little Civic's future, too).  Contrary to what soon-to-be-revealed purchases may imply, I am not a baller, nor am I made of money.  Kyle and I are living on a single income, so it's time to crack down on the budget.* 
So back to the seitan.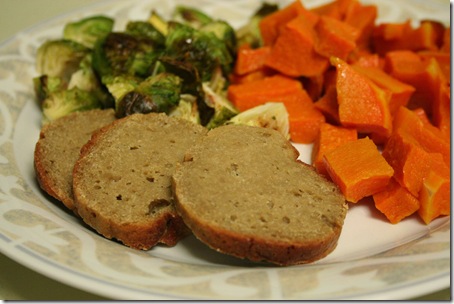 I know I've previously posted step-by-step tutorials, but as it turns out, there's an even EASIER method that I just tested out.
Log Seitan
Ingredients:
Dry
2 1/2 c vital wheat gluten
1/2 c chickpea flour
1/2 c nutritional yeast
1 tsp paprika
1 tbsp onion powder
1 tsp garlic powder (I used garlic salt and omitted added salt)
1 tsp salt (optional)
Wet
1 3/4 c water (or veg broth)
2 tbsp soy sauce
2 tbsp Bragg's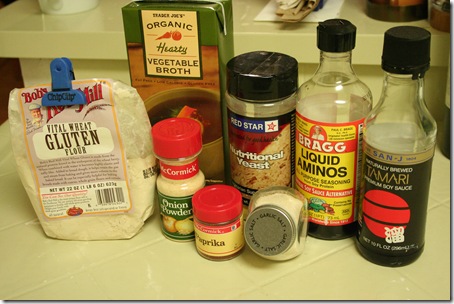 Instructions:
Separately combine and mix wet and dry ingreds.  Add both together.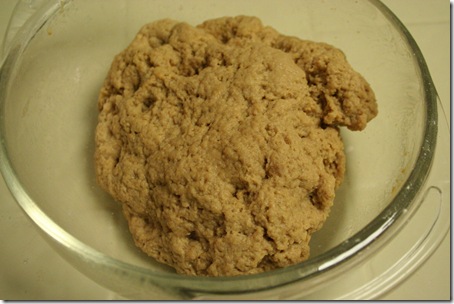 Warning: inappropriate looking photos are coming up
Place seitan blob on a sprayed sheet of tin foil and roll it up like a tootsie roll.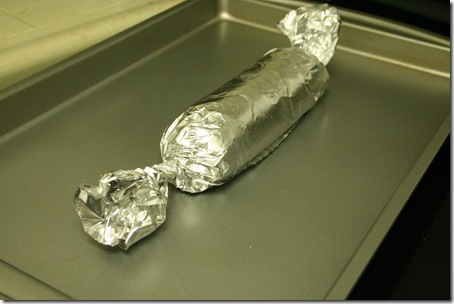 Bake for 90 minutes at 325 degrees.
[From start to oven, this took under 5 minutes – does it get any easier than that?]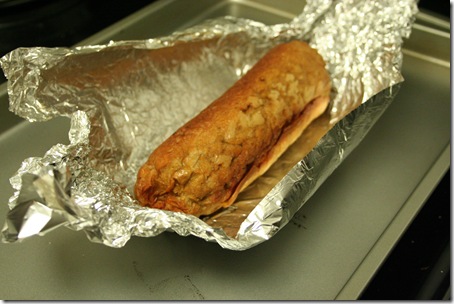 I realize the end result looks like nothing anyone should eat, but it smelled sooo good.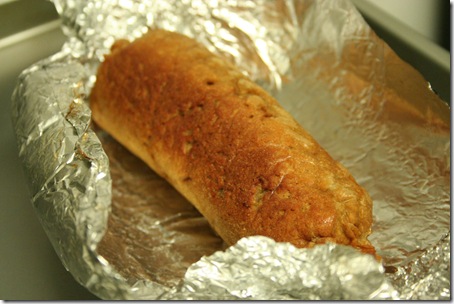 I was nervous about how hard it would be because it was very different from the seitan I usually make.  Luckily, it was still semi-sponge-like (but definitely a more dry form).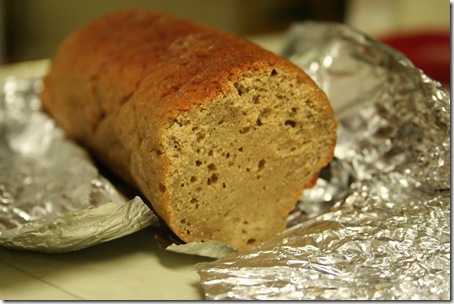 I didn't mind that it wasn't the chewy faux-meat consistency I am used to.  Although it did remind me of a fat salami roll as I was slicing it off in rounds. 
Flavor-wise it's exactly like the seitan I'm used to.  AH-MAZE-ING.
How have I been enjoying it?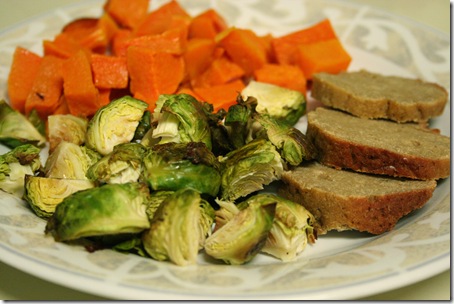 With roasted veggies.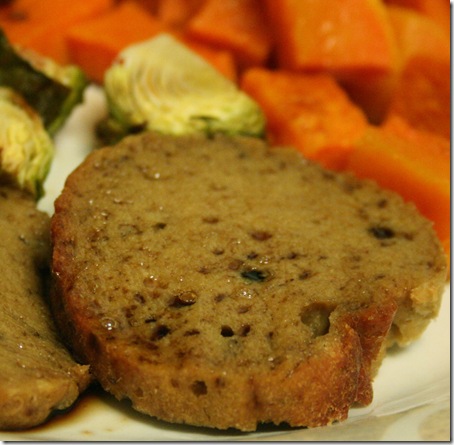 Doused in Bragg's.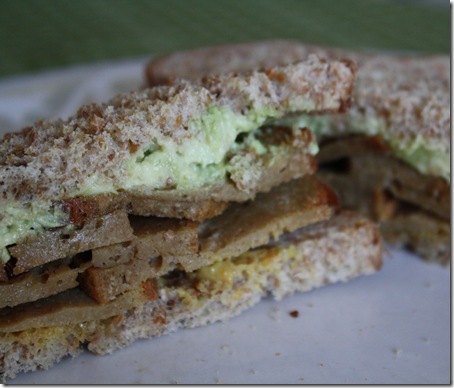 In sandwiches.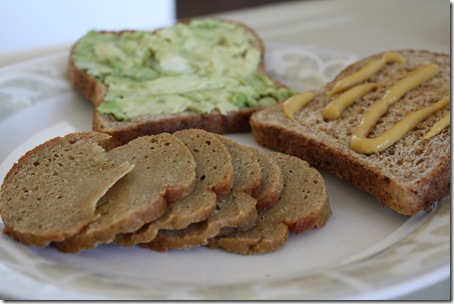 Toasted Alvarado Street sprouted bread + avocado + mustard + seitan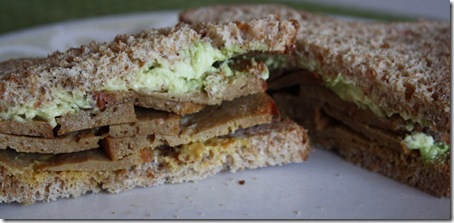 And then with both roasted veggies and Bragg's.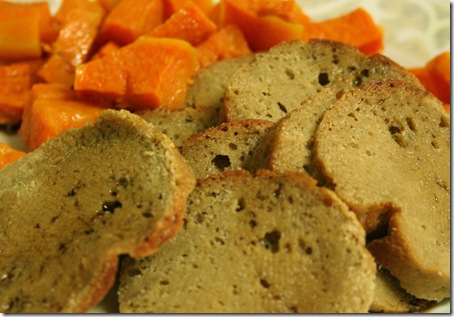 It's going fast, but now I'm sure it will become a staple because of how quick and easy the log method is.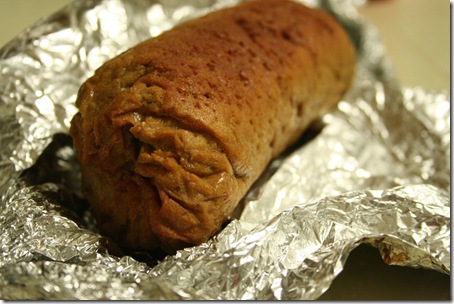 As for storage…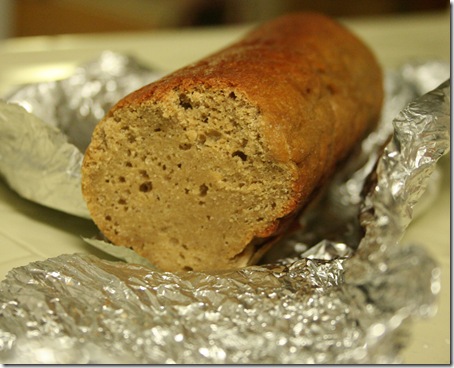 I'm so used to keeping seitan in liquid to maintain it's moisture so trying to keep this new, drier "meat" was such a foreign concept.  I stored it in the tin foil and in a tupperware because I was concerned it would dry out.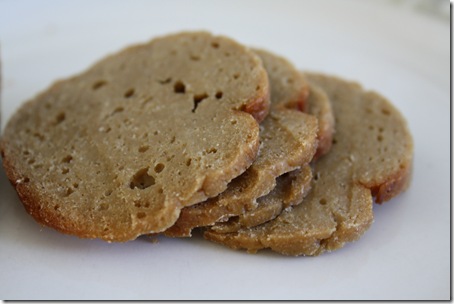 It has been a few days now and it's still perfectly soft and delish. 
Try this!!!!!
As for that budget thing.  Well. 
Clearly I still need help.
*If this makes it seem like I'm at all resentful about being Kyle's sugar mama while he's in school, please note I am being entirely sarcastic and happily support our pricey lifestyle.  🙂