I never quite know when I'm going to get home on work days, but it's usually around 8 pm.  Showering is always my priority, which means dinner time is further delayed.  This is why I do so much food prep (because there's nothing more annoying than being starving and staring into an empty fridge).  My essentials include greens and cooked grains.  You can doctor those up in combination in so many ways.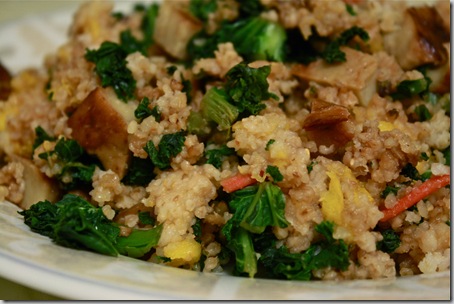 So whether I'm tossing quinoa, kale and sweet potatoes with a nutty sauce and crushed peanuts…or mixing swiss chard with a soy chickpea & quinoa salad…or highlighting couscous and kale with a "cheesy" blend…the common factor in all my post-work dinners is the [fast] cook time. 
So to everyone who says plant-based diets are "too hard" or "involve too much planning" – well, yes, eating healthy, fresh, whole foods may not be as easy as the drive-thru, but my wellness is my priority so I make it work.  Next time you're on facebook think of the 3 minutes you just lost.  Excuses, excuses. 
Want some of my tips?
I use commercial breaks (even though I DVR my shows) to throw potatoes and squash in the oven or start some quinoa. 
I make big casserole type dishes before weeks that I know are going to be especially busy.
I bake double batches of muffins, breads, etc. and freeze them individually so I can take out one at a time the night before.
I invested in a rice cooker which works for everything (oats, grains, lentils, & beans) and all I have to do is spend 10 seconds to put the food in it and press cook.  [a slow cooker is another amazing appliance]
So it's entirely possible to fit in food prep, you just have to get creative. 
After waking up at 4:30 am, working 12+ long hours, and fighting traffic the whole way home, here's what I made for dinner.
This was actually a more time consuming meal (meaning I used a pan as opposed to just the microwave), but still clocked in under 10 minutes.  Here's the play by play.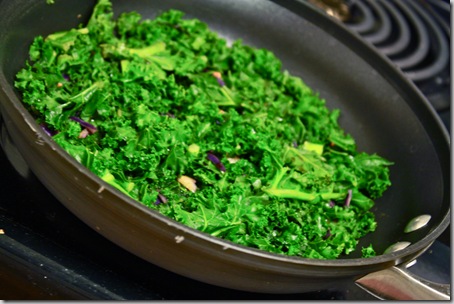 Throw kale (pre-stemmed & cut) in pan with sesame oil and soy sauce – 1 minute.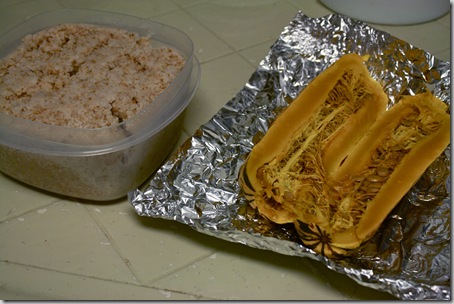 Remove other ingredients from the fridge (pre-cooked couscous, roasted delicata squash, and seitan) while the kale heats up – 1 minute.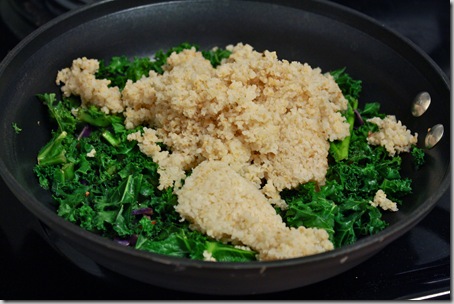 Add couscous – 1 minute.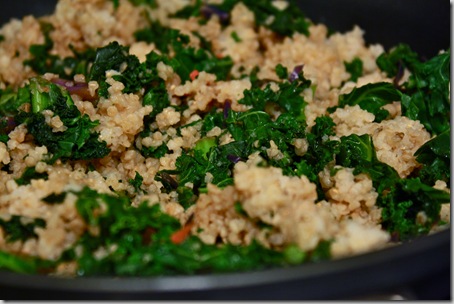 Toss it into the kale and reduce heat – 2 minutes.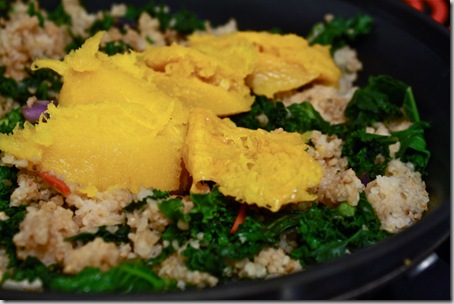 Add squash & seitan – 1 minute.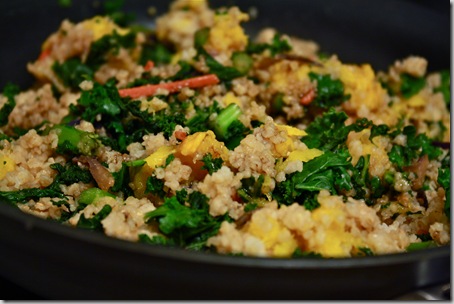 Toss them with the other ingredients, adding more oil or soy sauce as needed – 2 minutes. 
Like fried rice it will begin to get crispy.
Remove and plate – 1 minute.
Considering I was stopping to take photos at each step, this was still remarkably simple.  Sure, I had all the ingredients pre-cooked, but like I said, that's prep that can be done mindlessly earlier on and will save you time and stress later.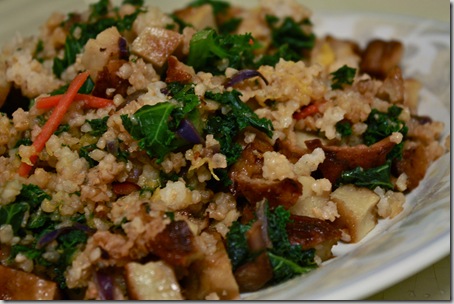 Fried Couscous with Kale and Squash (vegan)
Ingredients:
1 cup cooked couscous (I used Lundberg Farms' gluten free brown rice couscous)
1/2 cup delicata squash, steamed or roasted
2 cups raw kale, de-stemmed and finely chopped (I used a kale blend that had some traces of red cabbage and carrots in it)
8 ounces seitan, diced (approximately 1 cup)
3 tbsp sesame oil (you could also use coconut oil)
2 tbsp soy sauce
What's something you do to prep for the work week?