First things first: I only use extra firm.  I have no brand allegiance, I buy whatever is on sale and cheapest (and organic).
Now that I've gotten the basics out of the way, here's a more detailed instructional post on making delicious tofu.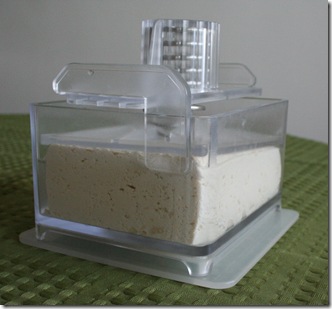 Remove it from the container and liquid and press it.  I used to use the towels & book method, but this handy tool is SO worth the money.  The Xpress is pretty inexpensive, too, so if you're sick of your laundry smelling like soy, then maybe you should consider making this small investment?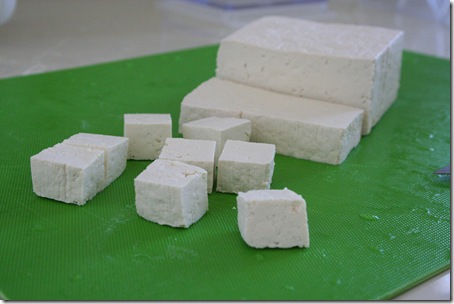 After all the liquid is adios, chop it to the size you want.  I most frequently cut mine into slabs or chunks, depending on what I plan on doing with it.  Slabs are good for sandwiches, cubes are good for salads and whatnot.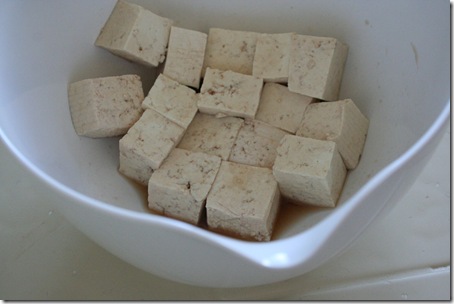 Add tofu to a mixing bowl with whatever marinade you want.  Here are some of my favorites:
agave, lemon juice, soy sauce
dijon mustard, balsamic vinegar, agave
This particular marinade was equal part Bragg's liquid aminos and EVOO.  You could probably make it without the oil because the cooking spray adequately prevents the tofu from sticking to the cooking sheet. 
I didn't measure anything because whatever wasn't soaked up wasn't used.  Tofu is like a sponge, so if you let it sit in marinade, eventually it will absorb the flavor.  Once it had a chance to soak, I placed the cubed tofu on a sprayed baking sheet.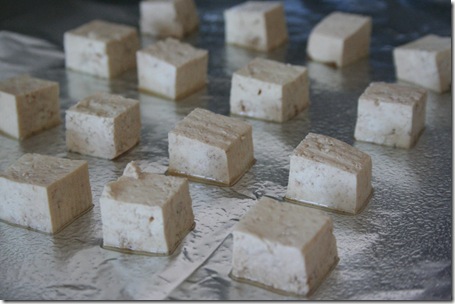 Then I put it in the oven (preheated to 350) for 10-15 minutes.  Because they were cubes, they cooked much faster than larger portions might.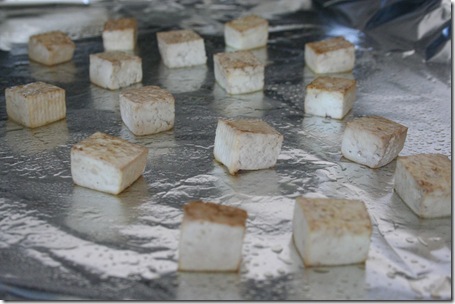 I checked on them periodically and somewhere between the 10-15 minute mark I took them out to flip them.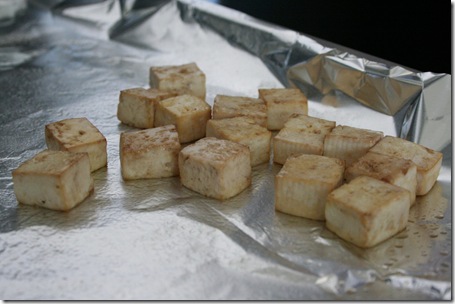 The flip side only required ~7 minutes.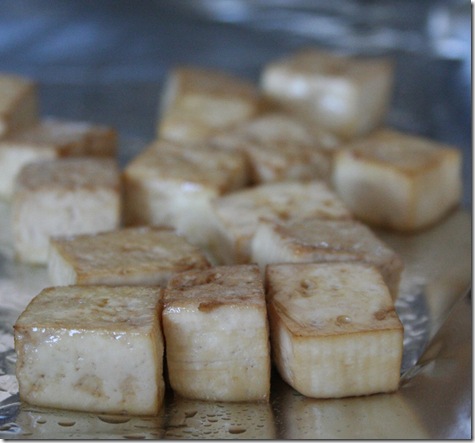 Perrrrfection.
And now, for a very tasty dish using this tofu.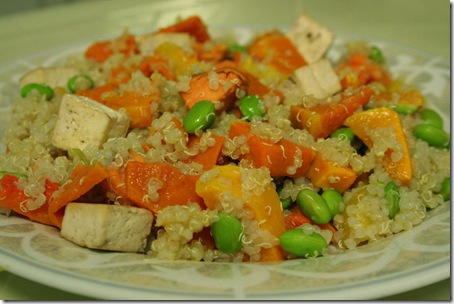 Sweet & Soy Squash Quinoa
Ingredients:
quinoa (1 cup)
roasted butternut squash (1/3 the yield of a large squash or ~1/2 cup)
steamed sweet potato (1/2 a potato, diced)
edamame (1/4 cup)
mango (6 large frozen chunks, thawed and diced)
tofu
Dressing:
2 tbsp Bragg's liquid aminos (or sub soy sauce)
1 tbsp lime juice
mango juice (from thawed chunks)
salt (to taste)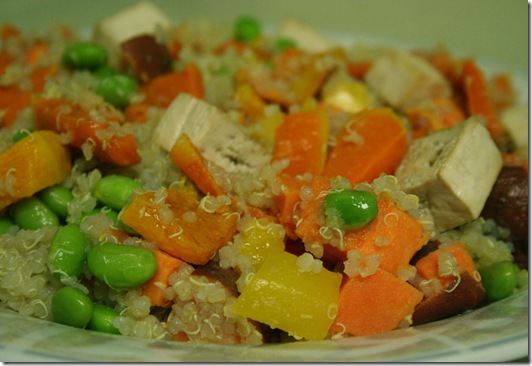 The combo of the fruity flavors and lime juice zing was perfectly harmonious.  I love sweetness and soy together.  Plus, quinoa, edamame and tofu are all HUGE protein powerhouses.  Hearty.  Satisfying.  Delicious.  And as simple as it gets.