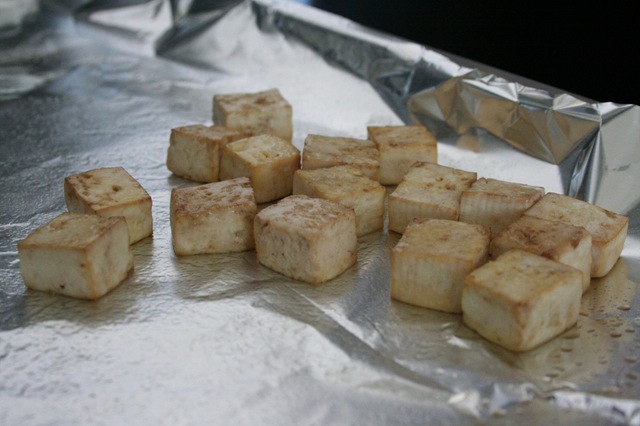 Question: I've seen you prepare tofu, but it doesn't appear you cook it and you just use it as a smear on bread or something – is it okay to do that with tofu (not cook before eating)?
I am one of those weird people who thinks tofu tastes good plain.  But most people like it baked, fried, or cooked in some way. 
However, to answer your question, no, you don't need to cook tofu.  When you buy it, technically it's already been cooked.  Tofu is made by coagulating soy milk and pressing the resulting curds. 
The aseptically packaged tofu doesn't have to be refrigerated until it's opened, but all other forms of tofu should be refrigerated in their container.  Once opened, all types should be refrigerated.  You can keep them in water, but you should change it daily (it will keep for up to one week that way).
You can also freeze tofu (it should keep for up to five months this way), but this process will alter its texture and color.  It makes it more spongy, more absorbent, and more yellowish. 
I like to use silken tofu (in it's uncooked form) when I make puddings, smoothies, faux egg salads, or spreads.  I probably use it this way the most frequently because it's the quickest and easiest method (and I enjoy the flavor of tofu). 
I opt for baked tofu in salads or by itself.  When I go this route, I usually pre-marinate it, even if it's simply with sesame oil or soy sauce.  I have various tutorials if you want more info on that, but it's the same method as veggies (350 degrees for 30 minutes).
Another method I'm a fan of is sautéing tofu.  Like uncooked tofu, this is a quick option.  It only takes 10 minutes with a little oil on high heat to start to bronze.  It's important to choose the right texture depending on what you want though.  In a stir-fry, you'll want extra firm if you're looking for it to hold it's form.  If you cook it with veggies, they take almost the same amount of time to cook.  Add some kind of sauce or marinade in at the end and voila, your meal is done.
If you want to make a mock egg scramble, you can still sauté the tofu, but you should choose a less firm variety. 
Silken tofu is also a good stand in for eggs in vegan baking.
As you can see, tofu is like the Meryl Streep of ingredients.  It works well in each and every role! 
Here are a few tofu recipes for you:
sweet tofu & squash quinoa (v, gf)  <— baking tutorial post
perfect puddin' (v, gf)
vegan cheesecake (v, gf)
caprese caesar pasta salad (v)
tofu Thai stir-fry (v, gf)
More recipes here…
Hope that helps!  Now go get your 'fu on!!