I took very few food photos this week and a million other pics, but I decided to pop in to wrap up the week really quickly before our Christmas vacation starts.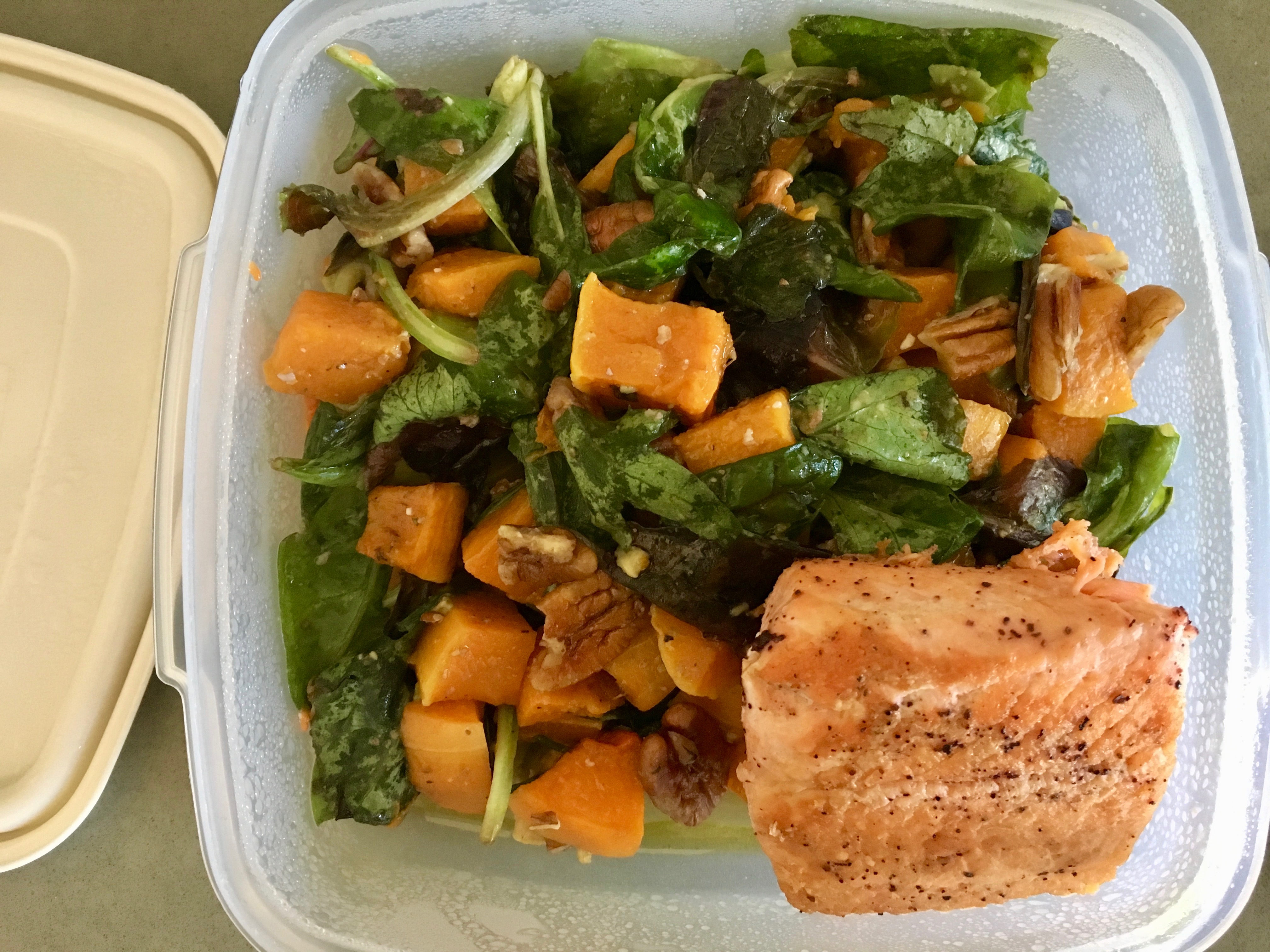 I brought home some leftovers from my parents' house on Sunday, but didn't feel like round two of the same exact meal that night, so instead we had a bunch of other leftovers that were already in the fridge.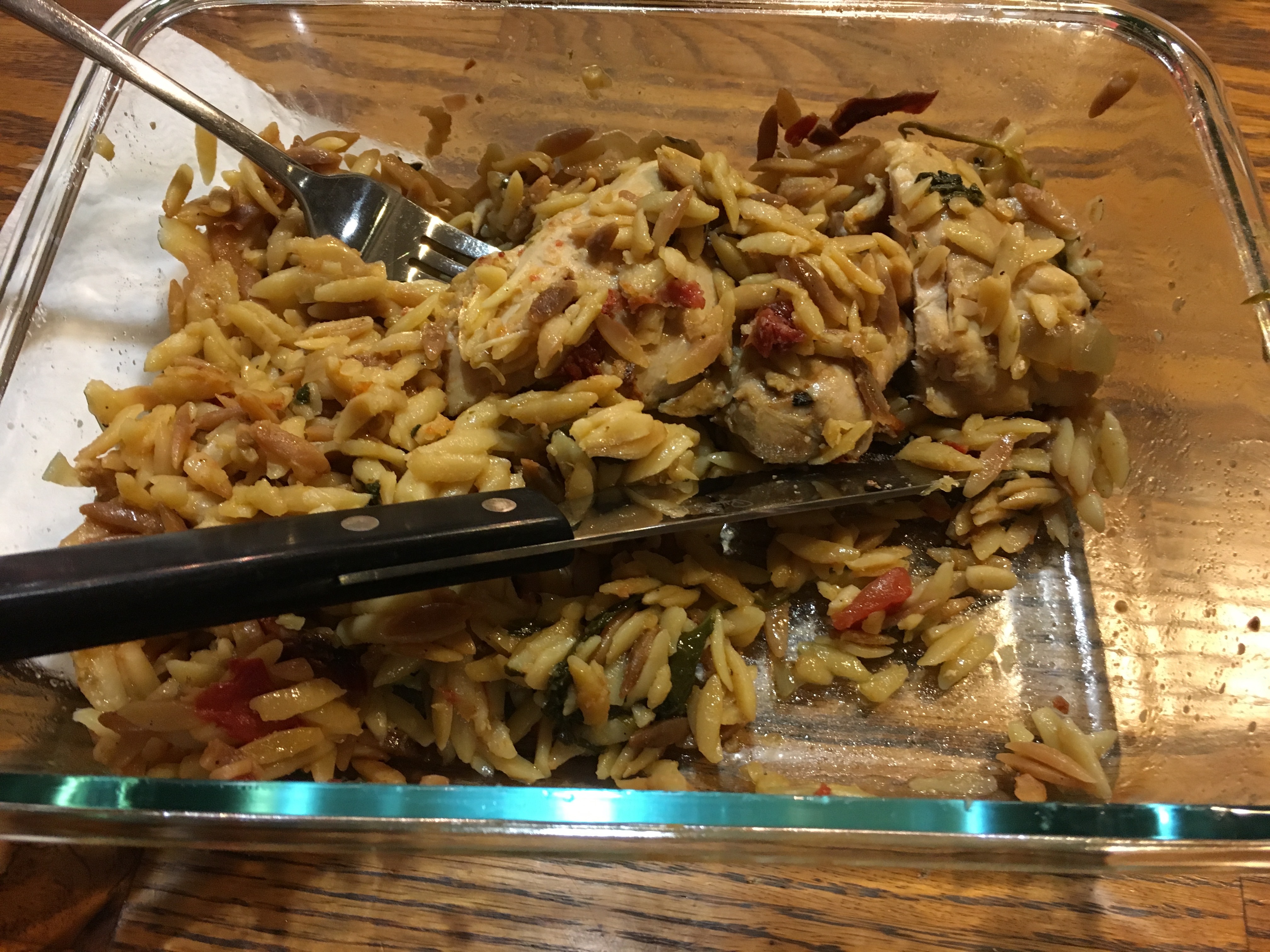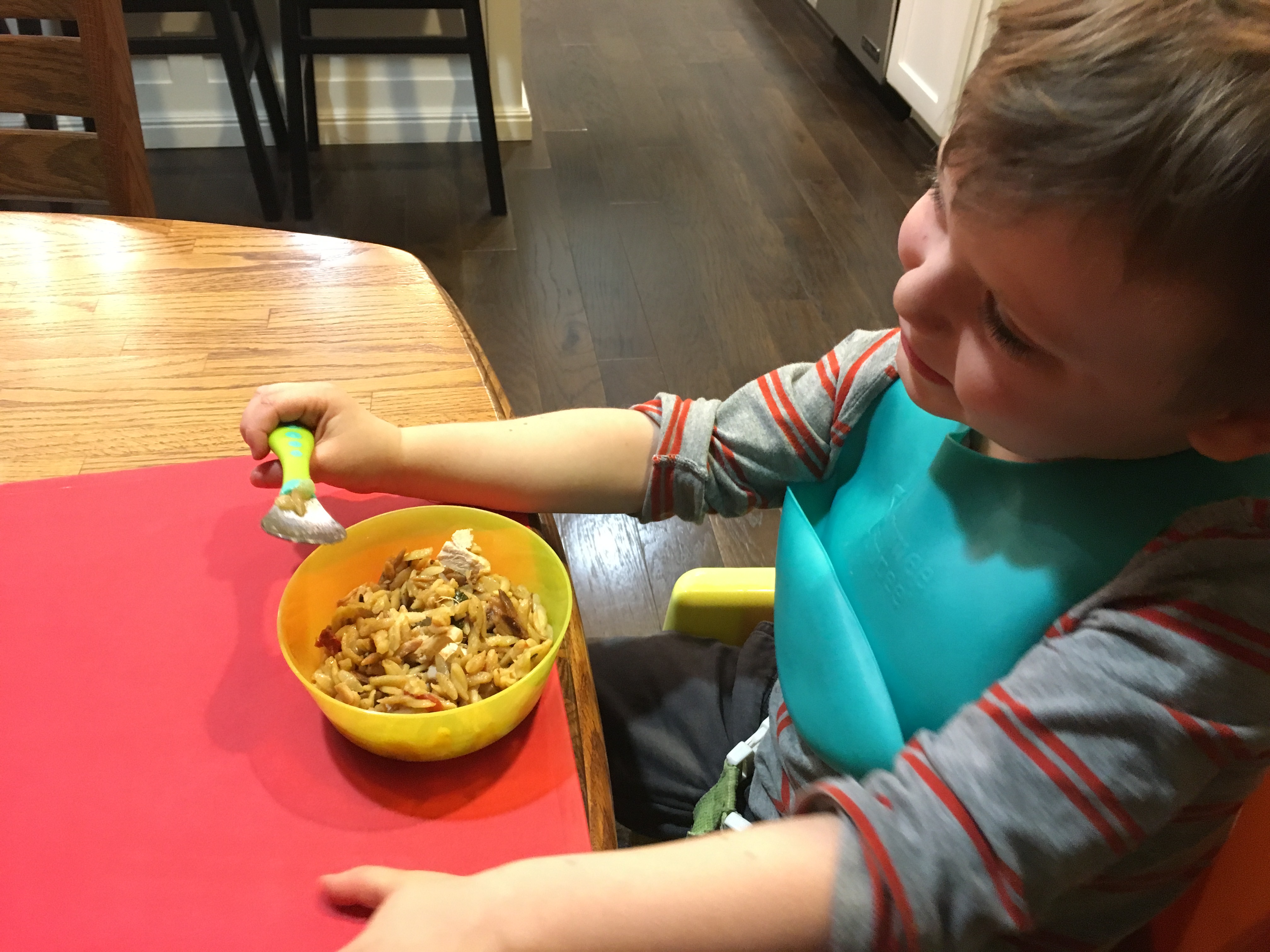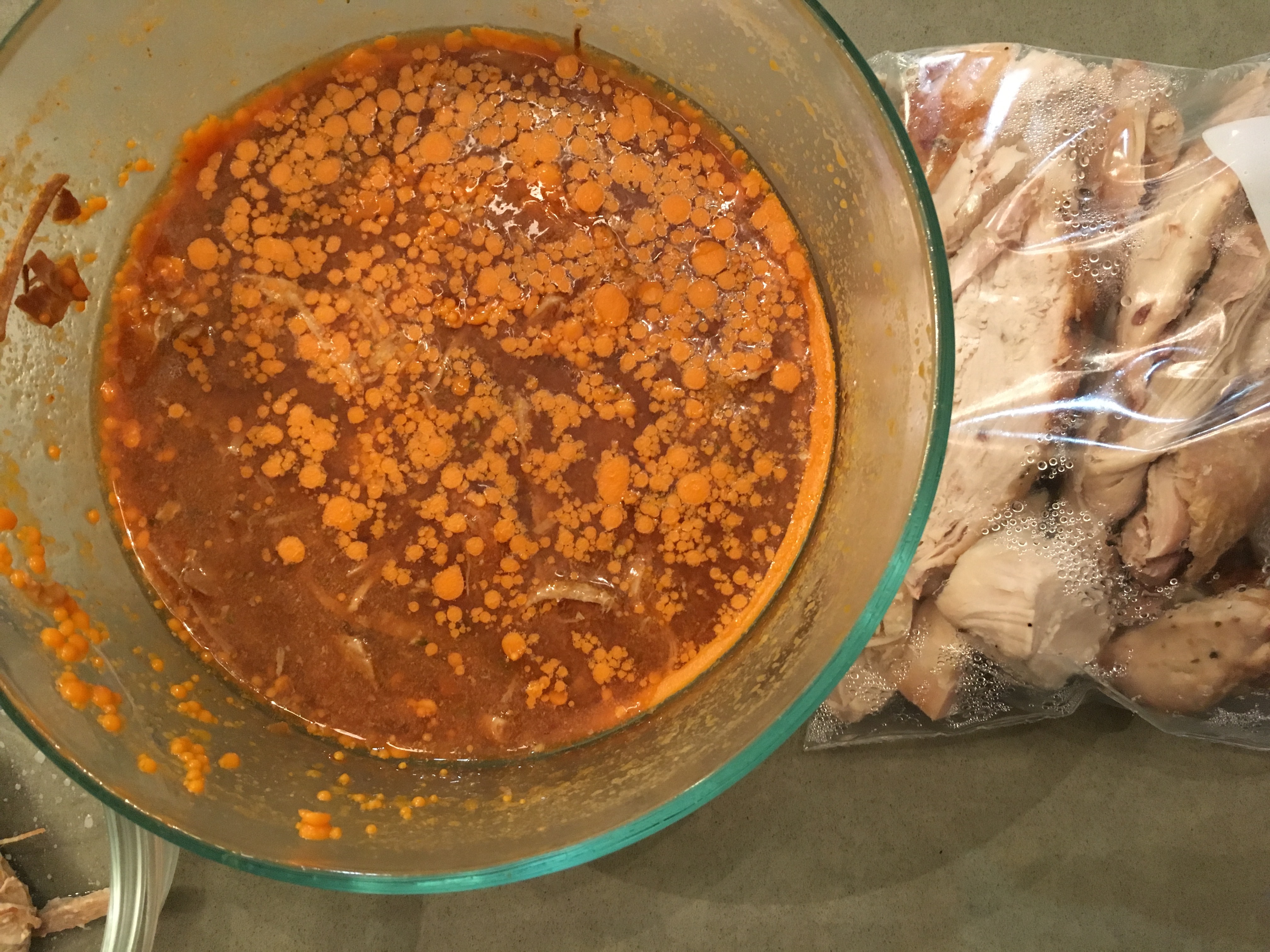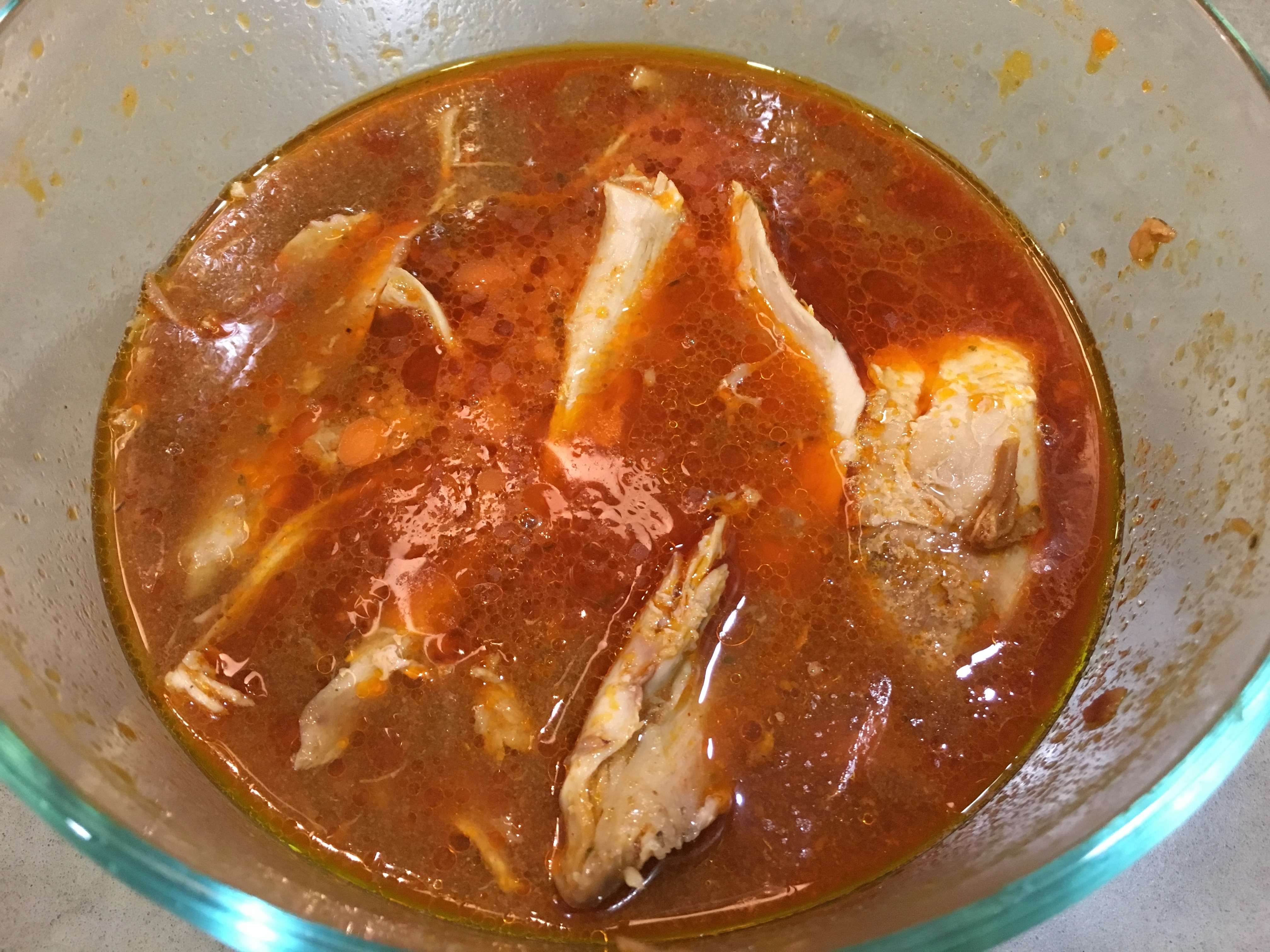 This curry (on it's fourth meal!) with turkey.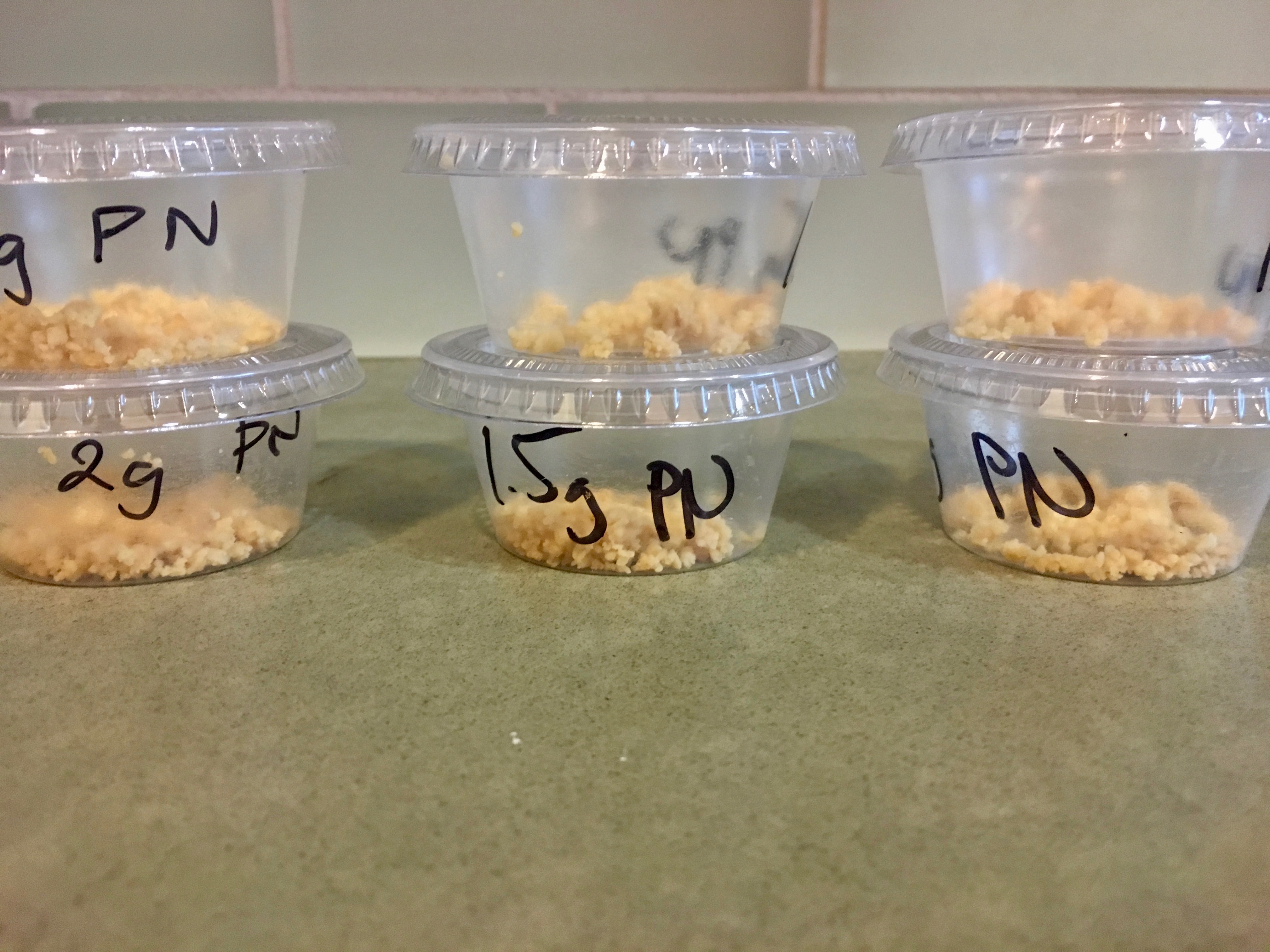 And now a quick OIT update.
We are A MERE THREE APPOINTMENTS from the end of this whole journey.
Up until now, the staff has been grinding and weighing the doses out for me at our appointments so I have a week or more supply, but since we are getting close to the end, I have to start making my own doses.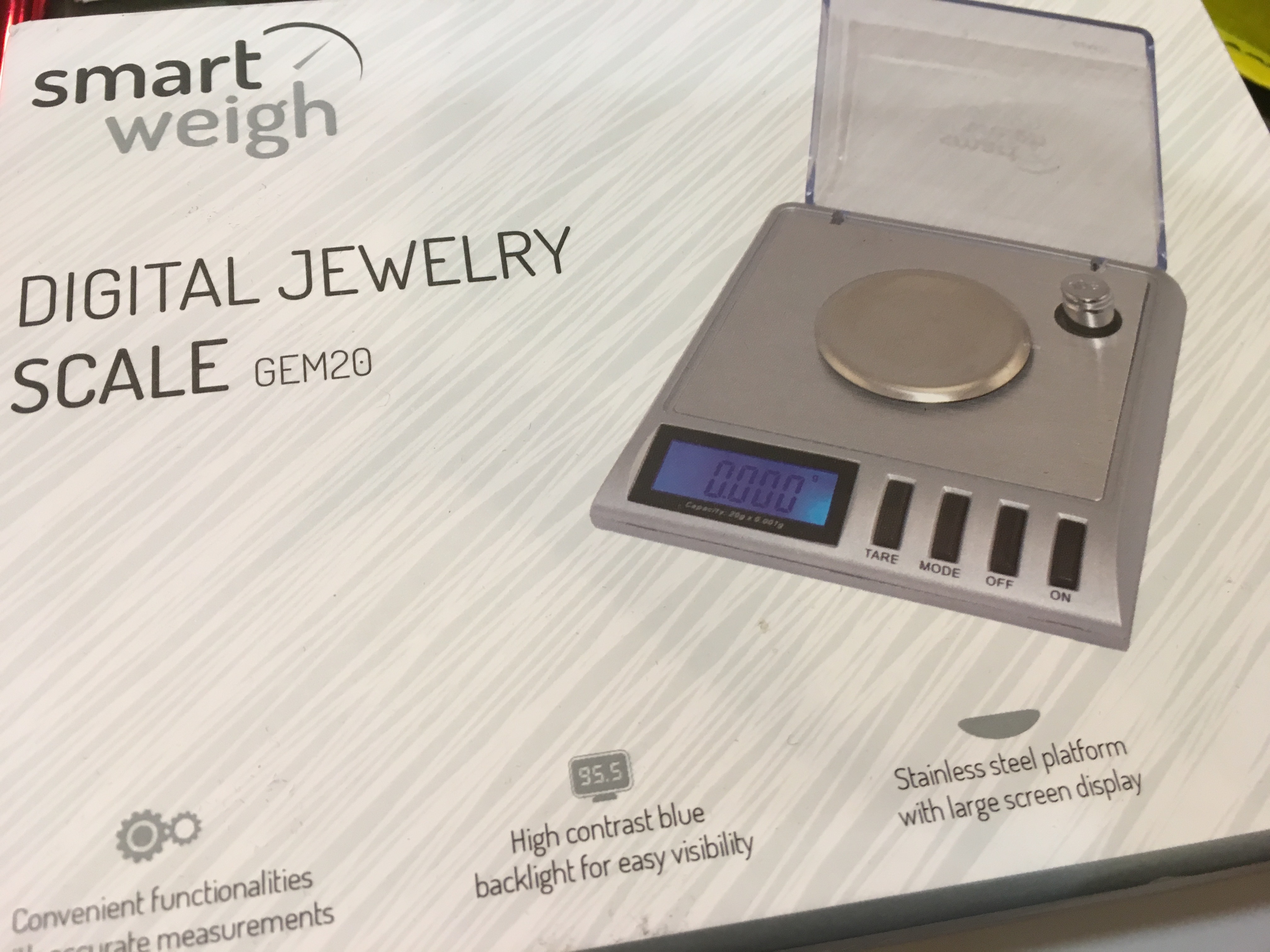 I bought this (jewelry) scale because it's the one they use in the office and thanks to amazon prime it was on our front porch by the time I was home that weekend.  It measures to the 0.000 decimal, which they require, and now if I need to weigh all my diamonds I'm set!  JK!!  😛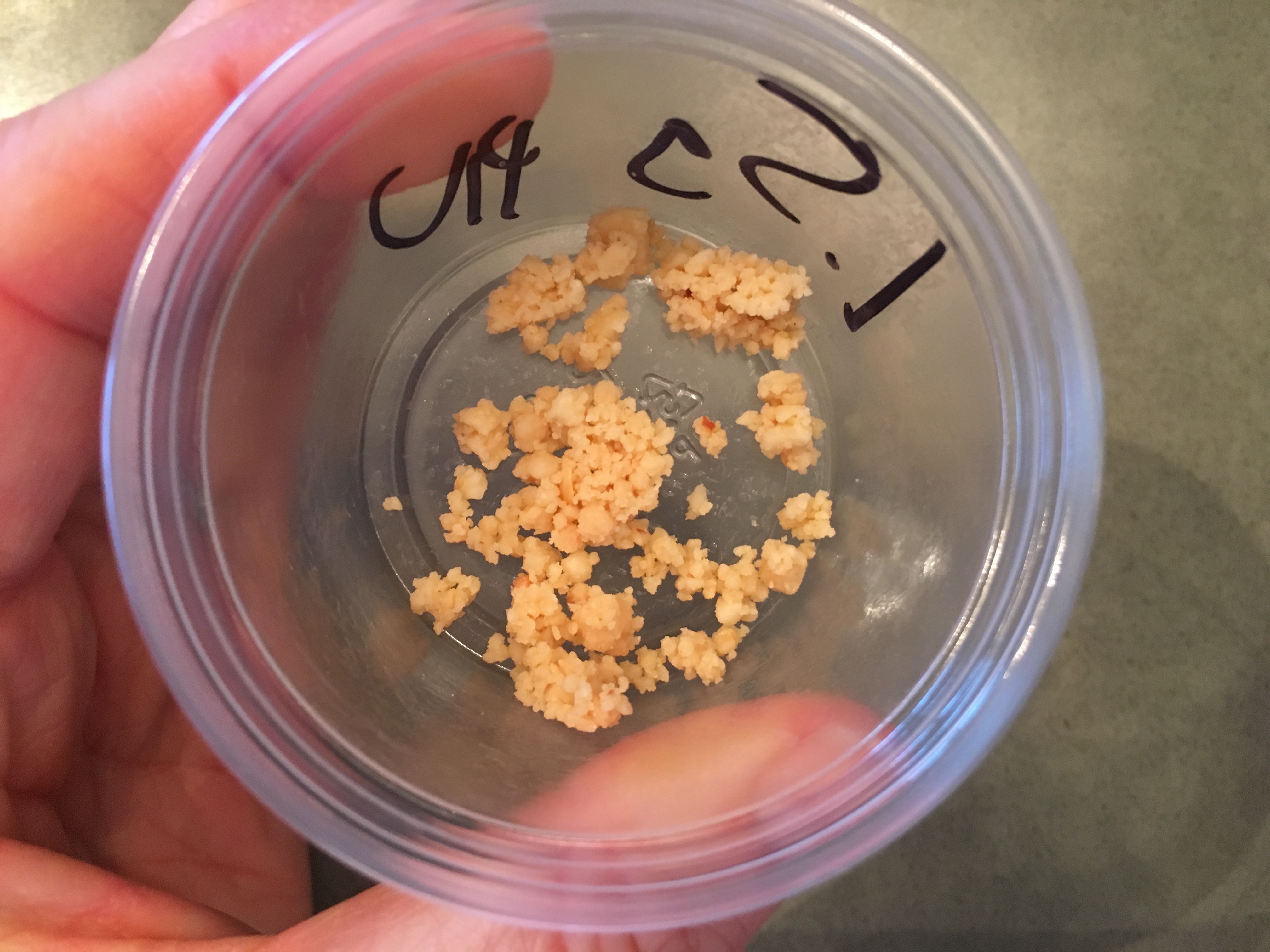 This is ~2 1/2 peanuts' worth ground up.  They were nice enough to make me a bunch of extras so I could get creative with ways to administer it.  I mentioned it before, but P has been having mega issues getting his doses down now that the amount is so high.  It's a good problem to have, because now I'm thinking the likelihood of him having an accidental exposure that's larger than 4 g (the end goal) is pretty much nonexistent (but you never know).  Anyway, having him hate peanuts is great but also not great since he presumably has to eat them once a day for the rest of his life.
First thing I did when we got home was make a pancake batter for the next day..to add doses into, one by one, so that each pancake would have the exact amount required for one day's peanut portion.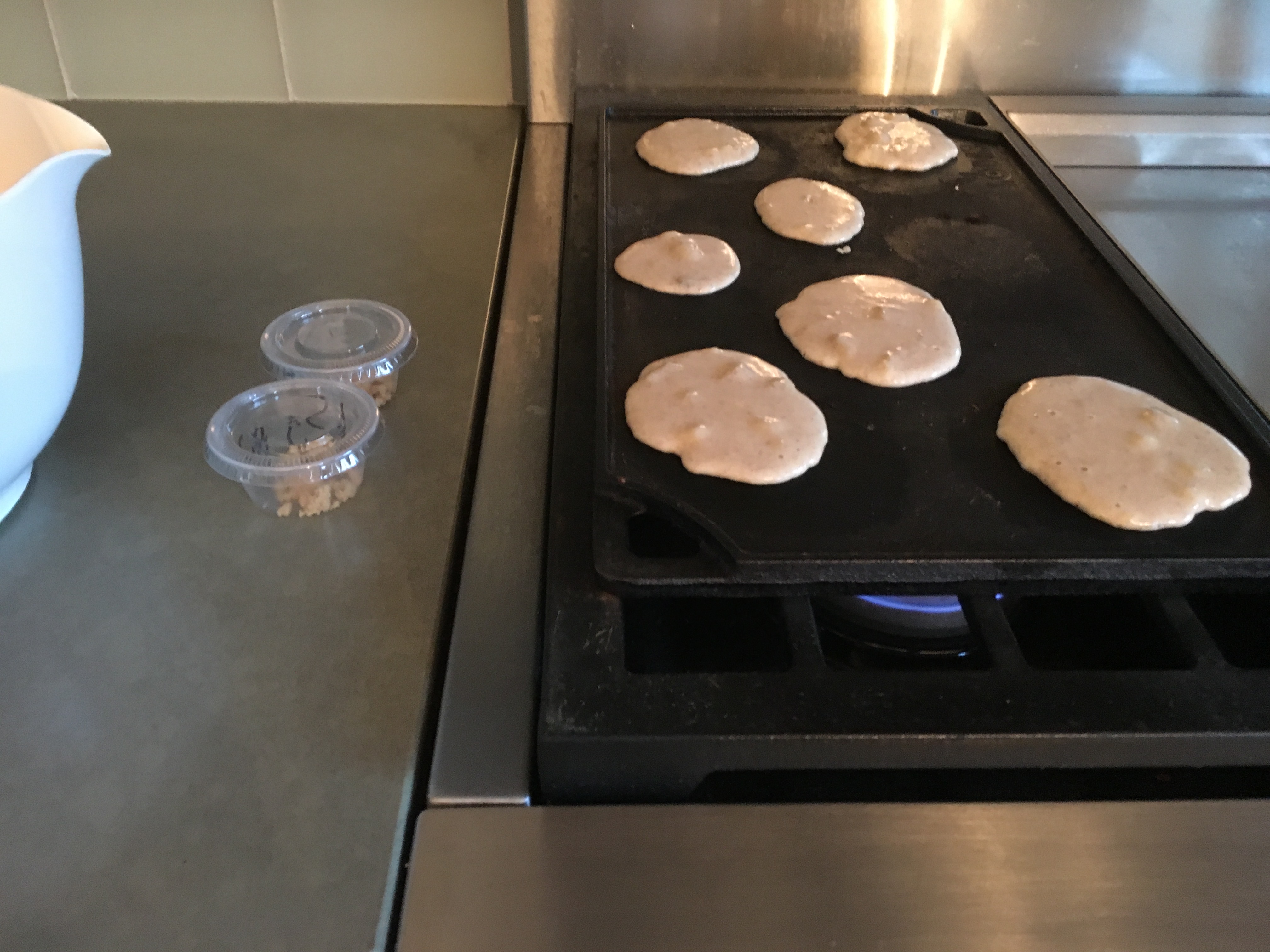 I made mostly normal ones, obvs.
For the peanut ones, I added the ground up nuts after the pancake was mostly cooked, then poured a little more batter on top before flipping it (so the peanut would be totally hidden inside and also we wouldn't get peanuts on our skillet).
It was a major success.  No gagging, no problem.  He ate it fast and without complaint and so the next time I made pancakes (a few days later) I made a bunch more the same way.
And on the dairy front…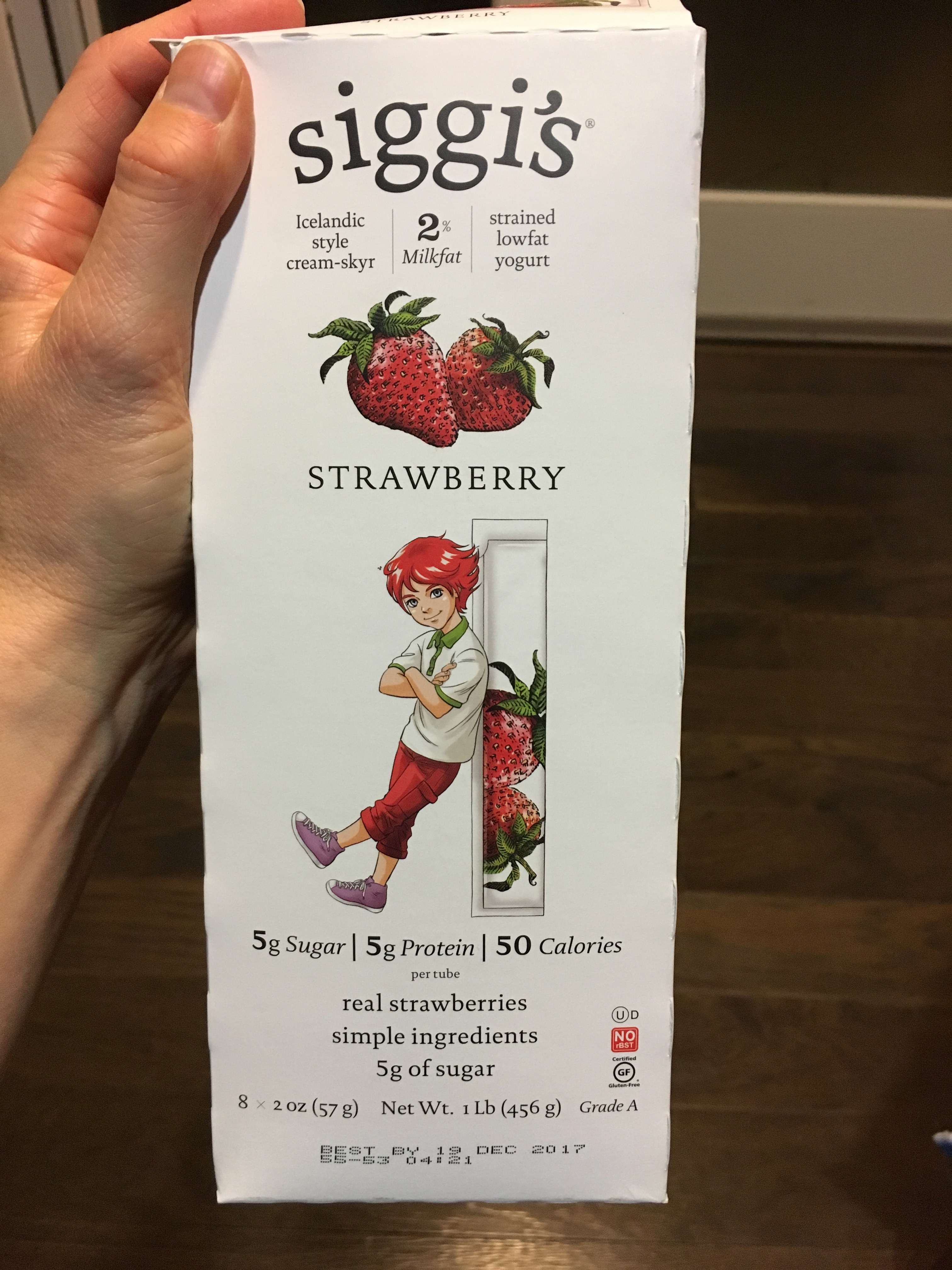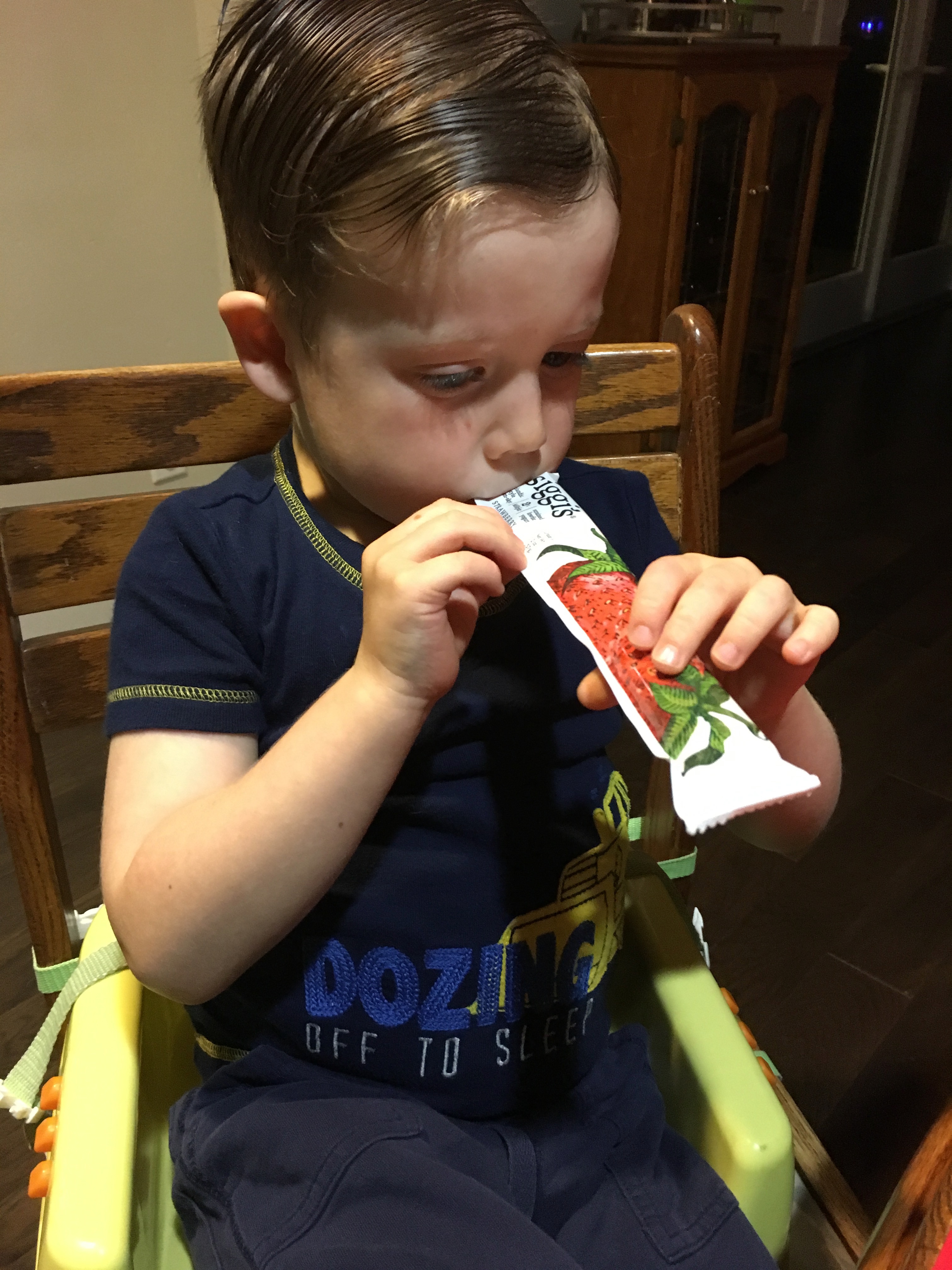 Another hit!
With 5 g of protein per tube, it's the perfect little dosing vessel. And while it's not organic milk 🙁 at least there isn't as much sugar in these as I thought there would be.  It's a good break from cheese and milk.  Diversity is key since he has to take his dairy dose twice a day (peanut is just once).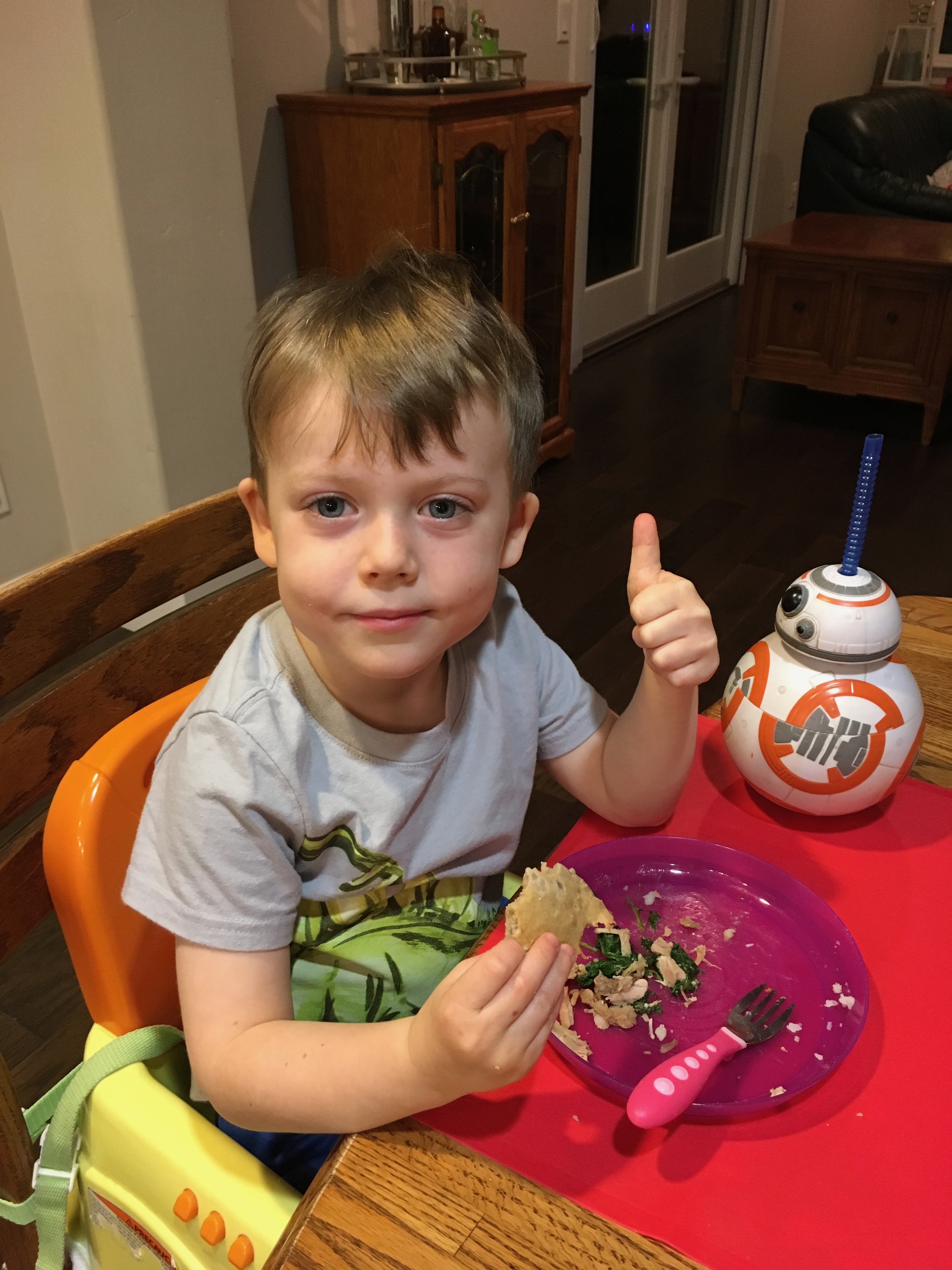 Thumbs up!
Double thumbs up!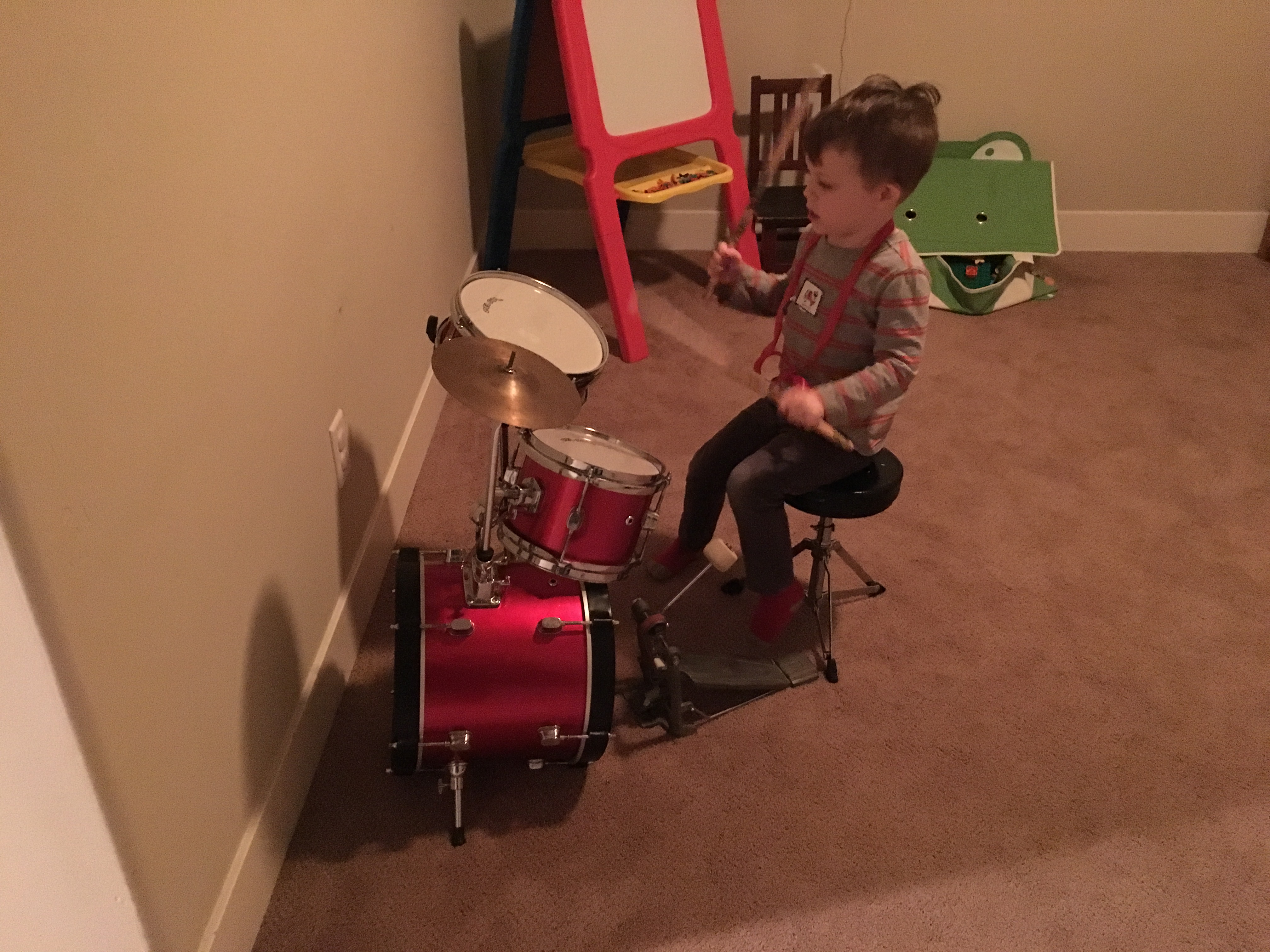 Did I mention I got these for P?  In a moment of weakness over the summer, I saw them for super cheap on our town's kid2kid resale site. It was while V had her cast and I was feeling sad for P being neglected.  The've been hiding ever since.  He has been in heaven ever since he opened them, but I amazon primed noise cancelling headphones that night.
And now the rest of the week's food that I caught on film, in no particular order…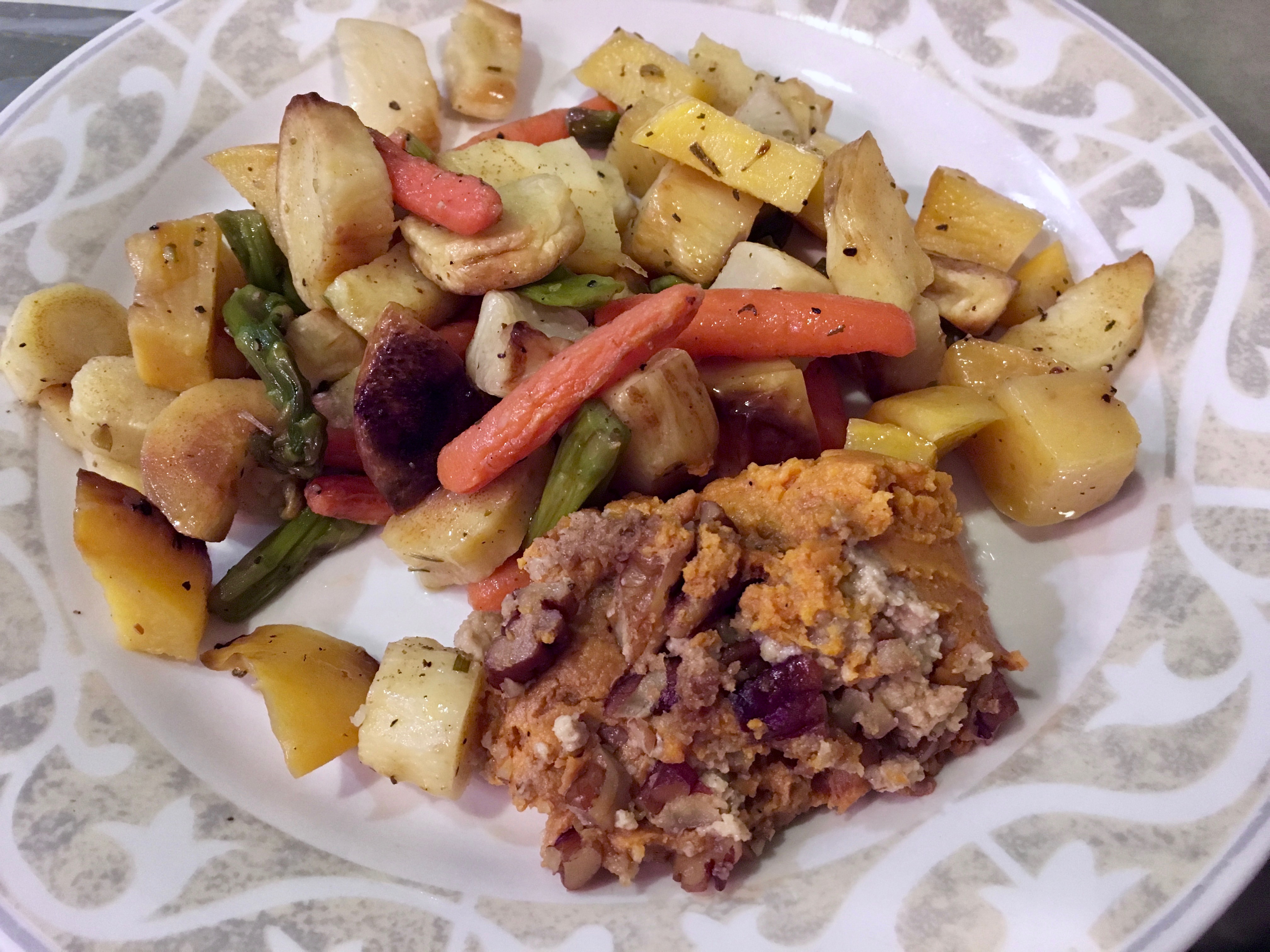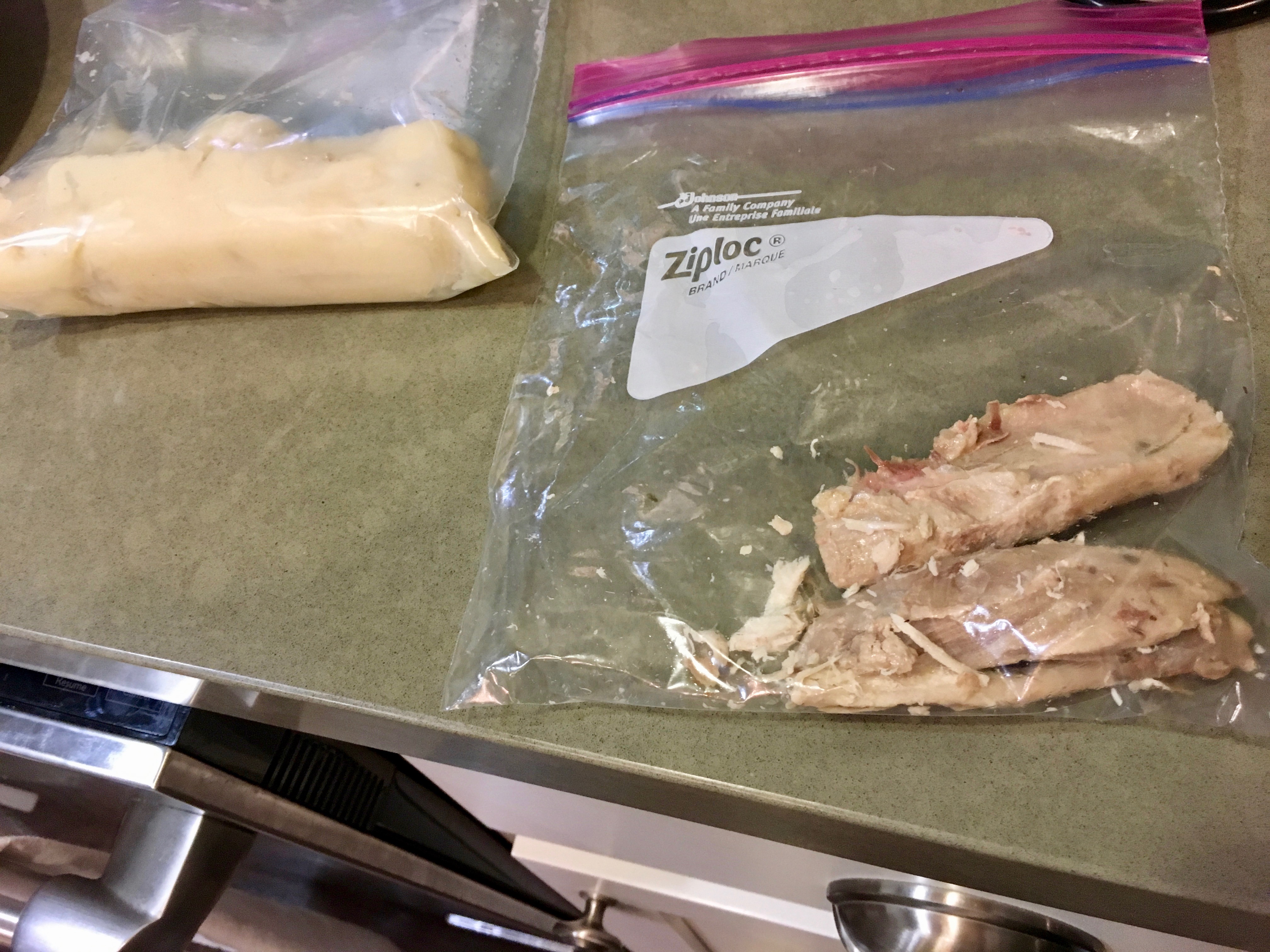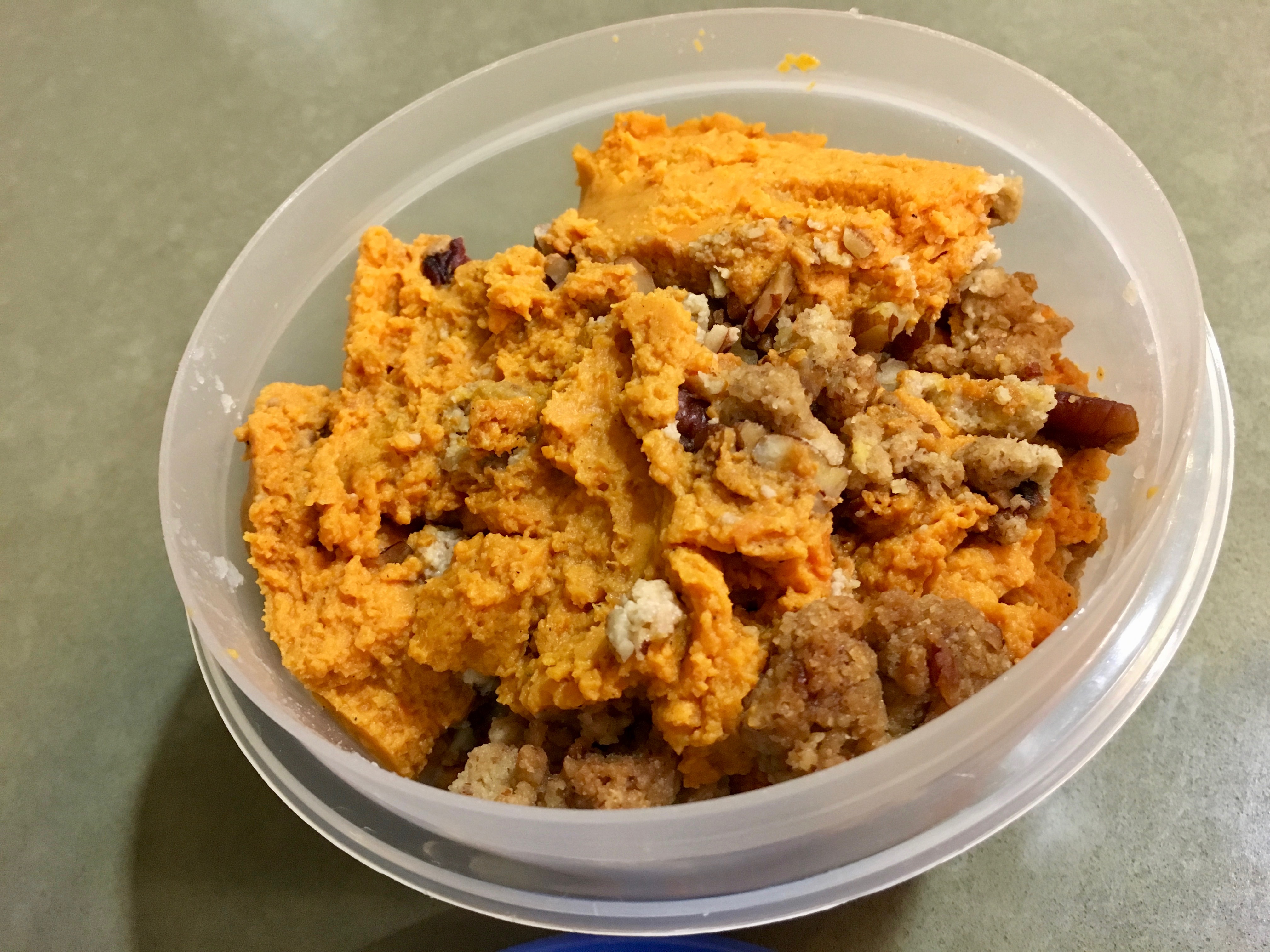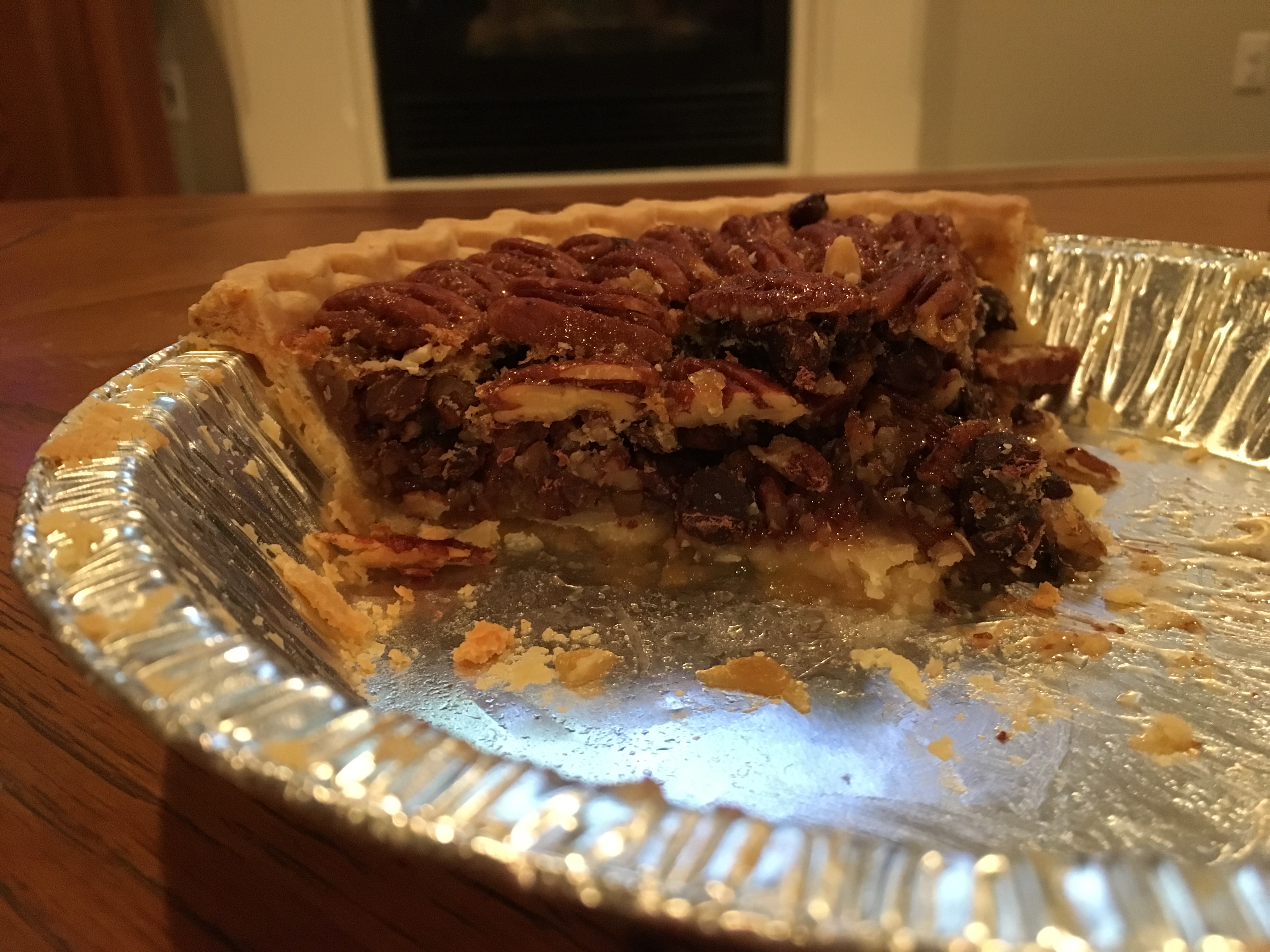 Christmas dinner round two.  Those sweet potatoes!!!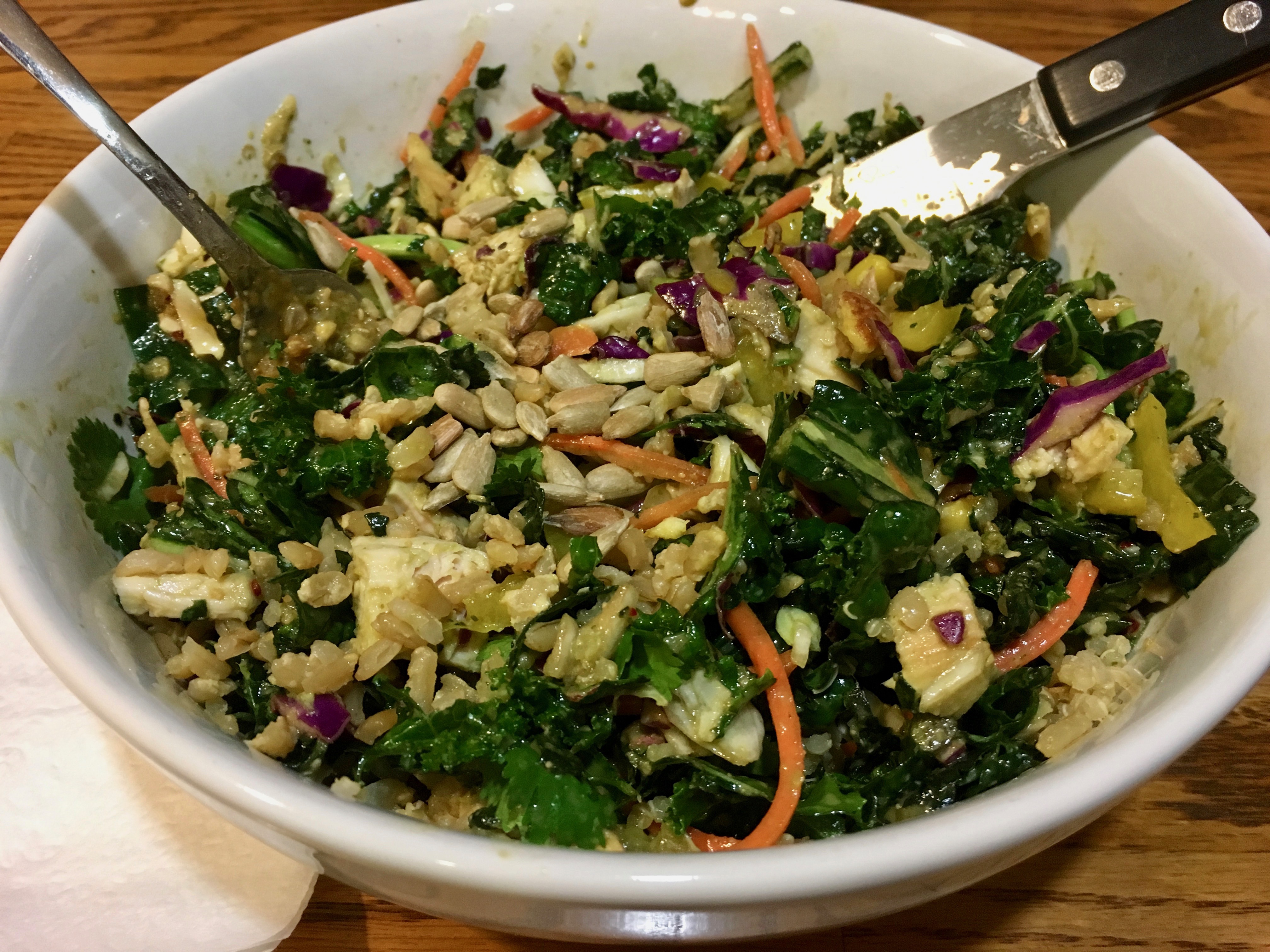 This was one of two proper meals I made this week.  And Kyle looooved it.  It's basically a version of one of my go-to lunch salads.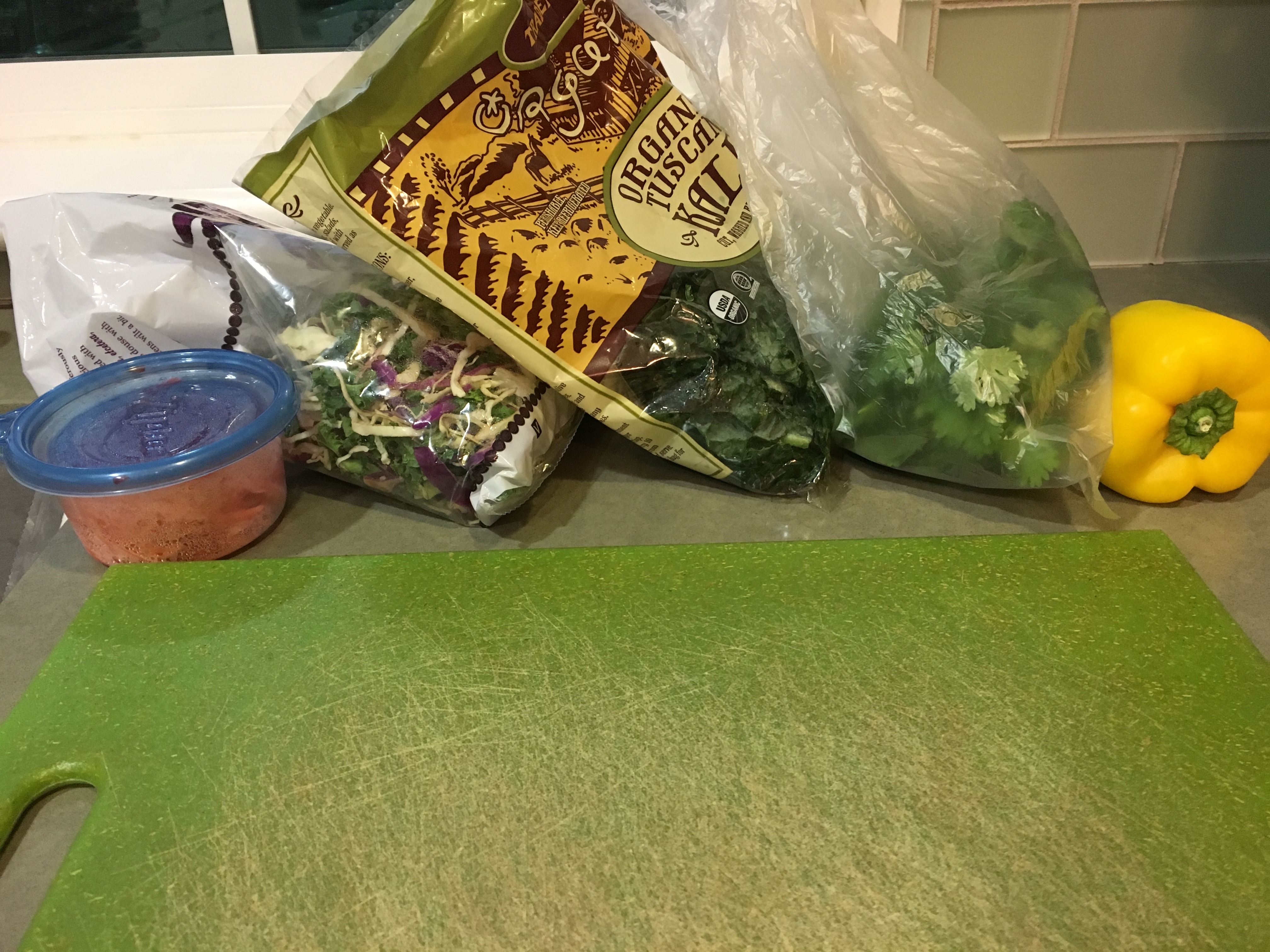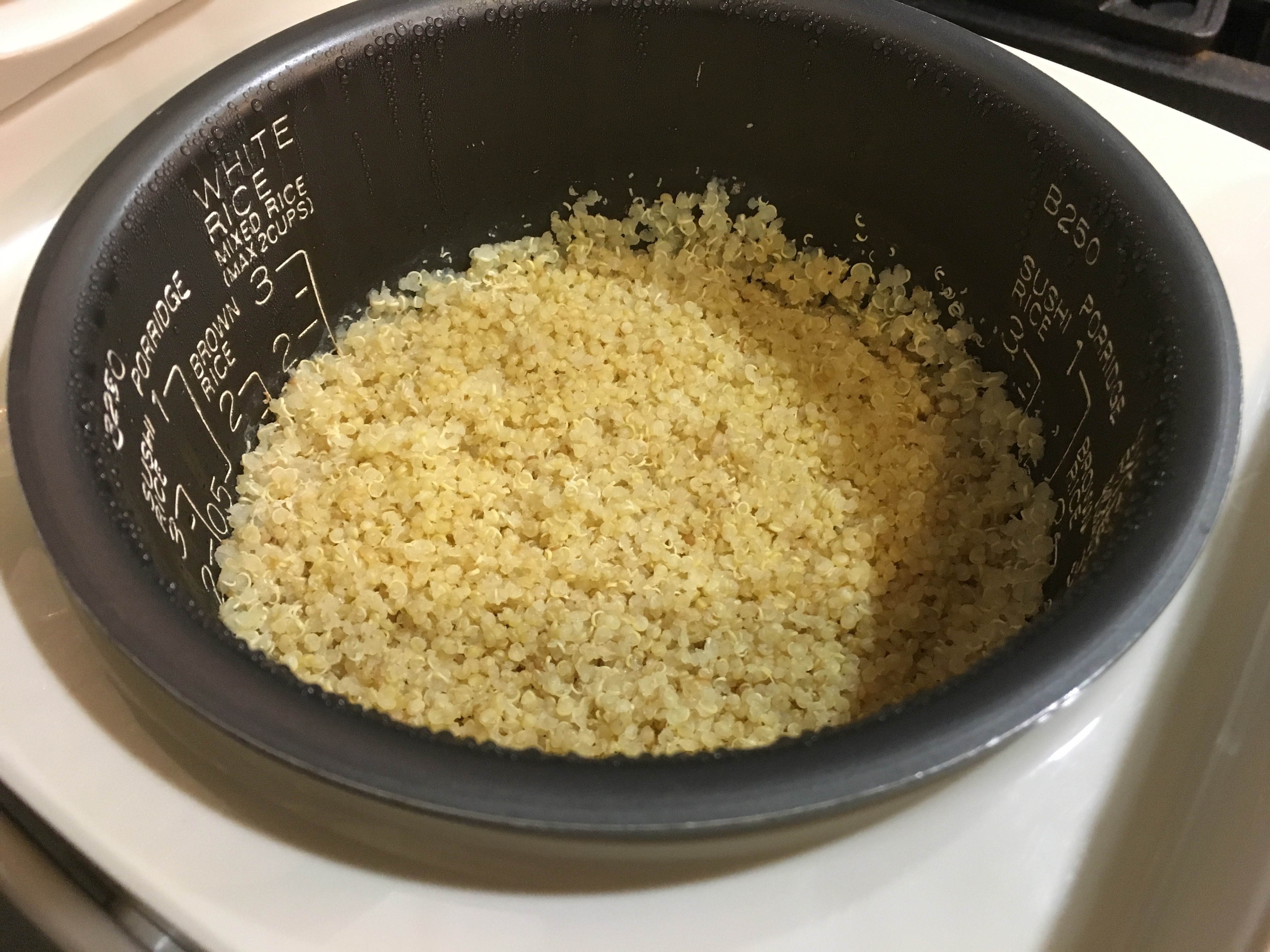 Kale + cabbage + bell pepper + cilantro + shredded carrots + quinoa + Nugget Market Thai salad dressing.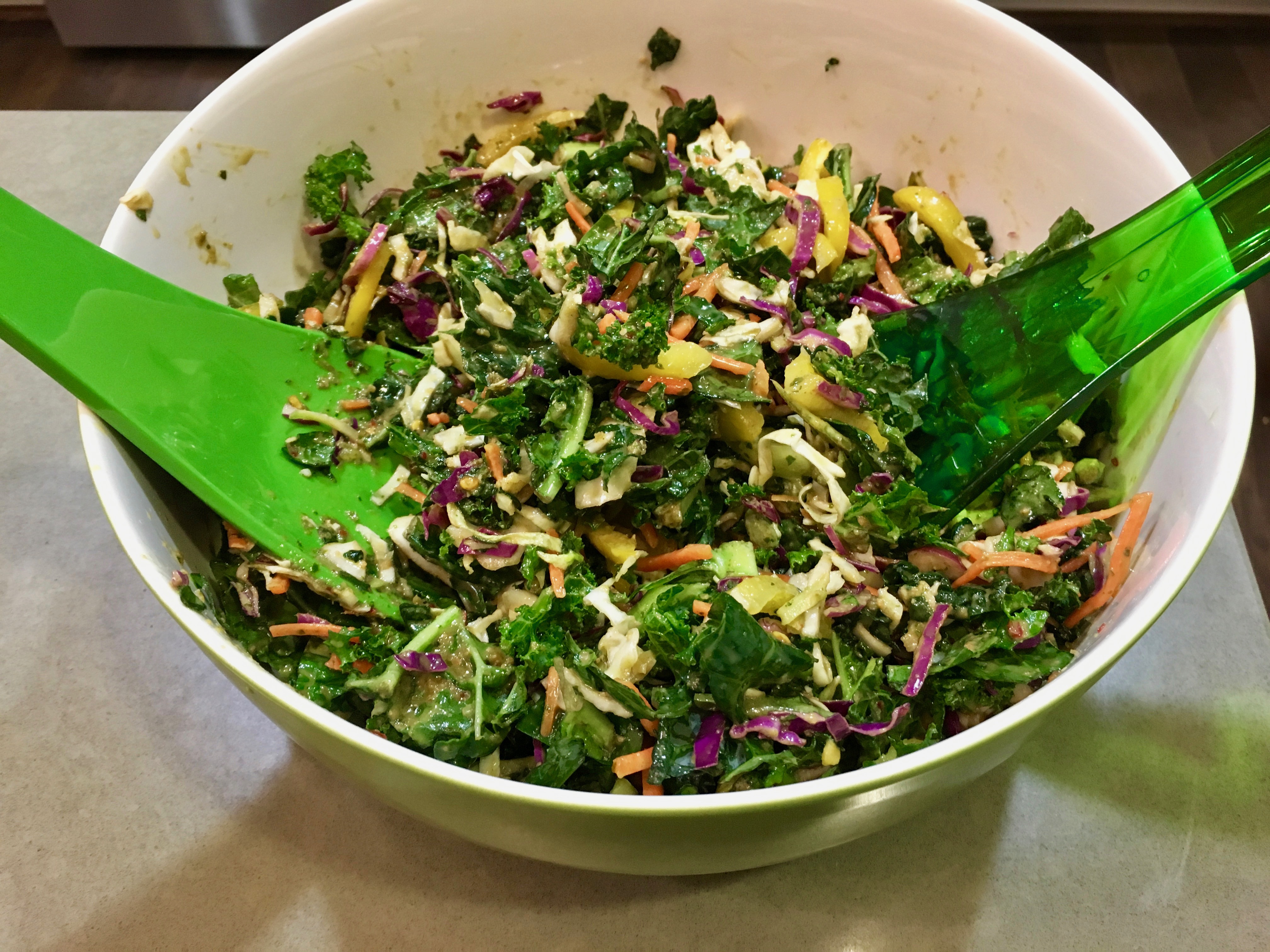 We had leftover fried rice from a gobble meal the week before so I mixed that into the kids' portion instead of the dressing (because it's pretty spicy).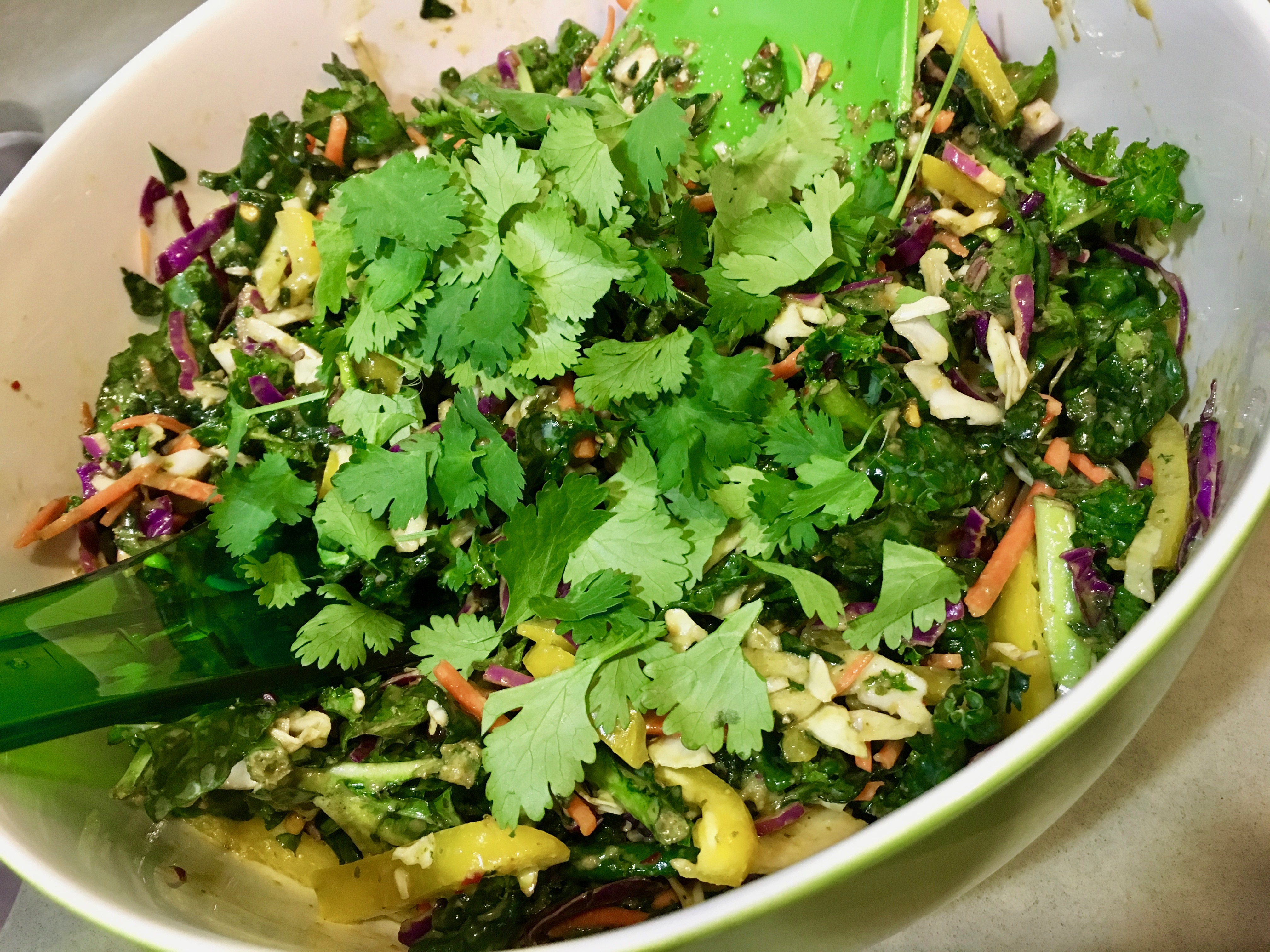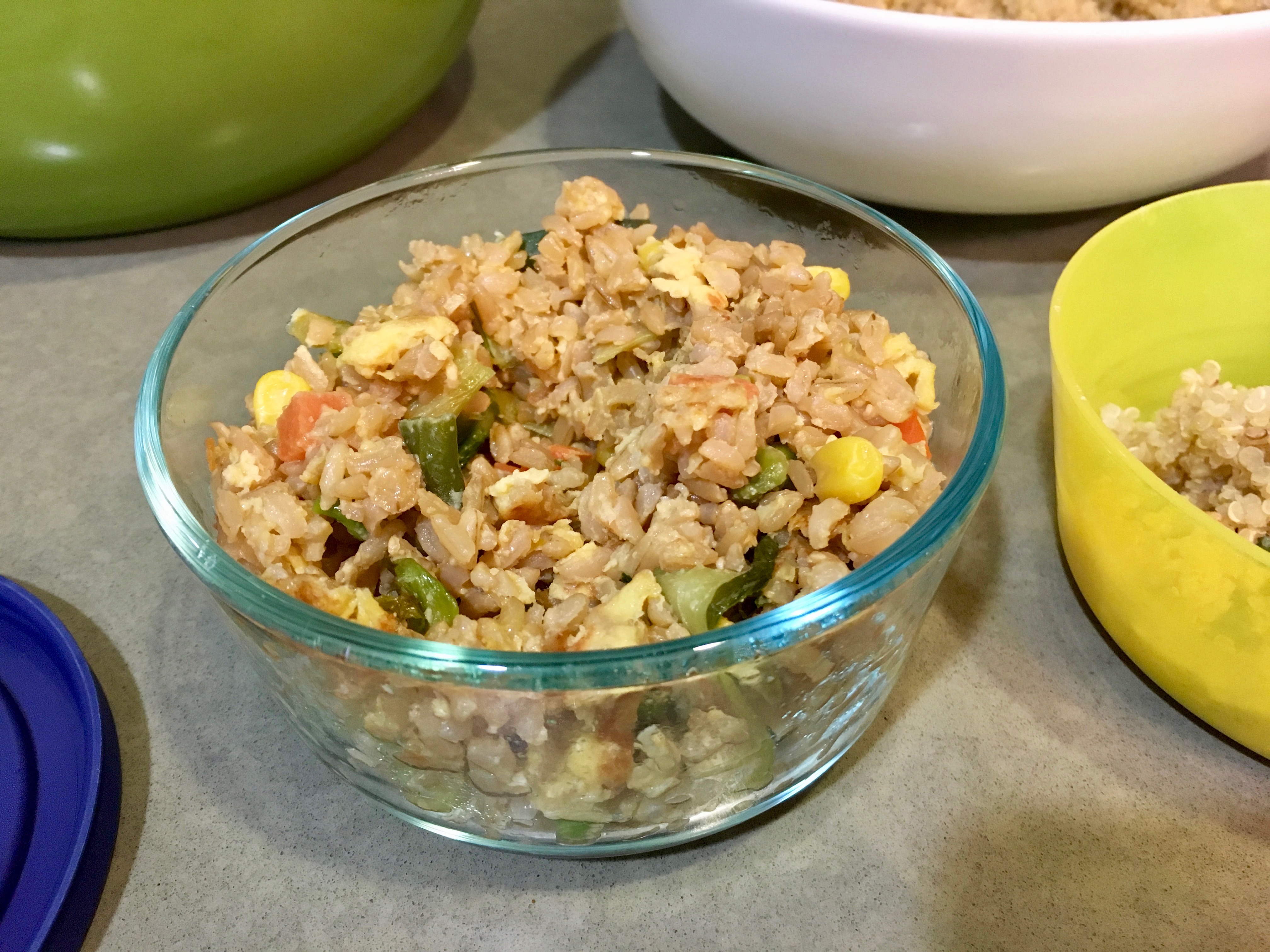 Normally I'd go for cashews on top, but since I'd already had heaps of nuts that day I did sunflower seeds instead.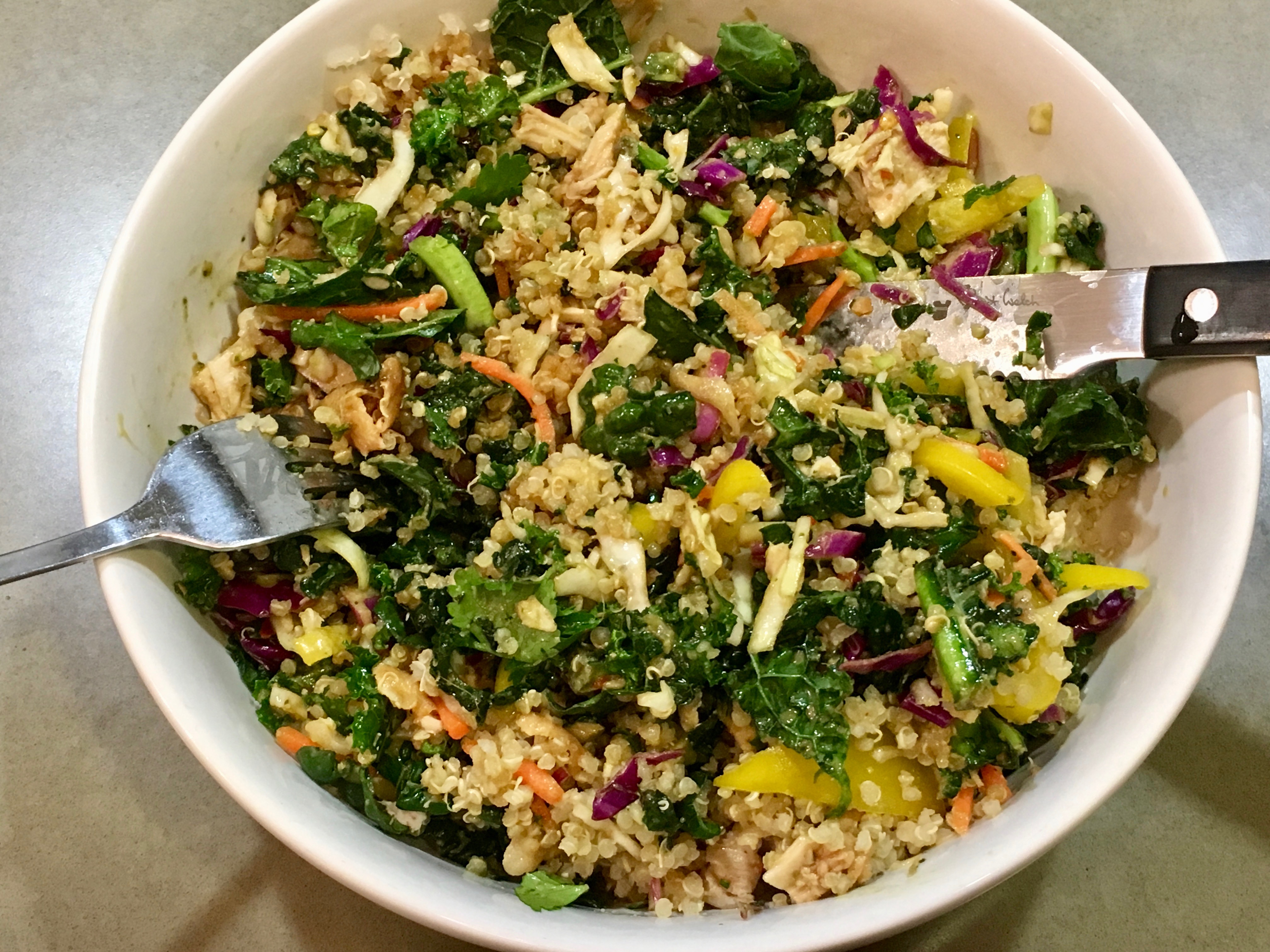 The other dinner I made was based on these wonton meatballs.  Truth be told, I wouldn't have gone all out to make a meal like this for just me and the kids but I forgot Kyle was going to be gone so whatever.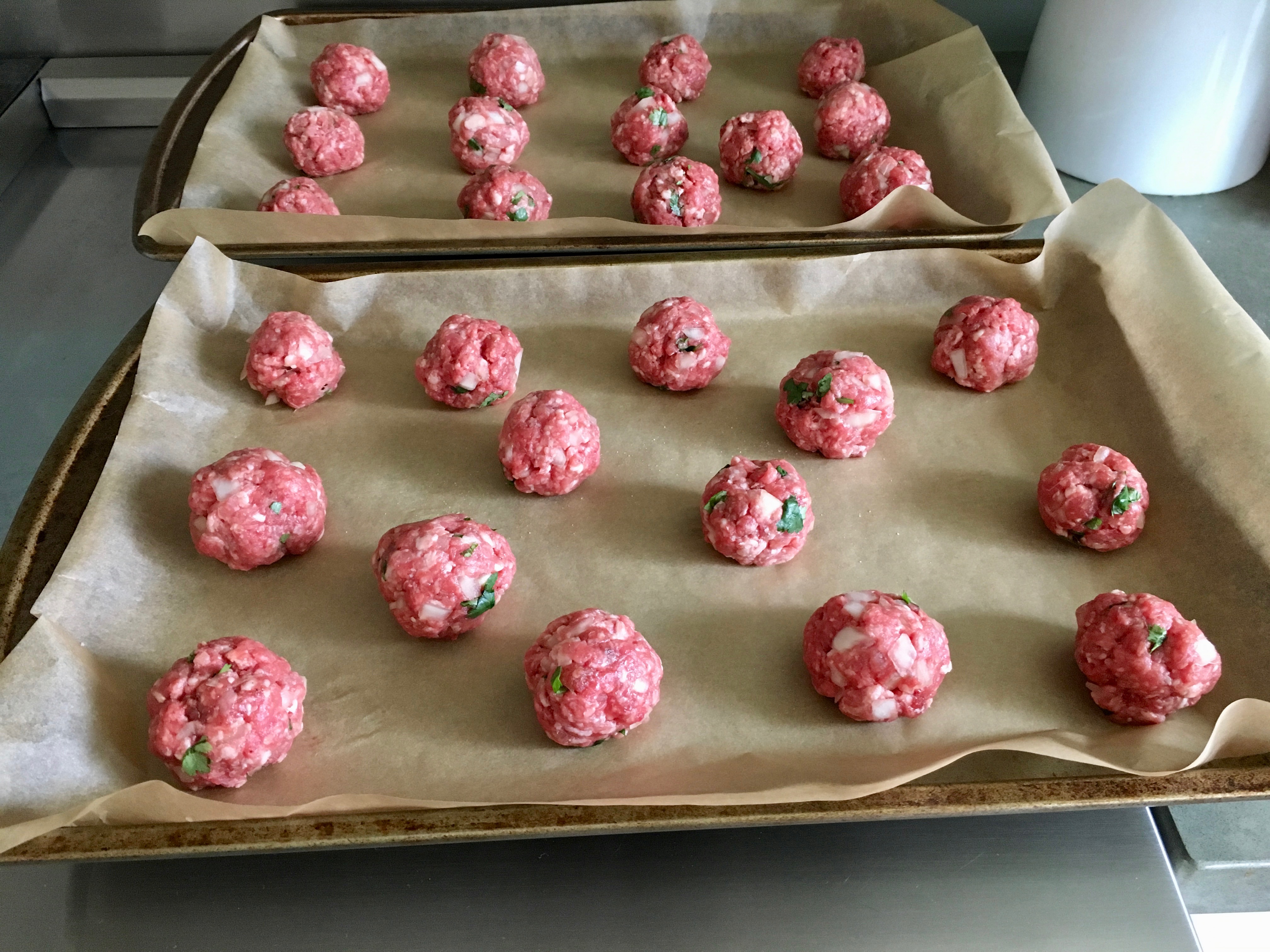 The nom nom paleo recipe uses ground pork, shrimp, and mushrooms, but I didn't have shrimp so I just used ground beef and ground pork. And instead of mushrooms I used this…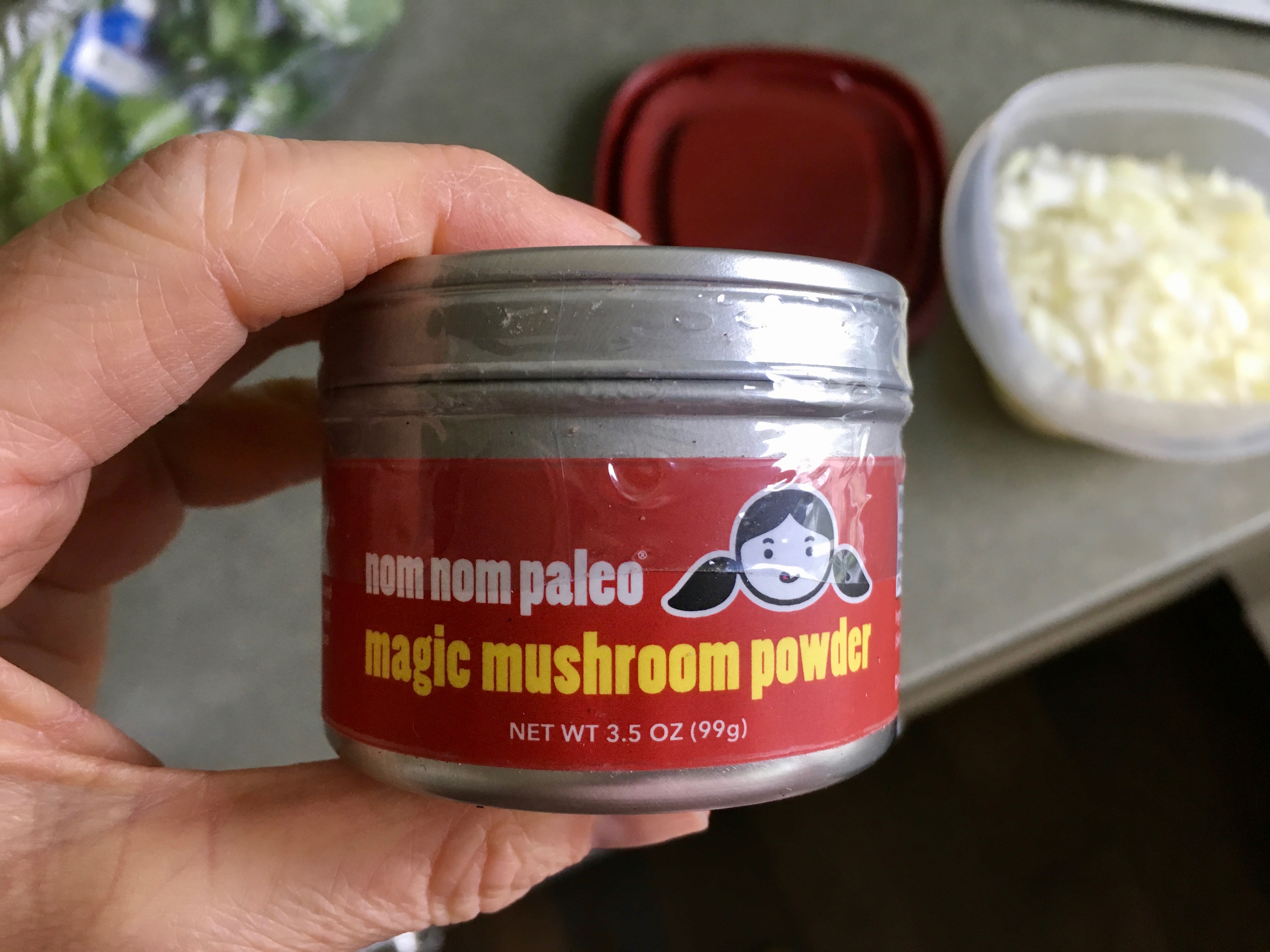 Which is Michelle's own brand of seasoning salt, and is pretty much umami fairy dust in a jar.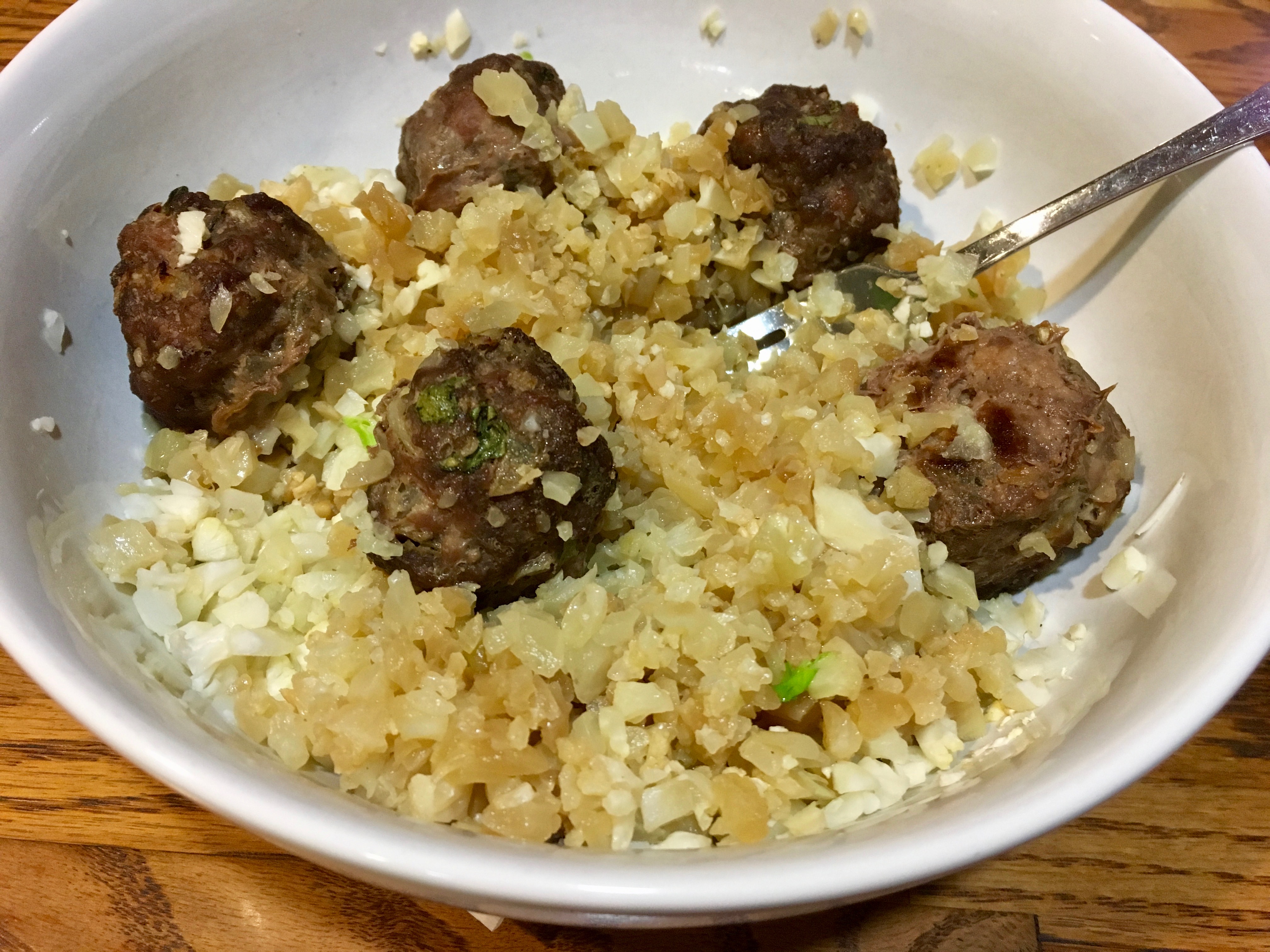 I served it with cauli rice that I needed to use up.  I'm kinda embarrassed to say, I ate this plate and two three more after that.  They were so good and before I knew it, they were almost all gone!  My kids ate a bunch too, but it's not normal for three people to consume 3 pounds of meat in one sitting, so I am going to be compensating with some plant based meals in the near future.
Starting with this!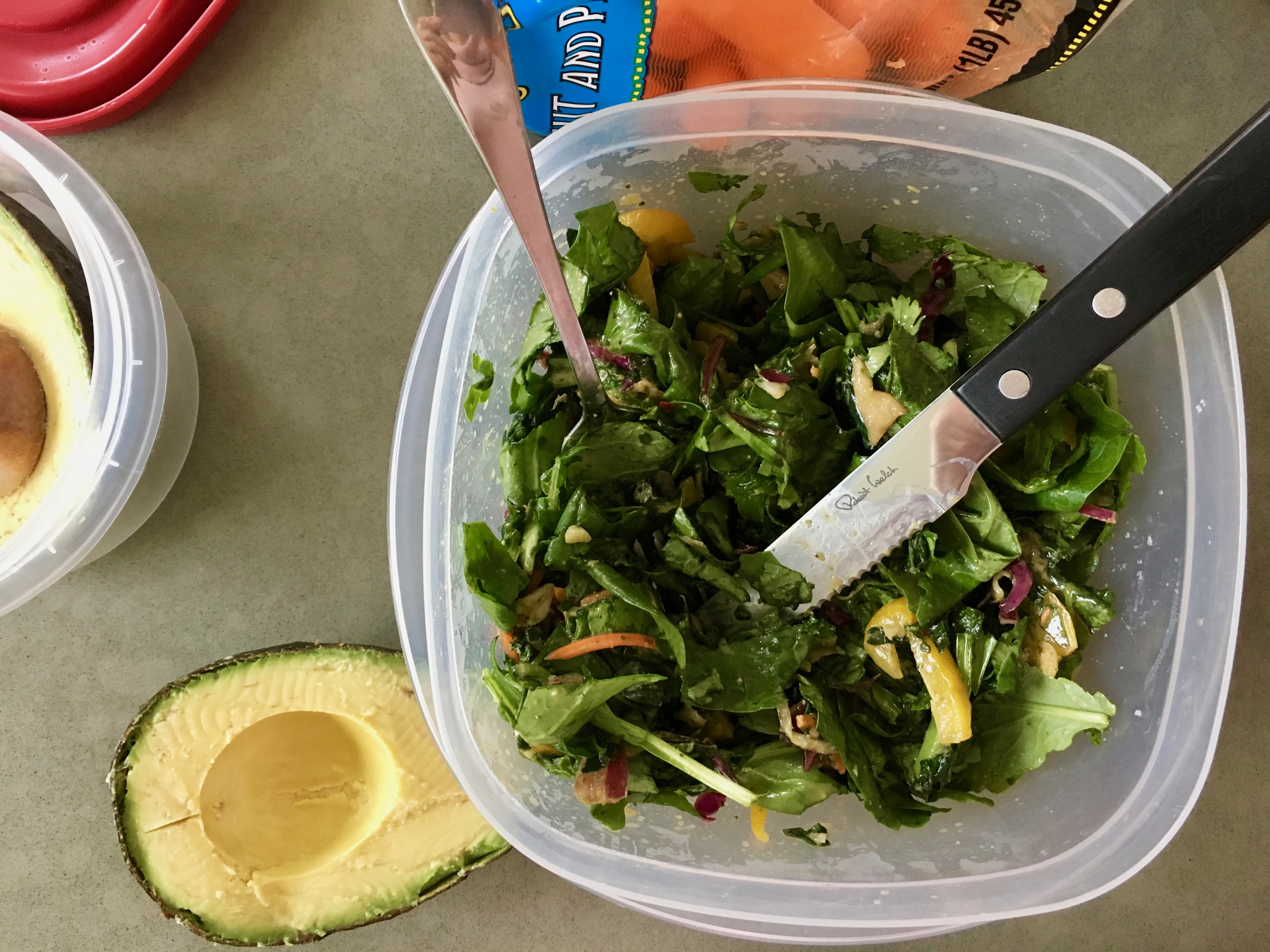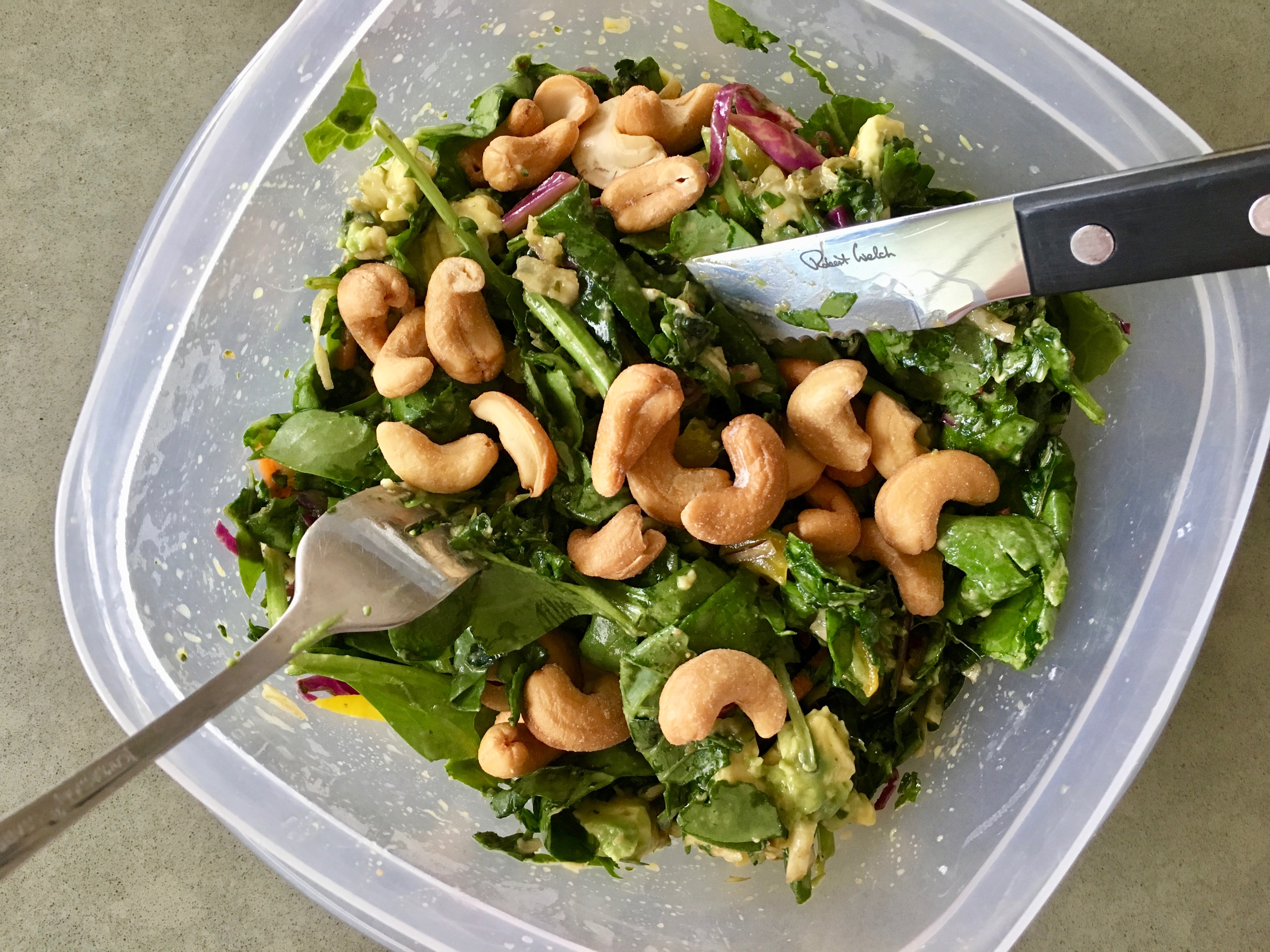 I caught these greens before they went gross just in the nick of time!  I added avo, cashews, and my favorite Thai dressing.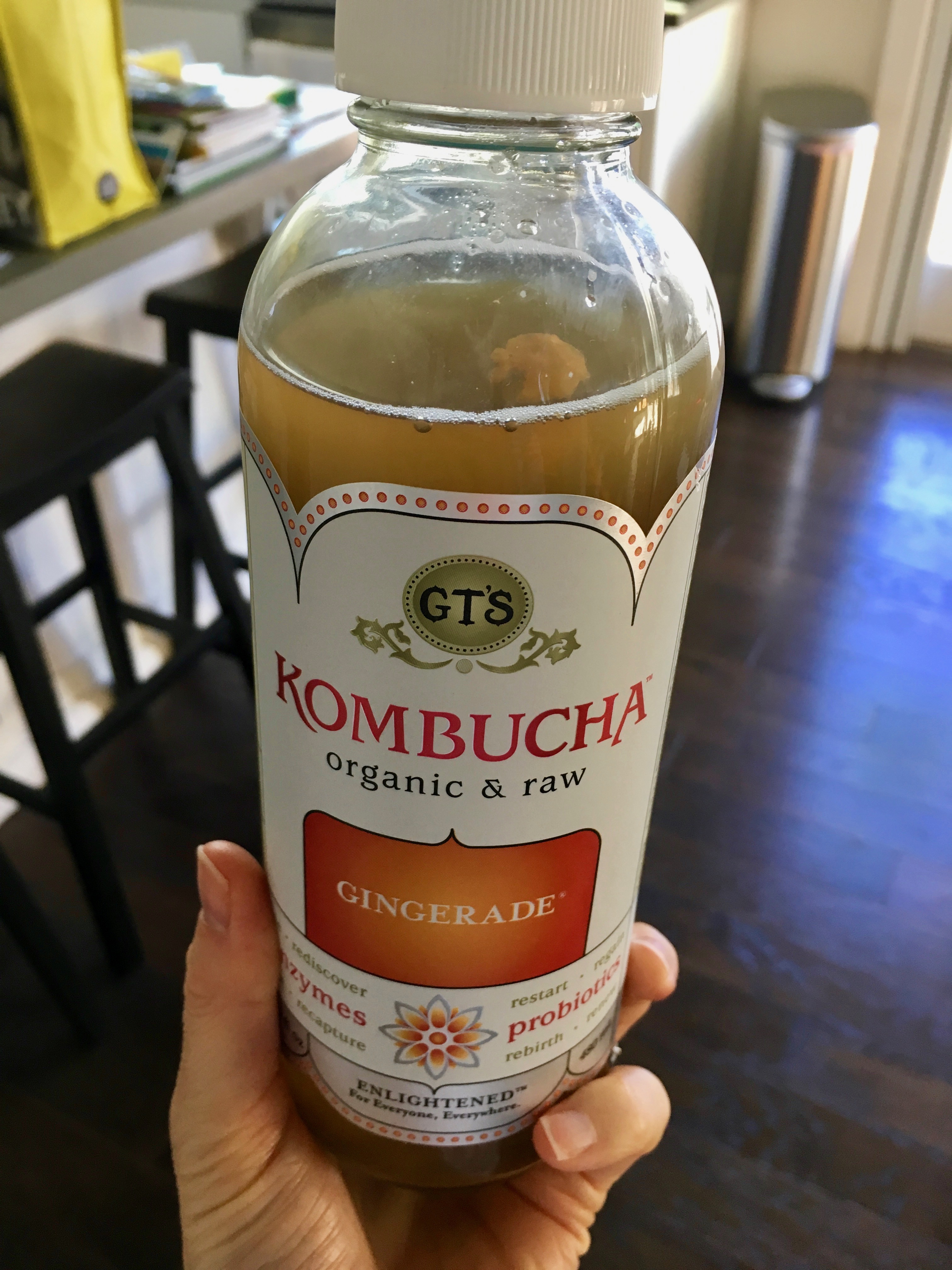 BOOCH.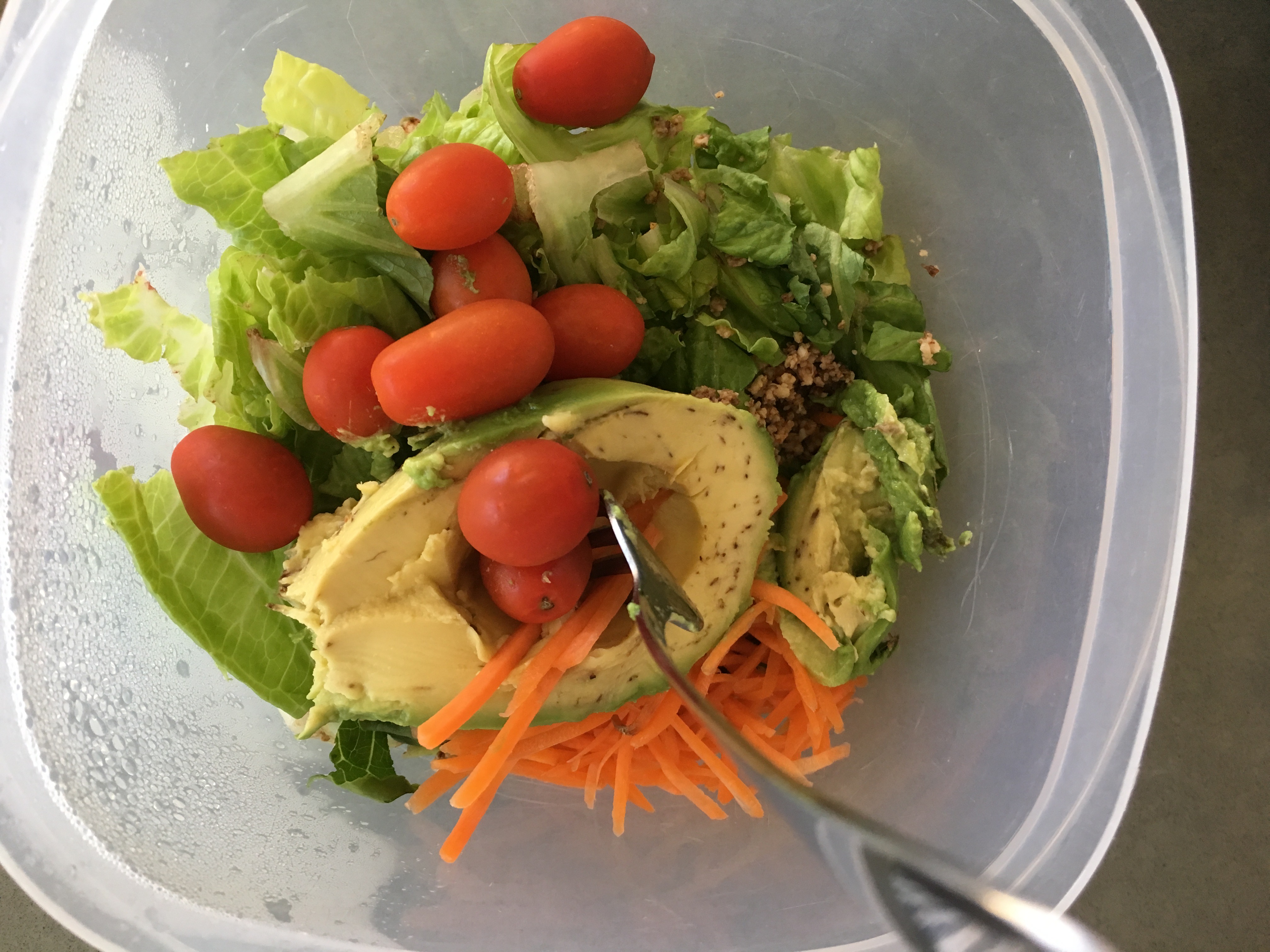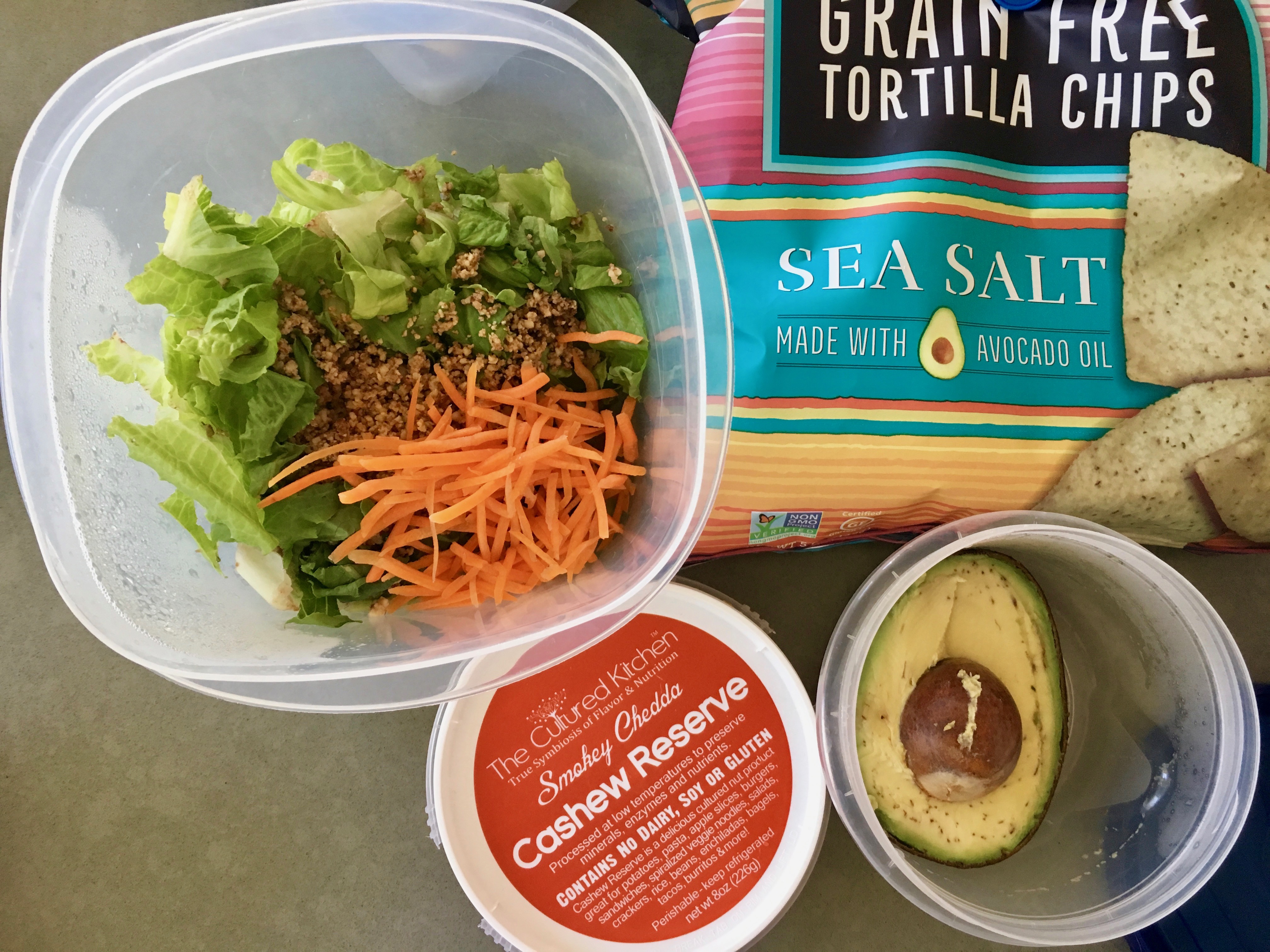 This salad had raw walnut "taco meat" + romaine + tomatoes + shredded carrots + avo + cashew reserve "chedda cheese" + Siete chips.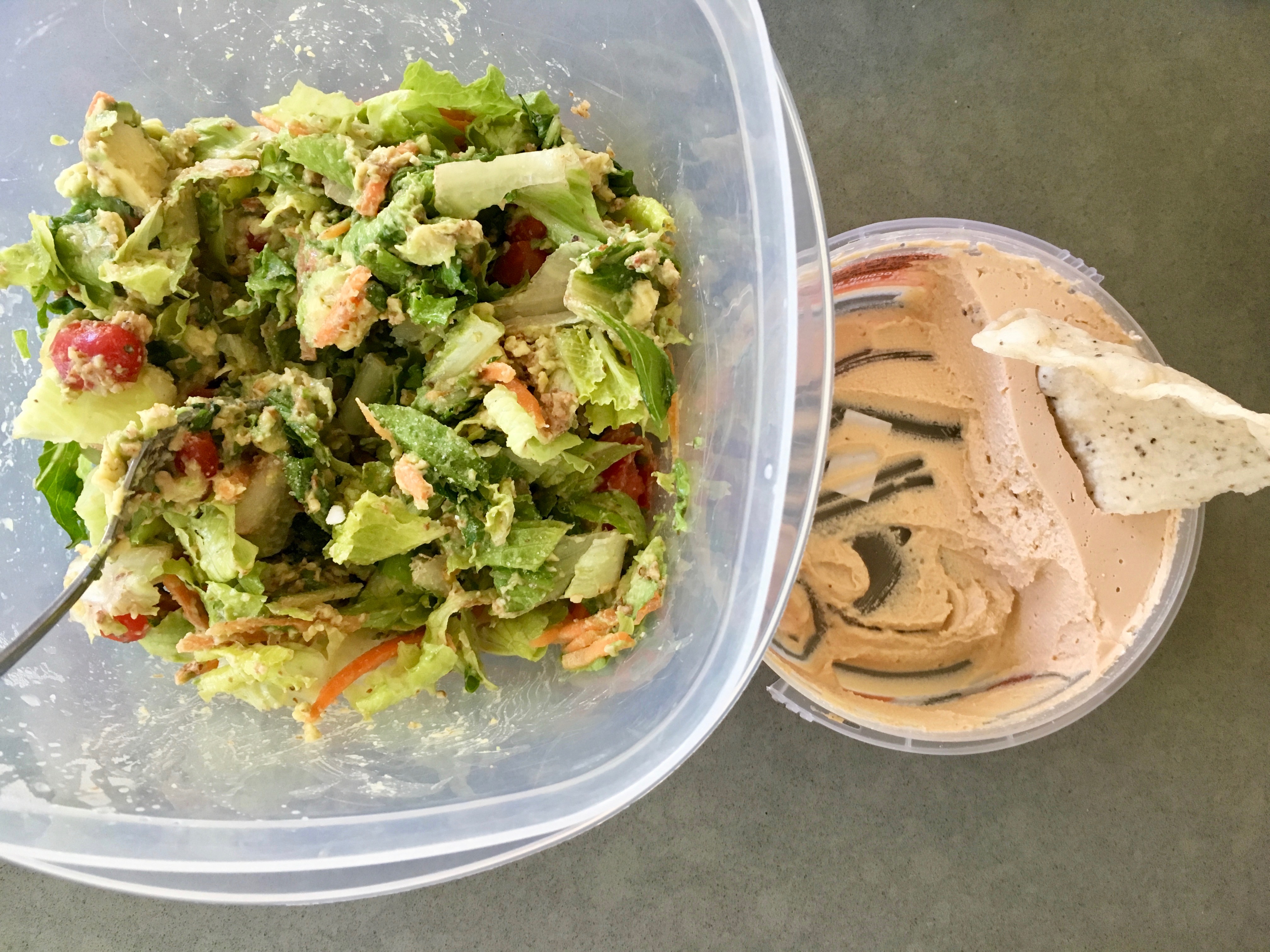 Mexi-lunch made entirely from plants.
At this point I was starting to seriously scrape the bottom of the fridge.  So that was basically the last of the veggies.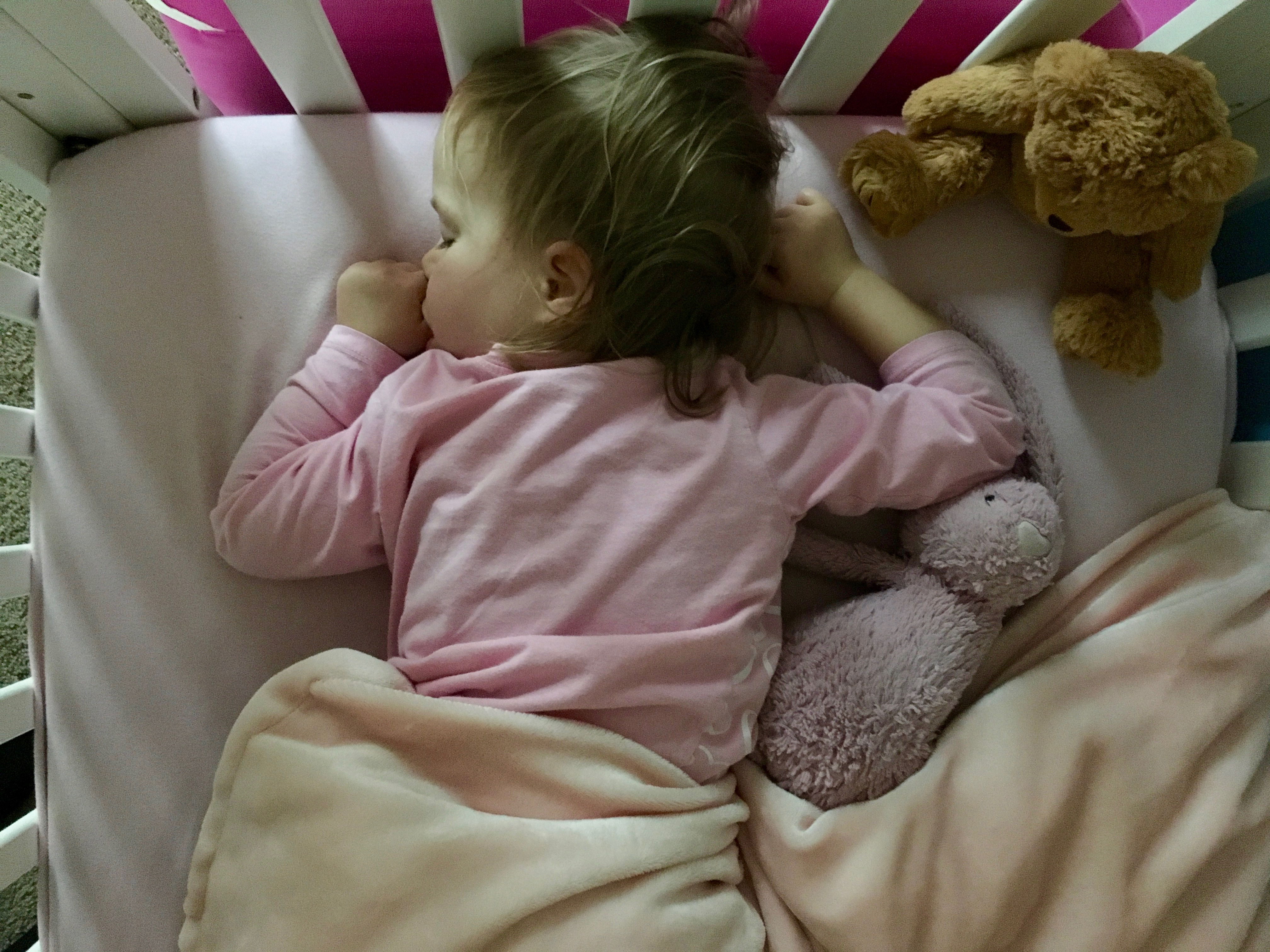 ZZZZZ.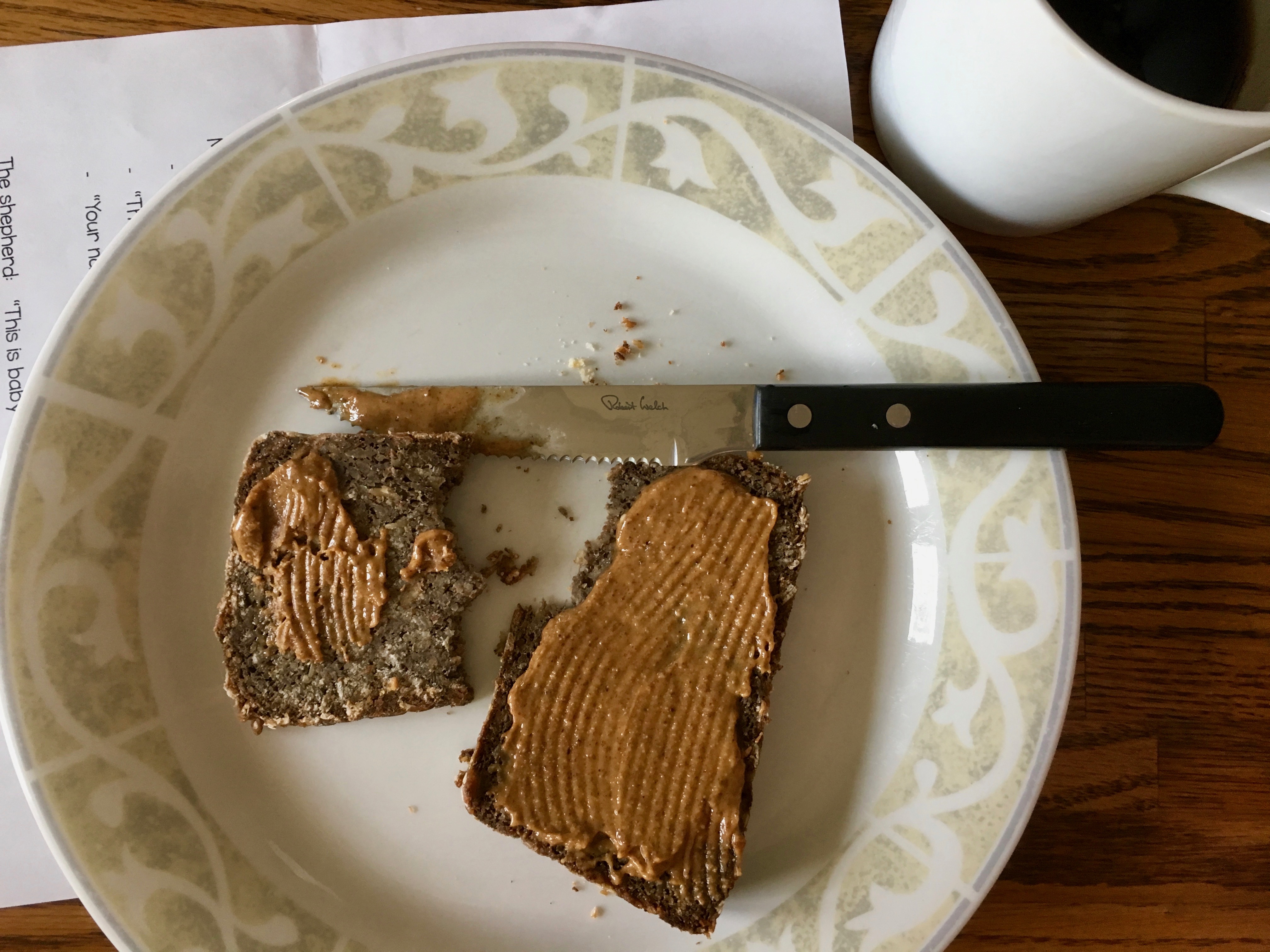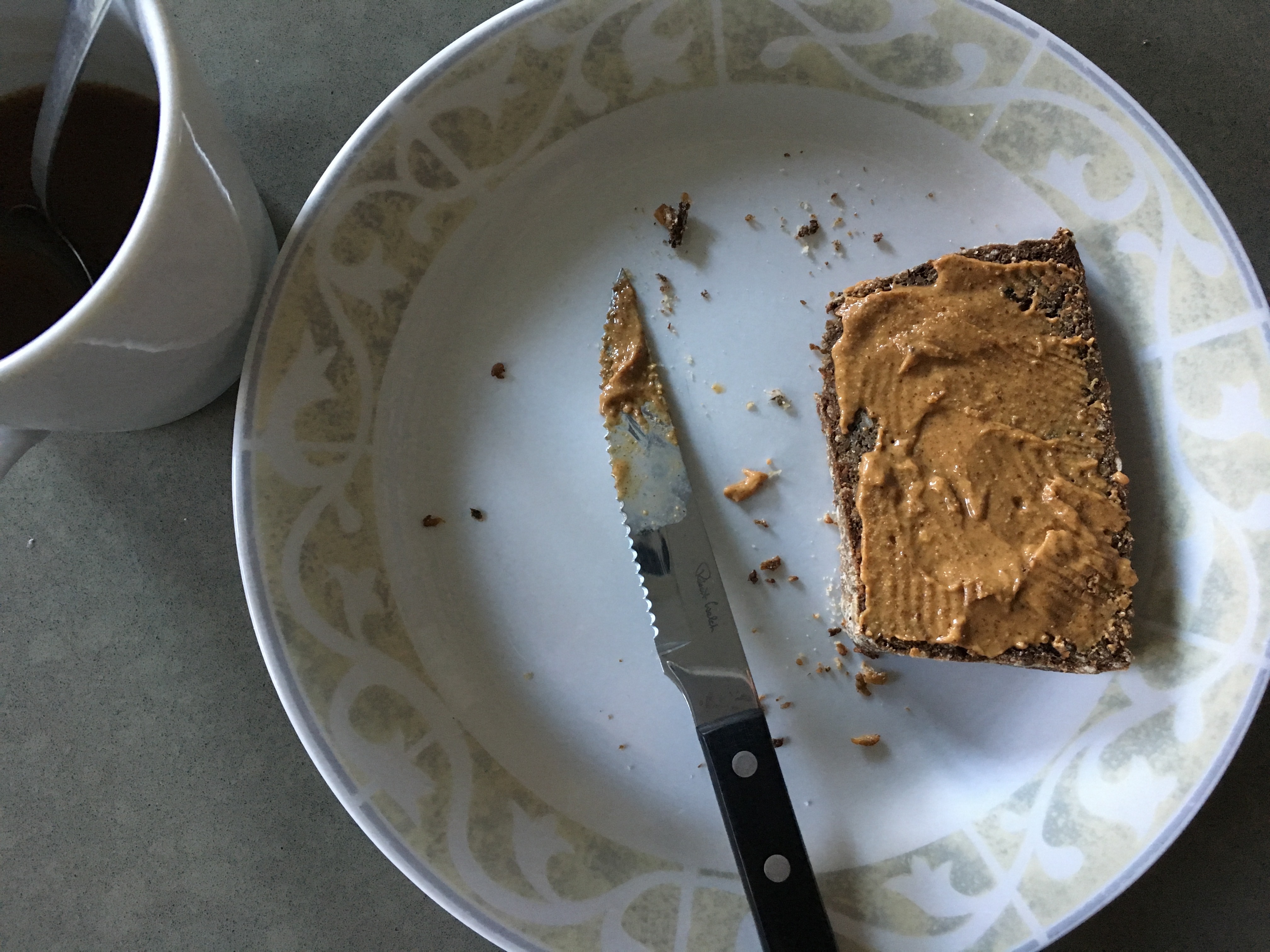 Nourish bread and almond buttah x2.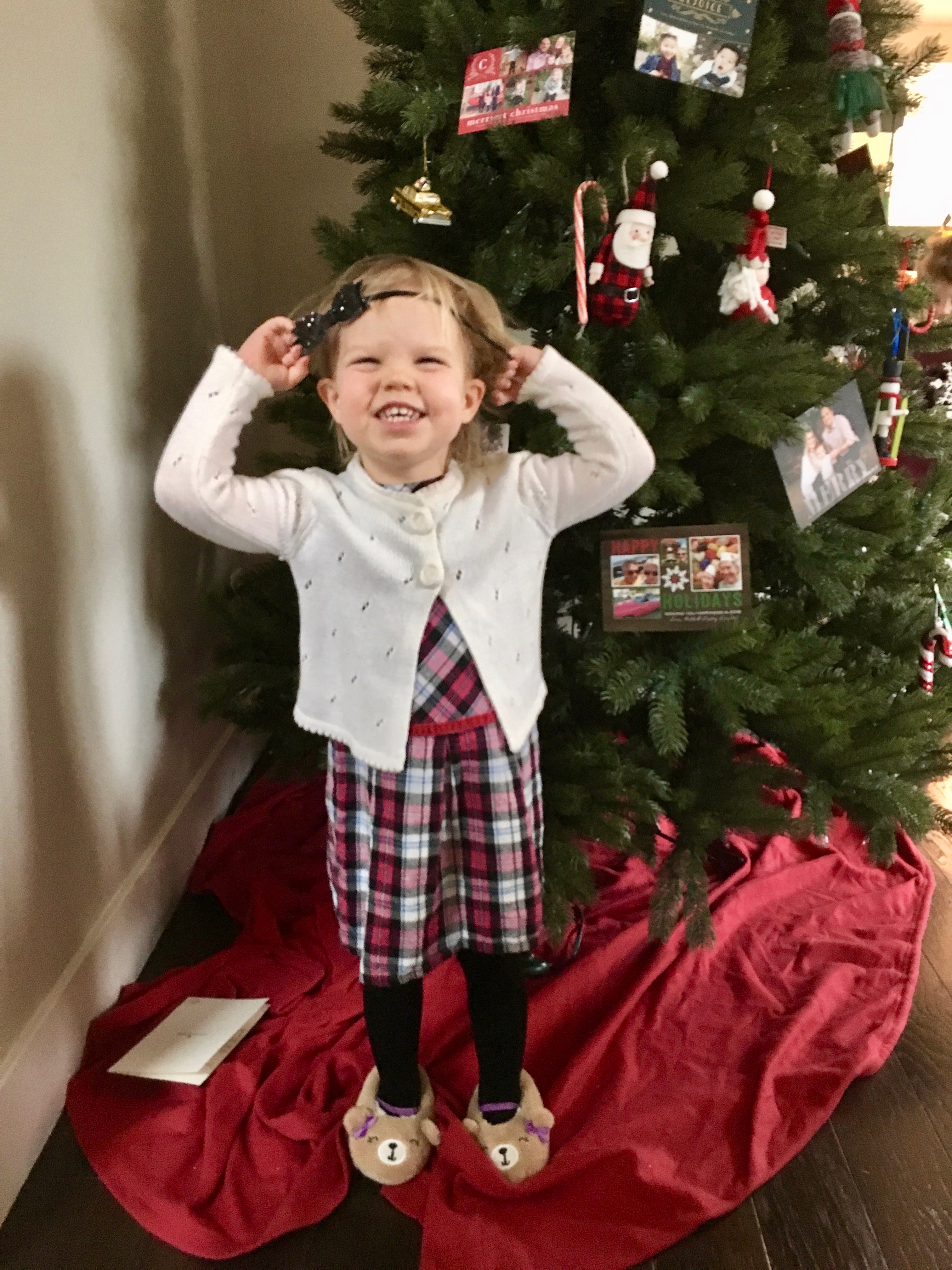 V serving a side of cheeeese.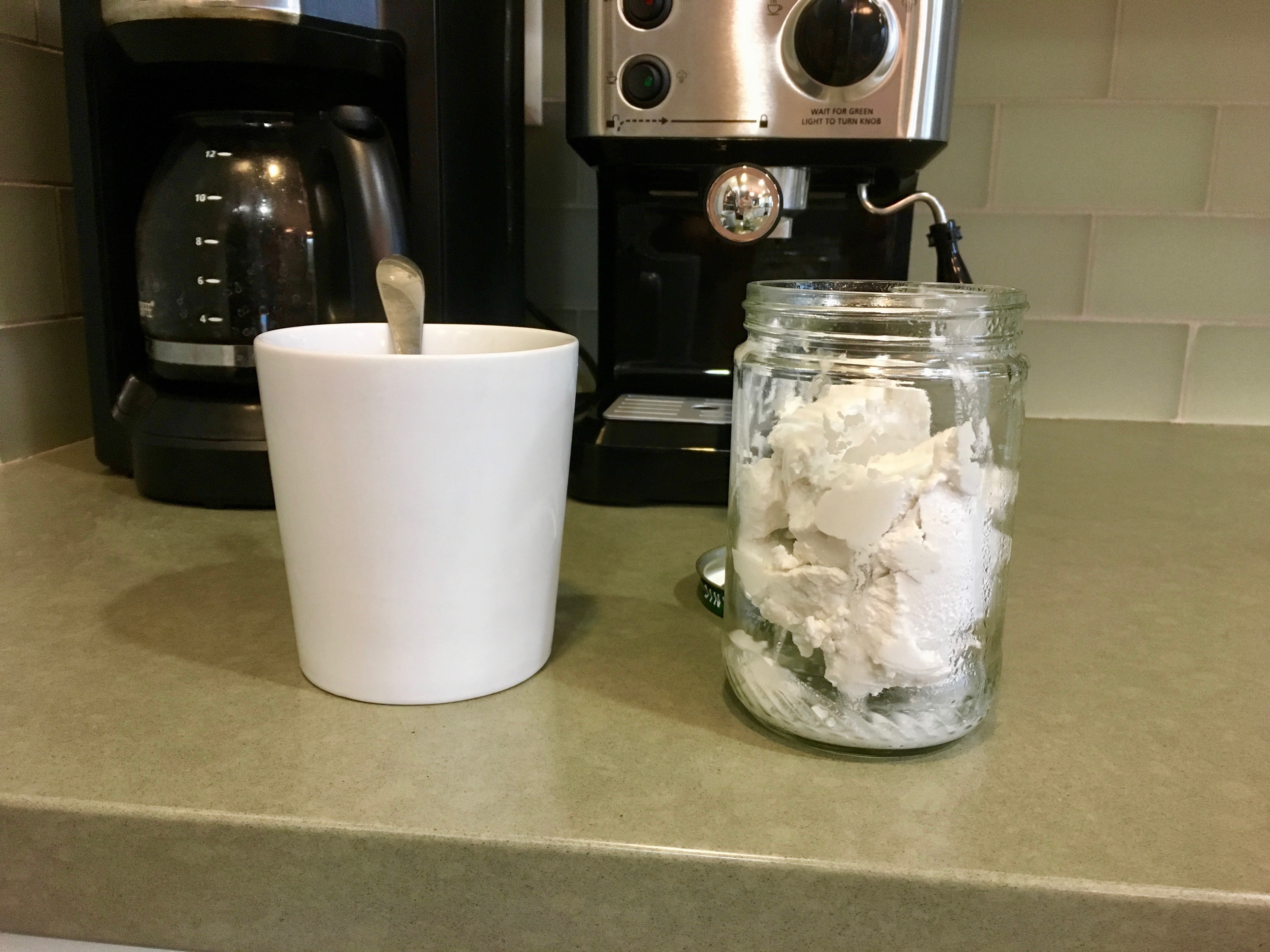 Check out that coconut cream!  Makes coffee bliss.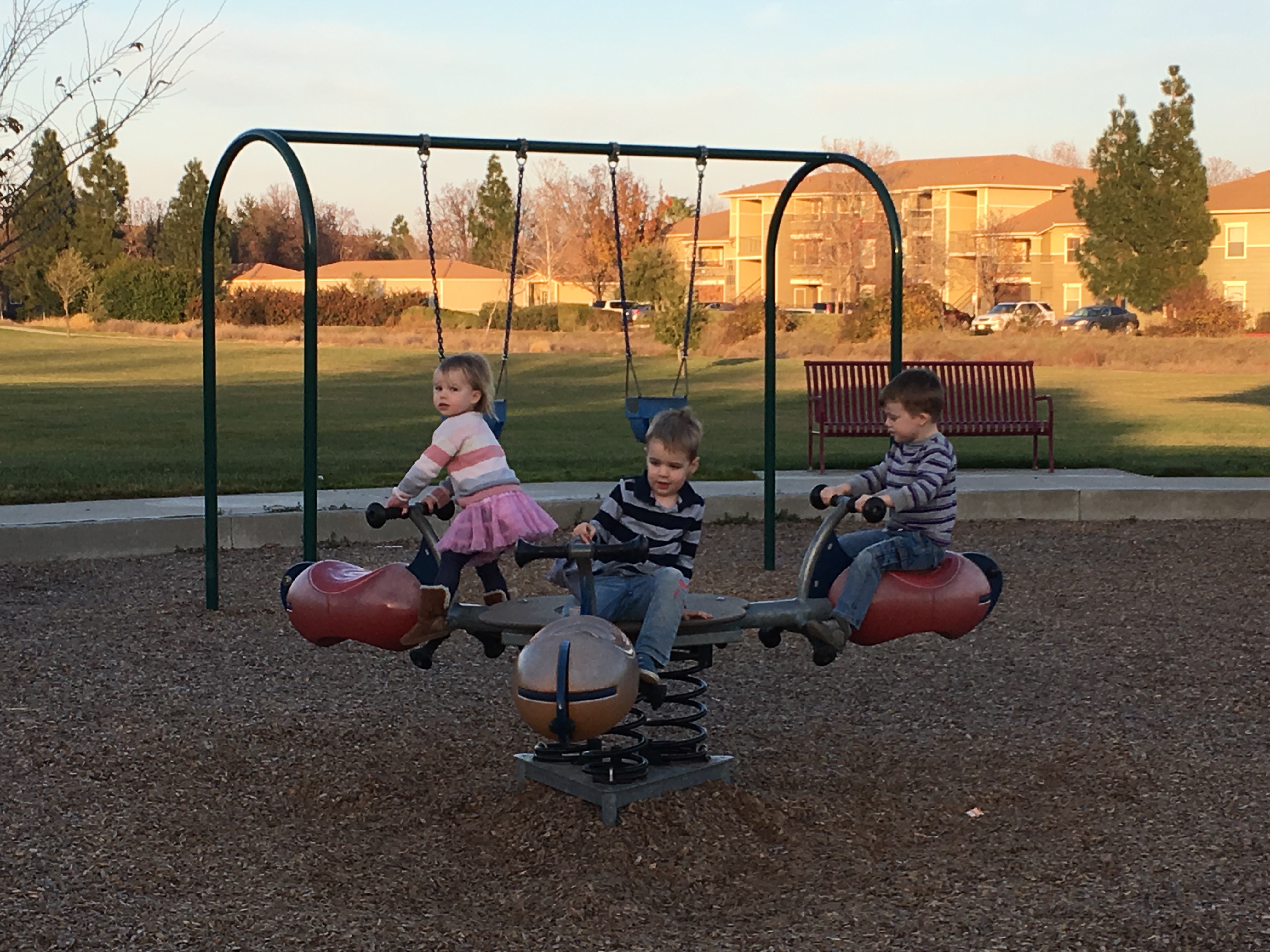 You're backwards girl.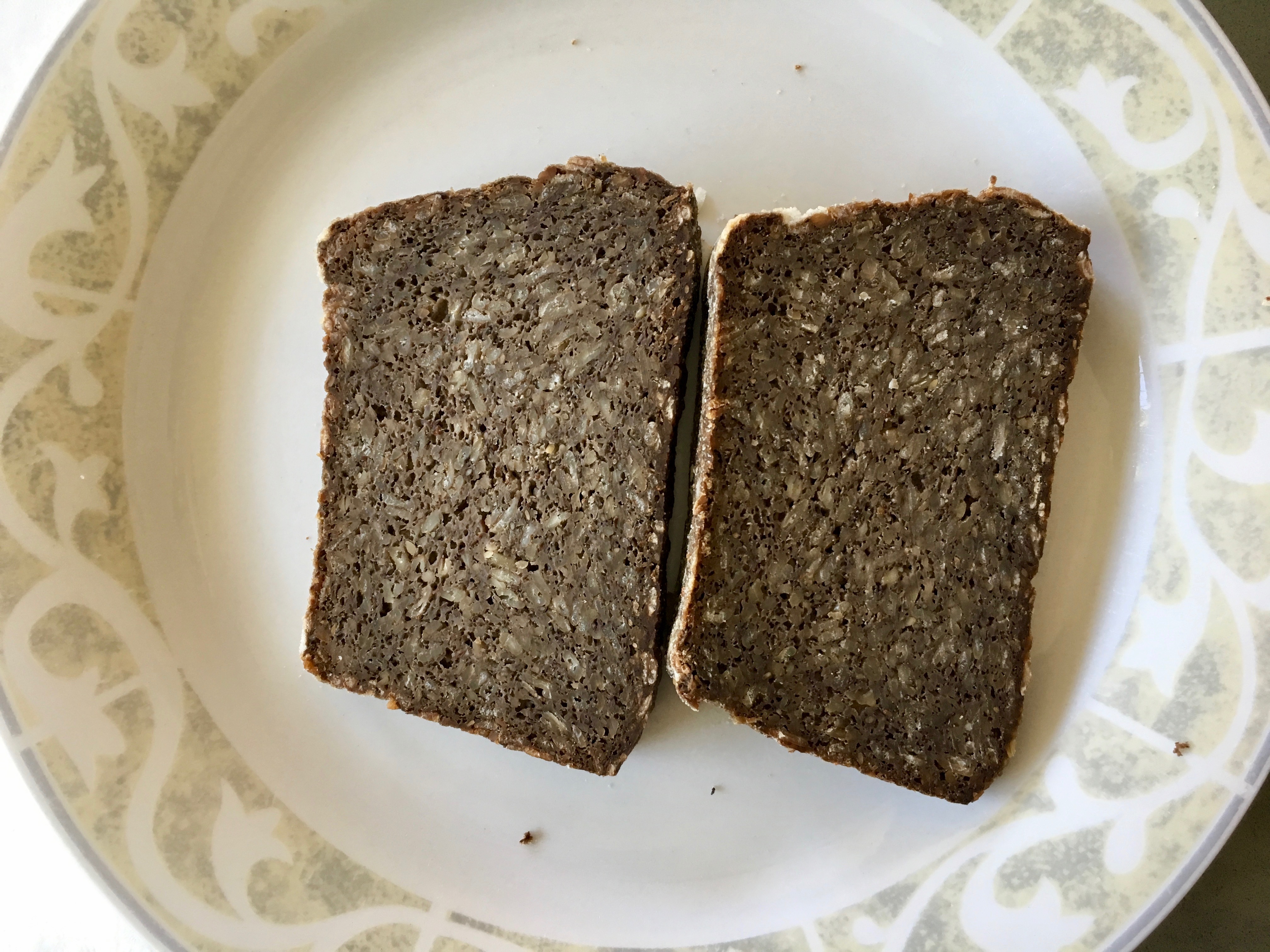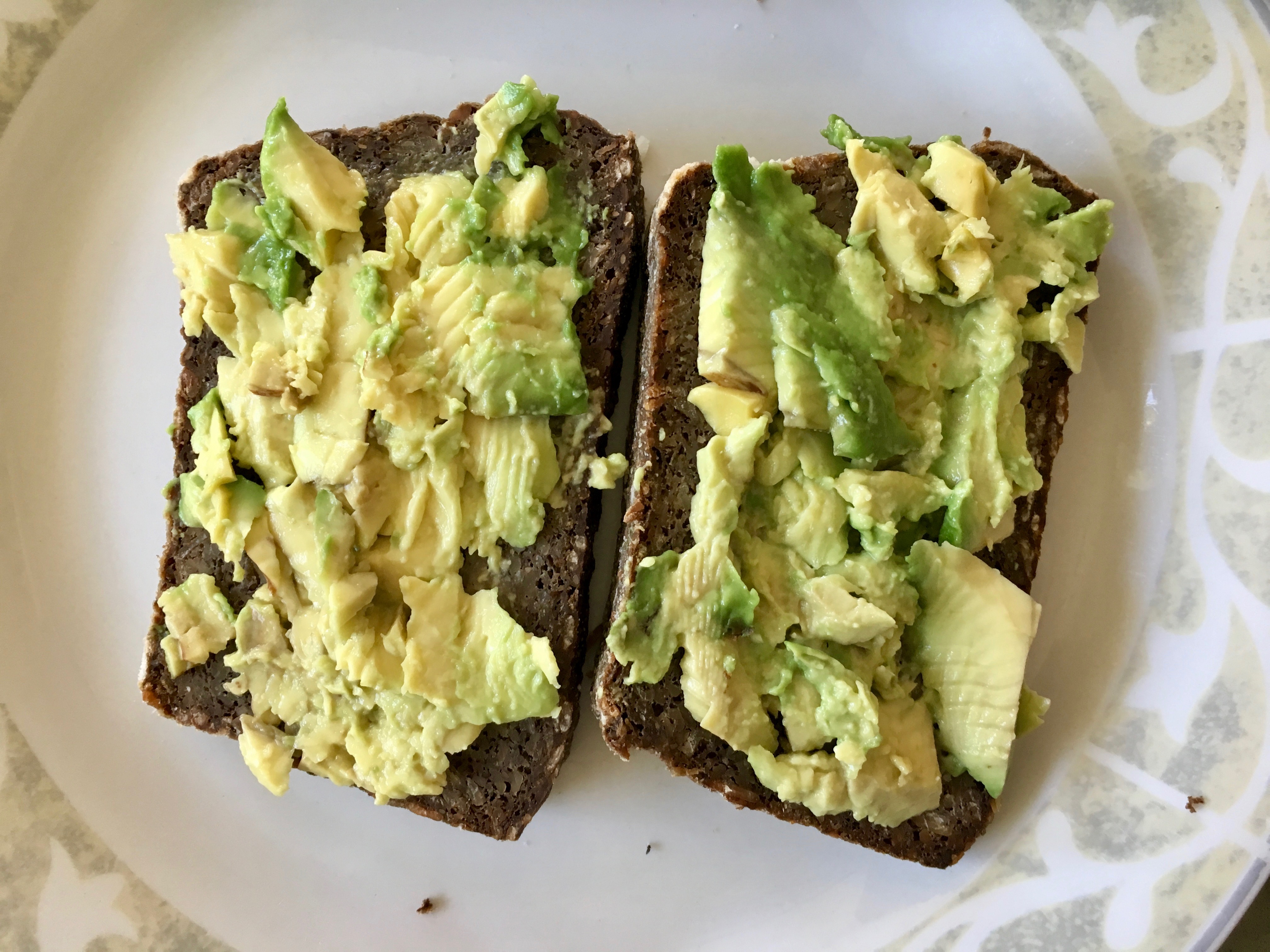 Want to see that bread zoomed in?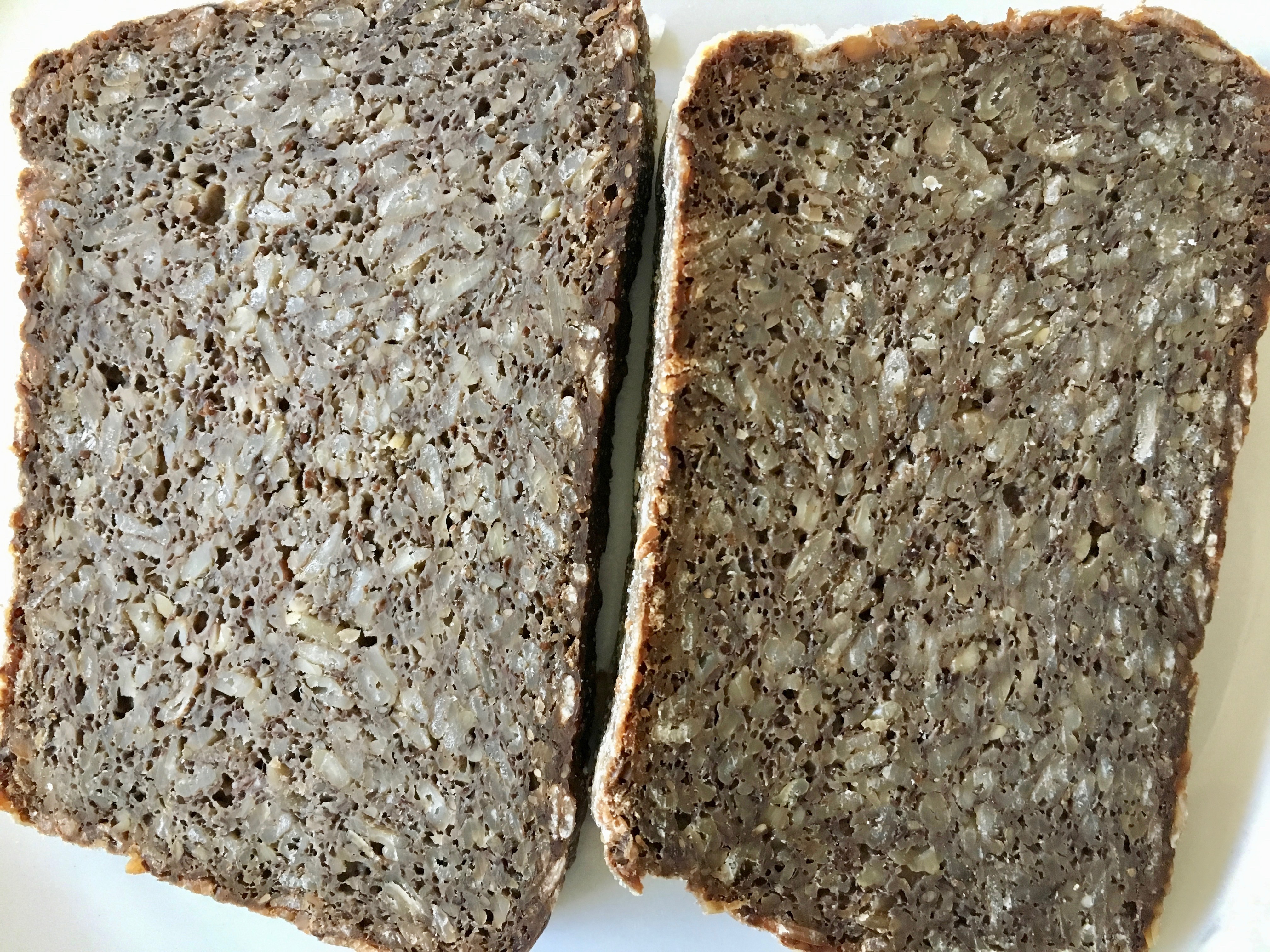 Just look at the density of nutrients!
I built these slices into two nice little toasts, with avo and smoked salmon, and carrots on the side.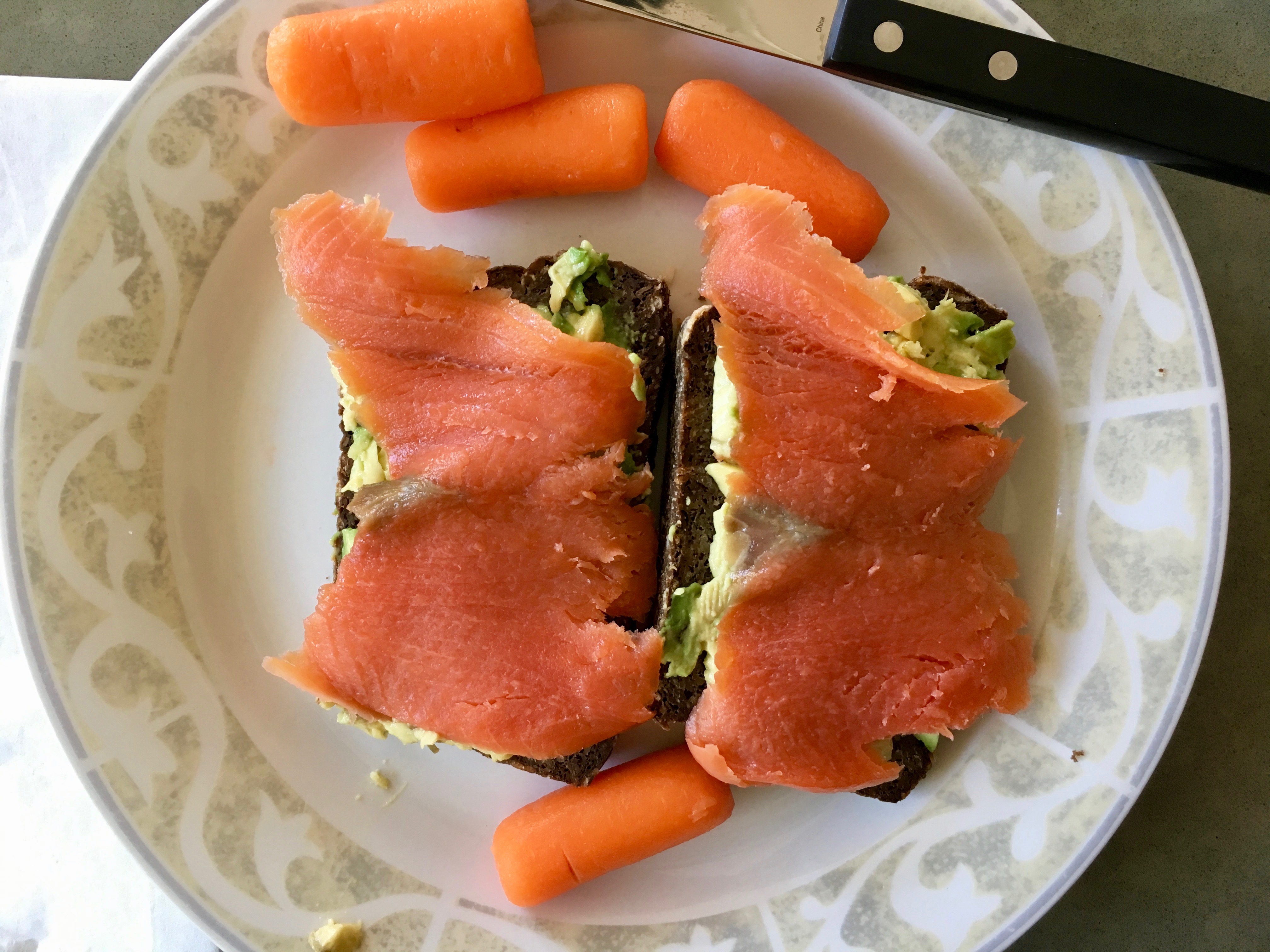 Don't worry, I had more than four carrots.  But most of the time carrots escape the camera because they're a constant snack as I make my meals.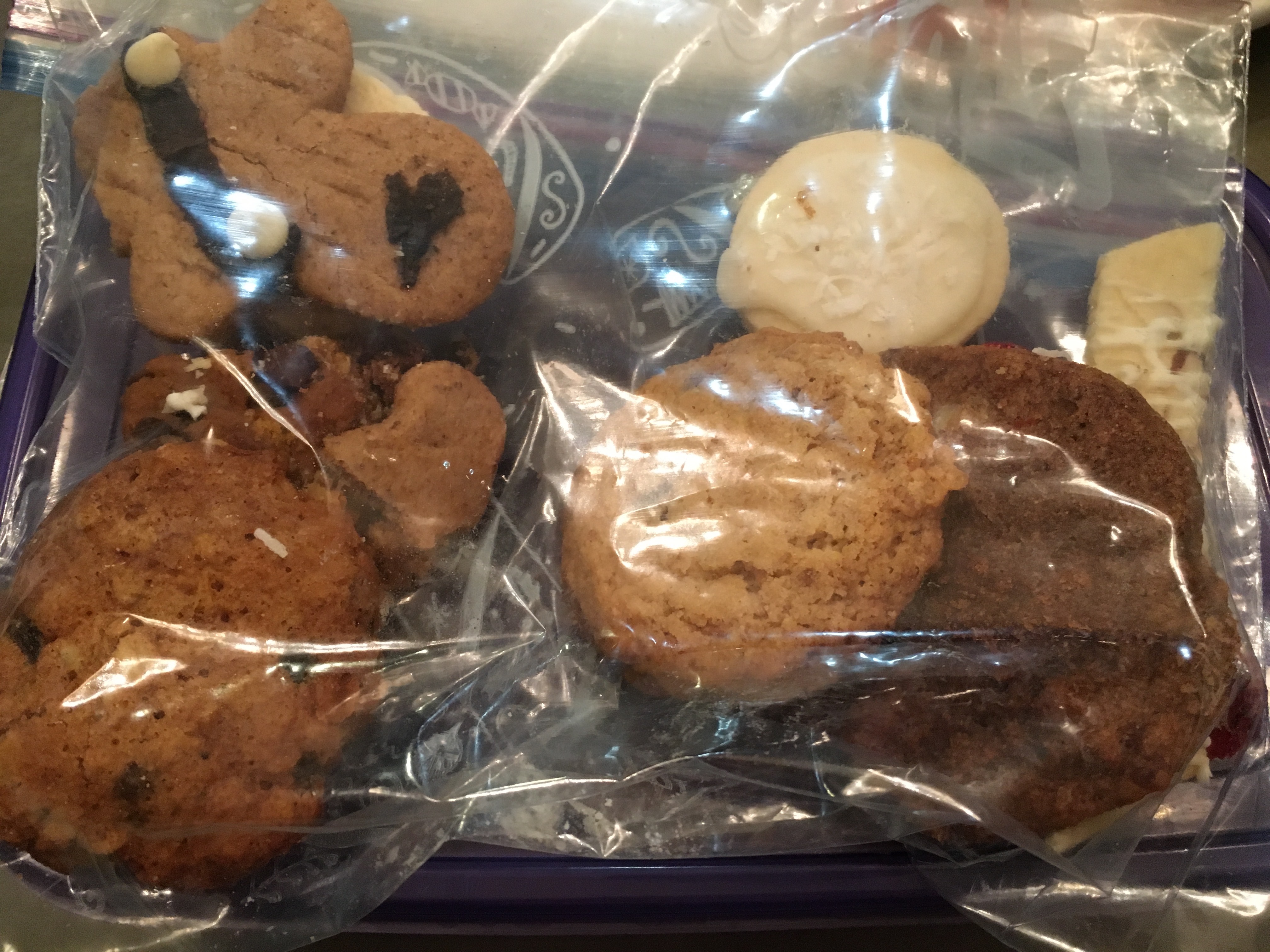 I need to freeze these. I ate 5000 calories after 8 pm because Kyle was gone another night and the kids test me to the limit.  I wish I didn't turn to cookies, but you gotta cope somehow (that isn't screaming at the top of your lungs).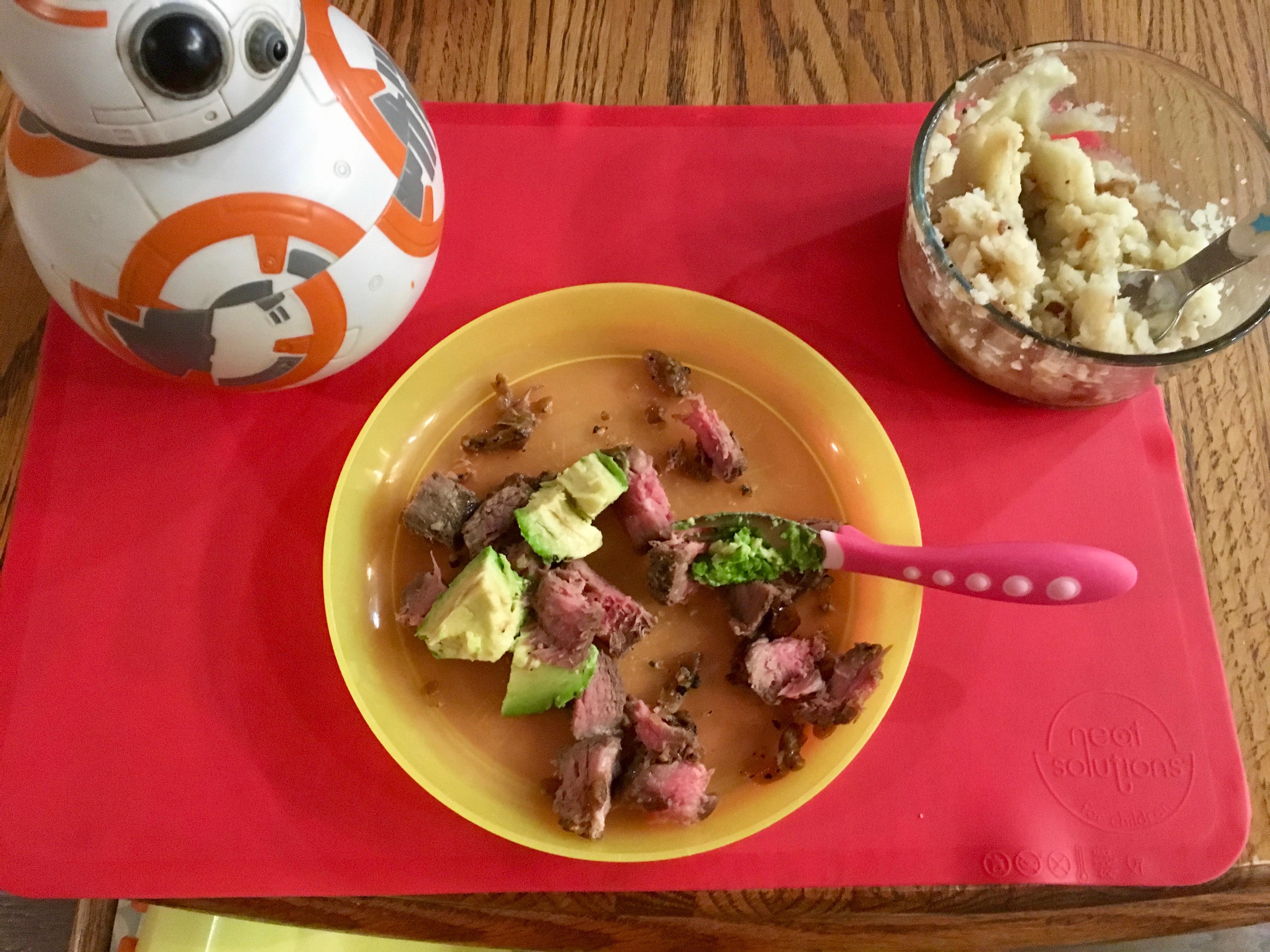 OUT. OF. VEGGIES.
The kids had (leftover) steak and mashed potatoes and avocado.  So random.  Even more random, was my avocado and bacon sandwiches on top of some "blender bread" rolls I had in the freezer.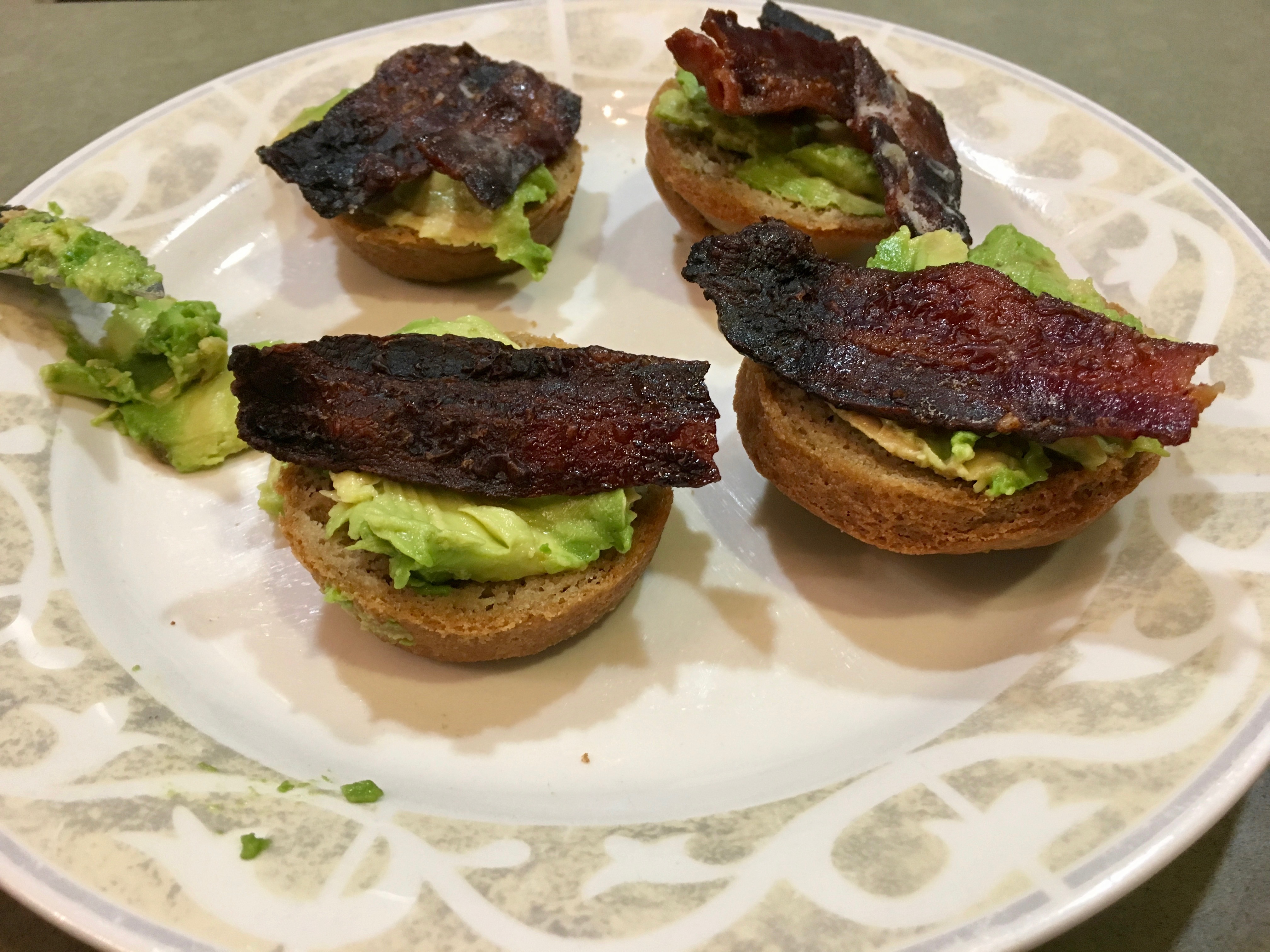 Kyle got home later so I made him pasta.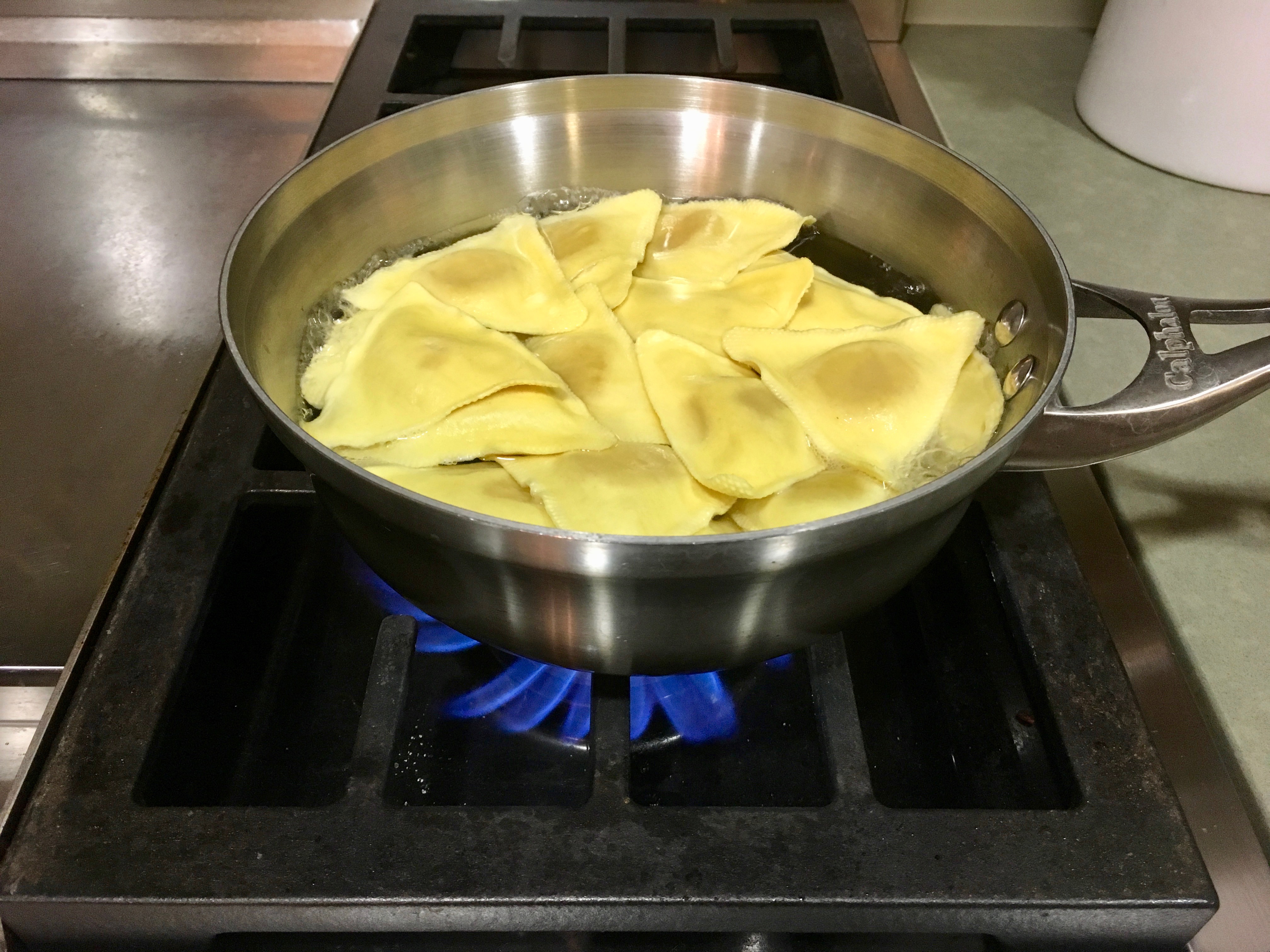 The fridge is seriously empty.  The only thing left are some herbs, which I actually used to make into a big jar of "herb ranch dressing" using this recipe.
Have you entered to win some bars?  You have until Christmas!
Elise December 22, 2017 Uncategorizedallergy, oit 1 Read more >