I'm going to gloss over this because I want to update you all (so when I reference dietary things in the future you know why and what is going on) but I don't necessarily want to discuss the details because it's my son's life and I want to respect his privacy. 
His blood work revealed several allergies, including peanuts and sesame seeds.
Additionally, he's allergic to wheat, soy, cashews (therefore, tree nuts), and dairy.
He is NOT allergic to eggs, fish, shellfish, or walnuts. 
So yeah, this is crazy.  At first I was really overwhelmed, seeing as we are vegetarians, and that eliminates a lot of food options.  I'm still kinda taking it all in. 
The doctor is optimistic that he can grow out of the wheat, soy, and dairy allergies, but it means completely avoiding them now (apparently this increases the likelihood that he will be able to tolerate them later). 
The nuts and seeds are more confusing.  Did you know sesame seed allergies are the new thing?  They are climbing in prevalence and are often associated with peanut allergies.  It's weird that walnuts are okay but cashews are not, since both are tree nuts.  I'm not sure why they are differentiated in the blood work and what that means for other nuts, but our MD felt it was important to omit all nuts and seeds from his diet for now.  Which means zero hemp, flax, chia, sunflower, etc.  I made the mistake of googling myself down a rabbit hole and got scared when I discovered mustard and poppy seed allergies exist too.  And seed oils are in EVERYTHING! 
As you can see, I have a million thoughts on this and it's hard to get one sentence written out before another thing pops into my head.  Our allergist is fantastic but I get the sense he doesn't want me to get super focused on the yes/no list right now because it's all subject to change (fingers crossed!).  That's fine, but I'm really just trying to educate myself.  I wish there was a way to test every nut and seed.  That said, I guess there's not a point since we are still supposed to avoid them all. 
Do you know how hard it is to make creative vegetarian food without all these foods?  Every peanut allergy replacement is made with either seeds or soy.  And don't get me started on all the vegetarian proteins that get knocked out without hemp, soy, and dairy. 
Thank goodness for quinoa, beans and eggs.  And fish, I guess, although I'm not really loving all the mercury and radioactivity that goes along with it.  Soooo, yeah…our kitchen is looking different nowadays.
To make things even more confusing, P is going through a picky phase.  He eats bananas 100% of the time.  And that's the only thing I can rely on.  He eats eggs 50% of the time.  Quinoa has a similarly mediocre average, even when made into pancakes (I've tried a sweet banana plum quinoa cake, a savory pea and egg cake, and a squash variation…all with a range of acceptance). 
I have tried every fruit and vegetable under the sun with a 2% success rate.  I swear without bananas the kid would starve. 
It is really frustrating.  It also has Kyle and I reevaluating our own diets.  In the venn diagram of our threesome, the middle section has very little overlap right now, which will certainly make things hard for family dinners going forward. 
And even though the MD told me my breast milk wouldn't be affected by the foods he's allergic to, I have to say, I've seen a noticeable difference in his eczema  since I stopped eating (or seriously reduced) nuts, seeds, and soy in my own diet.
But you know me.  I'm not about to give up any time soon.  I want to raise an adventurous eater with a diverse palate, in spite of the new limitations.  If he lives off of avocado and corn puffs until he's 2 years old…well…maybe it will make for an interesting childhood story when he wins Top Chef season 46.  🙂
Some of his faves (for now at least): apple (slices that he can gnaw on), banana, celery (again, he loves gnawing sticks), corn puffs (the plain Arrowhead Mills cereal), steel cut oats (made in the rice cooker with less liquid so they are clumps), avocado, pear, and melon (I froze a bunch of cantaloupe chunks in the summer so I just thaw them).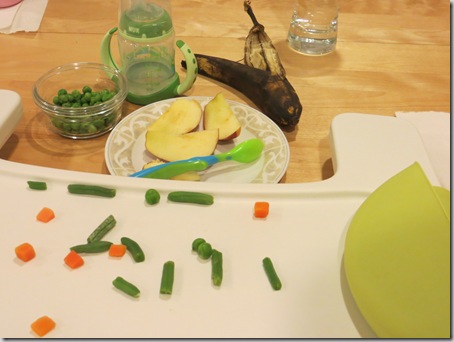 What the [bleep] is with the allergies in kids today!?!?! 
Elise December 30, 2013 Uncategorizedallergy, baby Read more >