Success number one with coconut flour baking was enough of a confidence boost to encourage me to try again.  So I did.  This time with a few of the super ripe bananas we had on hand.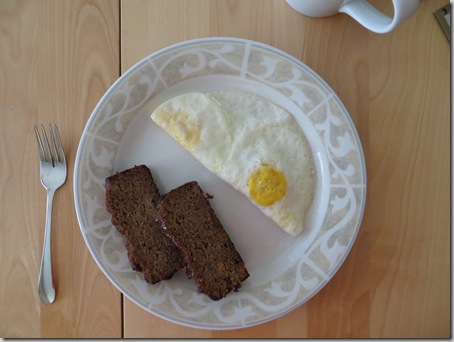 Success number two!
Because the bananas were almost entirely brown I didn't think much sugar was necessary and I was right!  This bread is sweet in a way that doesn't taste "healthy". 
I loved it.  And so did P.  I think it's going to be the recipe I use for his birthday cupcakes.  Can you believe it's almost 1 year???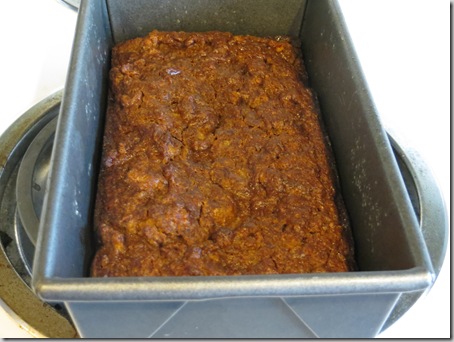 I did add molasses to add some flavor and a touch of sweetness since I was only using a mere 1 tbsp of maple syrup.  Feel free to use another liquid sweetener if you want (ie honey, agave).
Coconut Flour Banana Molasses Bread [dairy free, grain free, wheat/gluten free, nut free, FODMAPs friendly]
Ingredients:
3 ripe bananas, mashed
3 tbsp coconut oil
3 tbsp molasses
1 tbsp maple syrup
3 eggs
1 tsp vanilla
1/2 cup coconut flour
1 tsp baking soda
1 tsp cinnamon
1/8 tsp ground nutmeg
1/8 tsp ground ginger
1/8 tsp ground cloves
pinch of salt
Directions:
Preheat oven to 350 degrees F.
Combine wet ingredients (first 6 listed) in one bowl, mix well.  Then add in the rest of the ingredients.
Pour into large greased loaf pan. 
Bake for 50 minutes at 350 degrees (or until a toothpick inserted in the center comes out clean).
*The large loaf pan seemed too big when I poured the batter in, but it expanded and ended up being a good fit.  It's too small for a mini loaf pan, but could probably use a bit more batter to fill out a large one, so prepare to have a more squat loaf.  I didn't care about this because it still tasted good.  Alternatively, you could pour the batter into muffin tins.  Baking time will need to be reduced significantly (I'd start with 25-30 minutes).
I'm getting the hang of this super absorbent flour…and the texture and flavor are preferable to other GF baked goods which can be a little bland or dry if significant amounts of sweetener or oil or egg aren't added.
I thought this loaf was nice because it only used a minimal amount of coconut oil and eggs.  Lots of grain free type breads call for 6-8 eggs and that's just insane to me.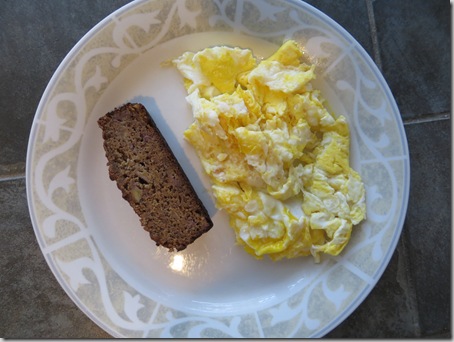 I'd rather eat my eggs on the side.  🙂
Elise January 21, 2014 banana, coconut, eggsallergy, recipe Read more >