This photo really doesn't give an accurate picture of my day's eats because it looks the same as all my other days of pre-packed meals.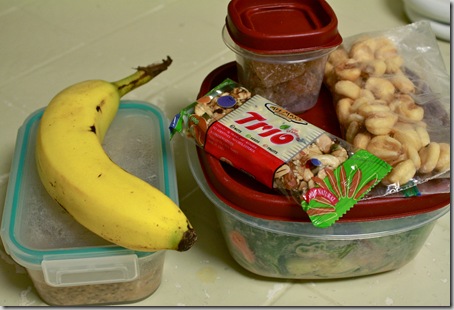 I had a rough morning (no workout, only 1/2 a cup of coffee) made rougher by the fact that my patients were not doing well.
I had one person trying to code on me (HR 40s, SBP 180s, O2 70s) while another was trying to get to the bathroom to throw up (with his broken & non-weight-bearing L hip).
I basically had to ignore the puking patient and get my care partner to give him an emesis basin and then sit on him so he wouldn't get up and break his other hip (I promise I'm just kidding about the "sit on him" part).
Meanwhile, the other patient was desaturating faster than I could compensate for with oxygen with while his heart rate kept dipping into the 40s.  The fact that his neurological baseline was non-responsive (to pain or anything) made assessments hard, so I really only had the numbers to go on.  And the worst part of all was that I couldn't even call a code because the patient had a DNR/DNI order…gah…I felt so limited.  I also had a student shadowing me for the day…man did he get an eye-full.
In the end I managed to suction out a big mucous plug and got respiratory therapy to adjust his opti-flow settings.  My charge nurse was right there helping me the whole time by getting a bite bit to keep his teeth open and just reassure me that everything was fine.  Man I love how supportive the staff is at my hospital.
As for the other patient, he told me he just over-ate.  Silly.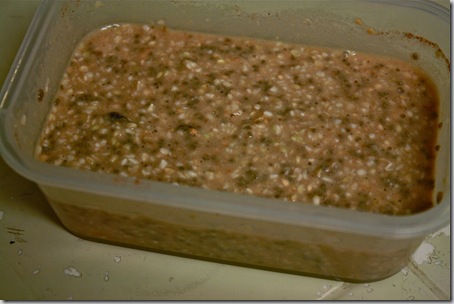 Anyway.  Due to the craziness of the morning, I didn't get breakfast until almost 11:30.
I had a peanutty buckwheat and chia seed pudding, which I made with:
1/2 cup buckwheat
1/4 cup peanut flour
1/2 cup water
1/2 cup almond milk
2 tbsp chia seeds
NuNaturals vanilla stevia
It was thick and pudding like by the time I ate it the next day.
When I went into the break room to eat, I saw something that made the day instantly better.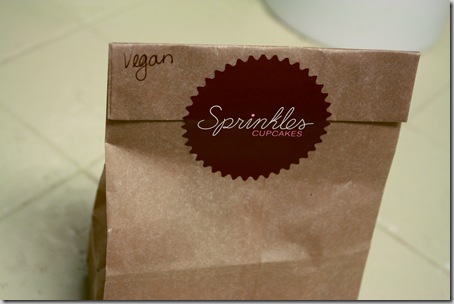 Remember the going-away party we threw for my co-worker (it's the one that I brought vegan cheesecake and vegan cookies to)?  She moved to Chicago in August and sent our unit 3 boxes of Sprinkles cupcakes yesterday – completely out of the blue.
I was happy for everyone else, but assumed that I was SOL since Sprinkles certainly doesn't make vegan cupcakes.  WRONG!
Not only do they makes vegan red velvet cupcakes, but she had remembered that I was vegan, some how figured out I was working that day, and ordered a special vegan cupcake to be set aside just for me!!!  Does it even get cuter than this??  No, it doesn't.  Sweetest thing ever.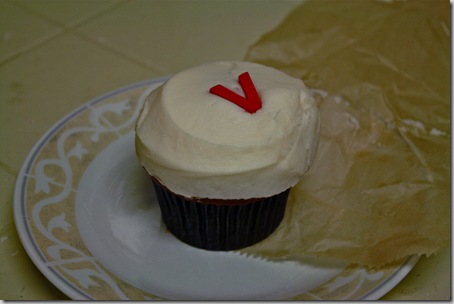 It definitely made my crappy morning 100% better.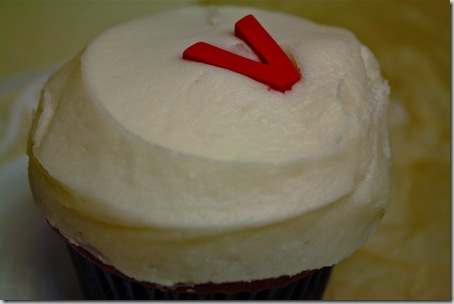 I saved it to enjoy at home.  [Also, I really wanted to take a photo of it and nobody at work knows about the blog]
Before I sing this cupcake's praises, let me just recap the rest of the work day.
chef AJ's almond butter coconut dressing
spinach
red bell pepper
cucumber
carrot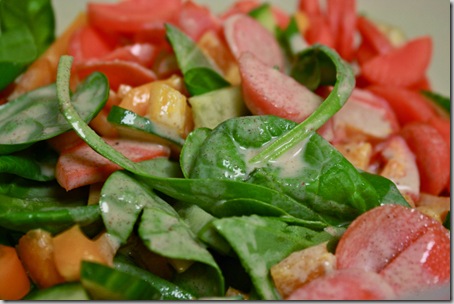 I went overboard with the dressing which was kinda on purpose (it's so addicting!).  But when I went to eat lunch I realized I had forgotten to pack a fork.  I used a spoon and it was actually easier, plus it allowed me to slurp up all the dressing leftover.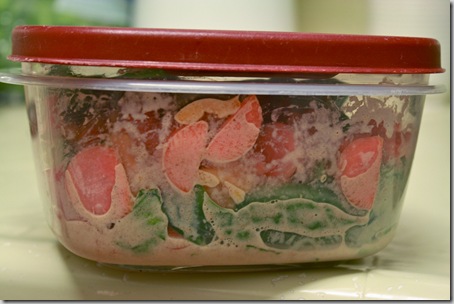 I got off work at a relatively decent time and sang along with Michael Buble for my commute home.  It's cool, nobody heard.
Before I even showered, I ripped open my Sprinkles bag and dug in.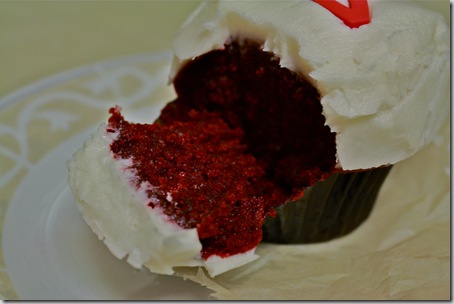 Allow me to introduce you to Sprinkles' vegan red velvet cupcake.
As per Sprinkles' website, the traditional dairy products are substituted with vegan friendly ingredients, including all natural soymilk, tofu-based cream cheese and pure coconut oil.  The result is a cake so moist and frosting so rich, it just might inspire your friends to go vegan too!  Just look for the red V to know it's Vegan Red Velvet!
Not only had I never had a Sprinkles cupcake before, but I'd never had red velvet anything before.  Truthfully, I didn't really know what it was.  You guys!  It's just chocolate dyed red!!  How did I not know this?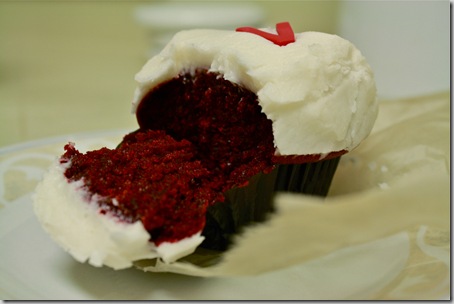 The cake was wonderfully soft and (dare I say it) moist.  And the ratio of frosting to cake was divine.  I'm not even a big cake person and I was LOVING it.  The frosting was so rich, without being sickeningly sweet, and it had a delicious coconut flavor that was out of this world.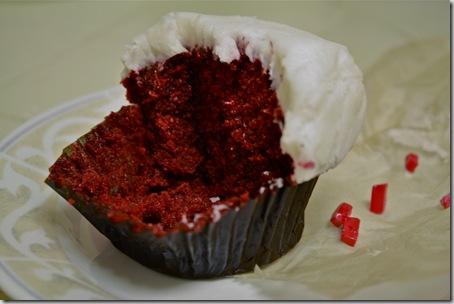 I could have buried my face in a tub of frosting and called it a night.  But instead I finished half, went to take a shower, and then made myself a real dinner.  How mature am I!?!  I hardly recognized that kind of self-control.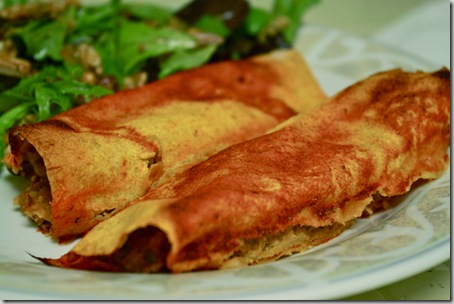 I currently owe you guys a few recipes, but you'll have to add red enchiladas onto my tab because this post is getting a bit lengthy.
It's worth the wait.
What's your favorite cupcake flavor? I think I may have just fallen in love with red velvet!