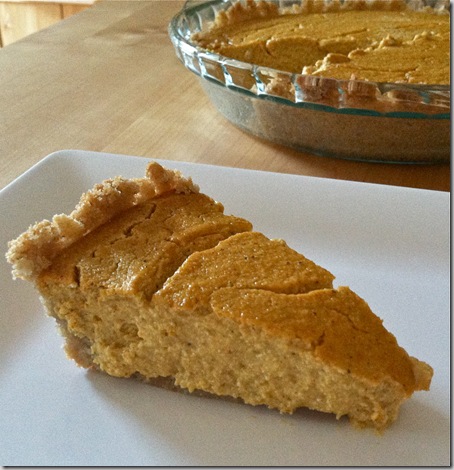 I'm calling this both a cheesecake and a pie for lack of a closer dessert relative.  It's got all the elements of a cheesecake.  Minus the dairy.  Rich.  Decadent.  Creamy.  Yum.  That said, it doesn't have the tang that a cheesecake has.  More like a creamy pumpkin pie I guess?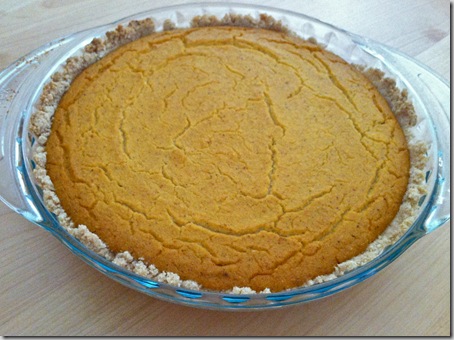 But dang is it delicious.
Kinda odd to preface a dessert recipe like this but I just want to convey exactly what this dish is all about.  So.  Disclaimer: If you want a true [vegan] cheesecake, this is the recipe for you.  It'll wow vegans and non-vegans alike.  But if you're looking for something a little different – a fall treat that's creamy and melt in your mouth good perhaps – then read on.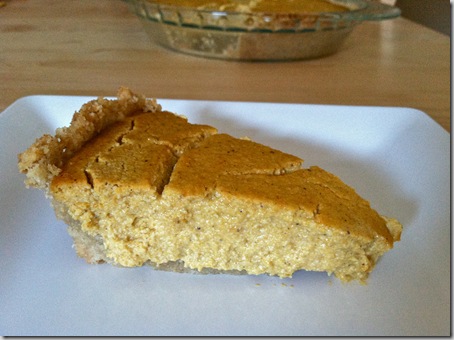 Pumpkin Cheesecake [vegan, gluten free]
Crust:
1/2 cup almond flour
1/2 cup oat flour
1/2 cup brown rice flour
1/4 cup sugar
5 tbsp vegan butter (Earth Balance)
Combine and mix dry ingredients.  Add butter.  Stir until uniform throughout.
Add to pie pan and press down to shape into crust.  It helps to work from the center out to the edges.
Place in the fridge to chill while making the cheesecake portion.
Filling:
1 1/2 cups pureed cashews (I soaked ~2 cups of nuts in water overnight, prior to use I drained them and rinsed them, then I pureed them with some water until they were a creamy thick consistency)
1 1/4 cups pumpkin puree
12.3 oz. silken tofu (1 aseptic box)
1/3 cup maple syrup
1 tbsp vanilla
1 tsp pie spices (a combo of cinnamon, nutmeg, ginger, and cloves – you can make your own or buy the blend)
Puree the cashews in a food processor or really good blender.  Then add the rest of the ingredients, one by one (pumpkin, tofu, syrup), pulsing to combine between each.  Last add the spices and vanilla and blend some more.  Once the cheesecake filling is entirely combined pour it into the chilled crust.
Bake for 25 minutes on 350, then 20 minutes on 250 (so the top doesn't get burnt).
Let it cool entirely before serving.  It's easier to cut into when it's chilled.  I recommend making a day in advance of when you want to serve it so it can set completely in the fridge.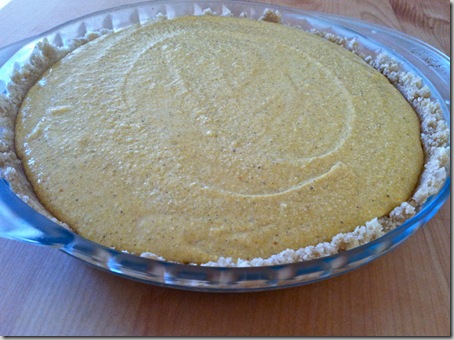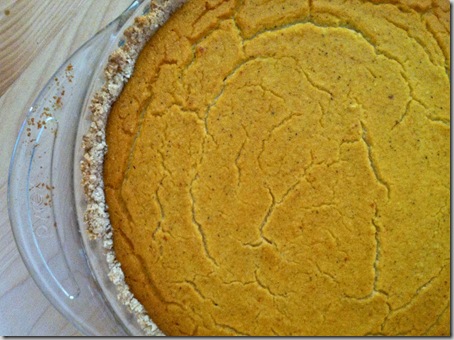 Substitutions/Notes:
You could swap coconut oil for the vegan butter if you want.
You could also use brown rice syrup in place of maple syrup.  Suzanne's Specialties makes delicious brown rice nectar in a variety of flavors (chocolate pumpkin cheesecake anyone?).
The recipe isn't overly sweet, so I recommend tasting the cheesecake filling first to see if it suits your taste buds – you may want to increase the syrup to 1/2 cup.
Soaking the cashews is an essential step.  The longer you soak them, the more silky smooth the filling will be.  I put 2 hours as the minimum soak time, but I think a day is preferable.  Be sure to rinse them well after soaking.
You could try swapping macadamia nuts if you don't like cashews, but if you have a tree nut allergy, I'm not sure that there's a nut substitution I can recommend.
The same goes for the tofu.  Sorry to those with soy allergies/sensitivities, I don't know of a substitution that will guarantee success.
If you aren't gluten intolerant, the crust can be made with wheat flour instead (same amount).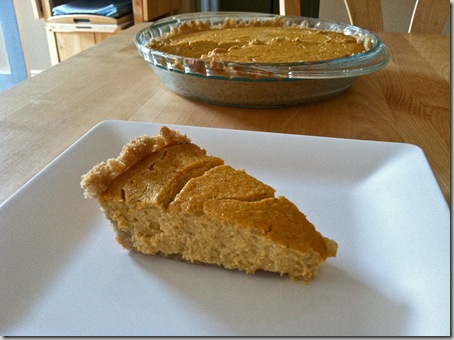 Enjoy!