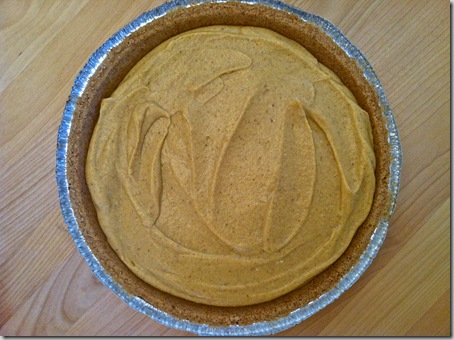 She's a beauty, even before going into the oven!
And after…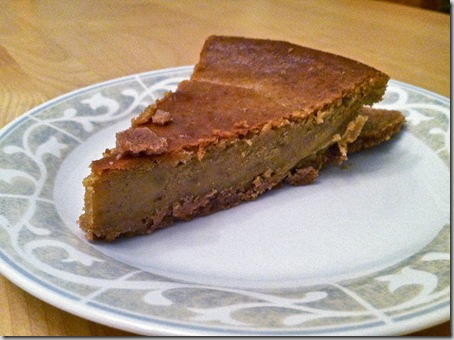 Just as lovely. 
Vegan Pumpkin Cheesecake [vegan, gluten free*]
Ingredients:
3.5 oz. firm tofu (1/4 of a 14 oz. container)
4 oz. vegan cream cheese (FYH brand)
1 cup cashews, soaked, drained, & pureed + 1 tbsp lemon juice
1/2 cup canned pumpkin
1/2 cup cane sugar
1 tbsp. arrowroot
2 tsp. baking soda
1 tsp. cinnamon
1/4 tsp. ground ginger
1/4 tsp. nutmeg
1/8 tsp. salt
1 prepared graham cracker crust*
Directions:
Preheat the oven to 350 F. 
Puree all the ingredients (except the pie crust) in a food processor and pour into the graham cracker crust. 
Bake at 350 degrees for 45-50 minutes. 
Allow to cool for ~30 minutes, then cover with plastic wrap (or whatever) and let it chill in the fridge.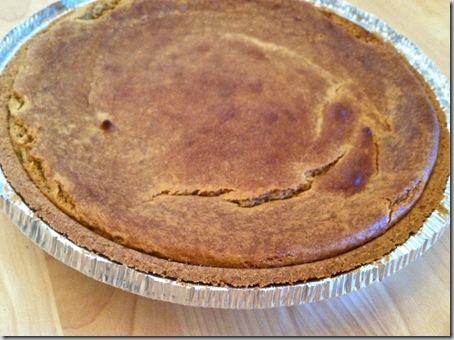 While the order of processing doesn't really matter, you should start with just the cashews and lemon juice, so they get extra smooth.  Don't worry if they aren't perfectly pureed though.  Once I added the tofu there was more liquid to help the nuts blend and by the time the rest of the ingredients were in there were no chunks or stray cashew pieces at all.  Just silky pie filling.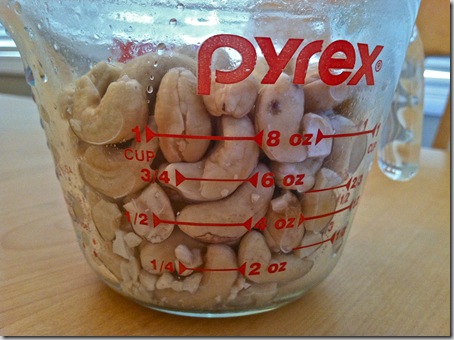 This is what the cashews look like after soaking.  As you can see, they grew from 1 cup to about 1 1/3 cups. 
Processing progress.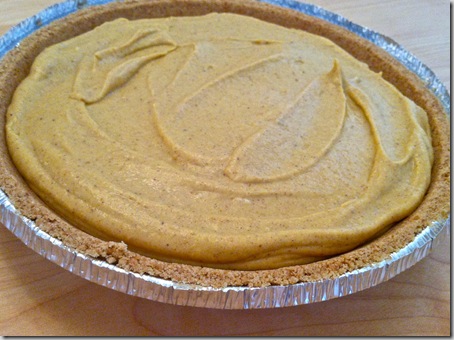 Ready to bake.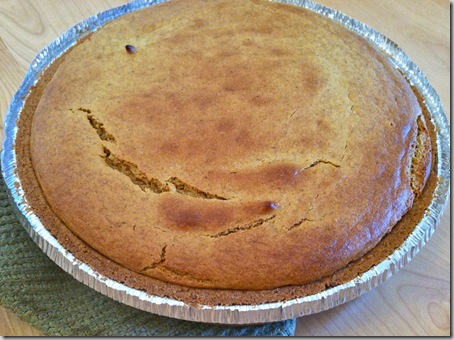 Hot out of the oven.
Notes:
For a dessert that's more like pumpkin pie, try this one.  And for a traditional cheesecake, go here.  This time around I wanted something that was a marriage of the two.  Mostly cheesecake with a hint of pumpkin flavor, hence the combination of recipes.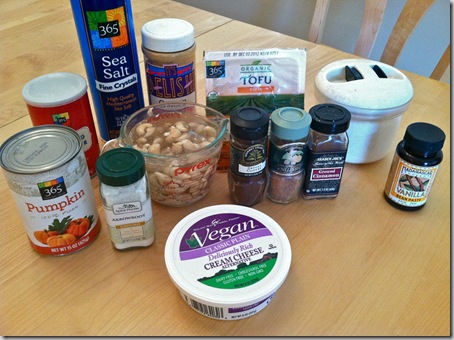 Don't be overwhelmed.  These ingredients are mostly things you will have on hand.
If you have pumpkin pie spice, good for you.  If not, this is the team I used.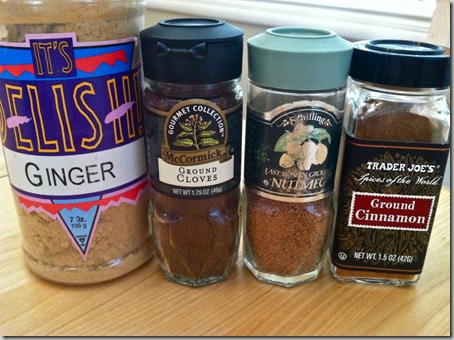 Ginger, cloves, nutmeg, and cinnamon.
These are the ingredients you may have to buy.  Pumpkin puree, vegan cream cheese, tofu, and cashews. 
I wanted to use firm silken tofu, but I couldn't find any, so I just used firm tofu instead (not silken) and it turned out fine.  For the record, I drained the water, but didn't press it. 
As for the cashews, I soaked them just over an hour.  A longer amount of time is fine (even preferred), but shorter won't work.  They need to get plump and soften.  Drain the water and rinse them afterwards. 
I don't like Tofutti cream cheese, so if you try this recipe with that brand, I'm not sure how it'll turn out.  I used 4 oz. (half the tub) of Follow Your Heart's vegan cream cheese.  And for the role of sour cream, I made a cashew crème with pureed cashews and lemon juice.  Hooray for dairy free cheesecakes. 🙂
I'm pretty satisfied with how it came out, although I would have preferred a less dense texture (if I'm being picky).  That said, I made it four days in advance, so it's hard to tell what it would have been like if I'd served it more immediately after I made it. 
As you can see, right out of the oven (left) it is more puffed up.  But after an about hour of time to cool on the counter (right), it sunk slightly, making it more cheesecake like in appearance.  Once it reached room temp, I put it in the fridge to chill all the way.  Ideally, I would have served it either later that night or the next day (giving it between 5 and 12 hours in the fridge…as opposed to 80).  Regardless of how long it sets in the fridge, make sure to take it out at least 30 minutes prior to serving.  It makes slicing it easier. 
Flavor wise I liked it.  It was perfectly sweet, but not too rich.  A nice creamy, thick dessert, with notes of pumpkin and spice.  My only real issue was with the crust.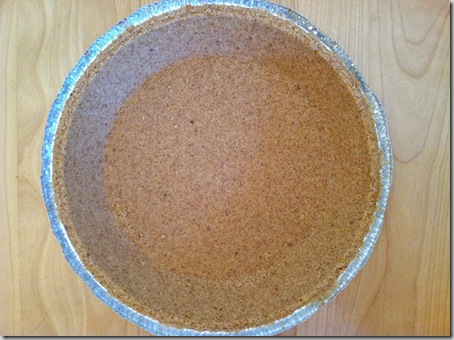 Because this dessert wasn't the only thing I was preparing for the holidays I went the lazy route and used a prepared graham cracker crust (Arrowhead Mills).  It wasn't my favorite though – so next time I'd use either of my previous crust recipes (dried fruit & nut based or traditional).  Both are gluten free and vegan.  And delicious.  If you use a prepared crust like the Arrowhead Mills one, the recipe isn't gluten free.  The pie filling on it's own, however, is.  So in order to make a gluten free cheesecake, just use one of the crust recipes I linked to above. 
For those with soy allergies, you could try omitting the tofu and increasing the amount of cashews and cream cheese.  For those with cashew allergies, either try a different nut (macadamia perhaps?) or swap in a vegan sour cream (ie Follow Your Heart brand).  Please note, these alterations are purely my best guesses, as I haven't tried any of them, and cannot account for how they will turn out.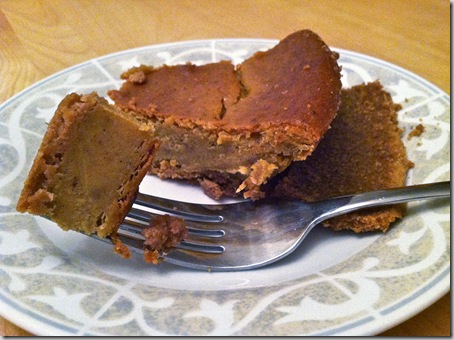 Above all…enjoy!