Top two complaints about being veg are (a) the price tag and (b) the time.*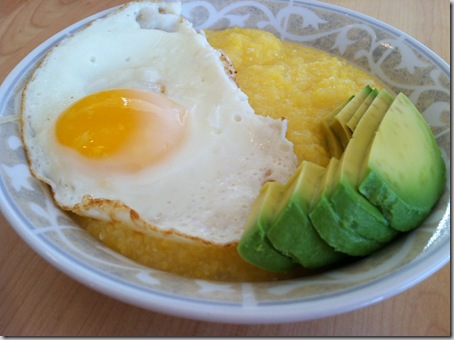 This meal cost two dollars.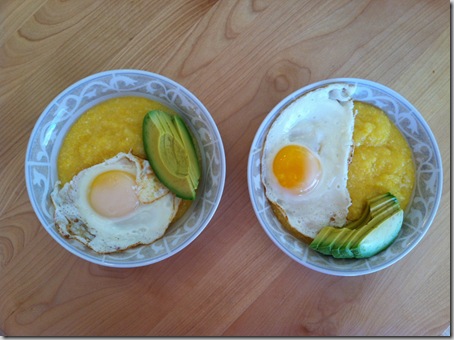 And that expense includes both bowls plus [un-pictured] second helpings.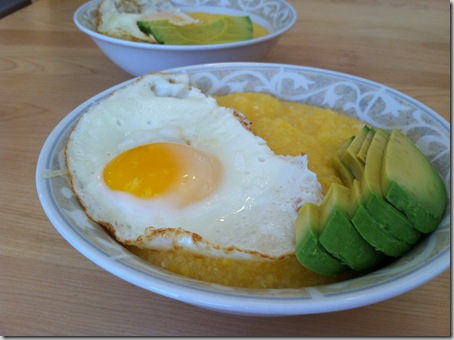 Balanced, whole foods based, with all the macronutrients represented.
And it took 10 minutes to make.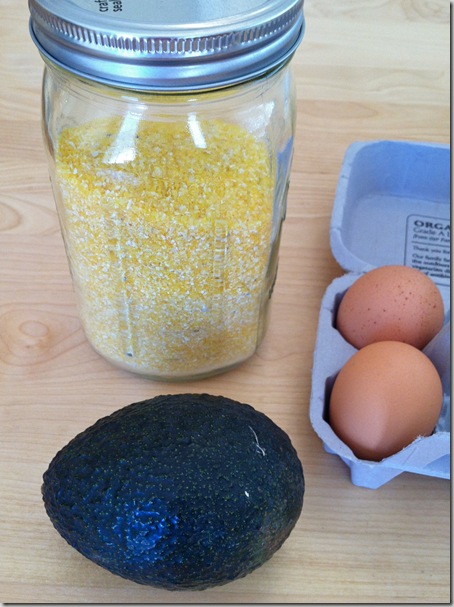 All you need is corn meal + eggs + avocado [all organic!].  Simple enough right?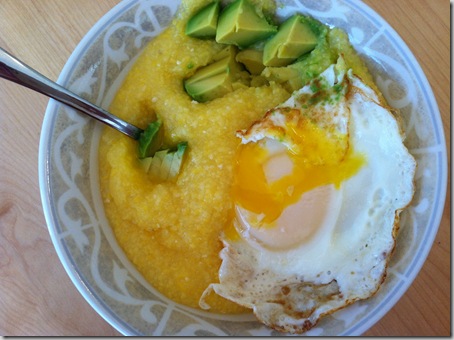 Jazz it up as you want afterwards, but this basic combo will do your appetite and your wallet just fine. 
Green Eggs & Cornmeal
Ingredients:
1 1/2 cup organic corn meal
3 cups liquid (water/plain almond milk)
2 organic eggs
1/2 avocado
(optional) 1 tbsp olive oil
Directions:
Bring water to a low boil.  Add corn meal and stir.  Reduce heat so it doesn't bubble and splatter all over the place.  Continue to stir it occasionally until the corn meal has cooked and reached a porridge like consistency.
Crack two eggs in a hot pan sprayed with cooking spray.  Turn heat to medium and cover with a lid so the eggs will fry on the bottom and steam on the top.
Once egg whites are entirely cooked and yolks have a sheer color on top remove from the heat.
To assemble, scoop corn grits into a bowl, cover with a fried egg and sliced avocado. 
And dig in!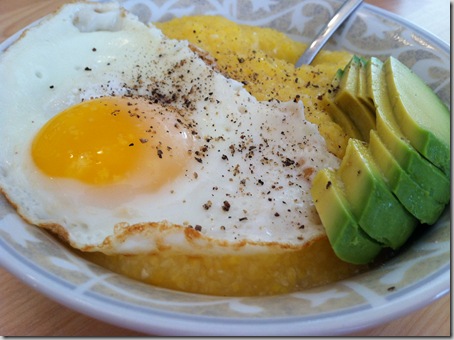 Add a drizzle of olive oil, a squeeze of lime juice, or salt & pepper if you wish.
I added some fresh grated parmesan cheese to Kyle's bowl (in between scoops of corn meal so it got all melty).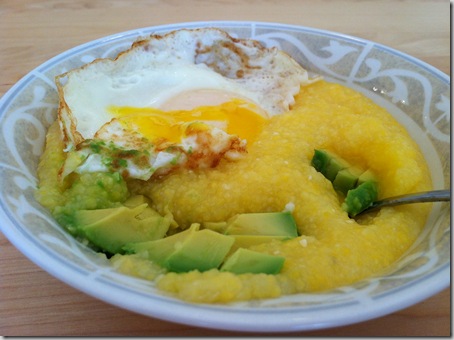 Quick.  Delicious.  Cheap. 
Any questions?
*I realize the transition from carnivore to veg head can be a weaning time, so if you're buying faux meat products and processed alternatives it may seem expensive…but you could just as easily be a whole foods connoisseur for a fraction of the price.  Bulk bins are a great place to find various grains, beans, and nuts that can make a meal ring in at $2 or less.  And if you don't have access to cheap bulk bins, search online.