Not a typical statement (or opinion).  For me at least.
But I'm being honest here.
Between the hours of noon and 5 pm, I graze.  Meals have no room here anymore.  And I'm not super proud of what has been going in my mouth this last week.  It's not terrible stuff.  But it still leaves me feeling blah.  I can do better.
I miss well balanced full meals.  They're easier to build – with all the macronutrients represented.  And they leave me sated for hours (until my next full meal).  Grazing is confusing.  I'm not really full (which is the idea, because it's so uncomfortable to be full these days), but I'm also not really satisfied.  So my appetite is still left wanting.  Lose lose.
I might be being hard on myself.  <– Um, yeah, more on that later.*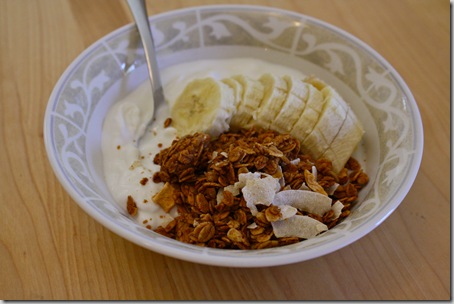 Not all the sweet stuff I choose is bad.  This bowl of Love Grown apple walnut delight granola with (extra) walnuts & bananas on vanilla greek yogurt was perfection.
I even had specific nutrient goals in mind as I put it together!  I made a point to bulk up the omega 3 fatty acids and potassium in this meal.  Baby needs as much omegas as possible in these last few weeks of brain development (and walnuts are a great source of ALA).  The potassium was for the leg cramping (although there are certainly better sources of potassium than bananas – ie potatoes, leafy greens, beans, dates, squash, avocados…).
But there are plenty of sweet snacks that are undocumented, where I go to town on the Costco trail mix.  It's so good, but ugh, it makes me feel like poop.
And almond milk ice cream!  Oh my cookies 'n cream.  Pregnancy needs to end.
On the left is a peanut butter/coconut oil combo melted over a frozen banana (makes a shell around it – so so good).  And on the right is a simple PB&J tortilla.  Not terrible, but not balanced.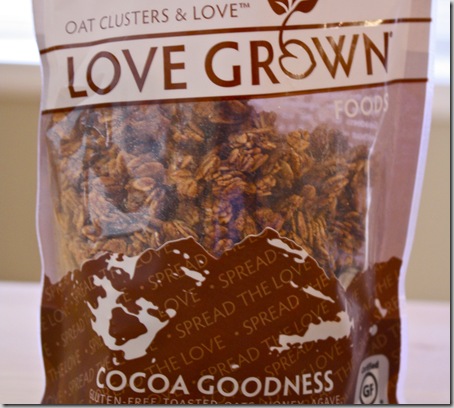 I took down this whole bag in 3 days.  Mostly plain, straight from the bag, handful by handful.  It's really dang addictive.  And the big clusters make it too easy to grab from the bag.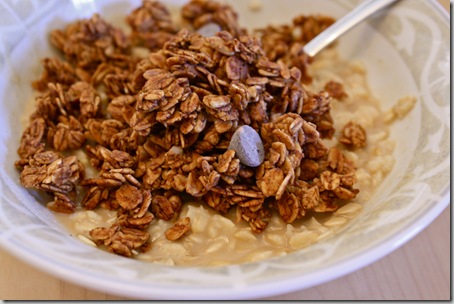 But I used it as an oatmeal topping too.  And as if chocolate granola wasn't decadent enough, imagine how awesome it tasted on top of peanut butter oats.  I added a very generous spoonful of peanut butter to that batch (I'd say the ratio of PB:oats was 2:1 and I'm being serious)!  It was so good that I had the exact same thing for back to back snacks.  Ummm, can we get some diversity up in here??
And since I'm off stevia during pregnancy, my hot chocolate is definitely sugar packed.  In case you couldn't tell from the line up, there's cocoa powder, ricemellow creme, maple syrup & almond milk in that lovely mug.
So yeah.  Chocolate, peanut butter, chocolate & nut trail mix, chocolate ice cream, peanut butter & jelly, hot cocoa…are you catching onto the theme…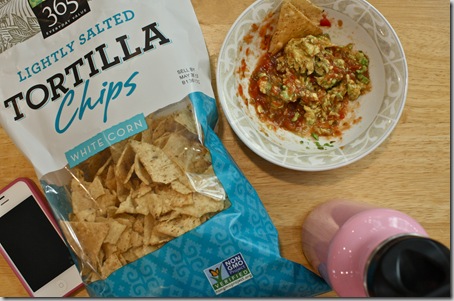 But let's not forget about the savory.  Salt is almost as addictive as sugar.  And this bag of 365 chips was abnormally salty.  Even Kyle commented on it.  We buy this kind all the time and whine about how there's not enough salt on it.  Ha!  Well, apparently others have complained too – and they did something about it!
Chips & salsa, chips & guacamole, pita chips, pita chips, pita chips, popcorn, popcorn, popcorn, roasted nuts…
You get the idea right?
So I'm trying be better about replacing the pantry snack scene with fresher fare.  Otherwise this pregnancy is going to go to hell in a hand basket.
*In the few days since I wrote this post, I realized I was definitely being too hard on myself.  I should know better.  I should know that my body goes through these ups and downs, pregnant or not.  Remember back when I was a salad fiend?  That was a beautiful phase – I'm sure it will be back soon enough.  Plus, it's not like I'm eating crap.  Even my snacky selections are still whole foods based.  I just had to vent a bit and get it out.  So now I can move on.
Elise January 23, 2013 almonds, avocado, chocolate, greek yogurt, love grown foods, nutbutter, nutmilk, nuts, p.b. and j, peanut butter, so delicious Read more >