This is gonna be a long one, but I like recapping our little family weekends, so this is selfishly for my own (online?) memory.
Friday morning I had my usual breakfast, toast with an egg.  Only I added something special, that I'll review more thoroughly later on.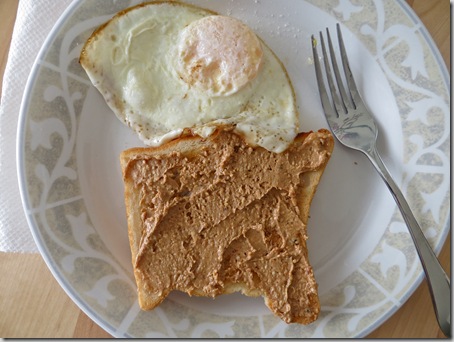 Hint: it's the peanut butter. 
After eating I spent the morning prepping for an interview.  I have mixed feelings about my timeline for going back to work and it's a complicated issue that I'm not going to discuss on the blog.  Once I know what the plan is, I'll share it.  But for now, it remains to be seen what will happen…
Since I was in Sacramento around noon, I grabbed lunch from The Plum Cafe.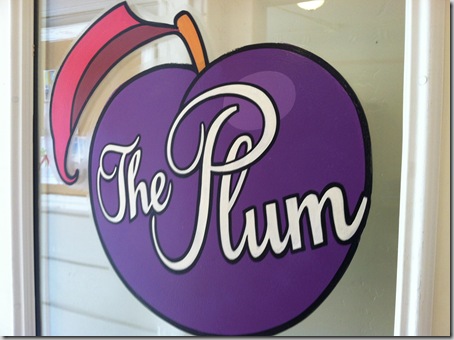 Back when I first mentioned I was moving to this area, several people commented about Sugar Plum Vegan.  It's in Sacramento, so I decided to look it up as a potential post-interview treat.  Then I read in the "about us" section of their website that they had a cafe as well and decided getting an actual meal would be a better idea.  Technically The Plum Cafe is no longer run by the same person who started it (she sold it to focus exclusively on Sugar Plum Vegan instead), but they still offer lots of the same baked goods.  Plus restaurant fare.  Whoa tangent.
I got the kale massage salad to go.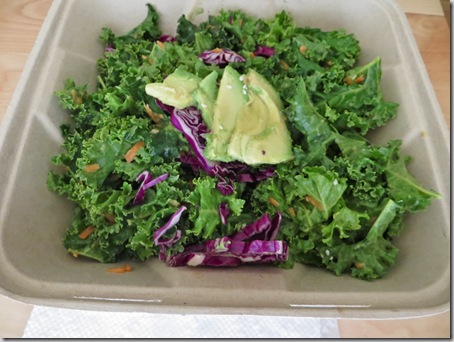 Kinda pathetic looking right?
The thing is, this wasn't actually what I was going to get.  At first I wanted the jackfruit tuna salad because I've never had jackfruit and it has always intrigued me.  But then I tried a sample before I got it and it was pretty bland.  So I asked how the kelp noodle dish was.  I also love kelp noodles and (as you can see) was trying to order something different.  When I'm dining out (or buying any food from a restaurant) I try to order things with unique ingredients that I don't make on my own.  When I asked the girl taking my order about how she liked that dish, she implied it wasn't their most popular (and basically told me to get something else).  I trust the employees to know what their best offerings are, so I just asked her what I should get, and she said the kale salad.
Cool.  I like kale.  If a kale salad is popular, it must be good.  I got it to go, along with a cowboy cookie (it's GF and vegan).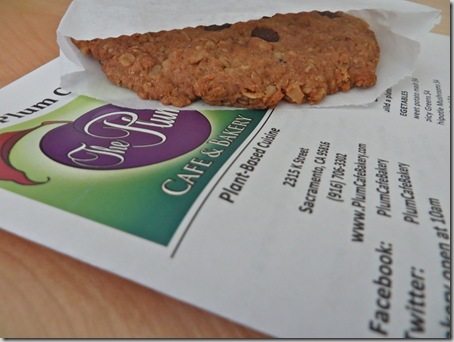 The salad was pretty pathetic in my opinion.  It had kale that had been barely massaged with dressing and a small amount of avocado.  And that's it.  For $9.50 I'd expect more.  Granted it was organic, but where are the carrots and cucumbers (that are in the menu description)? 
Maybe I'm spoiled having lived in NYC and LA.  If you've ever eaten a salad from One Lucky Duck or Native Foods you are probably in the same boat.  Kyle thought my higher standards had more to do with the fact that I could make this salad on my own with my eyes closed and he may be right there too.  I think restaurants should be able to make something better than I can.  But maybe (and I'm not trying to sound arrogant or cocky when I say this) I'm on the more skilled end of the vegan home-cooking spectrum?  In any event, I wasn't impressed and ended up adding nuts, tofu, and Bragg's aminos to the salad to make it hearty enough to count as lunch.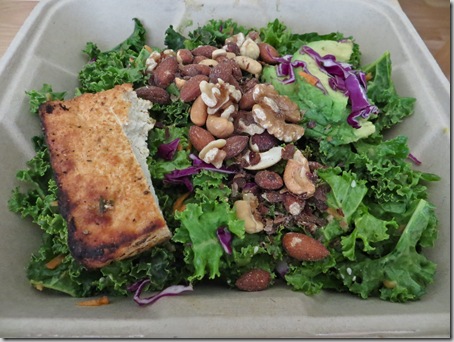 FYI, the cowboy cookie was great (it was oatmeal chocolate chip and did not skimp on the butter/oil).  So I still plan on going to Sugar Plum.  The moral of the story is go to The Plum Cafe for the baked goods.
After lunch we packed up and headed to my parents' house.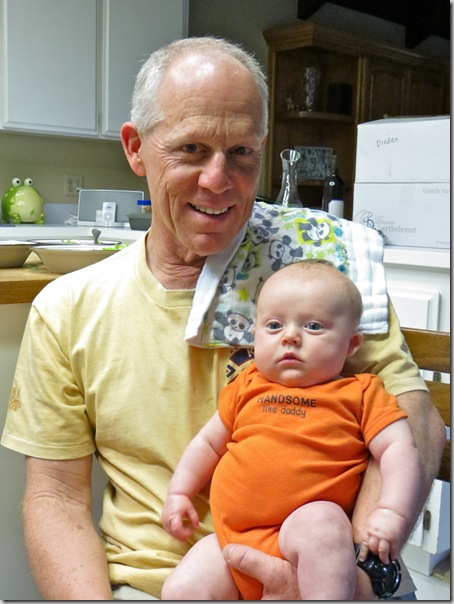 I'm loving how much more often we get to see them now that we are in Nor Cal!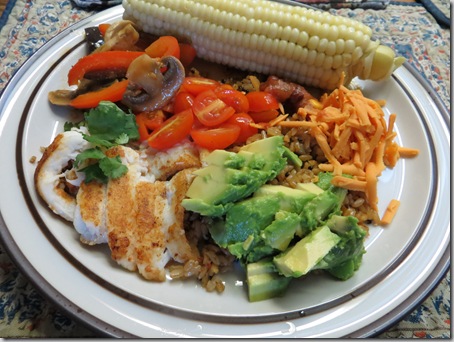 We were planning on having taco night, but my mom went kinda crazy at the grocery store and ended up getting lots of other stuff too.
She sautéed some cod while I chopped veggies and made a eggplant, bell pepper, mushroom stir fry.
The Mexi grain blend was a new to my product (I think she said it was from WF but it could have been TJs).  I'll have to keep my eye out for it.  It had a mix of grains including red quinoa and rice (already cooked), corn, and some other stuff with Mexican seasonings, so all you have to do is heat it.  We used two packets for the four of us, but had extra. 
My mom also got a block of Follow Your Heart vegan cheese for me.  I kinda forgot how much I like this cheese's flavor.  Lately, Daiya has taken over my life (and wallet), but pre-Daiya I was all about this stuff.  It doesn't melt as well but I may actually prefer the flavor (gasp!).
Oh, and there was corn on the cob too.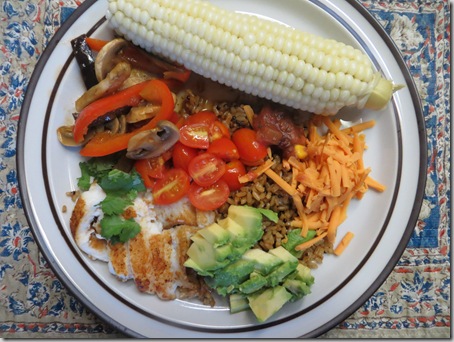 As you can see mine wasn't in taco form.  I nixed the shells because I wasn't in the mood for the oil.  My dad always fries them himself and while they are usually perfection, something about these corn tortillas (from TJs) was off because they were super hard.  They were more like tortilla chips than shells.  Kyle was the only one who had the patience to eat them. 
After dinner, we gave P a bath, read him a story, and put him down.  Side note: I do NOT remember The Giving Tree being such a depressing story!
While P went to sleep in the pack n play in our bedroom, Kyle and I went back out to the kitchen to hang out with my 'rents.  I checked on him a couple of times (no baby monitor at my parents' house) and he was sleeping soundly.
He woke up at 2 and 6 and after both breast feeding sessions went back to sleep.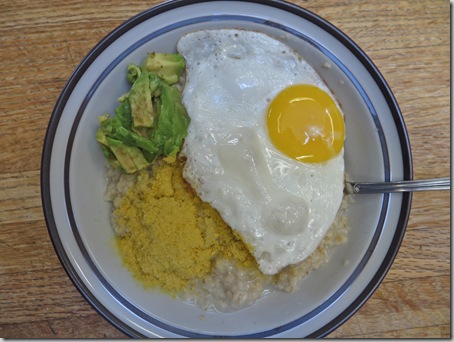 The next morning I made breakfast (oats, nooch, avo, and a fried egg) and caught up on all my Bravo trash, including the Rachel Zoe Project and The Real Housewives of the OC (mom, please don't delete the rest on your DVR because I haven't watched them yet!).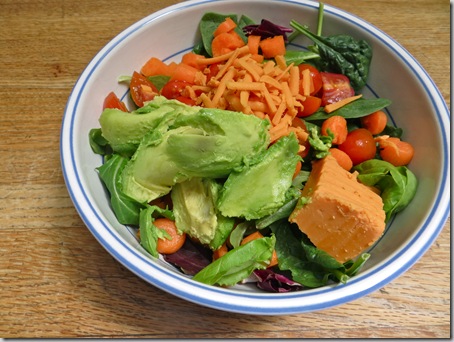 I didn't do anything active but was still hungry for lunch before noon even came. 
I made a salad with some of the leftovers from the previous night (mixed greens, tomatoes, FYH vegan cheddar cheese and avo).  Plus carrots and a non-grated hunk of cheese (I was lazy and didn't want to bother with dirtying and cleaning the grater).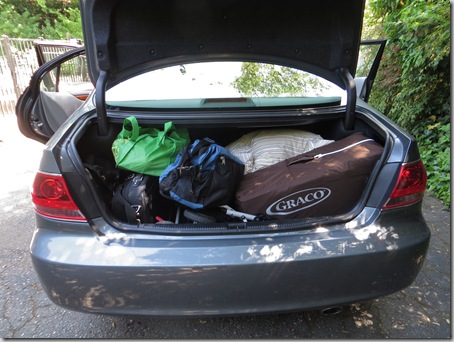 Once my dad got home from work in the afternoon (half day), we packed up for the weekend and headed up to Healdsburg for a wine weekend.  It's beyond cozy stuffing five people (including a car-seated infant) and all their belongings in a sedan.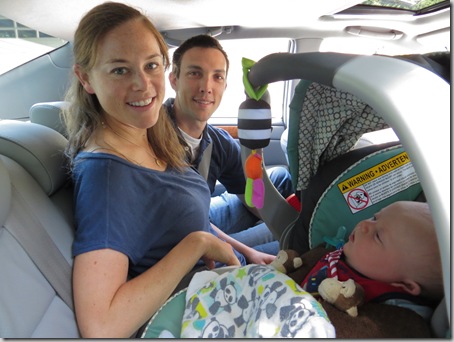 This past Saturday and Sunday was Passport weekend in Dry Creek Valley.  If you want to know more about it, check out this site, but basically you buy a pass and then you get access to all the (50+ participating) wineries, where they have fancy food and wine pairings and entertainment to showcase their grapes. 
I've been twice before and it's so much fun. 
Because my dad was on call for Saturday we only got Sunday passes.  They didn't used to sell individual days, but then the weekend got so popular they started to in order to allow more peeps access delicious vino. <— info straight from my dad
We got to my grandpa's vineyard by 5ish, introduced him to P, snacked on roasted nuts for a while, and finally headed to dinner in downtown Healdsburg.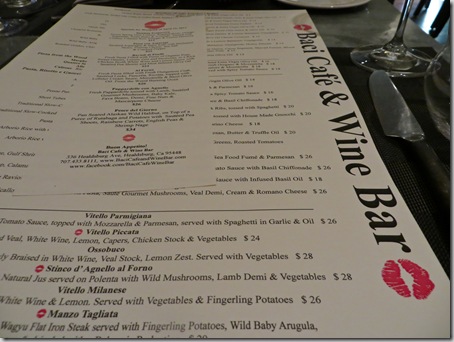 My dad made a reservation at Baci Cafe & Wine Bar a while ago, and (full disclosure) I wasn't really stoked on the place before we went.  My dad has really good taste, but the place is Italian (as in, real authentic Italian), which is never my first choice in cuisine because their vegan offerings are usually non-existent.  I'm no longer vegan, but I am still dairy free, meat free, and wheat avoidant. 
The regular menu has no fish options, and all the pizzas and pastas have either meat, dairy or both.  I knew this going in to the meal because I scouted out the menu beforehand, so I had a game plan to either get lots of veggie sides and/or a modified starter salad. 
We started with Villa Sparina Gavi, a new wine to all of us.  It was a favorite of the owner's, who was kind enough to visit the table to guide my dad in his selection (upon his request).  He didn't actually ask for the owner, just someone who knew wine, but that's who our waiter sent to help us.  Baci's is a family run restaurant (our waiter was the son of the owners) and it's personal touches like that which take the dining experience to another level.  It was, in fact, the first indication that we were in for an exceptional night, above and beyond the norm. 
As far as I knew, we all enjoyed the wine.  I only had a small glass, but I definitely liked it.  They buy it from a distributor who imports it directly from Italy, so I don't think you can buy it anywhere in retail stores.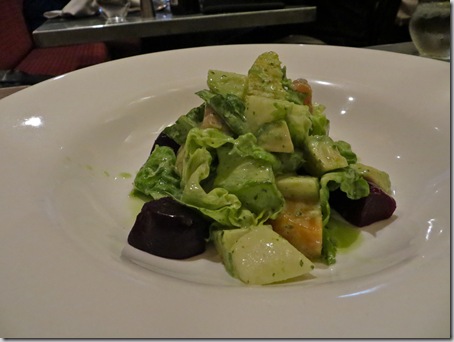 My mom, Kyle, and I all shared this salad.  It was one of the specials so I can't find the description online, but it had beets, avocado and greens with some kind of delicious creamy cilantro dressing.  So so good!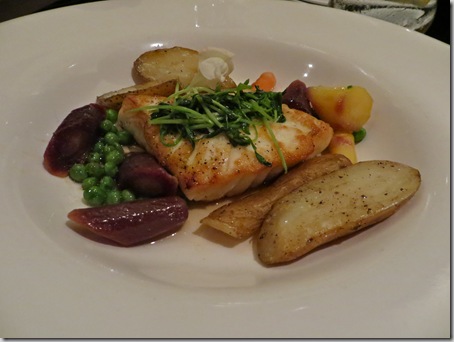 My dinner was also one of the specials, which was then modified to meet my dietary specifications.  The halibut caught my eye the second I saw the daily menu, and so I asked our waiter about if it could be made without dairy (butter).  He told me he'd go ask the chef (who was his father – I told you it was a family operation).  He came back and said they could do it.
After our orders were placed, the chef came out to talk to me.  He said the fish could be made without butter, no problem, but the pea puree that it came with had dairy in it.  He asked if I would like roasted potatoes instead, which I obviously accepted. 
I couldn't believe the head chef of this wonderful restaurant came out from the kitchen just to ask me about the specifics of my dietary request.  Such service!  It just goes to show you that catering to your guests will get you happy (and repeat) customers, as opposed to chefs who stick to the no substitutions policy. 
The meal was awesome, too, by the way. 
No photos of dessert because I didn't have any, but the gelato was the creamiest stuff I have ever laid eyes on.  It was thick and stretched from the spoon like string cheese.  My parents and Kyle split the pistachio and vanilla, and everyone raved about the pistachio.  Another Italian import that blew the table's minds. 
Because we got back to my grandpa's so late, we skipped bath and story time and just dimmed the lights while I nursed P.
Another night of him sleeping soundly in the pack n play in a foreign setting.  I swear, this kid is just too good for words.  I woke up to feed him at 2:30 am and 7 am, after which I planned on staying up…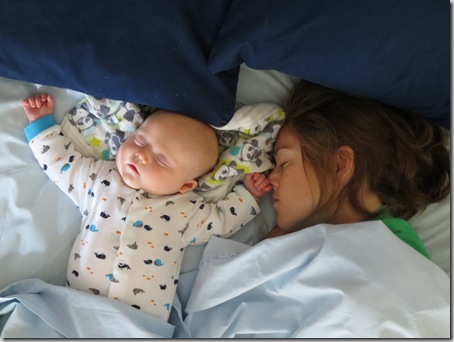 But then we both passed back out.  Kyle took these photos and then left us to rest some more. 
I got up for reals at 8:15 and the rest of the fam was already done with breakfast.  My grandpa had made two big smoothies – one of which was non-dairy for me.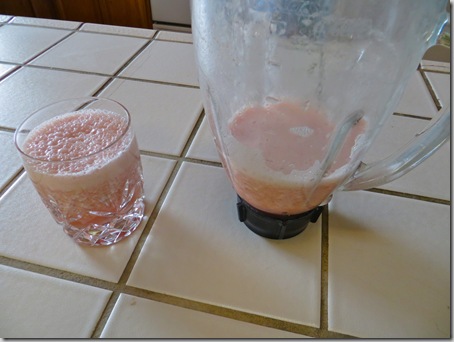 I had one glass and saved the other in the fridge for later.  It was actually pretty good, and I'm kinda picky about my smoothies.  He used strawberries, bananas, and orange juice.  I'm not sure if that's it, but that's all he mentioned.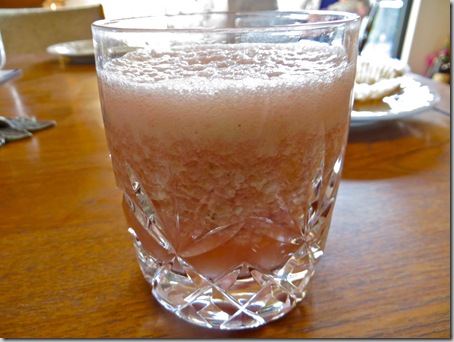 My parents and Kyle worked the first shift of the day at Mauritson from 9:30 to 1.  Volunteering is optional obviously, but it can be a fun (depending on the winery) and it gets you Passports for the weekend.  I stayed at my grandpa's vineyard with P while they worked.  Kyle flipped buns next to Charlie Palmer all morning and both my dad and I were way jealous.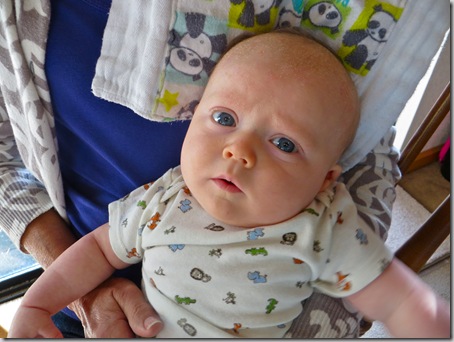 While they were working, I ate breakfast (no photo, but it was fresh walnut bread and two fried eggs), nursed P, pumped breast milk twice (for later), and gave P a mini bath.  I also scoped out the wineries that I wanted to hit up in the afternoon.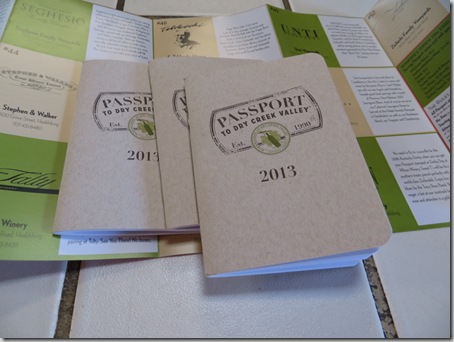 I nursed P right before my parents and Kyle got back and then gave my dad a few seconds of instructions before my mom, Kyle and I set back out to do some wine tasting.  Hooray for my dad babysitting (slash staying sober)!!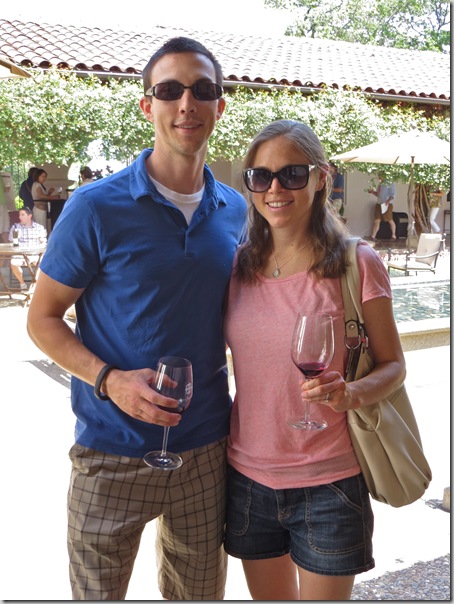 The first stop was Michel-Schlumberger.  Kyle and I remember loving it when we went in the past, and even though it is now under new ownership, it's still great.  They are no longer organic, but aside from that, the wines were delicious.  Kyle said their Cab was his favorite of the day.  I liked the Chardonnay, but I definitely can't drink more than 4 sips of those kinds of whites.  I also liked the Cab, but not the same one Kyle did (he liked the younger one, but I liked the 2010).  It helped that it was paired with a chocolate covered crostini sprinkled with sea salt.  I tried their olive oil too, but it was only so-so.
After that we headed to Quivira.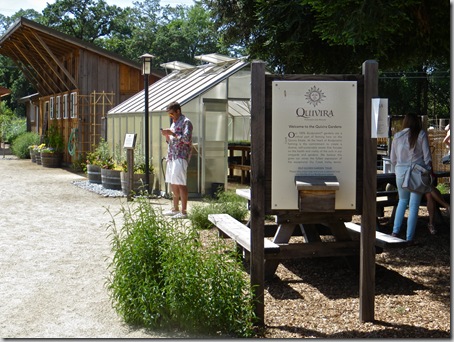 This is another favorite of mine.  My grandpa's grapes used to go to their Zinfandel, so I'm partial to them in that regard, but they are also organic and they farm the whole vineyard biodynamically.  They have solar panels and use their own bees to pollinate.  And the gardens!  In addition to the wine, they were offering tastings of their estate olive oil, honey, and preserves.  The olive oil was so good we bought a bottle.  My favorite of their wines was the Grenache.  It was so unique.
Next on the agenda was Rafanelli. 
They were WAY popular as evidenced by the line winding down the driveway.  We got a sample of the Zin while waiting, which was my favorite wine of the day.  After ten minutes or so without advancing in the line, we ditched for the next winery.  We only had 3 hours total, so we had to be strategic. 
Passalacqua was our next destination.  By this point I was getting a little buzzed though so I only sampled a few of the wines.  None of them stood out to me though.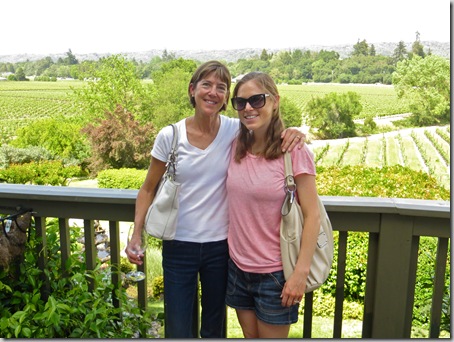 The view was pretty exceptional though, huh.
Across the street was our final stop, Dry Creek Vineyard.  This is where my parents worked last year.  We didn't try very many wines here because we were slightly turned off by the staff.  They were highly suspicious of us for some reason since we didn't have the necklace things that most people had.  We tried explaining that we had growers passports and didn't have lanyards because we worked in the morning and never went to the check in area.  Meh.  I didn't really care that I only tried a few wines there.  By that point it was nearly 4 pm (when the event ends) and I needed to sober up.
We stopped by the Healdsburg General Store on the way back to my grandpa's so I could get a real meal (the dairy free and veg friendly nibbles at the wineries were few and far between).  I got a delicious egg salad over greens.
Back at the vineyard, my grandpa, dad and P were chillin'.  My dad had given P one of the bottles I had pumped earlier and he took it like a champ (first bottle he's gotten since the NICU!).  I have been so reluctant to give him a bottle, for a variety of reasons, but I can't exclusively breast feed (and have no social life) forever.  This was a big step for us both. 
My dad was our DD and drove us all back to my parents' house that evening.  We hit lots of traffic but rather than stay the night at my parents Kyle and I just drove back to Davis (after changing and nursing P at my parents' house).
We got in late, after making a WF stop for dinner, and then got P's bedtime routine under way.
Even though he was still awake when I put him in his crib he just quietly wiggled flailed all extremities until he dozed off.  In other news, he has found his thumb!  It's very exciting for him to be able to self soothe (without the pacifier). 
Guess what!?!  He slept from 9:30 pm (or whenever he finally fell asleep) straight until 7:15 am!  ALL.  THROUGH.  THE.  NIGHT.
And he wasn't even crazy when he woke up.  We heard him on the monitor and went into his room and he greeted us both with a big huge smile.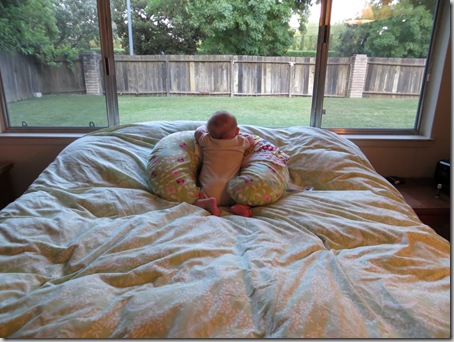 I love this kid.
So much.
Elise April 30, 2013 avocado, big salad, eggs, fish, follow your heart, kale, mexican food, nooch, oatmeal, potatoes, smoothie, vegan cookies, whole foods Read more >