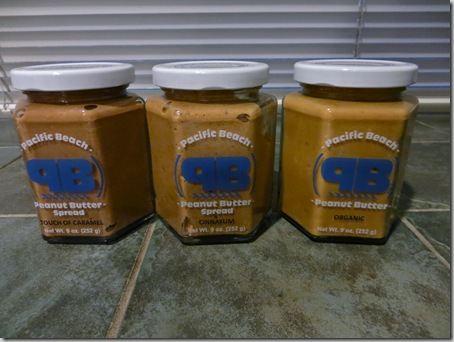 Whoa.
I mentioned I was in a "nut rut" last week, and it's only been increasing thanks to this new kind of peanut butter.
Pacific Beach Peanut Butter offered to send me some samples and I figured it would be the perfect thing to greet me as I arrived in Nor Cal.  The timing was awesome and I had a lovely package (with the 3 nut butters you see above) waiting for me after the long drive up the I-5.
Let me tell you.  When you can't be bothered to put together a "real" meal because your kitchen is a total disaster scene and you have no clue which boxes have useful things (like pots and pans) and which have non-essentials (like mini urns for oil and vinegar from Spain), it's really helpful to have jars of PB on hand.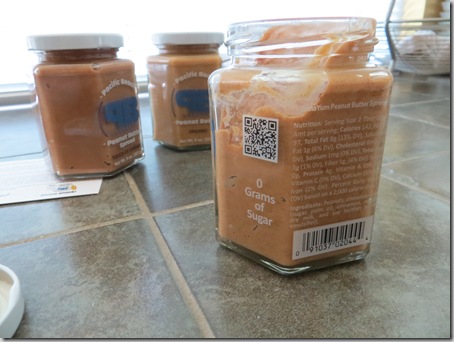 Actually, it's ALWAYS good to have jars of this deliciousness on hand.  Right?  I gave the cinnayum flavor a try first because it's one of their most popular varieties.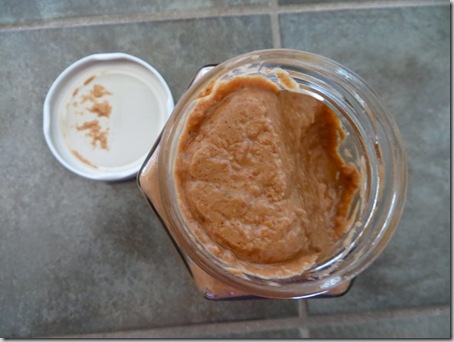 I'm in love.  Unlike most natural peanut butters, this didn't have the oil and nut separation issue.  It's not fully smooth, so it has a slight crunch, without being totally chunky.  And it was soft and totally spreadable (didn't even need the help of microwaving like they suggest).  I think warming it would have sent me into full on attack mode with my spoon.  Given how long this move-in process is taking, it's a miracle there's any left to be honest.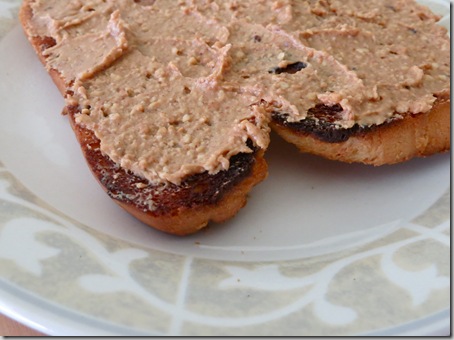 When I put it on toast it tasted just like cinnamon toast crunch cereal.  Ummm, yeah.  Do I need to say more?
I'm really excited to give the OG flavor (organic Valencia) a try next.  I'm going to use it in a peanut dressing.  That nutty salad rut is still going strong!
I think I have a Thai themed kale salad in my future.
Oh and BTW.  If you guys want to get your own PB hook up, you can get ONE FREE JAR with the  purchase of any two from their website using the code blogger4 (valid through May 16, 2013, limit 1 FREE jar per customer).  Kinda awesome.
*Edited to add [for those having issues with the code]*
From the PB rep "They should have at least 3 items in their cart. The coupon is for buy 2 get 1, so they would need to add all three jars in the cart including the free one, then the coupon will take the third jar off the total. I just went into the site and it worked for me."