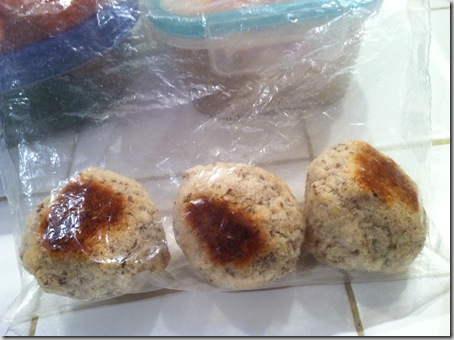 Not meatballs.
I should have made a bigger batch of these coconut macaroon things because Kyle ate half of them before I even tried one.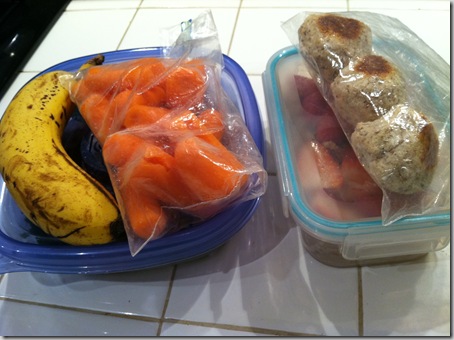 Work food.  Banana.  Carrots.  Macaroons.
It would probably blow your mind to know how many carrots we go through in our little hippie household.  I eat half a pound a day, minimum.  If our fridge were bigger it would be packed with orange.  As it is, we have one crisper drawer solely devoted to those two pound bags (plural).
Almond milk is another thing we seem to restock at a insane rate – three or four cartons a week!  I'm telling you guys, we are keeping Blue Diamond in business.  I'm curious about the new Silk almond milk with 35 calories (per serving).  Anyone tried it?  I loved the older Silk almond milk, but the nutritional stats on Almond Breeze's unsweetened vanilla almond milk are better (0 g sugar vs 15 g sugar).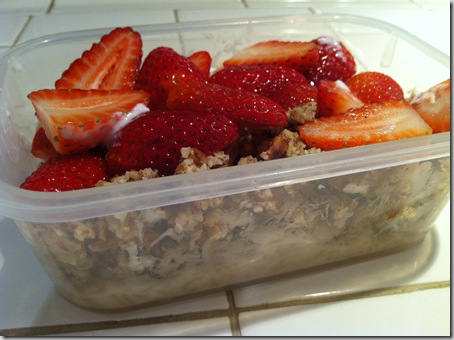 A break from my breakfast routine!  Not oats!!  I didn't stray too far – I swapped brown rice for oats, which I mashed with greek yogurt and vanilla almond milk.  Then I added (home-made) no-grain-ola and fresh strawberries.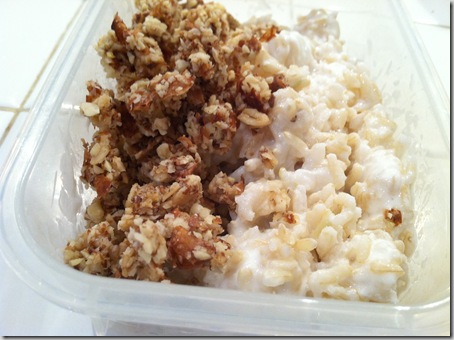 Yum!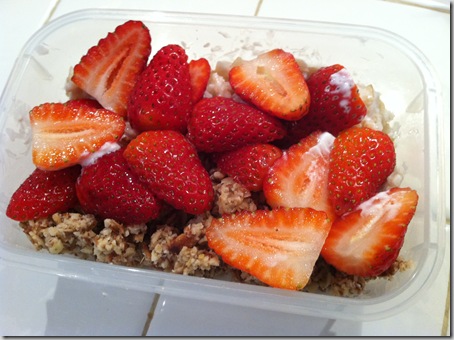 It was really really good.  Held me over until lunch.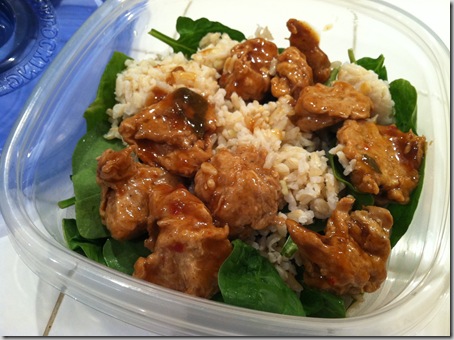 Spinach, brown rice, General Tso's soy chicken (from Whole Foods). 
This is the meal I enjoyed in the gorgeous sunshine.
Unpictured dessert: the best chocolate ever.  Stay tuned.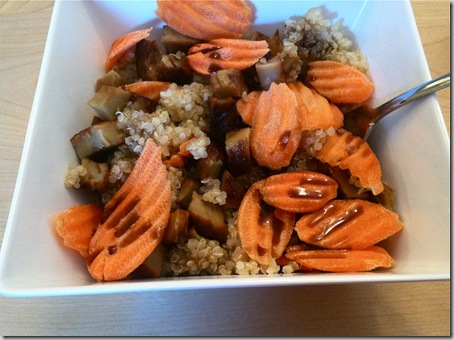 I got home and threw together my go-to combo of seitan, quinoa, and carrots. 
I swore I was going to stop taking pictures of this combo since it is something I eat at least once a week (which makes for highly repetitive blog material), but I seem to have an influx of new readers lately (hi!), so I felt like showing a classic hippie bowl.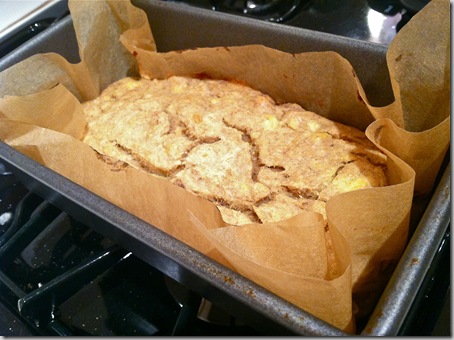 For dessert I had a few slices of warm banana bread.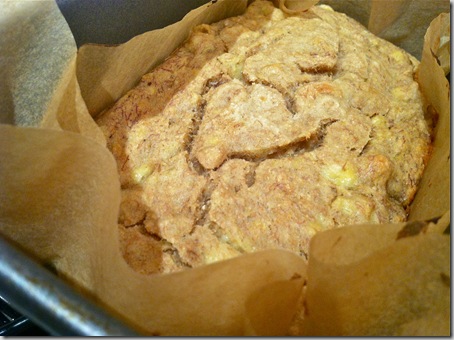 There's no need to share a recipe here since I made it while I was on the phone with my sister (in Australia) and didn't measure anything.  Not only was I hardly paying attention to the baking process, but I forgot to use an egg/"egg" substitute.  Accordingly, it turned out pretty dense.  Kinda like banana pancakes.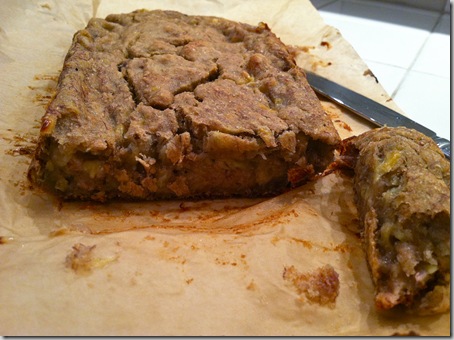 But whatever, it tasted good. 
I had some on the way to work the next morning too.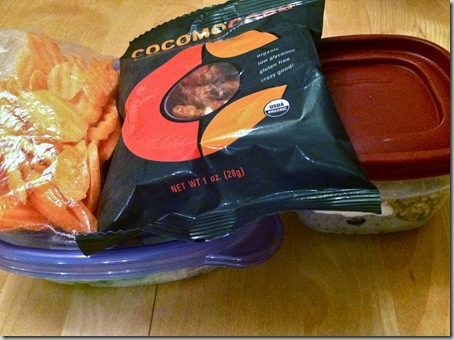 If you're thinking this pre-packed collection looks a little sparse it's because I have a confession.
I have become addicted to the french toast from our hospital cafeteria.  I'm sure it's made with the most nutrient void white bread, but it's so fluffy and yummy.  For a variety of reasons, I never buy anything from the cafeteria.  First off, they don't really have much that interests me.  Second, it's more economical to pack my own stuff.  Third, running downstairs to get food is almost always impossible with the work load and patient care.  And finally, it's a gamble eating things that I didn't make since I can't account for the exact ingredients or cross-contamination (which is a real gamble given my GI sensitivities).
All that considered, I bought french toast both days this weekend.  I think my co-workers almost fainted in shock.  I dunked each bite in real maple syrup and it was delicious.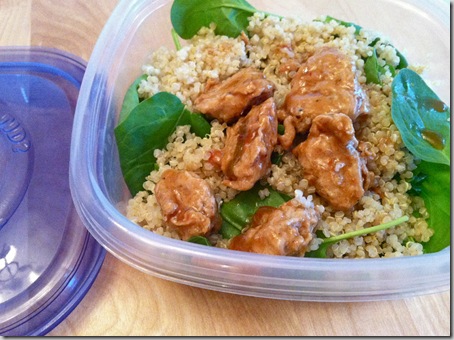 For lunch I had the same thing as the previous day but with quinoa instead of brown rice.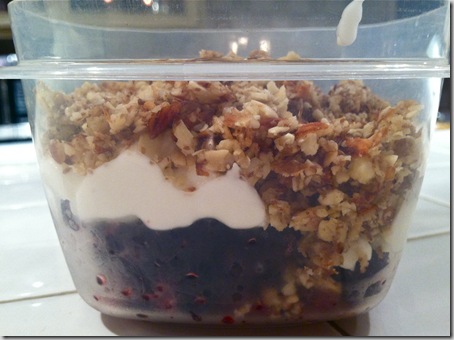 And because my appetite was still thriving, I had my packed breakfast parfait as an afternoon snack.  It had berries, greek yogurt, & home-made no-grain-ola.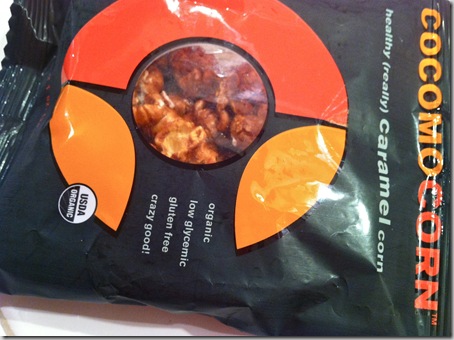 I snacked on Cocomo Joe CocomoCorn on the way home from work.  Oh my gosh this stuff is good.  Really really good.  I had no idea how they were going to replicate the flavors of caramel corn with healthy ingredients, but they definitely did.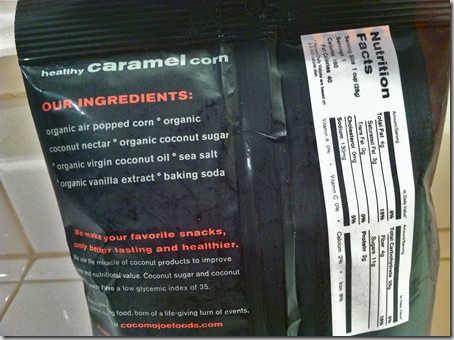 It's sweetened with coconut nectar and coconut sugar so it's both vegan and FODMAPs friendly.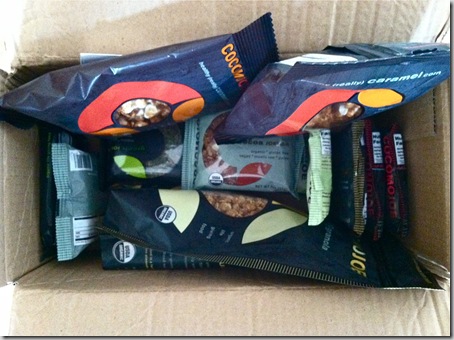 Now I'm reallllly excited to try the rest of the goodies they sent me 🙂
All of them are vegan, gluten free, organic, and paleo (I'm not following a paleo diet, but I know tons of people are – and as an aside, I've noticed many overlaps in the paleo diet and the low FODMAPs diet).  Many of the Cocomo Joe products are raw too. 
I wasn't that hungry when I got home from work, so I made a quick scramble with eggs, seitan, and spinach.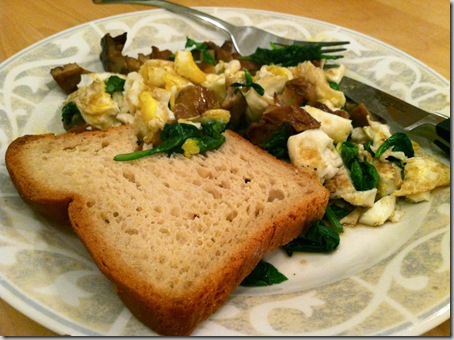 I had a piece of Rudi's GF bread on the side.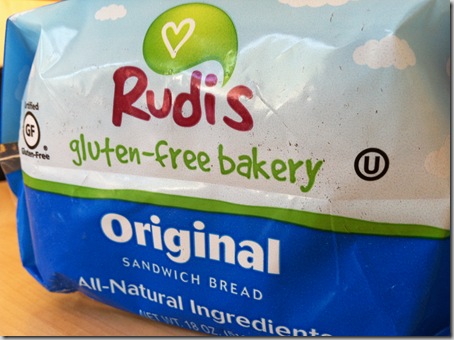 Taste-wise it's really good (reminds me of a brioche-like egg bread).  However it tends to crumble more than gluten breads, which means it's not great for mopping up leftover stir-fry seitan juice or runny egg yolks.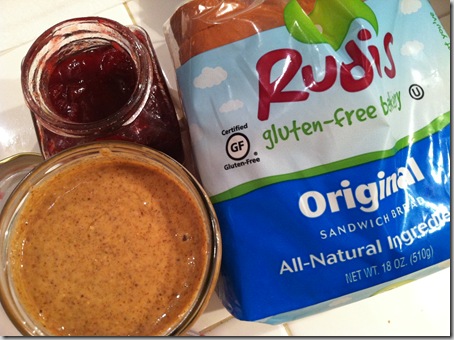 When it comes to sandwiches, it's better to toast the bread first.  I've found that helps it hold together better.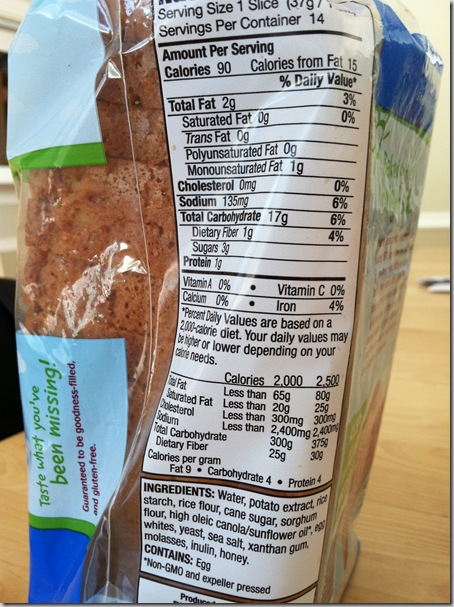 As far as gluten free breads go, it replicates the fluffy sandwich bread quality of wheat bread pretty well.  It's a far cry from the dense Food For Life millet bread (or my brick-like home-made attempts).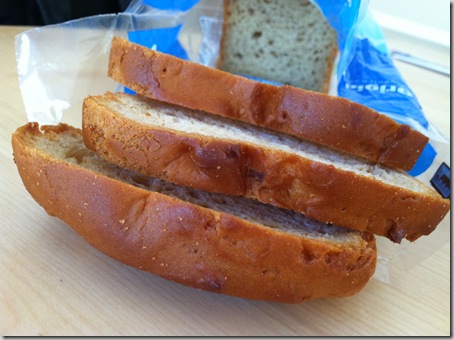 And it's soy free and gluten free.  I bet it would be excellent for french toast…just sayin 😉
Instead of dessert I had hot cocoa (Chatfield's cocoa + NuNatural stevia + almond milk + water) with one massive home-made marshmallow.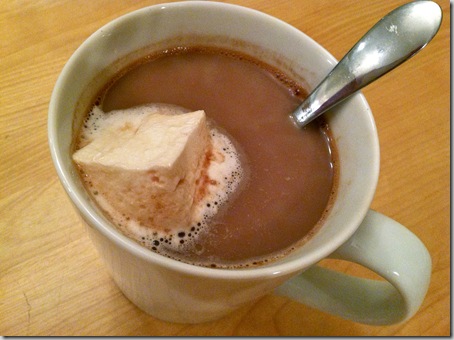 Since I was extremely exhausted and Kyle was out at bars with friends, I went to bed almost immediately after eating.  My shift was so insane, I just wanted to collapse in my pillow.  So I did. 
Then I woke up and started the entire routine again.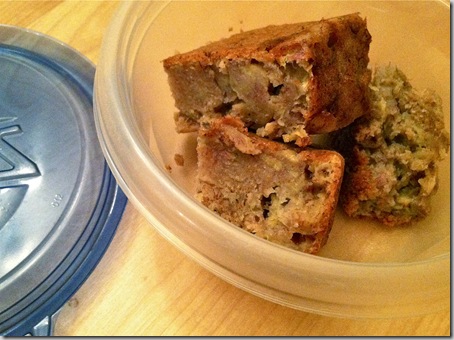 I brought three pieces of banana bread to snack on over the day. 
And a AB&J sammie.  I brought it as a back-up knowing full well I was really going to buy french toast again (if I could find the time to get to the caf).
Un-processed through and through.  From the home-made almond butter to my mom's home-made plum jam to the home-made wheat bread.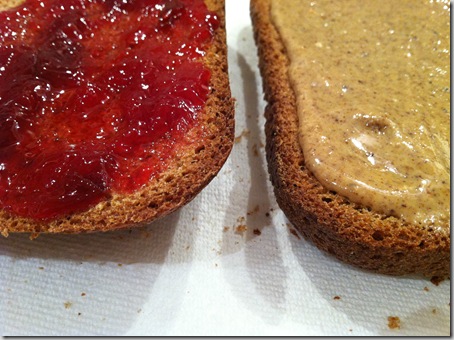 But I definitely got the cafeteria french toast again.  I'm considering it my weekend treat.  I have to have something to look forward to when I'm at the hospital and everyone else Kyle is off.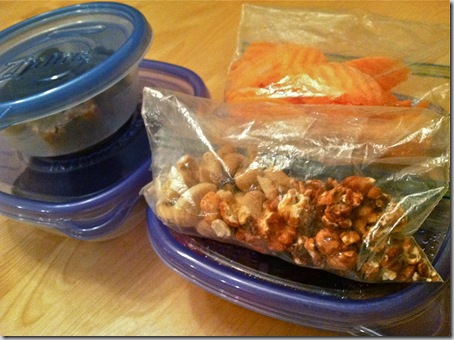 I'm happy to report, my Sunday shift was MUCH better than my Saturday shift.  Generally speaking, the pace of weekend shifts is slower.  But that was not the case on Saturday.  Not one bit.  Which is why I didn't know what I was going to come back to on Sunday.  But even after completely chaotic shifts (playing that never-ending catch up game), at least by the next day you know the patients and are already familiar with their plans of care, their meds, their tests, etc.  So I hit the ground running.  As a result, the day went much more smoothly.  What can I say, I like routine just as much as the next person.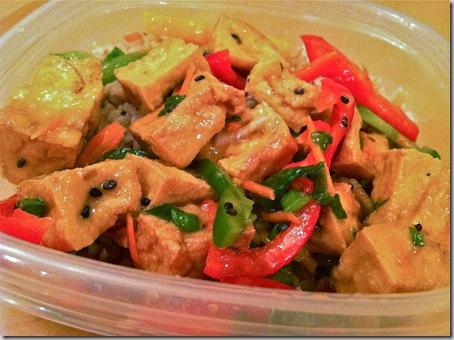 Check out my bomb lunch. 
Kyle drove over to the hospital to meet up with me on my break.  It was awesome.  He knows my lunch "spot" in the village so he was there waiting for me.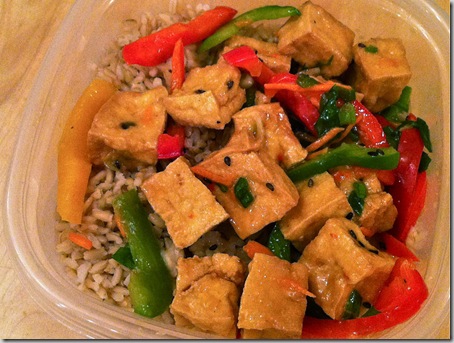 This tofu dish was another leftover Whole Foods dish.  I added it to a massive portion of brown rice (which you can't see from this photo).  The sauce was sticky savory perfection and coated the rice so nicely.  I ate all the rice but mostly just picked out the tofu.
Kyle finished off the leftover onions and peppers that I didn't eat.
We walked to TJ's to grab some necessities before I headed back to work.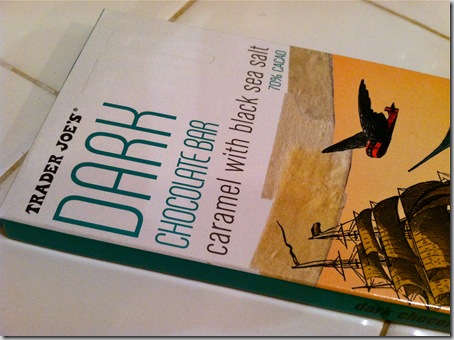 This is what I mean by necessities.  I almost didn't want to share this for fear that my curse would result.  I'm going to go back to Trader Joe's and buy the entire stock just in case. 
I came home to BBQ leftovers. 
Zucchini with olive oil, salt and pepper.  Pus tofurky Italian sausage.  And brown rice in the cooker.  Can you believe this is the fare chosen by three boys?  What a time-saver not having to make a separate meal for myself (I hope this trend means plant based eats are gaining popularity among the carnivorous). 
I started with a moderate serving, but once I discovered how spicy the vegan sausage was I added another two scoops of rice and zucchini to help my taste buds out.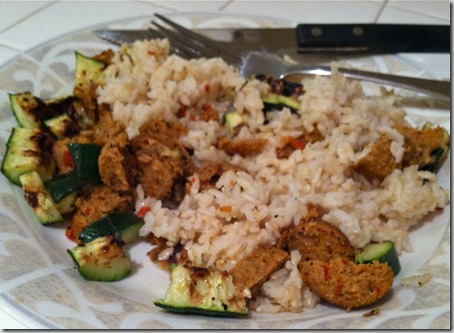 I had another chunk of the dark chocolate with caramel and sea salt for dessert.  Plus more marshmallow-ed hot cocoa.
Since I know I'll get some questions about it, no the chocolate is not vegan (the caramel has small amounts of dairy), but eaten in moderation it's not enough to kill me.  I've said it before, and I'll say it again, being low FODMAPs means I'm able to enjoy certain amounts of things I previously completely avoided (because I didn't understand the pattern of why/when they would cause GI symptoms).  Now that I know how to eat to keep the FODMAPs load on my gut low over the course of the day, it's allowed me to savor these small things (like pieces of chocolate).