I'm having one of those days where all the little things that usually wouldn't be annoying are adding up and driving me crazy.  My fuse is too short and my patience is shot and I'm having to practice every technique imaginable to not blow up at my kids for things they share only 50% of the blame.  And now I'm here at the computer because typing it all out is a therapy of sorts.  Also, Kyle's out of town* so I have nothing else to do at night.
*He's back now and no more major trip are in his future until 2018!  Heyoooo!!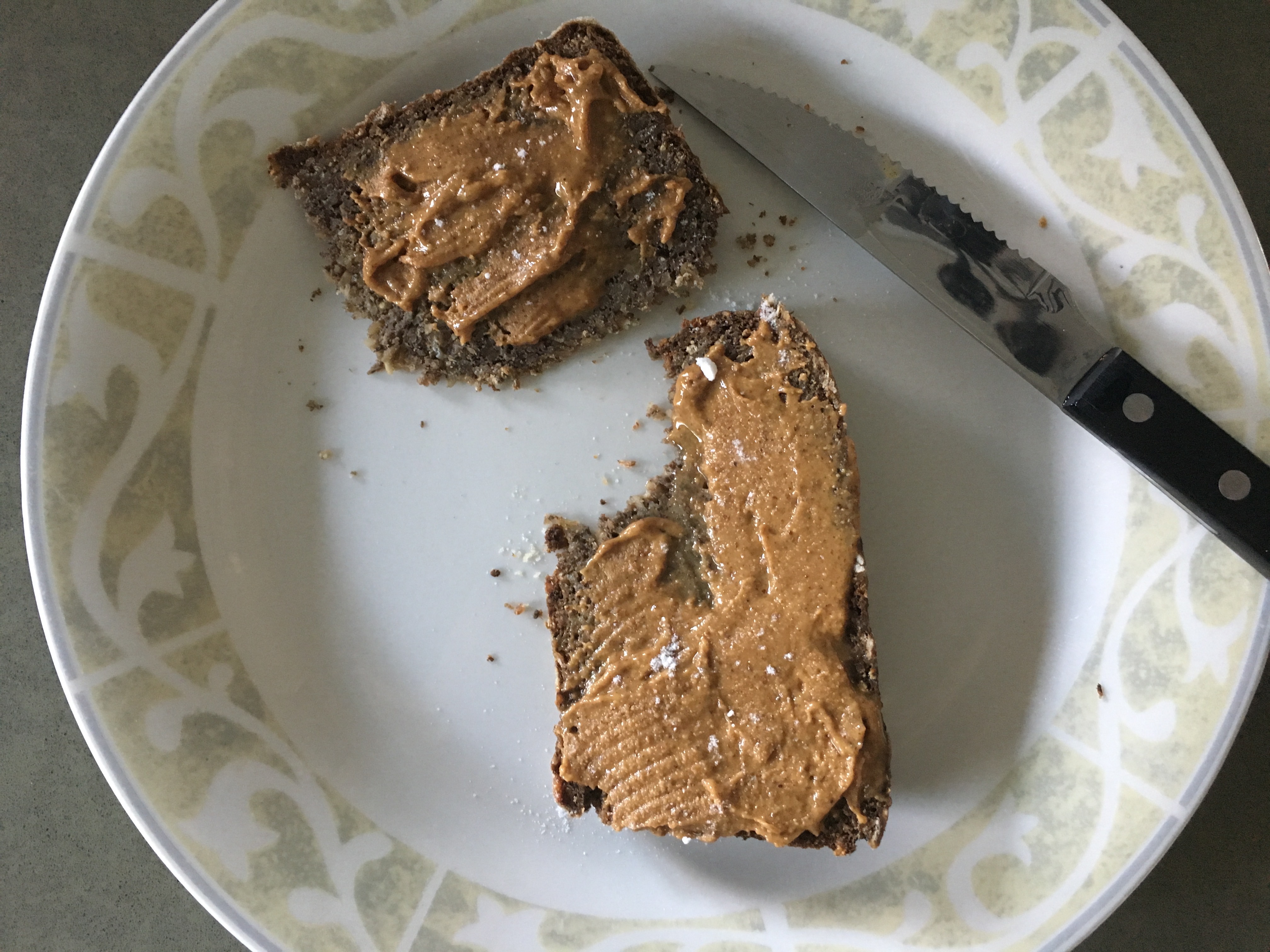 Well here's a breakfast you've never seen before?!  JK!   In the interest of saving time, here's the next day's breakfast too.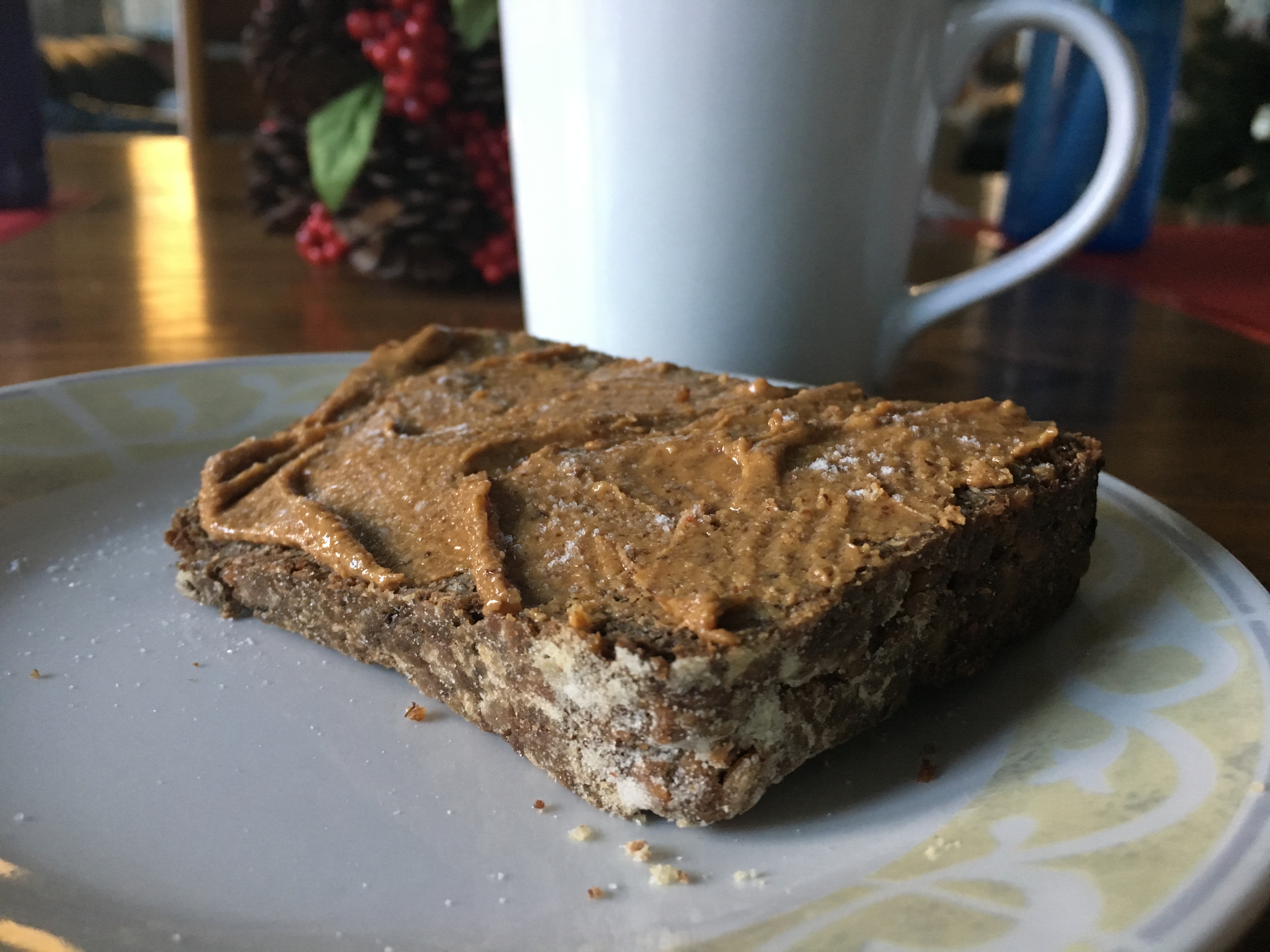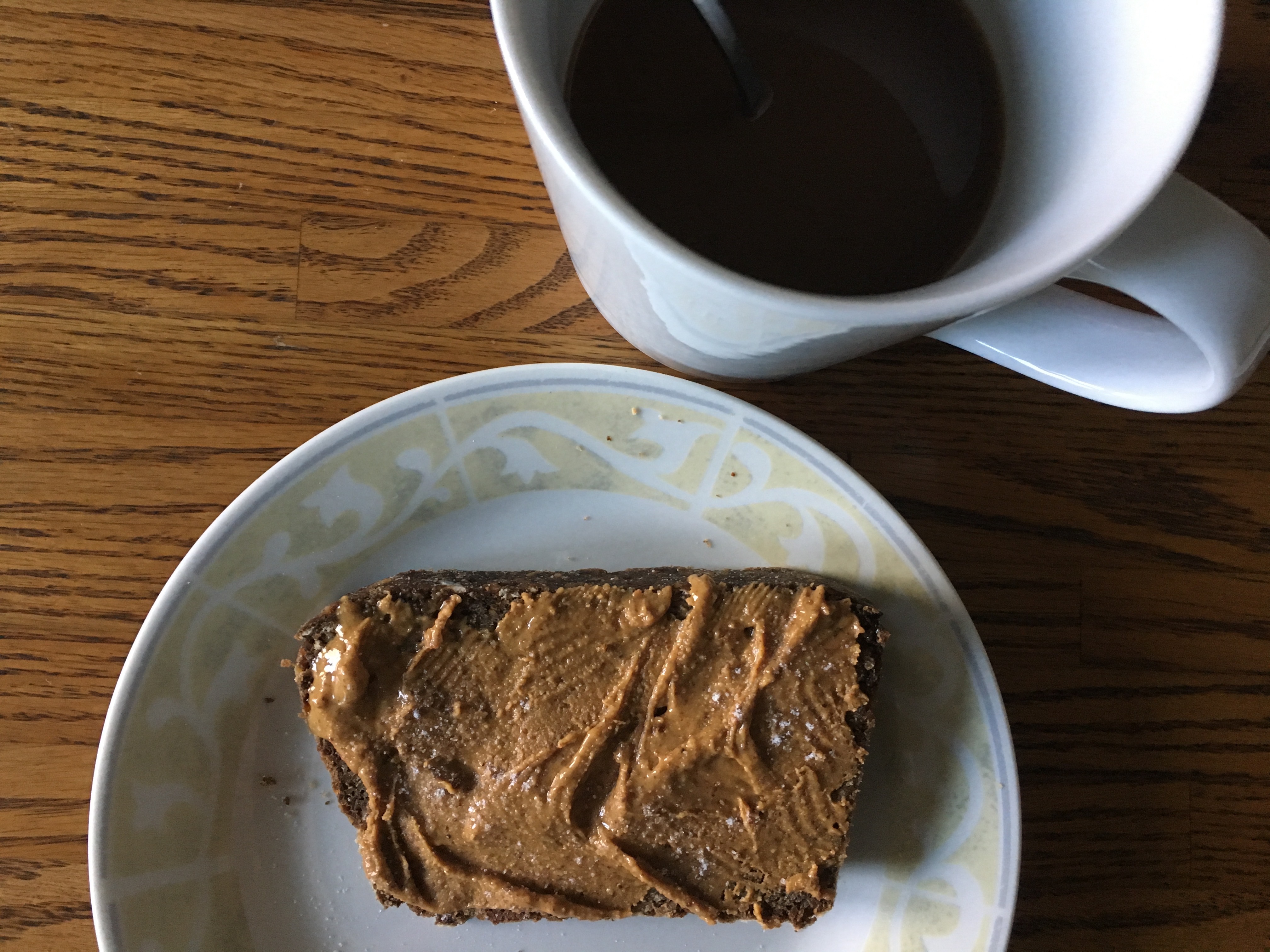 Thicker on Thursday because I woke up hungrier than normal.  No dessert at night will do that to you…
I worked out in the garage both days because it was 40 degrees and I wasn't having it.  I can't be coerced into running or biking or doing ANYTHING outside when the temps are that low.  The garage is perfect in the winter months because it's cold but not freezing and so I can wear shorts and a tank top and still get sweaty by the end of an intense T25 session.  Boom.  I did a cd from book three (the last one) of Jillian's Body Revolution on Wednesday and that was TOUGH.  Shockingly, the speed 2.0 workout from T25 on Thursday felt (dare I say it?) easy-ish.  It was all fast paced cardio movies with no down time AT ALL, but was low impact and – praise be – had no plank moves.  Jillian's workout STARTED with plank jack push ups.  Like that's how we are beginning this sh!t???  I wanted to tap out after 3 minutes!  Oof.  But really, I love it.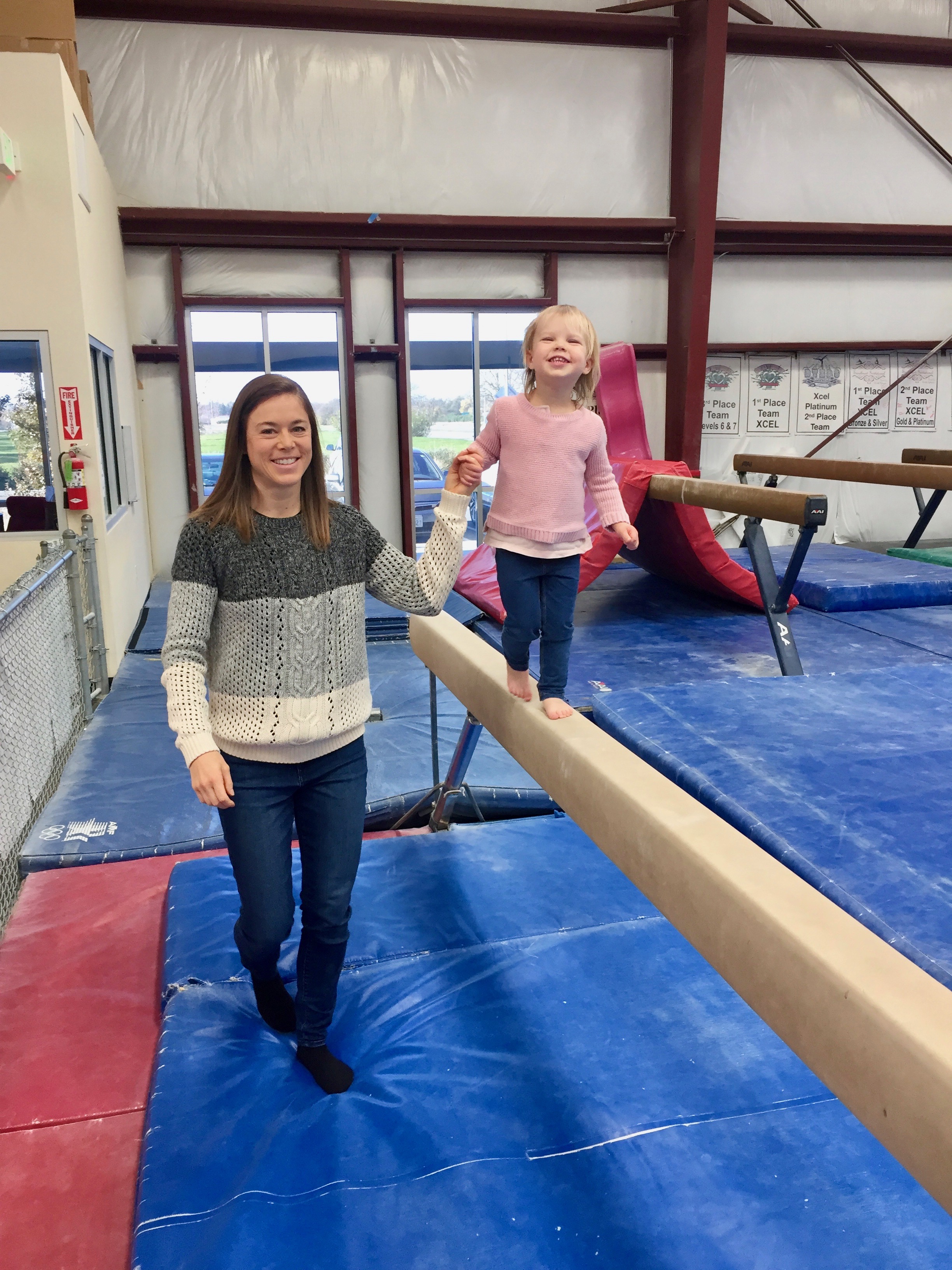 You may notice she's not in her leotard.  That was a major source of contention at first, but because I decided to go to open gym at the last minute, she was already dressed in her regular clothes and I wasn't in the mood for outfit change drama.  Once she got there she forgot all about it.
That was Wednesday.  On Thursday we went to creative playtime and yet again her outfit choice was unaffected by the weather. I was freezing and she was sitting on the concrete feeding her baby doll.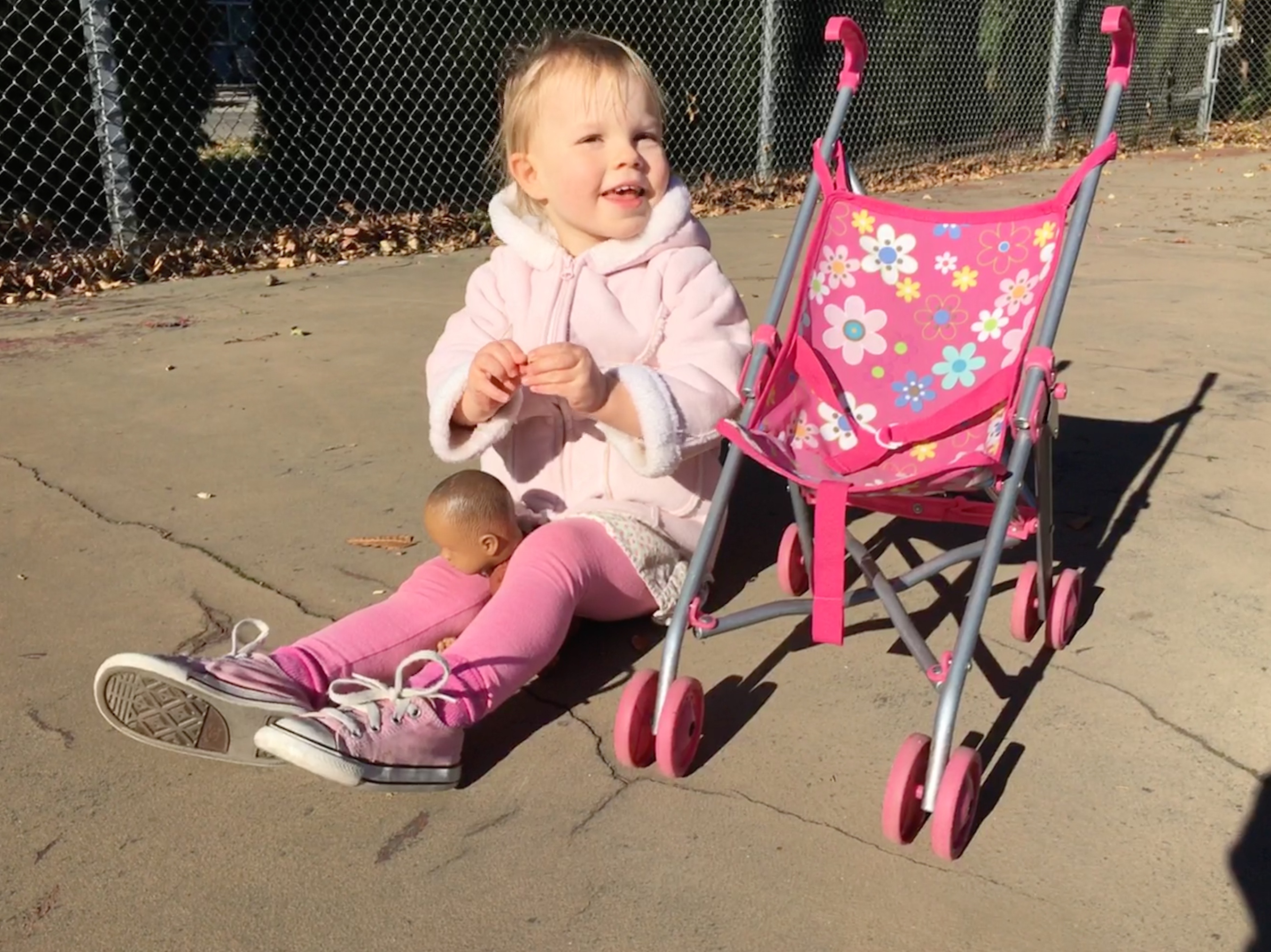 P was at preschool both mornings, naturally.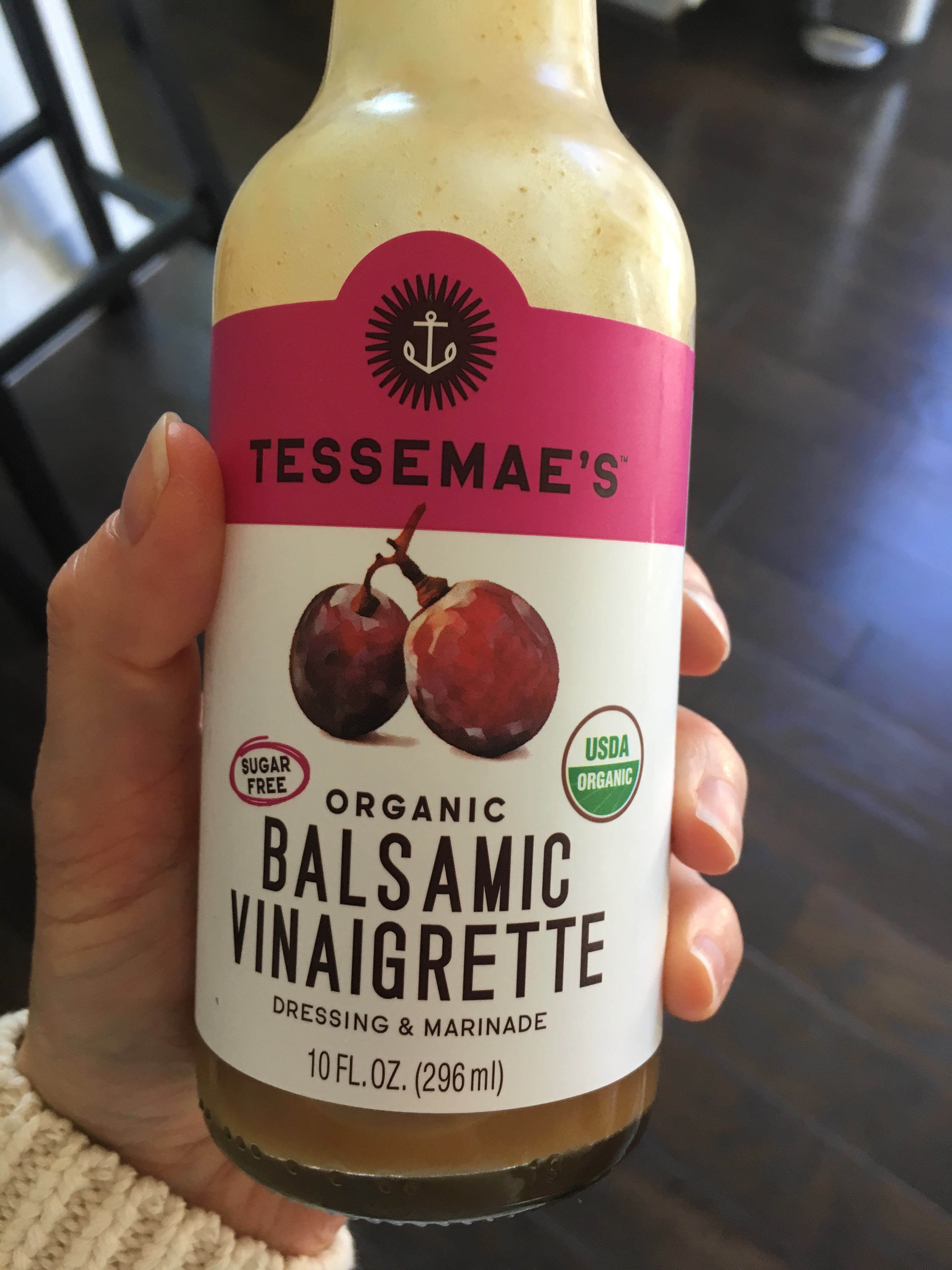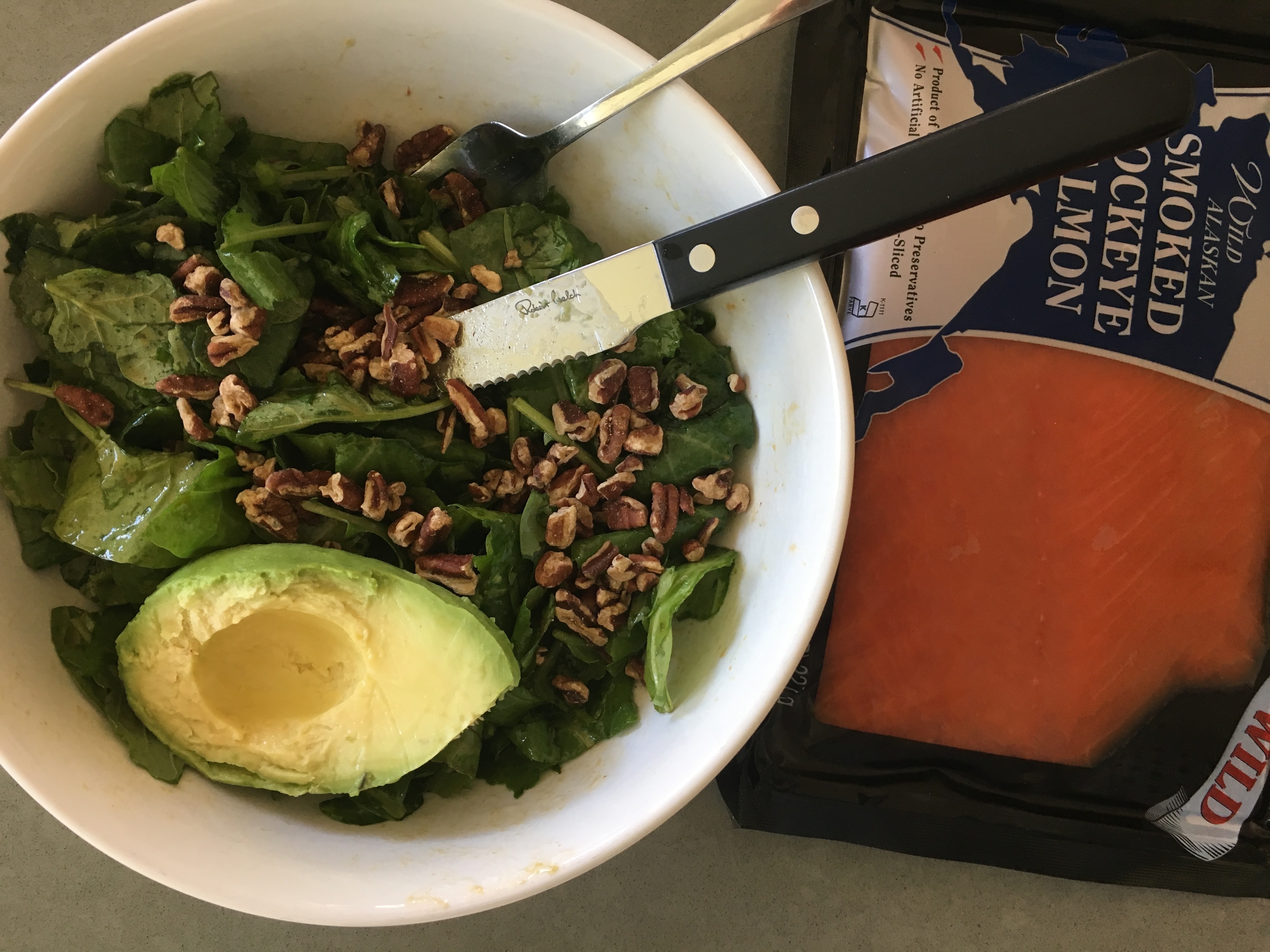 Here's Wednesday's lunch – mixed greens, roasted pecans, avo, and tessamae's balsamic vinaeigrette. I forgot I had this dressing and was very relieved to find it because I had just run out of home-made vinaigrette and this is basically made with the exact things I'd use if I were making it.  If only they made dressing without garlic.  Still perfect in a pinch.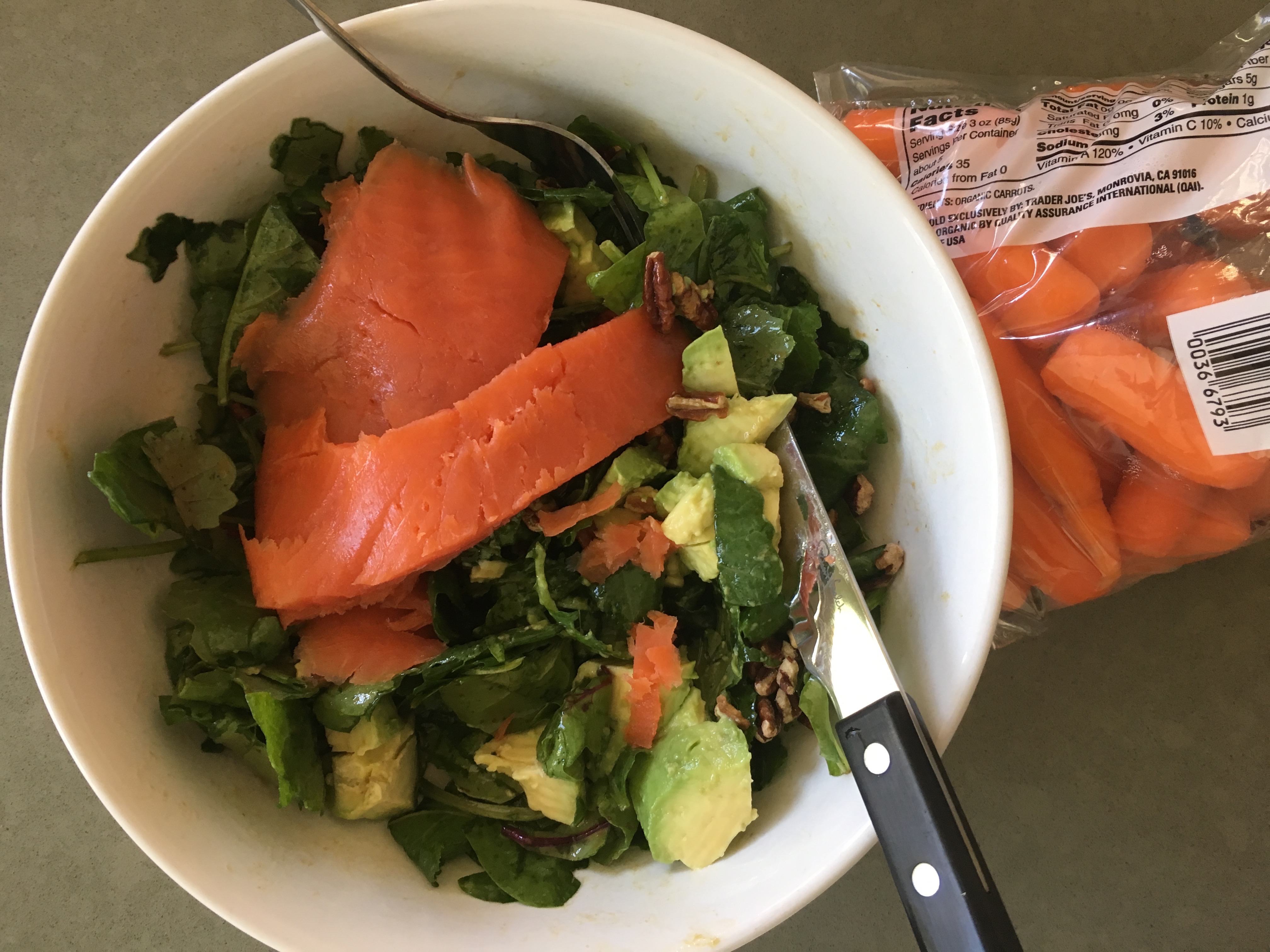 It was looking a little bare so I ended up adding smoked salmon too.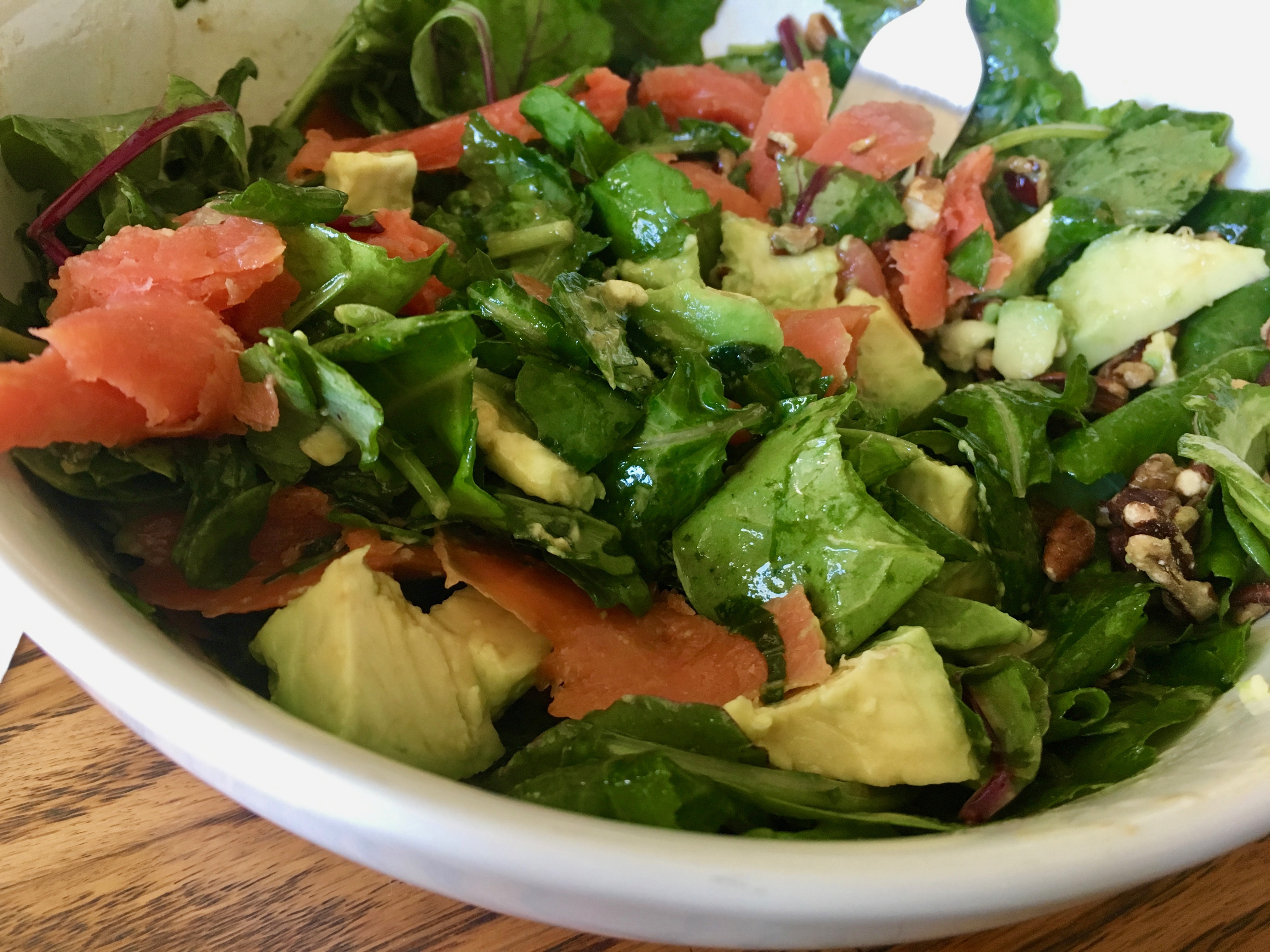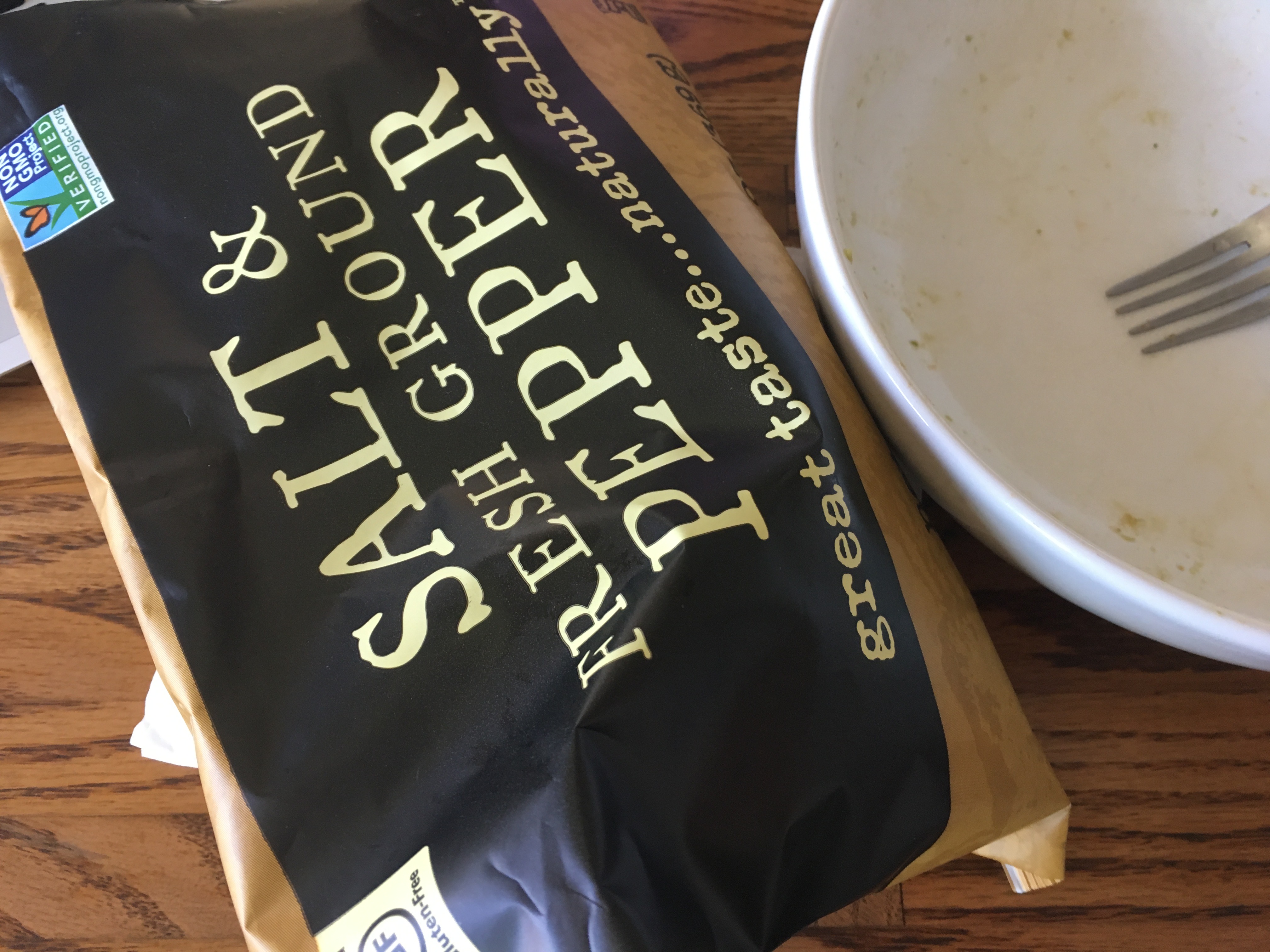 And then I had a bunch of chips.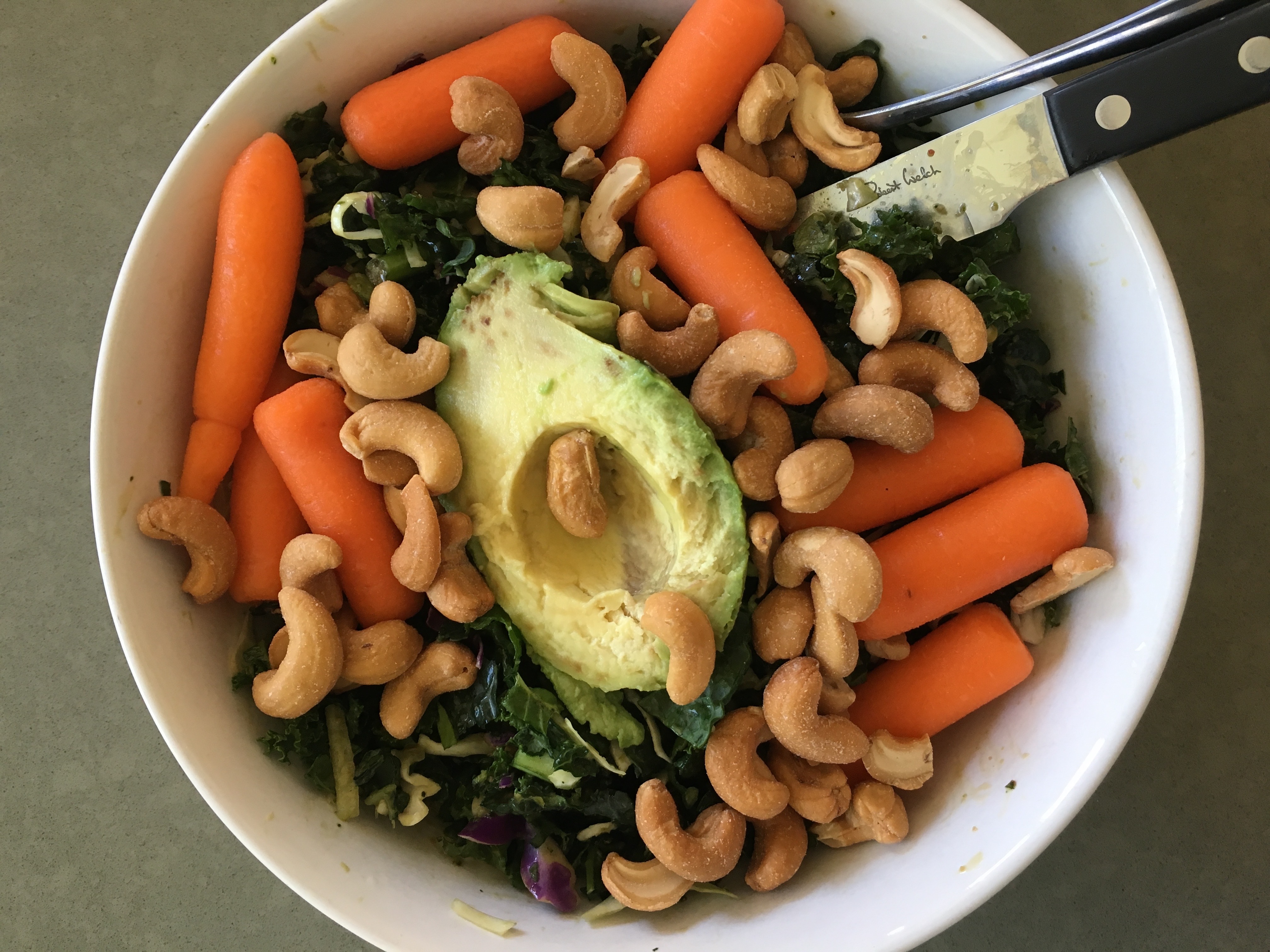 Thursday's lunch was another salad that I have been into a lot lately… Nugget's Thai dressing is the bomb you guys.  It's worth building an entire meal around.  This post is seemingly an ode to ready made salad dressings, ha!
The salad had cabbage, kale, broccoli slaw, and Thai dressing, plus avo and cashews.  I didn't use the Thai cashews this time because it was a little too spicy last time. I had a bunch of carrots too.
I'm averaging 1/2 pound of carrots a day and that's practicing major restraint.  I probably eat more when I buy the huge 5 lb bags at Costco, but because I haven't made it to Costco recently I've had to buy the individual 1 lb bags at TJs.  As a result, I know EXACTLY how many carrots I eat a day, for better or worse.  I'd go through a whole bag if I didn't watch myself.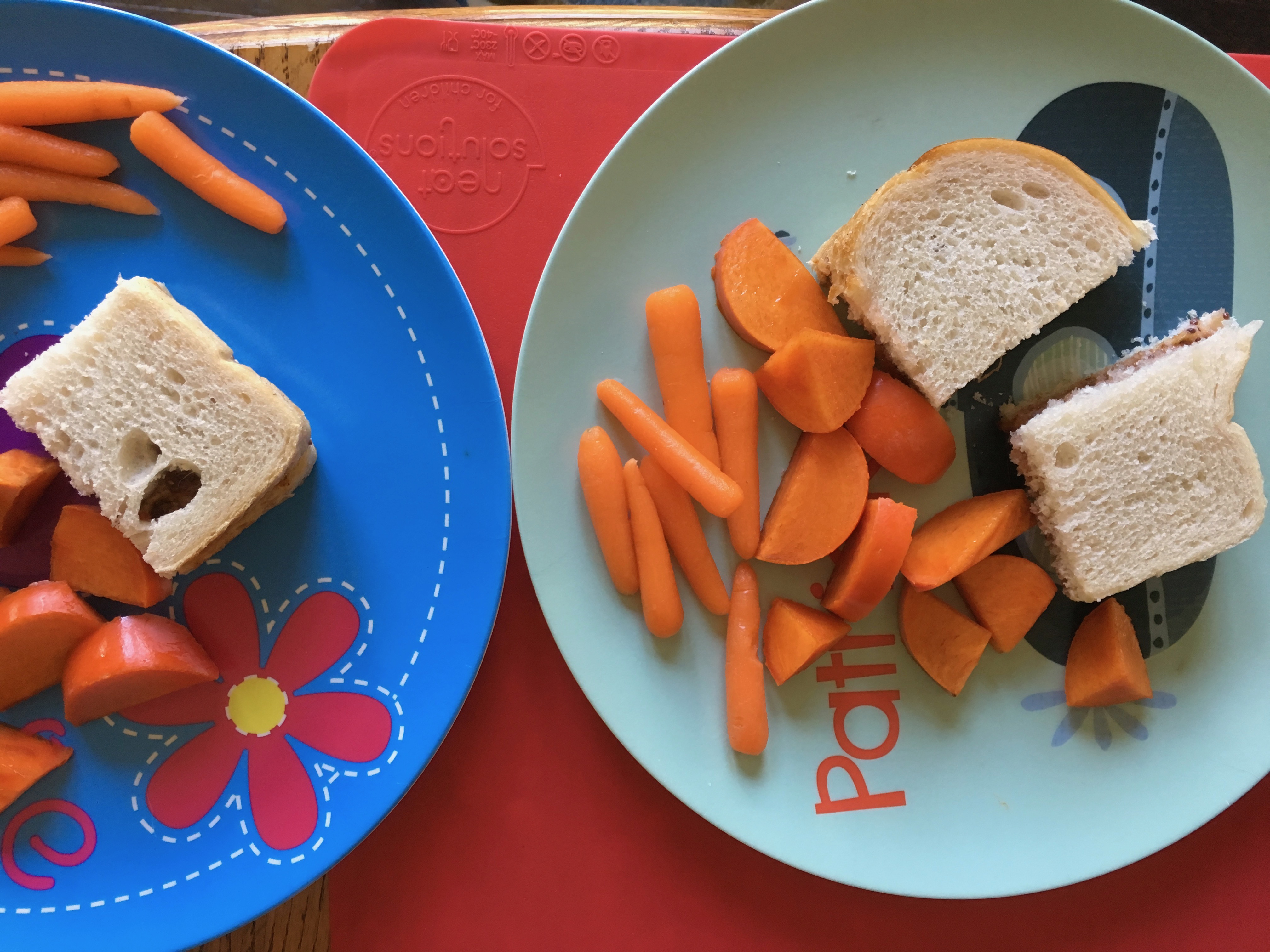 Here's their lunch.  Do you guys care about their food?  Sometimes (usually when I've made it in advance) I think to take pics, but most of the time I forget.   This was an AB + J sando on sourdough with persimmons and carrots.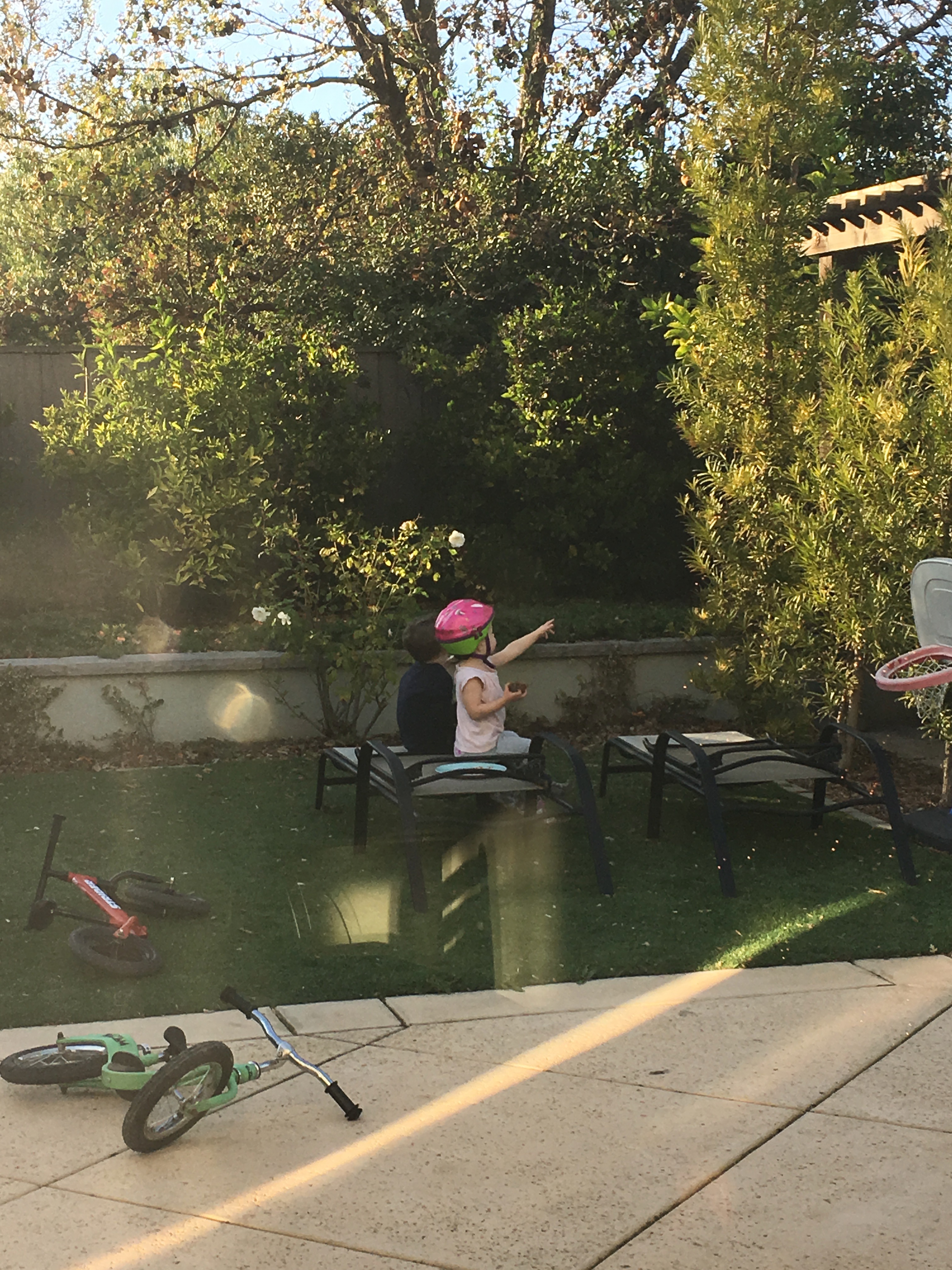 Look at them!  Sitting next to each other like the buddies they are, chatting and eating their snack.  It was crazy warm so as soon as they finished eating we scooted/biked to the park…where we ran into friends!  So fun.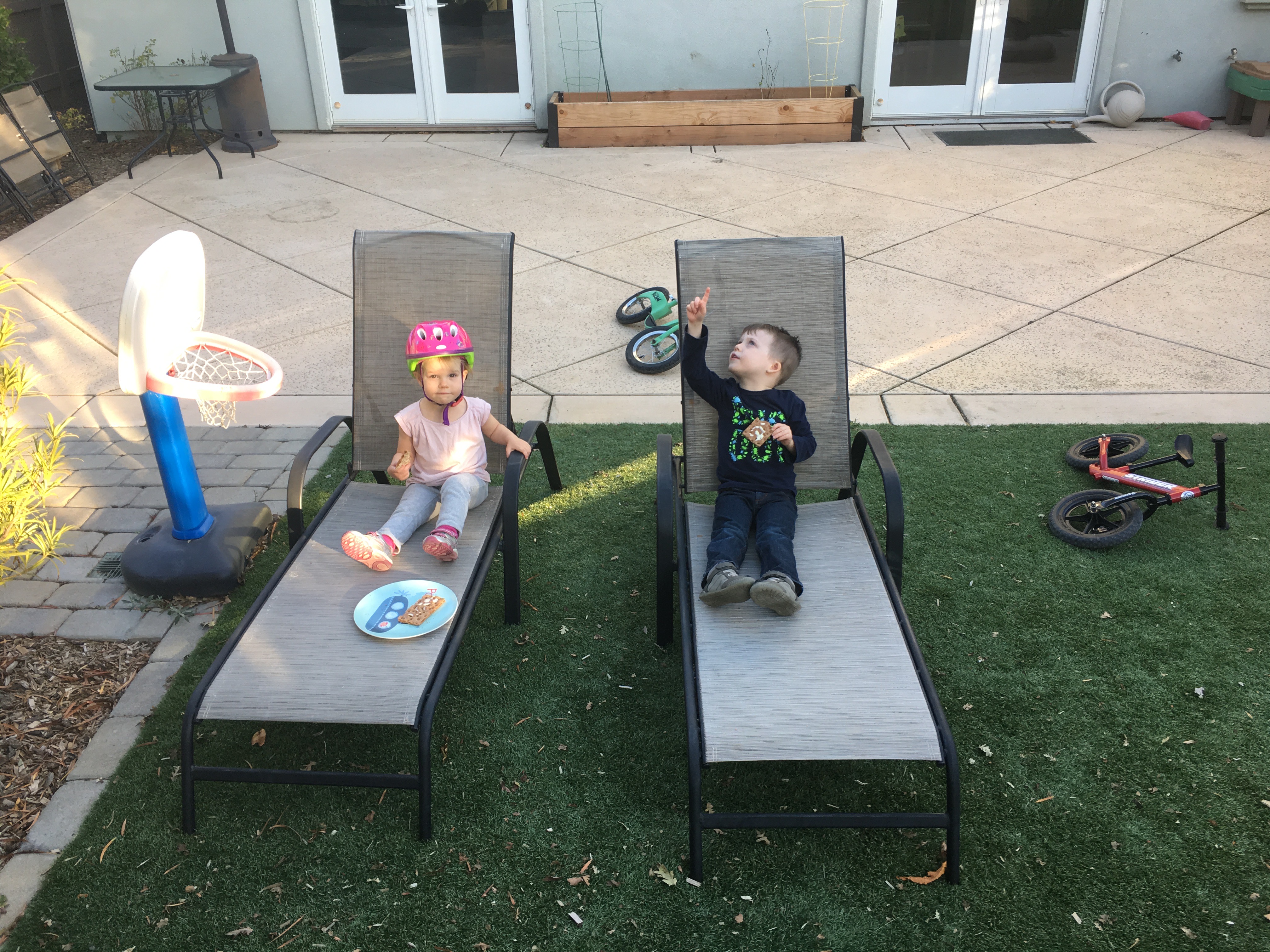 A couple of hours later, we went to soccer.  Talk about a looooong afternoon.  Good thing I had a gobble meal waiting for me back at home.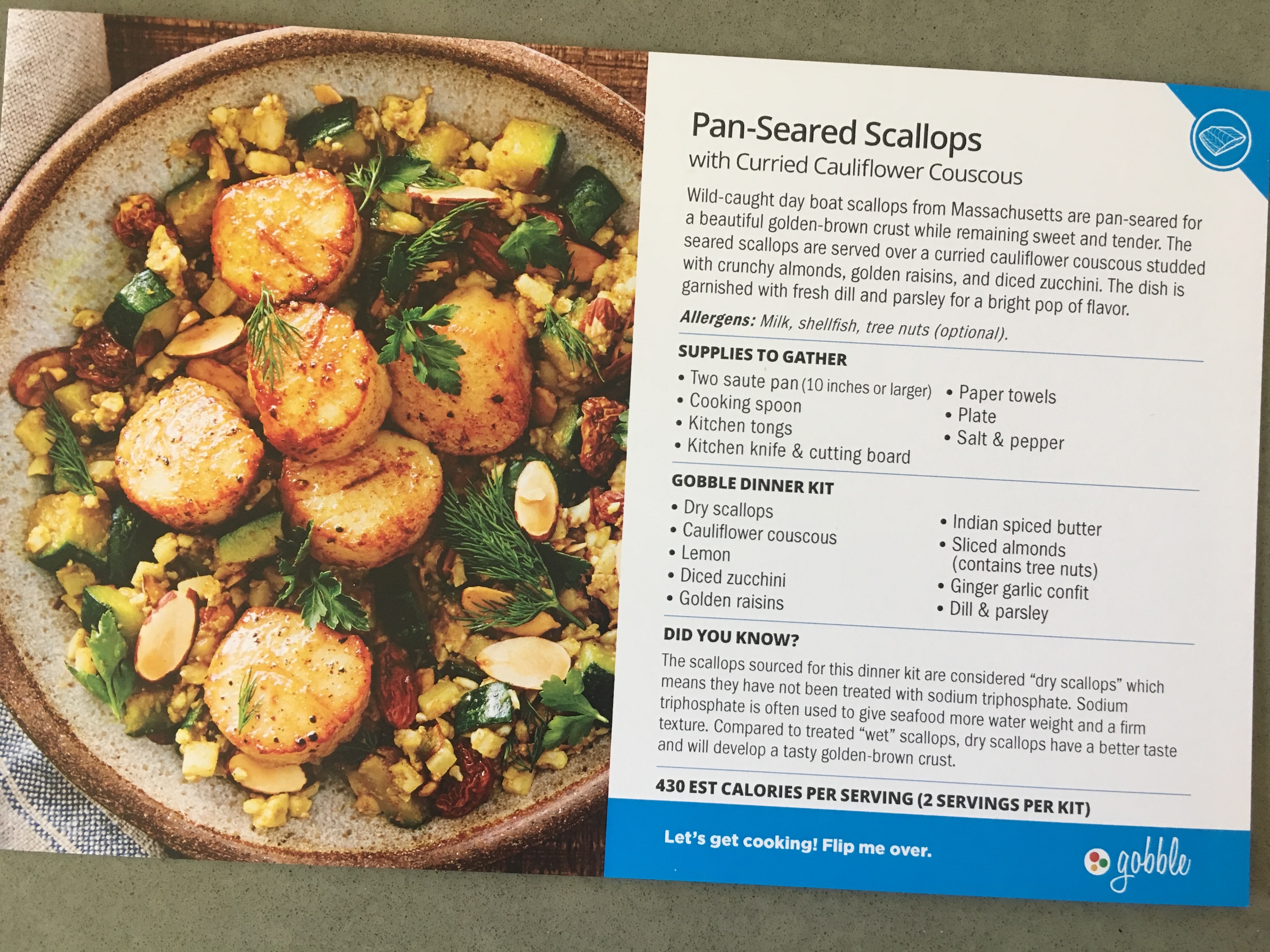 I made the curried cauli couscous during nap time, so all I had to do when I got home was sear the scallops.  Except not.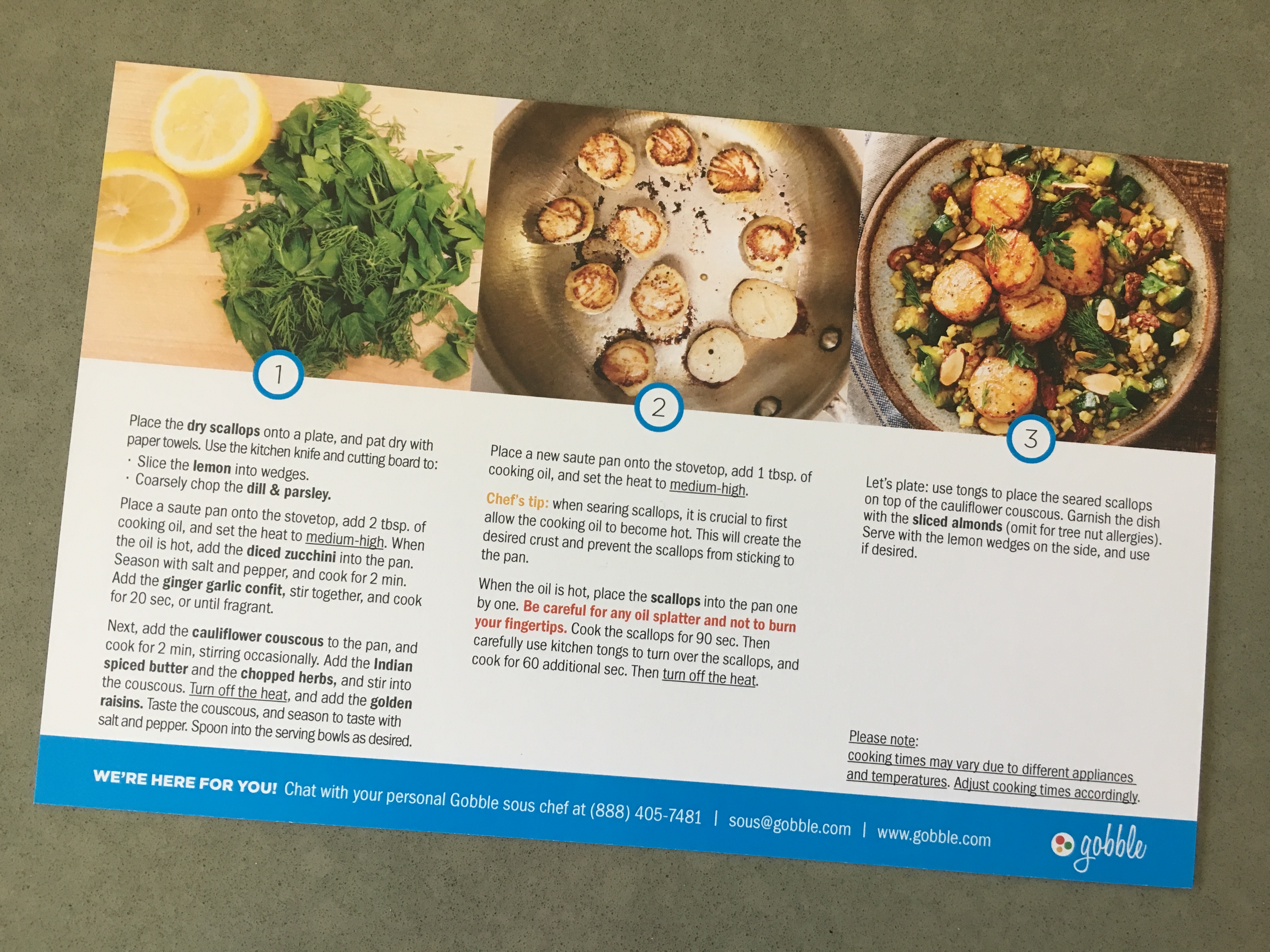 As I was making this couscous I realized I was the only one who was going to like it. It has zucchini and dill, so that is a no go for Kyle.  And actually, neither P nor V likes dill.  So, shoot.  I bought four servings worth.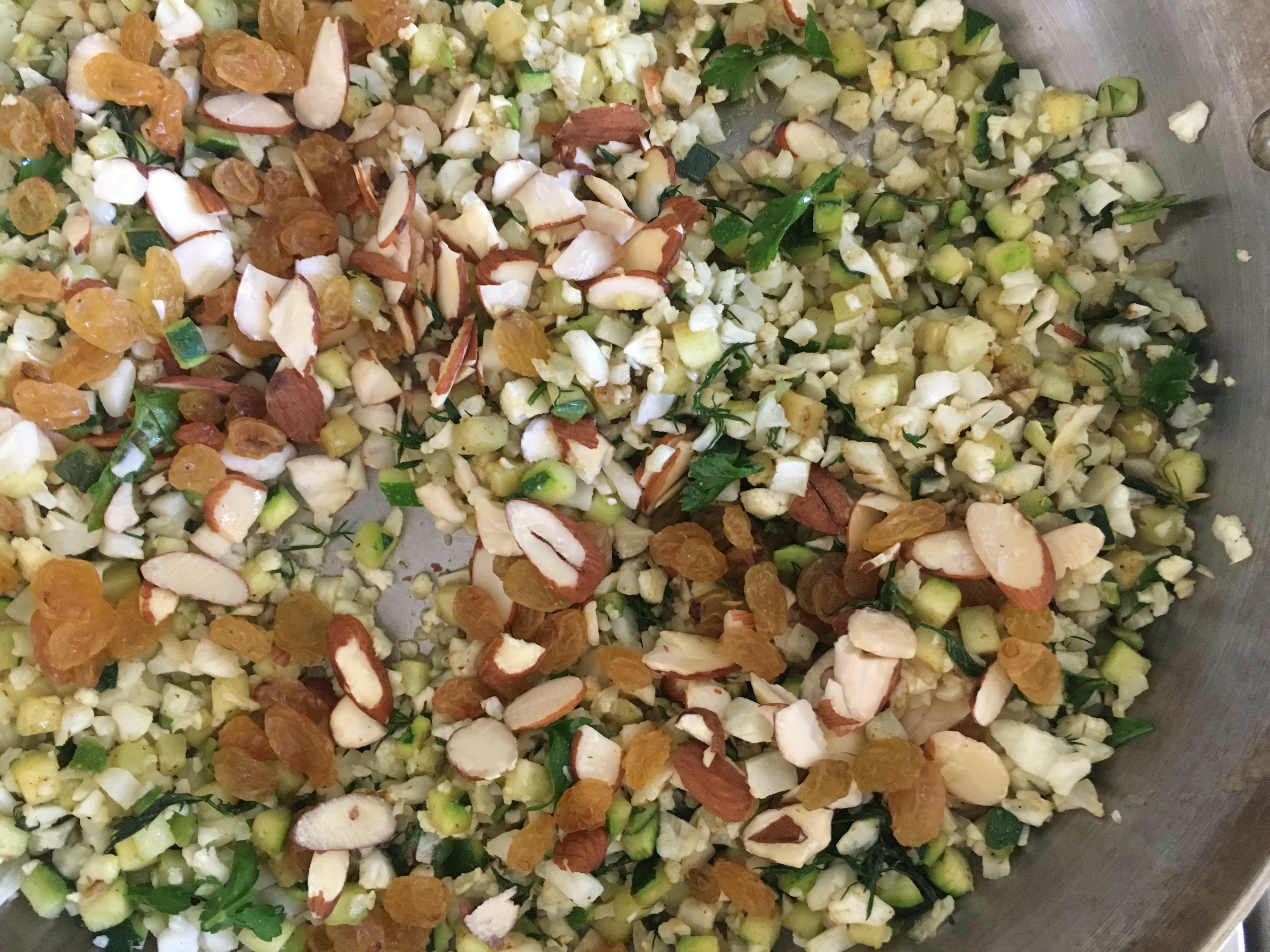 I made two servings' worth and saved the other two servings for some other time.  When Kyle goes out of town next??  Ugh.  Fail.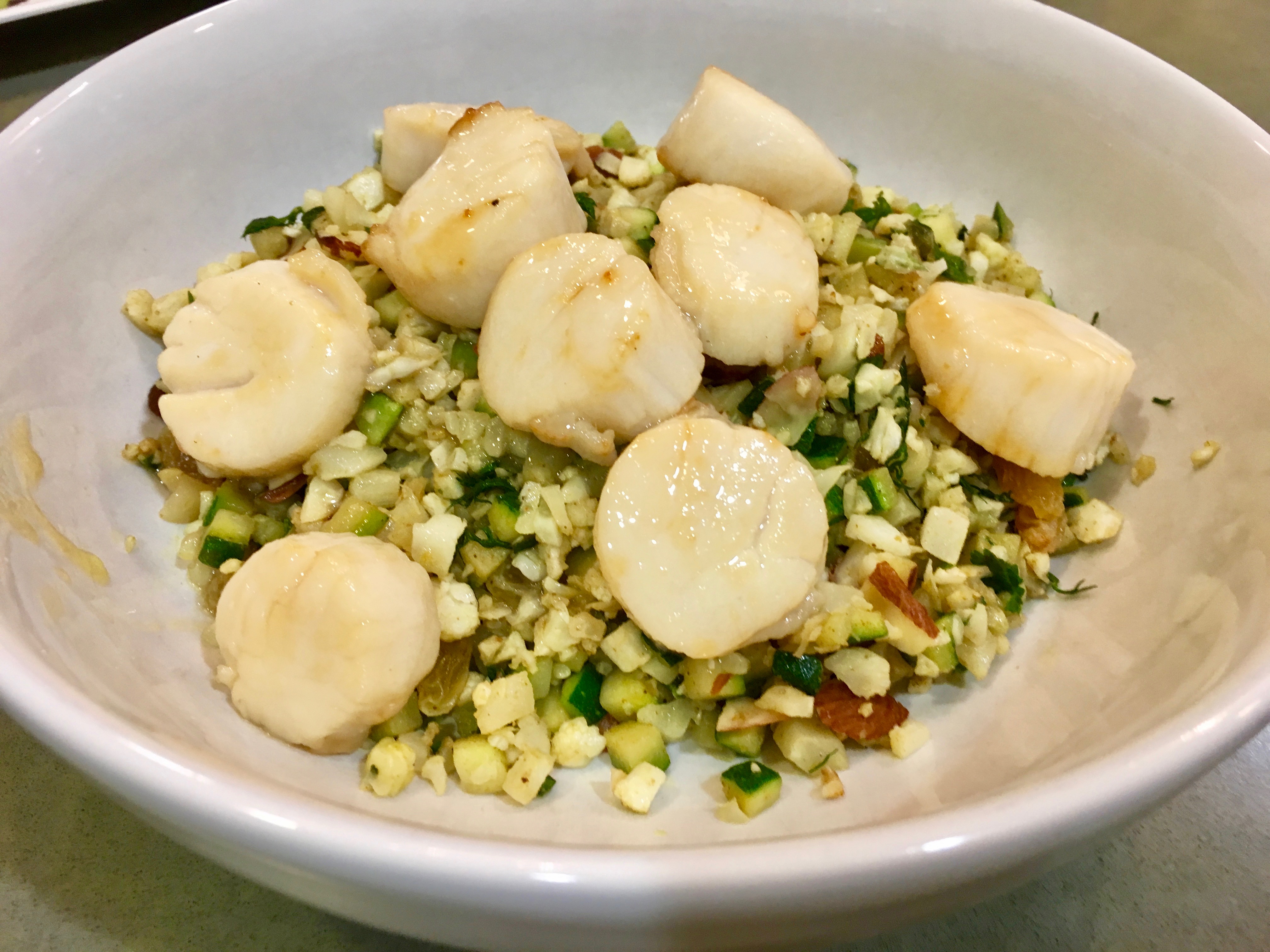 While I was searing scallops, I was sorting out the carbs for the rest of the family's meals.  I had leftover spaghetti for the littles, and rice for Kyle, and mixed parts of the meal for each to cater to their taste buds.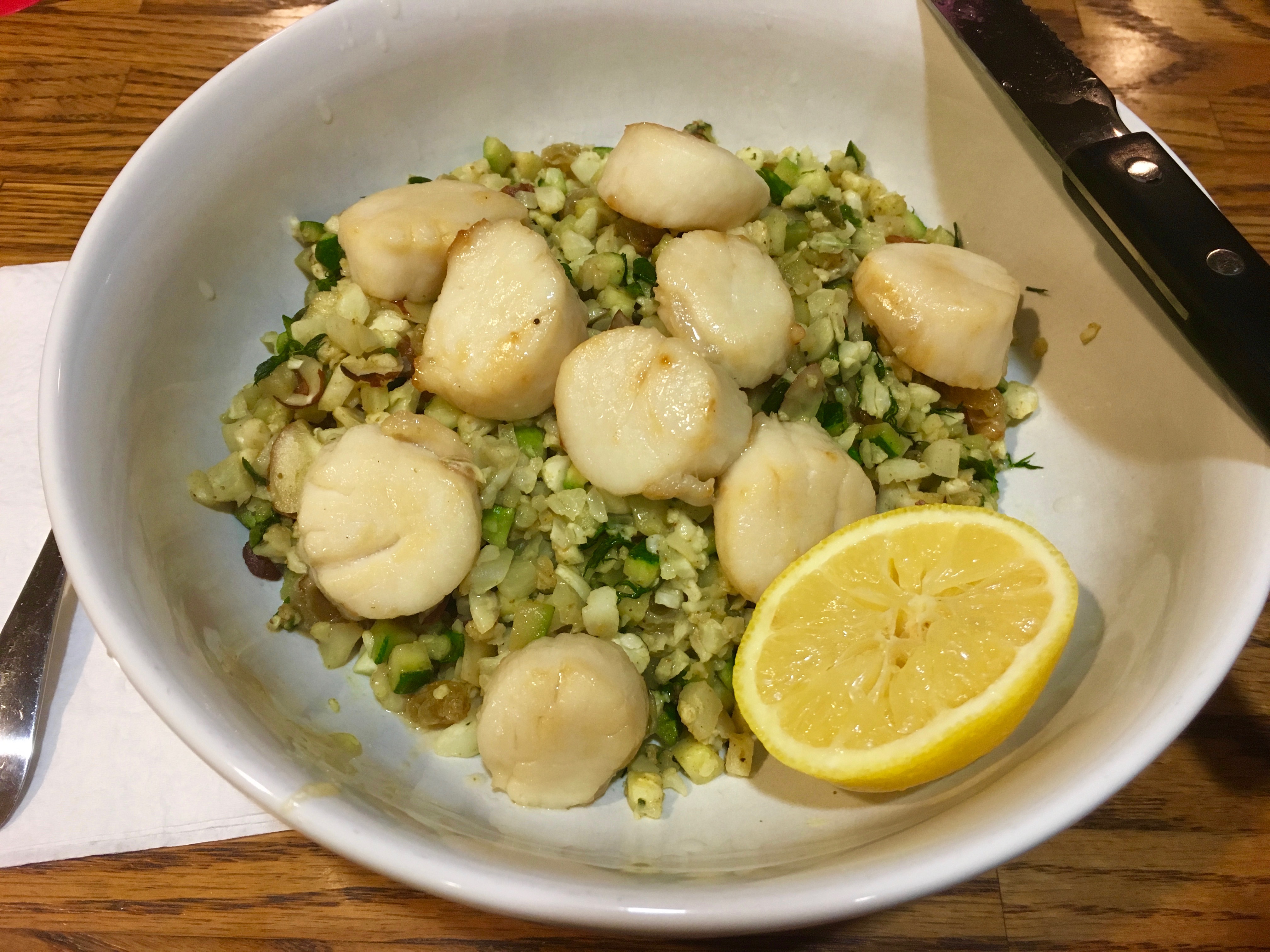 In the end, I was the only one who had the gobble meal "as is", THEREBY TOTALLY DEFEATING THE PUROSE of a ready to go ten minute meal.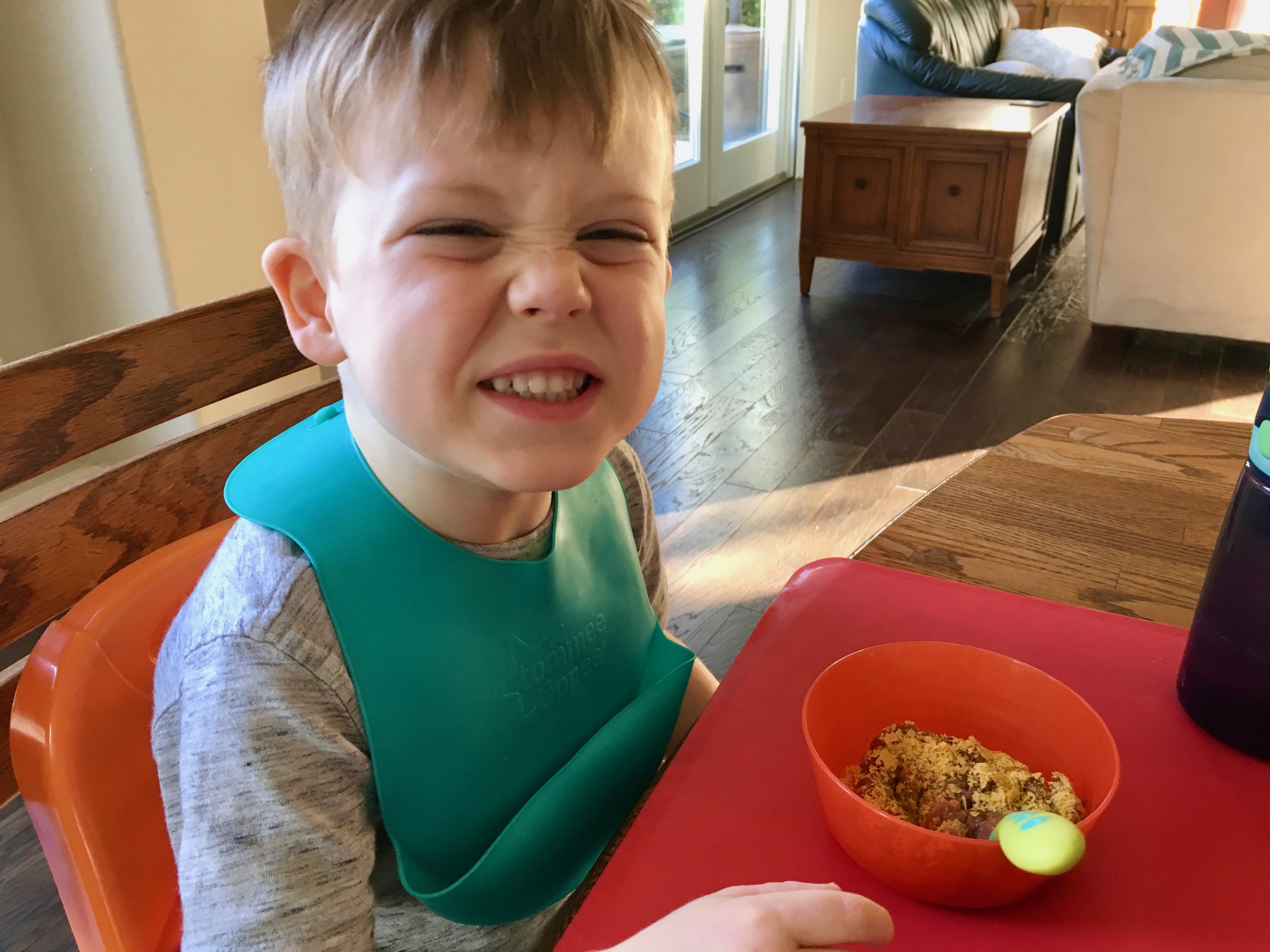 Benz and chez!
Ok, so I have to explain this snack.  One of my sister's favorite snacks / meals growing up was beans and cheese.  That's it.  Just a bowl of refried beans and cheddar cheese.  She made it a lot, and somehow the name morphed from "beans and cheese" to "benz and chez" (as if you were saying it with an accent).  And now I've introduced it to my first born.  So proud.  We sent a video to Auntie Laura 🙂
Anyway, he liked it so much, he asked for seconds AND thirds.  He has never eaten anything faster, except maybe bacon.  And it's so healthy!  All it was was refried beans and nooch!  Both kids GO NUTS for nooch.  It's like this treat that they beg for as if I'm not going to give it to them, but of course I always give them however much they want, so I have no idea why they beg.
Sometimes I give them this beans + nooch combo using white beans, which I call "magic beans".  They like that a lot too.
I wasn't feeling up for what we had planned for dinner so I looked in the fridge and figured out something different.  I had "riced" cauliflower leftover from Friendsgiving, that was on it's last legs, and recently inspired by the previous night's cauli couscous, I decided to make fried "rice" as a side dish.  In order to make it a hit with the family, I fried it in sesame oil, garlic infused olive oil, and olive oil, and then added tamari, fish sauce, rice vinegar, minced ginger and sriracha. And to bulk up the veg even more, I added shredded carrots and celery.  Side dish – check!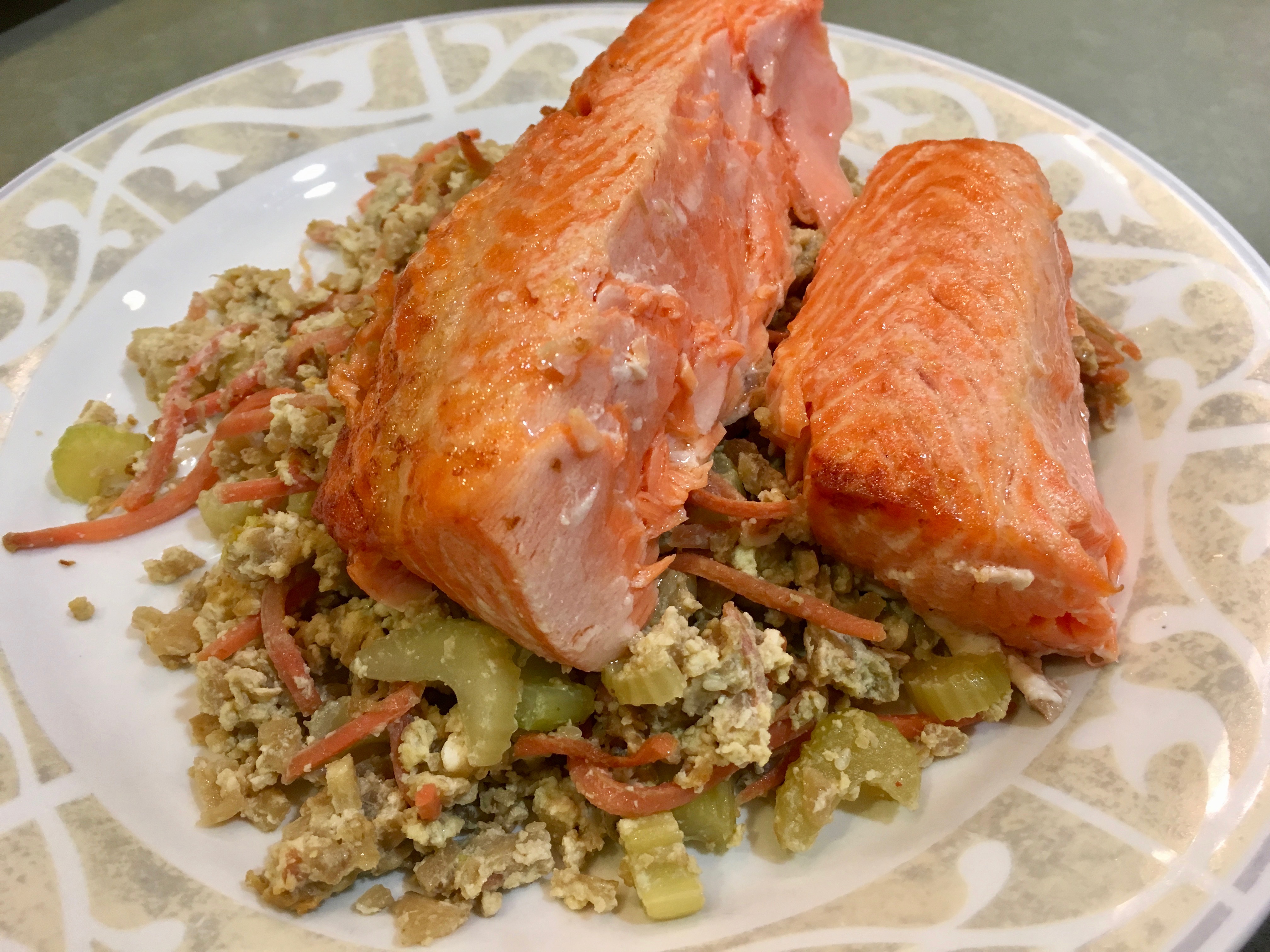 To go with it, I hit up Nugget on the way home from soccer (her soccer is Wednesdays and his soccer is Thursdays) to grab some salmon.  Kyle told me the night before that he wanted to grill and mentioned salmon, so I knew that would be a win.  I just had to let him know that he was cooking so he could be home in time!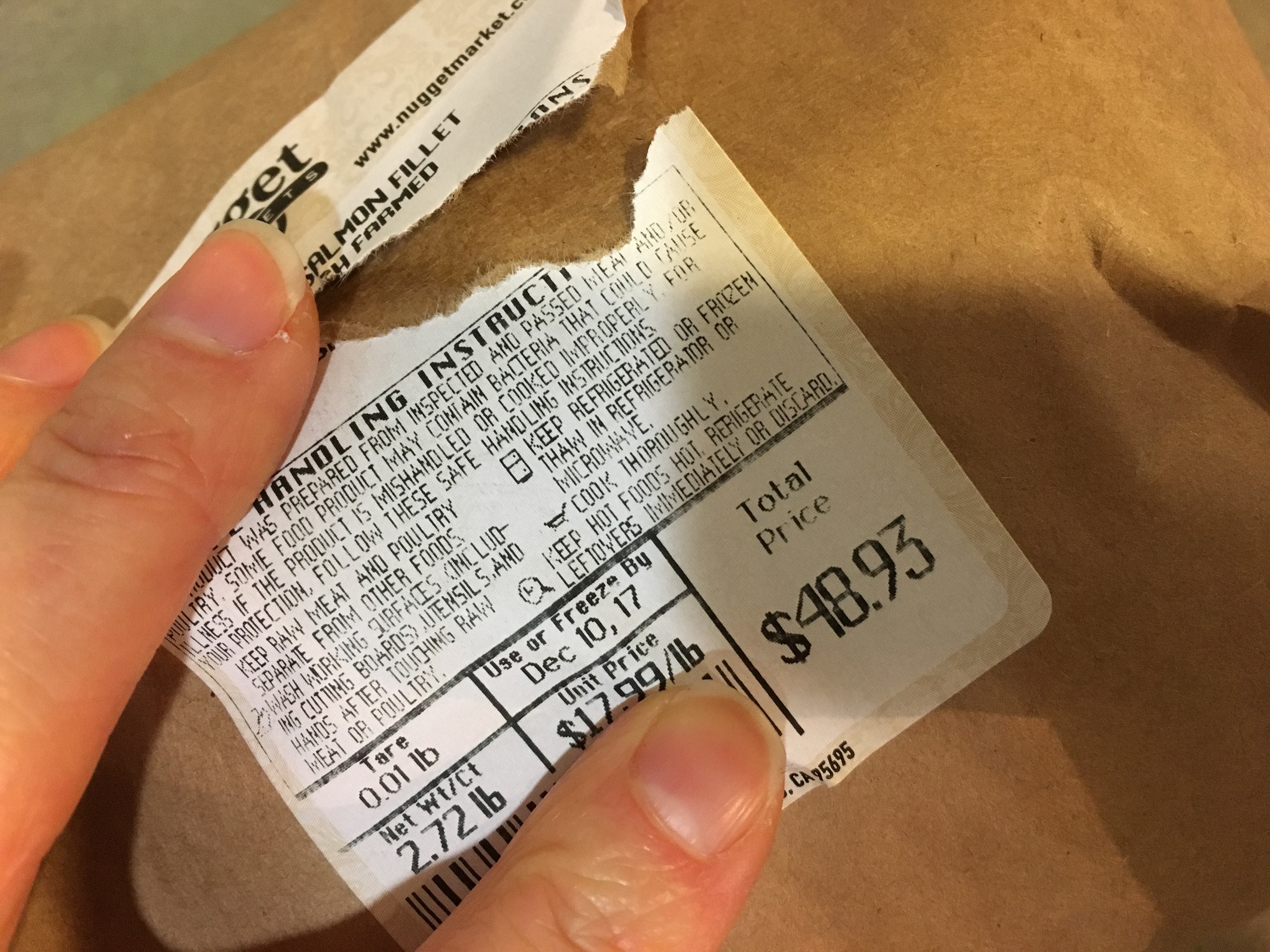 UH.  WUT.  DID.  I.  DO.
So it cost $50.  Thank goodness the rest of the meal was cheap because as soon as the butcher handed it to me I started having a complete internal freak out.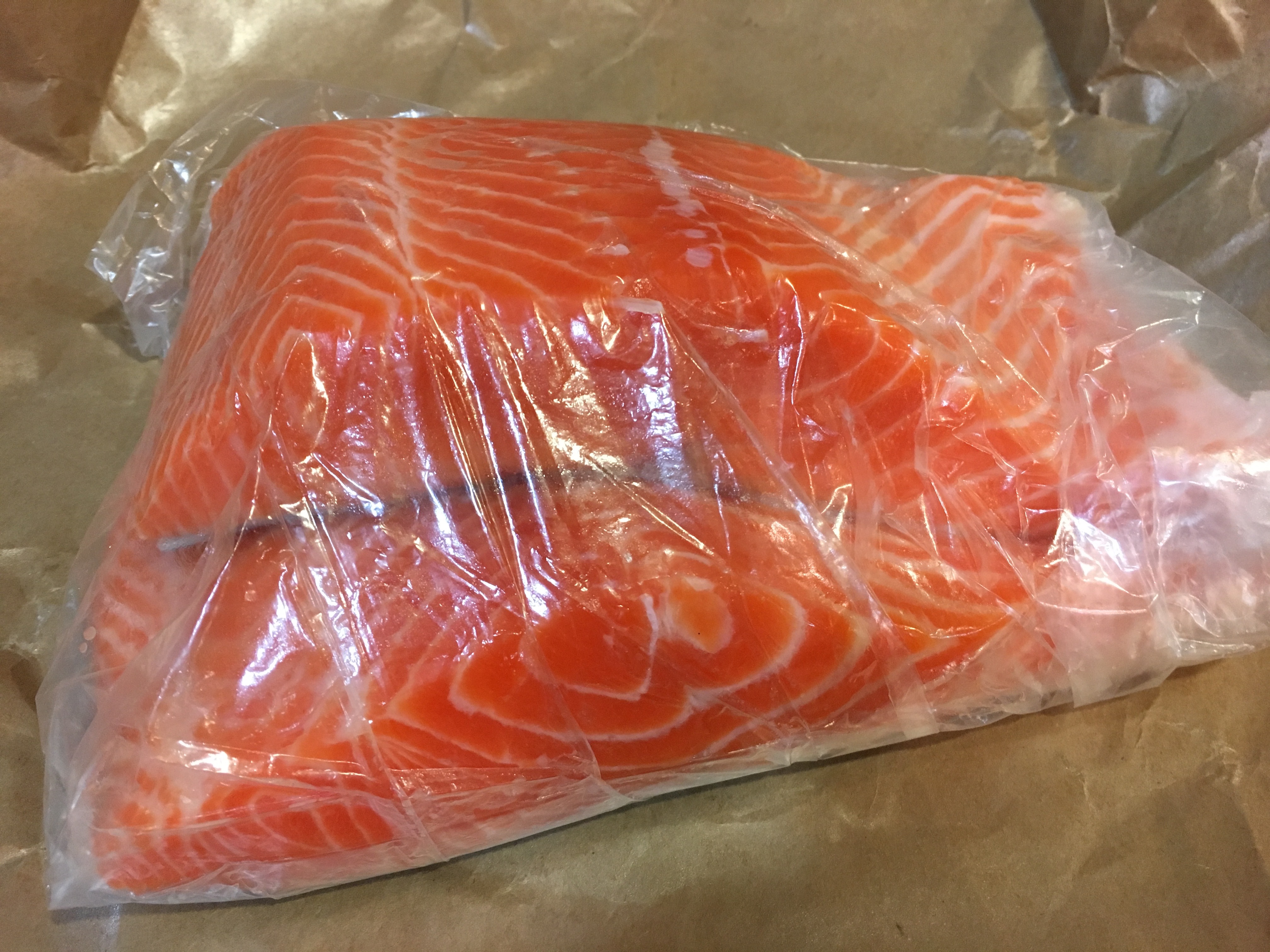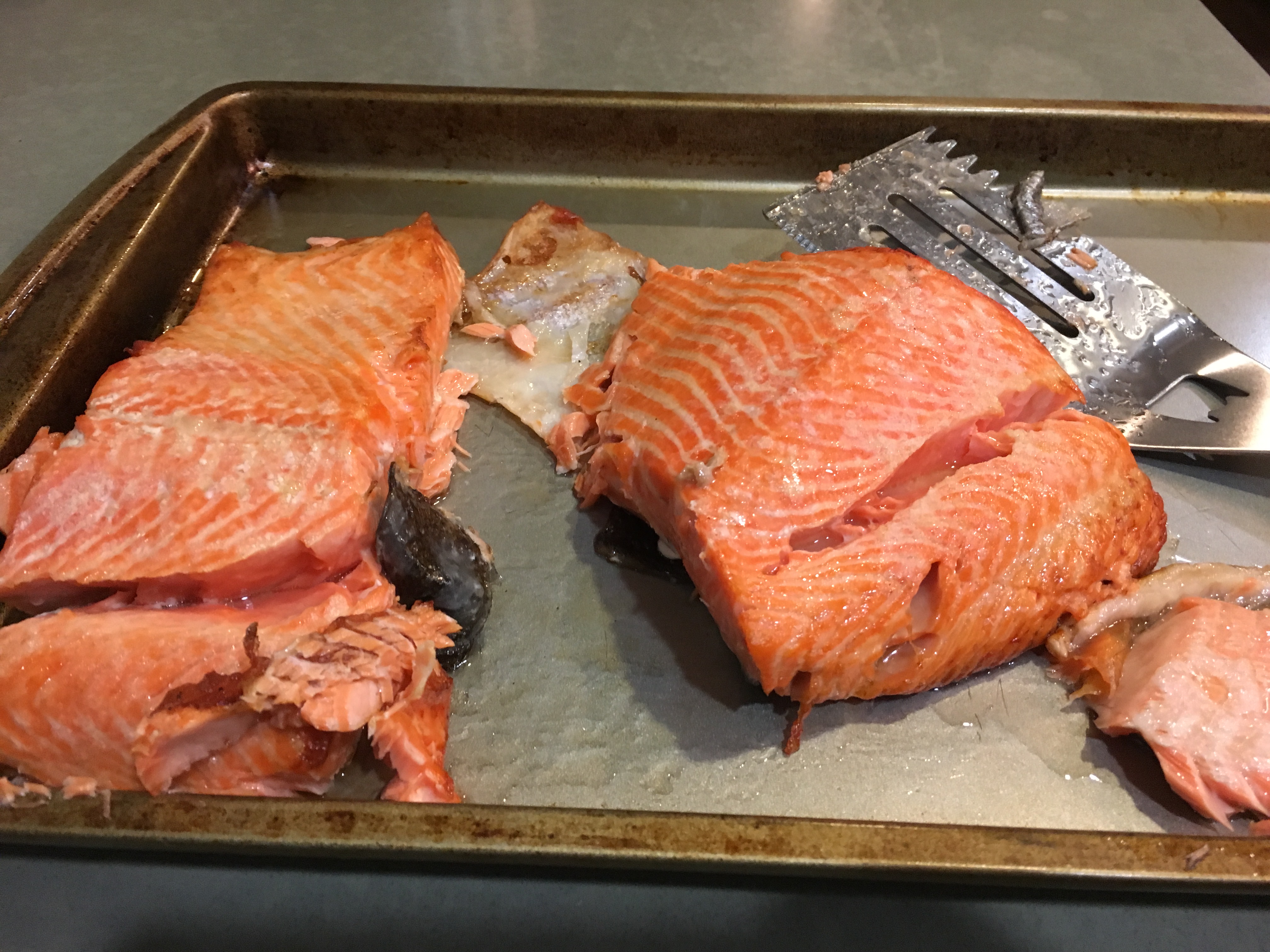 The good news is that it was DELICIOUS and also we have leftovers.  Probably a whole other meals' worth if it's not the feature.  So that made me feel better.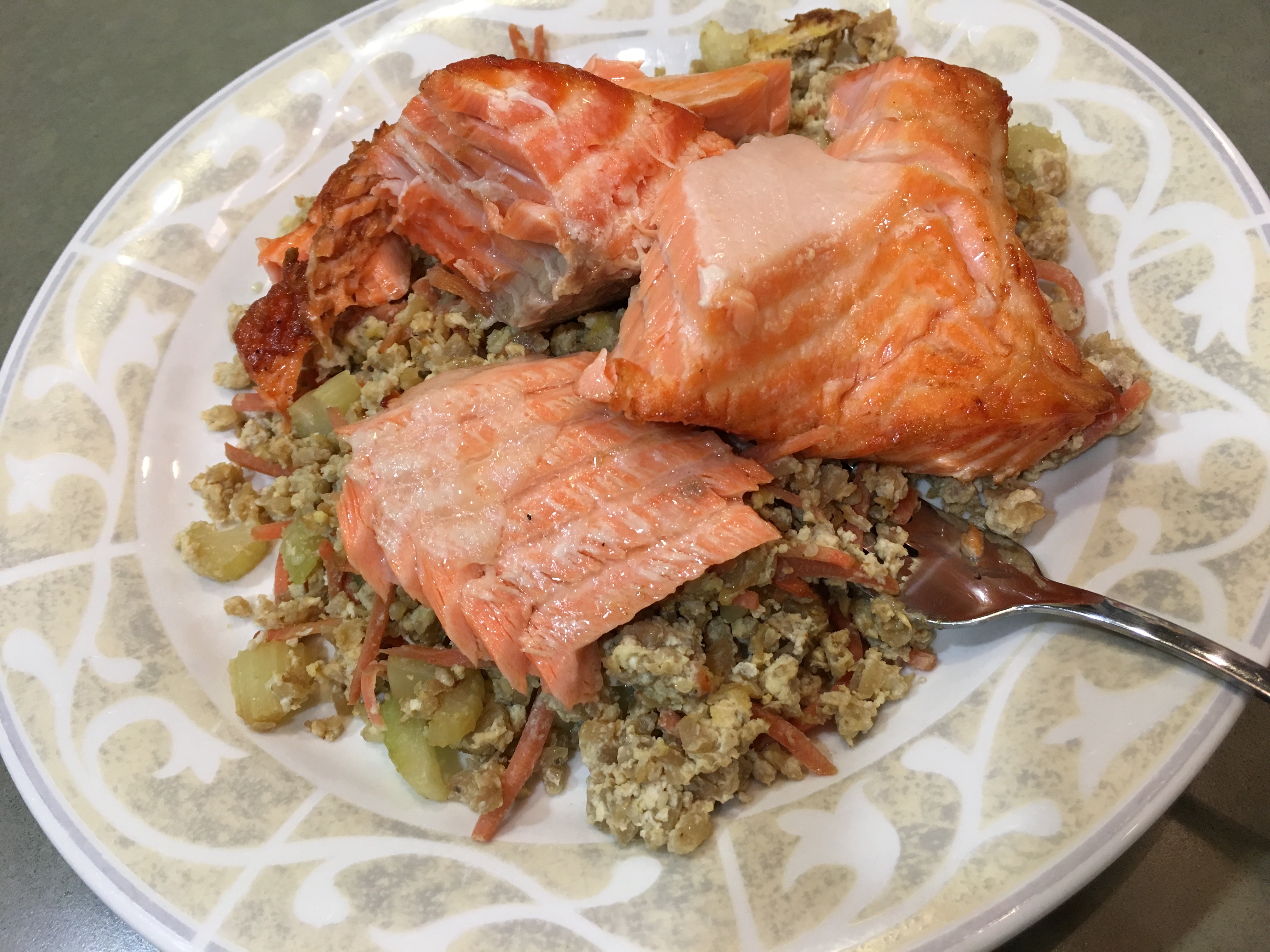 It really was heavenly though.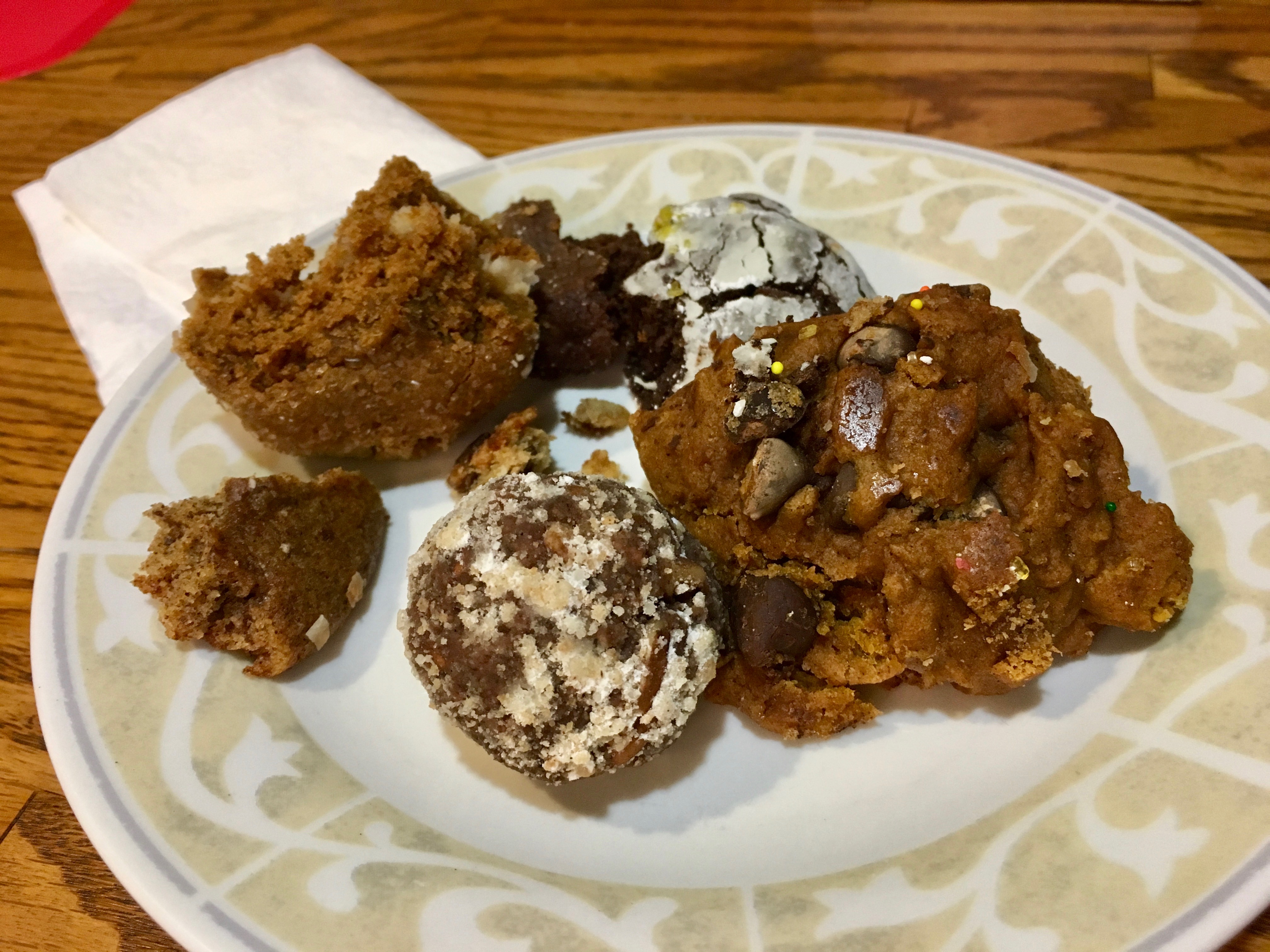 Dessert plate number one of two and a half.  The rum balls are some kind of magical holiday crack.  I had two more before pumping the breaks.  For someone who's not a cookie person, I'm definitely finding the Christmas season to be quite a time of indulging.  Am I turning into one of those people who let's it all go for the month?