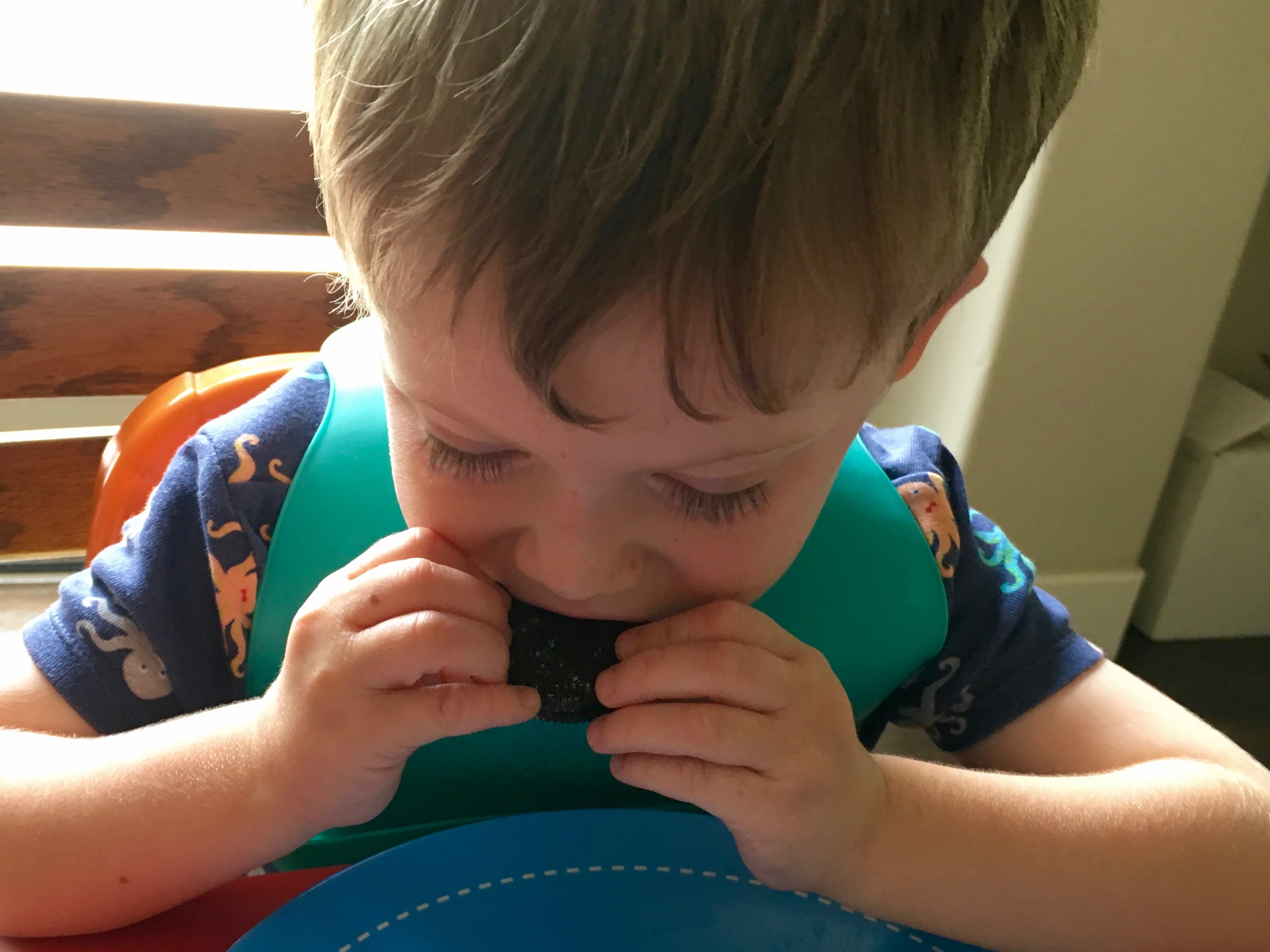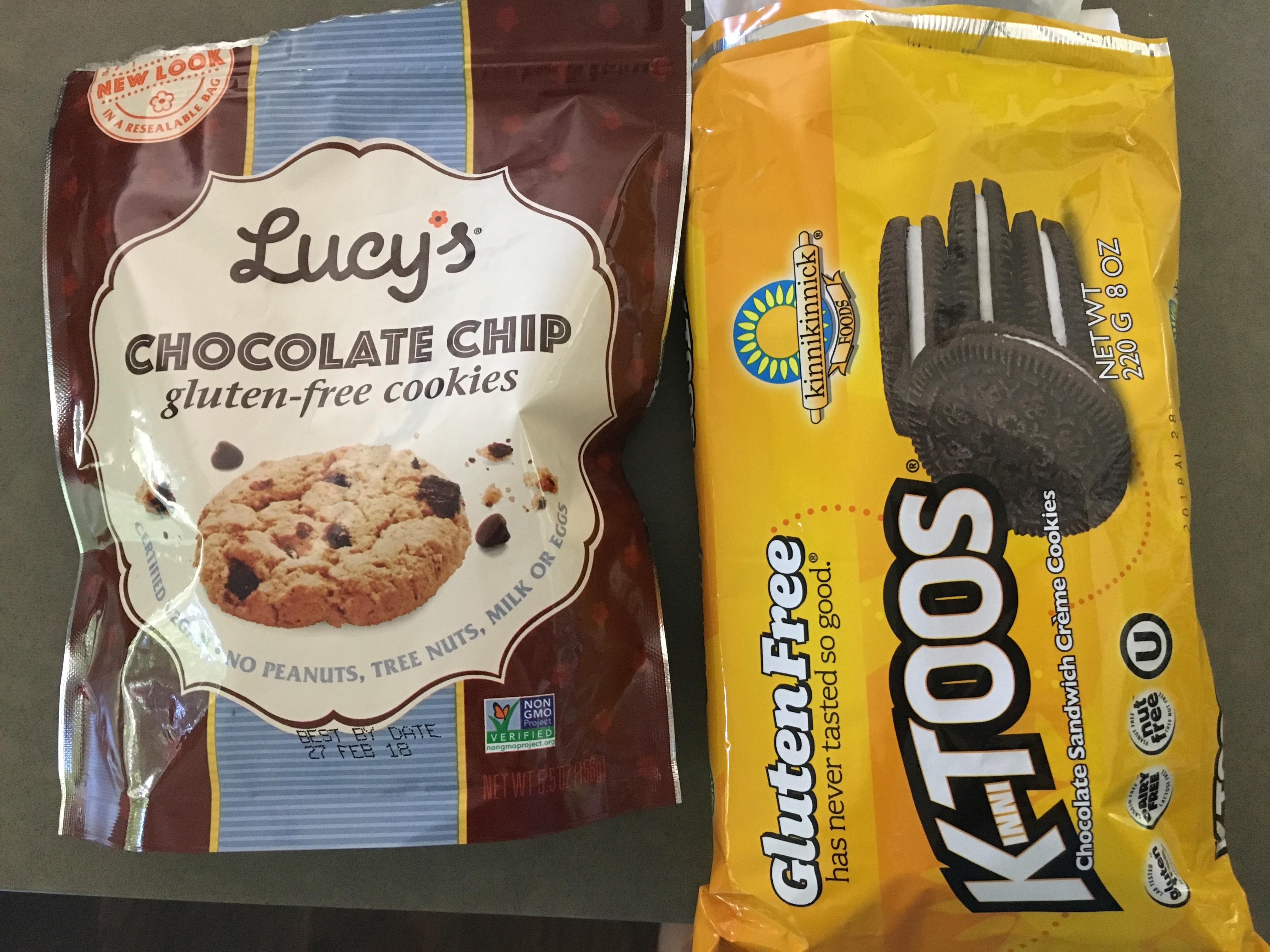 It seems like the parents of Davis are the best of the best when it comes to conscientiousness about P's allergies.  I already knew my close friends were fantastic, but time and time again I am blown away by how sweet and thoughtful others are.  I bring snacks all the time for our paint & sing class because it's a good way for me to know that they will be safe for P, but technically it's supposed to be a rotating job.  One of the moms brought in all these vegan and GF treats last week that she had leftover from her daughter's birthday party.  And since she knew we had special dietary needs she gave us all the leftovers!!  I mean, does it get nicer than that?!?!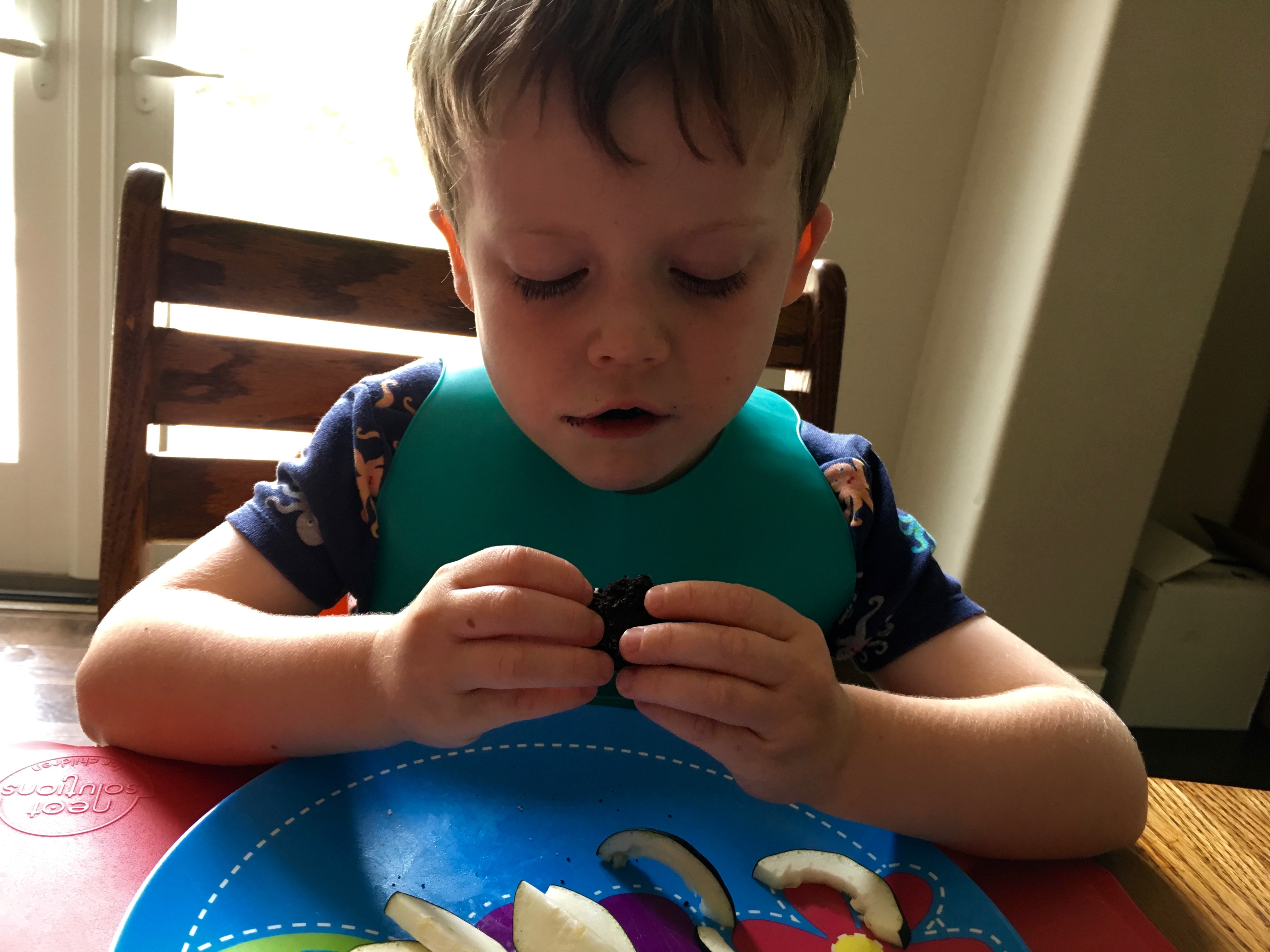 For the first time, P had chocolate chip cookies and "oreos" – from trusted brands like Lucy's and Kinnikinnik. He has already forgotten that we have a bunch more but I guess that means I can roll them out slowly…or eat them all myself 😉  Jk!
Swinging like a big girl.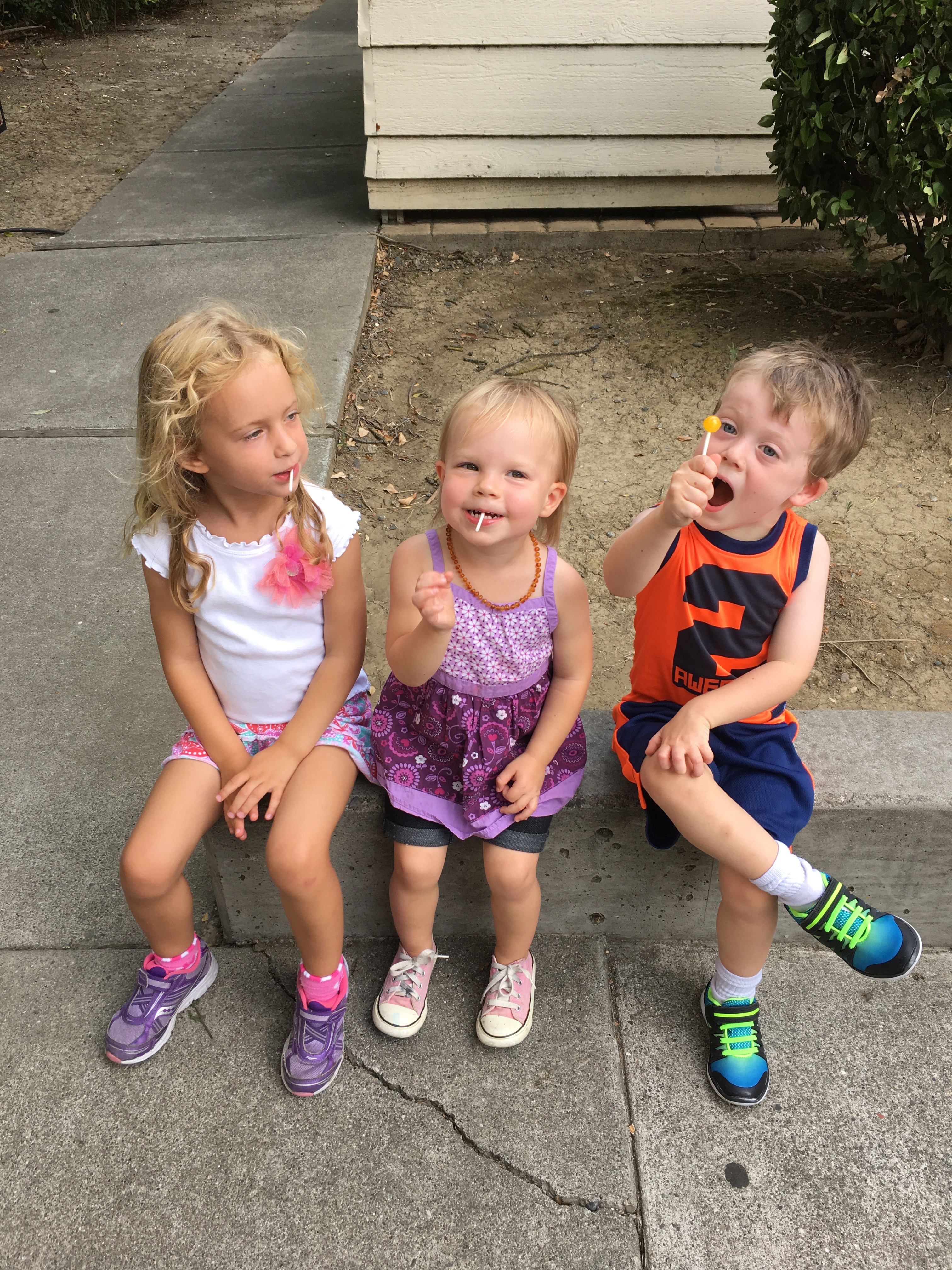 Lollipop love bugs 🙂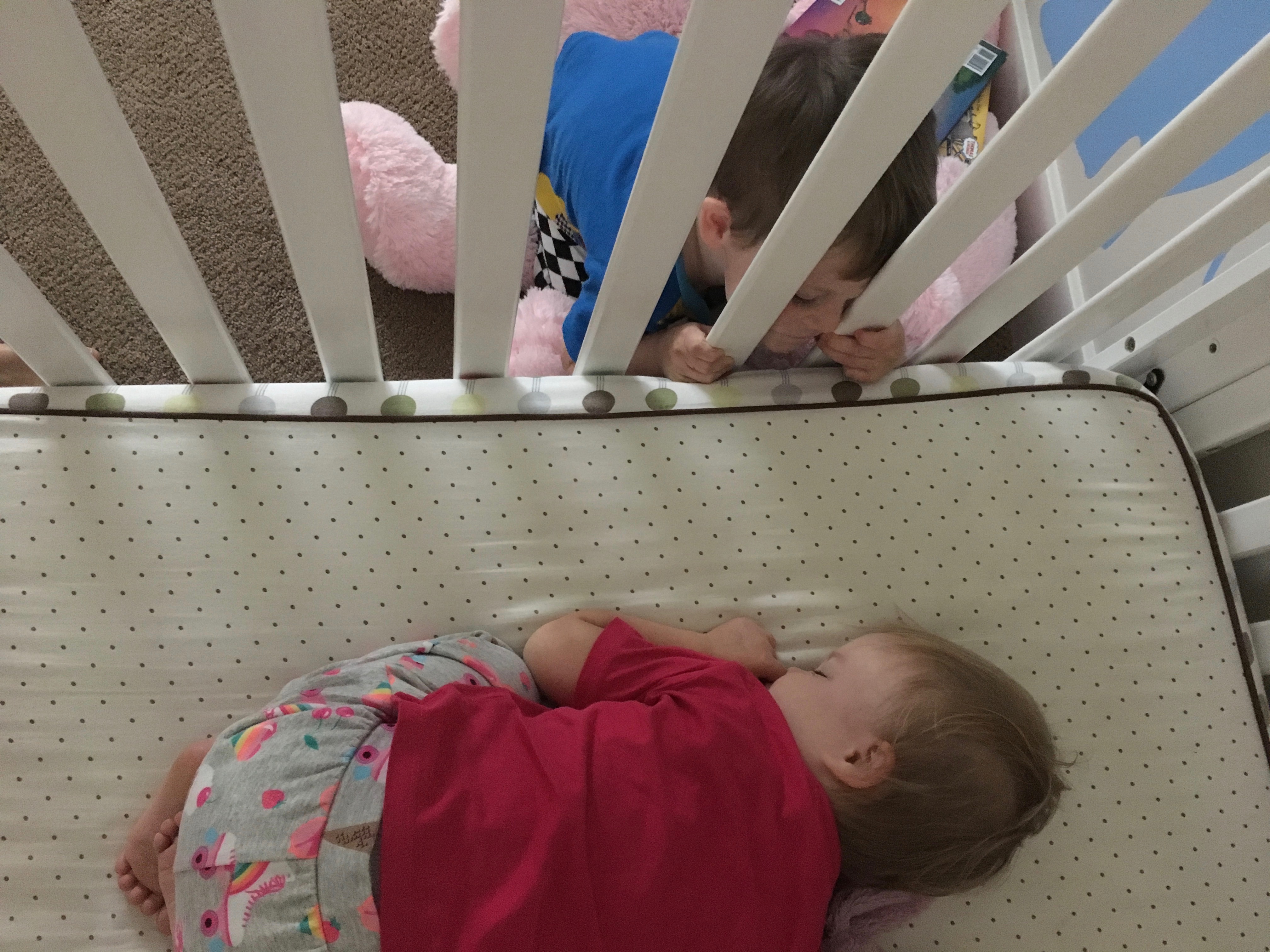 She faked going back to sleep when we went in.  Silly girl.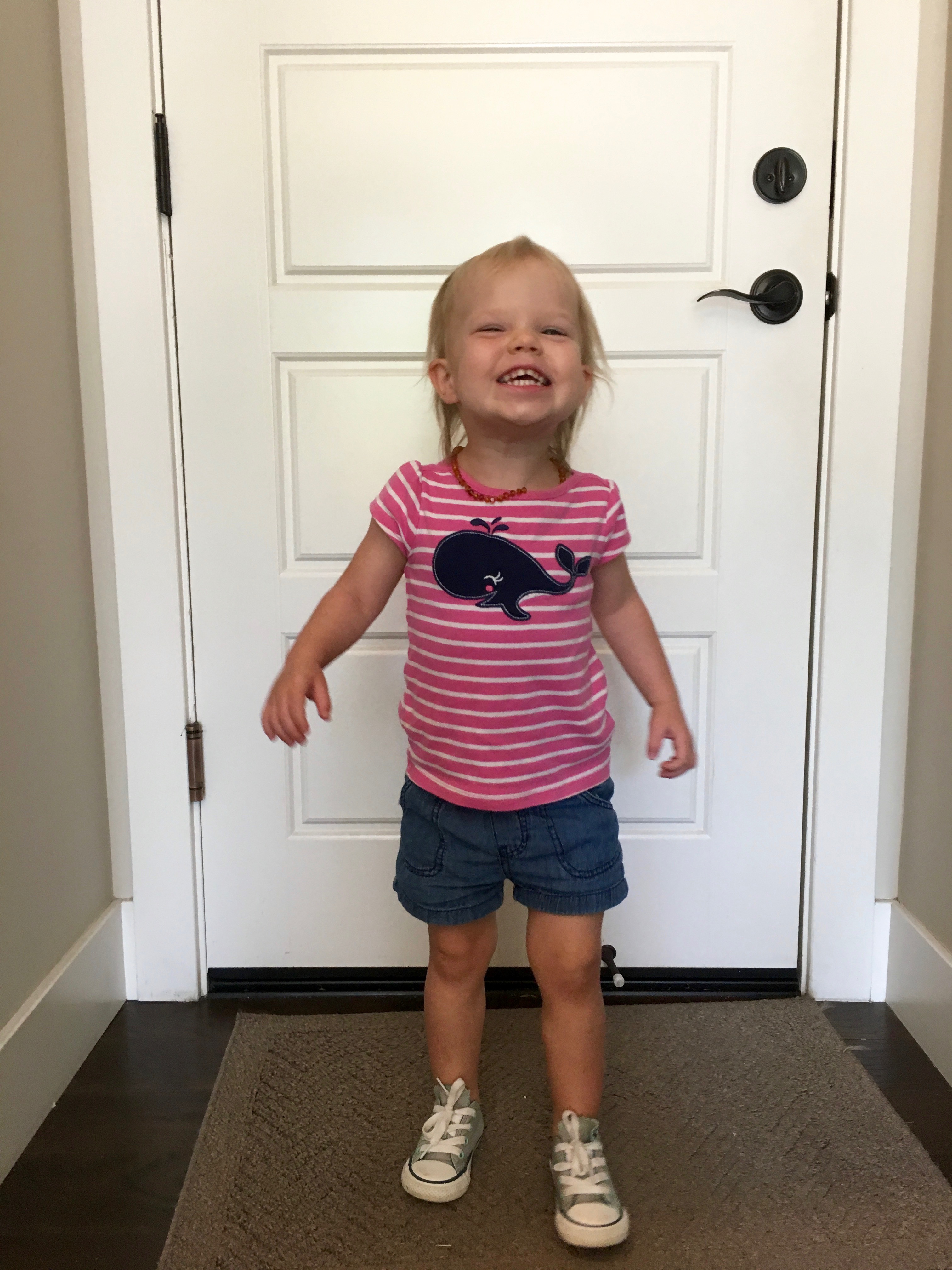 She's been waiting for these (hand me down) shoes to fit.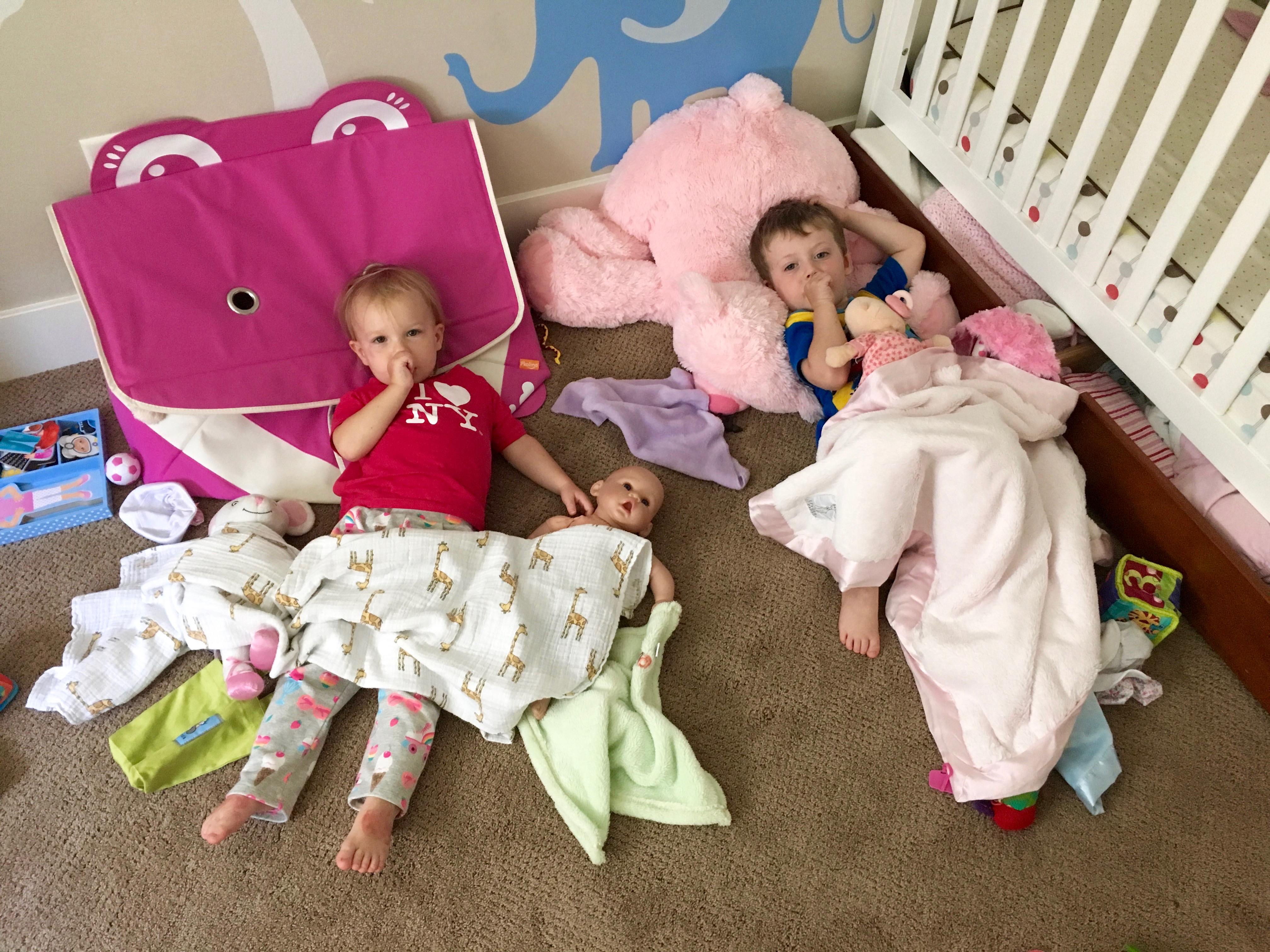 They love tucking their baby dolls in with them and pretending to watch TV as a family.  They are hilarious.  Apparently we don't even need TV because they can just pretend watch it.  Also, they have decided they are marrying each other and they call their four dolls "their kids".  This is a really fun age.
And since this is a FOOD BLOG after all…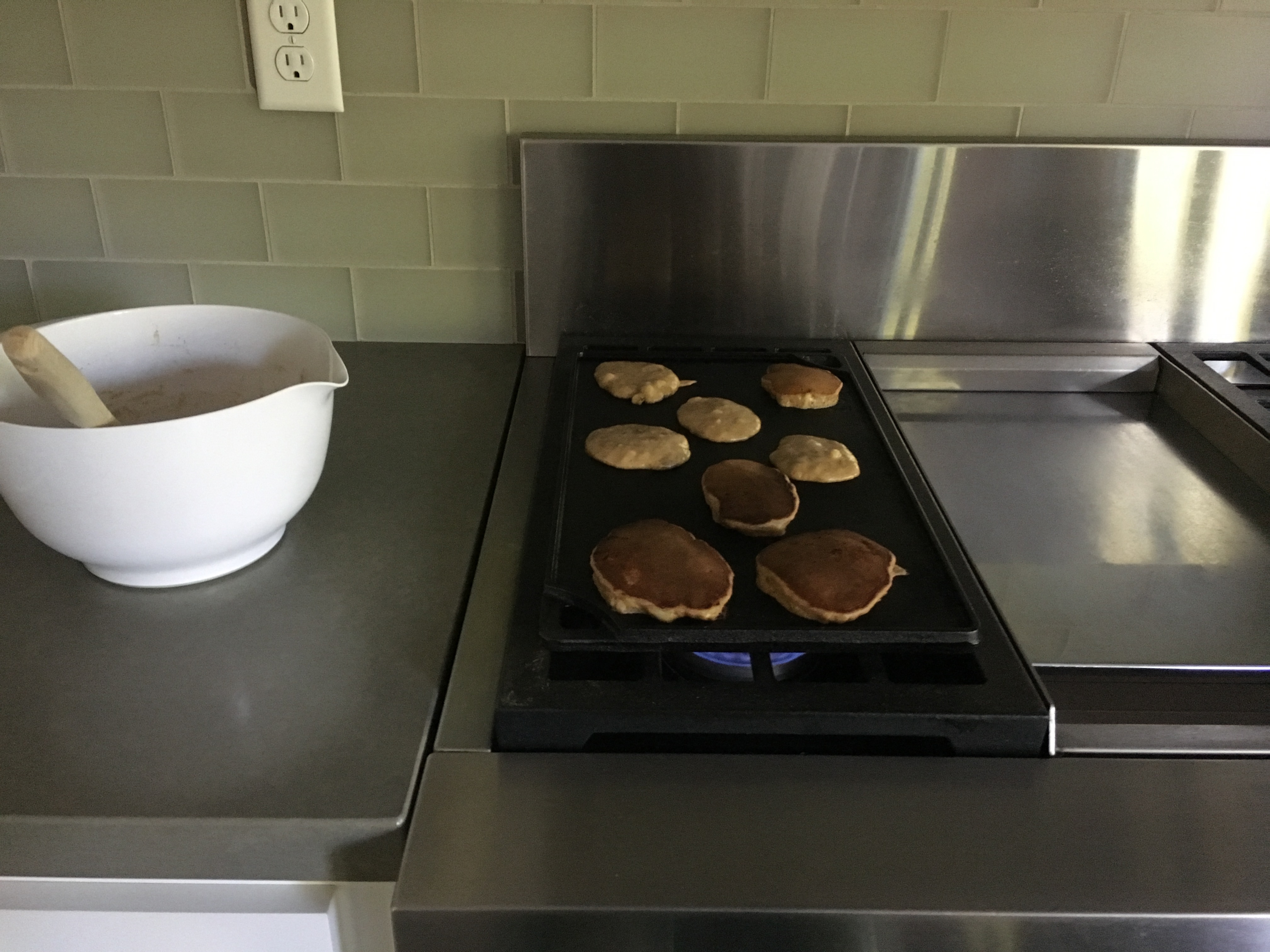 Every day I'm pancake-ing.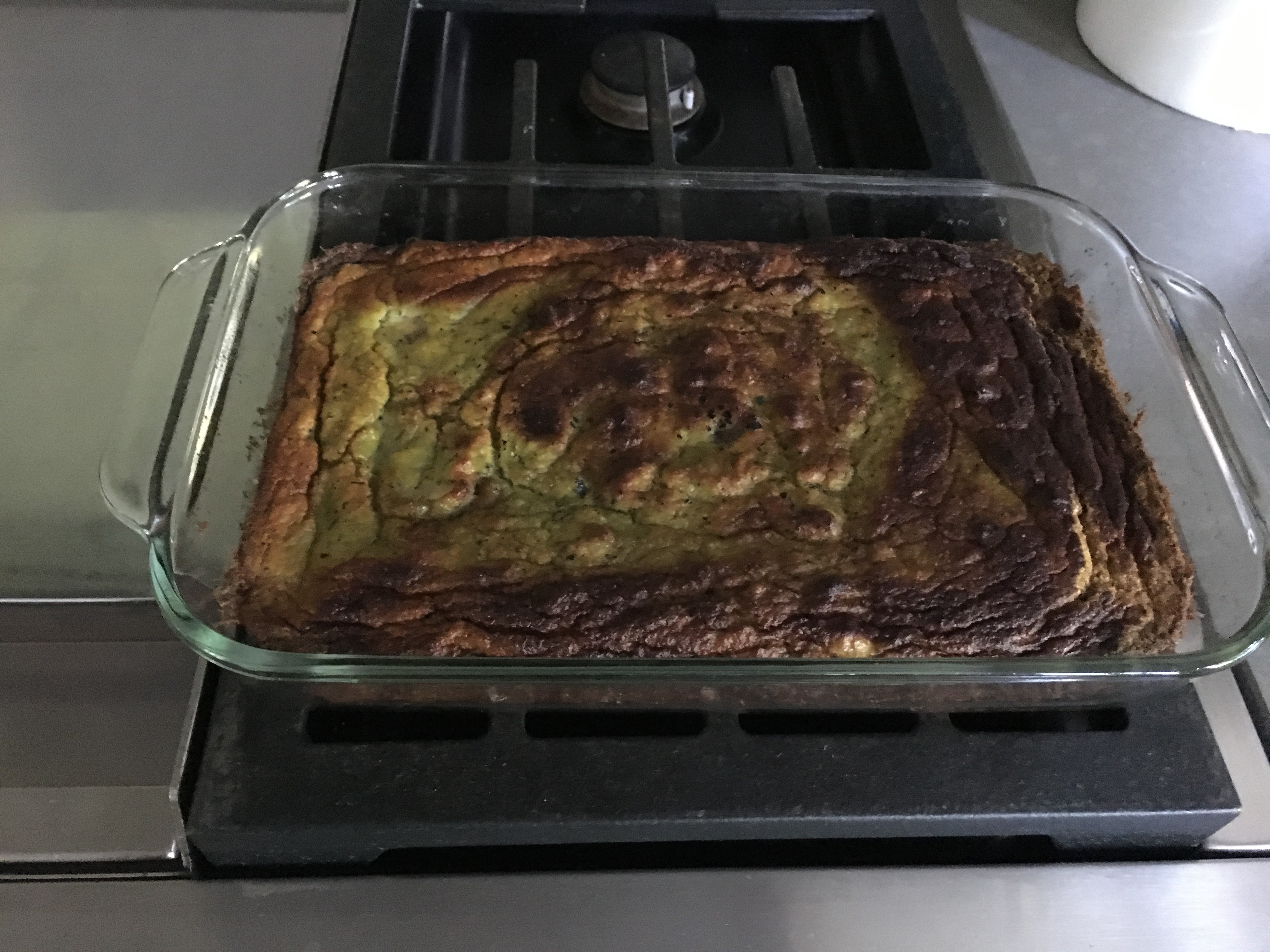 Zucchini in all the baked things.  All. Summer. Long.
I made another breakfast banana bake and forgot the measure / write things down and for that I am so sorry, because it was excellent.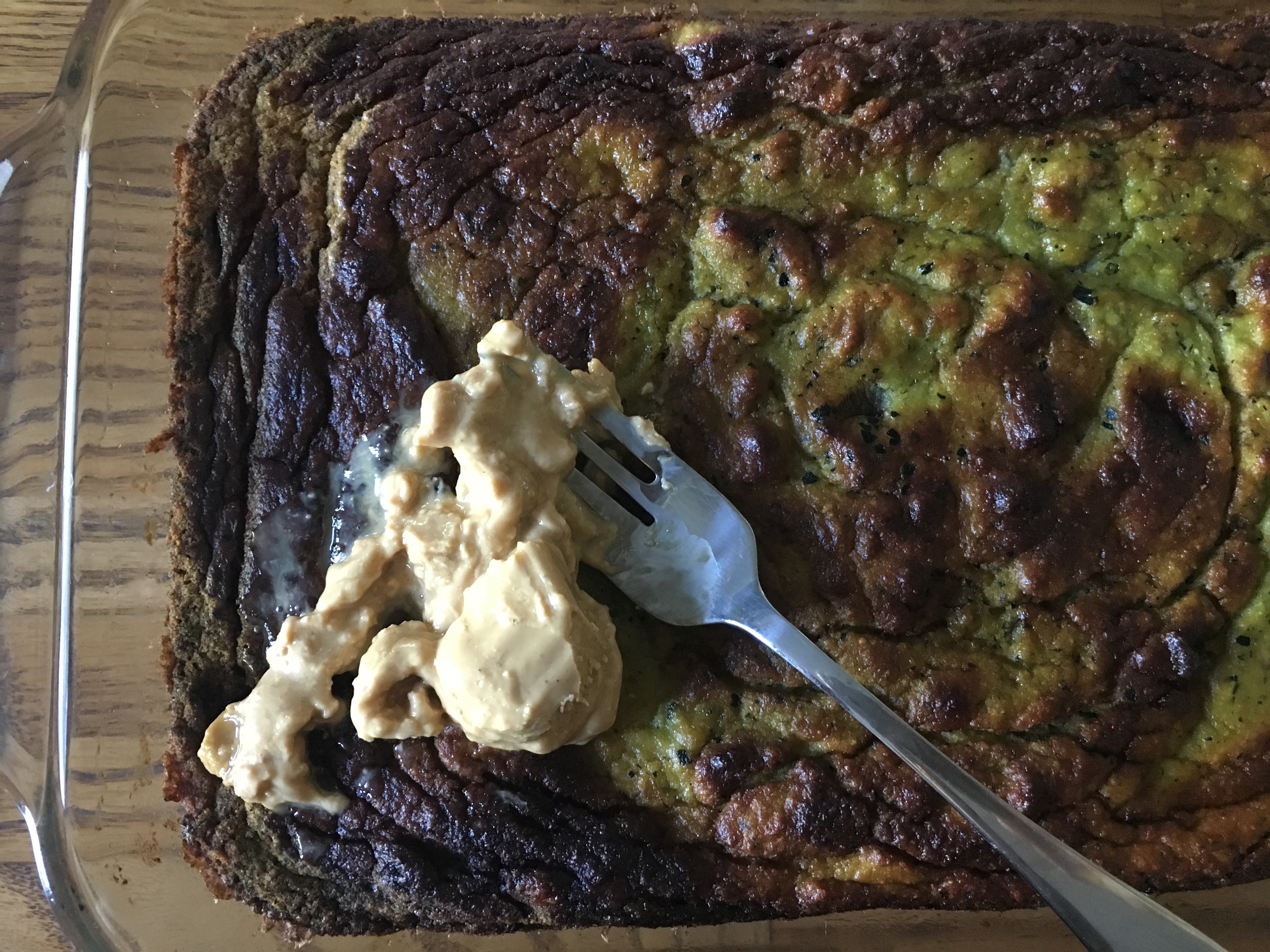 So much so that I had to cut myself off.  This is why you should not eat out of the casserole dish.  Next time I will plate my portion first!!  This amount of cashew butter was so ridiculous (it doesn't look as massive in the pic but I assure you it was at least 1/4 cup)…and yet I ate it all.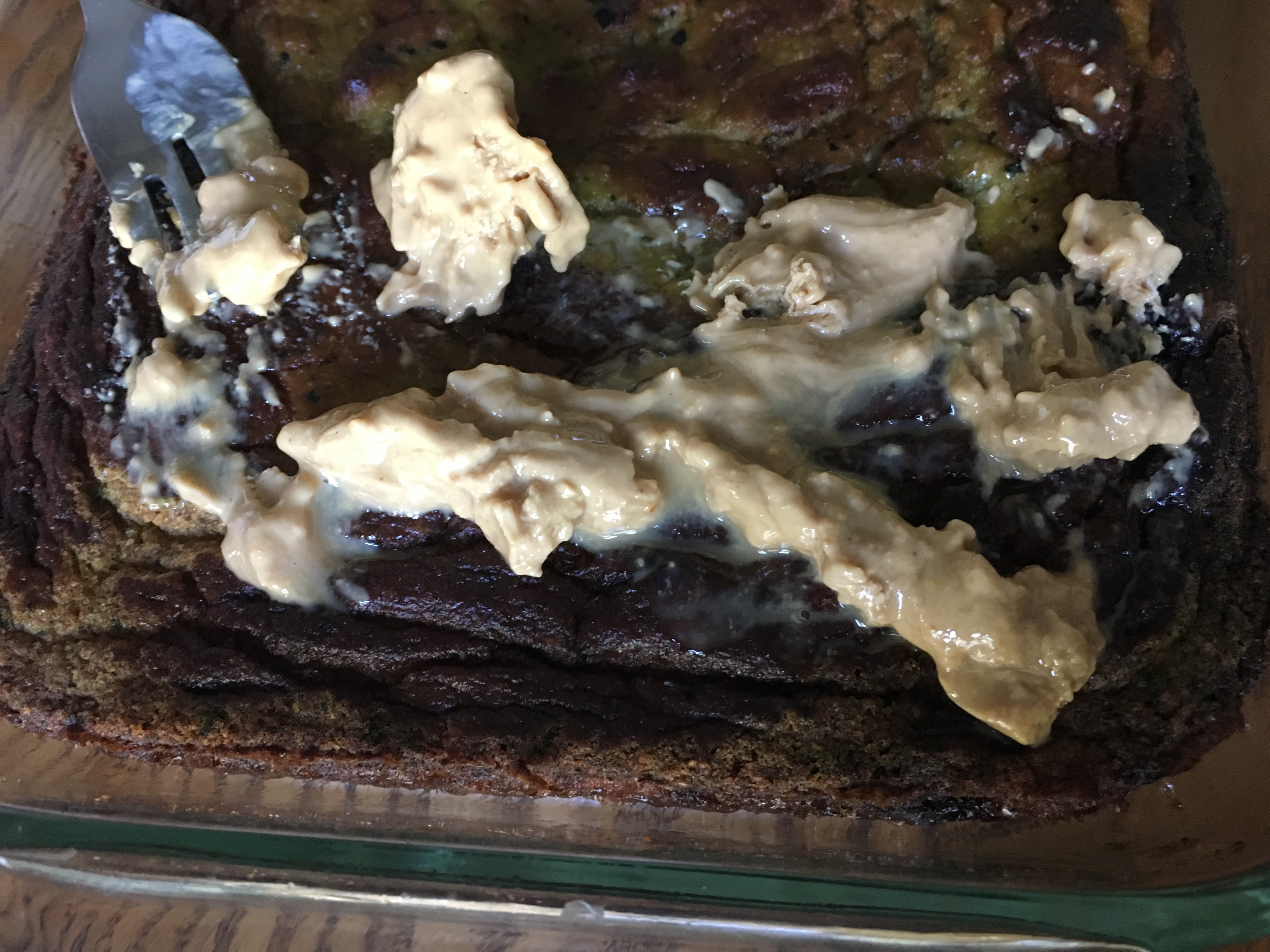 So I'm thinking on the days I don't have salad for lunch I may try some snack plates to make sure I don't ruin my dinner appetite like I seem to do all the time these past few weeks.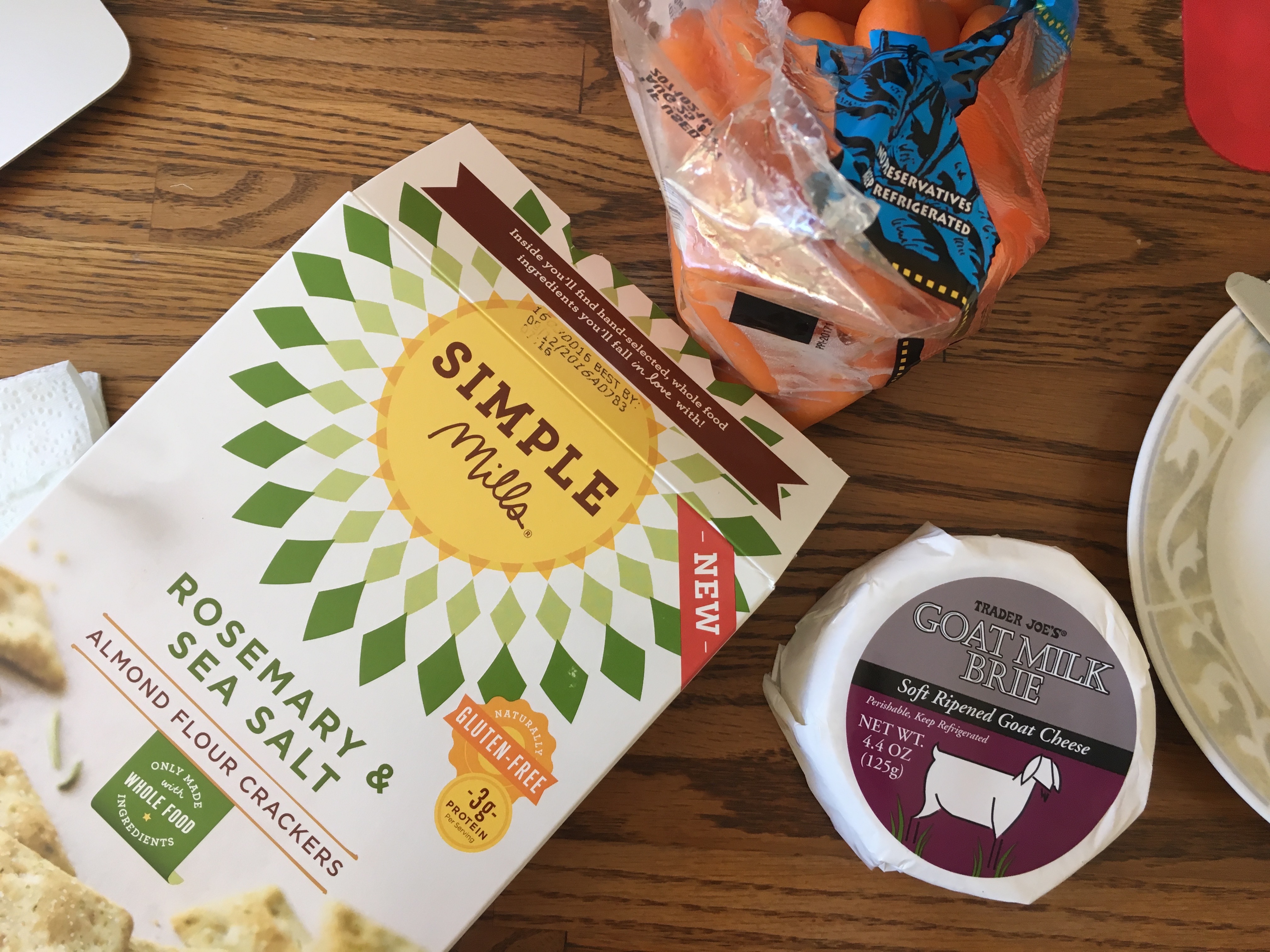 And now that I'm back to normal eating, goat cheese is front and center.  Yummmm.  TJs goat brie is really good. So are these Simple Mills crackers.
Long morning for Mr. P…turned into a toy room nap.  Zzzz.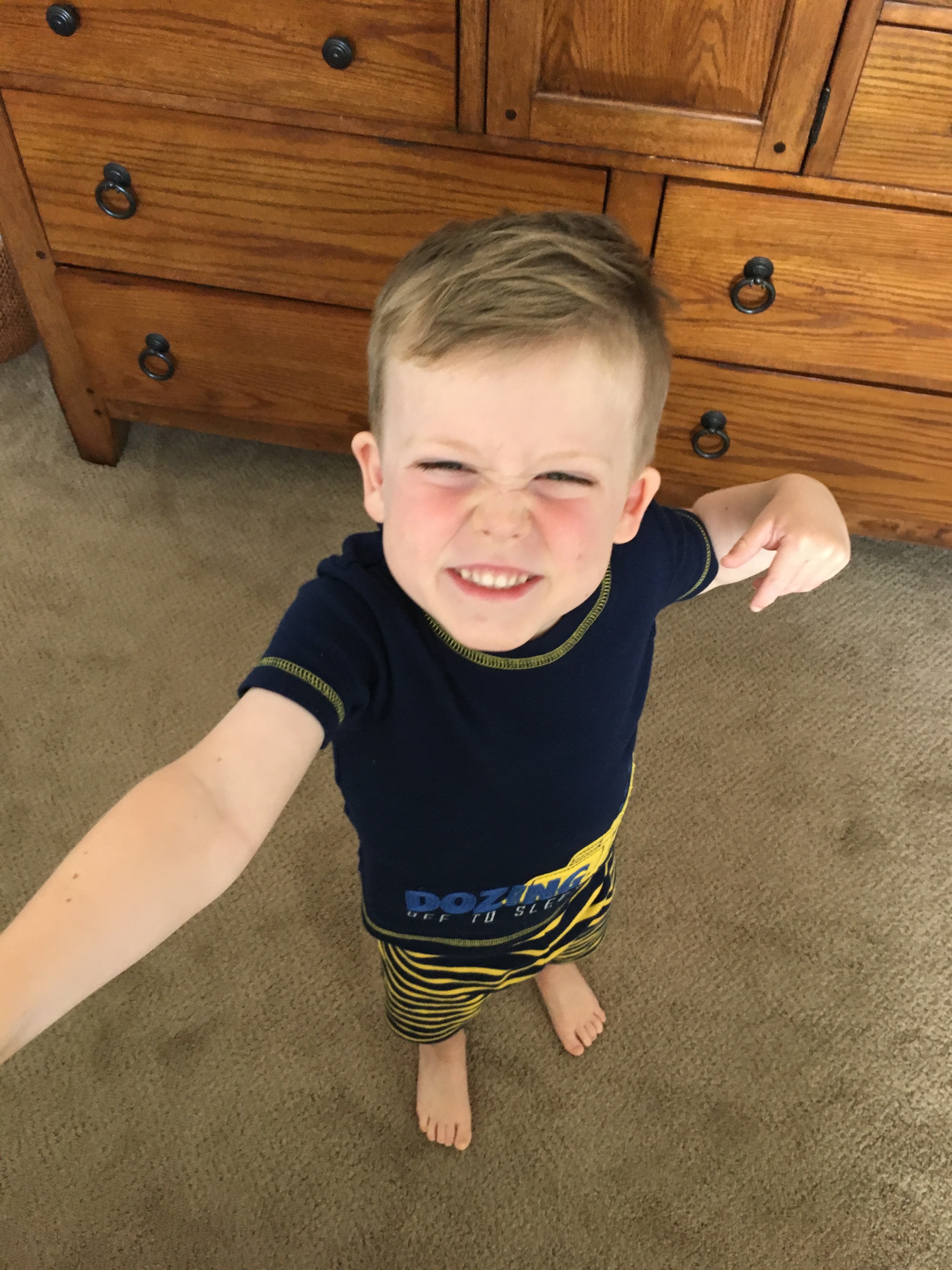 He woke up so happy!  Amazing what some rest will do for a preschooler.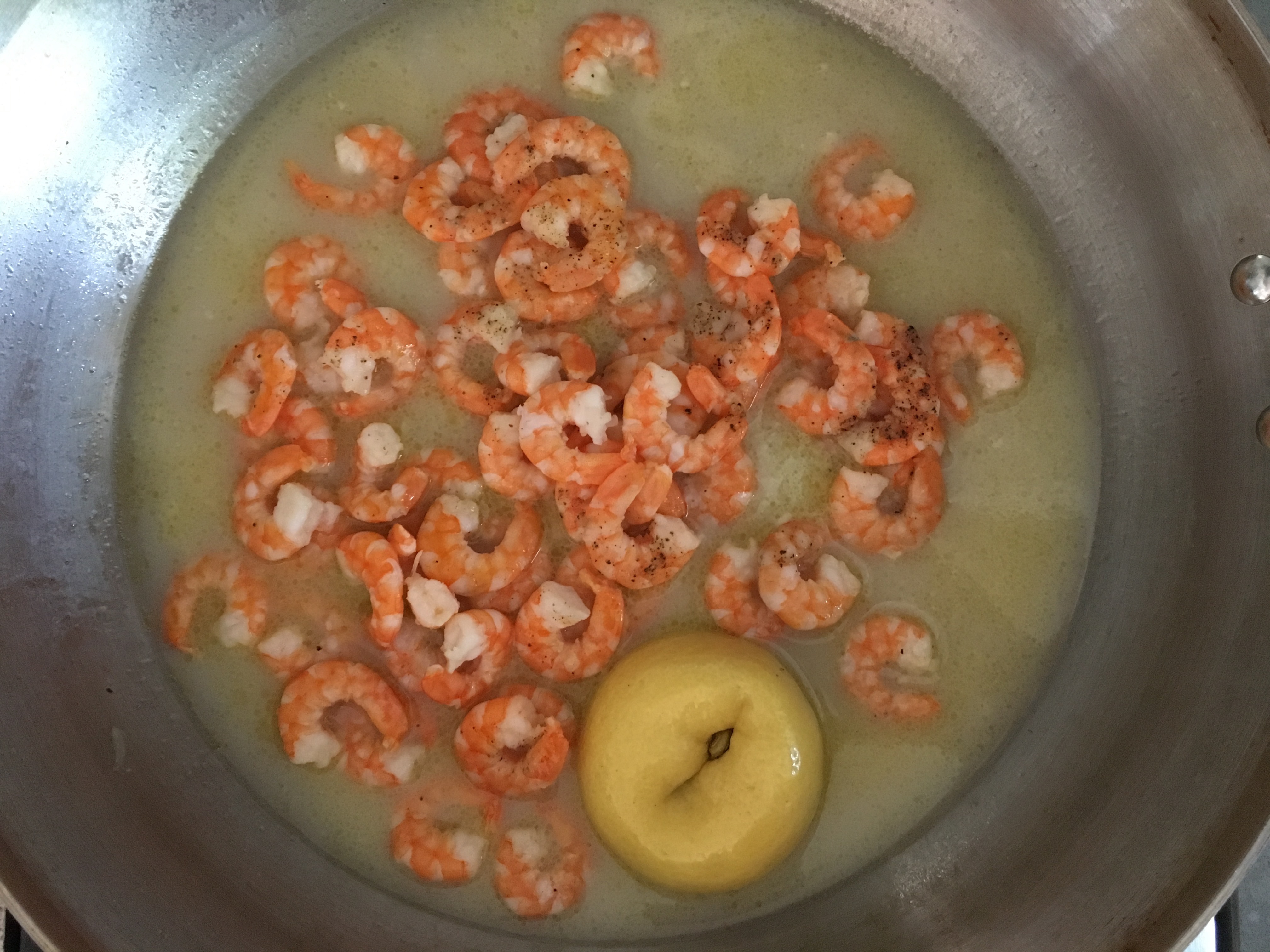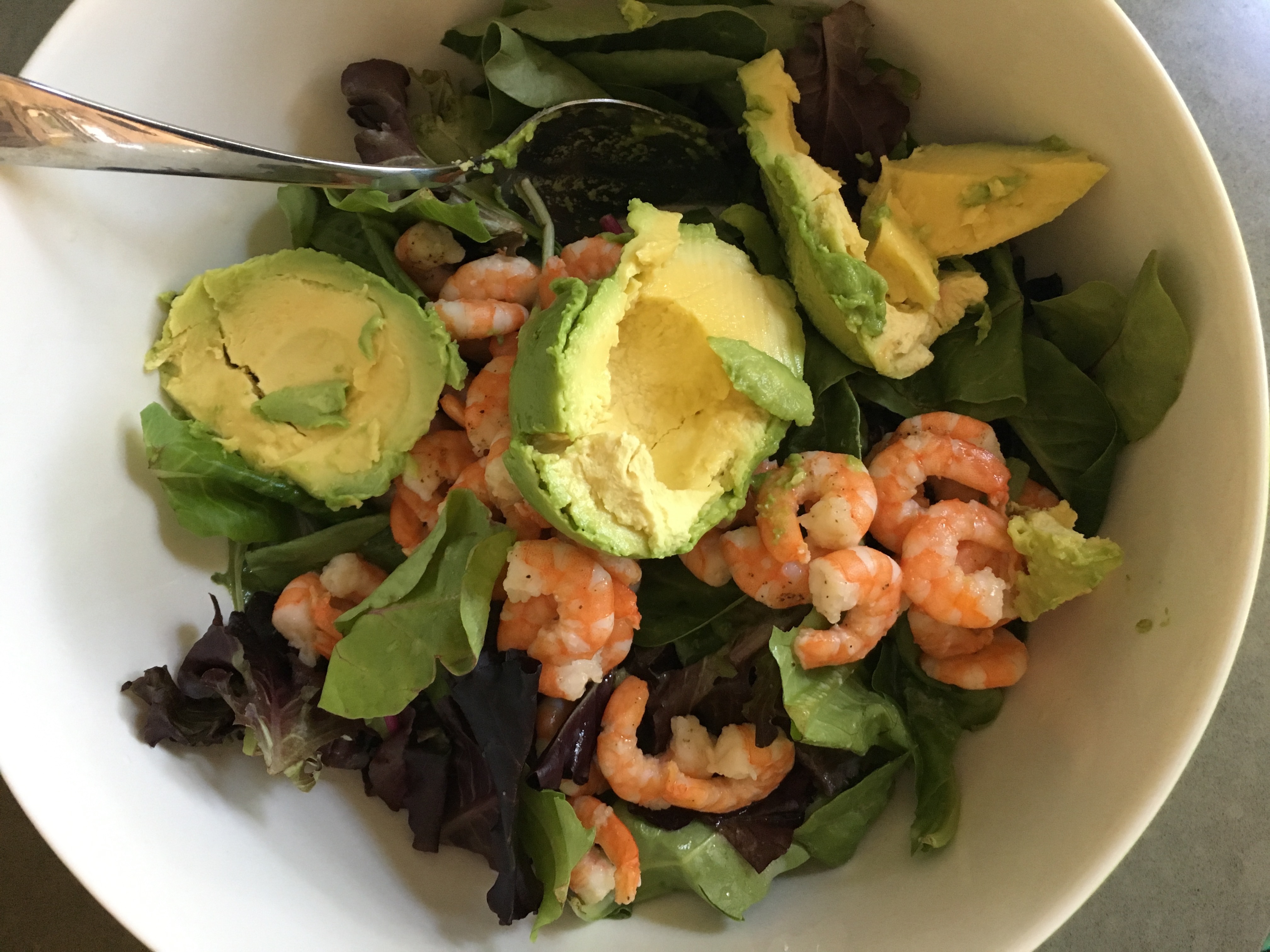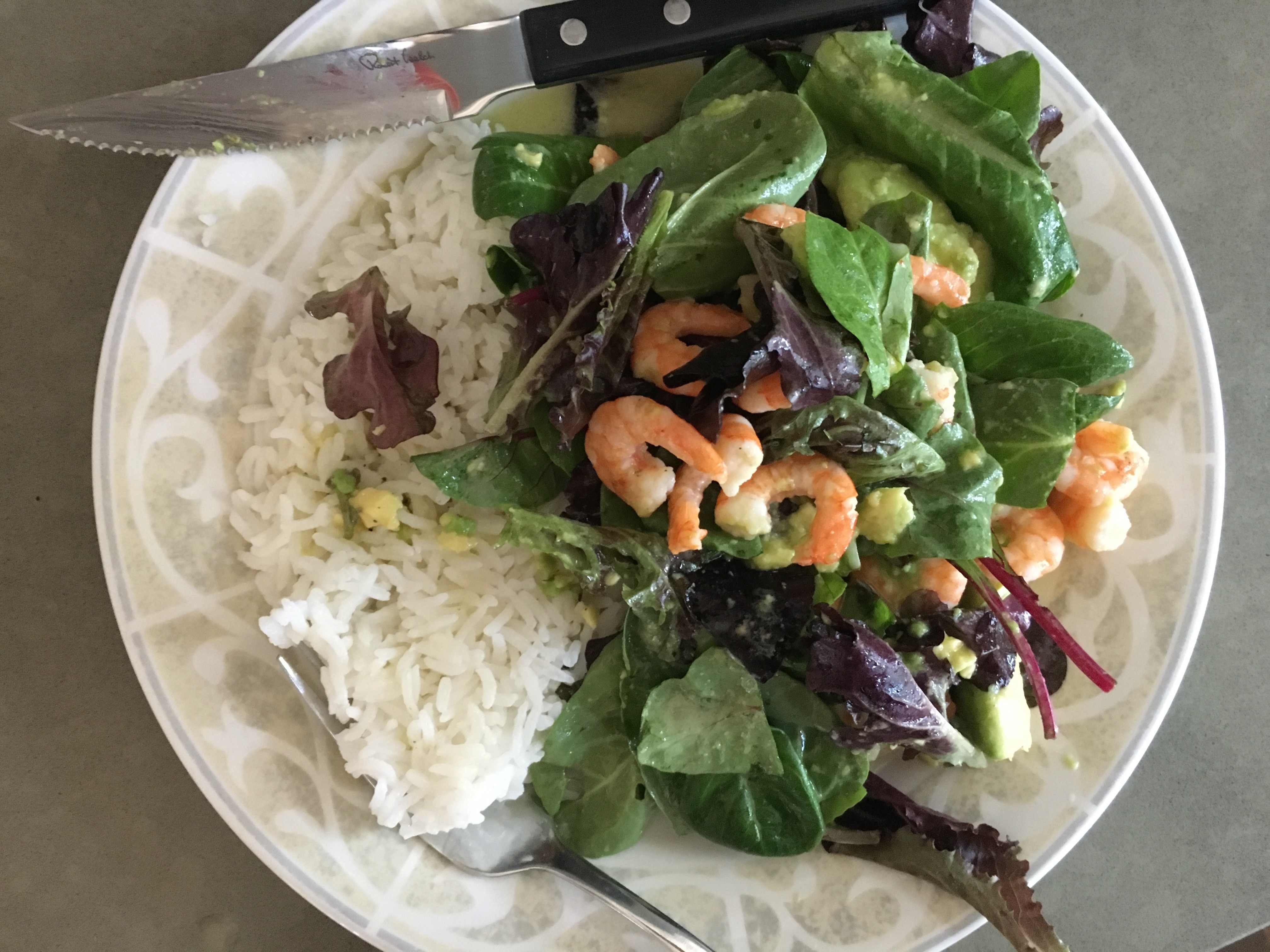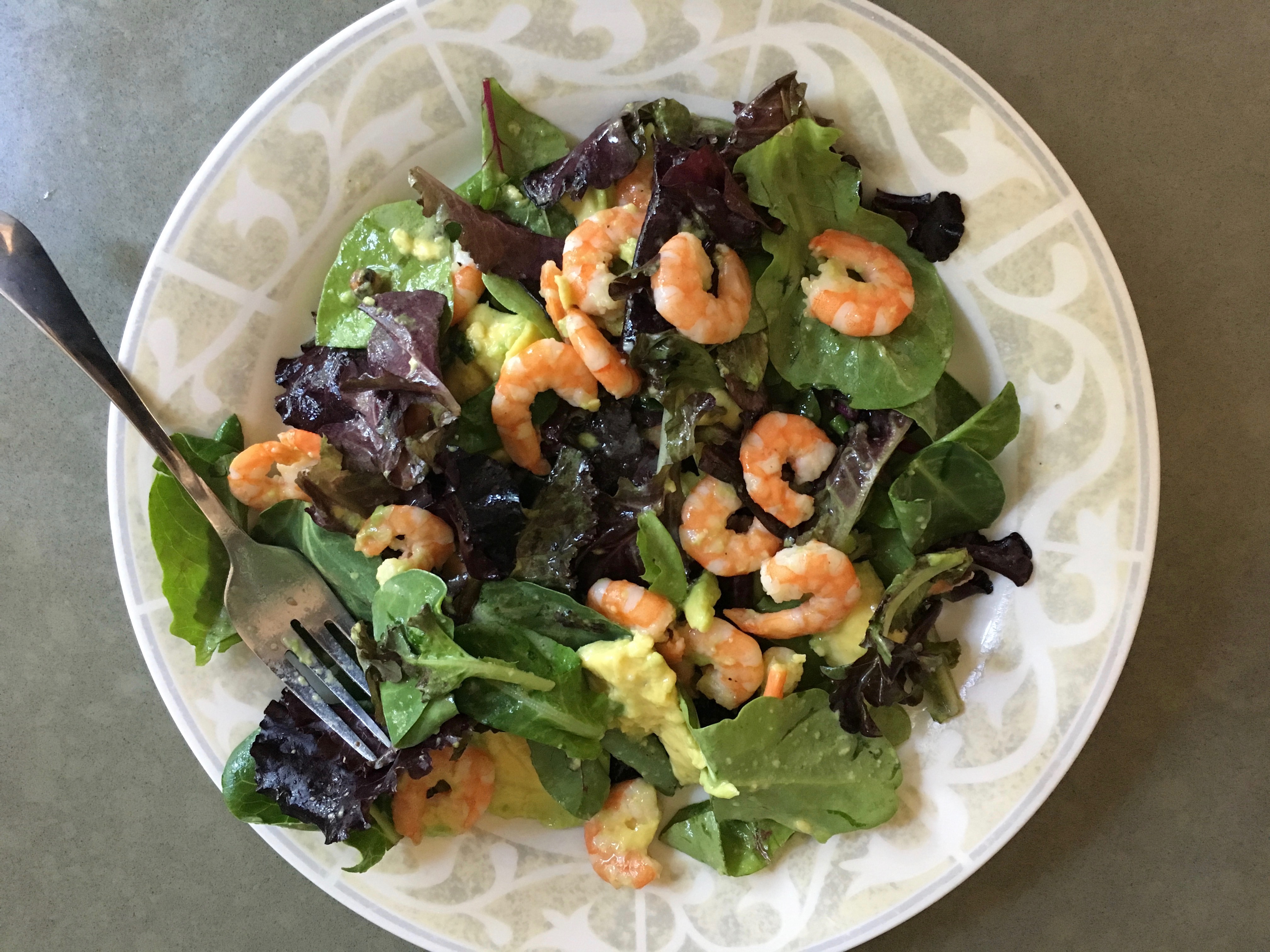 Dinner was inspired by this citrus shrimp and avocado salad, only I didn't have oranges on hand so I basically re-did the shrimp recipe with lemons and white wine.  It was still fantastic.  And I used the extra sauce from the pan as dressing (because I made the shrimp during nap time, it had cooled by then). The family had white rice with it.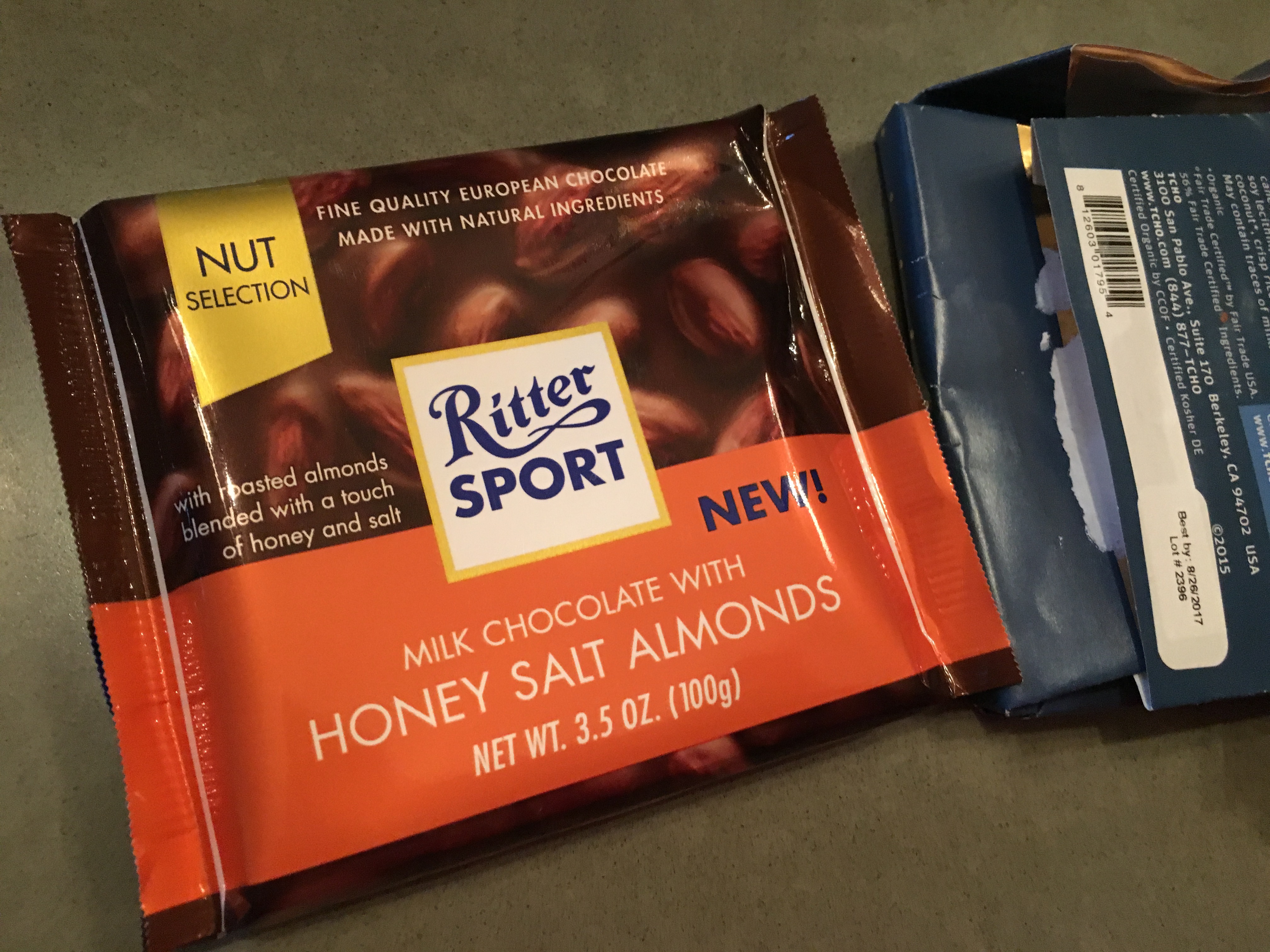 I had dessert!!!!  First time since my weekend trip to SF, which was insanely long ago.  I cannot believe I have gone voluntarily without chocolate for as long as I did.  And I'm still maintaining a normal relationship with sweets!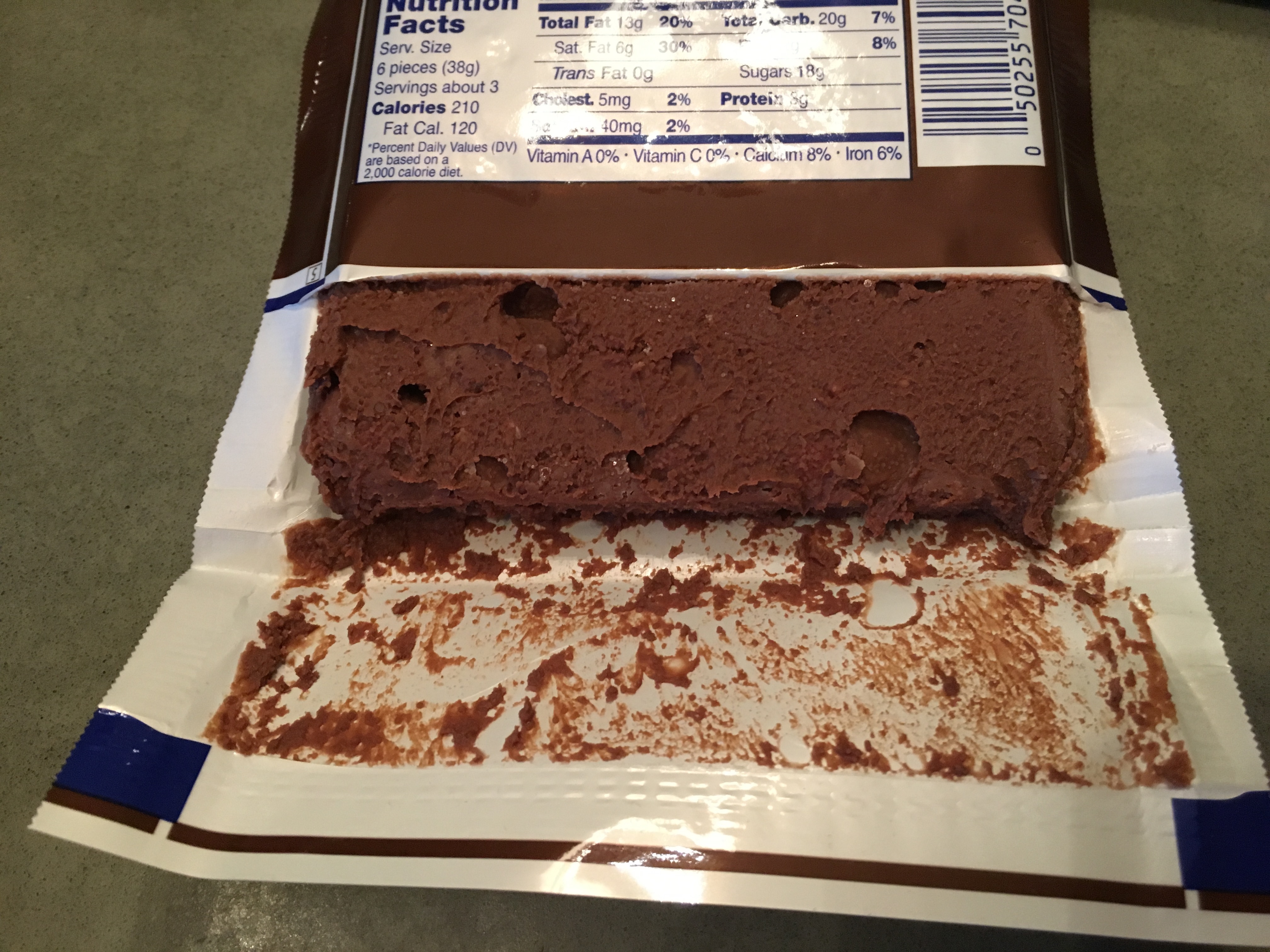 Ok, so this new flavor was purchased in Sausalito at the Mollie Stone across from my sister's place.  Mollie Stone is kinda like Whole Foods in that it carries awesome quality products with an emphasis on local and organic. The problem with the bar was it melted in the car.  And then never really got back to a normal consistency, despite being refrigerated.  I was super annoyed because it was not cheap but I went back to store to buy a new one anyway. And you will never believe it.  They were all out!!!  In a mere few hours they sold every single one??  What!?!?  I can't believe this could be true, so now the mystery remains…what happened to all these new Ritter Sport bars and why?  Ugh.  As you can see, it was not solid enough to eat with my hands, so I used a fork.  It was the consistency of fudge.  Super yummy, but I'd prefer to eat it as an actual chocolate bar.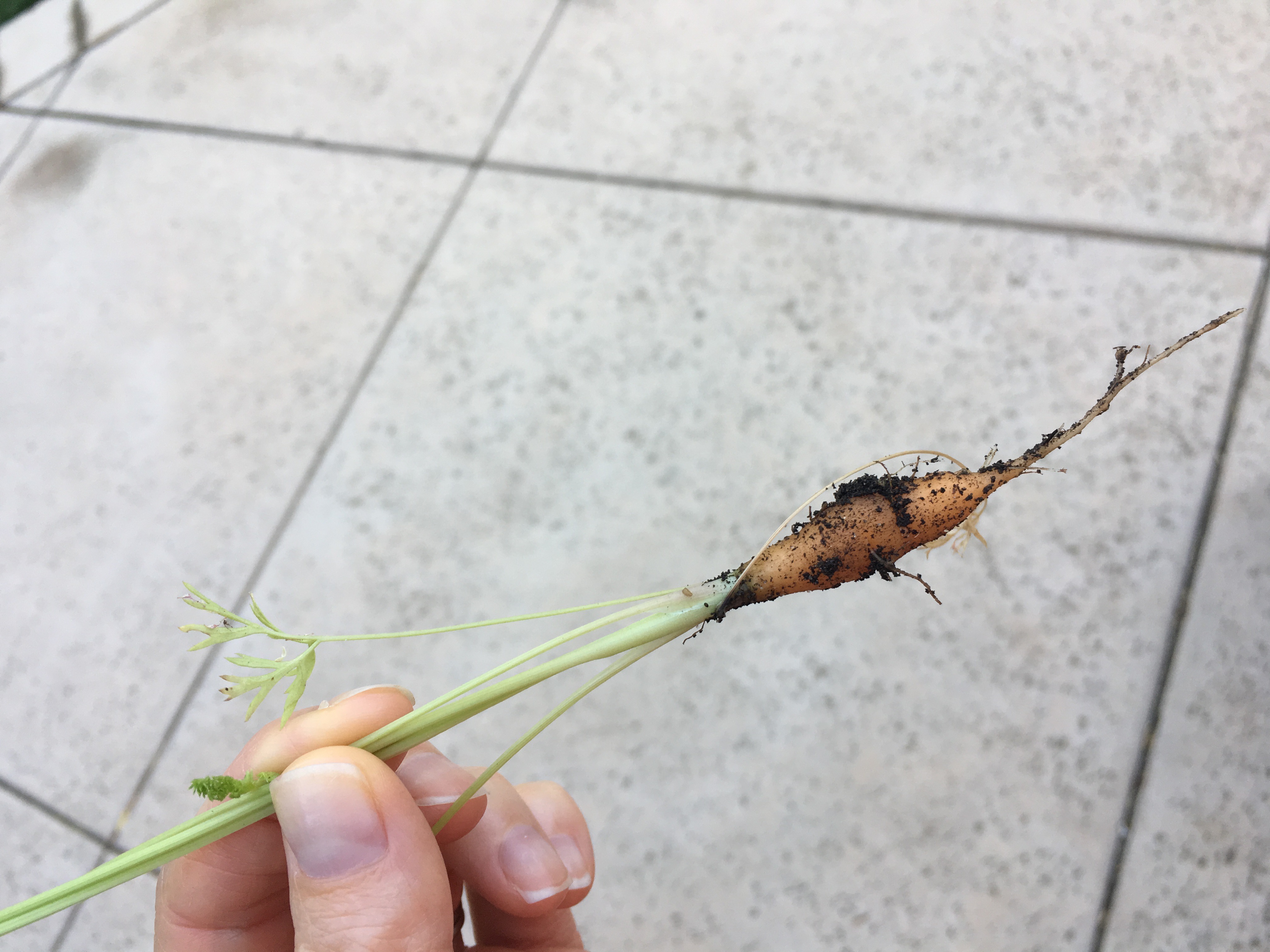 I wanted to see if the carrots from the garden were ready…not yet!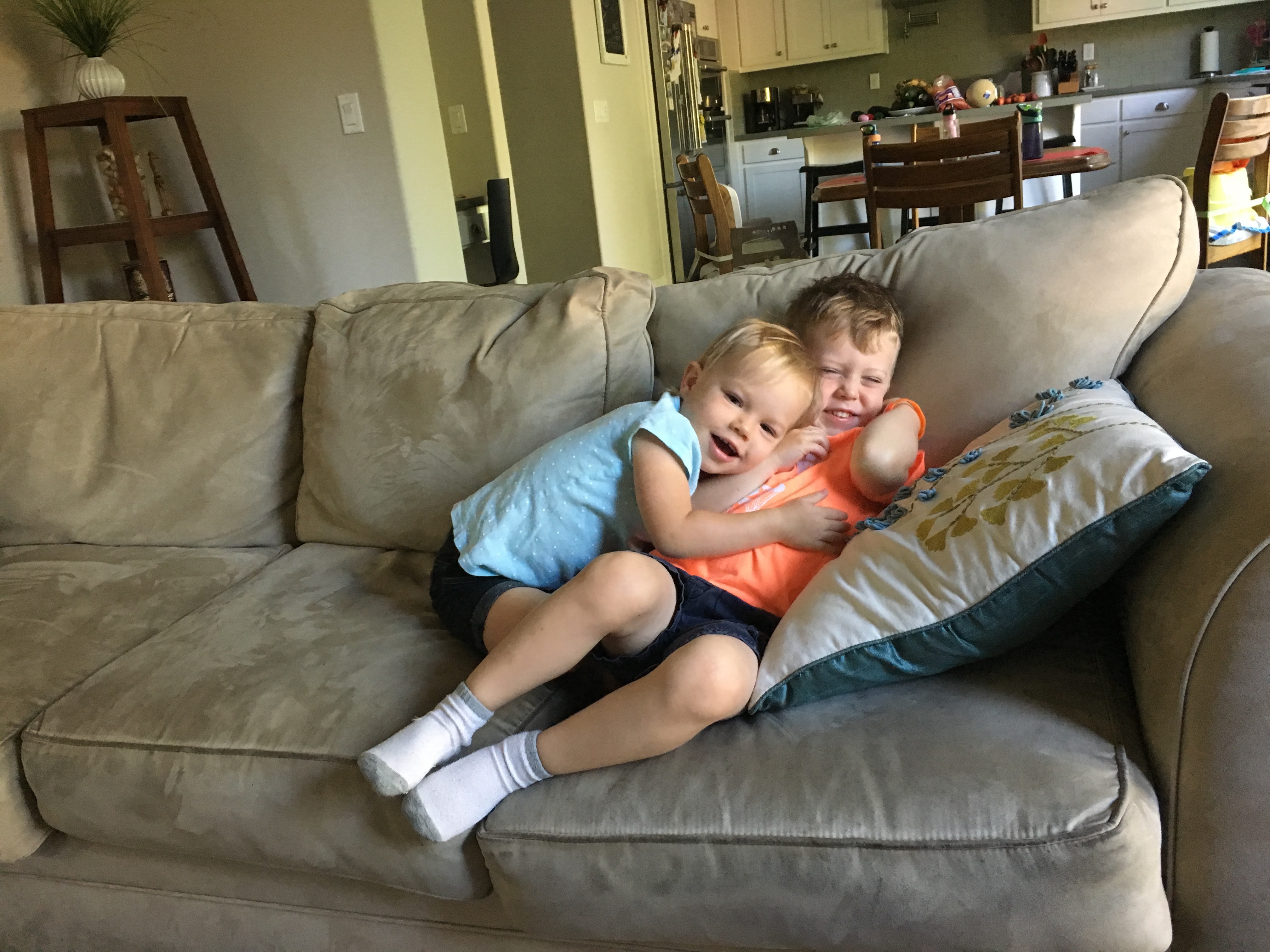 Sometimes they love each other so hard I have to pinch myself. And then take pictures.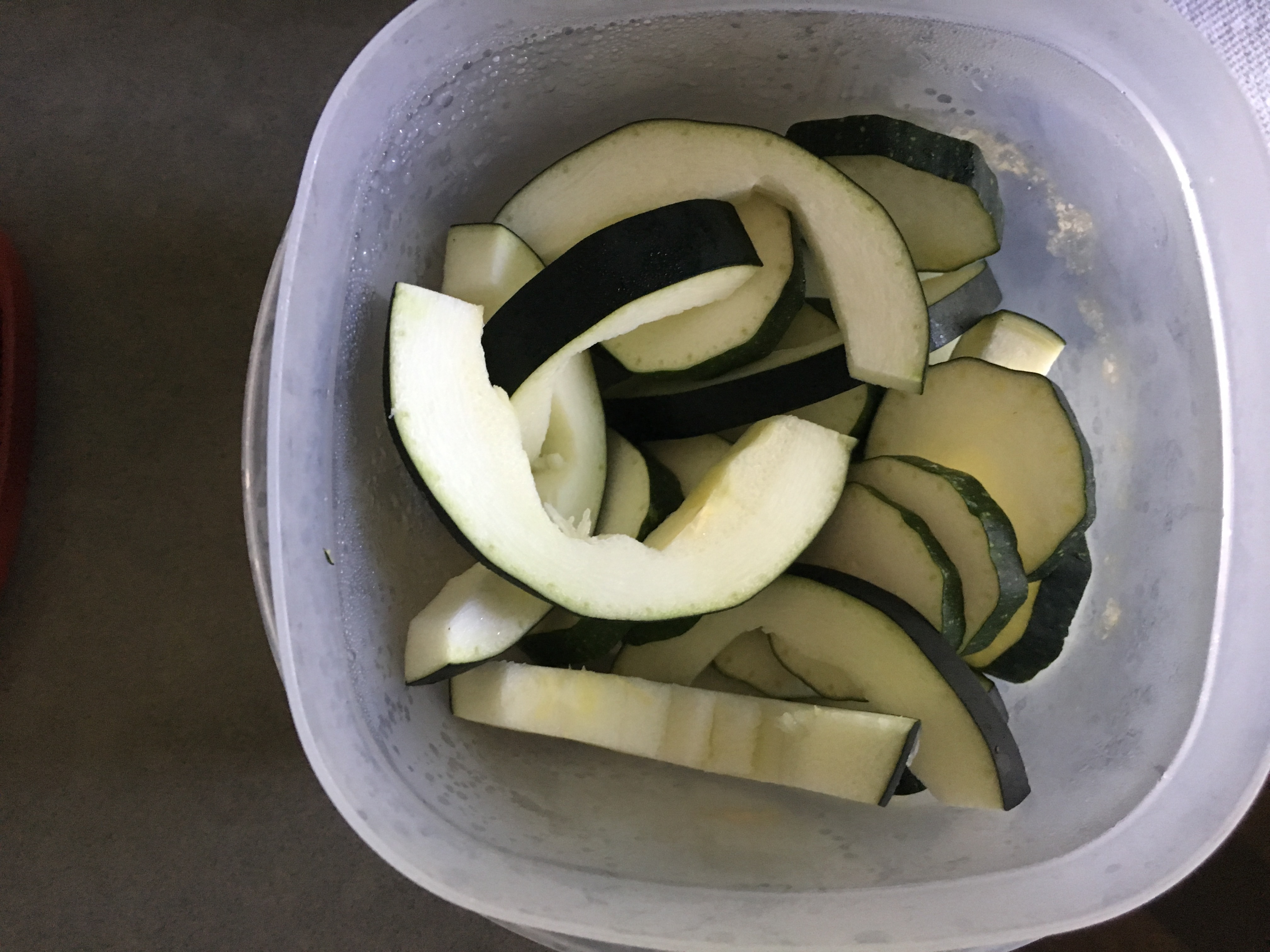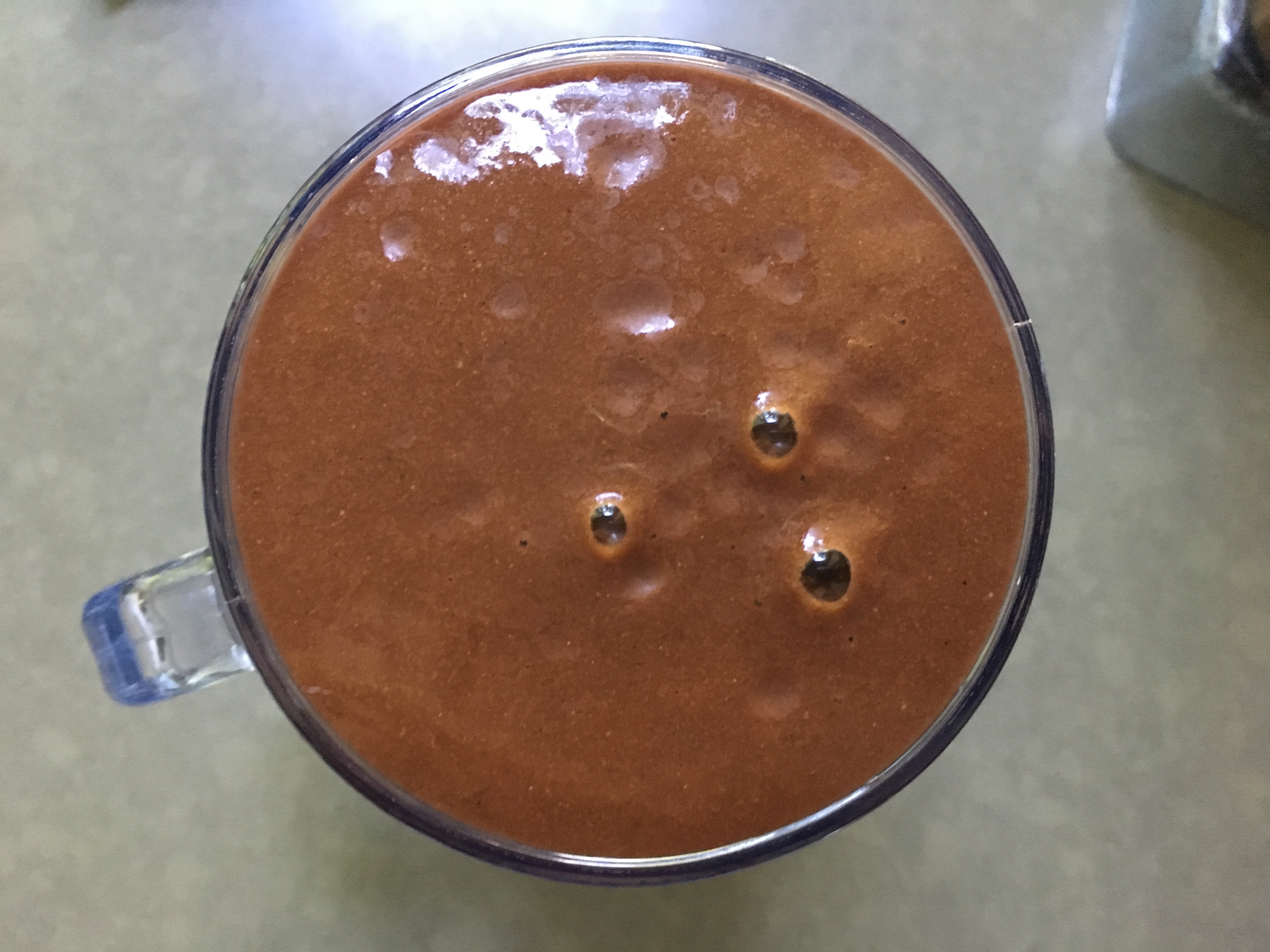 I told myself I was going to make smoothies over the past month, but then I didn't.  This week I finally felt in the mood for one.  I'm out of protein powder and I'm trying to decide if I should buy more or not.  I love Vega and Sun Warrior, but they aren't cheap.  In the meantime, I'm finding other fun stuffs to bulk up my smoothies, like zucchini!!  Why not, right?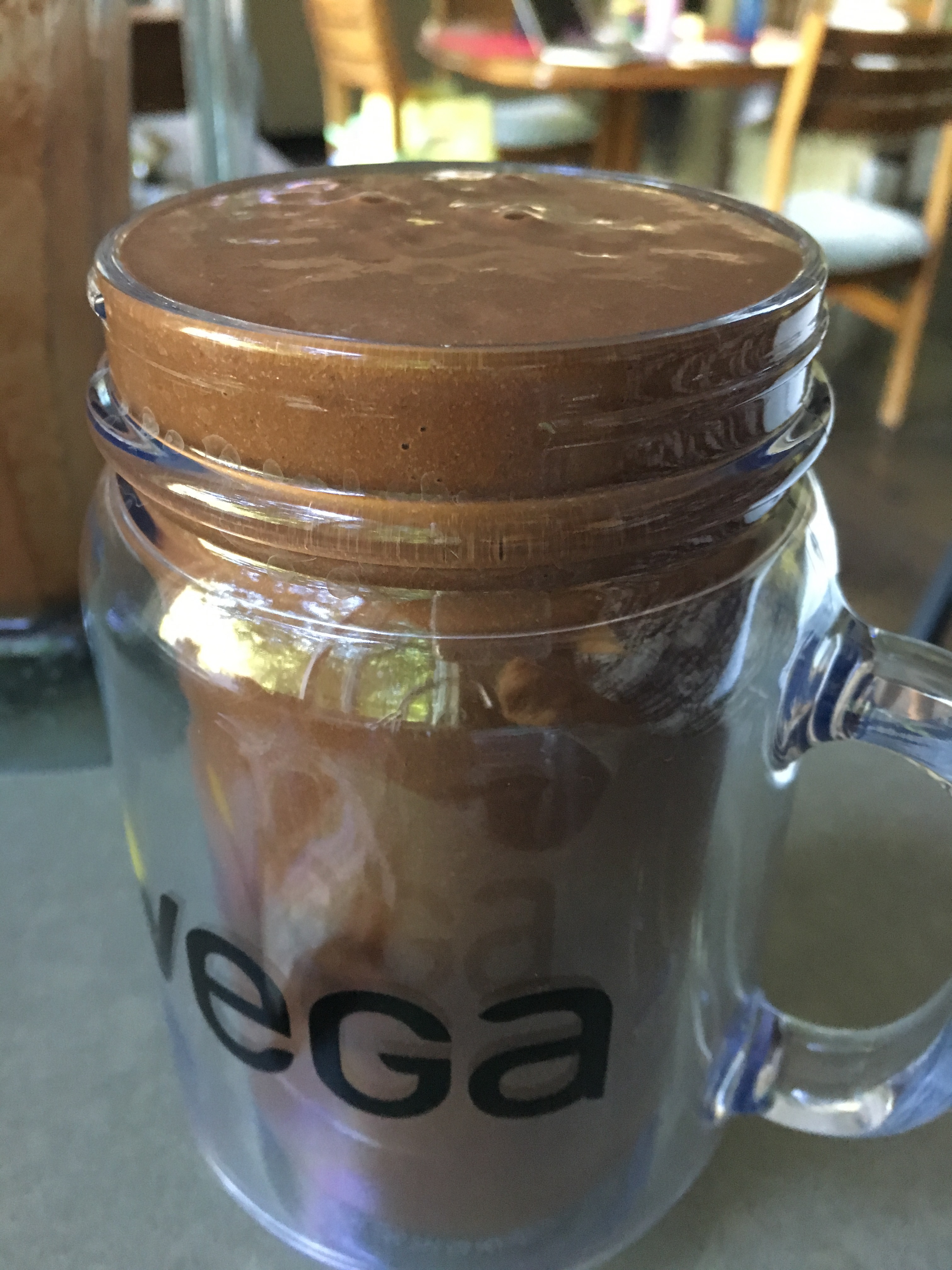 This one had 1/2 cup chopped zucchini, almond milk, 1 frozen banana, ice, chia seeds, cocoa powder, collagen, and NuNaturals liquid stevia.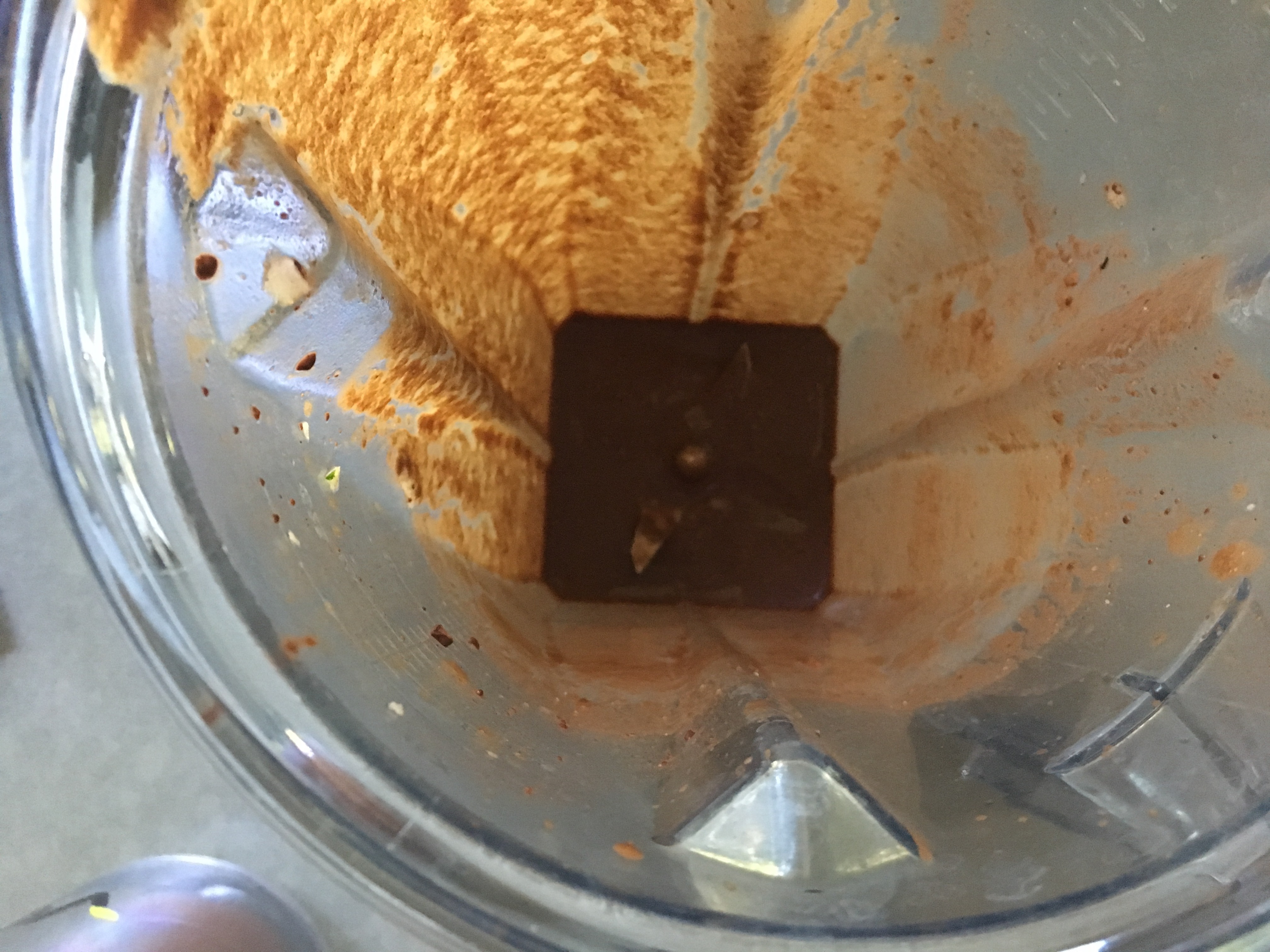 I made too much so as soon as I sipped enough off the top I added the rest in.  It was so good!  No zucchini flavor whatsoever. Total cocoa explosion.  Yum.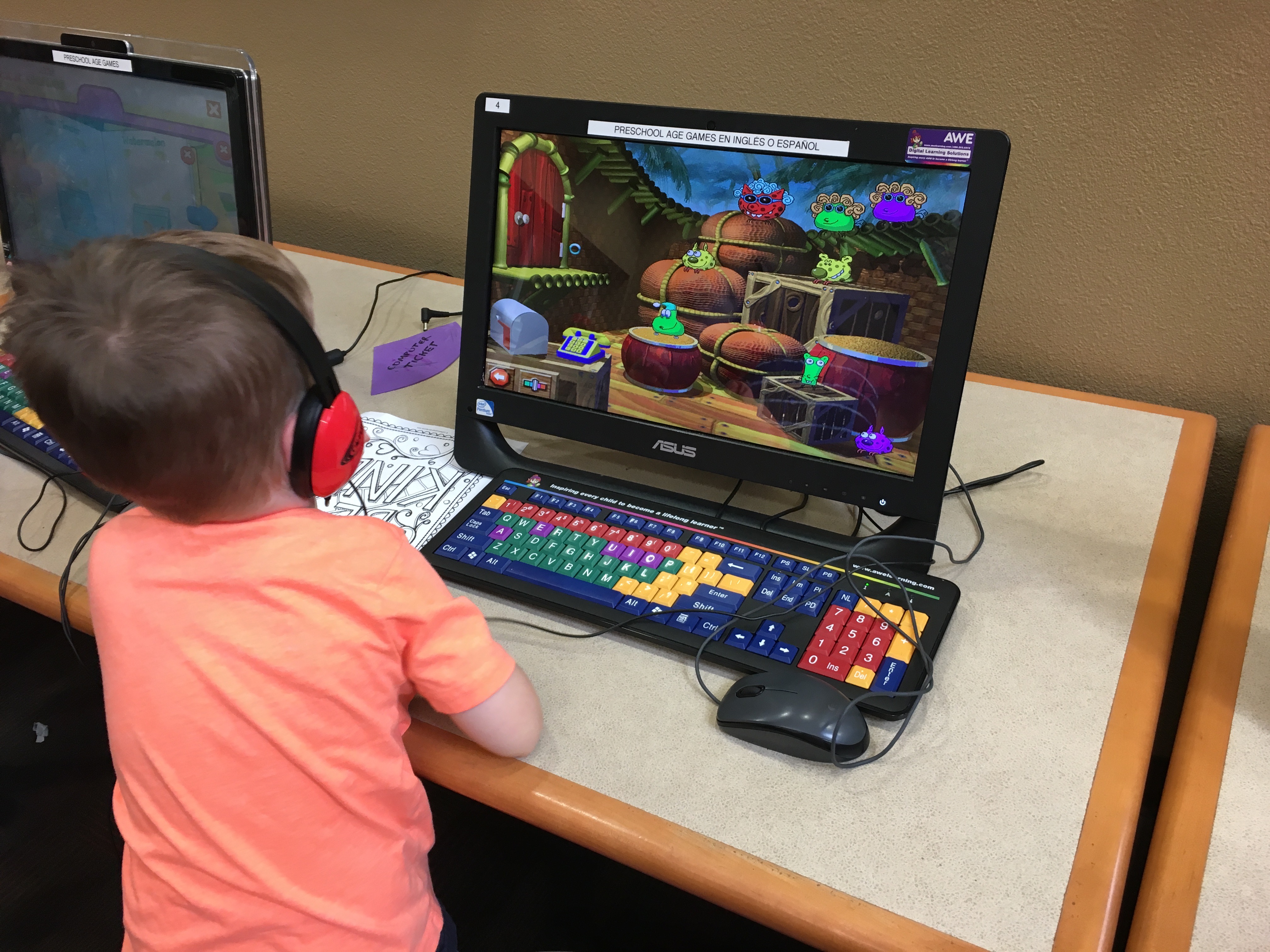 More computer games in the library.  They are getting the hang of computers.  It's awesome.  Her game was super cute…you pick a recipe from Dora's cookbook and then you find each ingredient in her pantry, fridge, or counter as it flips through the cookbook.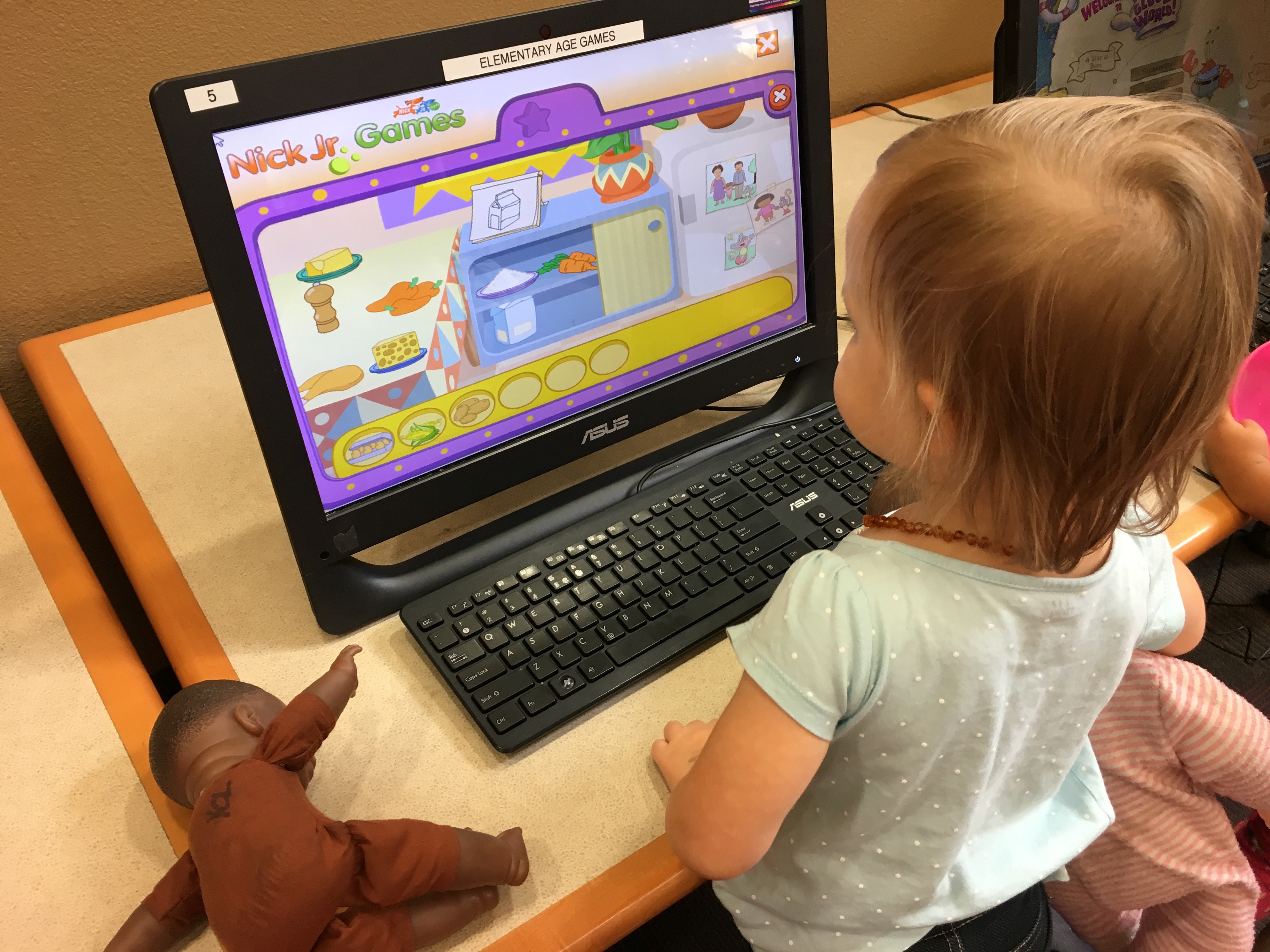 While holding two baby dolls, natch.
P wanted in on this game too (as did I because IT WAS SO FUN!!) so we all played it for a while.  I learned lots of new recipes.  Oh and it was all in Spanish.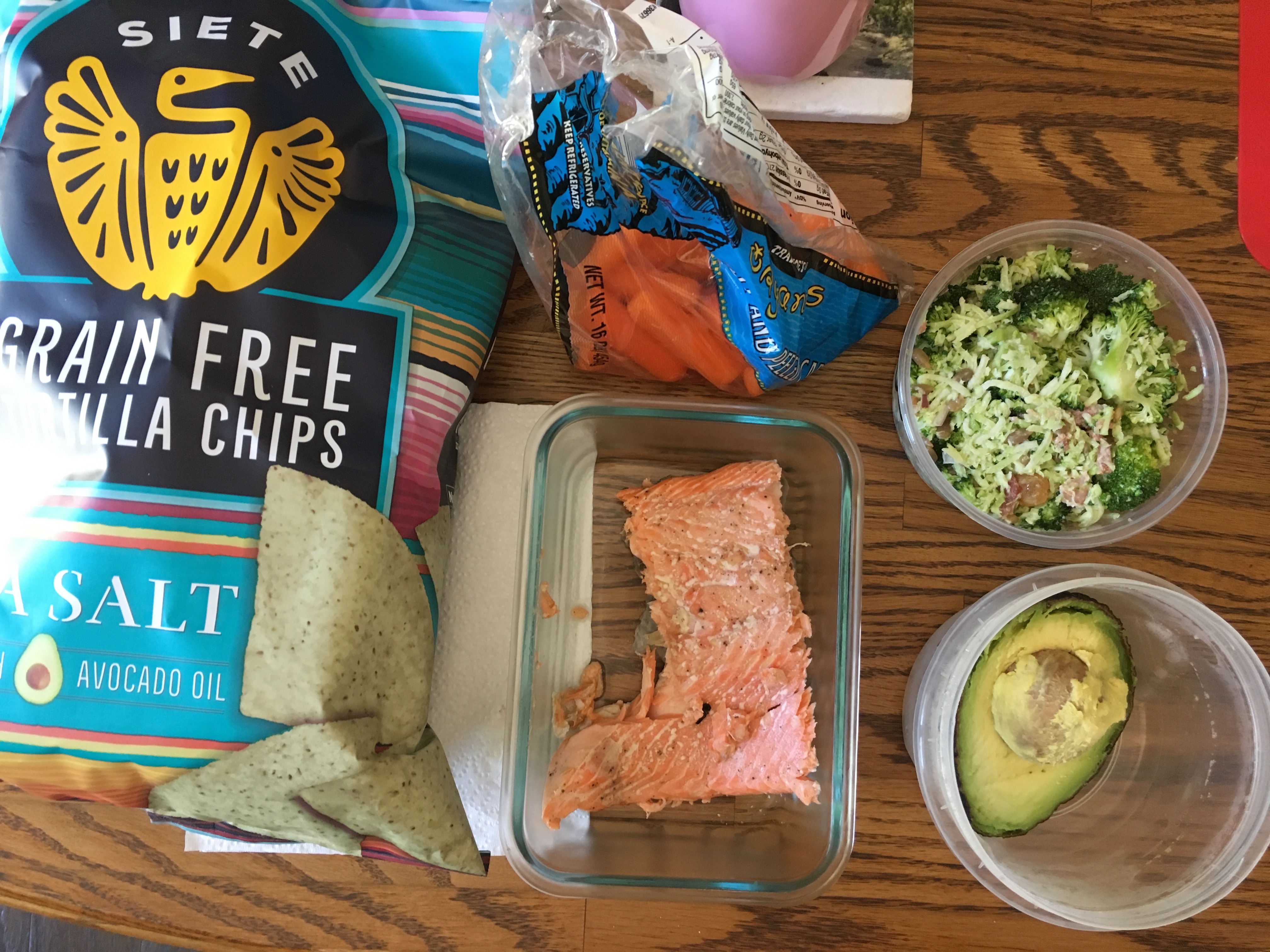 Another snack plate.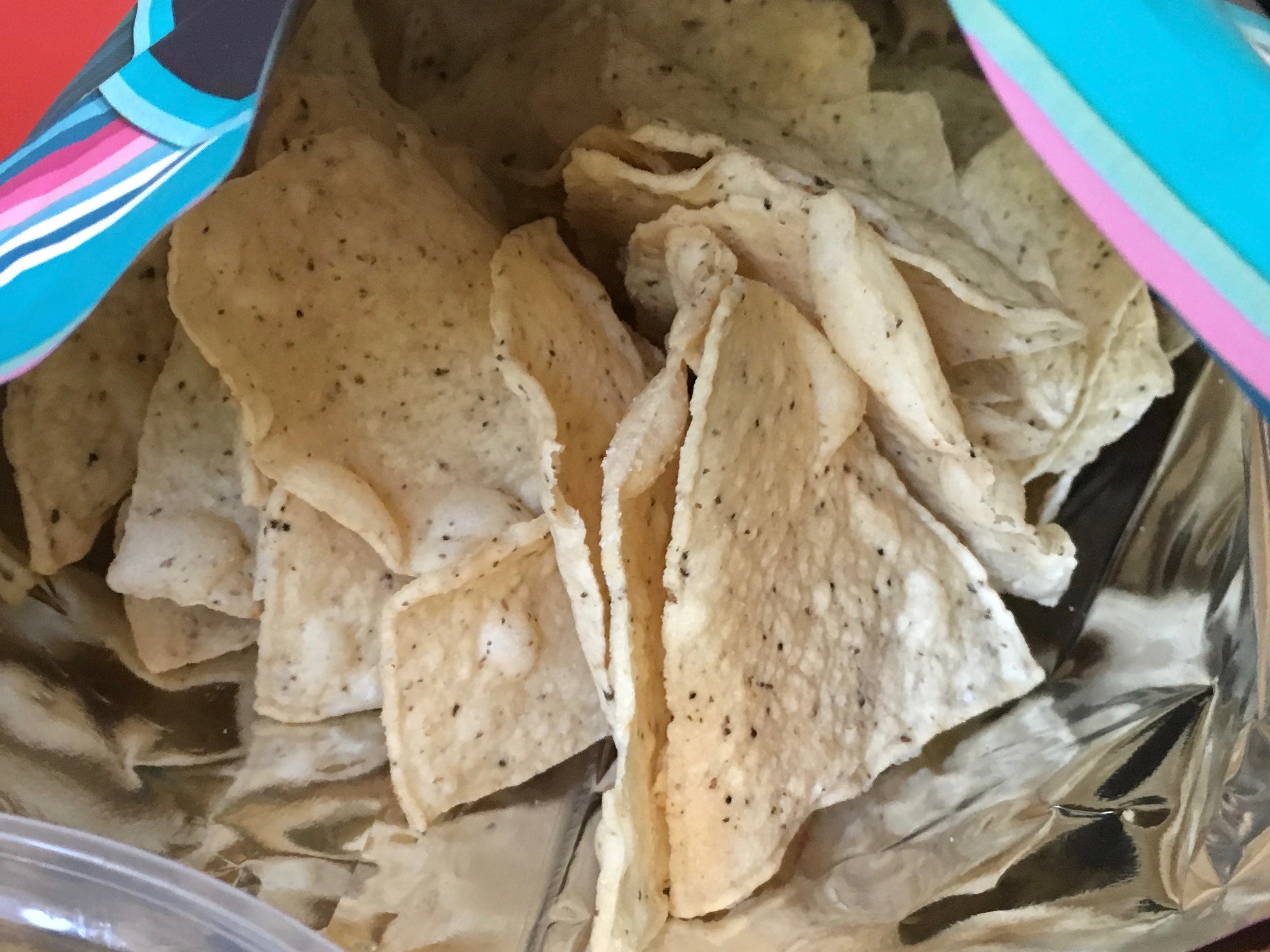 I LOVE THESE CHIPS.
Can someone tell me if I should get the other flavors – lime and taco??  I ate allllmost the whole bag, but stopped just short.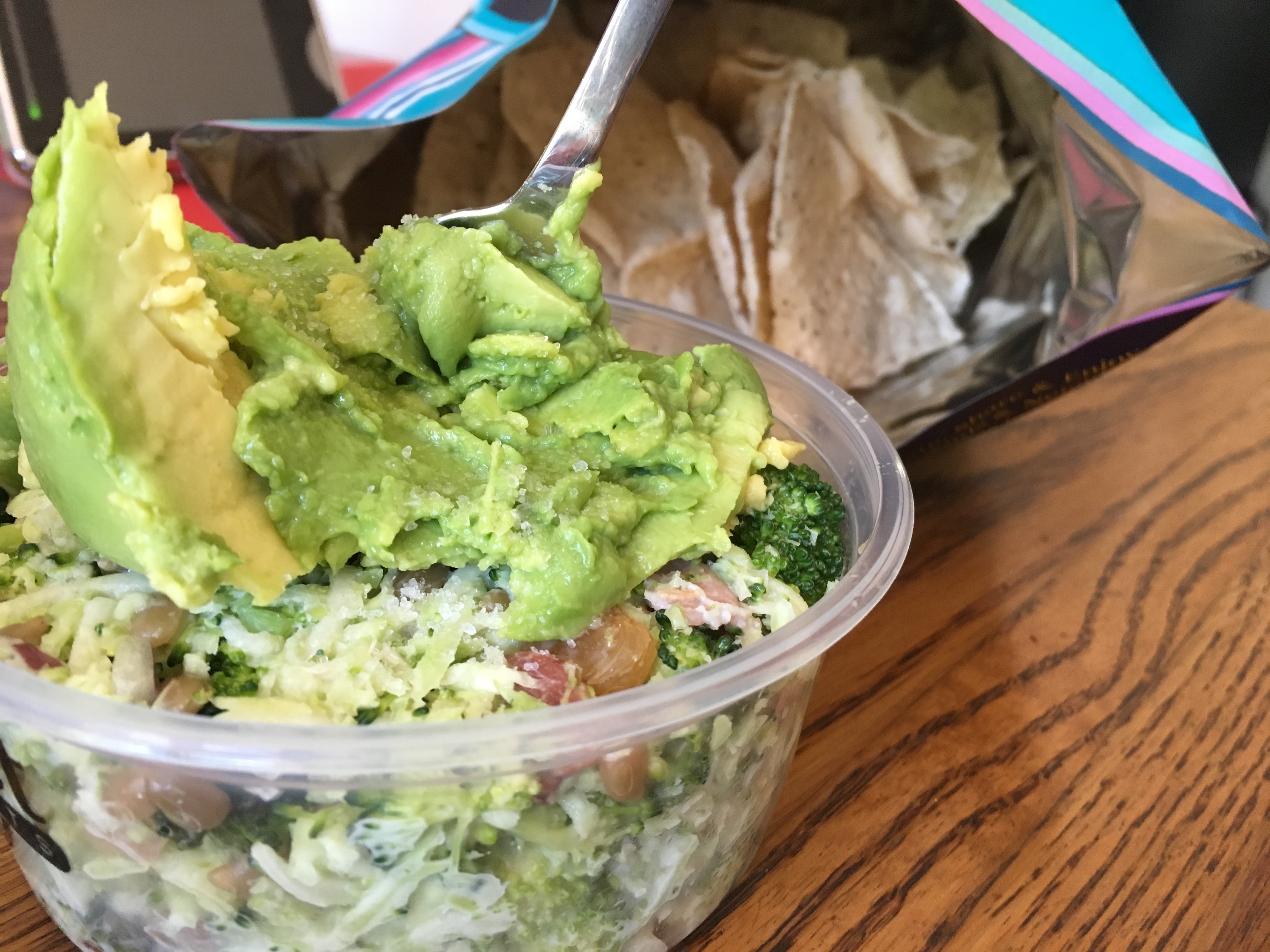 It was the perfect amount of food though..filled me up but I was rady for dinner by dinner time.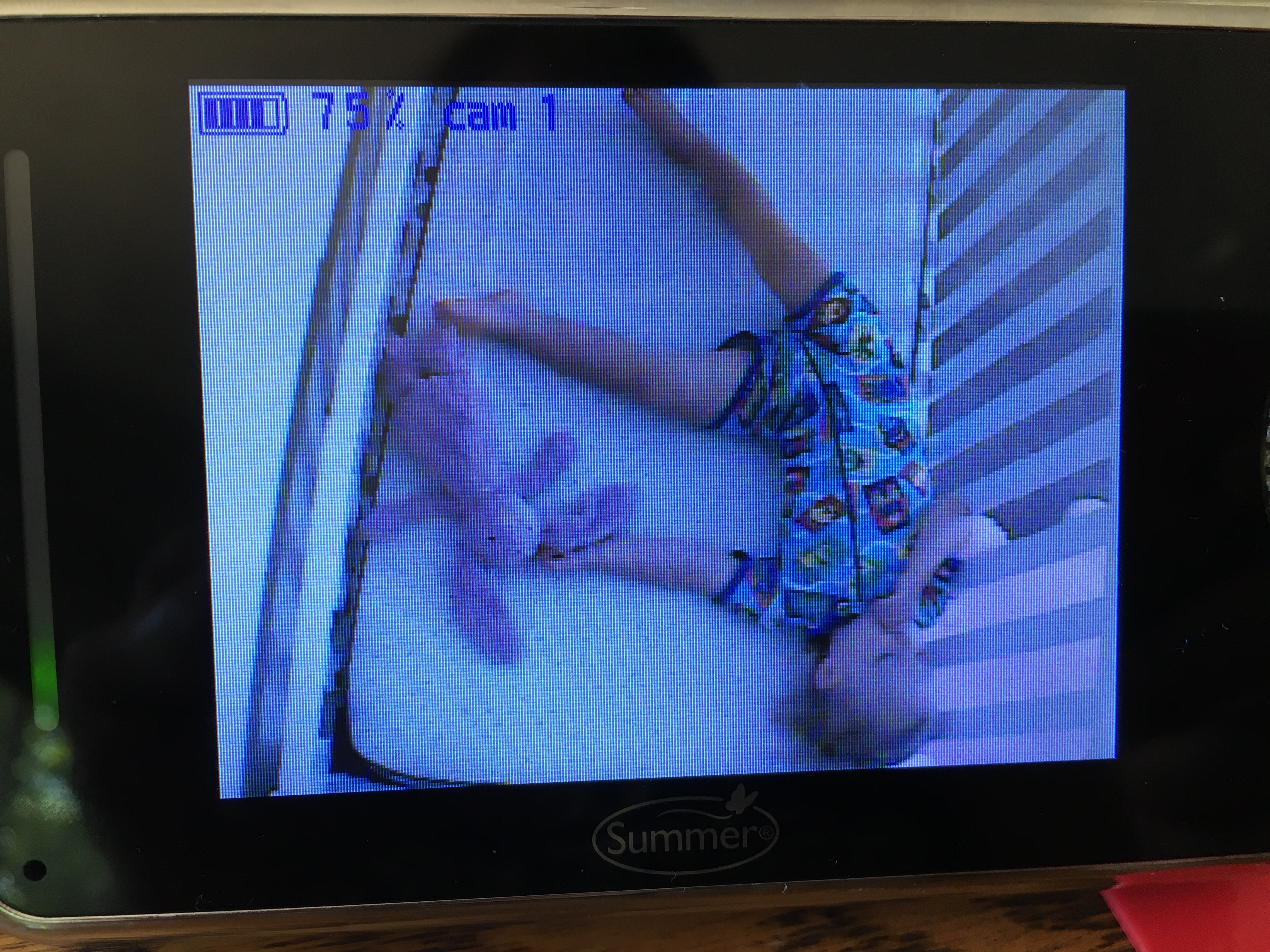 Silly little thing.
Are you ready to build a salad??  Here's how to make fridge odds and ends into solid gold.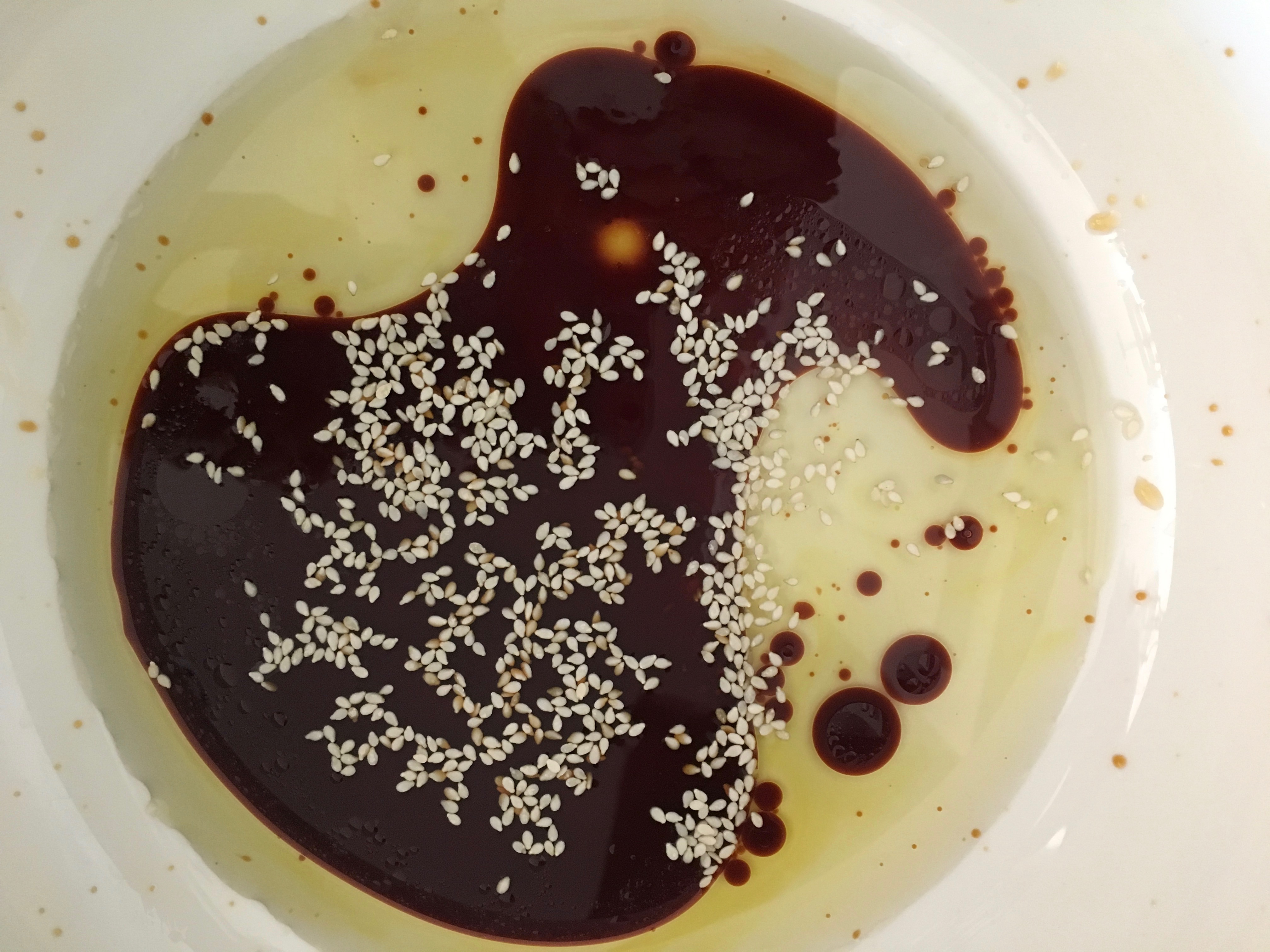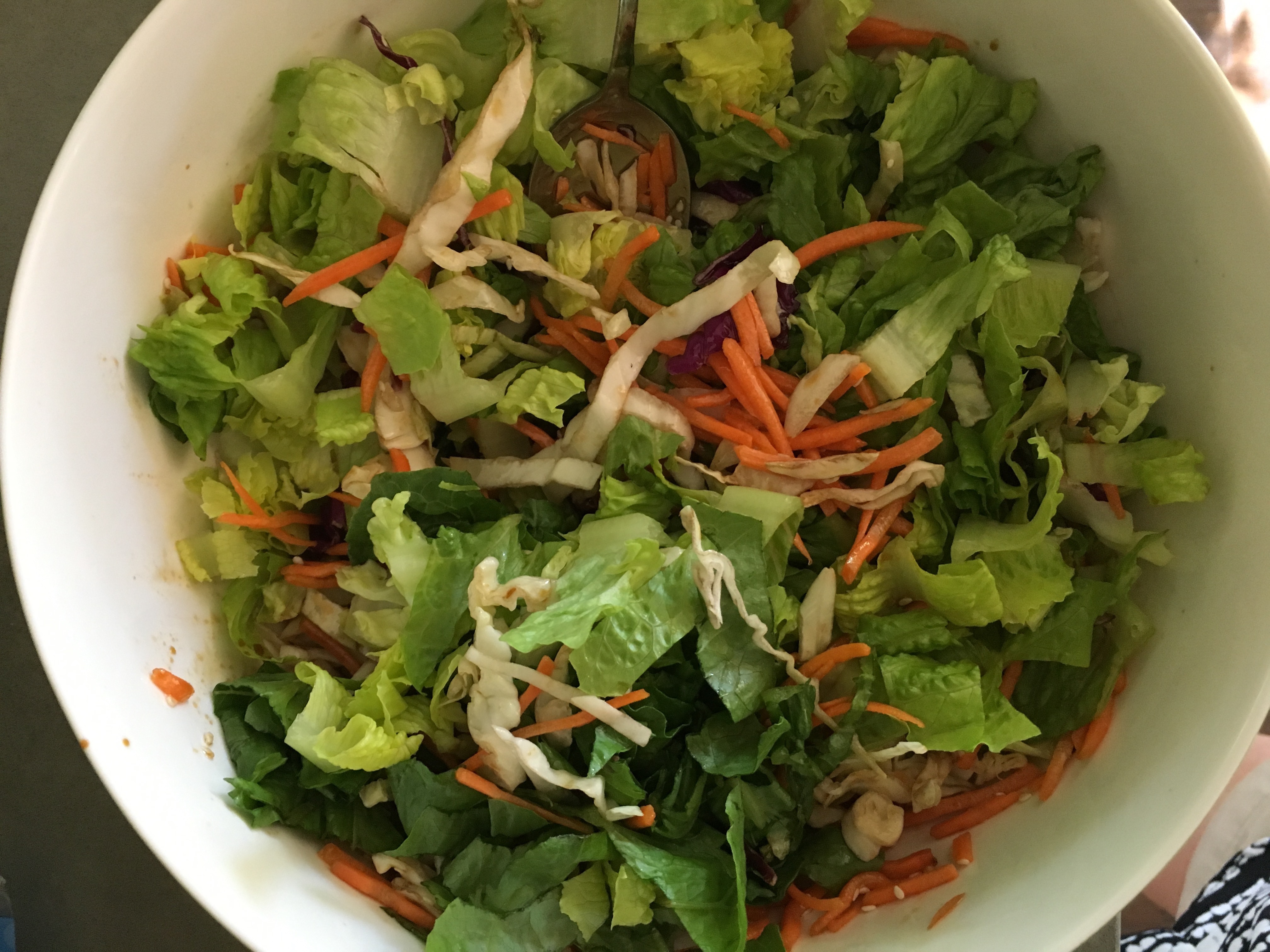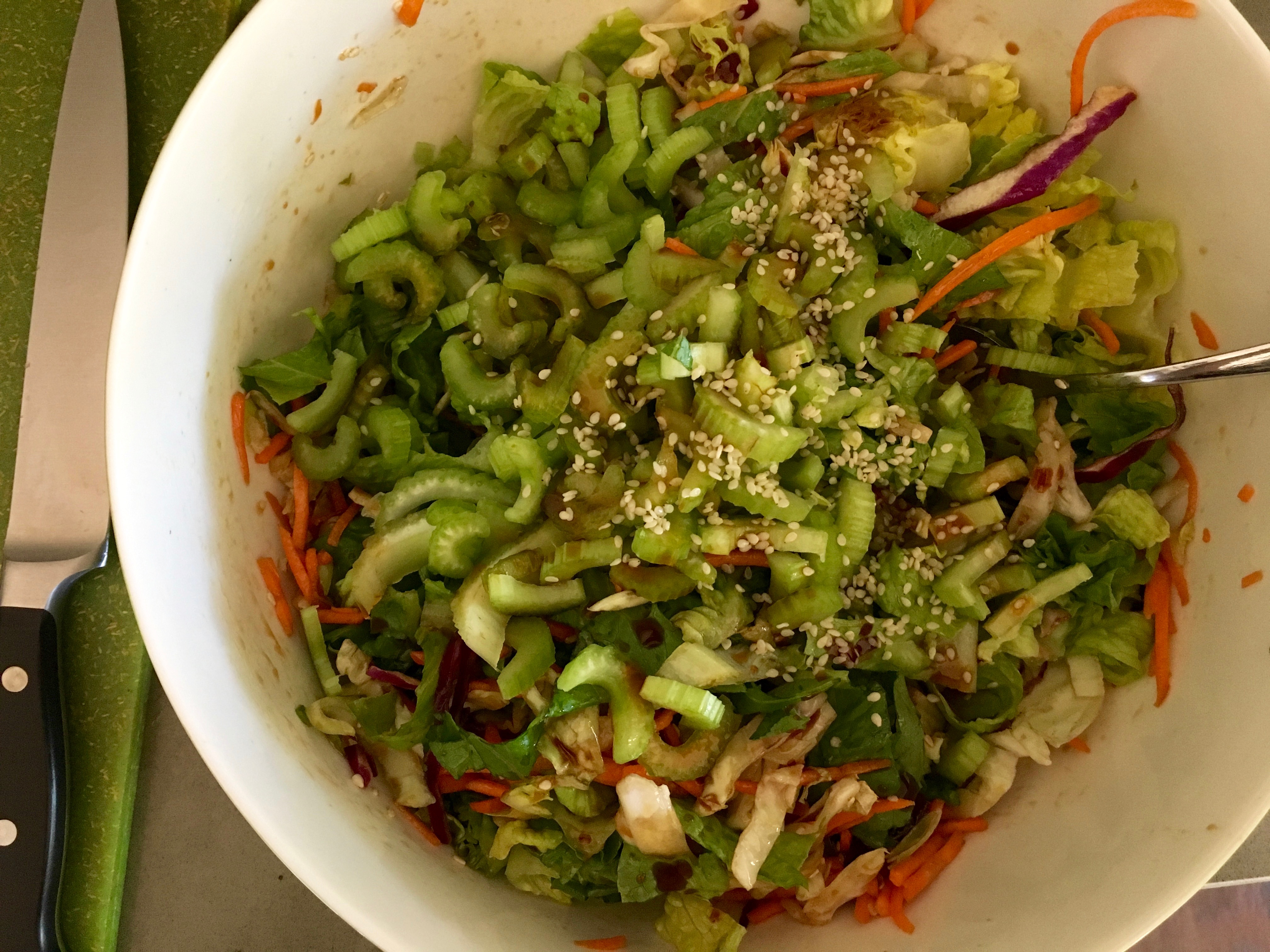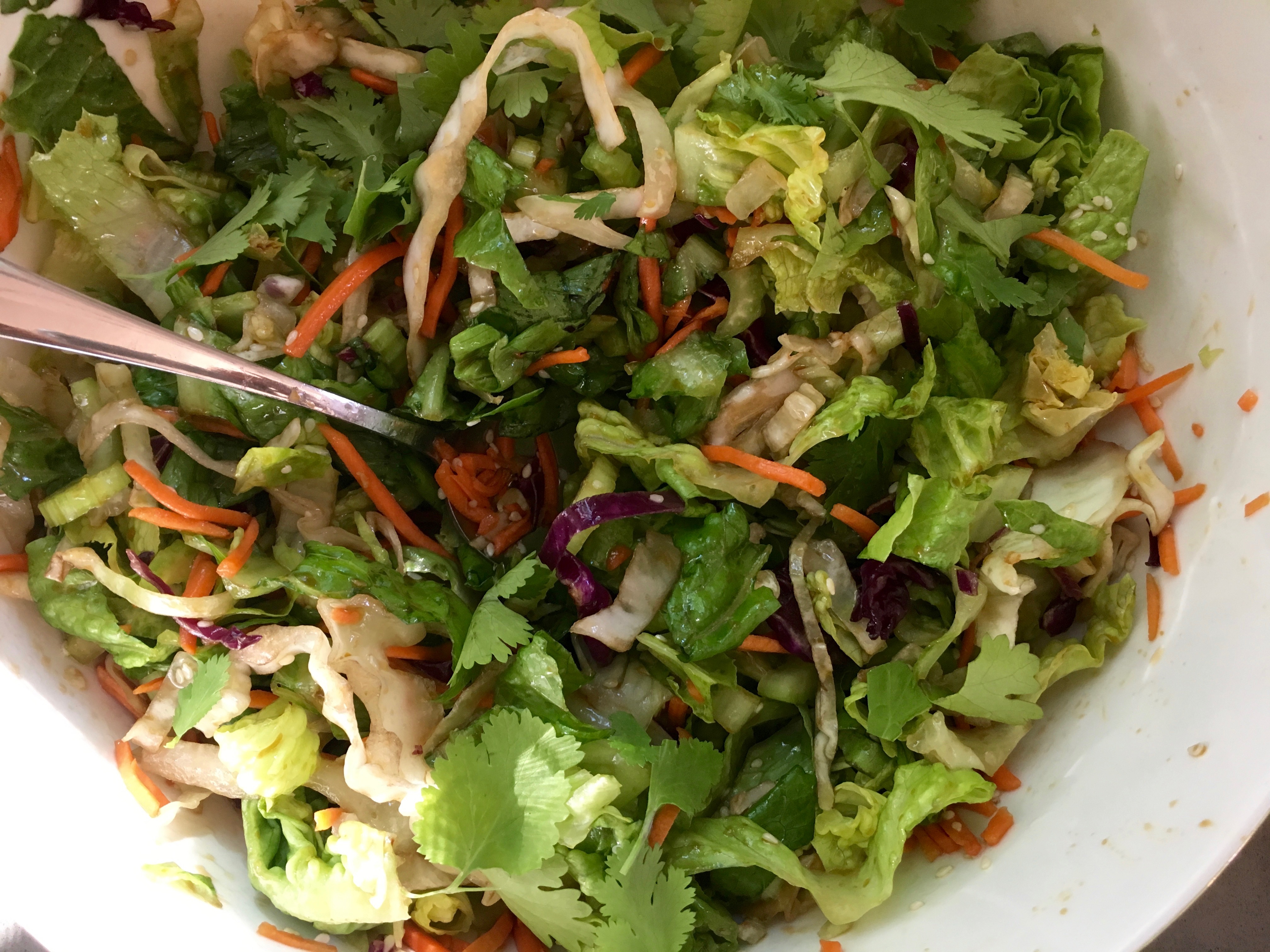 Make a fancy teriyaki like dressing with: 1/3 cup avocado oil, 1 tbsp garlic infused olive oil, 1 tsp sesame oil, 1/3 cup tamari, 2 tbsp rice vinegar, 1/4 cup honey, and 1 tbsp sesame seeds.
2. Mix in every green, including but not limited to: cabbage, romaine, butter lettuce, and shredded carrots.
3. Get crunchy stuff: I used celery and roasted slivered almonds (but use whatever you have snap peas, cashews, go crazy)
4. Pick a protein: I baked and diced chicken breasts
5. Herbs, herbs, herbs: cilantro, mint, and green onions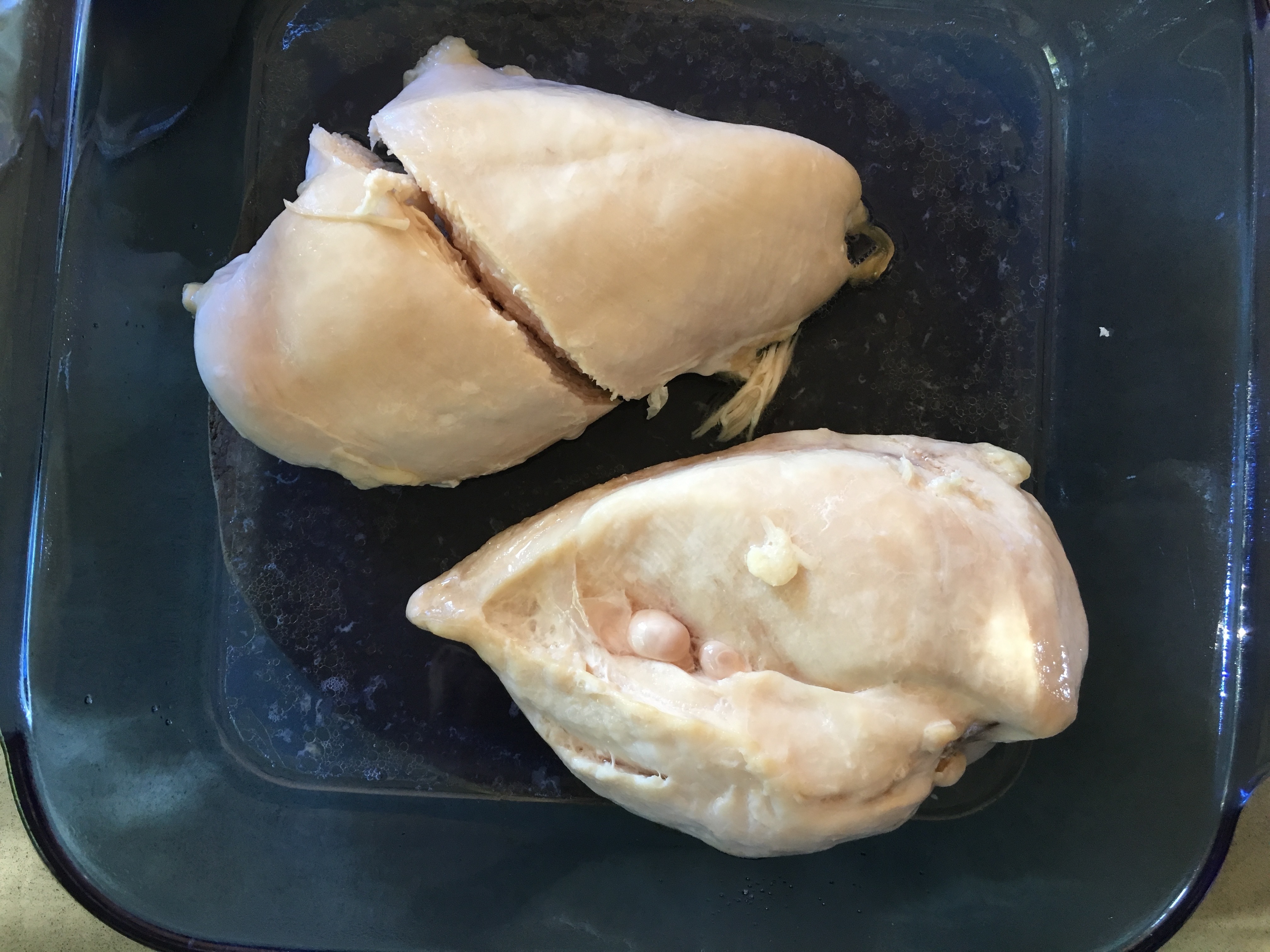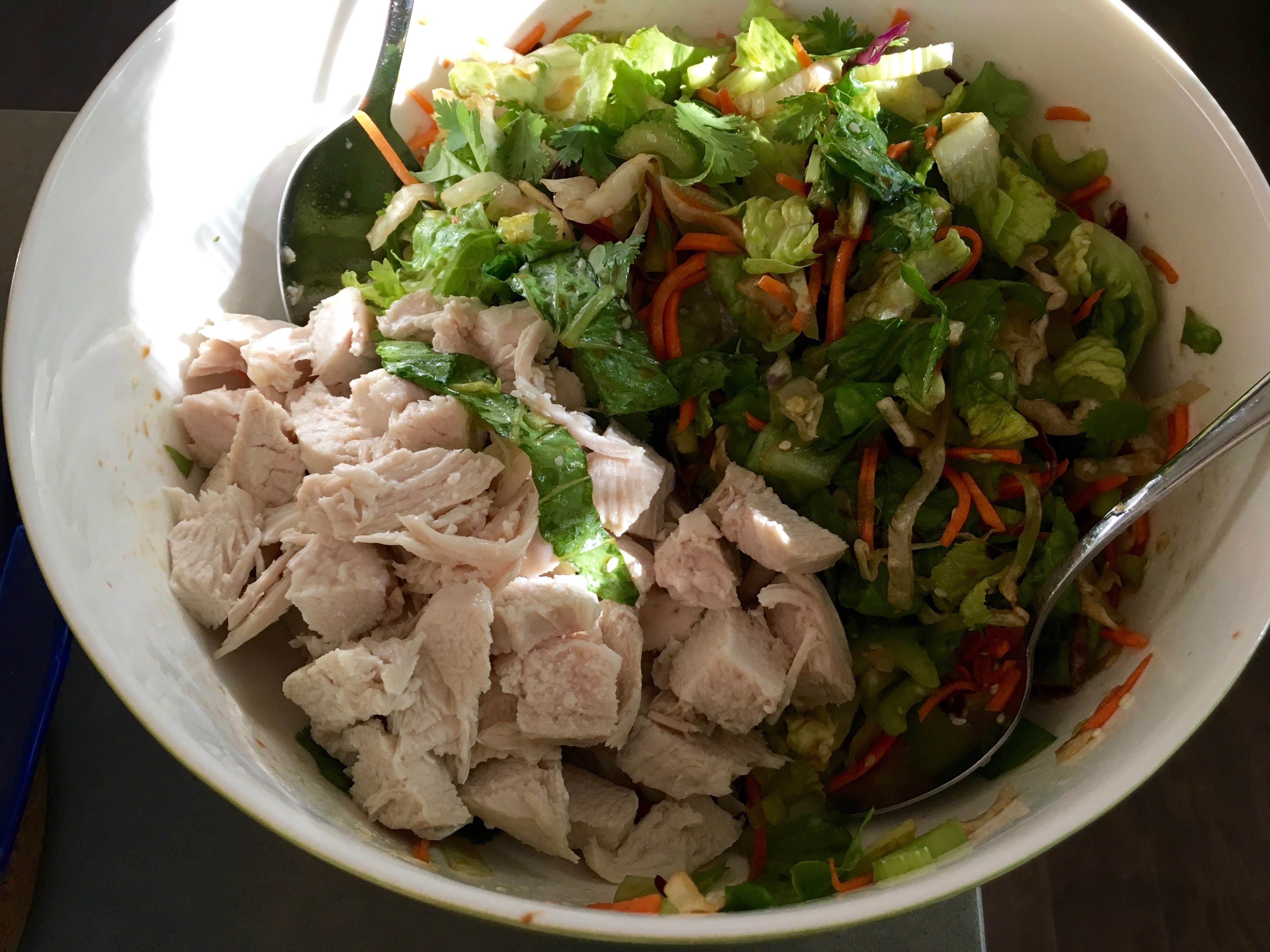 Fried wontons are nice too, but I was keeping it clean.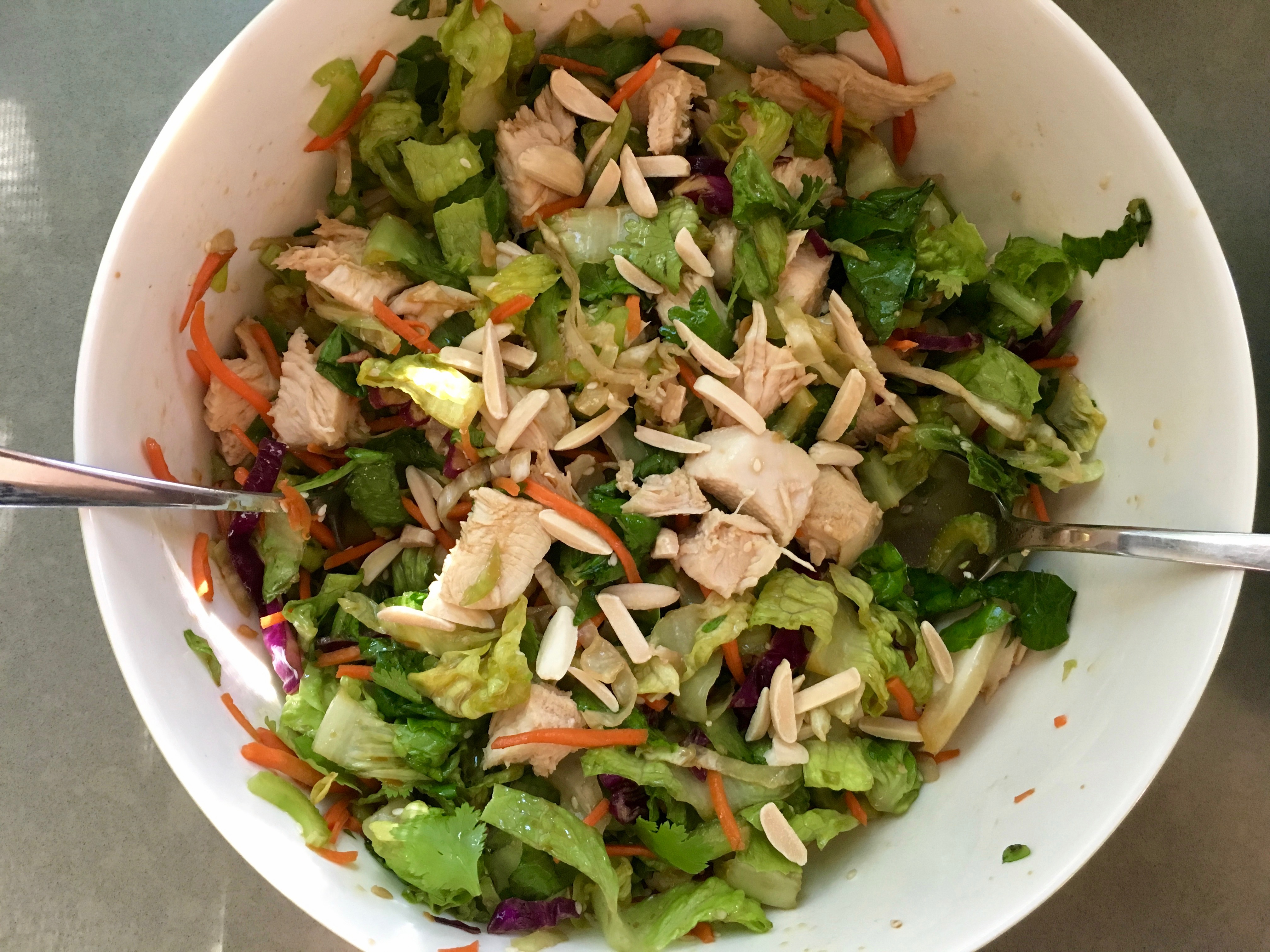 Beaut-i-ful.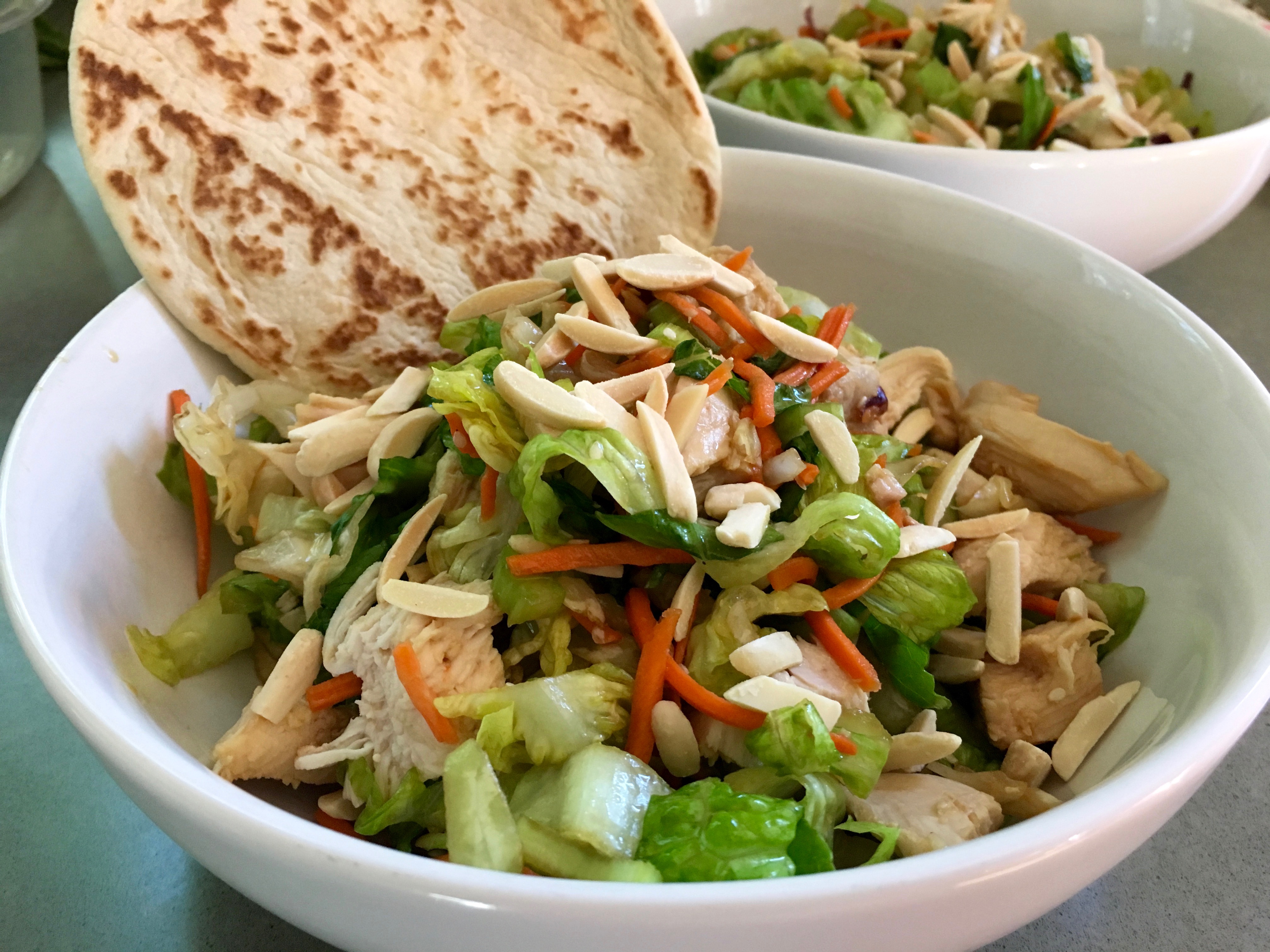 Obviously flatbread doesn't go with the Asian theme, but full disclosure, I was actually sick when I was making this and barely able to stand up.  I don't know what came over me, but for 4-5 hours of the day I was woozy and nauseated and too weak to function.  I had to call Kyle to come home and then gradually started feeling better as the evening approached.  It was SO weird.  That's why I was making an unplanned meal out of fridge scrapings.  Thanks goodness Kyle was in town and able to take the kids to soccer because I don't know what I would have done otherwise.  I mean, I sucked it up for the earlier part of the day but it was getting to the point where I wasn't able to fake it…and just like that, it passed as quickly as it came on.  Very weird.  No clue what was up, but good riddance.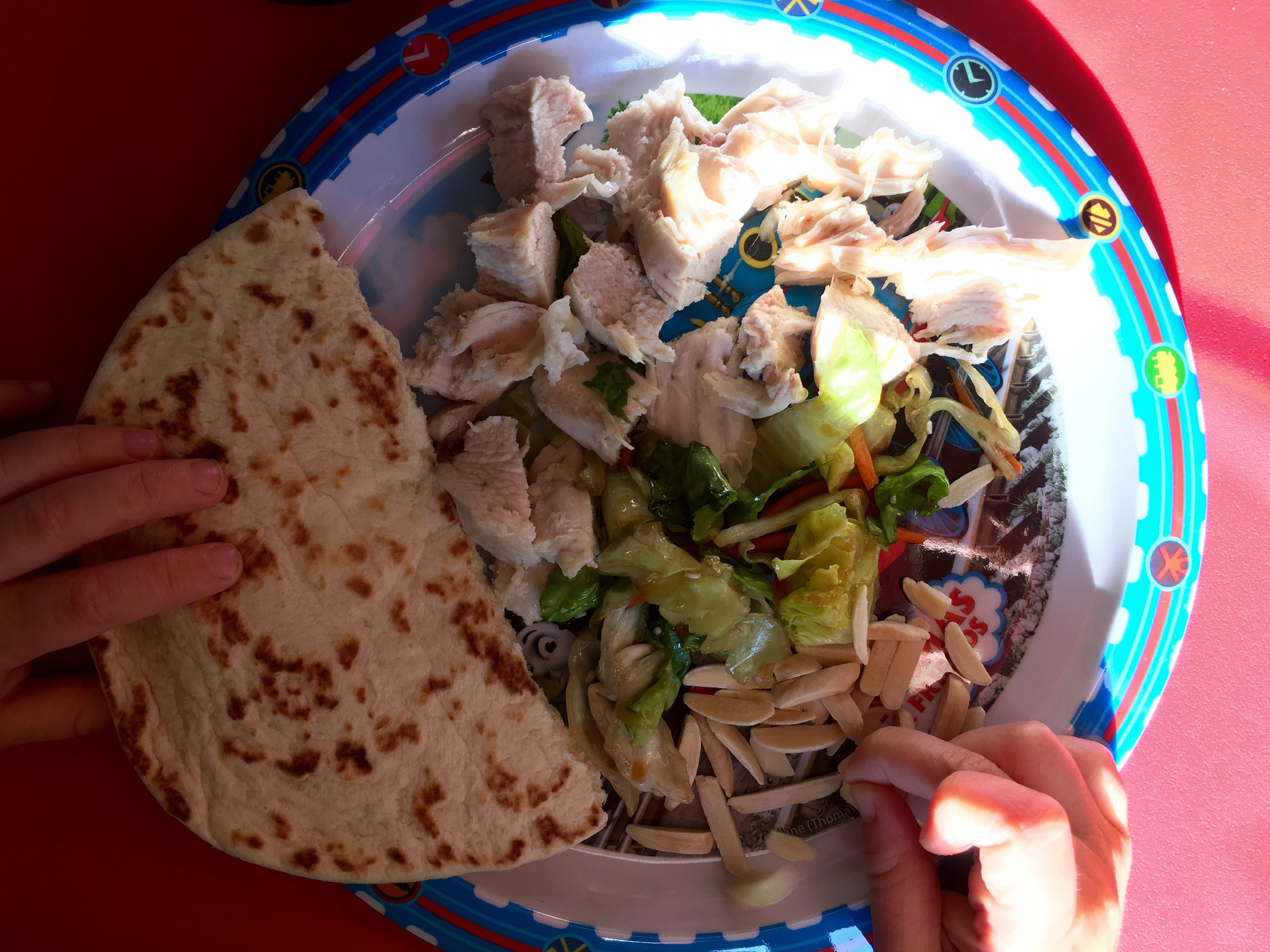 The whole fam enjoyed this meal.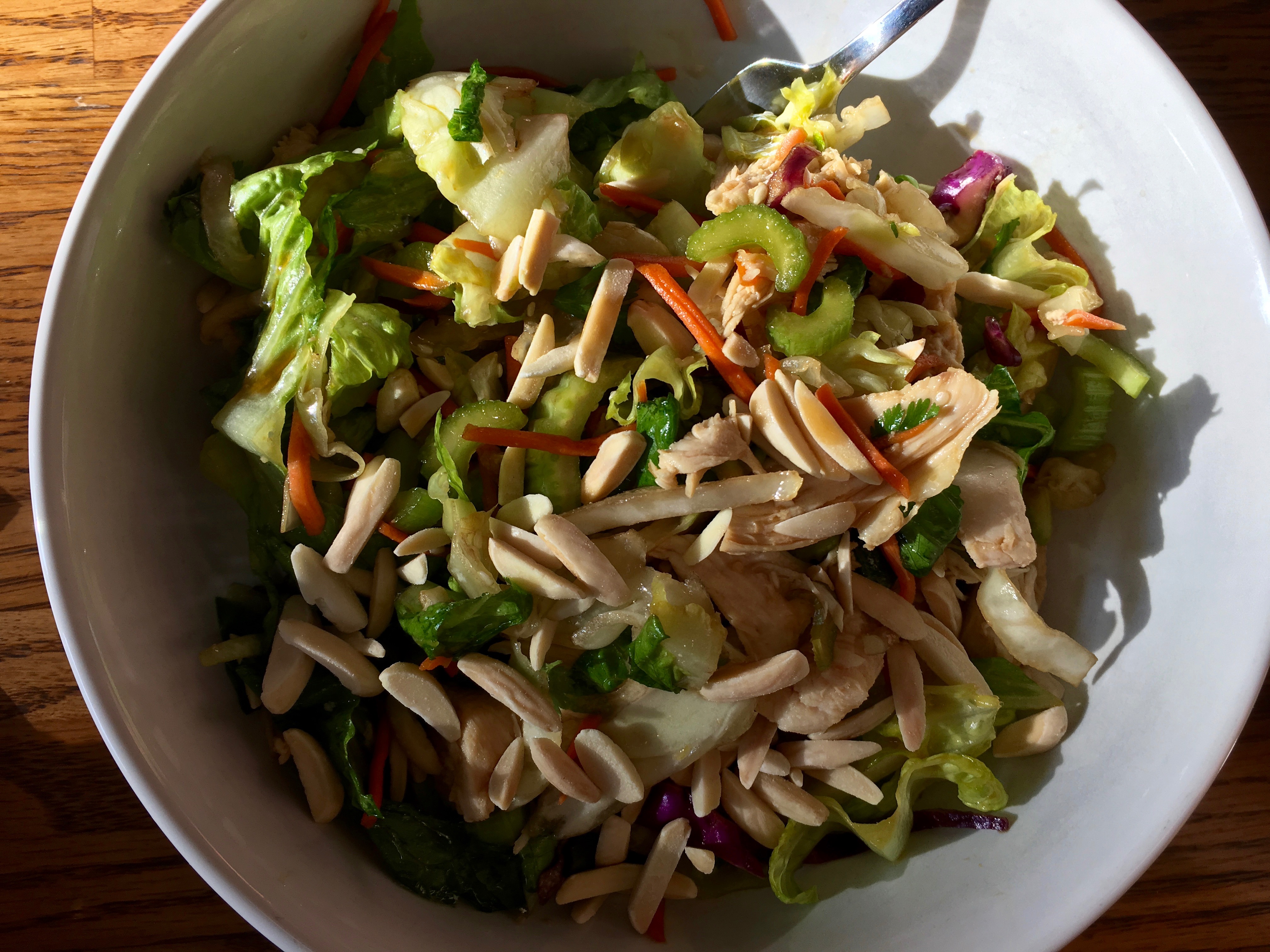 She asked that I take a pic of her, so here you go.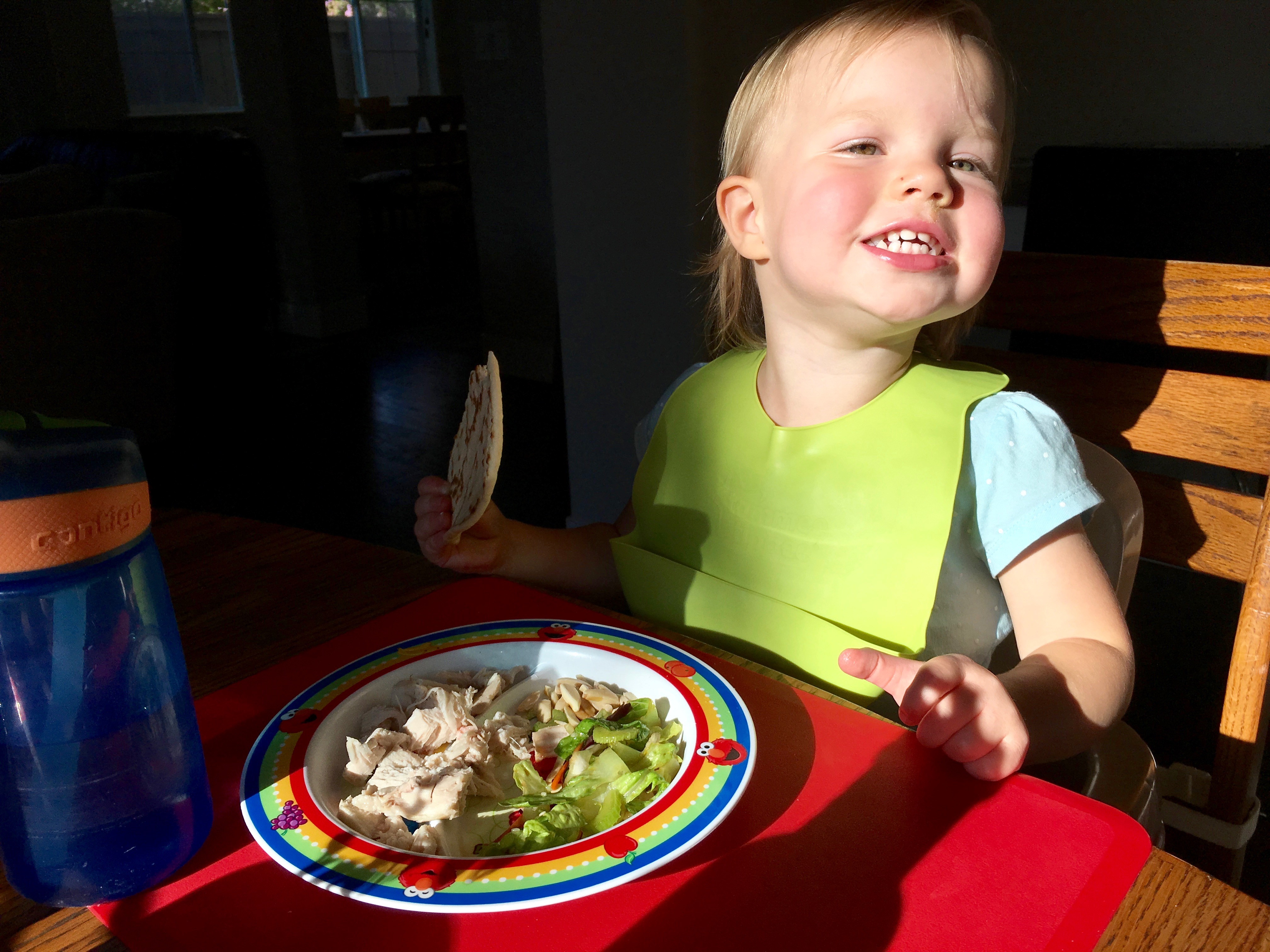 Cheese.
The kids were sick earlier this week so I'm not sure what will happen for OIT this Friday.  We will see!