I brought my computer to OIT on Friday, hence the blog catch up.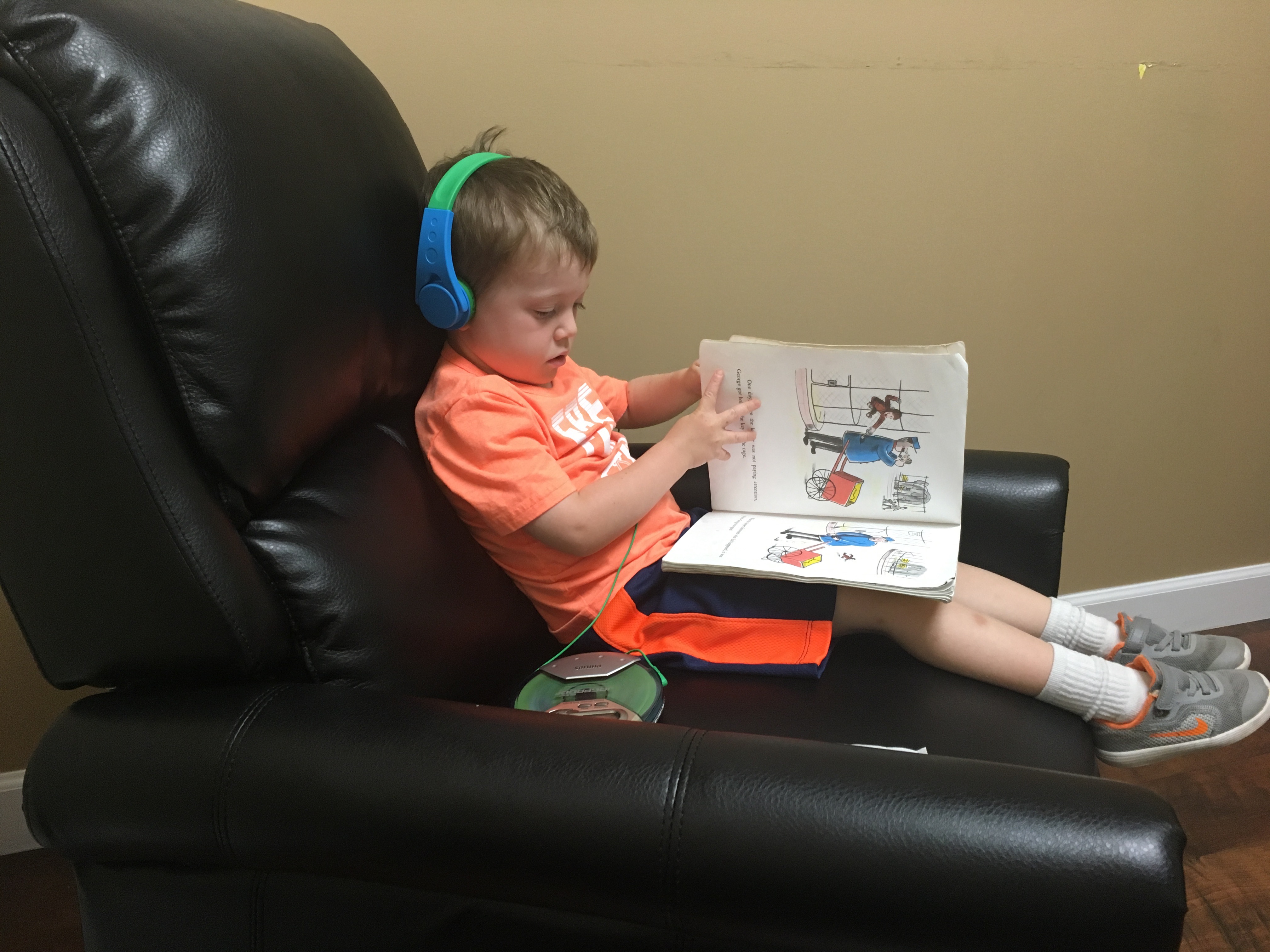 Here's what P was up to while I did some writing.  We only did one updose and then waited until we were all clear before heading back to my parents' casa.  With a quickie stop at WF on the way for lunch eats.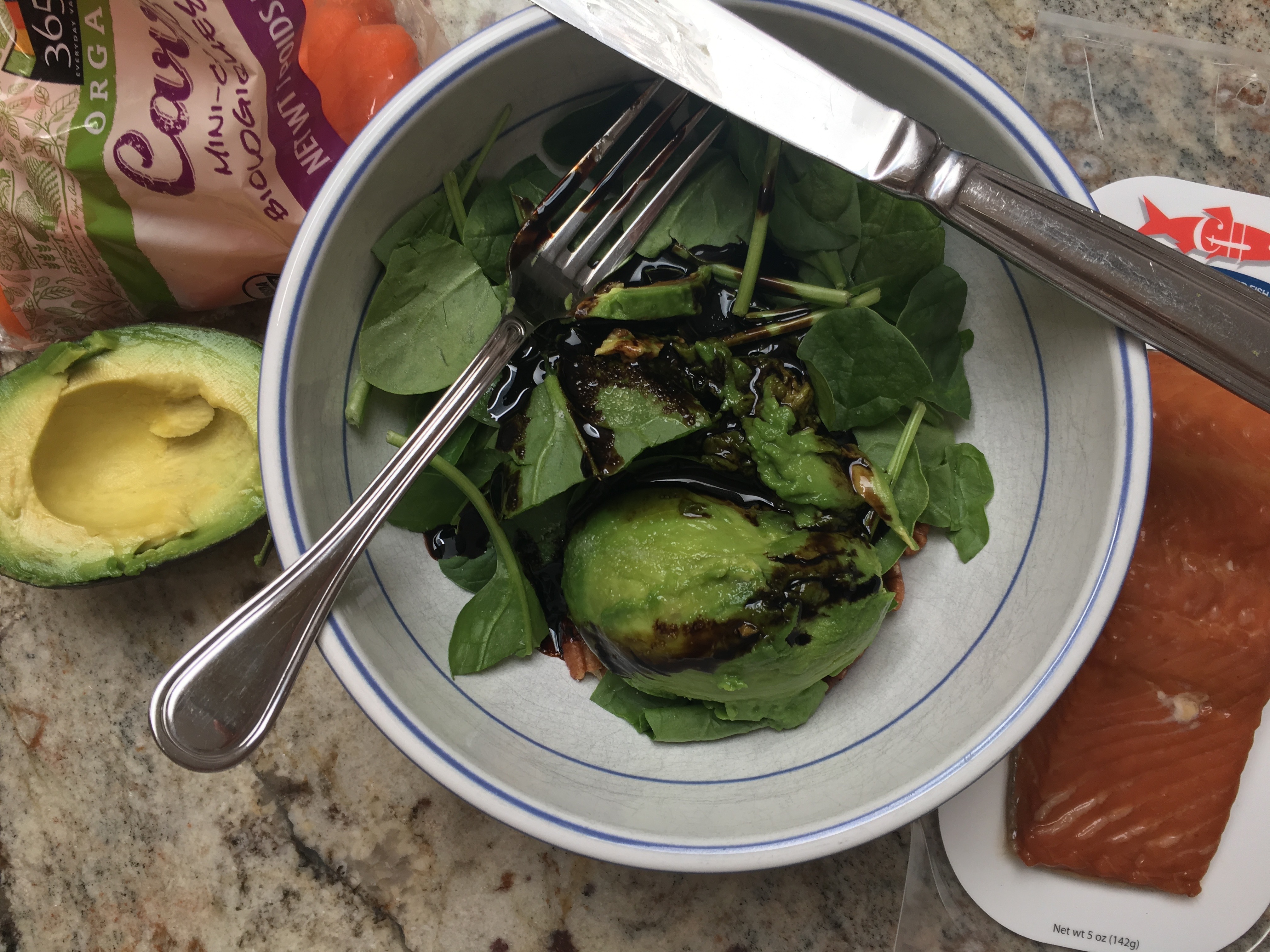 I was really in the mood for smoked salmon, so I bought some and made myself a salad back at their place.  I had to wait a while before eating though since V was still having her lunch and I usually prefer to eat my food once she's napping (in peace and quiet, hahahahaha – NOT).  This monkey was still up and very interested in including me in his play.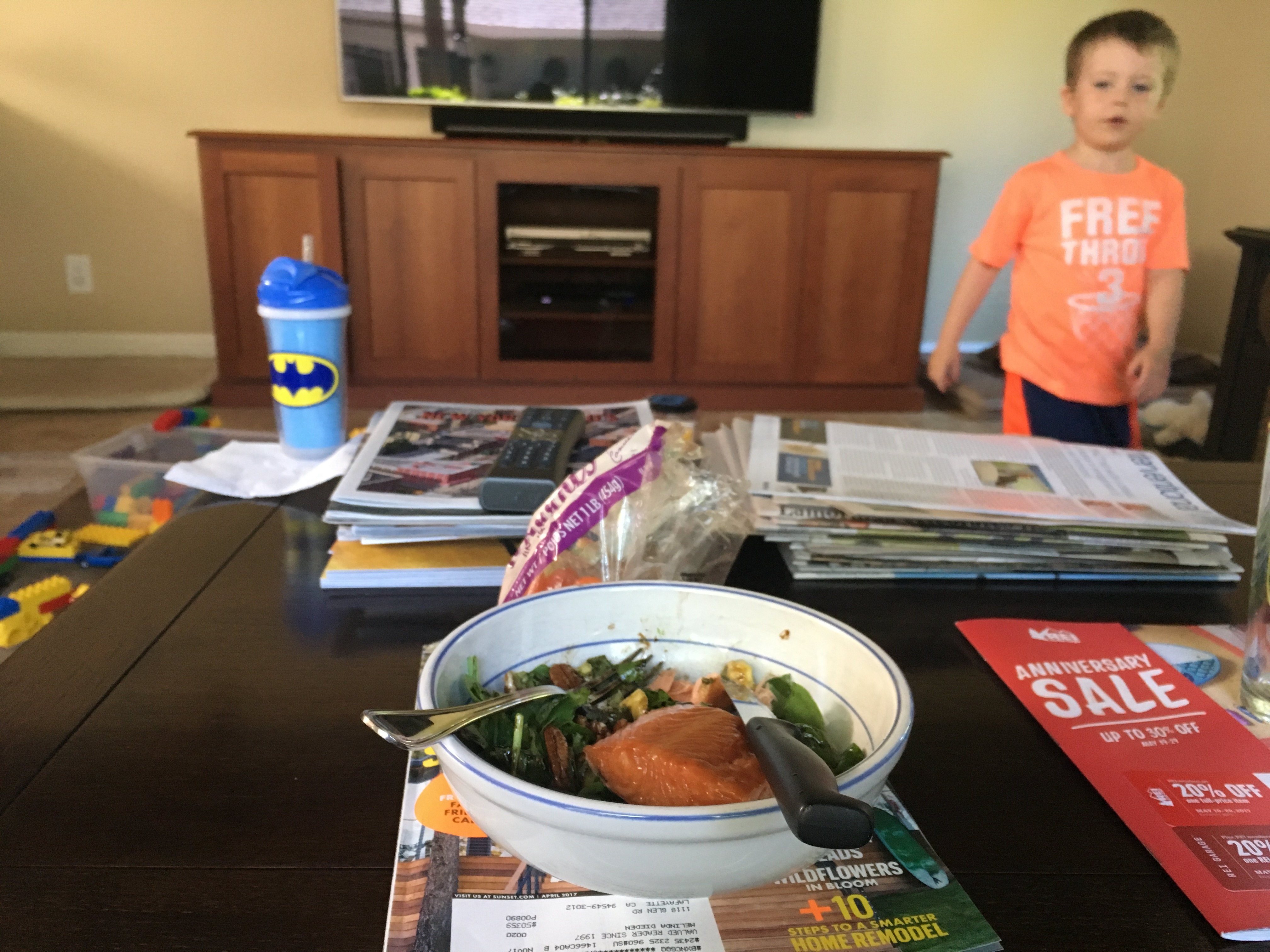 And of course he finally felt like he was ready for his own lunch riiiiight when I was getting settled down with my bowl of yum.  I toasted some pecans quickly while prepping the rest of the salad (they were in the freezer so I had to get them thawed somehow – may as well toast them while I'm at it).  The rest of the salad was spinach, avocado, and balsamic glaze + olive oil.  And baby carrots on the side.
That afternoon was a baby sitter trial for my sister's wedding next week.  It went great!  We had her over for the whole afternoon and ate dinner together and then she watched the bedtime routine.  V warmed up to her by the end and I feel great about this going into the wedding weekend.  She will be putting the kids down for both the rehearsal dinner night and the wedding night, which is a BIG DEAL since we haven't really had any non family members do that before.  We got a babysitter twice last year, which was a huge first step, but she only came after we had bathed them and put them down.  Progress.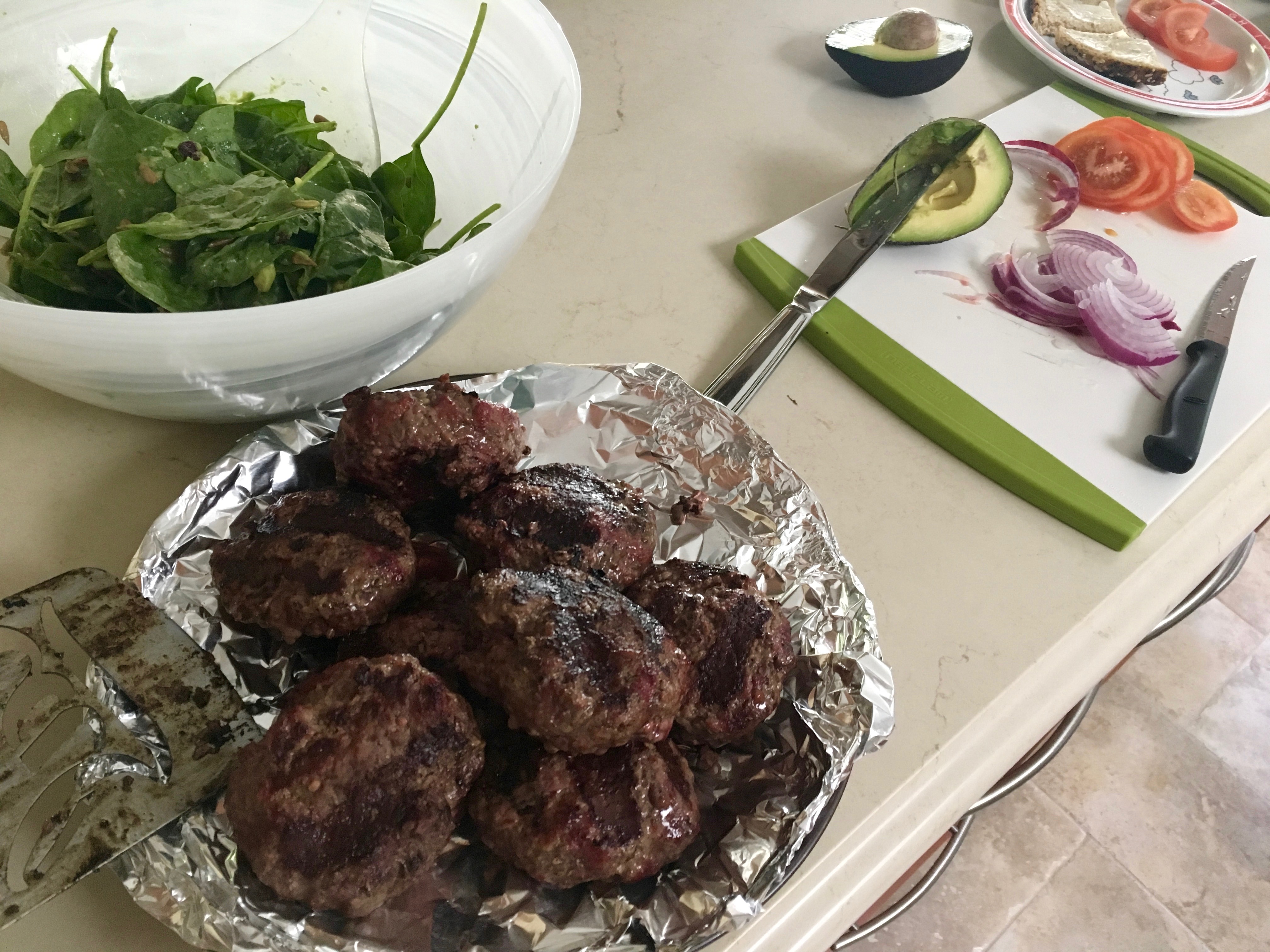 We grilled burgers, and added all the fixins'.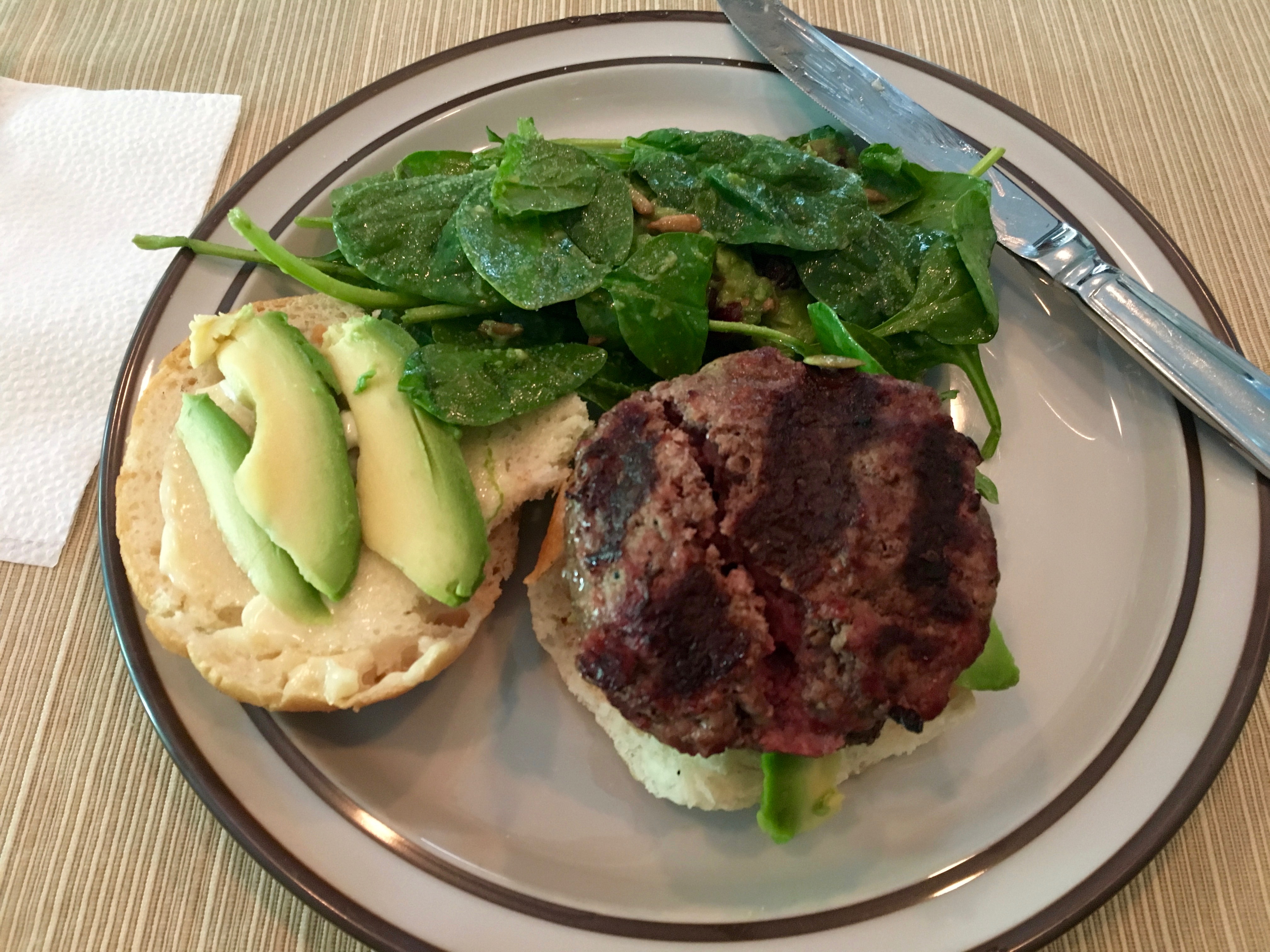 I went big with my GF bun, mayo, and avo.  The salad on the side featured a new topping mix that my mom just found at Costco and it was so great!  It's a dried fruit and seed mix that is seasoned with tamari.  It's this one, fyi.
Chocolate and solo time with Kyle after everyone was sleeping.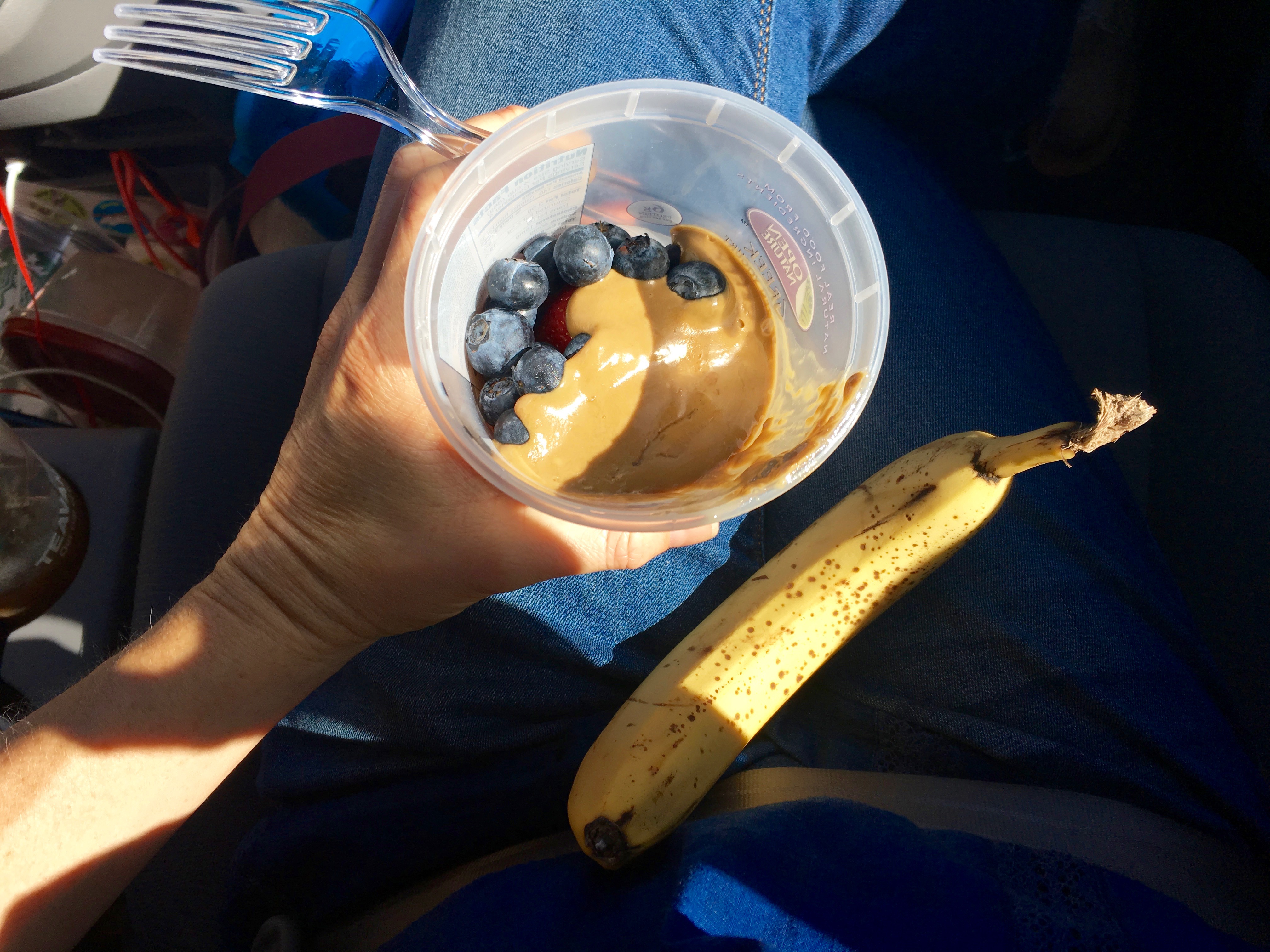 We had an early start the next morning.  Kyle fed the kids while I was on a run and then we hit the road asap to make it to Sac for a birthday party.  I ate strawberries, blueberries, and banana in the car with a few spoons of sunbutter.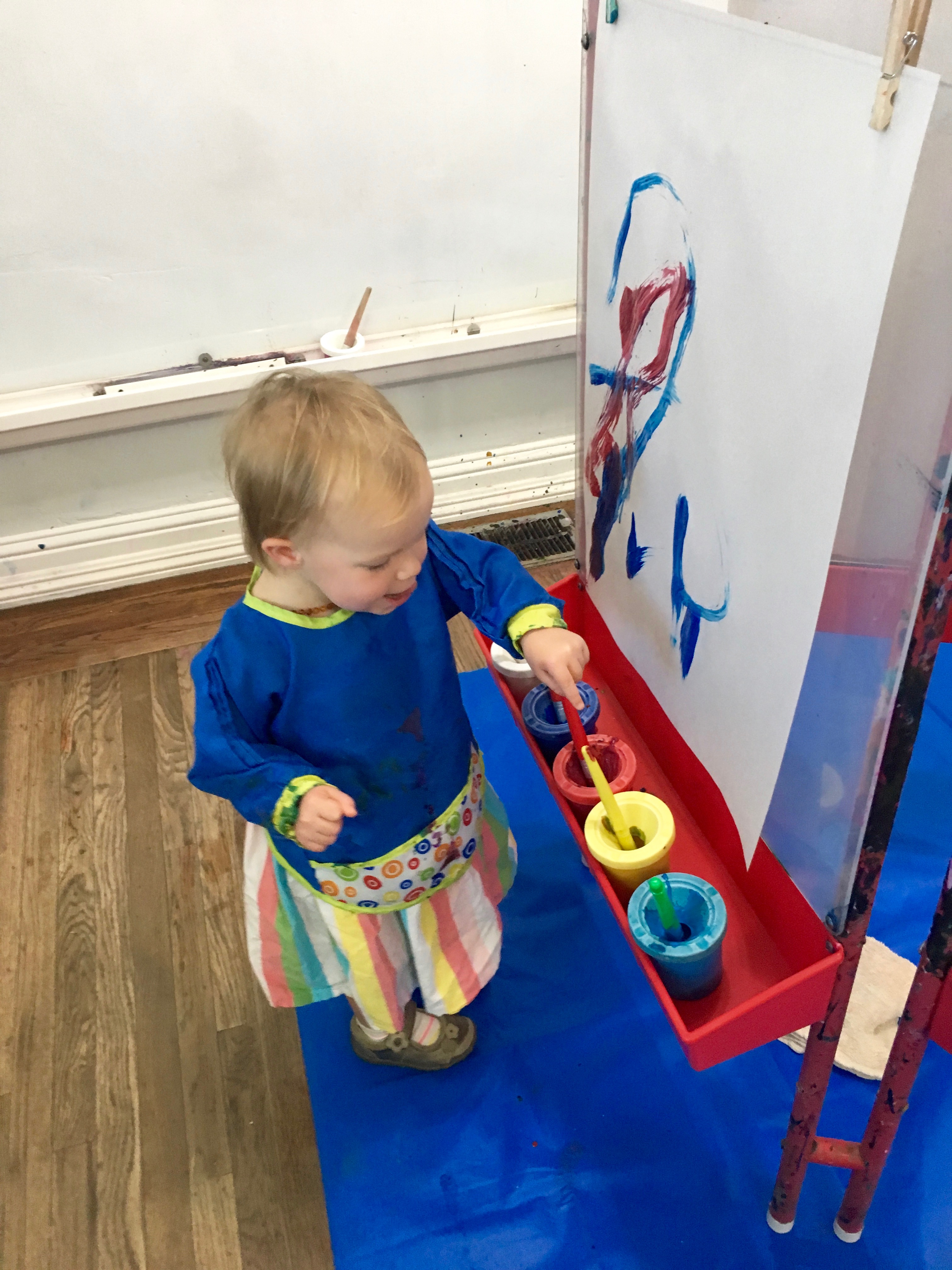 Art Beast!  We love this place.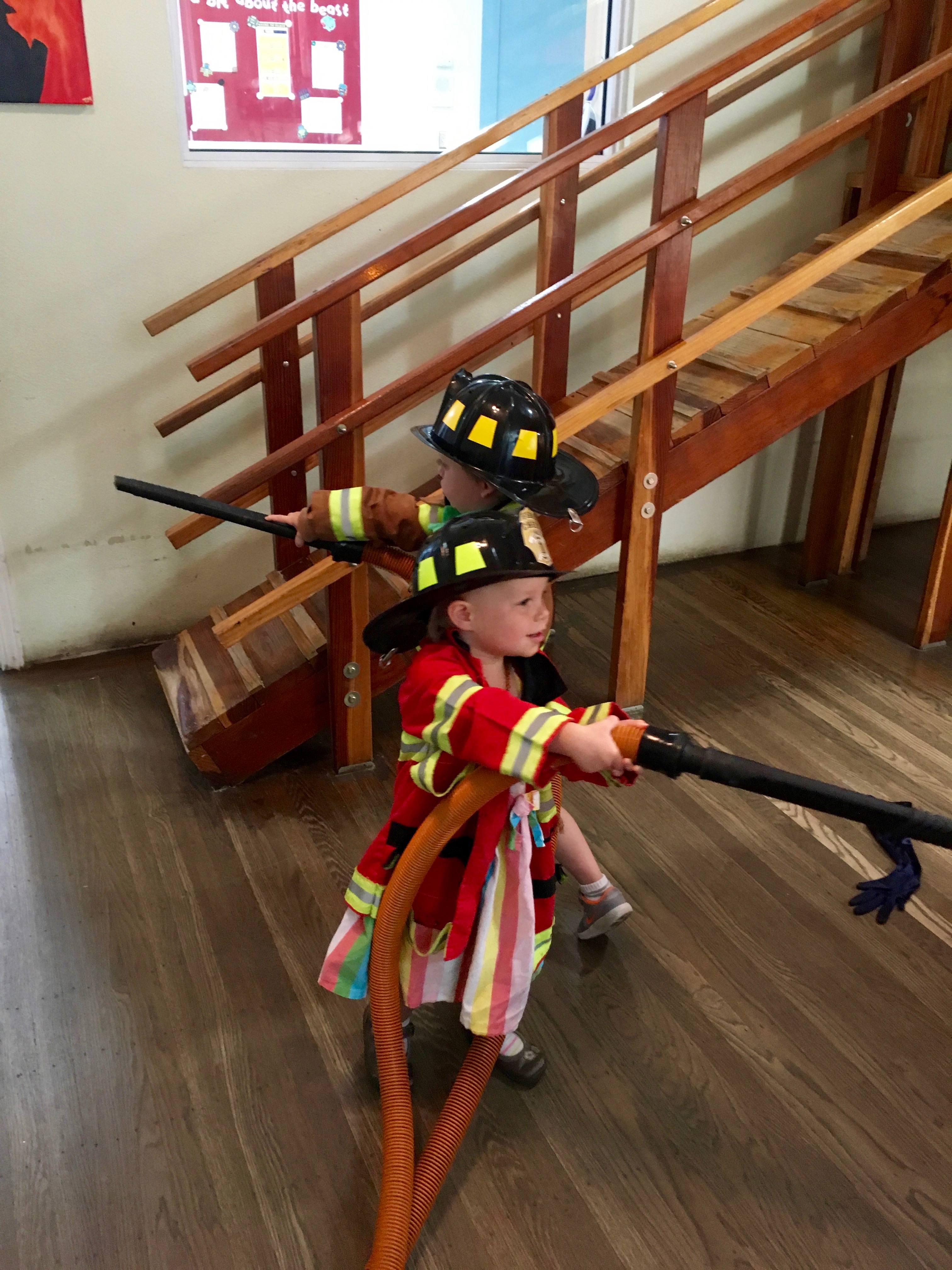 Who ya gonna call??  Firefighters?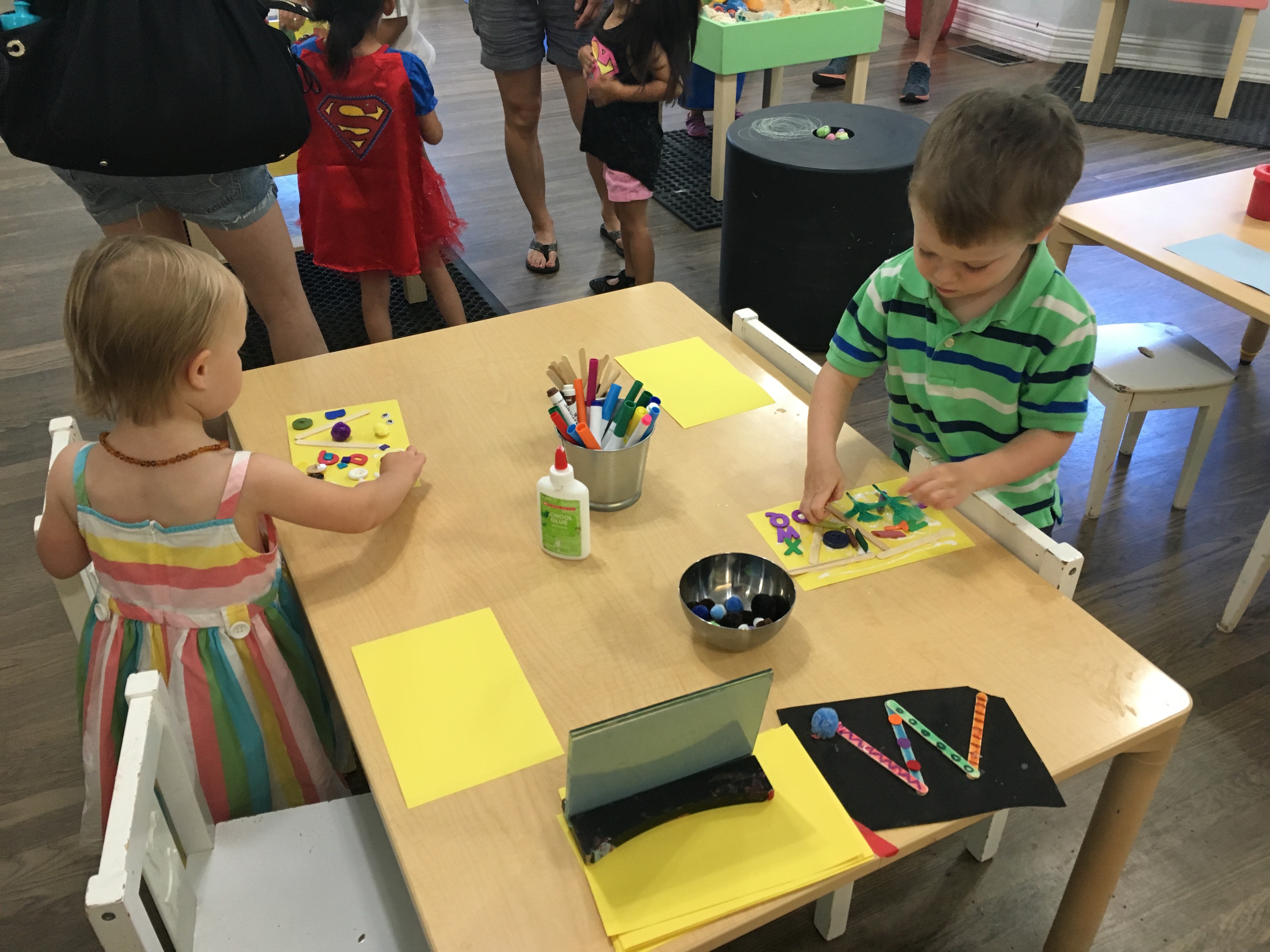 Anything with glue.  Always.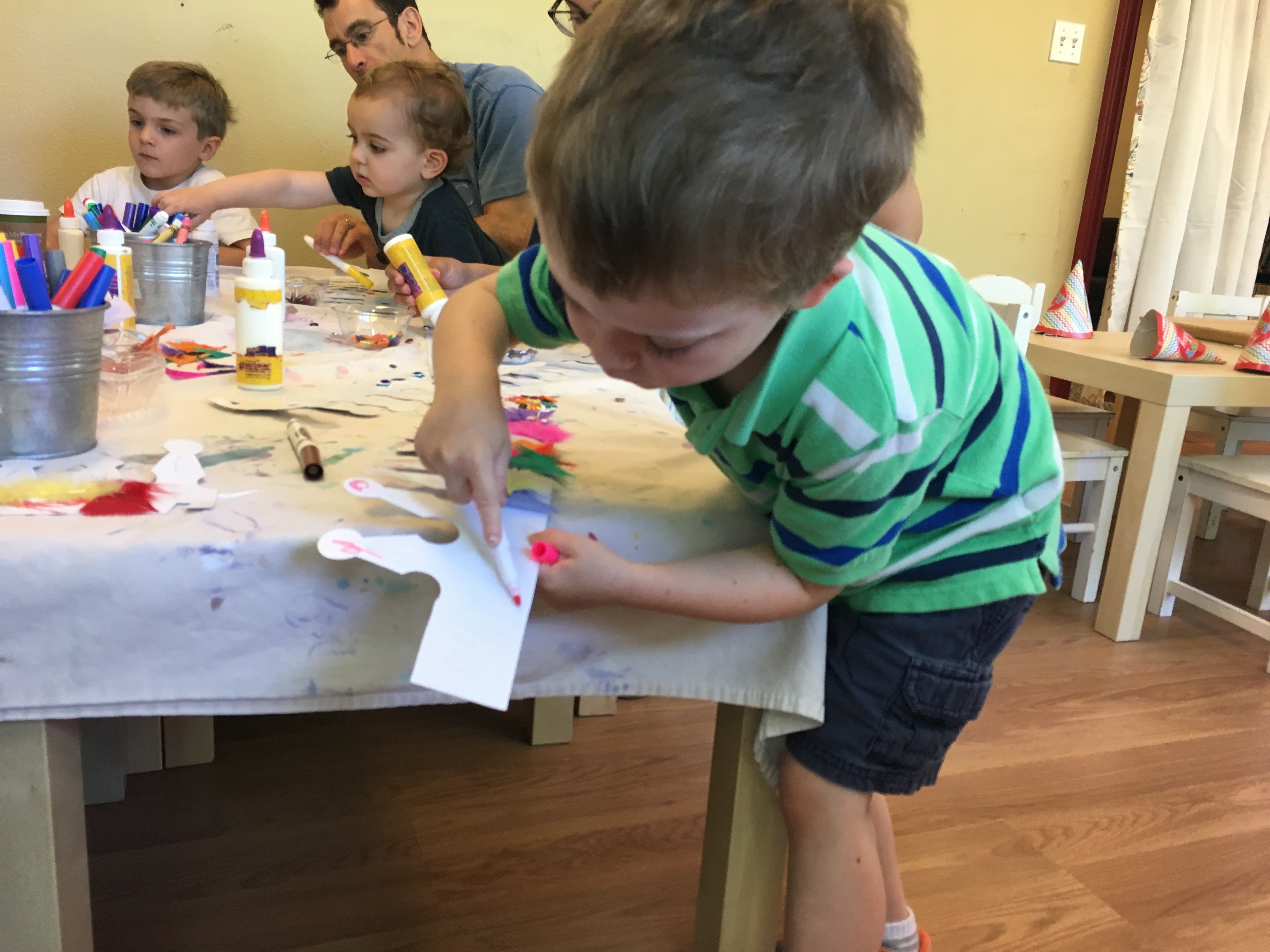 Crown making craft.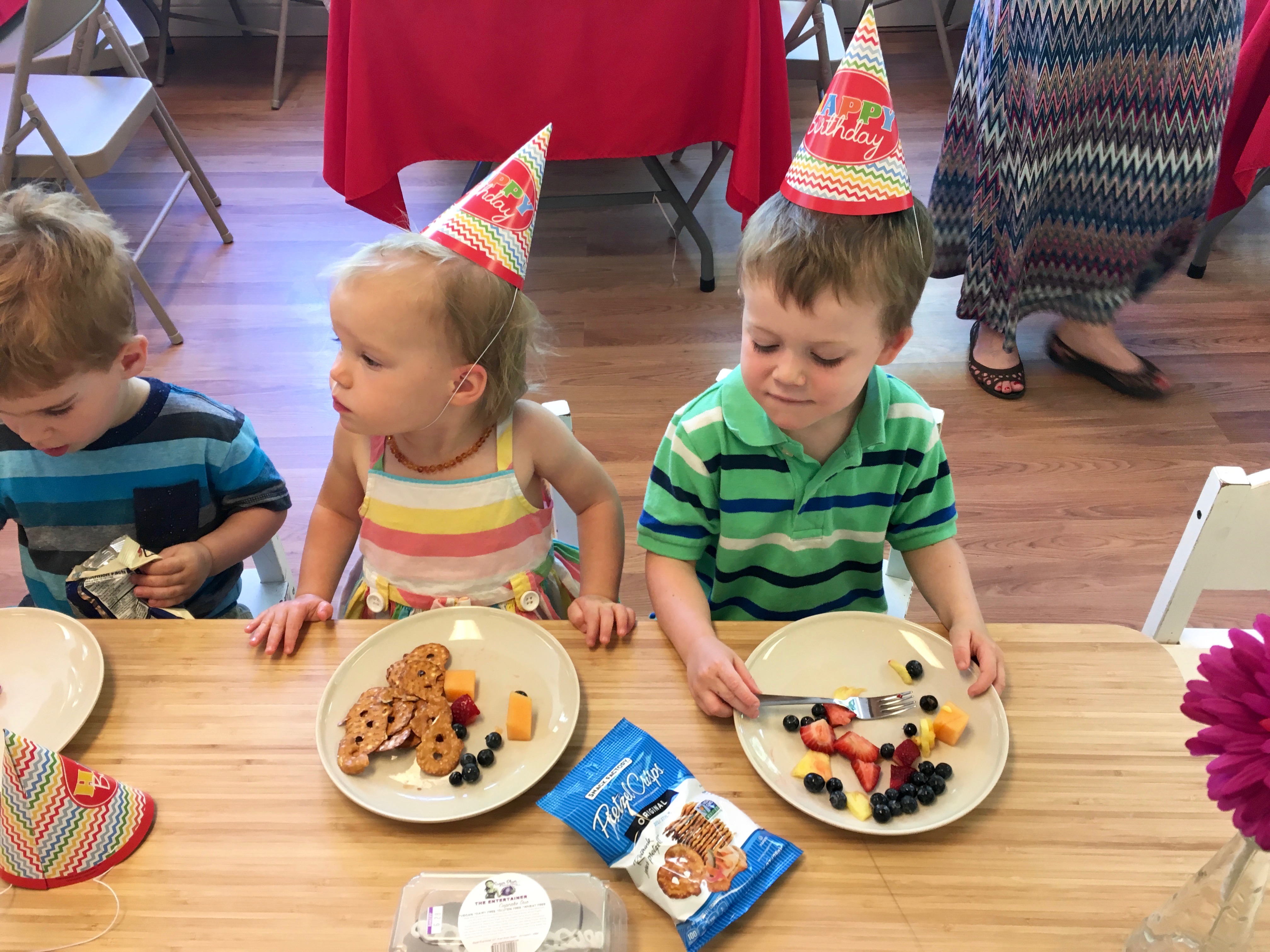 Lunch time.  They ate so much fruit I thought they were going to turn into berries.  They had pretzels too…and then I realized we are probably at the safe enough point in OIT that P could have bagels (from a communal tray).  So he got his first bagel!  He loved it.  It was a big deal.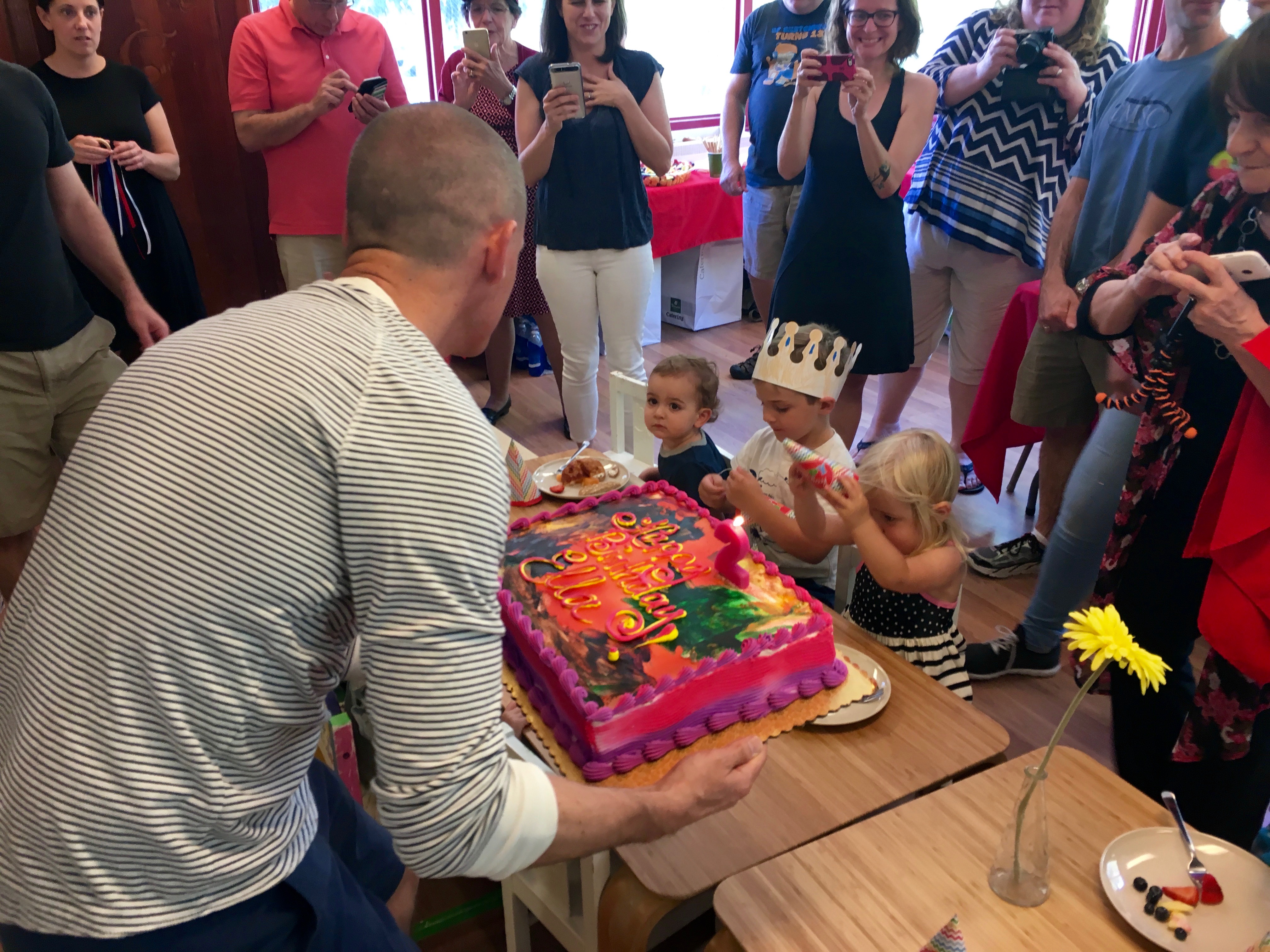 This cake was the most hilarious creation ever.  Not at all what was envisioned apparently, but boy did it make a big impression.  I mean just look at it!  Holy neon.
I had brought cake for P because I just always do, but then my friend told me she brought a vegan and GF cupcake (from Sugar Plum) for P.  How thoughtful is that!?!  The party was for one of V's friends, but she remembered that he had allergies!  I can't get over how incredibly thoughtful this was…definitely above and beyond.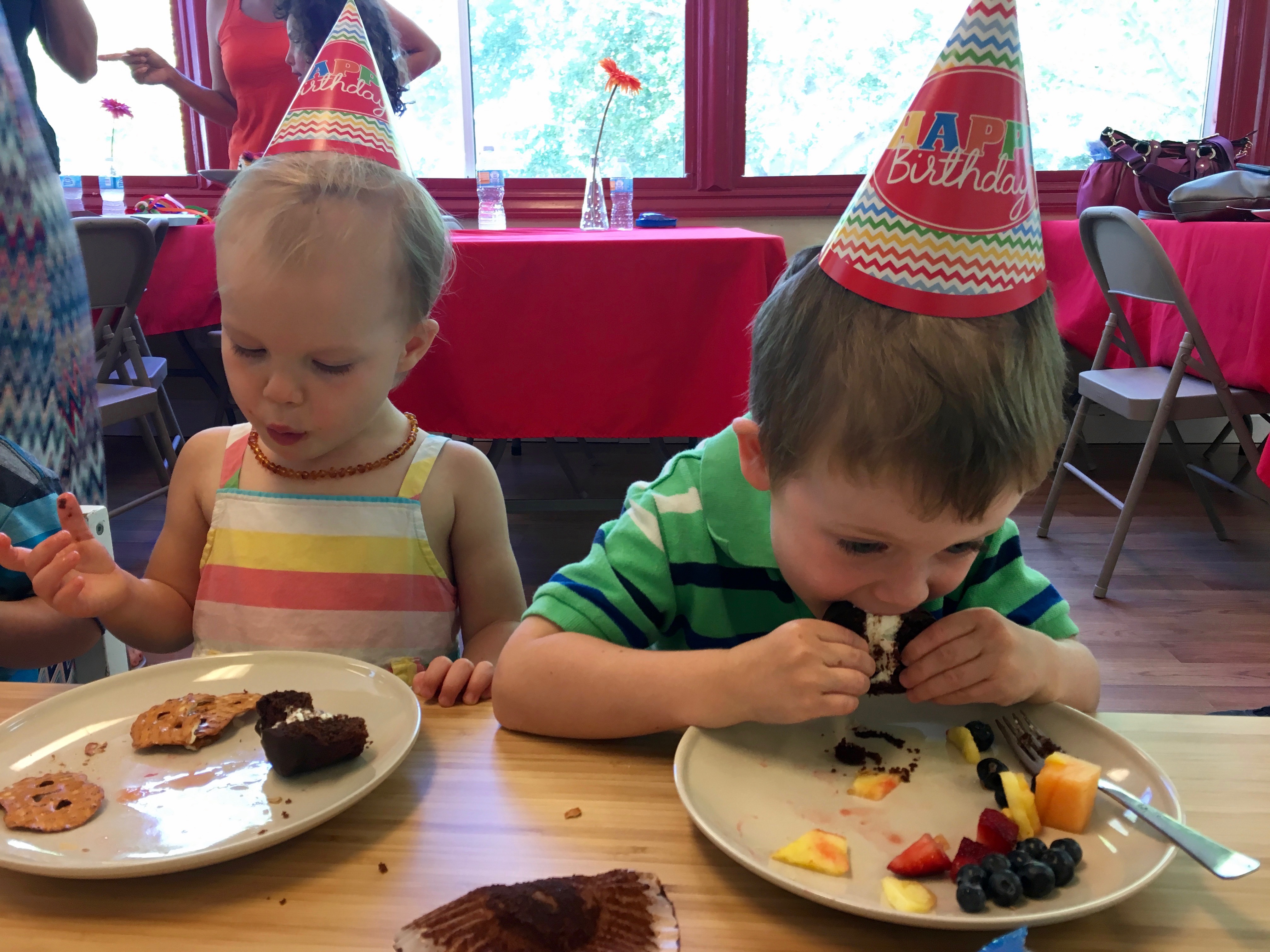 He was a big fan, naturally.
We hit a lot of traffic coming home, so V was ready to crash as soon as we got her in pjs.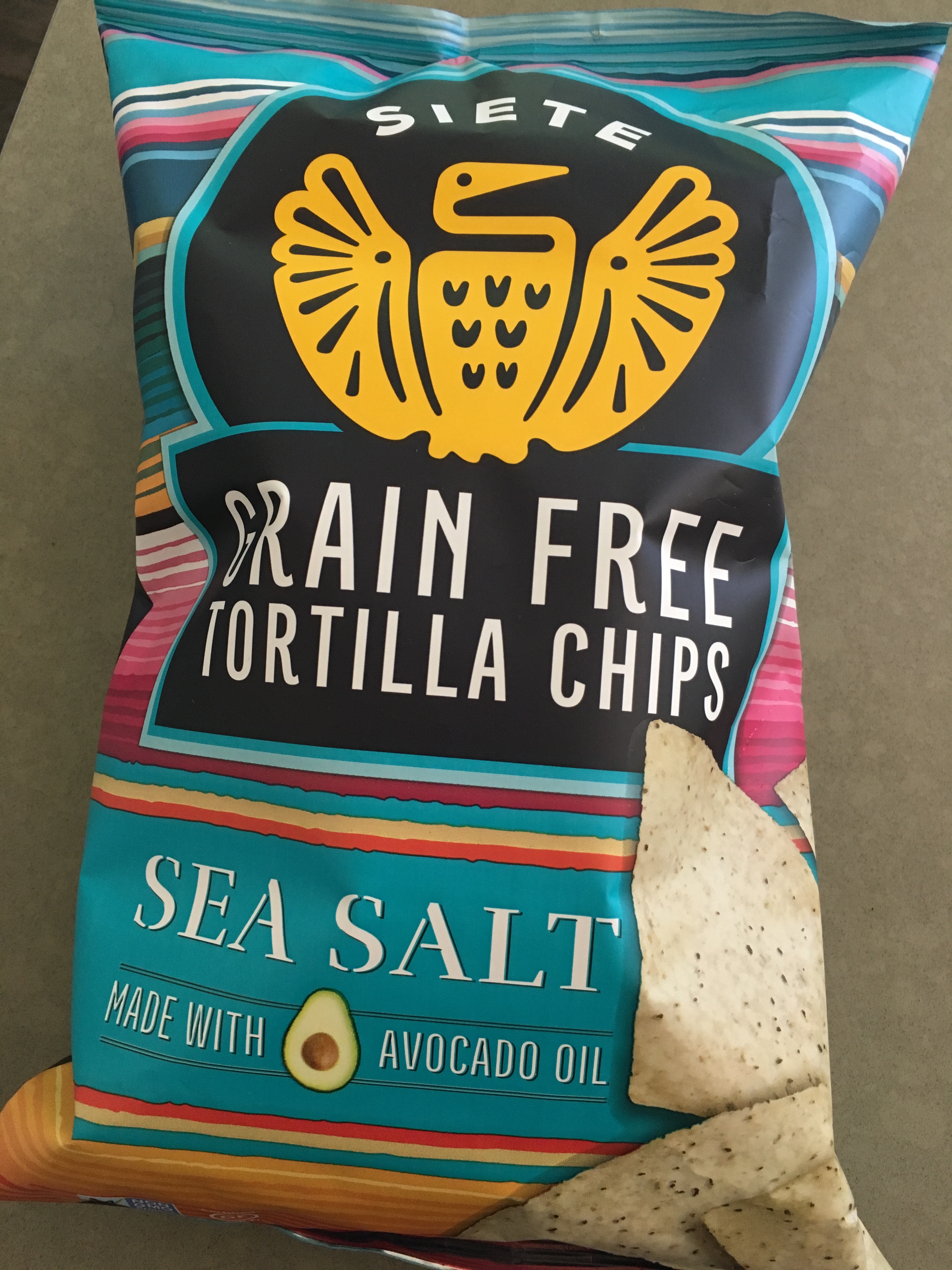 My lunch was mostly this (with chicken salad, avocado, and carrots too).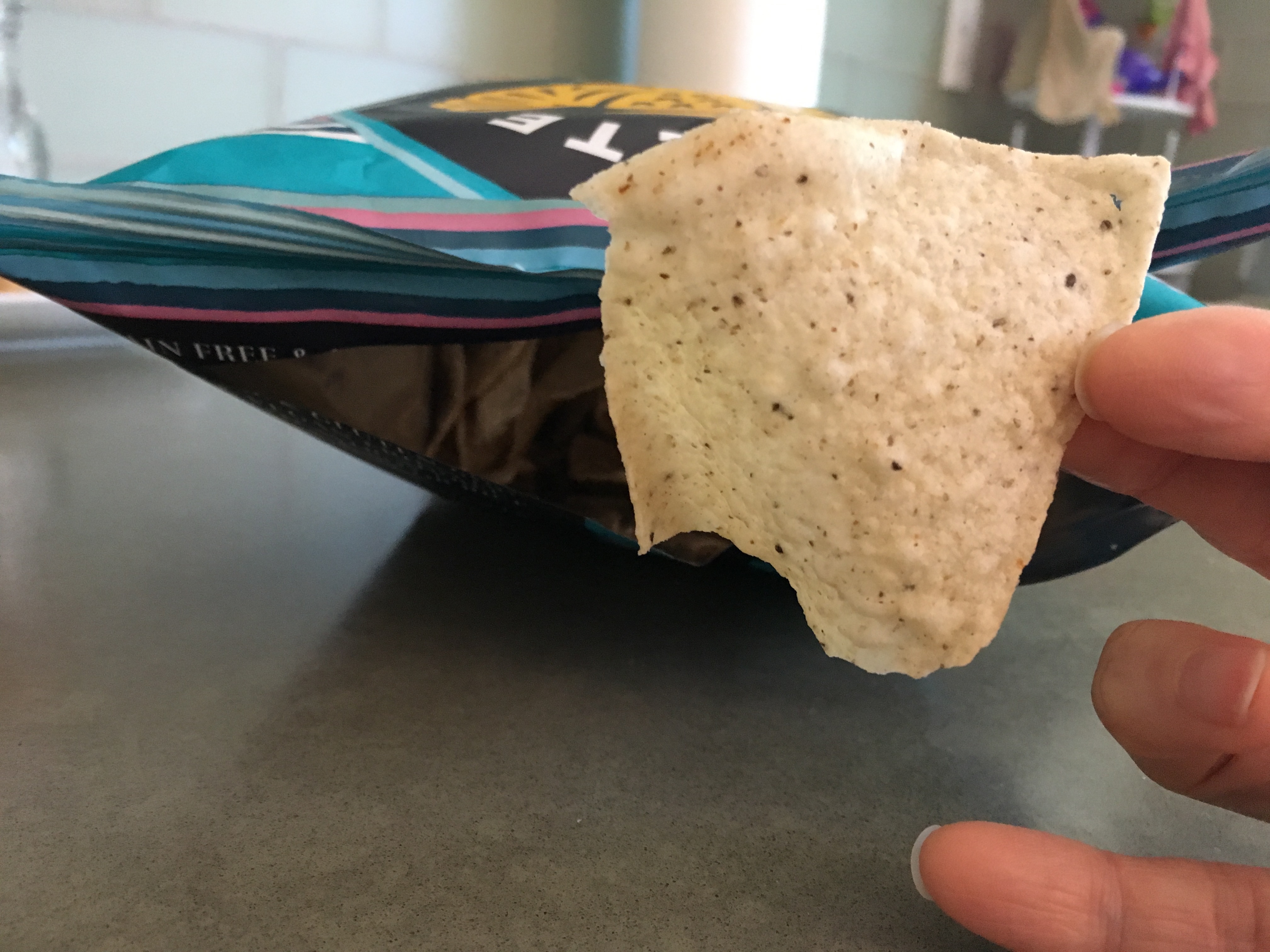 They are hard to describe.  Uniquely chip like but not at all corn tasting, which was hard for my mouth to get used to.  I could have used a bit more salt (if I'm being super picky), but I easily ate half the bag.  Yum!  I want to try the other flavors now too.  I will probably be buying these bags from WF (when I make it there on OIT days) on a semi reg basis now.  Siete has me hooked. May have to start experimenting with cassava flour too.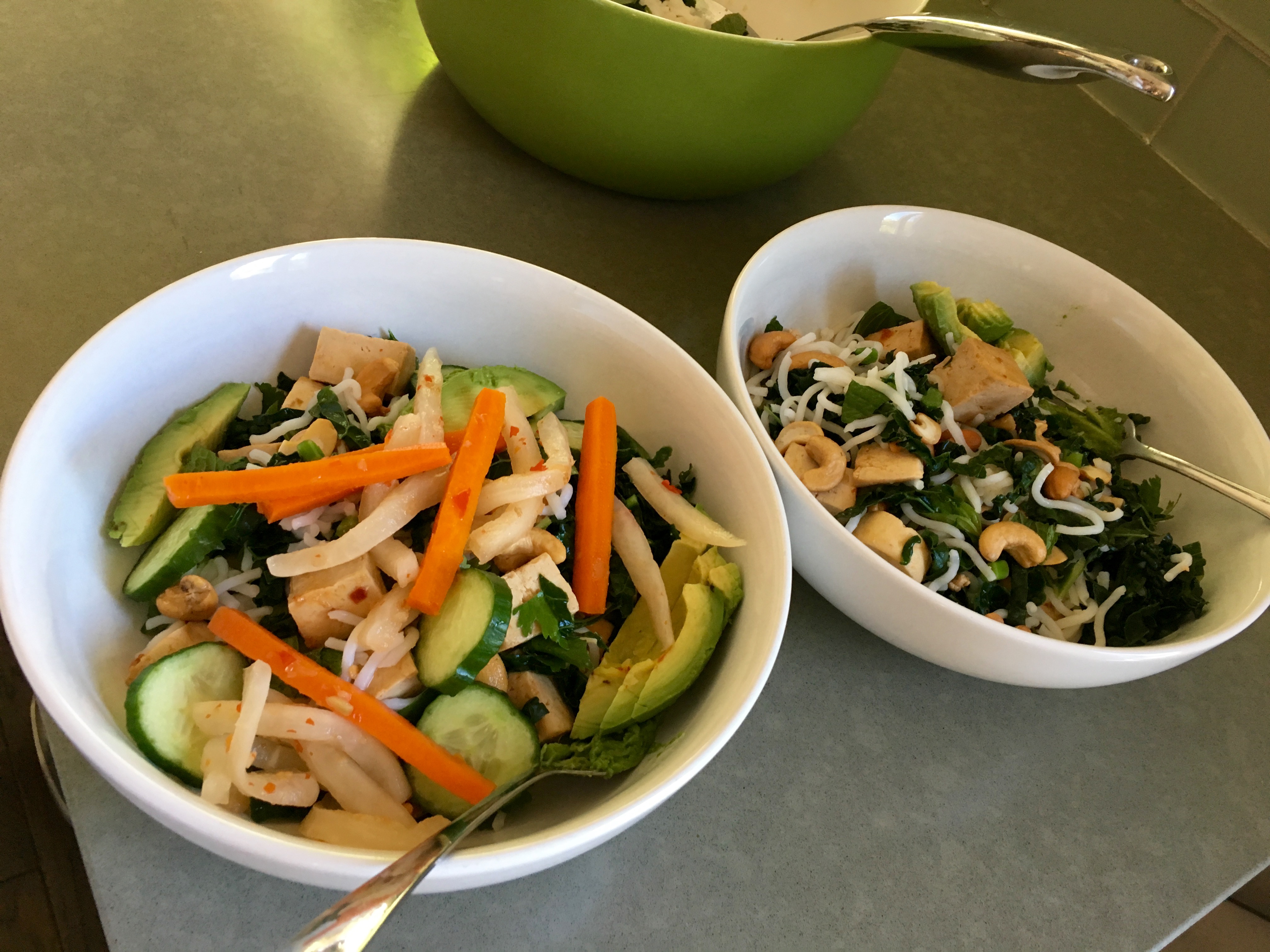 Gobble time!  I never made it to the grocery store after getting back home so it was good to have this meal already in the bag.  Literally.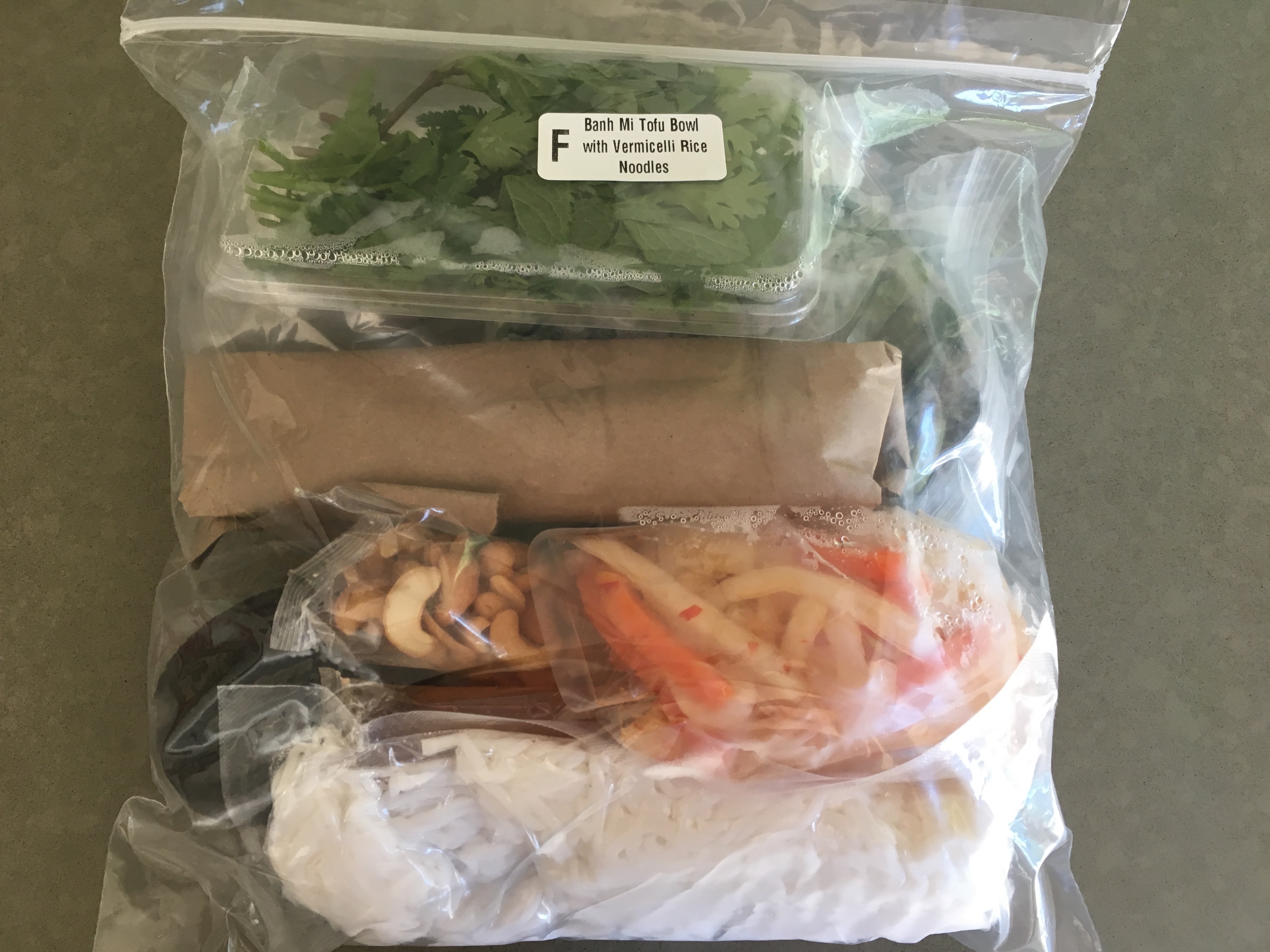 Bahn Mi Tofu Bowl with Vermicelli Rice Noodles.  AKA vegan and gluten free yums.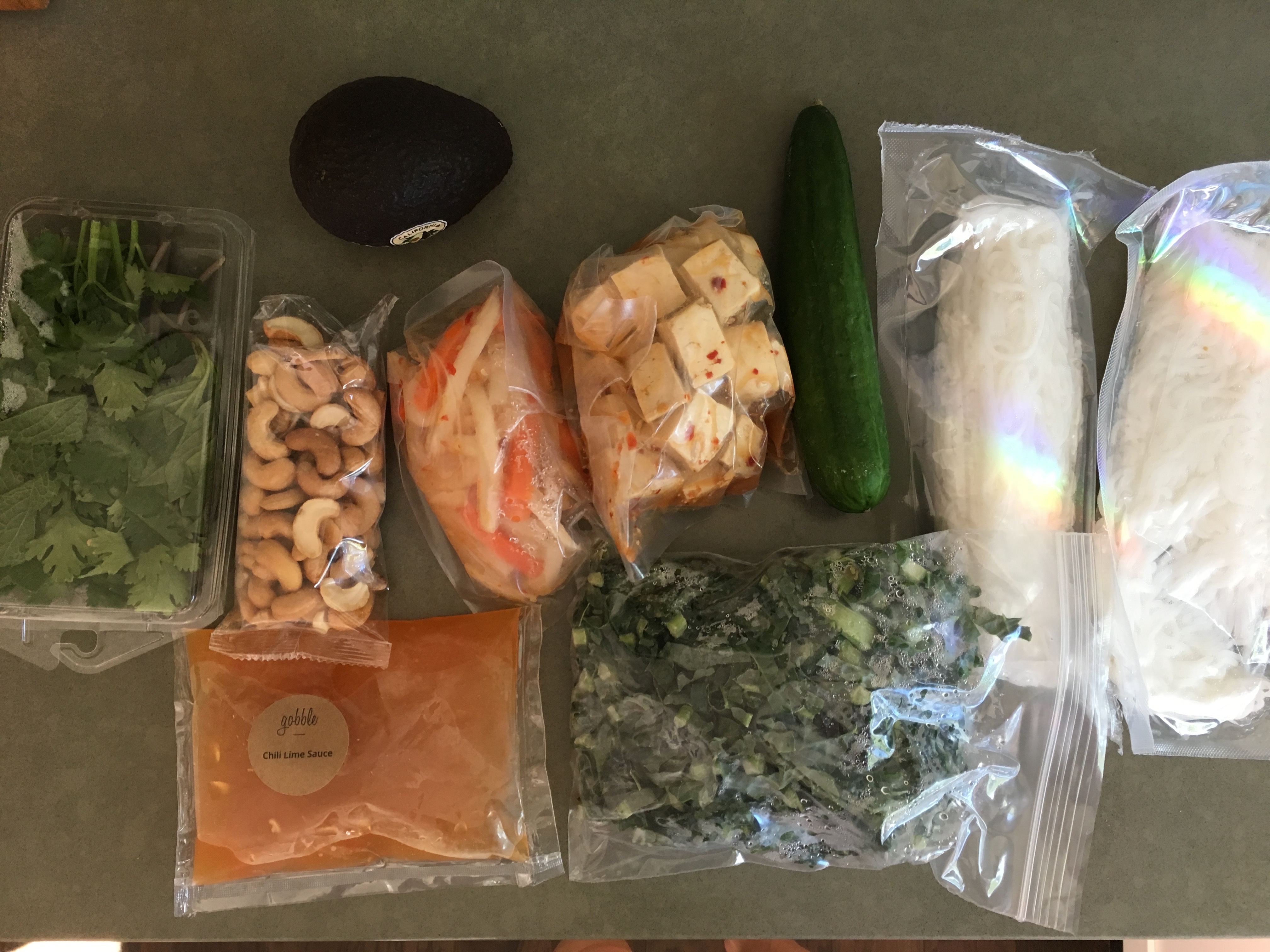 I love the bunch of fresh herbs!  It had cilantro, thai basil, and mint.  I fully admit when I read recipes that call for a bunch of individual herbs, I tend to dismiss them because it's annoying to buy them all for a small amount when the rest will most likely go to waste.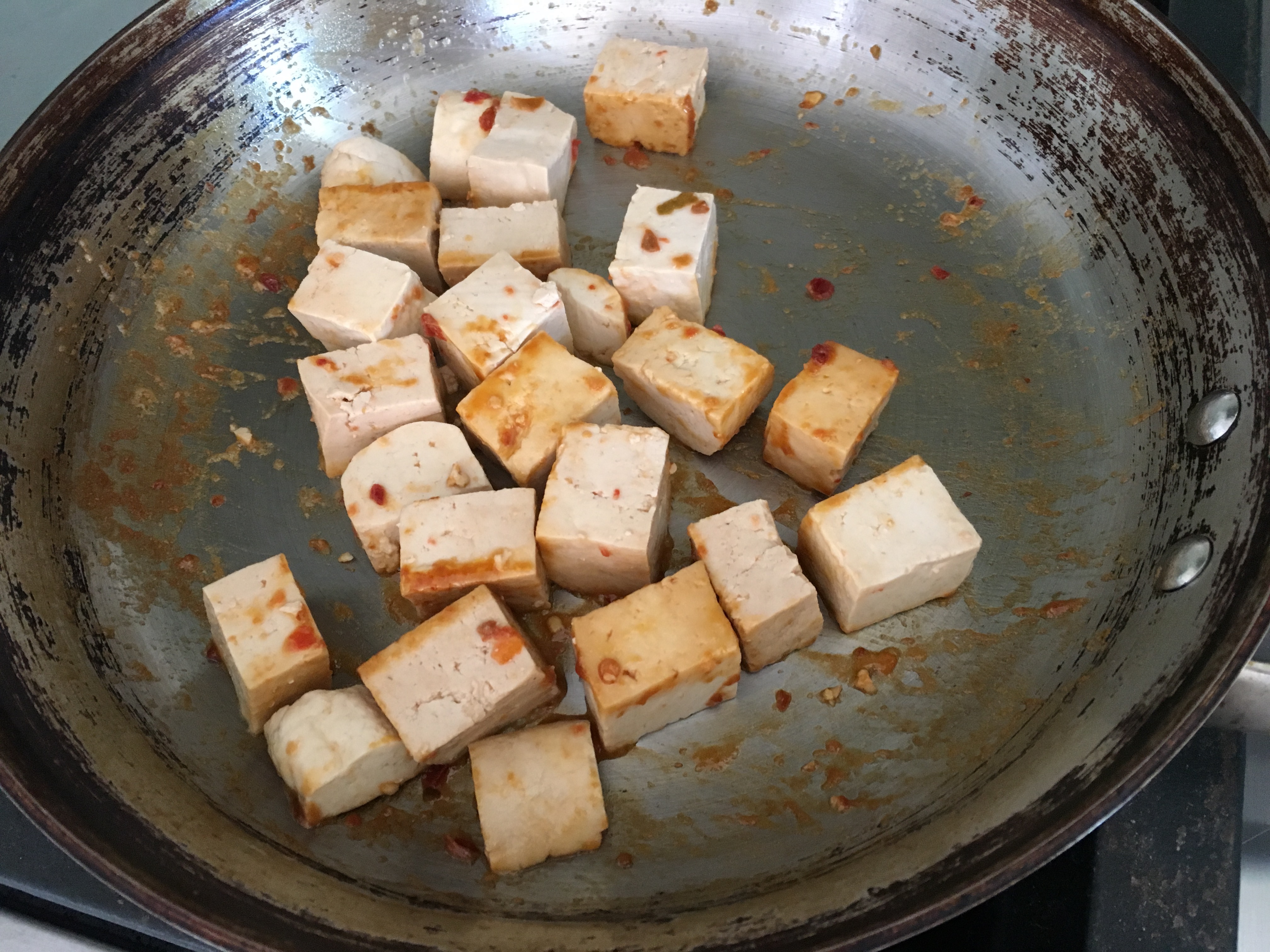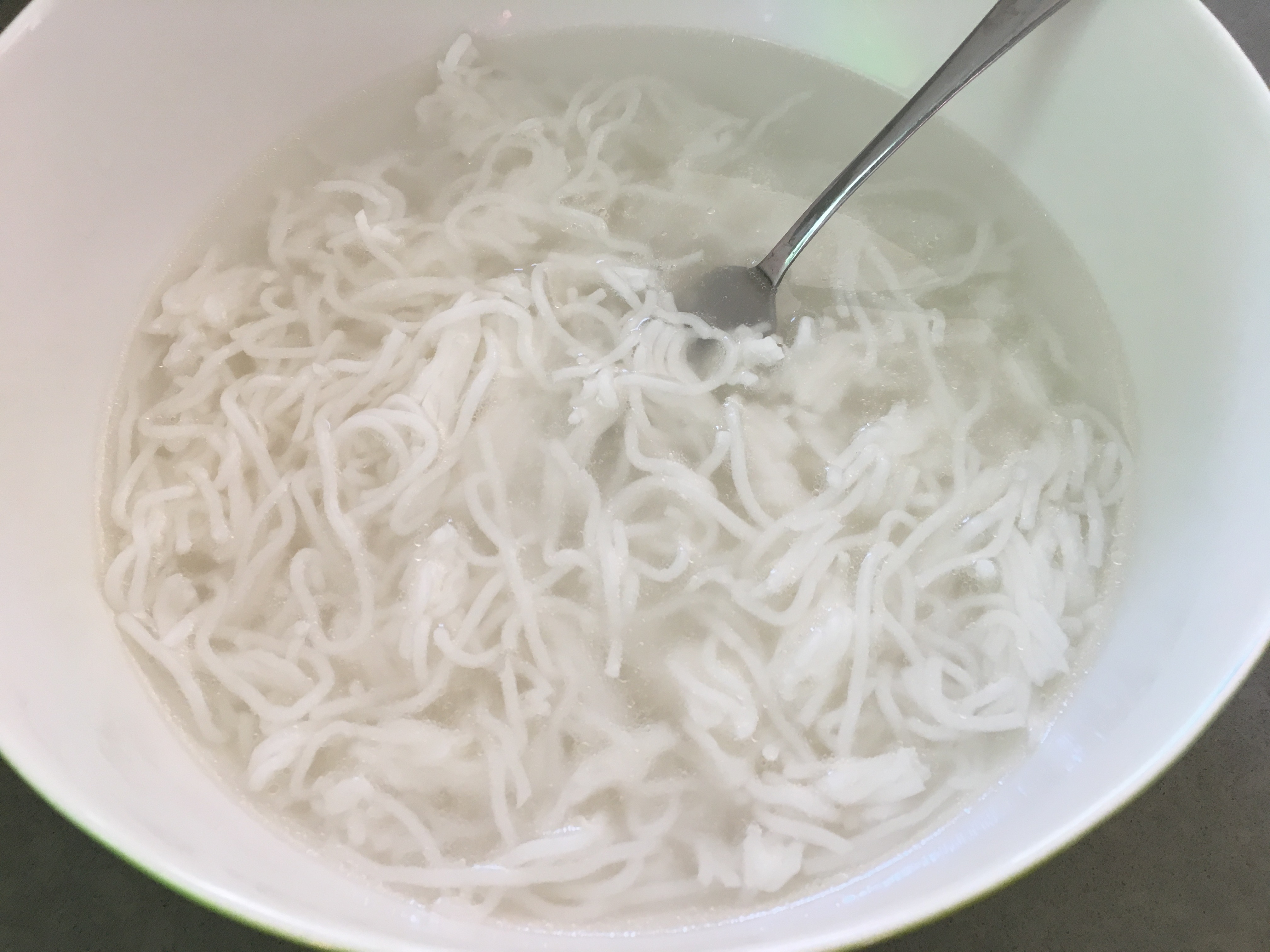 This was the two person portion.  It had more than enough noodles for all four of us.  In fact, there was plenty of everything minus the tofu, so I just added some extra diced tofu to the kids' bowls.  I wasn't sure how they'd like the nuoc cham sauce, but I always have plain tofu on hand, so it was actually super easy to make this two person serving enough for the whole family.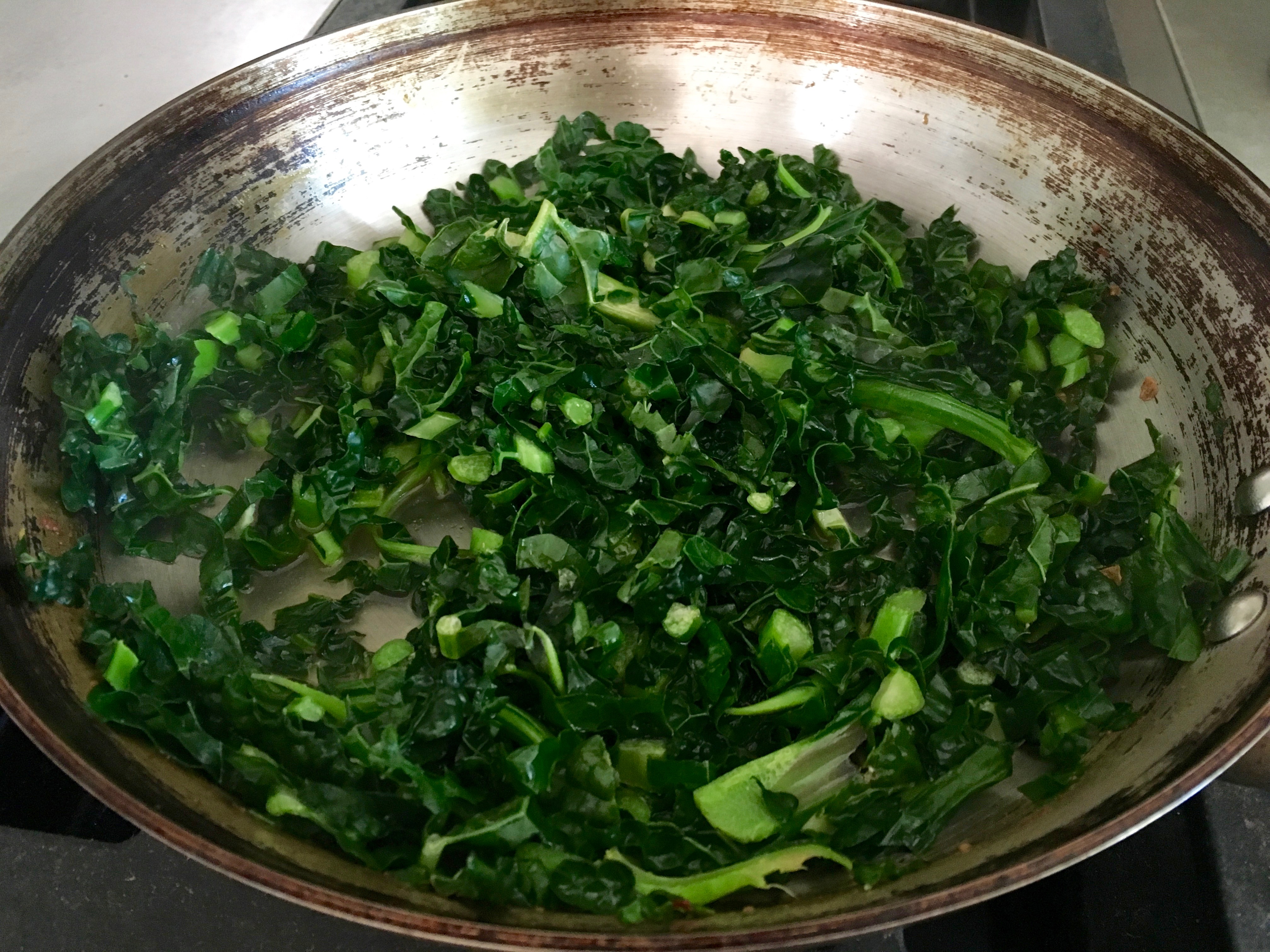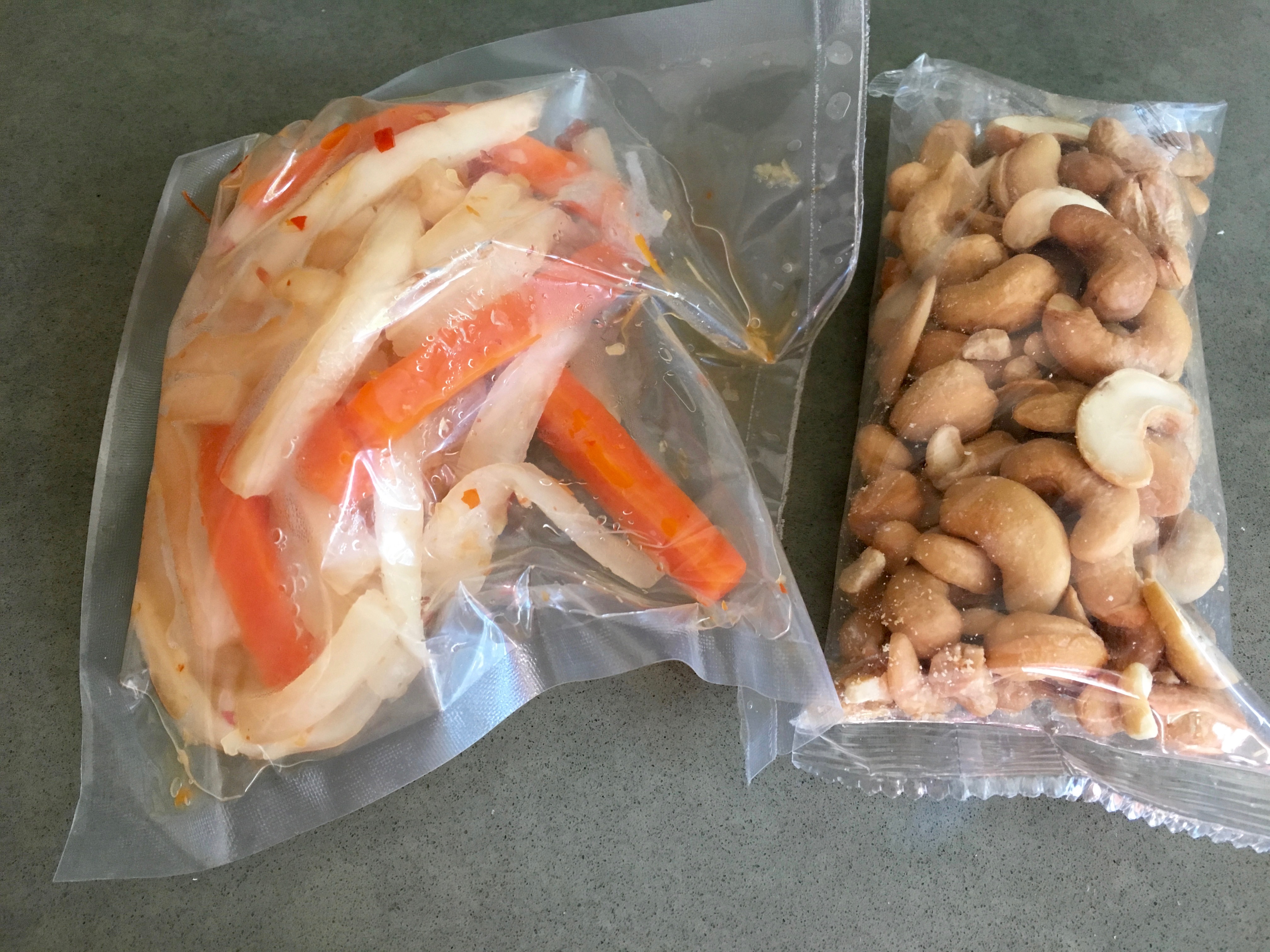 Kyle didn't want any pickled veggies so I was thinking I was going to get them all…and then P found out there were pickled veggies and asked for some.  They were pretty spicy so I gave him one carrot hesitantly, but he loved it and wanted more and more.  Then V wanted in, so I gave her one, again, thinking she'd reject it the second the heat hit her tongue.  Surprise again!  She ate several more. So those were gone by the end of the meal.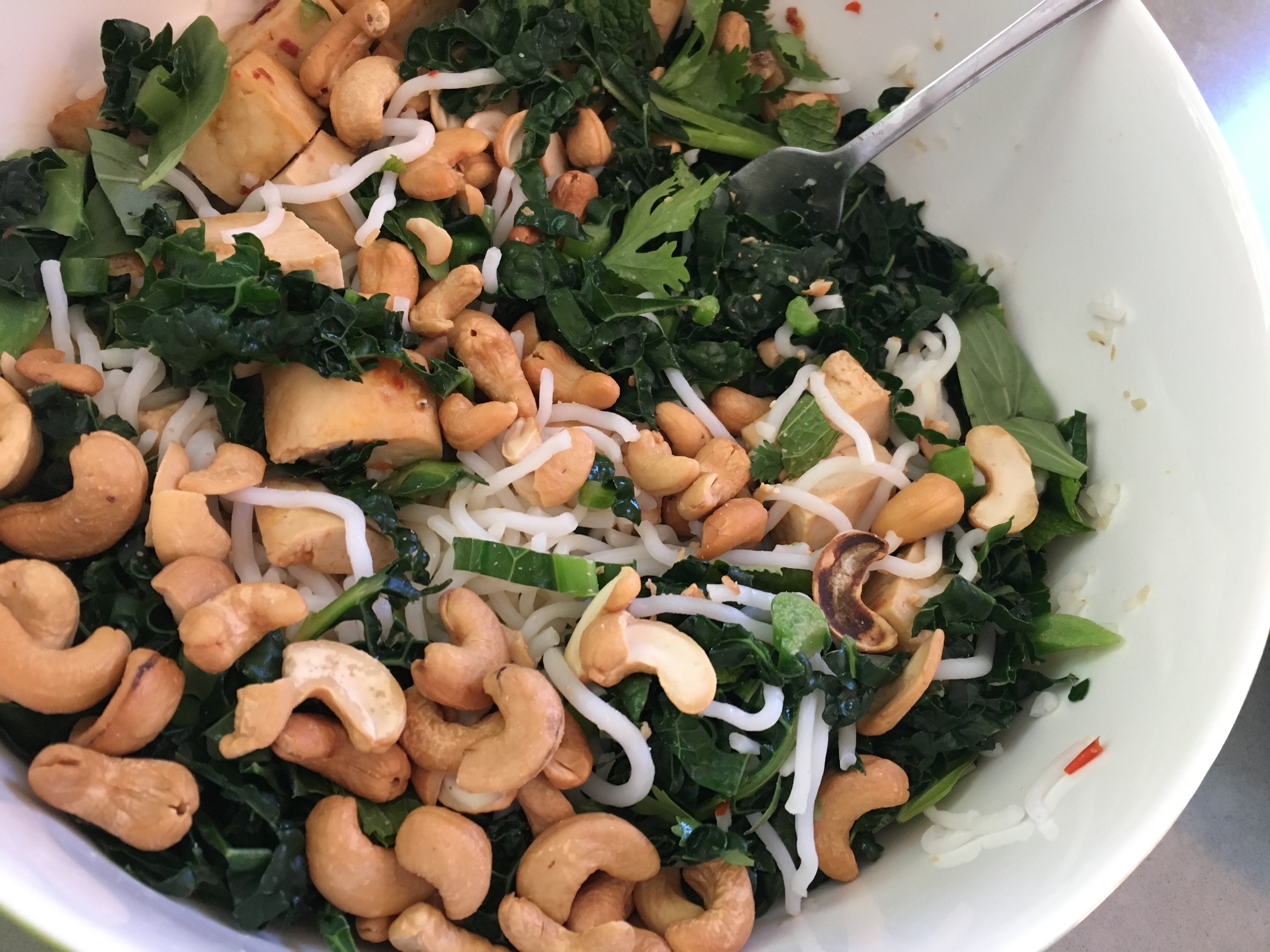 Oh how I love cashews.  How could I ever pass up getting this meal?!  Cashews, avocado, and tofu with an Asian sauce I don't know how to make – Y E S P L E A S E.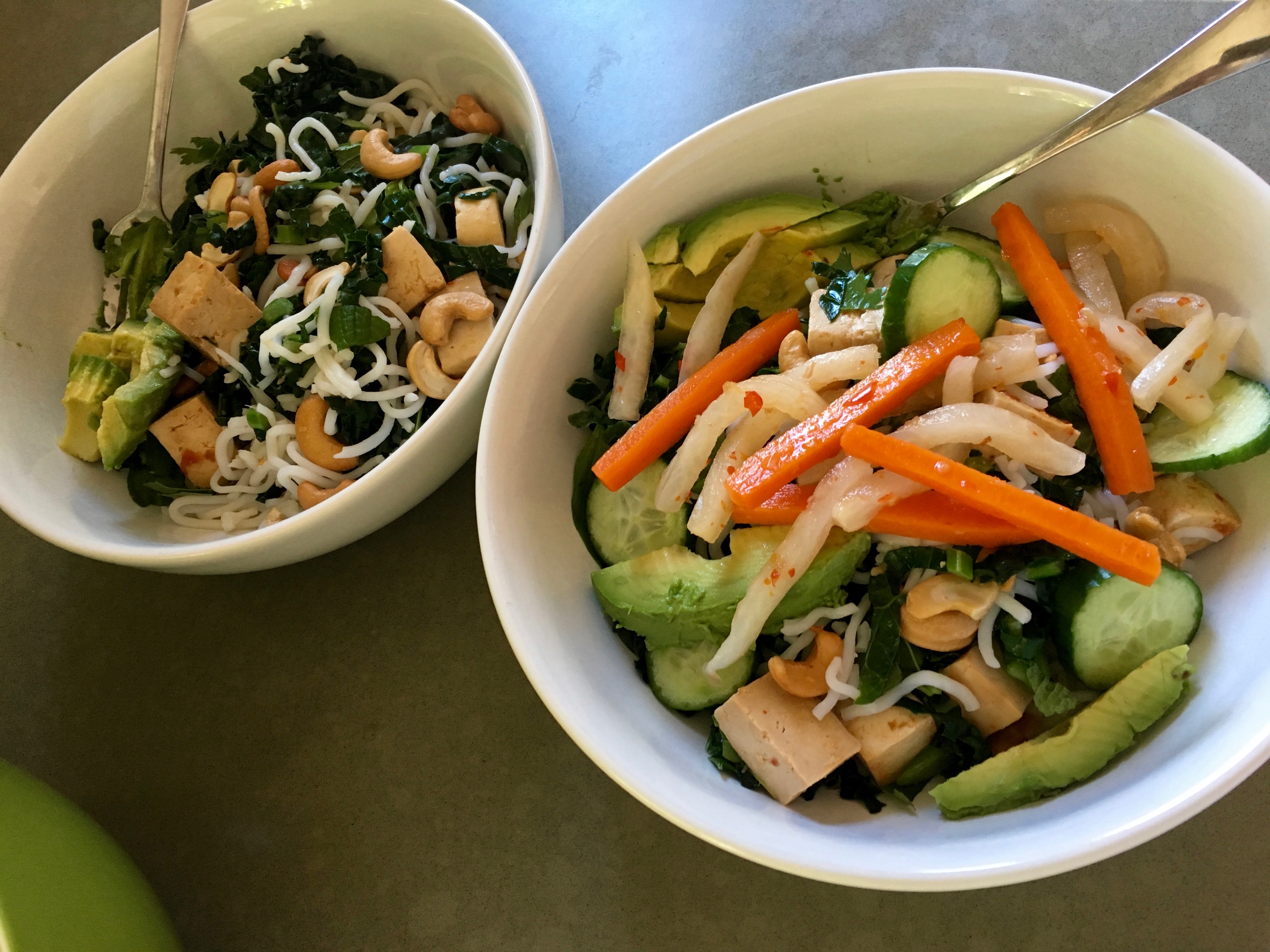 Oh, and the kids and I ate all the cucumbers too.  Kyle wants none 'o that.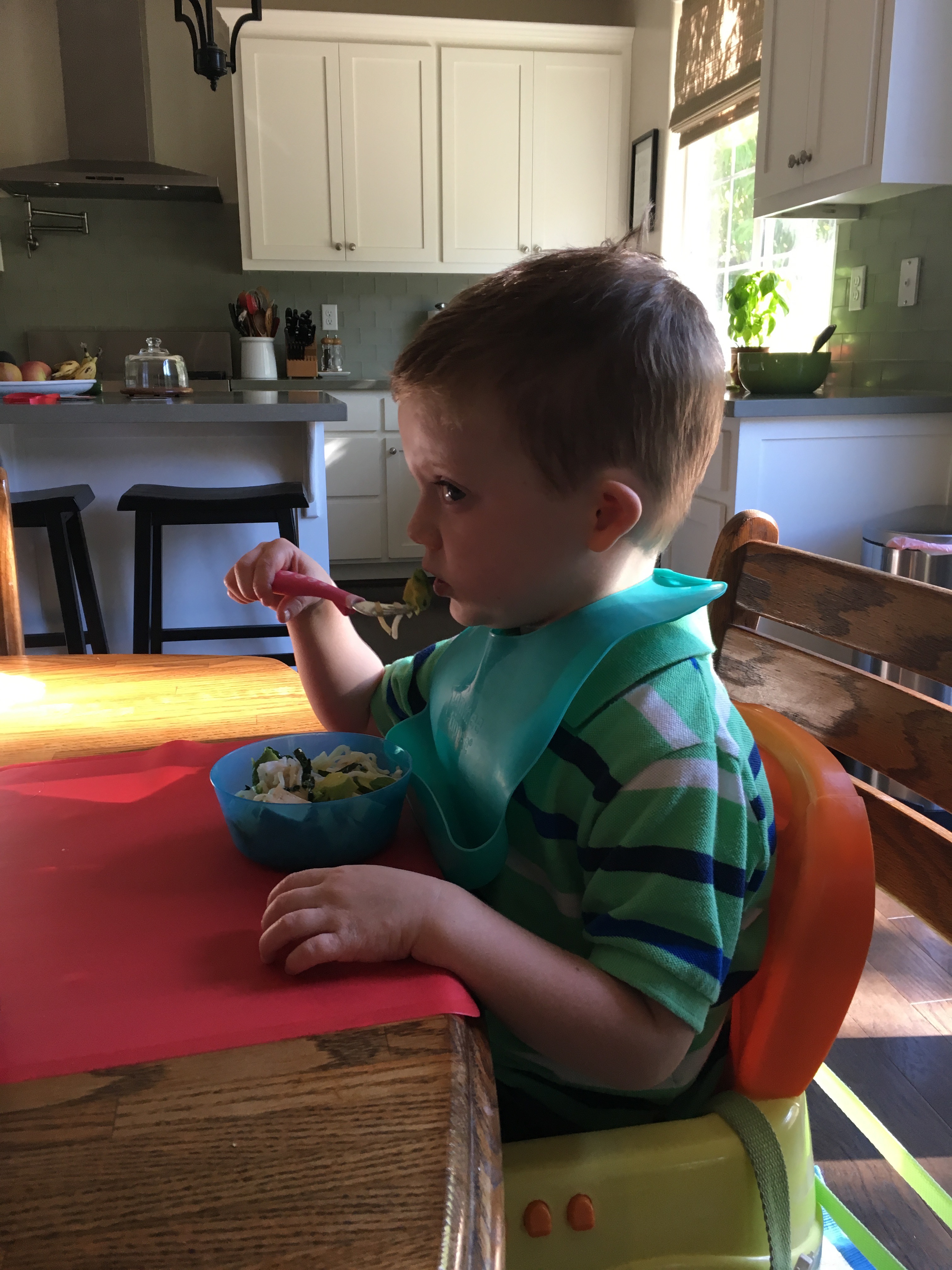 I was trying to get a pic of his haircut (I only did the sides and back, leaving the top long) to show my fam since it's his wedding 'do.  He wasn't sure what was going on, and told me he needed to focus on eating.  Fair enough.  I'll let you get your noodle face on.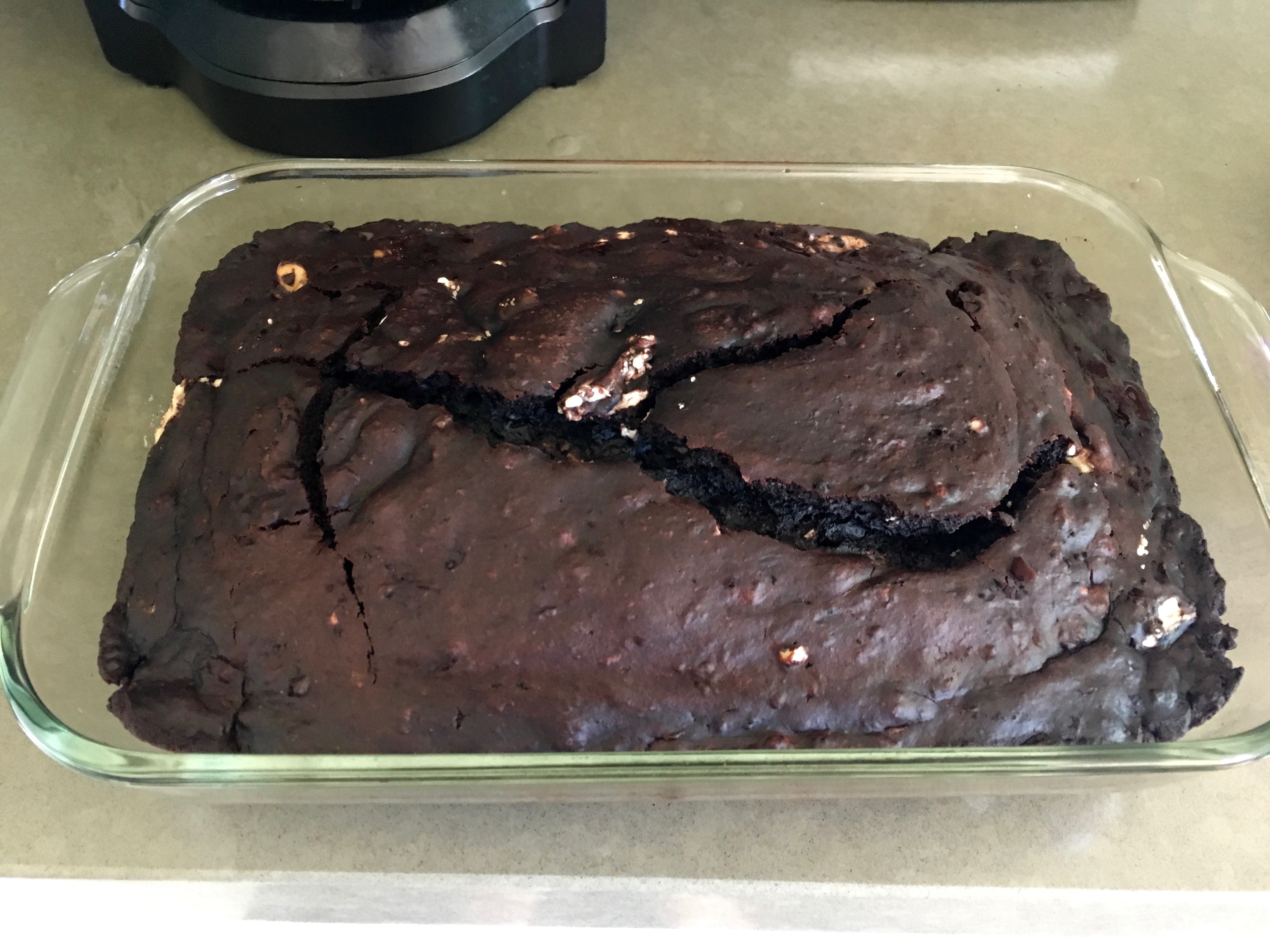 I made brownie cake for Kyle for Father's Day (a day early – as if he objected!).  He was drooling over the birthday cake earlier that day but didn't have any because he hadn't had lunch yet.  So I knew he was craving something in the pastry family.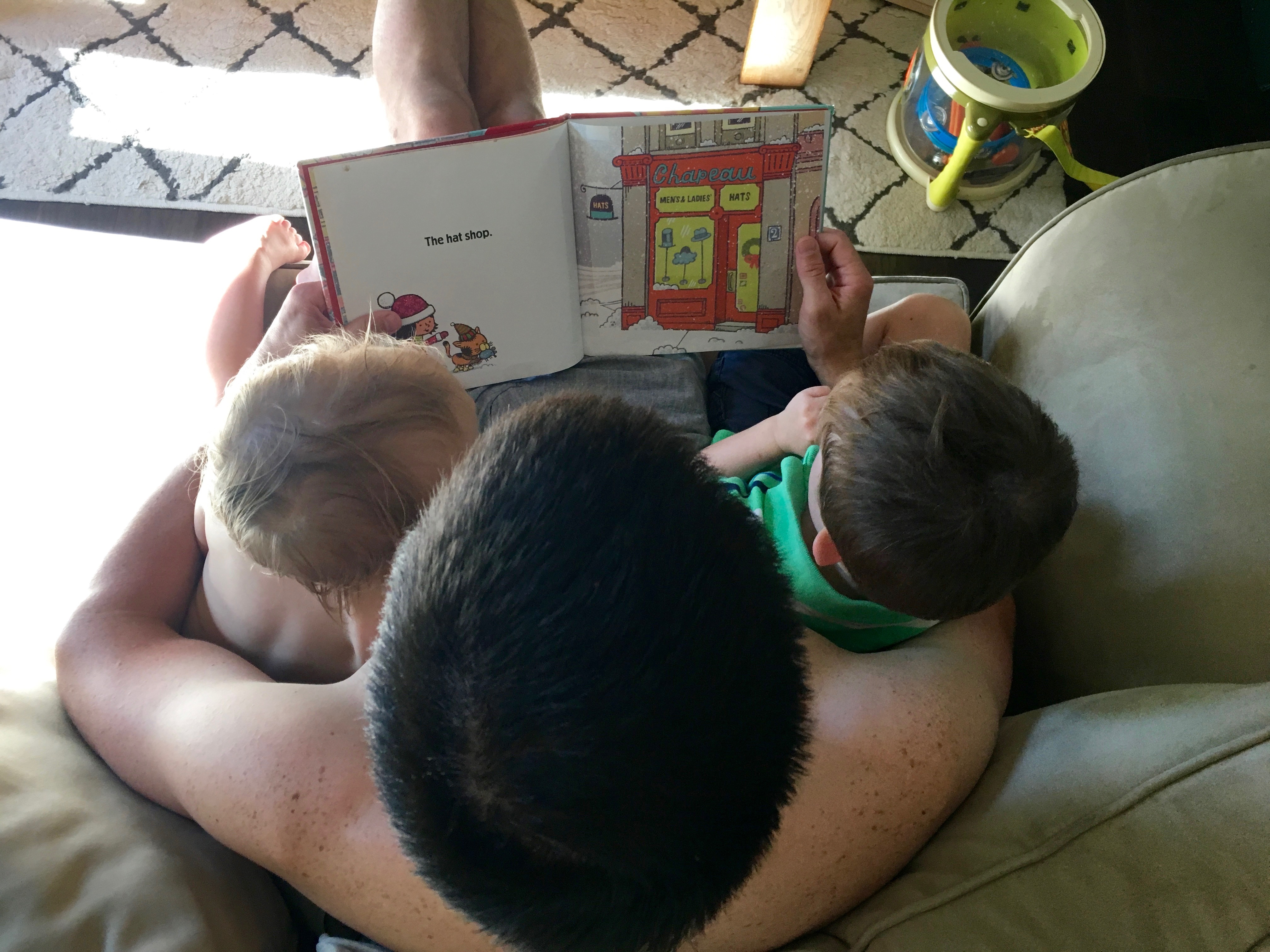 He got some pre sleep snuggles while I did prep in the kitchen.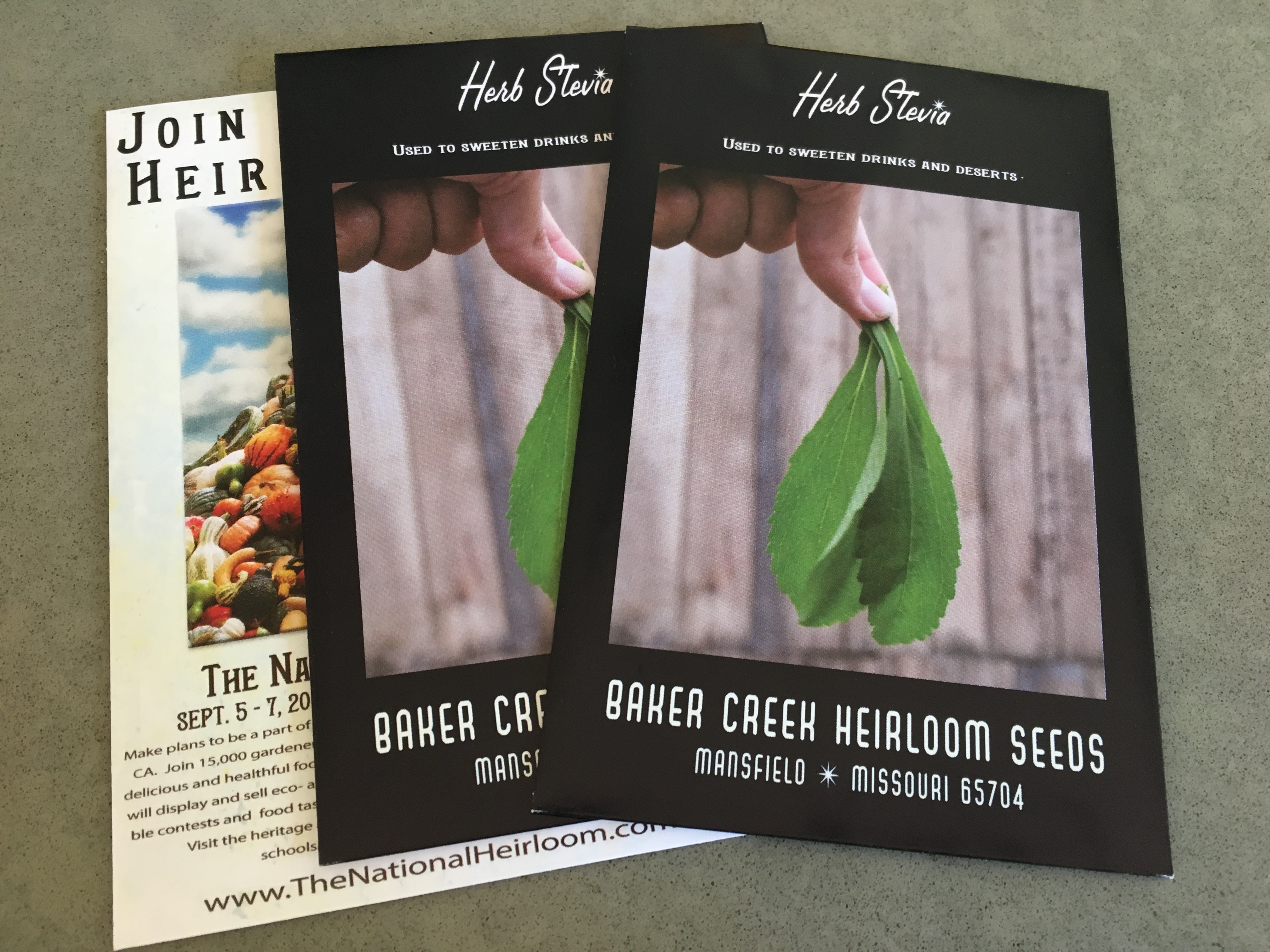 I ordered these a few days ago and can't wait to plant them!  I hope they do ok in this hot a$$ climate.  I'm probably going to start them inside.  My basil is also still inside, waiting to be transplanted to the garden because it's been in the triple digits for the past week with no reprieve in sight.  And it doesn't help that our yard has zero shade. Soooo, let's grow some stevia!  Has anyone else grown it?  Any tips?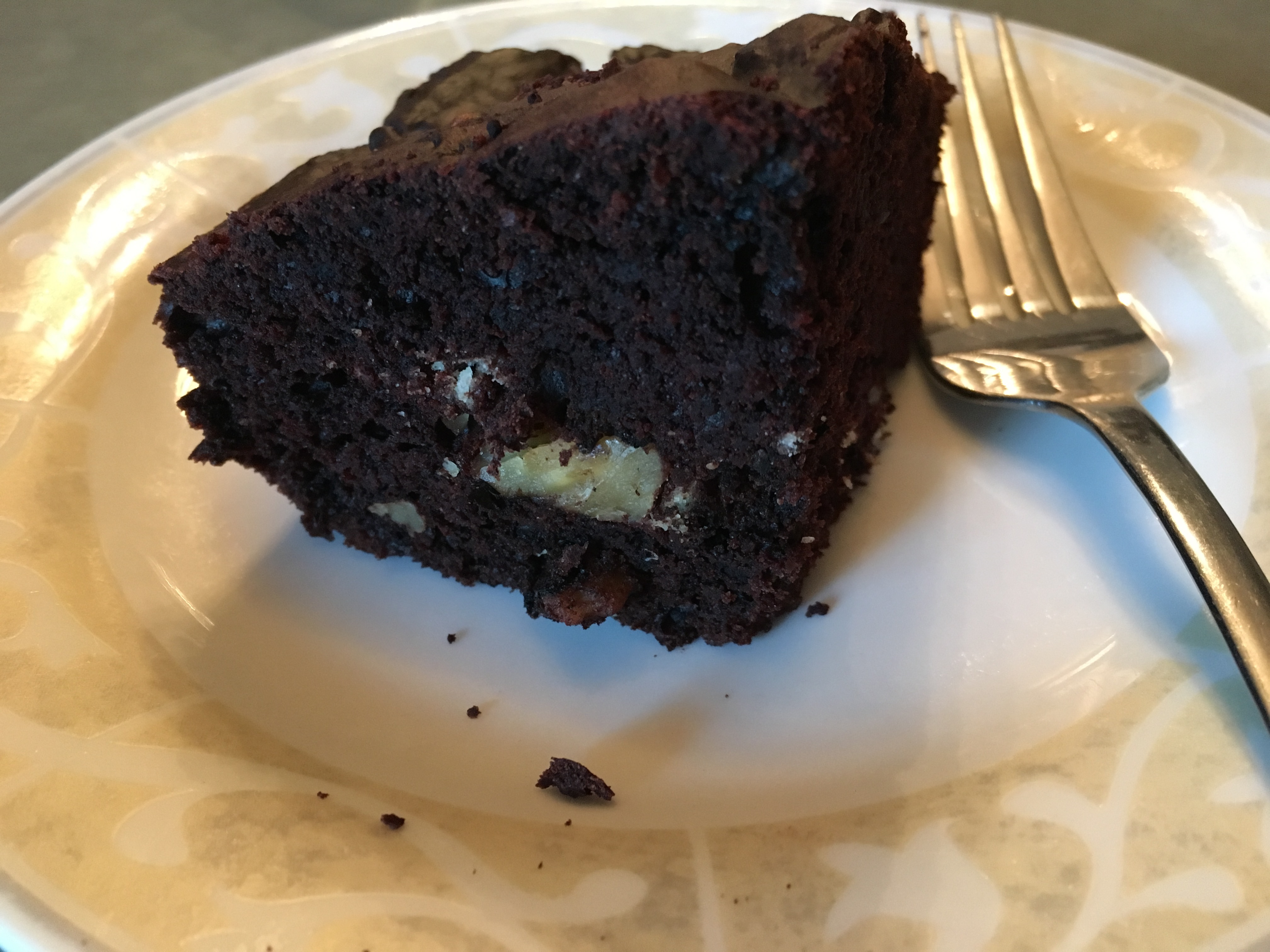 There were walnuts inside. And just to take it to the next level, I made frosting for it, which I added the next day.  I stuck to my usual though.  Because my heart belongs to chocolate.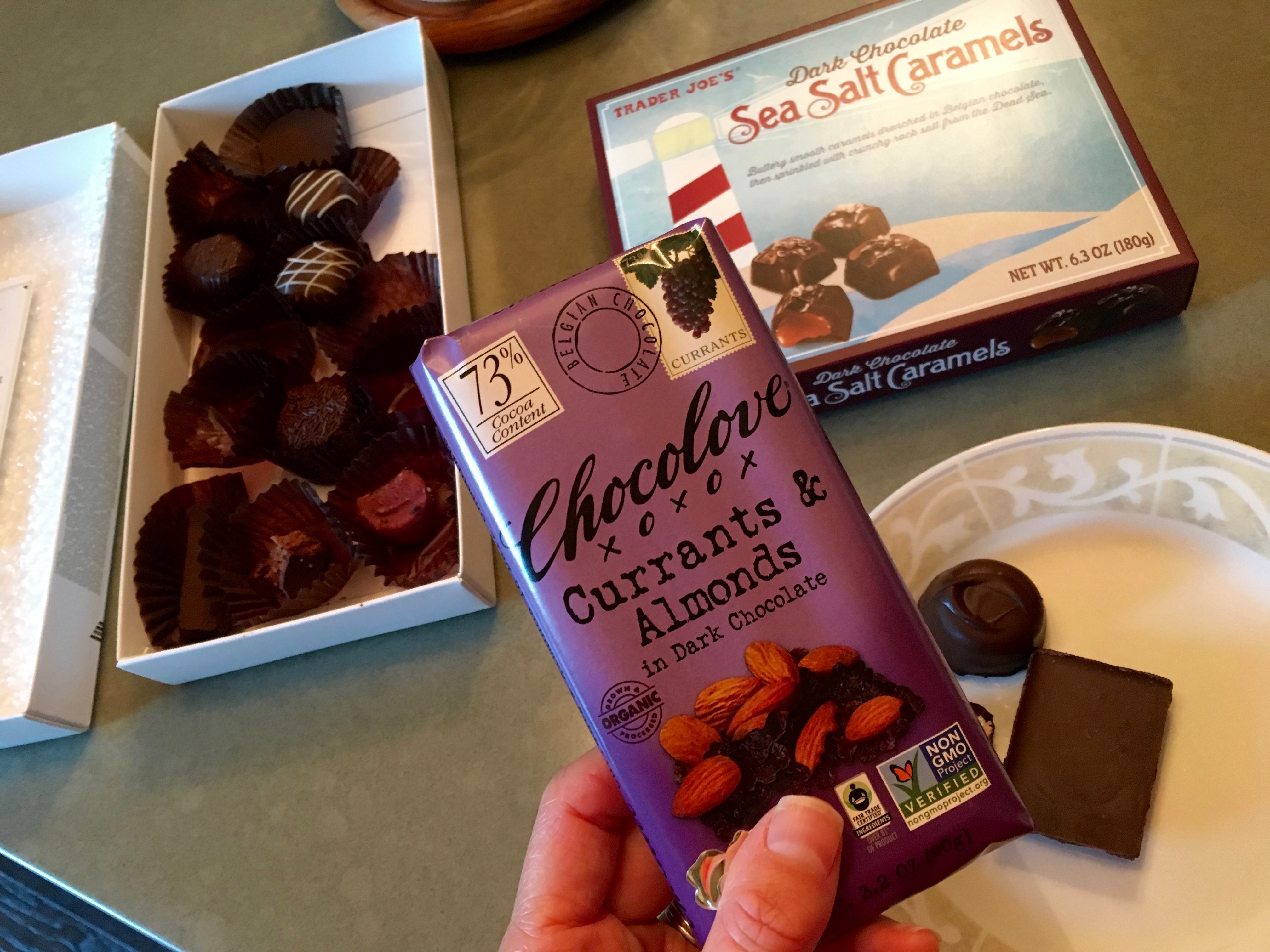 New flavor of chocolove.  I prefer the TJs knock off because it's raisins are more present, but this was still great.  It tasted darker than 73% to be honest, but was awesome with candied ginger.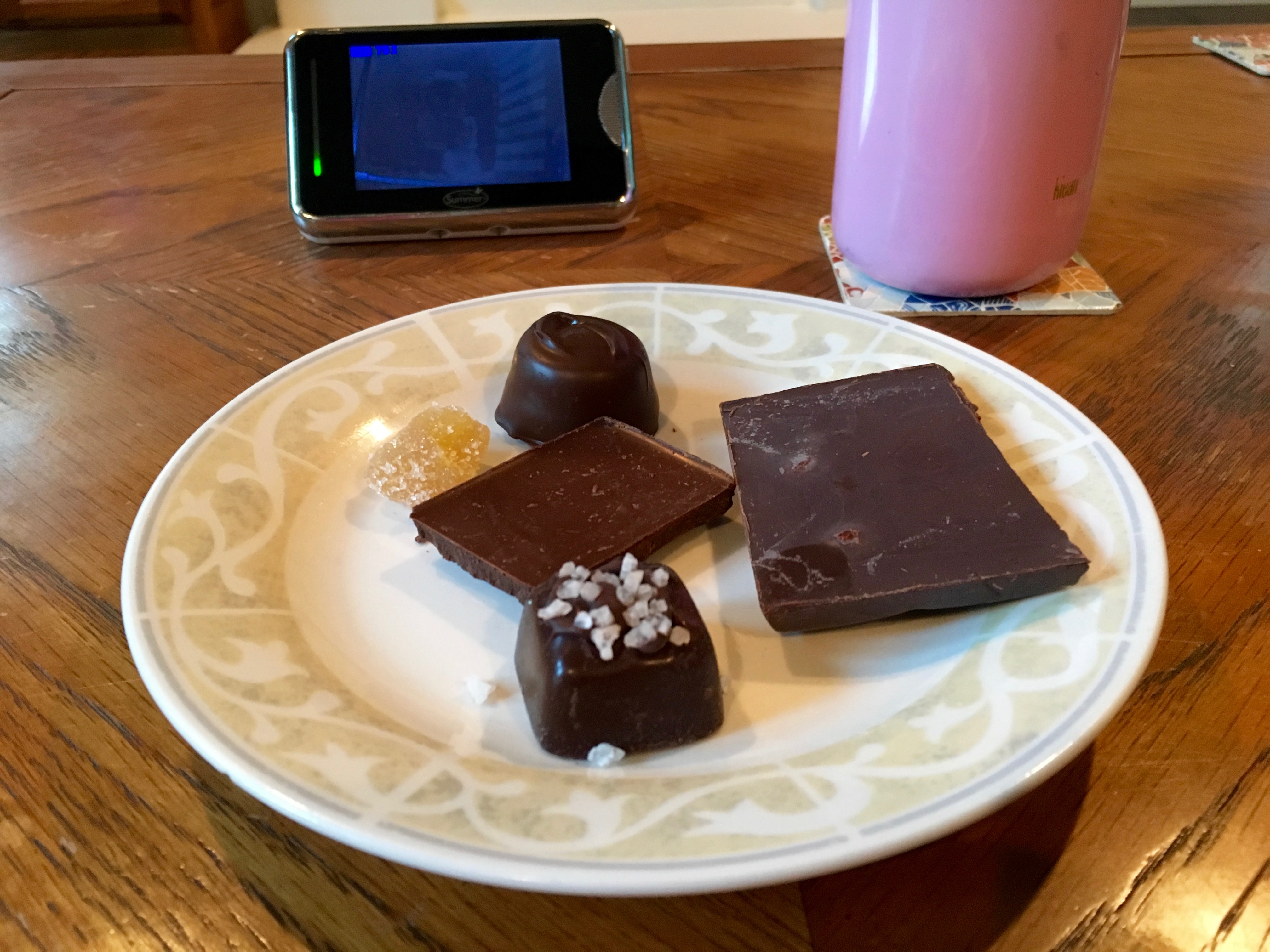 P had a small reaction this night, but we got it under control.  I'm glad we won't be updosing this coming Friday (wedding things) because it will be good for his body to get extra comfortable at this same amount of milk for a while.  We only have two more updoses until he reaches maintenance!  Slow and steady, but already seeing the payoff…like eating party fare with peers!