Despite feigning concern about aging, I really don't care about sharing how old I am.  Kyle is younger (and he enjoys reminding me of it), but I am healthy and happy and have enjoyed my 20's so there's no reason for me to pretend that adding another candle to my cake is some big stressful occasion.  It's a happy one!
How did I celebrate my birthday?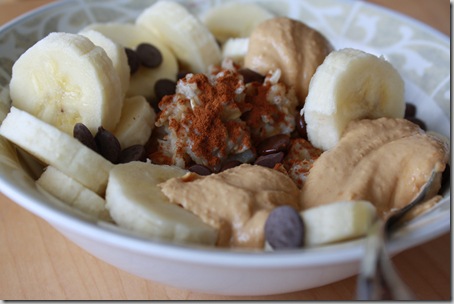 First of all, I slept in.  Way in.  And even though I felt a bit guilty about it, I told myself I was allowed to do whatever I wanted on my birthday (within the legal system of course 🙂 ). 
Breakfast was nothing crazy.  I turned 29, not 21.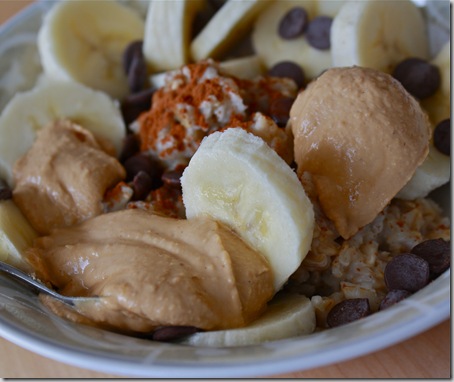 Adding carob chips to my breakfast oats was exciting enough to delight my taste buds – decadent and delicious, but not ridiculous.  I have no clue what I had for breakfast on the morning of my 21st birthday, but I promise it was something with a side of hangover.  And it was probably eaten after noon.  Oh college…
After my banana, oatmeal, peanut butter, cinnamon, carob chip bowl was done, I went on a run.  The weather was nice so I took advantage, which was a relief since soon after I returned home the beach fog rolled in.  Santa Monica remained misty for the rest of the day.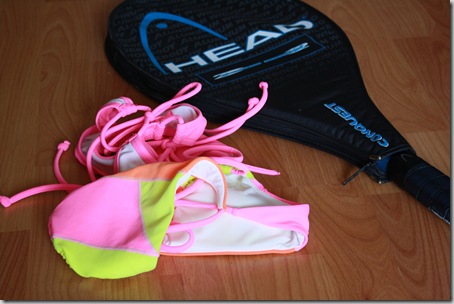 Humid, misty, overcast fog is hideous hair weather, but great tennis weather.  And perfect hot tub weather.
Ethel and I channeled our French Open skills, but it's safe to say we will not be invited to Roland Garros any time soon.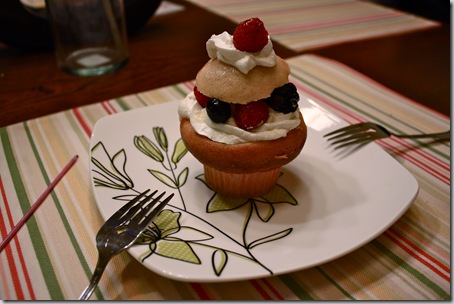 I'm blaming it on the pre-game "fuel."  I suspect the Williams sisters don't train on vegan cupcakes…but that's just a guess.
The sugar rush from the faux whipped cream made me feel like I had super human strength…but I got a reality check pretty immediately after.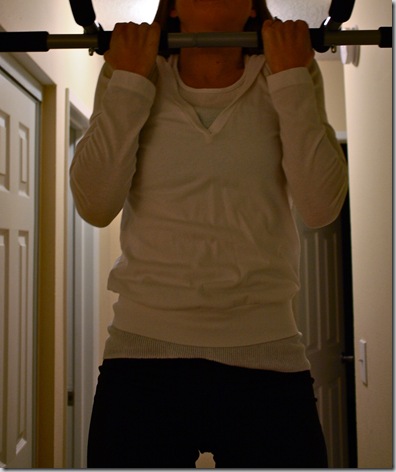 For the record, Ethel lives with a boy man (sorry Nick!) – in case you were wondering why she has a pull-up bar in her casa. 
I have to be honest, I was pretty disappointed in my inability to do more than two pull-ups.  I had the school record in junior high for the most chin ups!!!  What happened!?!  Do they still have those Presidential Physical Fitness tests?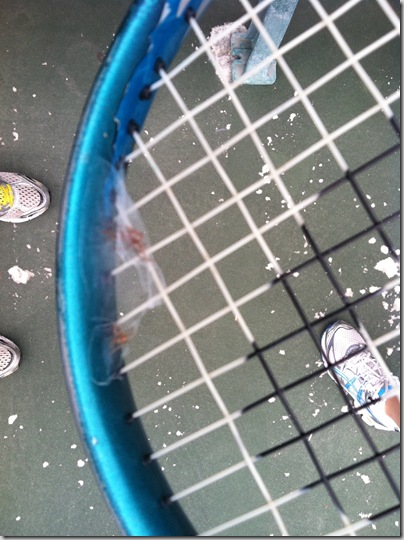 Oh!  I almost forgot!  Another thing that may have affected my "game" was my ghetto equipment.  In case you can't tell from the above photo (taken via Ethel's iPhone), that's a dead spider family on my tennis racket.  And a chipped rim.  Hahahaha.  When was the last time I used this thing?!?  I don't even know.  In the 90's I'm guessing.
Somewhere in this post my lunch got omitted.  No biggie.  I went to the store especially for a cantaloupe because I had a very specific craving for my mom's butter lettuce, cantaloupe, avocado, & poppy seed dressing salad.  It was as good as the memory of it was. 
For dinner, though, Ethel and I went to The Misfit.  Ever since reading my review post, Ethel has been wanting to go.  So that's what we did!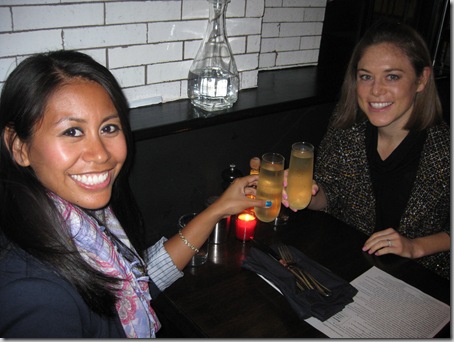 We started with cava – cheers!
Then moved on to a series of small plates to share.  First up was the misfit dip plate.  It is supposed to include a cucumber yogurt dip and Turkish muhammara with Santa Monica farmers market raw vegetables.  But neither of us do dairy, so we opted for two servings of the muhammara.  I actually dream of this dish semi-frequently.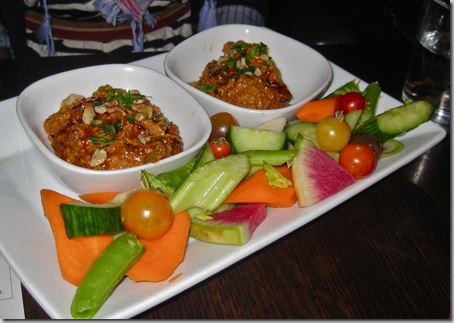 It is soooo good.  Spicy and savory – just downright awesome. 
As far as dipping agents go, the raw crudités were bright and colorful, which even made the watermelon radishes fun enough to enjoy (ordinarily I'm not a big fan of raw radishes).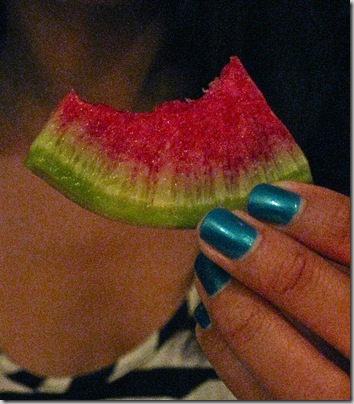 We also got the seasonal menu item (SM farmer's market special) of grilled kabocha squash with roasted walnuts, sage, and brown butter (which they happily made vegan using oil instead of butter).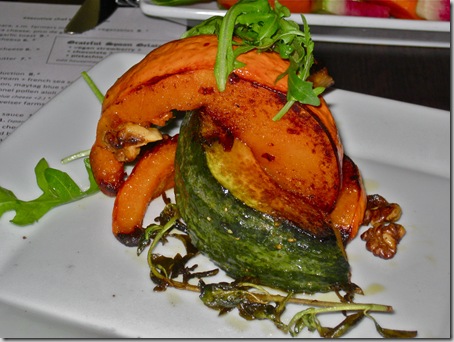 The presentation!  The beautiful blackened sear!  The soft as butter flesh!  Yes.  Yes.  Yes.  Everything about this was great.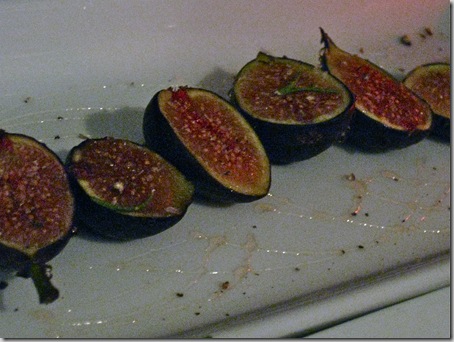 After these two courses, the chef brought out sweet balsamic glazed figs with a hint of salt and rosemary as a birthday treat.  I'm still not sure how he knew it was my birthday, but I was really happy to get such a delicious sweet treat.  I would never in a million years have thought the combination of flavors would work as well as it did.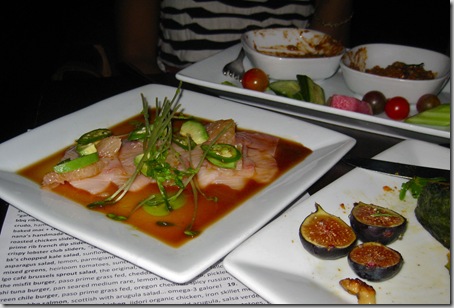 And the plates kept coming!  It was like a puzzle trying to fit them all on the table.  The addition you see above is the crudo.  It's one of their most phenomenal plates with hamachi, pink grapefruit, avocado, serrano peppers, and ponzu sauce.  Again, the union of flavors just works so harmoniously.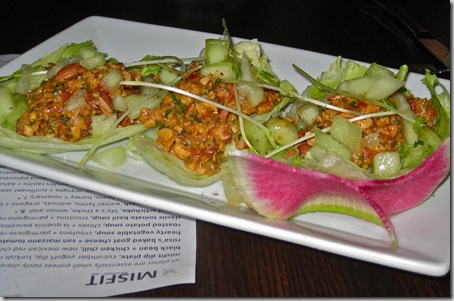 We ended the meal with the "garden state" spicy chickpea wraps in organic lettuce topped with almonds and honeydew.  Honestly, these were WAY too spicy, which was unfortunate because you don't want the last taste in your mouth to be fire.  I couldn't even detect any other flavors due to the heat the chickpeas were packing.  My lips were tingling and I was gulping down water by the jug.  Oh well.  The rest of the meal was great and my company was fantastic.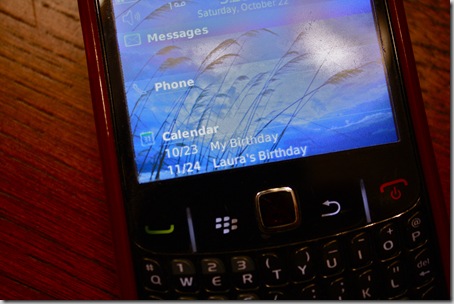 As you can see, I don't use my phone calendar for anything. 
It's odd because in all other aspects of my life I'm very Type A, but I just haven't gotten on board with the whole iPhone/Google calendar/outlook stuff.  I never seem to know when I'm working until the week beforehand.  Sometimes I have to call Kyle to ask him what my hospital schedule is when I'm trying to make appointments, dinner plans, etc.  He's much more organized in the nerdy scheduling kind of way. 
Anyway.  Post meal, Ethel and I popped the cork on some white wine back at my place and eventually made our way to bars.  I suppose it's best to keep with tradition and get carded at some point on your birthday.  Right?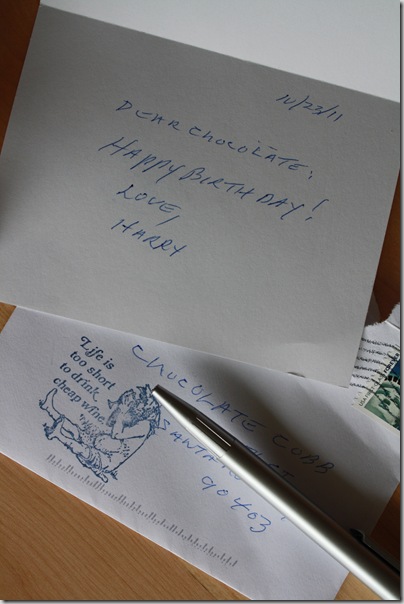 The next morning Ethel headed home did the walk of shame and I enjoyed a morning of football in my PJs…while opening my presents and cards…while on the phone with my parents and sister.
That card is from my grandpa.  He calls me chocolate because my name is Elise Claire (as in E-Claire, as in eclair, as in chocolate eclair).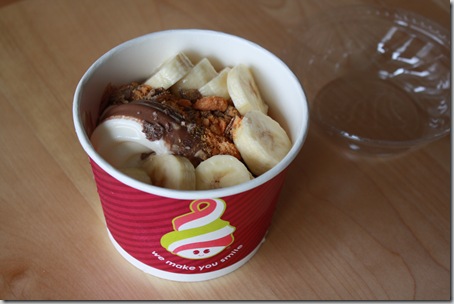 Believe it or not, I had a vegan fro yo concoction for breakfast.  This was my first time ever trying Menchie's (Kyle is a big fan).  I decided to go since they give you $5 to spend on your birthday (when you register a card).  I like free things.  🙂
They have fro yo and sorbets that are dairy-free and vegan (I emailed the company a while back and their rep responded to me personally), and the toppings bar has vegan options too, from carob chips and fresh fruit, to nuts, granola, and cereal (in addition to the usual [non-vegan] suspects – brownie bits, crushed candy bars, m&m's, hot fudge, etc.).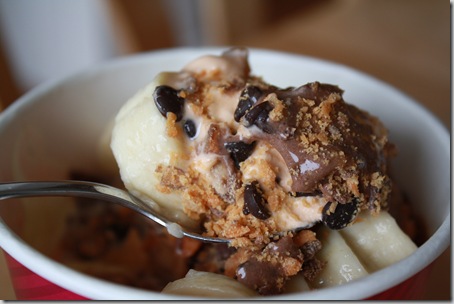 I went with the seasonal flavor (pumpkin!!) combined with chocolate and vanilla swirl topped with bananas, peanuts, almonds, & carob chips.
Yes, I had this for breakfast.  And if you're thinking that sugary start to the day left me carb-ed out, you'd be wrong.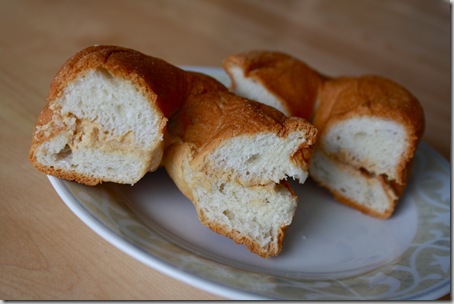 I don't have photos from the rest of the day but eventually Kyle returned from Vegas and we enjoyed a cozy night together. 
30 is just around the corner!  I better make the most of the next 365 days…  😉