With Stroller Strides.  Ok, I promise I'll stop waxing poetic about this amazing group after this.  I only got the once a week membership, but here I am two weeks in and I want to go ALL THE TIME.  I went twice the first week I joined, and now twice again this (second) week…soooo let's do the math.  One extra $10 class each week adds up to enough to tip me over into the unlimited category.  So clearly I should just buy the unlimited pass and go all the time.  Except that the only reason I could go back to back Fridays is because we had to skip OIT this week.  🙁
So aaaanyway, I did stroller strides on Wednesday and had an iced chai tea latte (that I made myself) after while I hung out at the park with everyone.
For lunch I made this salad.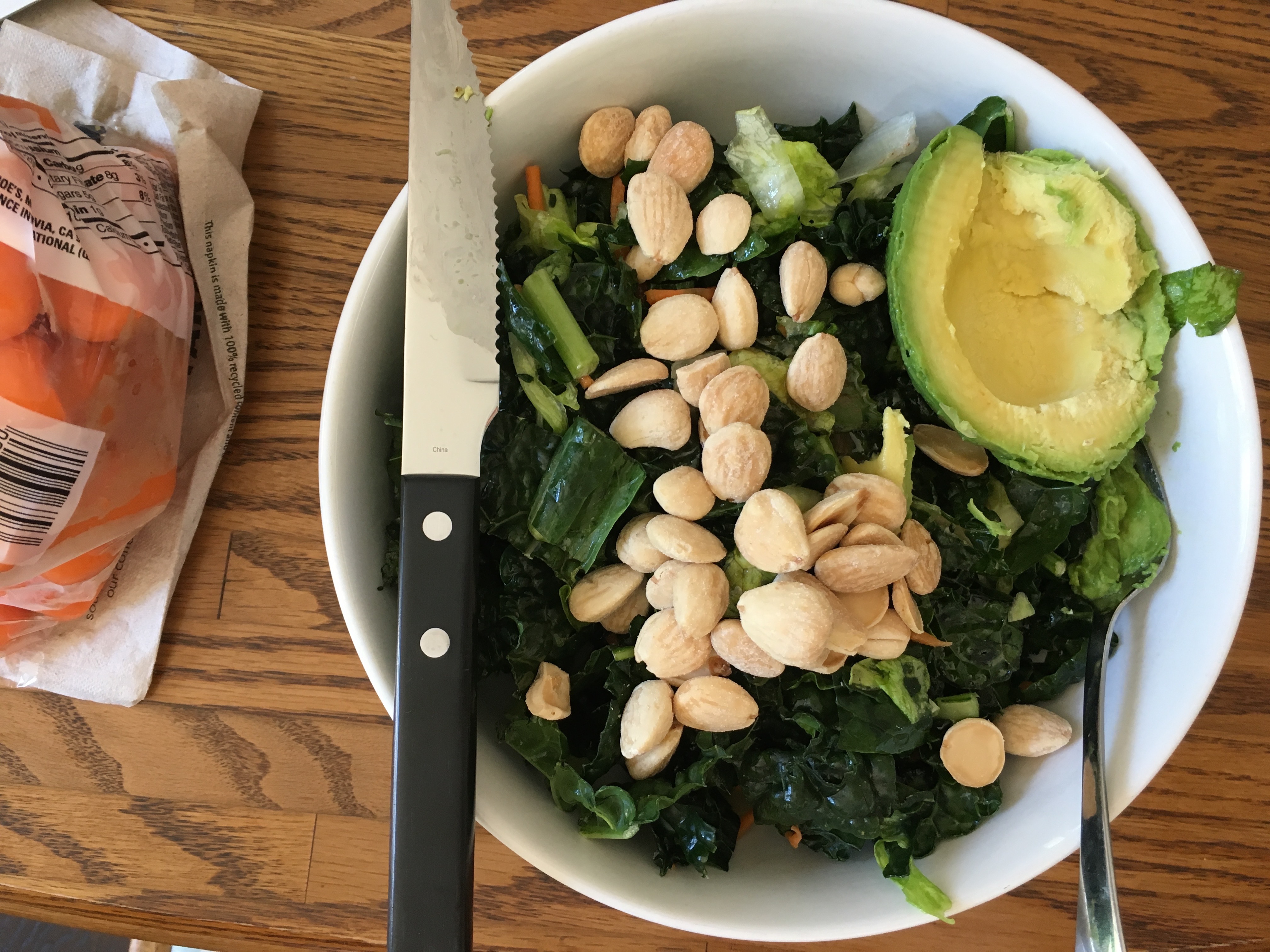 I massaged a bunch of kale and romaine and shredded carrots with avocado oil and salt so it would be ready for whatever salads I may want throughout the week.  A choose your own adventure with dressings and toppings, if you will.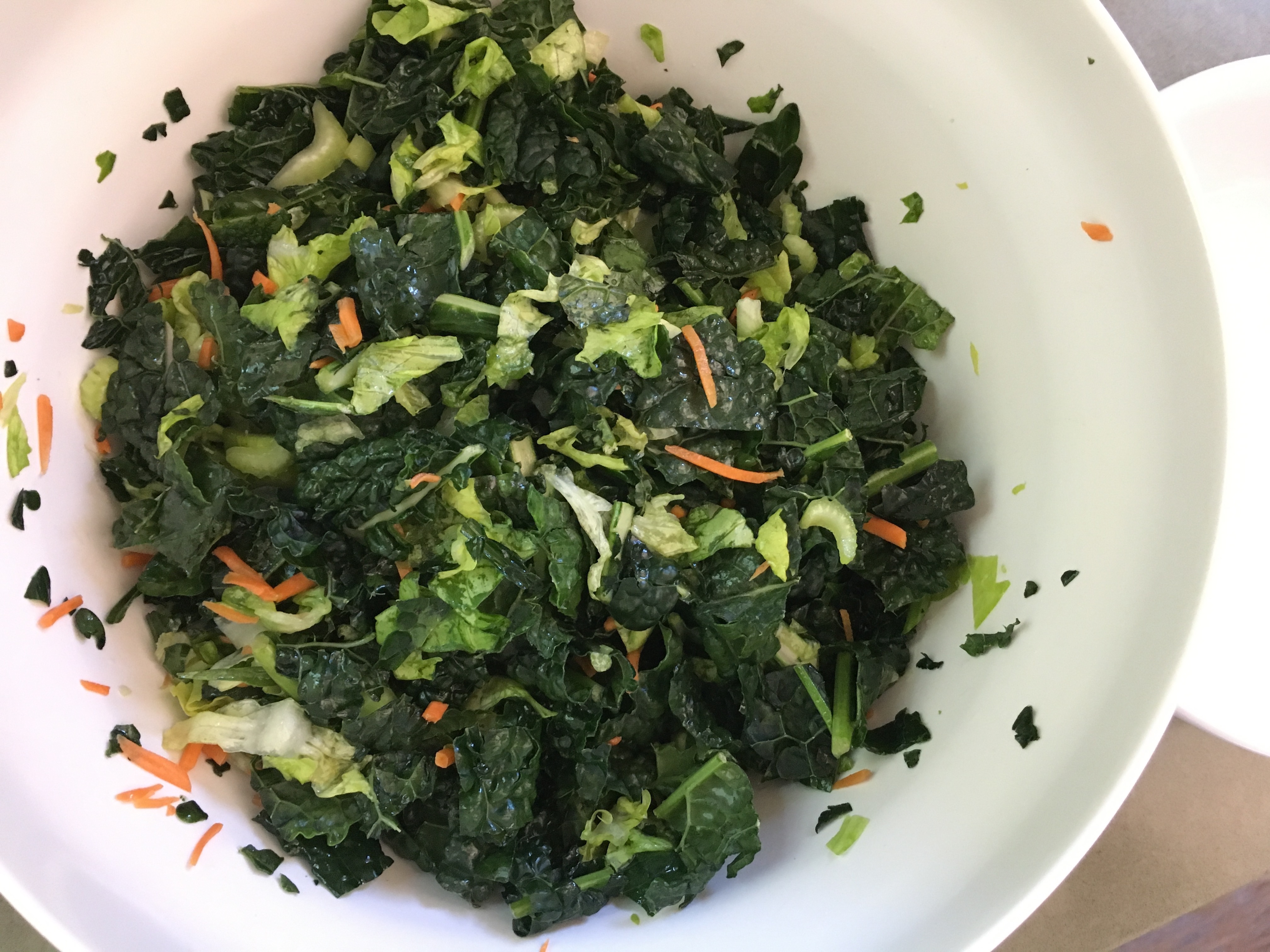 This time I added balsamic dressing, avocado, and roasted marcona almonds.  And OF COURSE baby carrots on the side.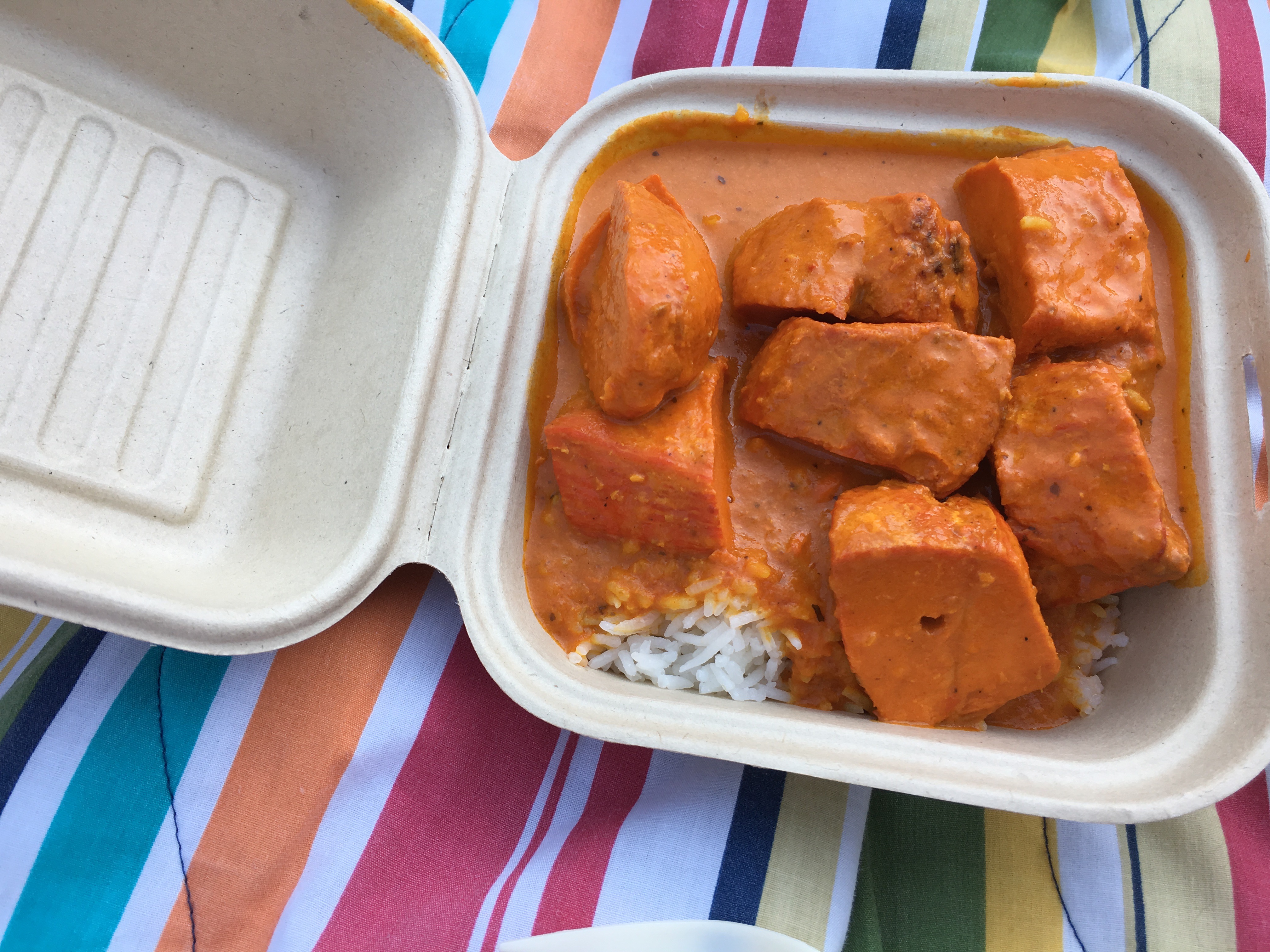 Farmer's market for dinner because it wasn't 107 degrees and all our friends were in town.  Hooray!  I got the chicken tikka masala from Kathmandu Kitchen and it was heavenly.  Seriously, amazing.  And get this…BOTH kids ate some of my rice!! This is especially cool because (A) they've never had Indian food and I wasn't sure if they'd like it; and (B) pacman can eat food from a farmer's market food stand!!!!!  I asked beforehand if they used peanuts or peanut oil and they said no, so it's not like I went in blind.  Very happy for this development.
Guess what I finally had for dessert!?!
My mom's pecan pie!  Decadent and delightful way to end the day.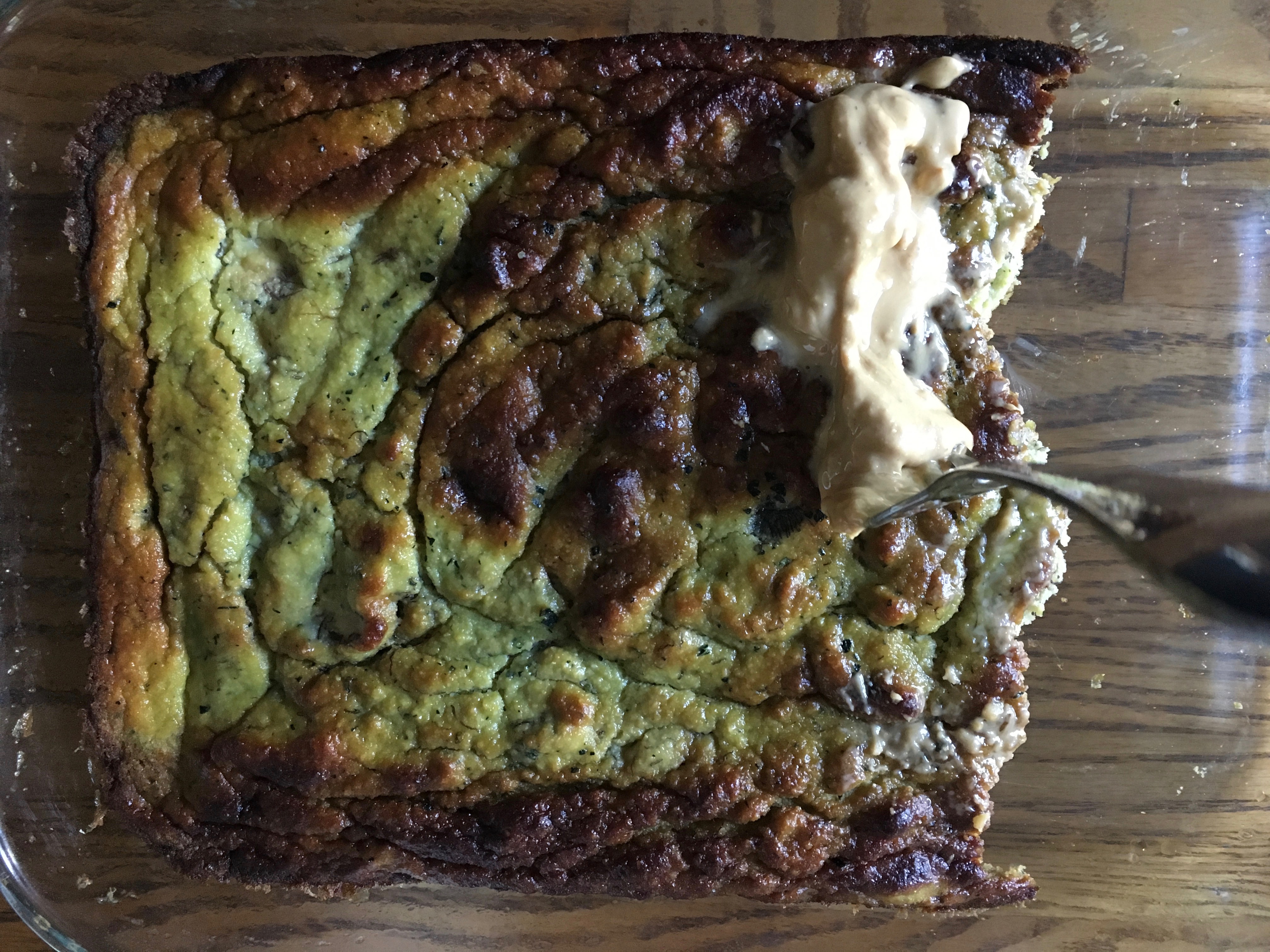 On Thursday I went back to this baked zucchini lover. With cashew butter.  And despite breaking my word and eating it straight out of the casserole dish, I managed to keep my portion to a respectable size.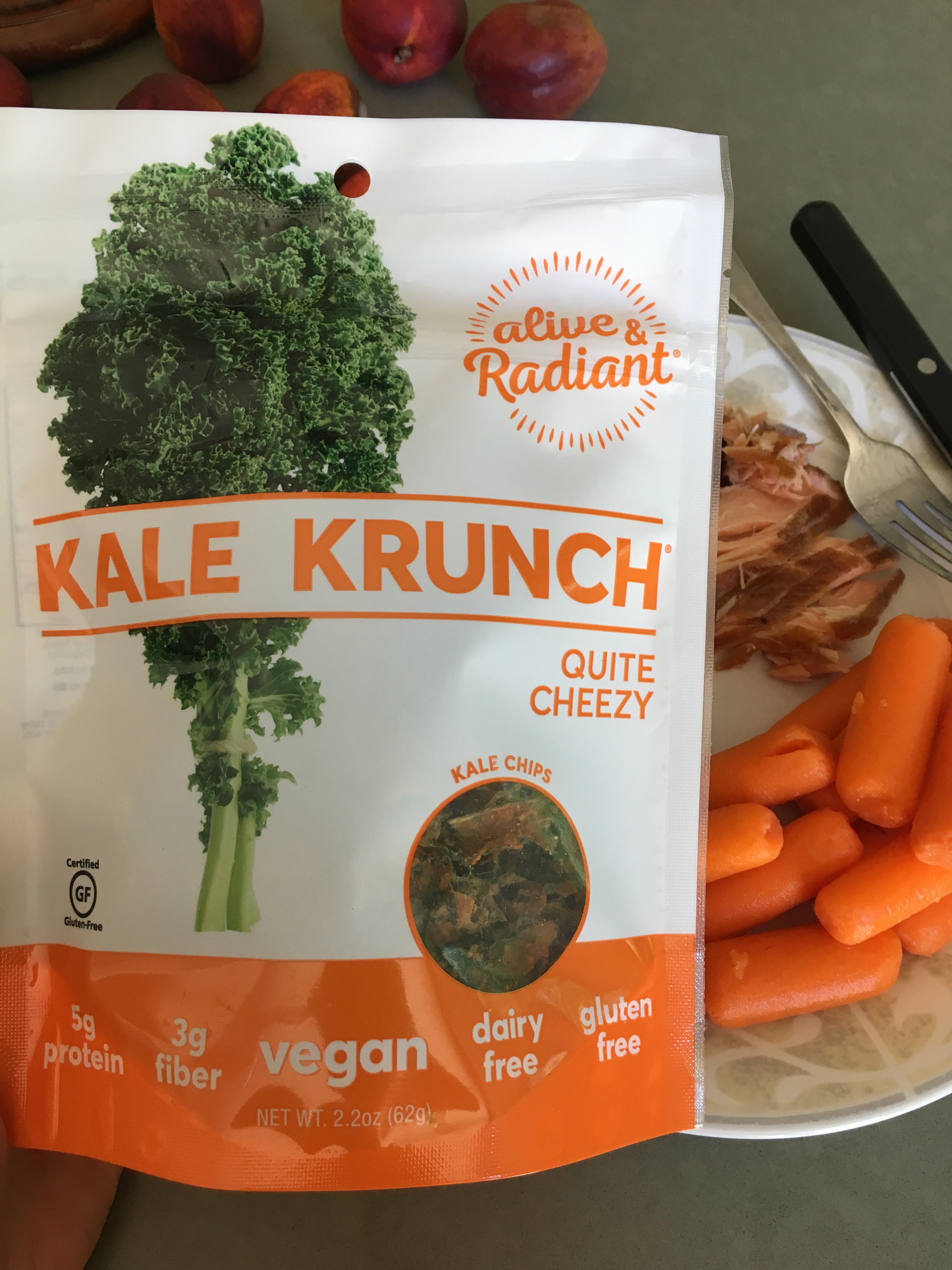 These were not good.  I'm not sure if they were stale or what, but they were not good at all.  I bought them last week so they can't be too old, and yet, they tasted so blech.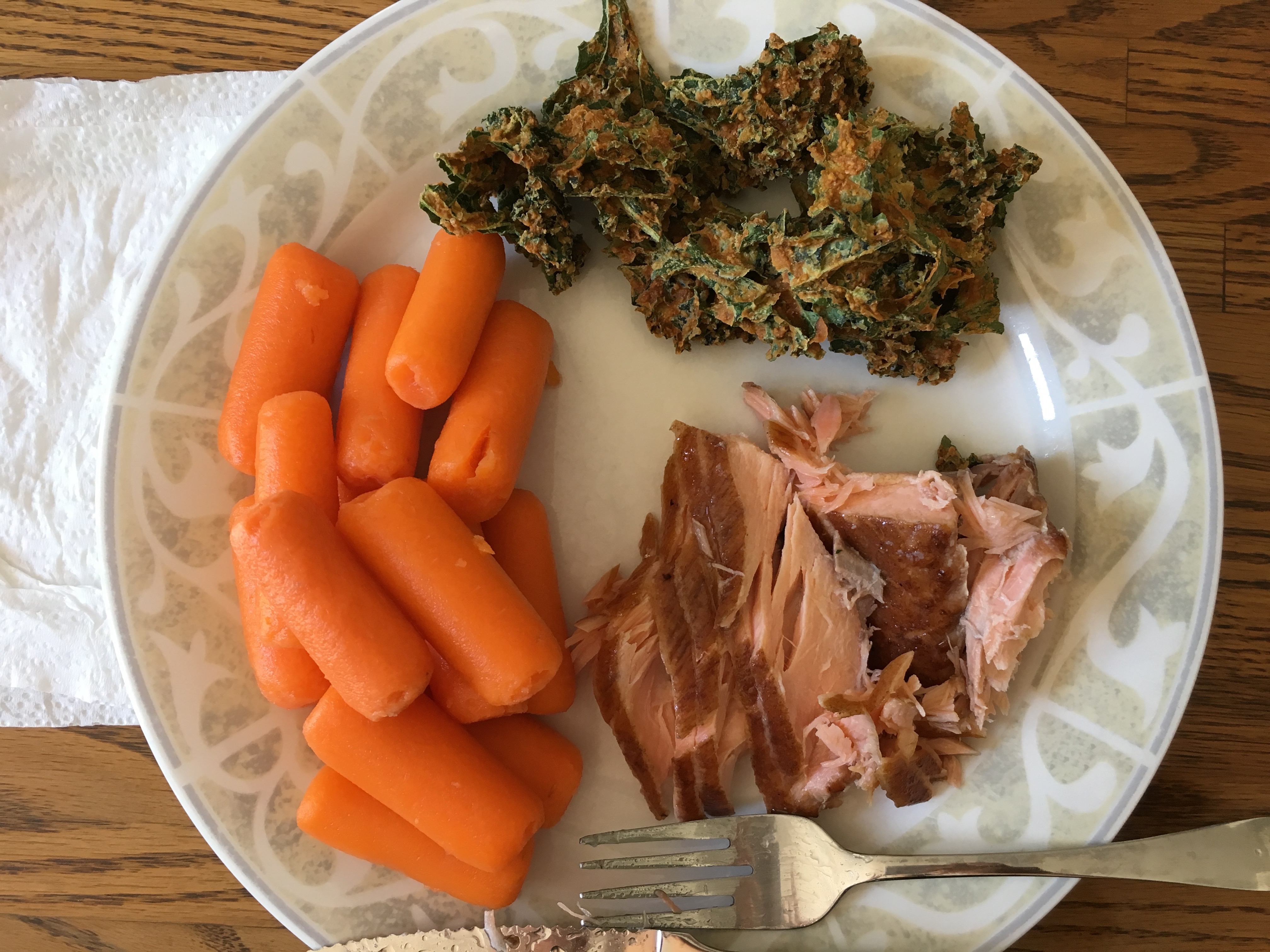 I ended up eating extra salmon to compensate.
Tough decision.  😉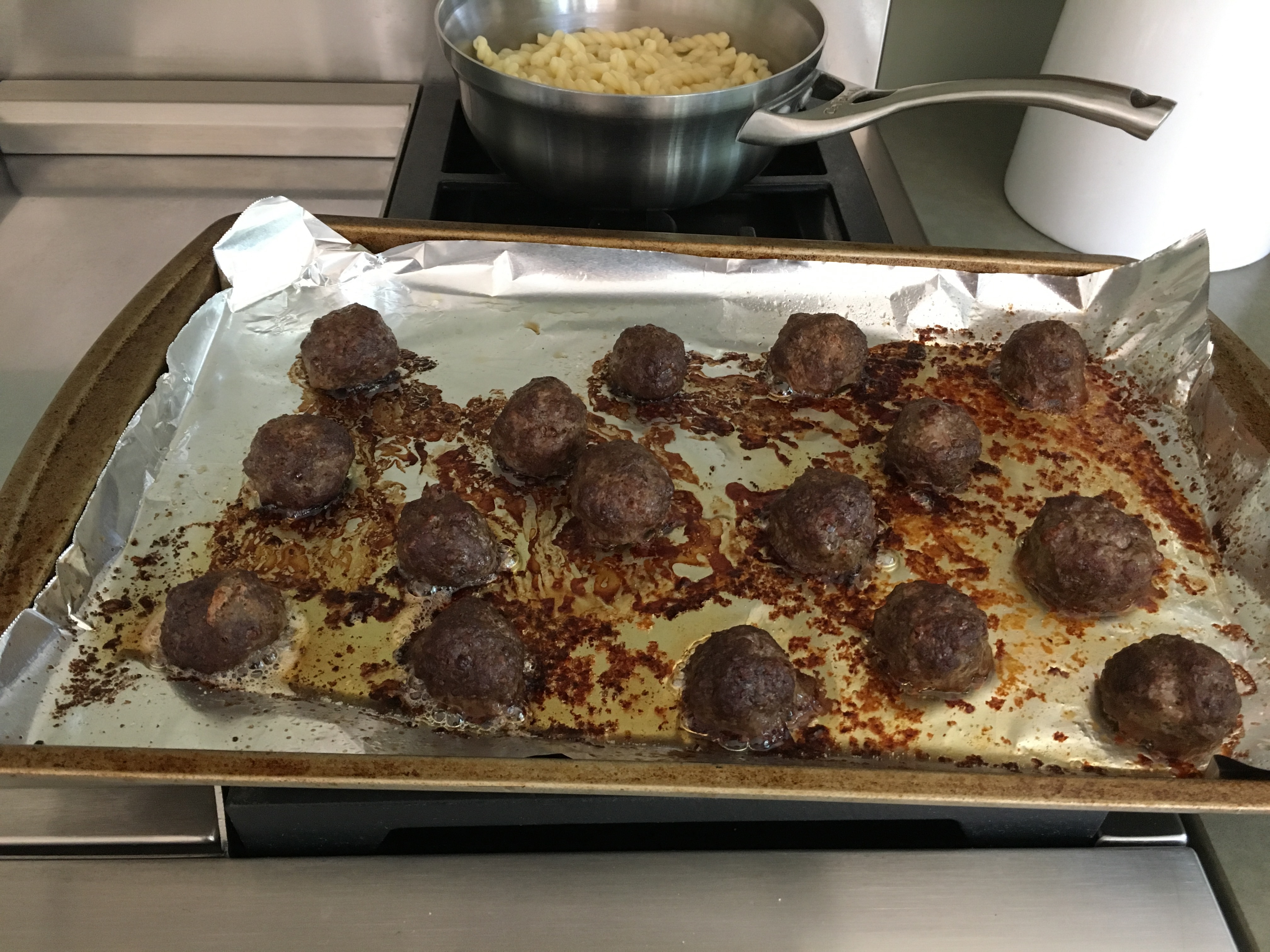 Since our dinner plans fell through (WF at my parents' house) I made a last minute meal pulling ground beef out of the freezer.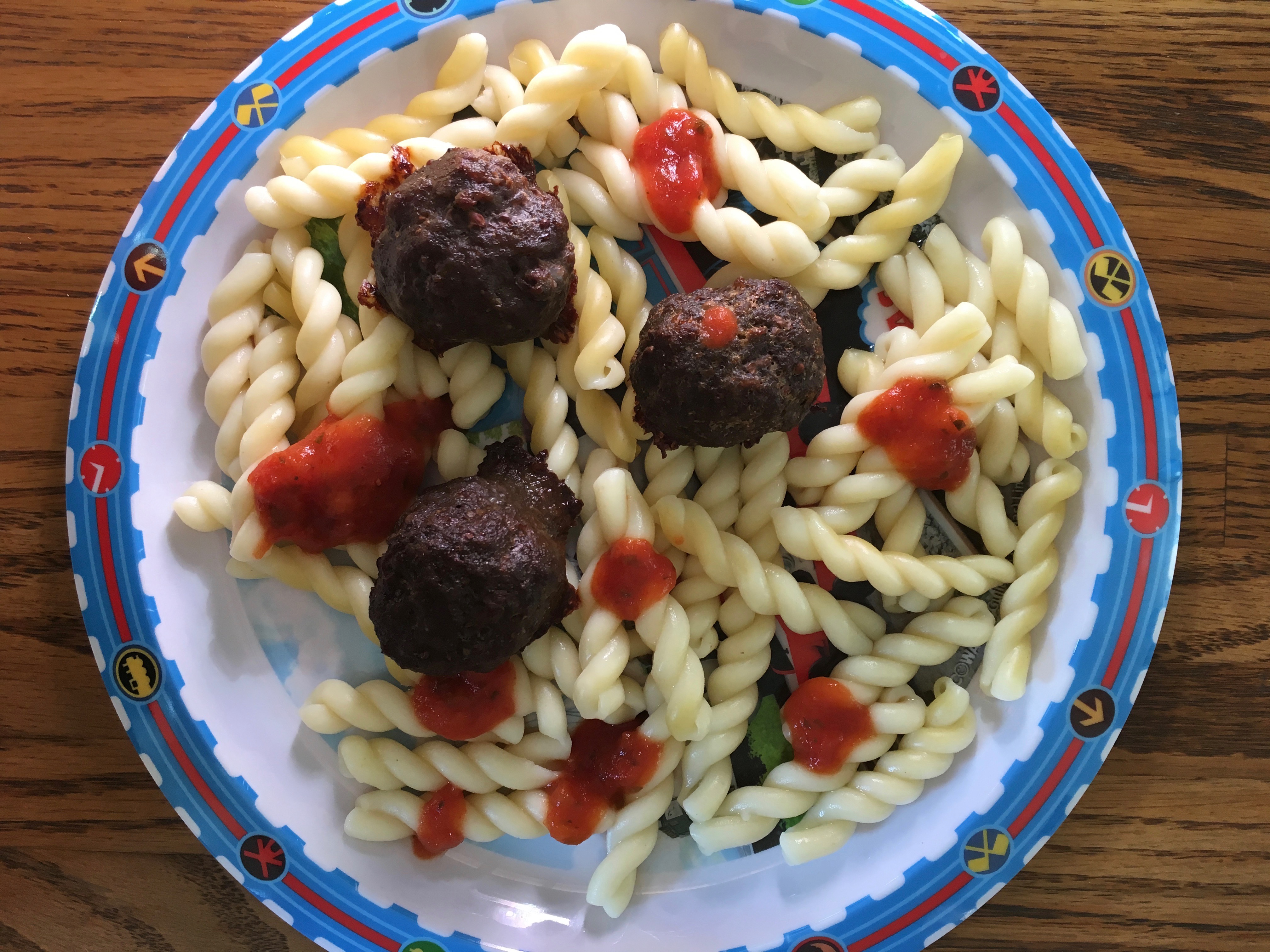 I have been having a super bizarre* craving for creamy tomato soup for the past couple of days, so I was excited to find this in the back of the pantry.
*Only bizarre because normally I don't love tomatoes.  I think I ate more tomatoes (in the form of marinara/tomato soup/pizza, lasagna, etc) during my 10 months of pregnancy with P than the combined rest of my life.  Not exaggerating.  And no I'm not pregnant.  Perhaps my body needed a little vitamin C.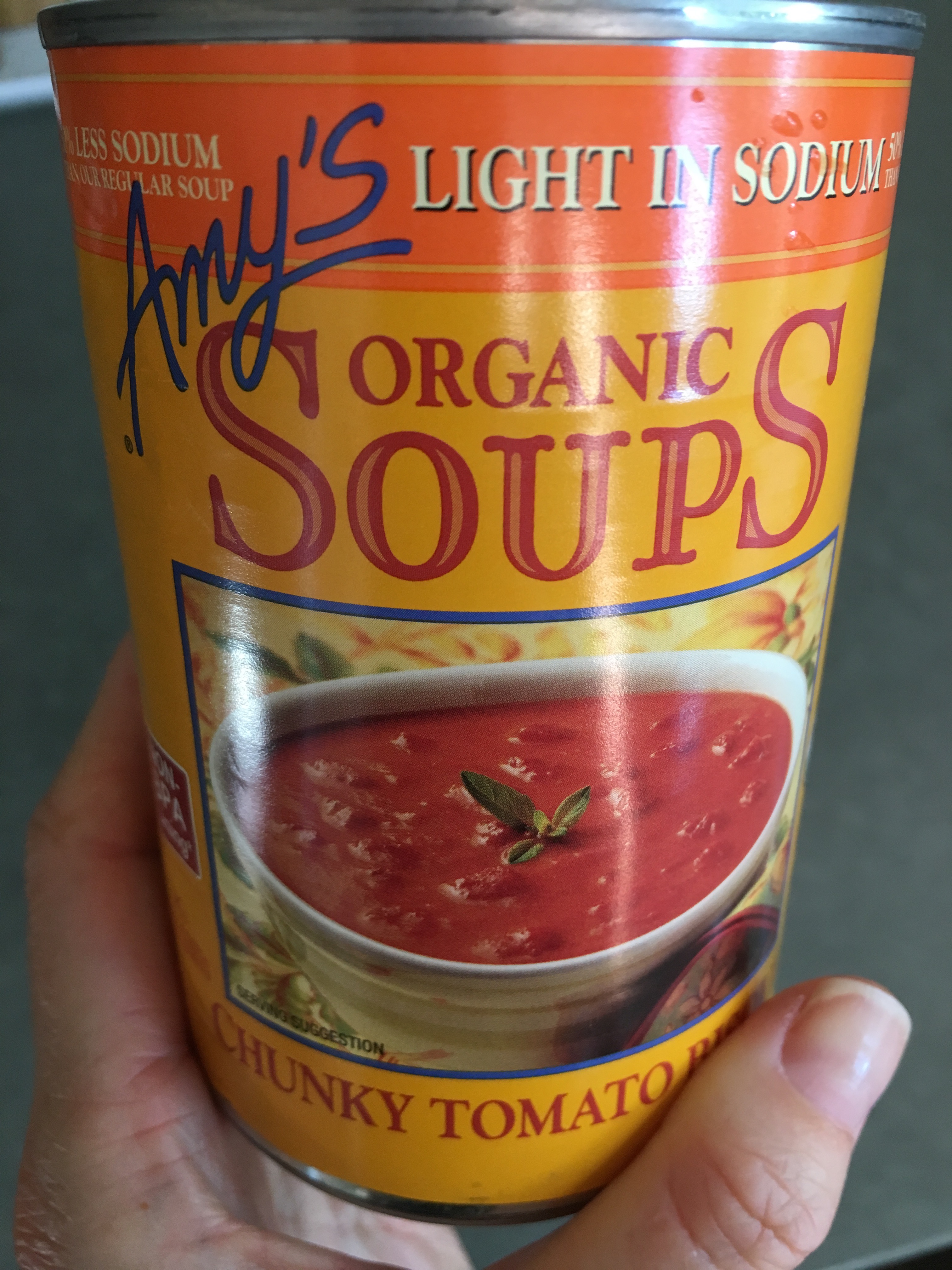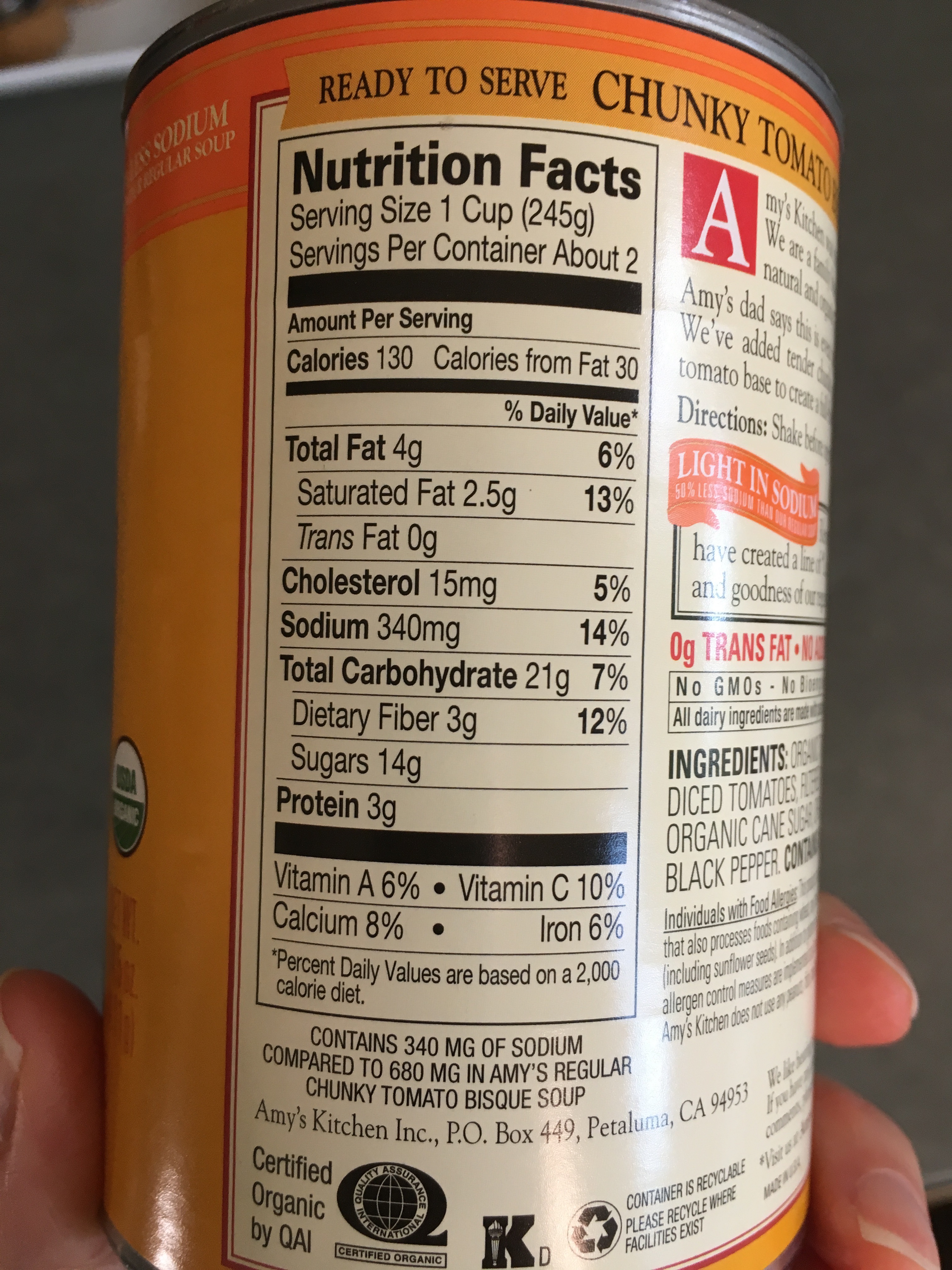 It has cream in it, but ever since doing my 30 day SIBO reset, I've found certain dairy to be ok.  I haven't tested it a bunch or anything, but since P has been dabbling in dairy, I've been testing the waters out myself.  With dairy that's mostly fat and/or protein (cream, butter, ghee, certain cheeses), the amount of lactose is a non issue.  At least for now…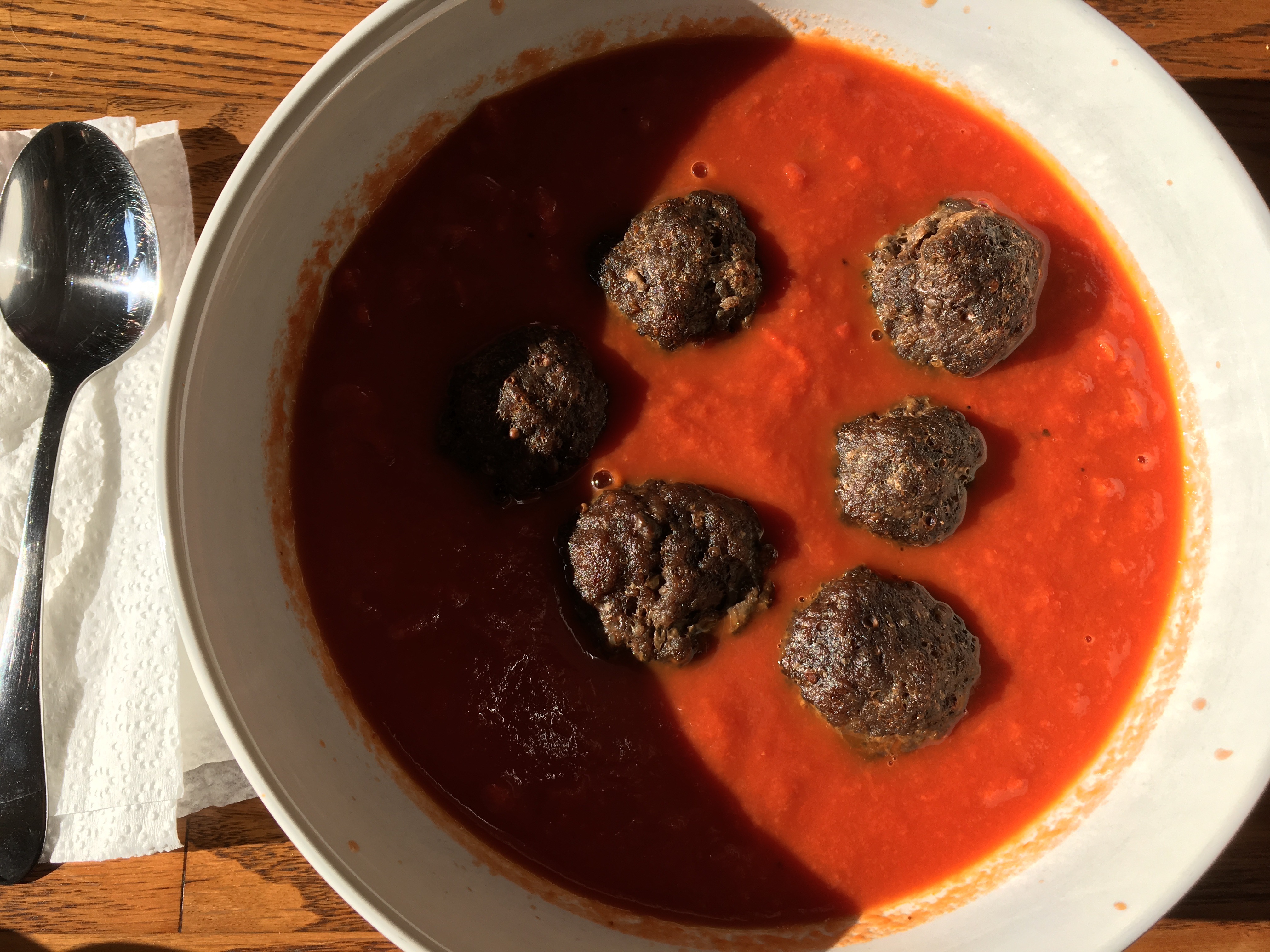 I made meatballs in the oven for the first time. It was super easy and hands off even though it did heat up the kitchen more than I'd like on a summer day.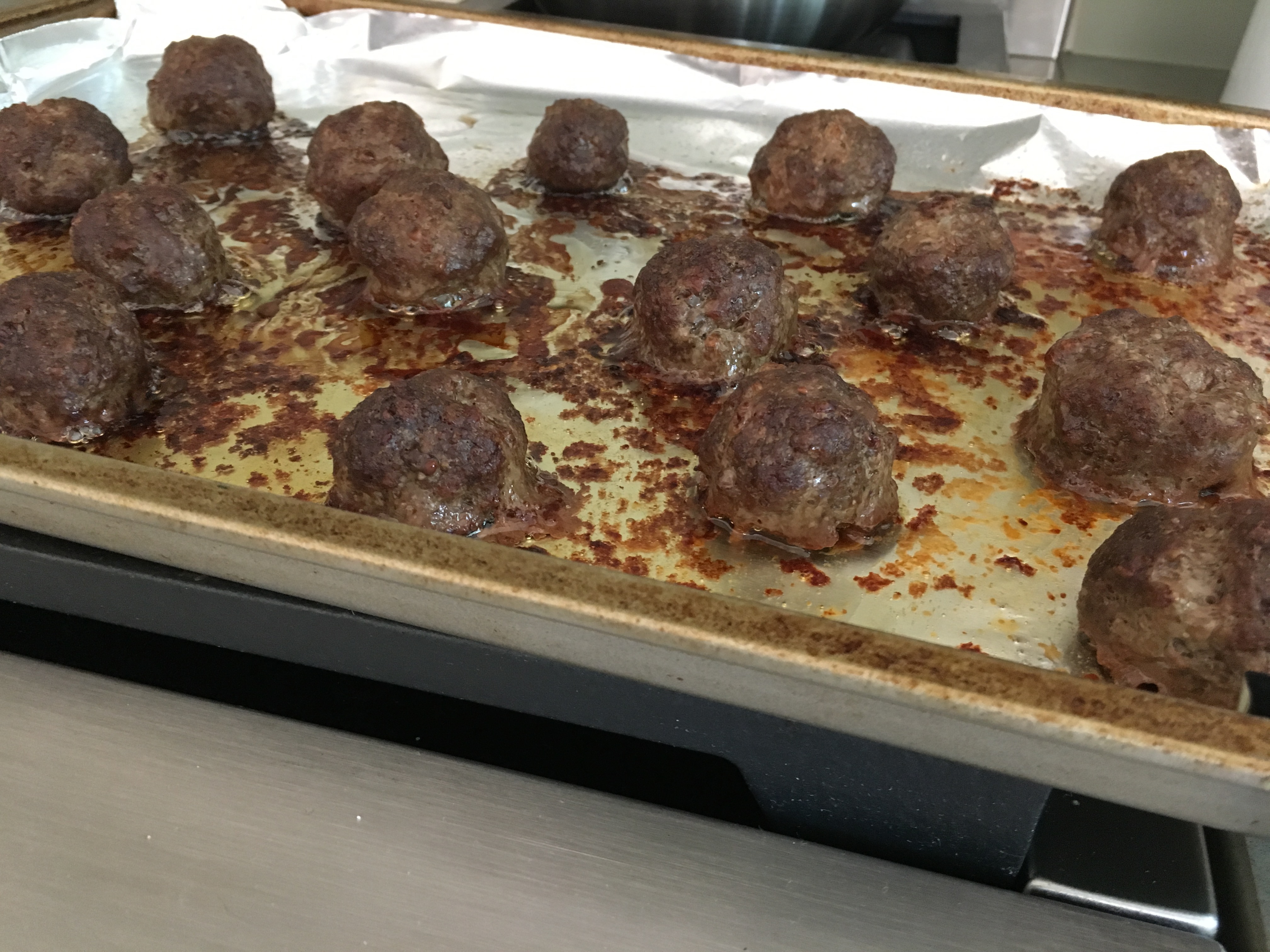 The rest of the family got wheat pasta with marinara and meatballs, but I had my meatballs with the Amy's soup.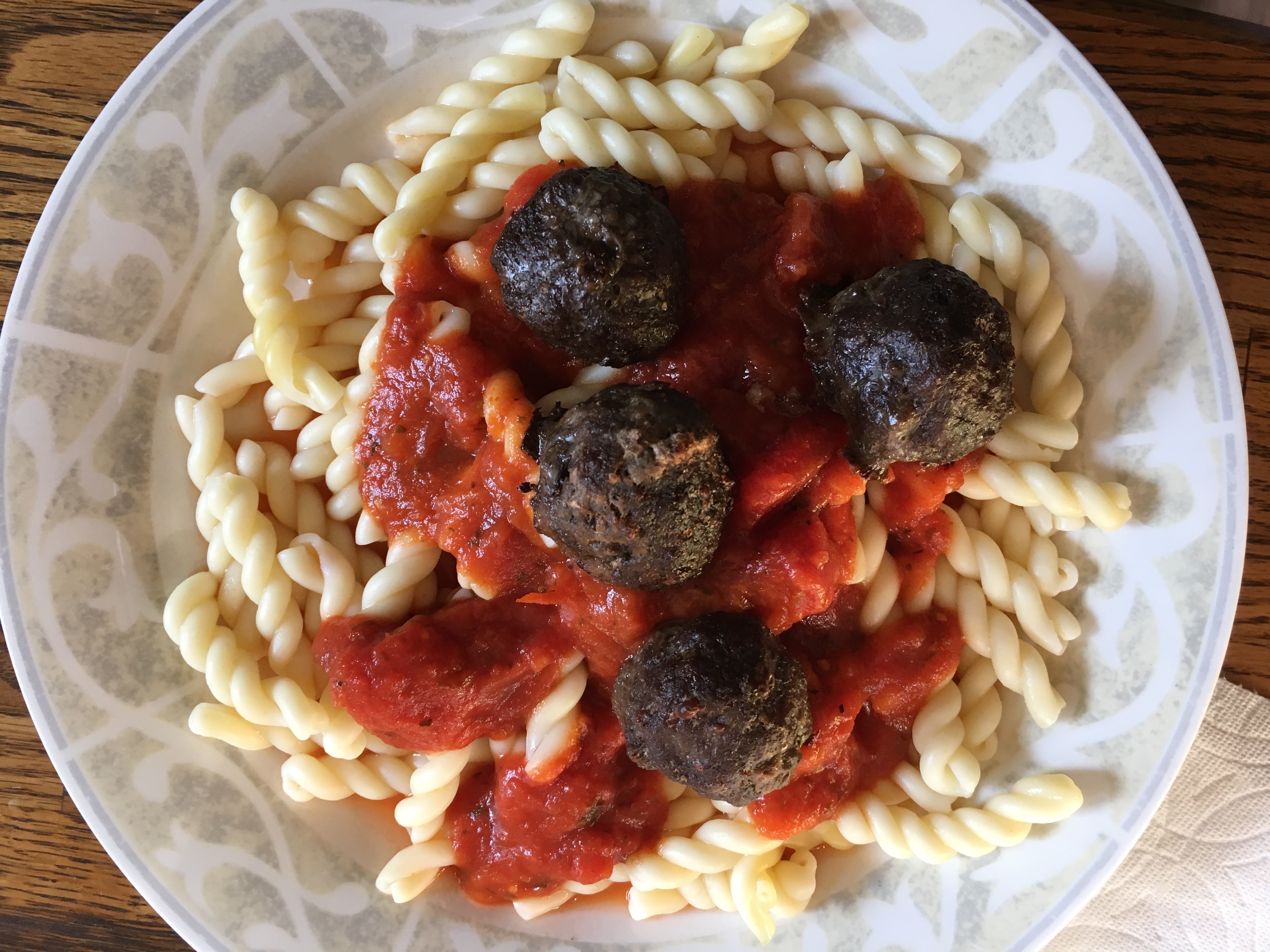 And this kombucha for late night digestion aid.  Feeling good about my gut these days.  Maybe the 30 day diet did more than I have given it credit for.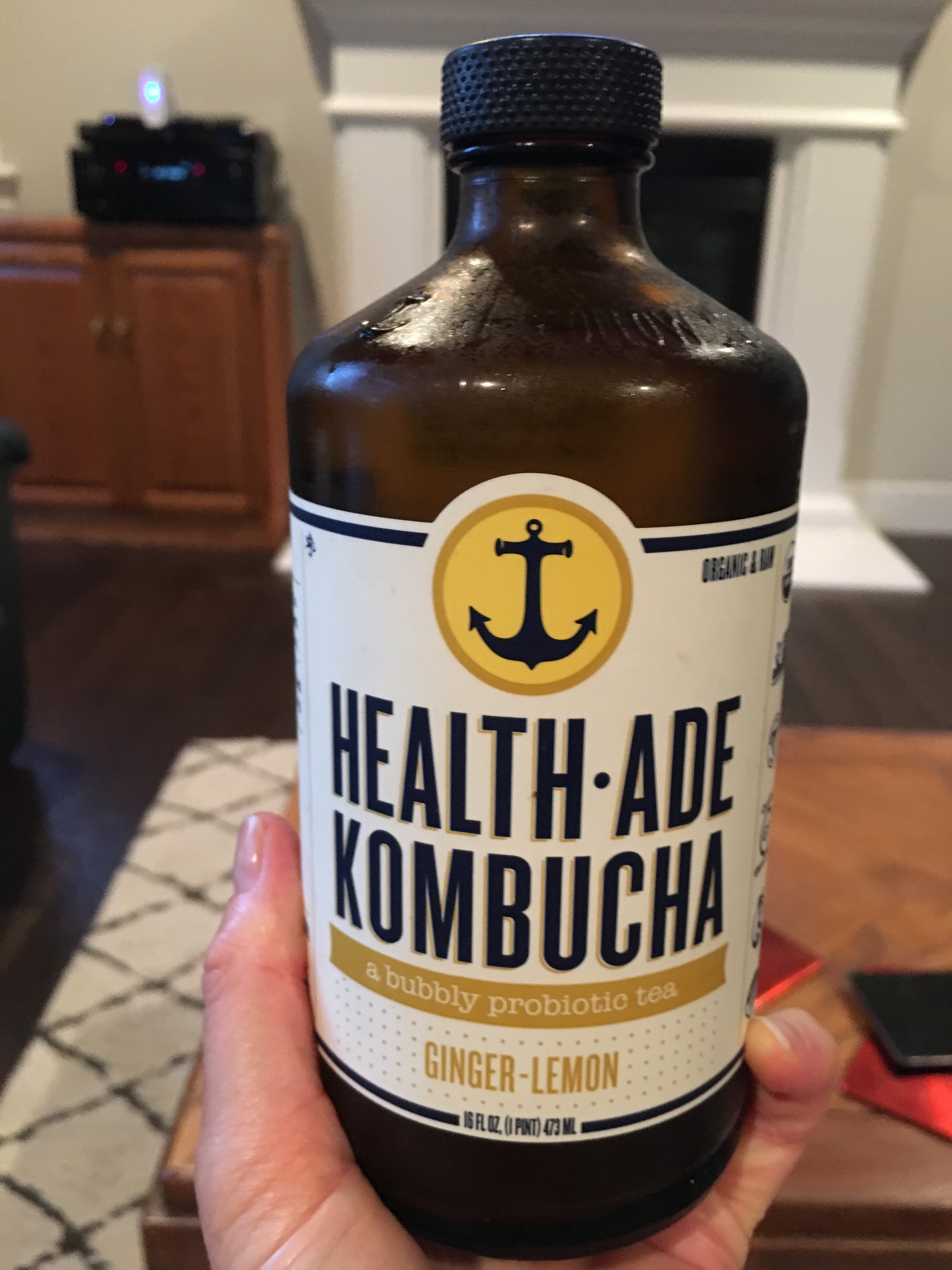 On Friday I had a tiny cup of coffee before stroller strides.  And then I brought along an iced chai with almond milk to enjoy afterwards.  The park we exercise at is adjacent to the library and since the Spanish program starts just after SS ends, it's kinda perfect.  I just parked in the library lot and as soon as we were done stretching I high tailed it to get our espanol on.  I guess that's the sliver lining to having to skip OIT sue to his cold. We used to go to the Spanish program all the time but ever since we began desensitization on Fridays we've had to miss them.  I was hungry and chugged the chai in seconds and then on our way home I went through the Starbucks drive through for a decaf misto.  I haven't been to Starbucks in SO LONG.  OIT Fridays are really the only time I allow myself to go anymore.  I showered and sipped my coffee while the kids played (together, nicely, for hours!).  I didn't want to mess with the happy sibling play so I left them be until almost 1:30 when they finally wanted lunch.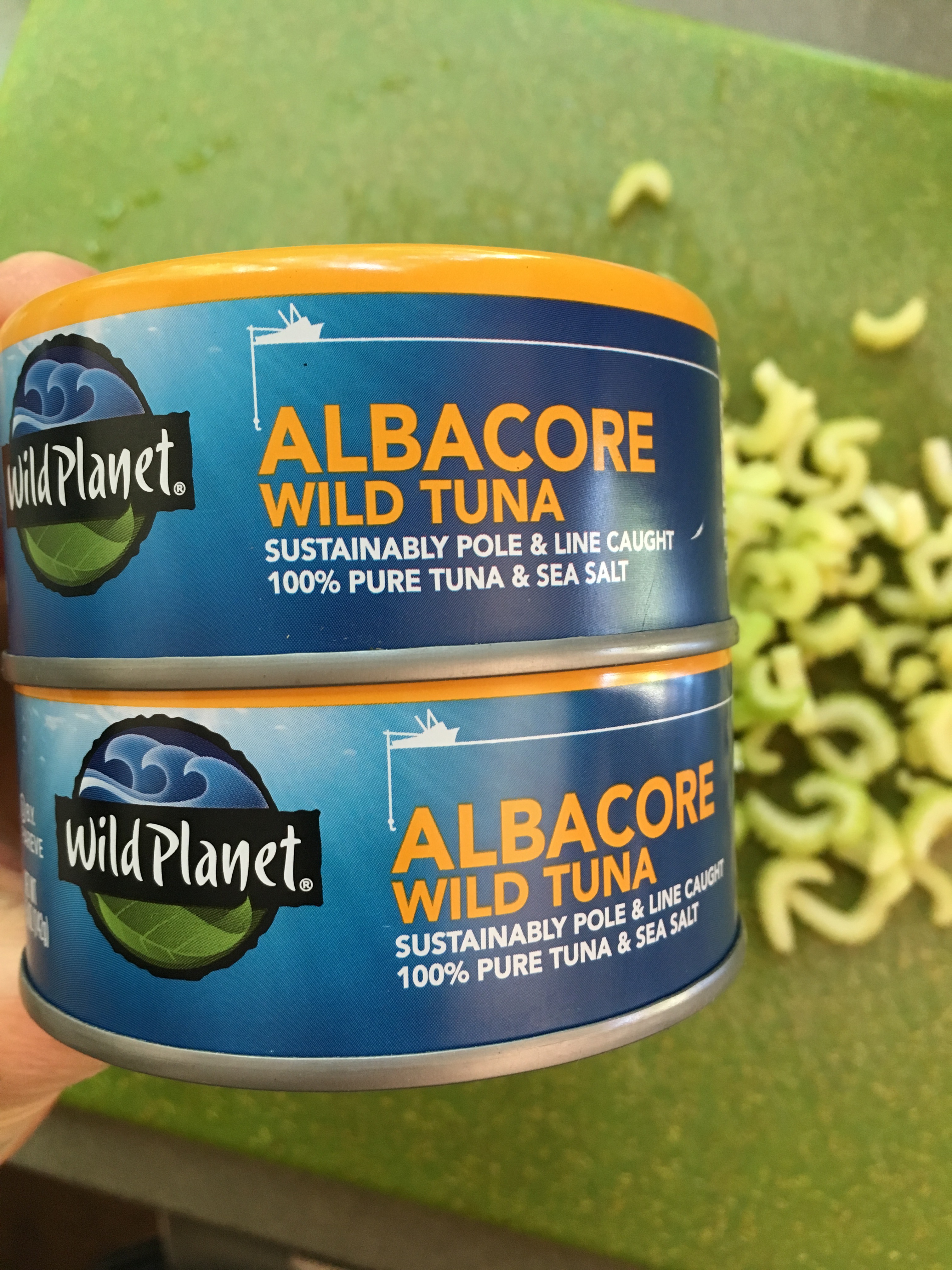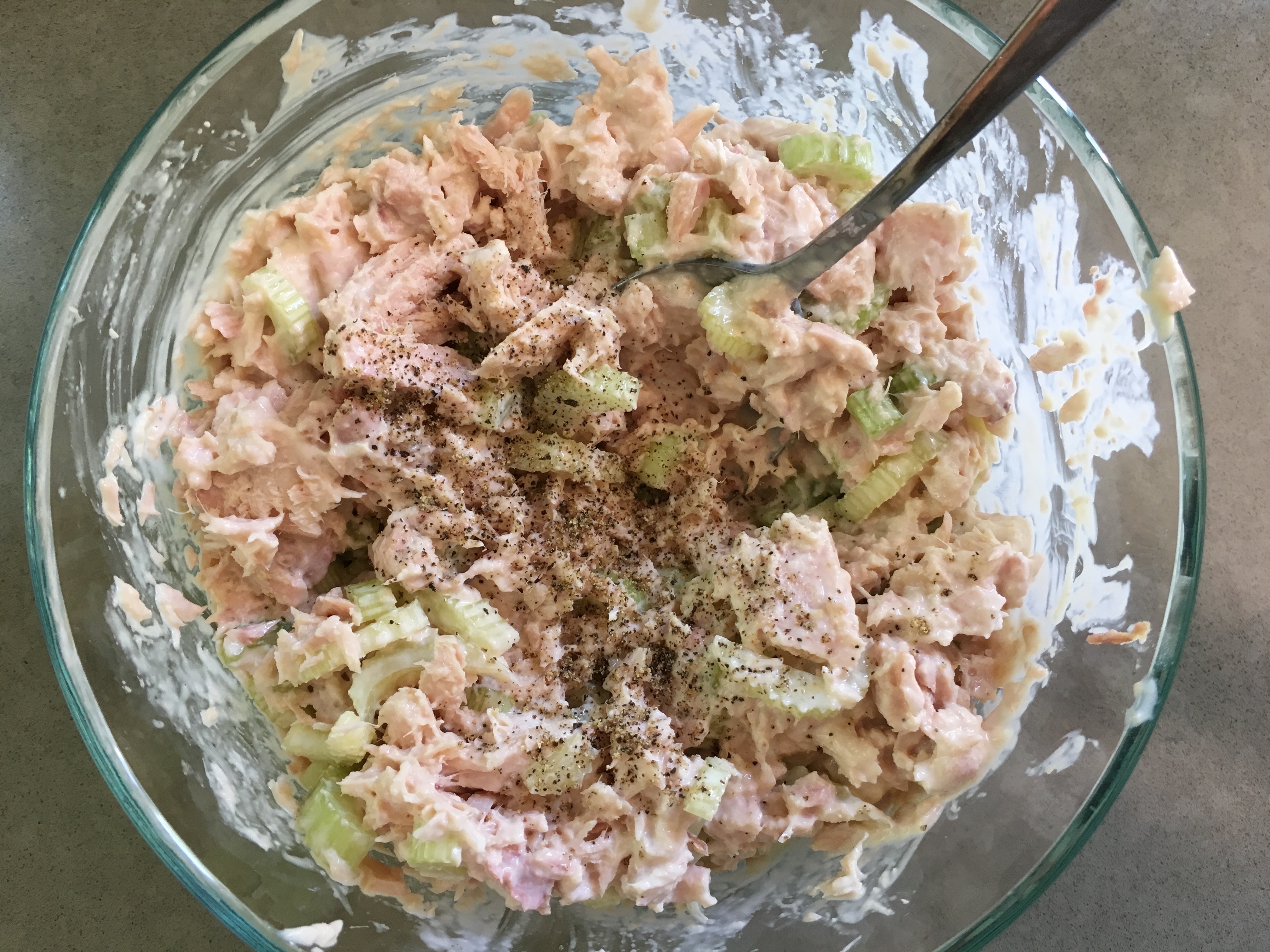 Since I didn't have much of a breakfast, I made a big lunch.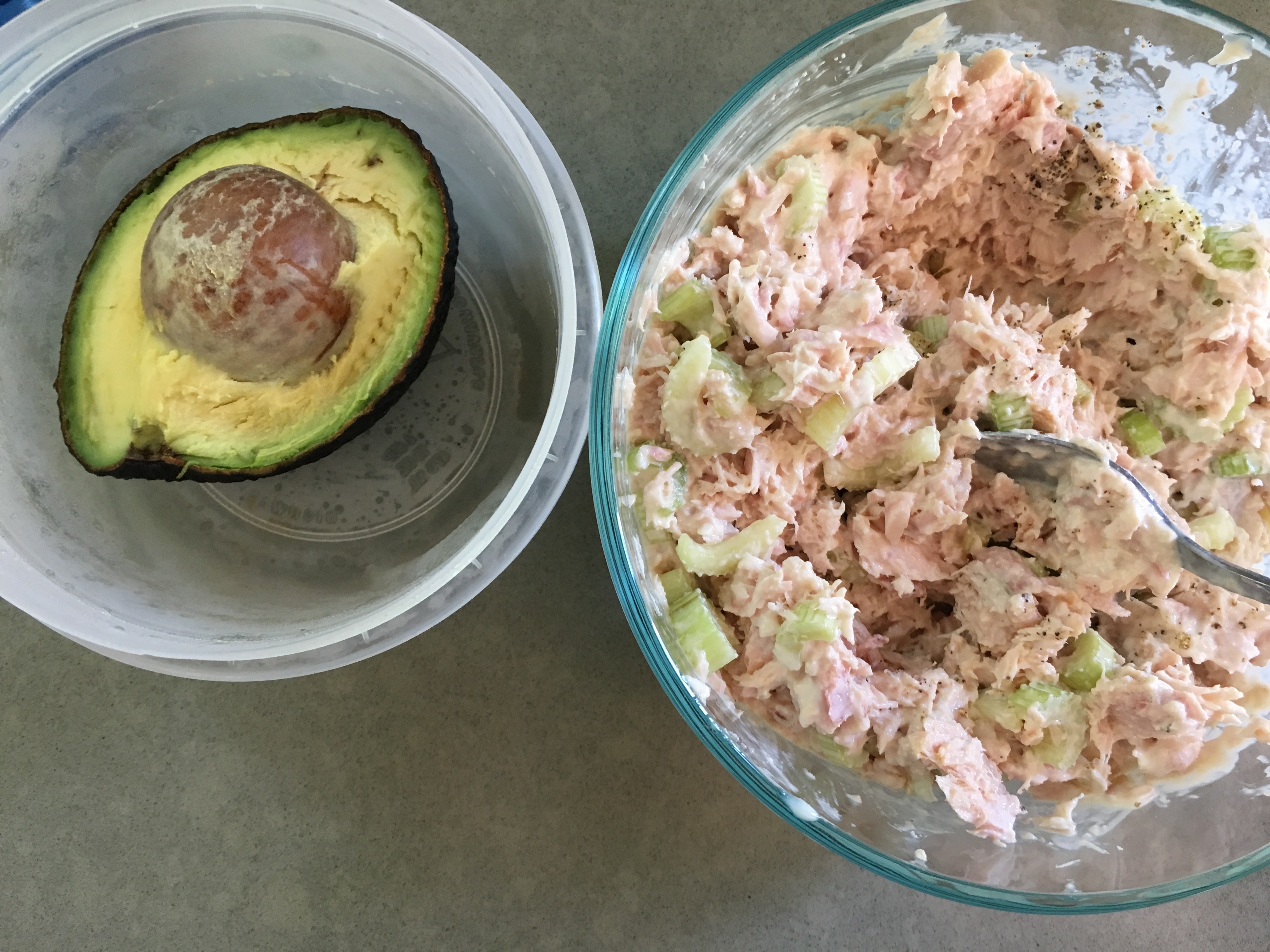 This tuna salad had 2 cans of wild planet albacore (I discovered they sell it at Costco for less than elsewhere, although that amazon link may be even better), Sir Kensington avo oil mayo, 4 diced celery stalks, salt and pepper.  And then I mashed half an avocado on top.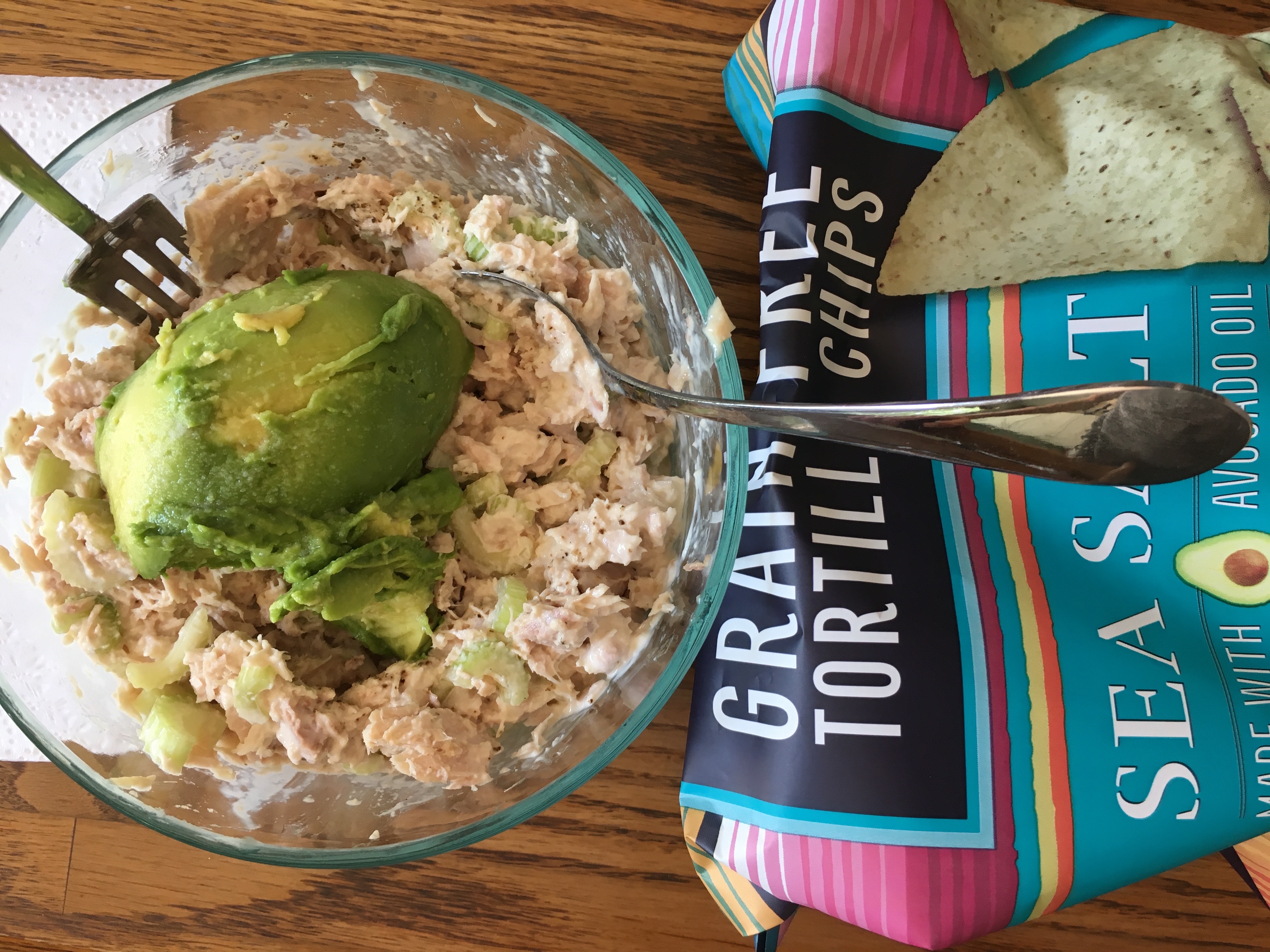 I ate the rest of the Siete chips with it, as well as this bag of kale chips.  I'm out of carrots (!!!).  🙁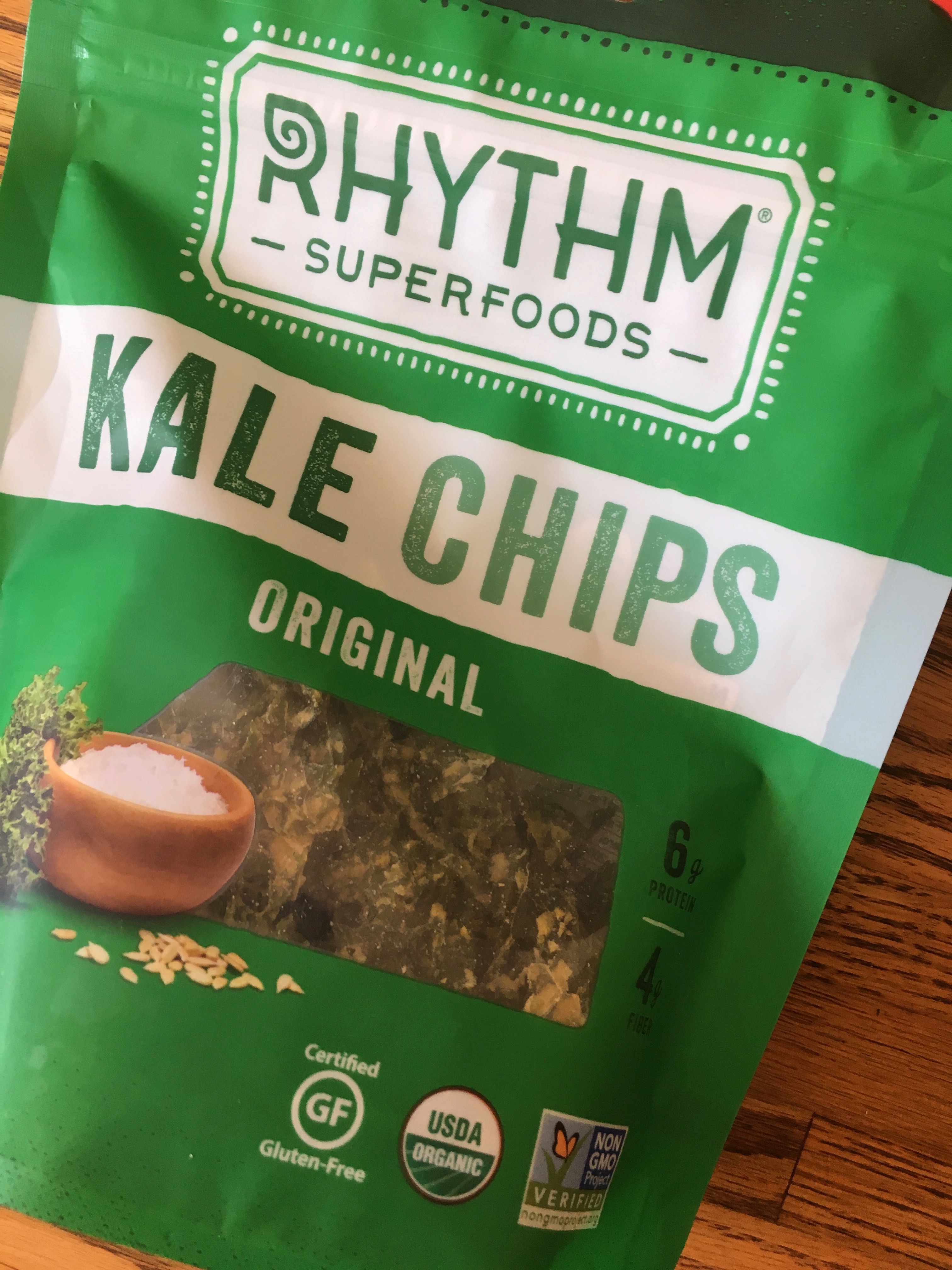 These were ok, but not my favorite.  They weren't super crispy.  Weird right?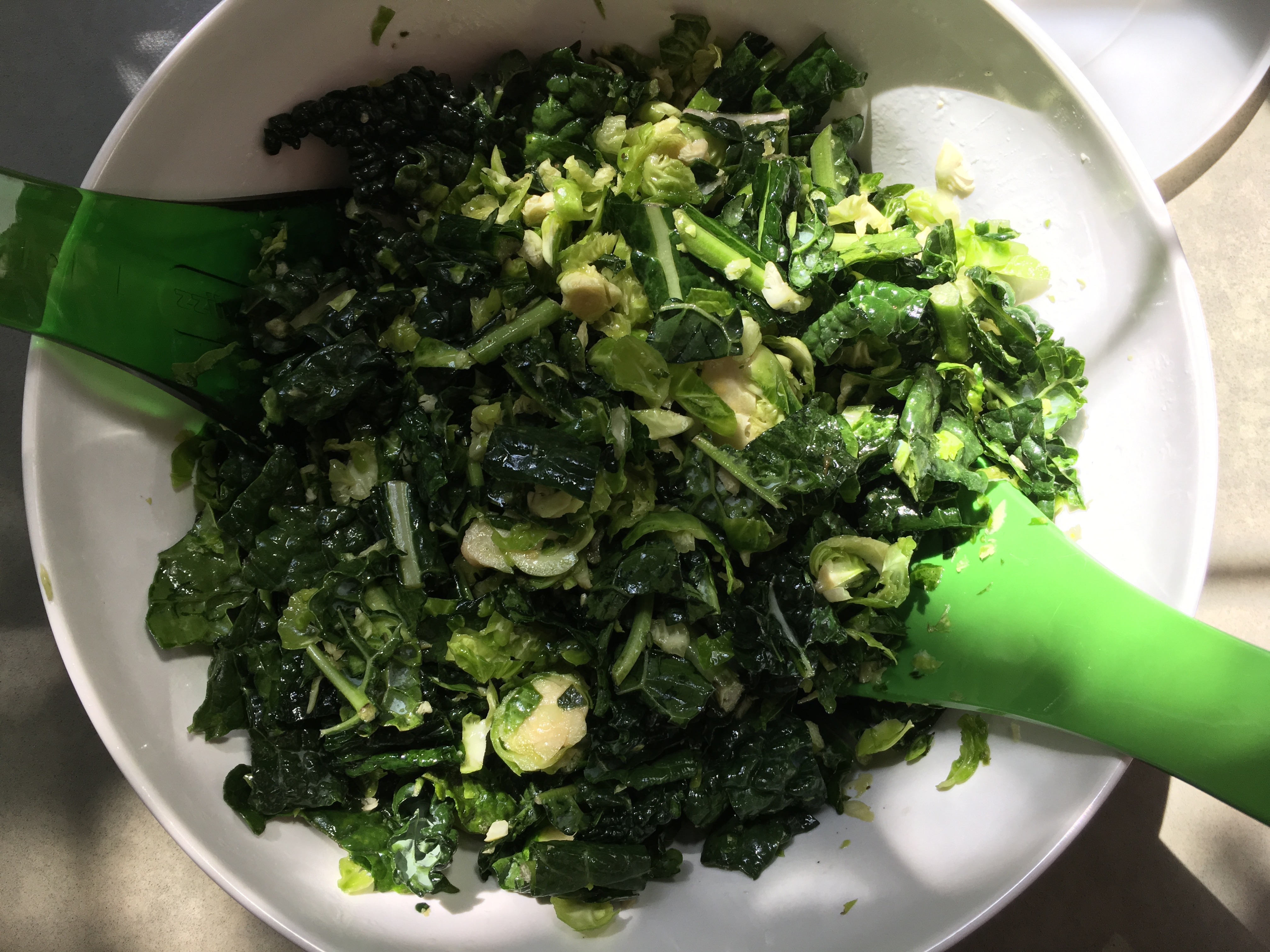 Massaging lettuce.  My favorite nap time activity.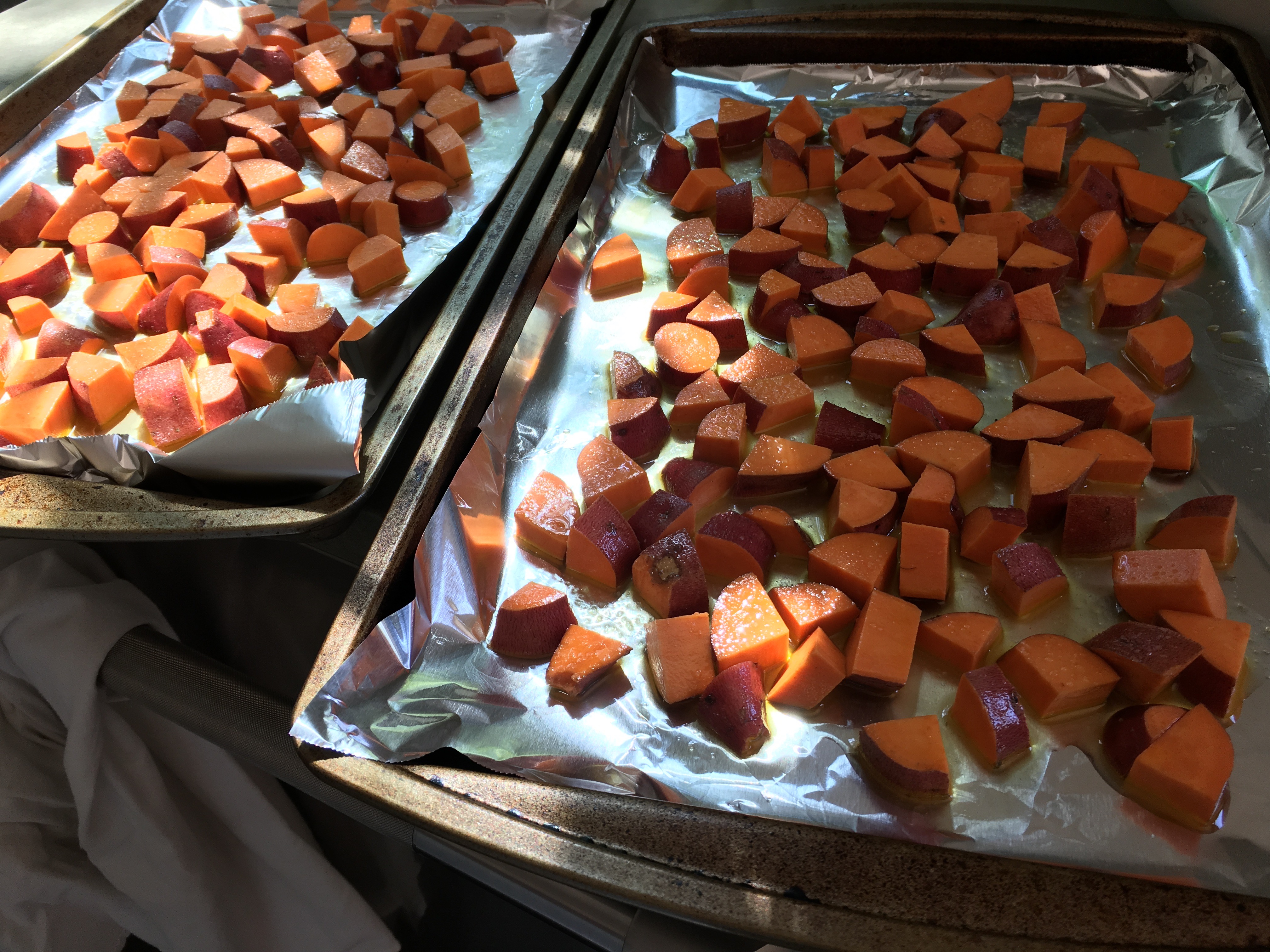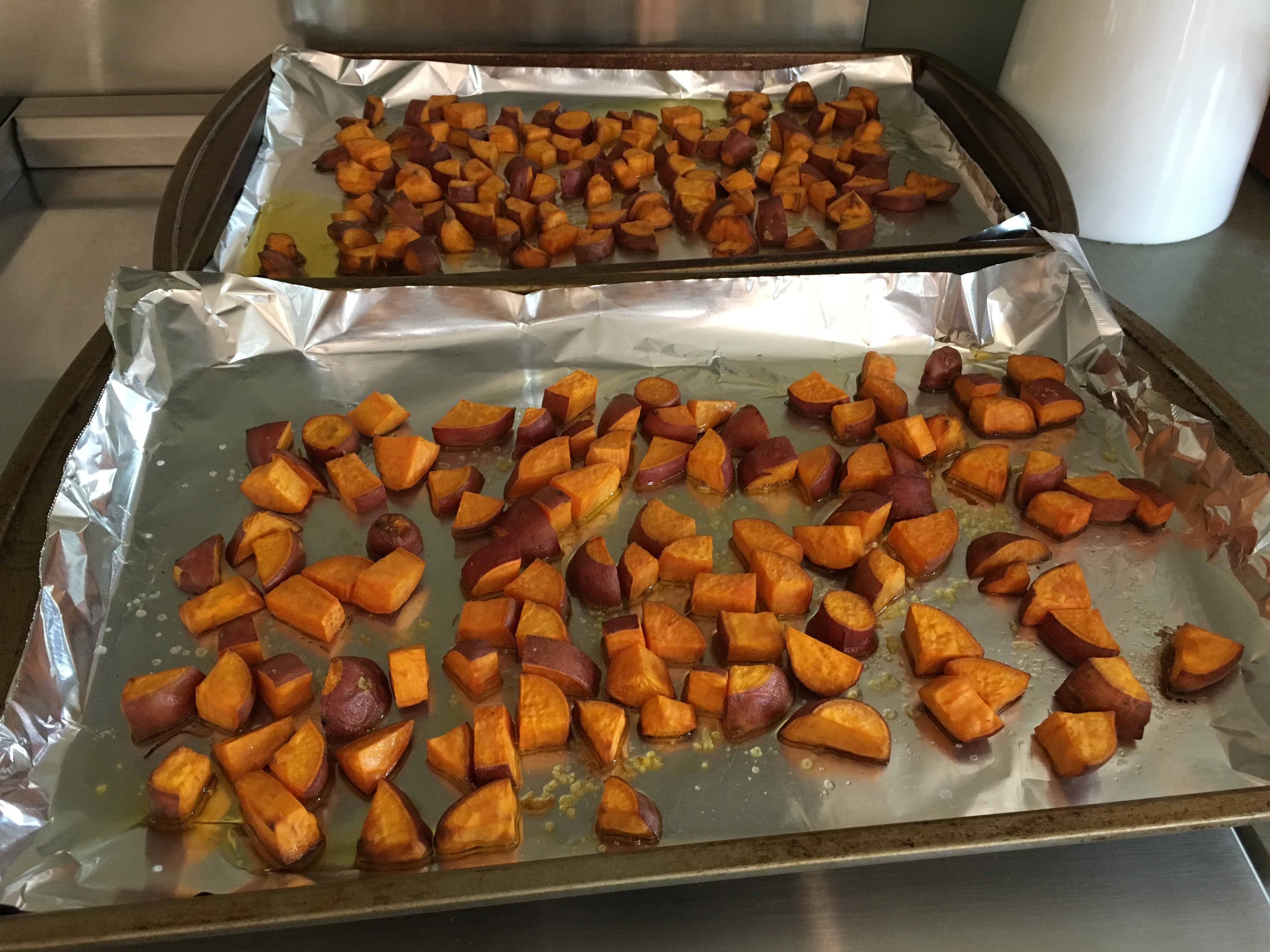 For dinner I was inspired by this kale and brussels sprouts salad.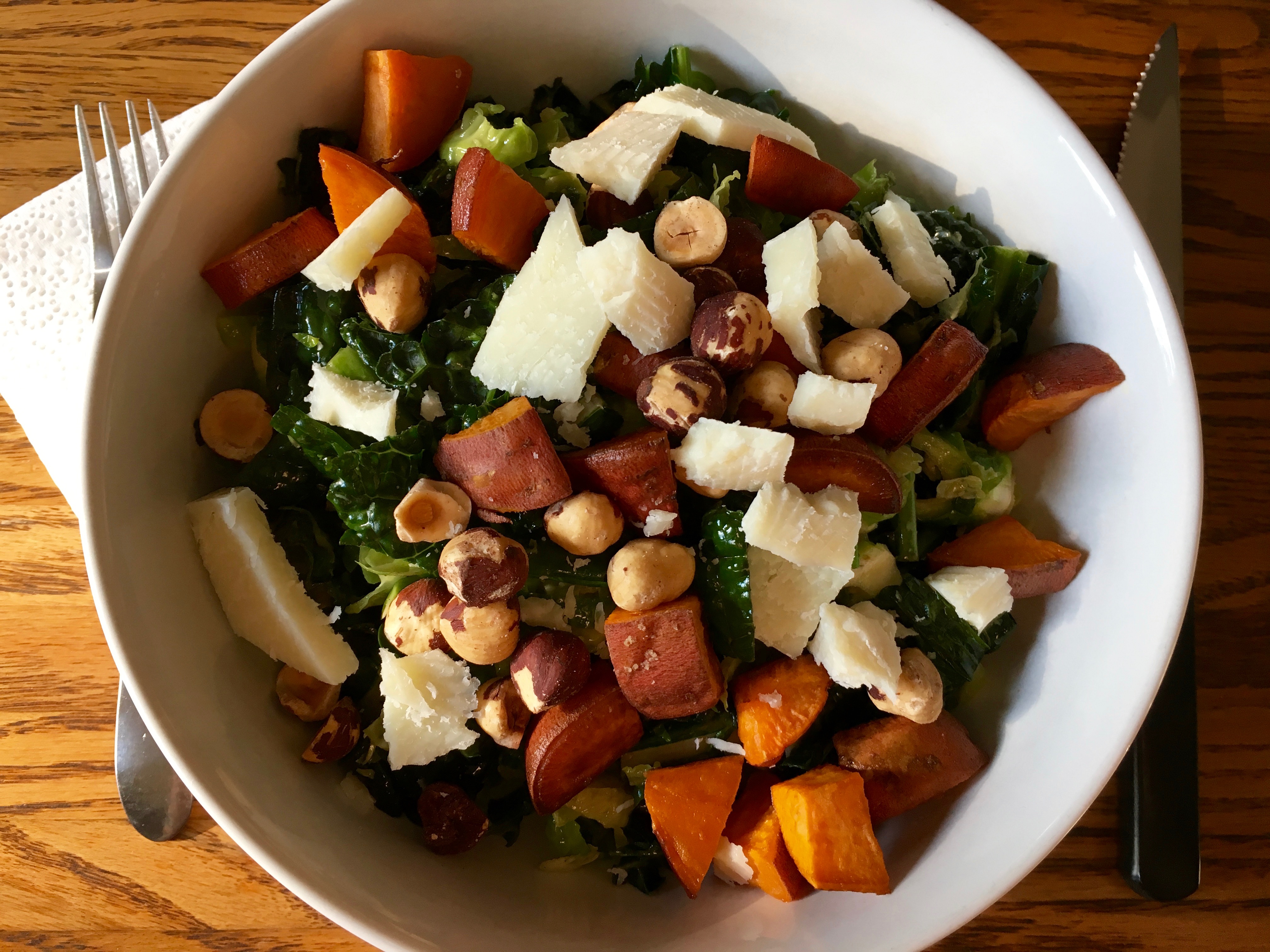 I'm getting cravings for it again now just looking at the pics. It was really good.  I'll share the recipe below.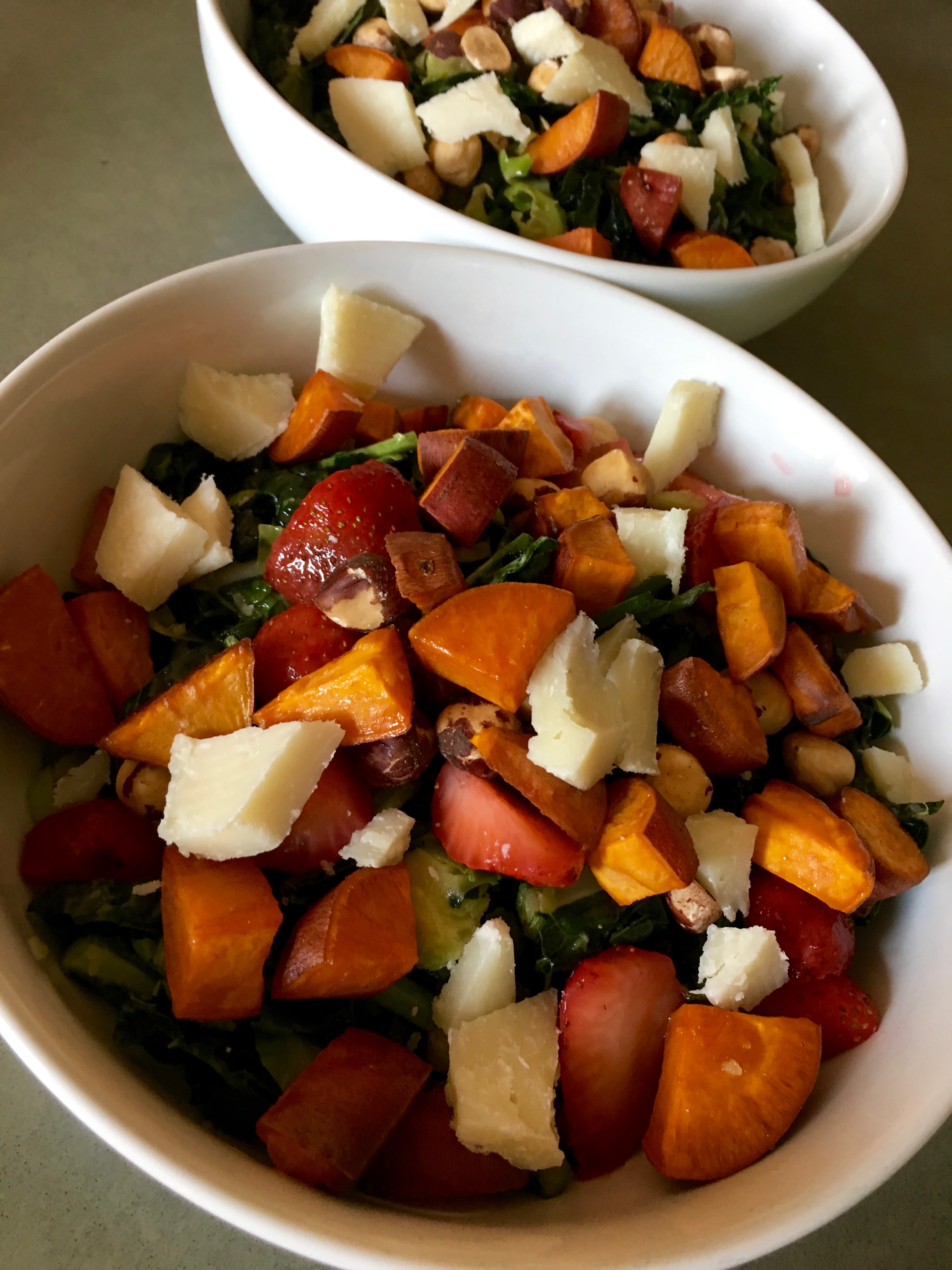 The spouted kitchen (linked above) calls for quinoa, but I roasted sweet potatoes for a different carb-y component. And then I made a bunch more tweaks since it's actually written as a winter recipe (and it's obviously August).  So here's my recipe…
Kale and Brussels Sprouts Summer Salad
For the lemon dressing:
1/2 cup avocado oil
1 tsp garlic infused olive oil
1/4 cup apple cider vinegar
1/2 of a lemon, juiced
1 tbsp maple syrup
1/2 tsp sea salt
1/2 tsp pepper
For the salad:
10 oz shaved Brussels sprouts
5-6 oz chopped kale (~4 cups)
3/4 cup roasted hazelnuts
1/2 cup sliced strawberries
4 oz shaved parmesan
3 small sweet potatoes, diced and roasted
Directions:
Preheat oven to 400.
Add all the dressing ingredients to a large mixing bowl and mix.  Add Brussels sprouts and kale and massage well so that everything is totally coated in dressing.  Refrigerate until serving.
Meanwhile, wash and chop sweet potatoes.  Toss in ~3 tbsp olive oil and generous pinch of salt and roast on a greased baking sheet for ~30 minutes, or until turning brown/golden on top.
To assemble the salad, add potatoes, strawberries, nuts, and cheese to greens and serve.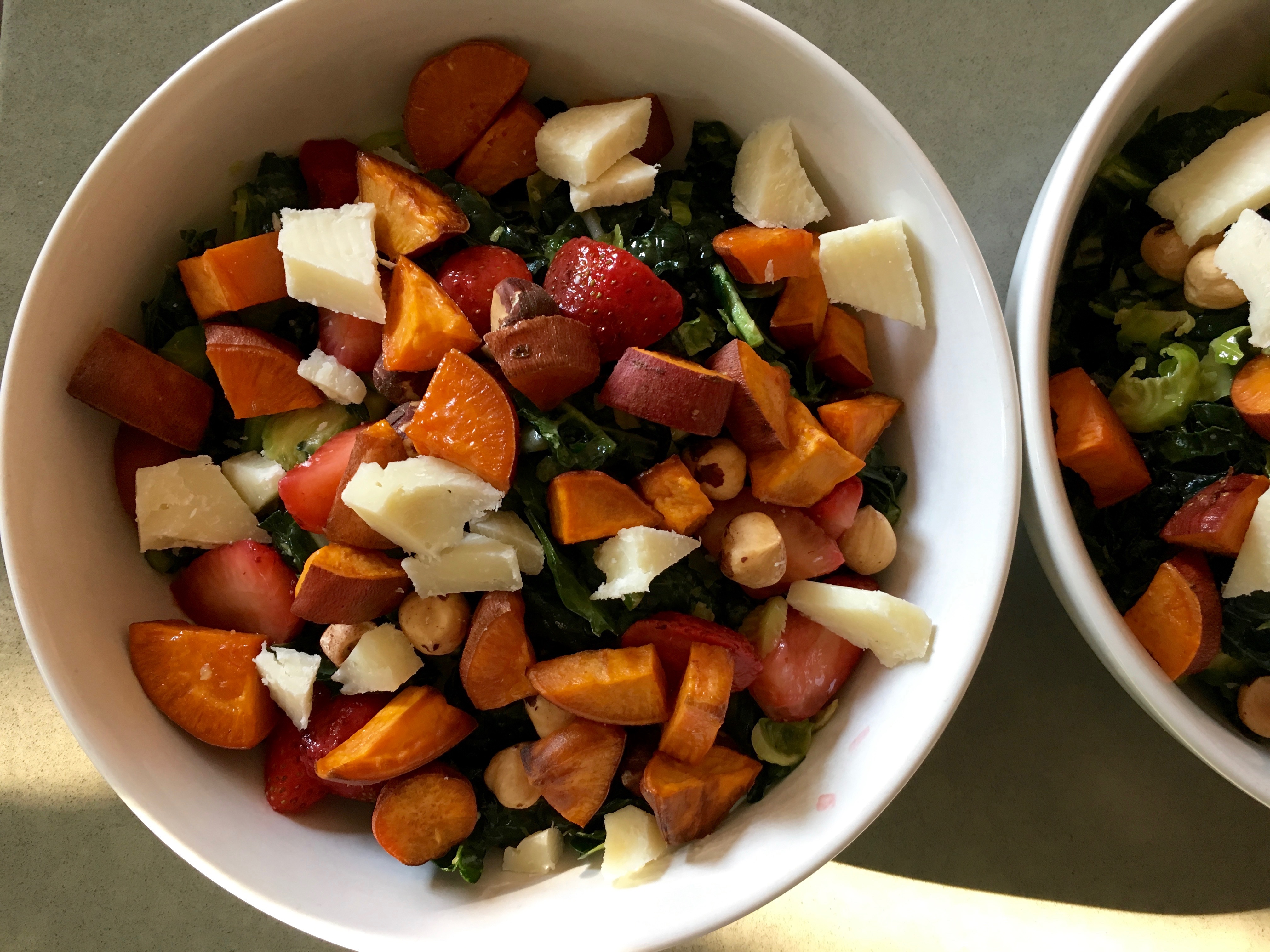 Have you ever seen or heard of pecorino romano from raw sheep's milk?  I hadn't, but look it has no carbs! That means the lactose content must be negligible if any!  And it was SO good.  And my gut felt 100% fine after!  And I even gave P a (tiny tiny) piece!  Parmesan and pecorino romano are some of the highest protein cheeses so I'm proceeding very cautiously with the amount I give P.  Oh!  Side note: I gave him half a string cheese today (4 g milk protein) with no reaction.  Yay!!  So two kinds of cheeses at two separate meals PLUS his milk doses PLUS his peanut doses WHILE he has a cold and his immune system was fine with it all.  Amazing. Just amazing.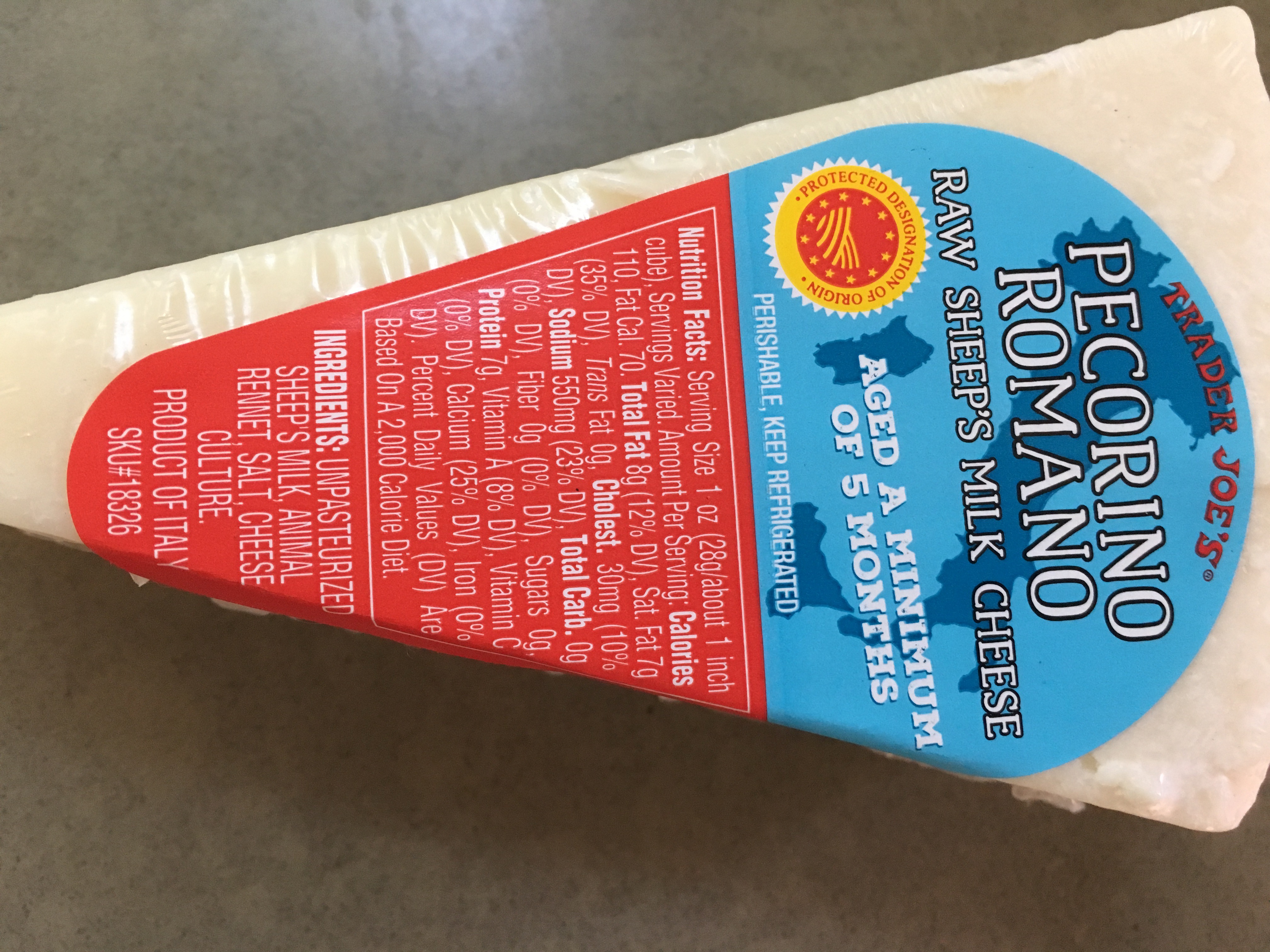 Gonna keep this stocked in the fridge for sure.
Kombucha at night while watching Big Love.  I know it's super old but we have never seen it and I'm already way into it.