Where to start. Where. To. Start.
V came down with a GI bug that was pretty horrible, and of course made even worse by the fact that she is in a cast.  I'll spare you the details, but suffice it to say, I'm nervous about what her skin will look like in a few weeks when this thing comes off.  I've never looked forward to anything more than this cast removal.  I hate to play the victim here, because she is the one suffering, but I am barely staying afloat right now, and the only reason I'm not spending my evenings in a puddle of my own tears is because my family and friends have been life savers. Not figuratively.  They are literally at my house, bringing me food, taking my son on outings, breathing air into the sail of my social life, and texting my around the clock to check in on me.  I didn't know you could have this kind of friendship in one person, let alone a community of them.  I feel so grateful I could cry.  I am so terrible at asking for help.  SO BAD AT IT.  But people haven't been taking no for an answer (BLESS THEM).  And then once I realized how much I truly did need help, I stopped saying no and started accepting it, and that has been very humbling and very necessary.  So I know the post title says it's not about me, but if nothing else, this incident has brought me to my knees and made me realize I don't have to be a strong, independent, got-my-sh!t-together mom/wife/friend all the time.  I am not perfect.  Accepting help isn't admitting failure.  My friend called me on Monday and I was elbows deep in my 4000th diaper of the day (you guys — this viral thing V has is nasty) and she asked if she could take P to the park for a play date and I don't think I could have said yes faster. Normally, I'd say thanks but that's ok.  I don't want to burden people.  I feel like I'm putting people out by receiving help, which I realize may seem weird because THEY ARE OFFERING IT. But I'm just being honest. I politely decline help all the time. So guess what?? She came and picked him up, he skipped off with a snack and water bottle, and came back to me an hour later as happy as could be! I'm lucky that he's so comfortable that he can do that.  V grabs for me when strangers (and sometimes family/friends) are around ever since my sister's wedding (aka her first baby sitter experience) even if there's no threat of me leaving.  She just wants to be sure and clings to me as a safety net. This is why I will be going to college with her…JK!  Her broken leg is just another reason she needs extra mama loving and that is both a privilege and a curse an exhausting reality.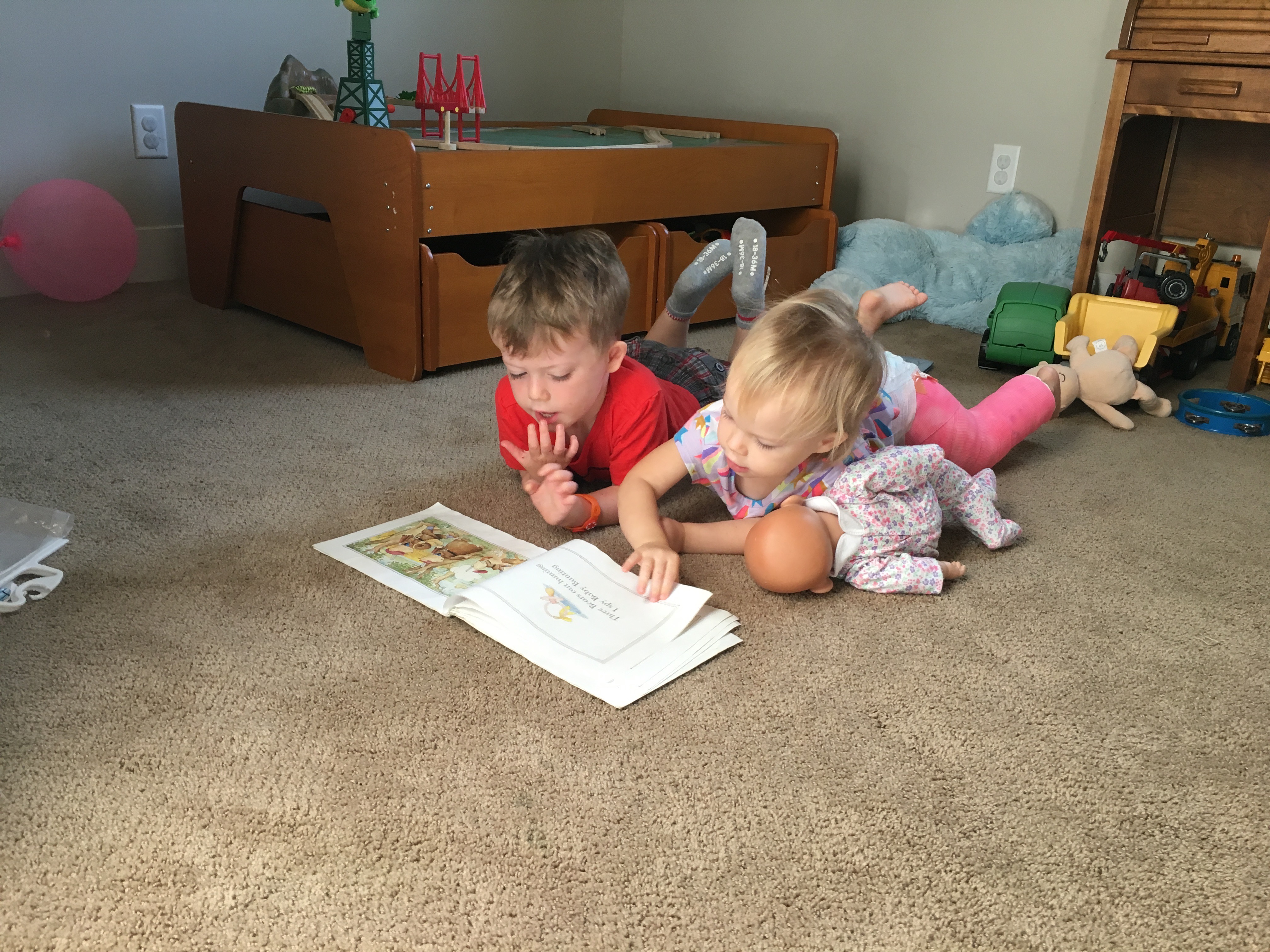 She has had moments in between the worst bouts of gastro pain in which she has shown tremendous physical healing.  She can crawl all over, can climb and pull herself up into bed, and even stand unassisted. She walks with me holding her hands – even up the stairs!  But the intestinal issues are really making it hard for her.  And I won't lie, it's not exactly a treat for me.  I was up from 2 am onward last Thursday because she was writhing in pain for much of the night.  The next day was actually maybe her worst ever, and I swear I would have crumbled into a million pieces due to the overwhelming nature of it all – sleep deprived, helpless to fix her, exhausted from racing up and down the stairs 100+ times to get her diaper changed before it got in her cast – all while trying to parent a healthy, energetic 4 year old and keep my sanity.  My sister arrived just in the nick of time (Kyle left for the long weekend).  She thinks she didn't do anything, but she did everything.  She played with Pacman all afternoon and kept him happily occupied so I didn't have to worry about him at all and could solely focus on V.  I was getting really scared for a while there and called the hospital for advice. She's a tough girl, but her level of pain was seemingly unparalleled. It made me nervous seeing her that way for such an extended period of time.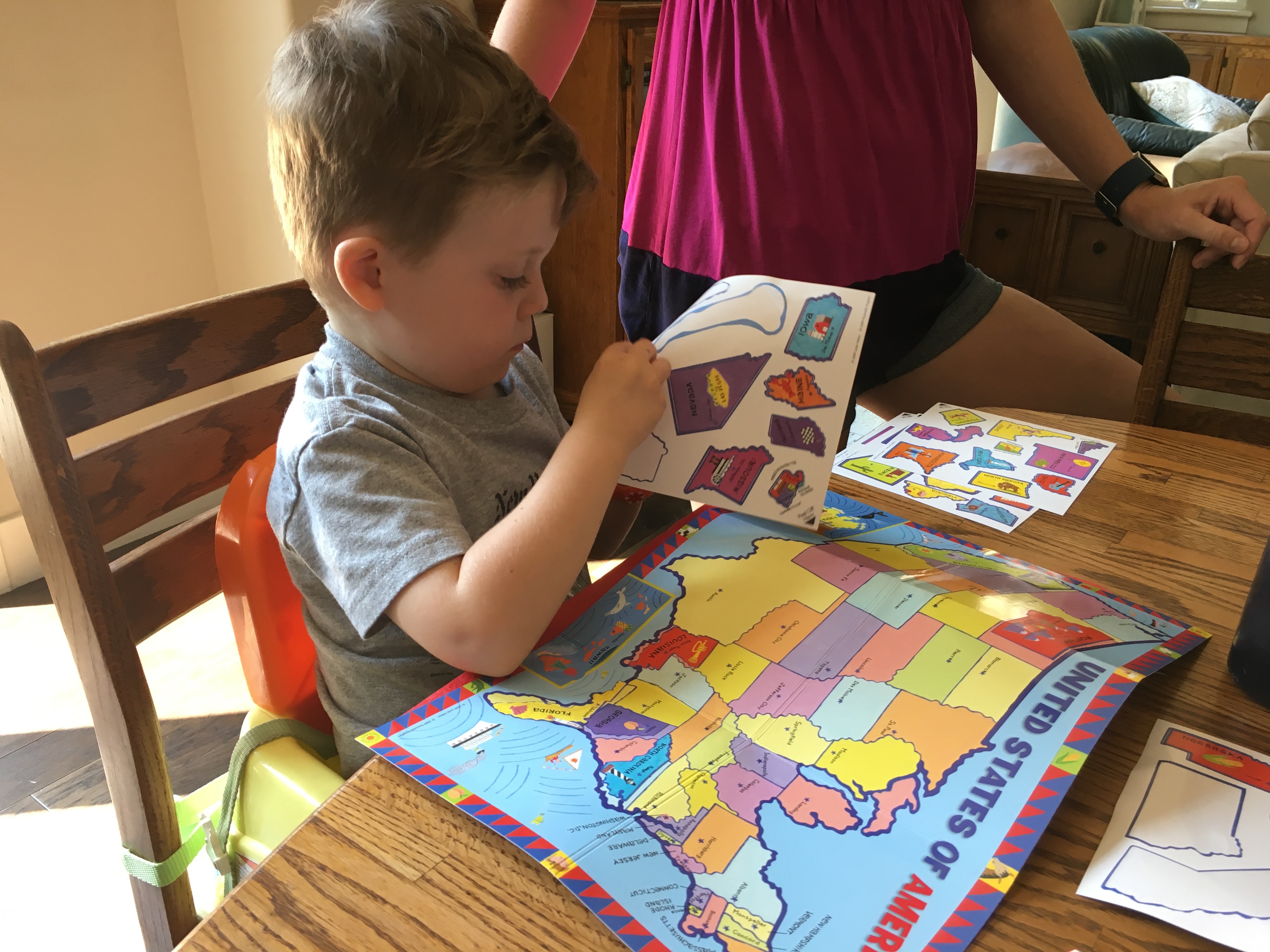 My sister brought activities for the kids, picked up dinner for us all, got me salads and kombucha (AND SEE'S!!!) for the rest of the weekend, and did everything without me even needing to communicate my needs to her.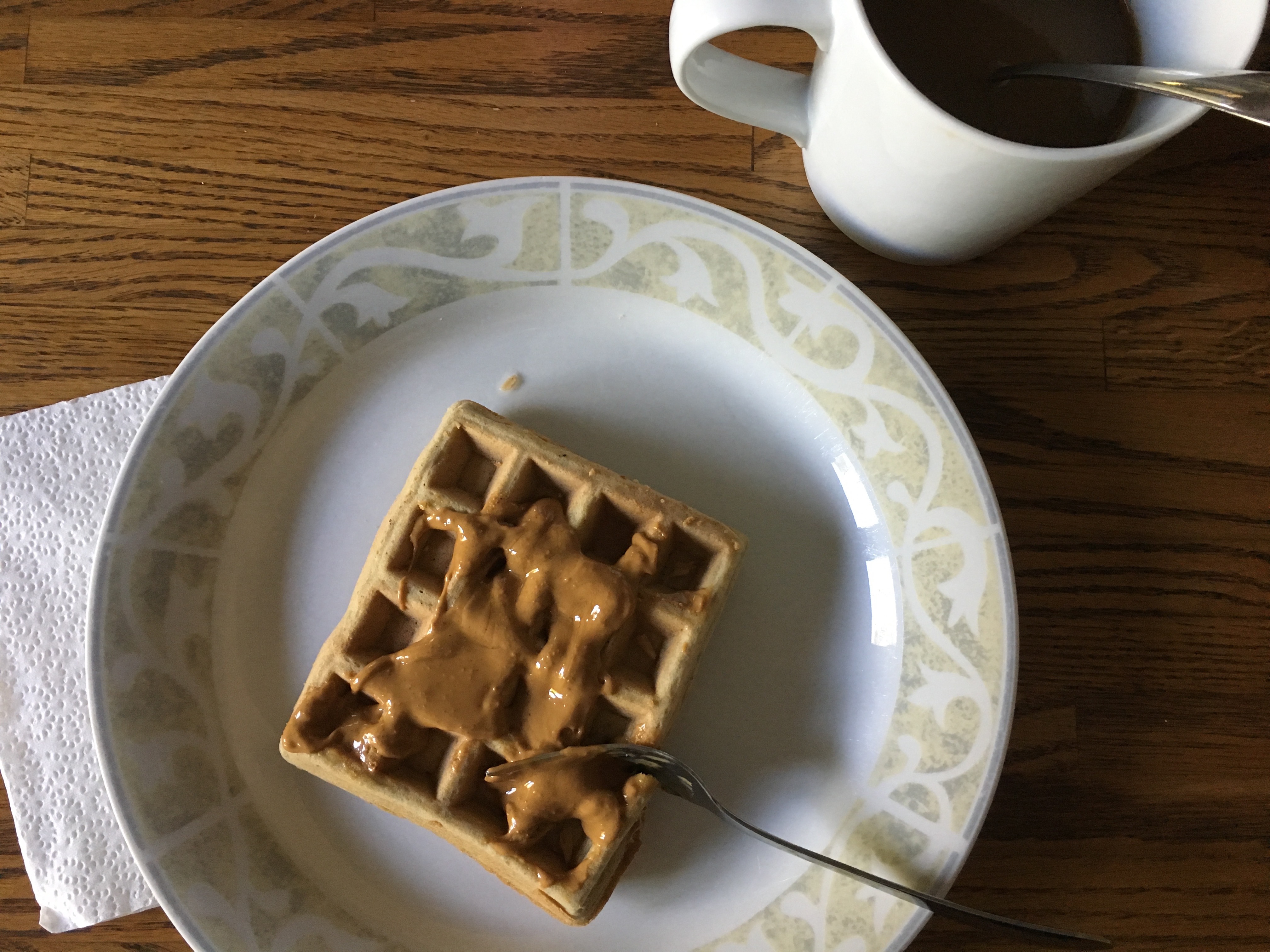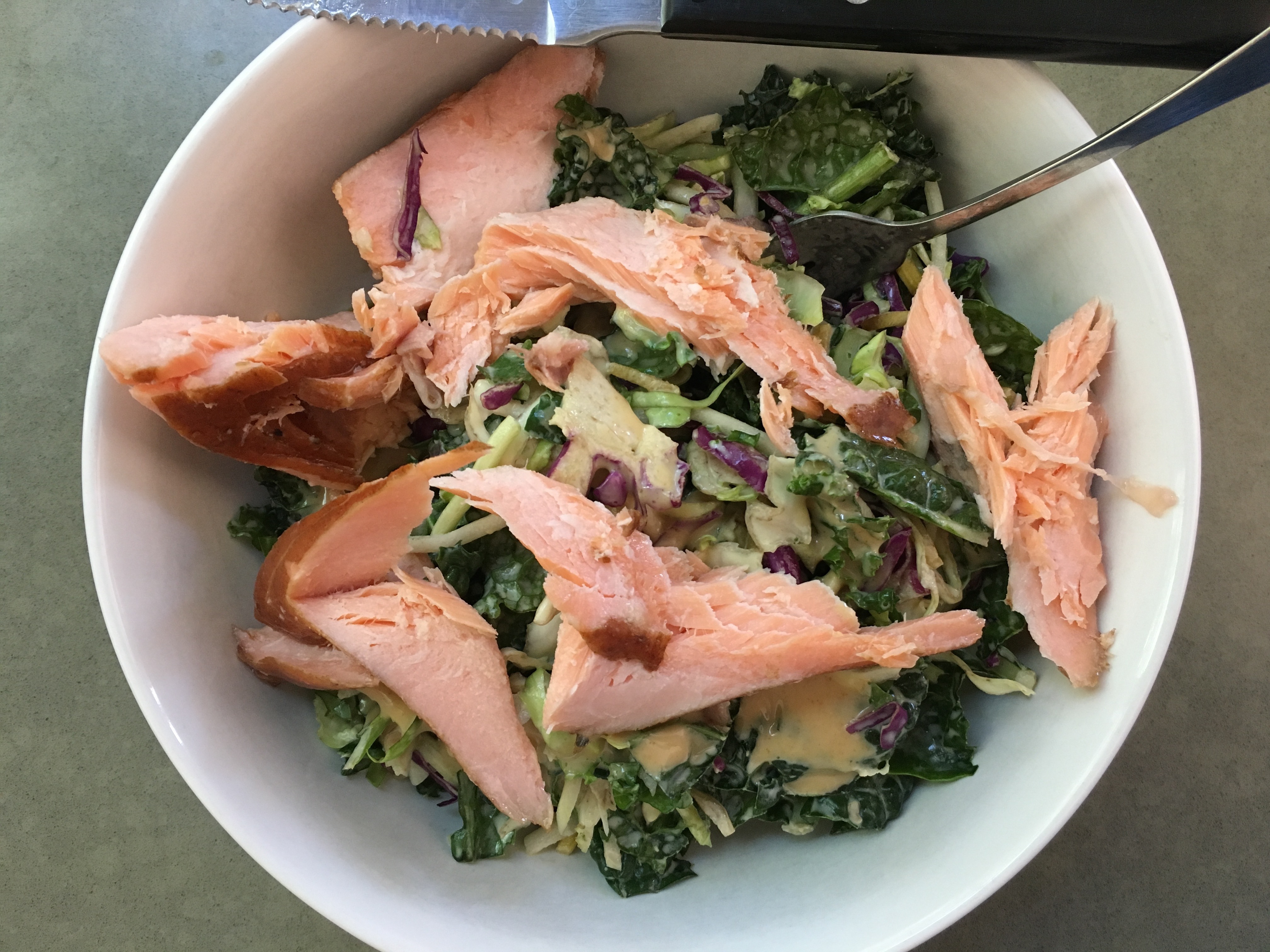 Breakfast: waffle with cashew butter
Lunch: salad with kale, broccoli slaw, cabbage, miso dressing, avocado and smoked salmon
Dinner: THE ONLY THING I MADE ALL WEEK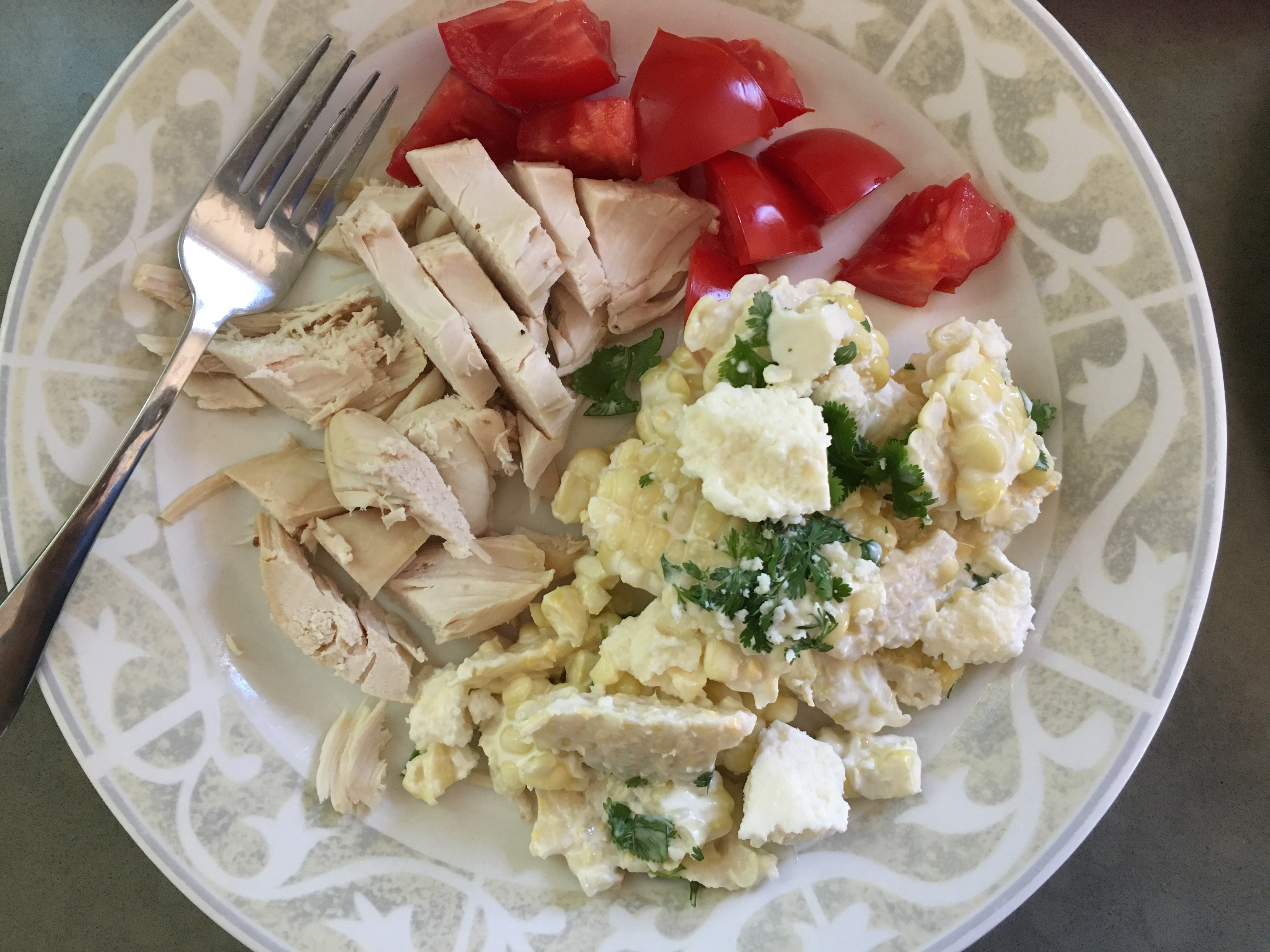 And I'm using the word "made" liberally here because the Mexican Street Corn Salad was really the only thing I did.  The tomatoes were from my mom's garden and we had some leftover rotisserie chicken and black beans too.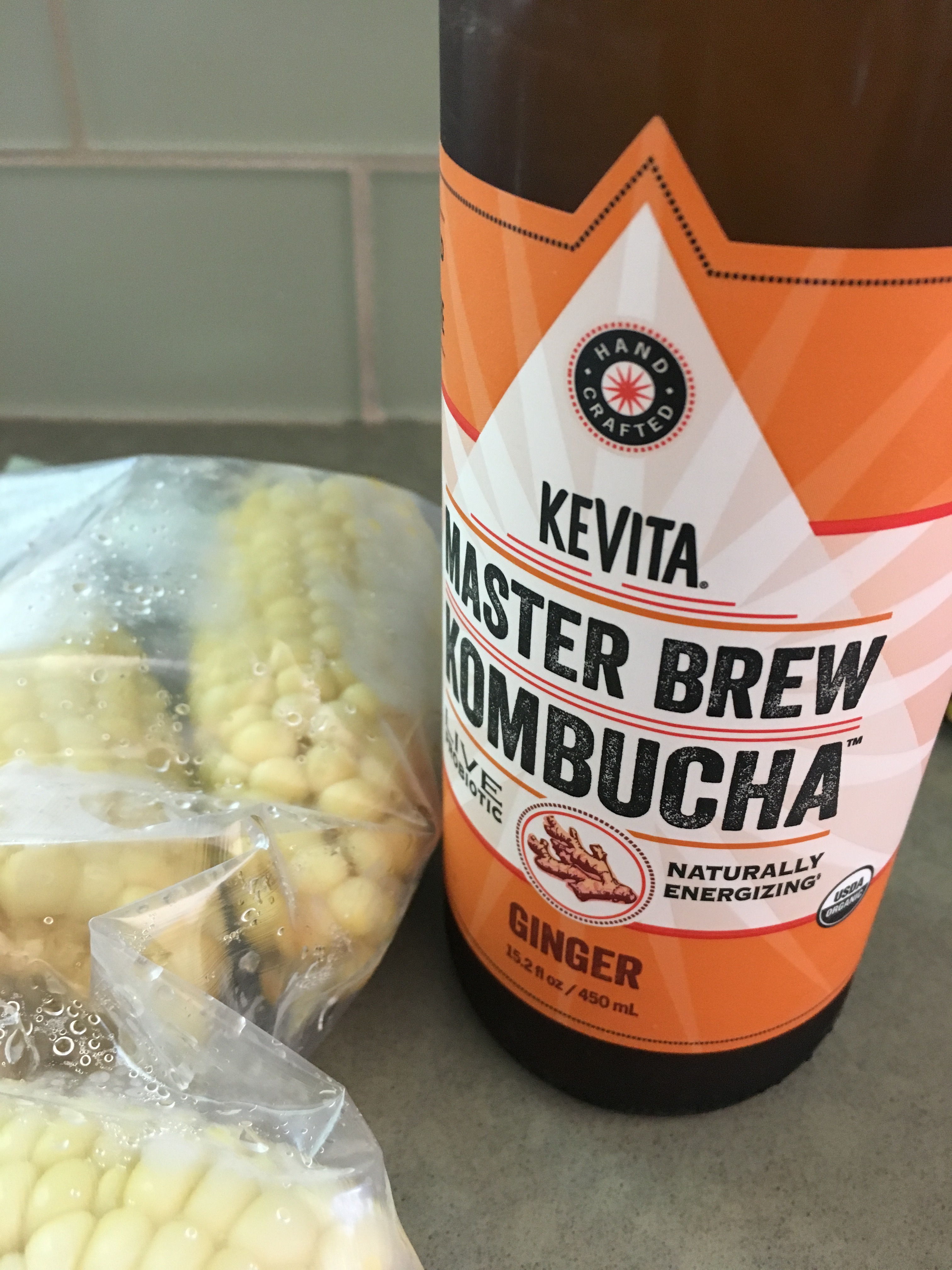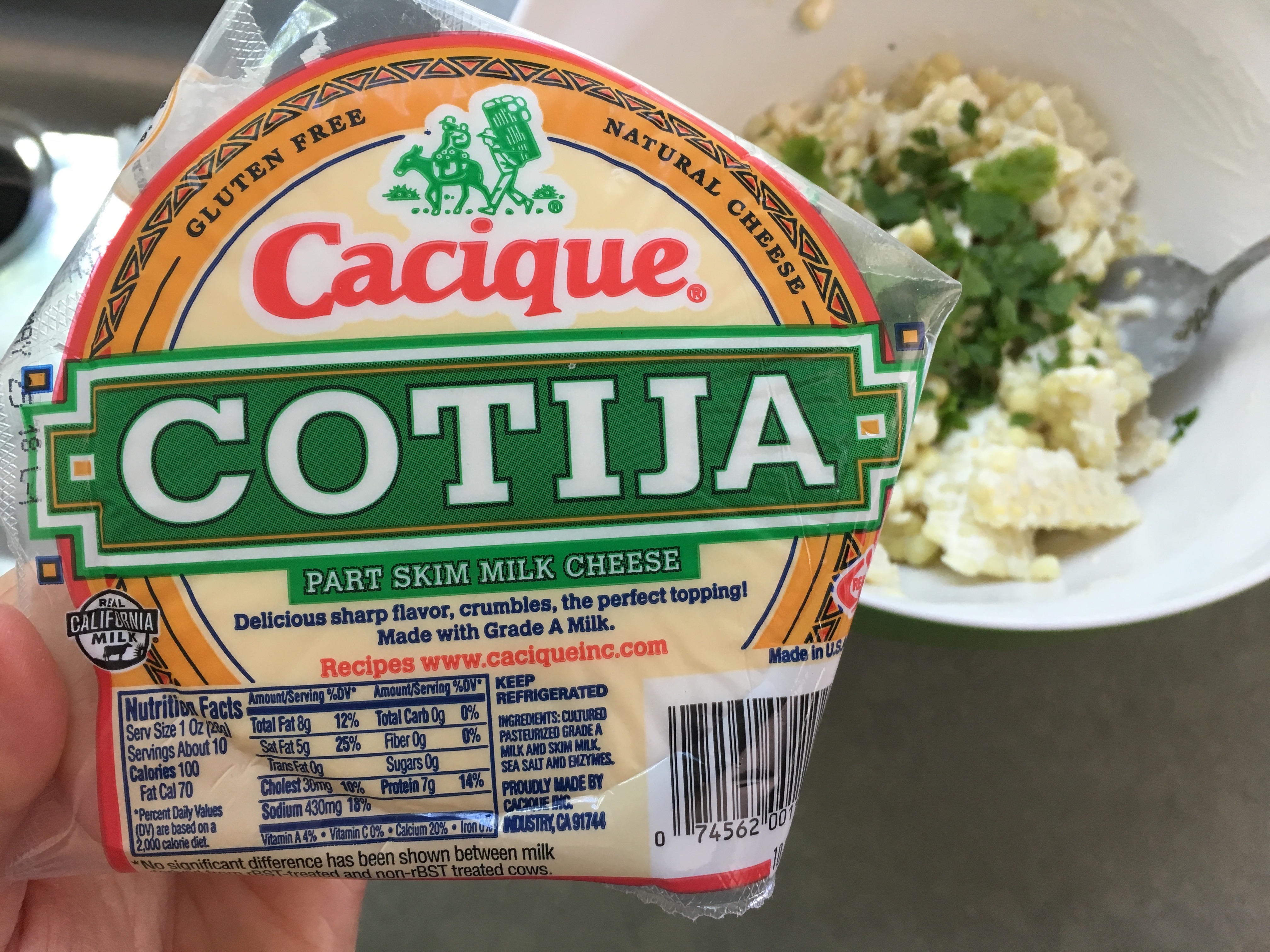 Mid-day 'buch pick me up while I prepped dinner. I de-kerneled 4 ears of corn, and tossed it in a mix of mayo, lime juice, and cotija cheese (harder to find than you'd think!) and cilantro.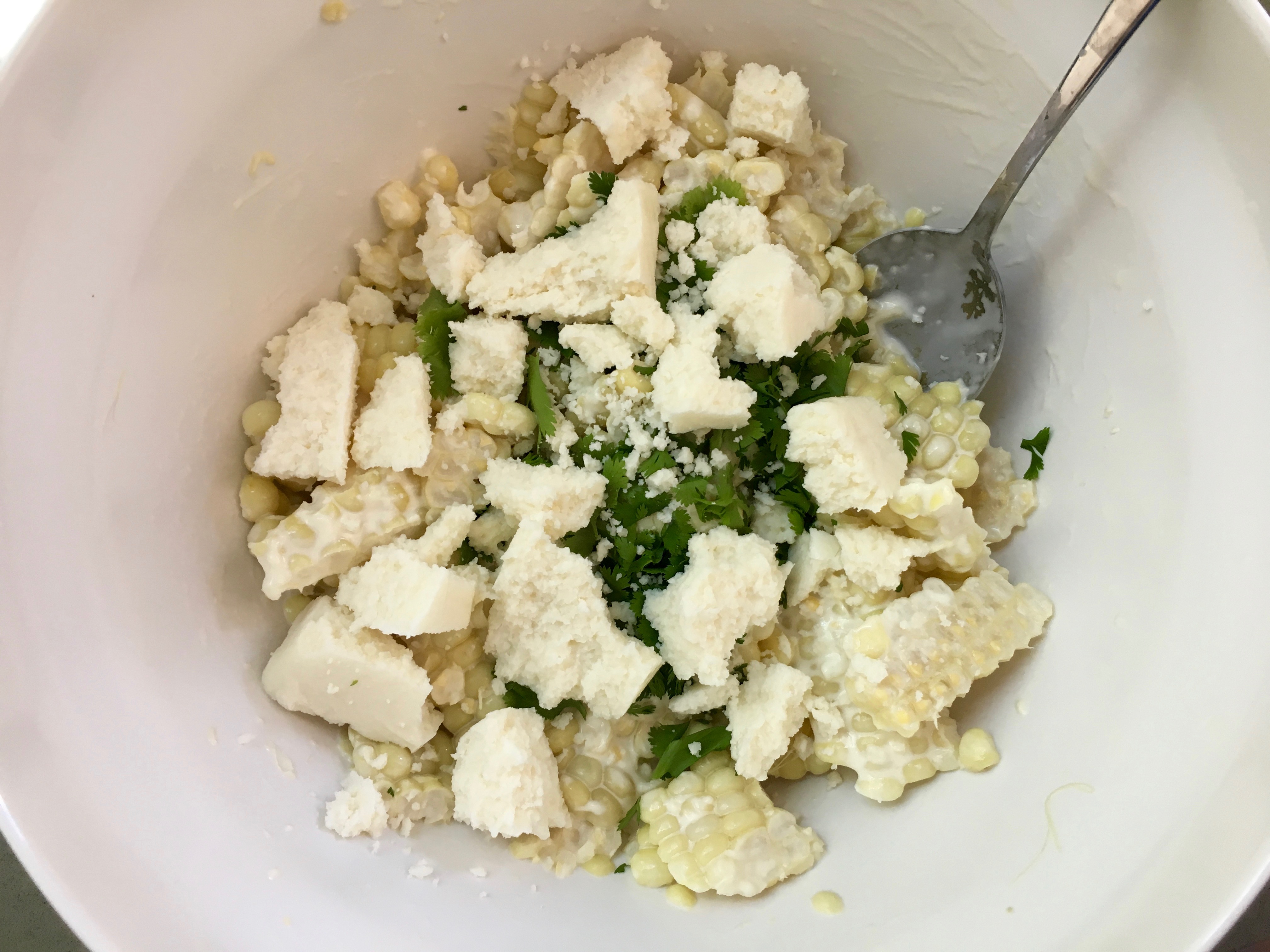 V didn't eat any of this.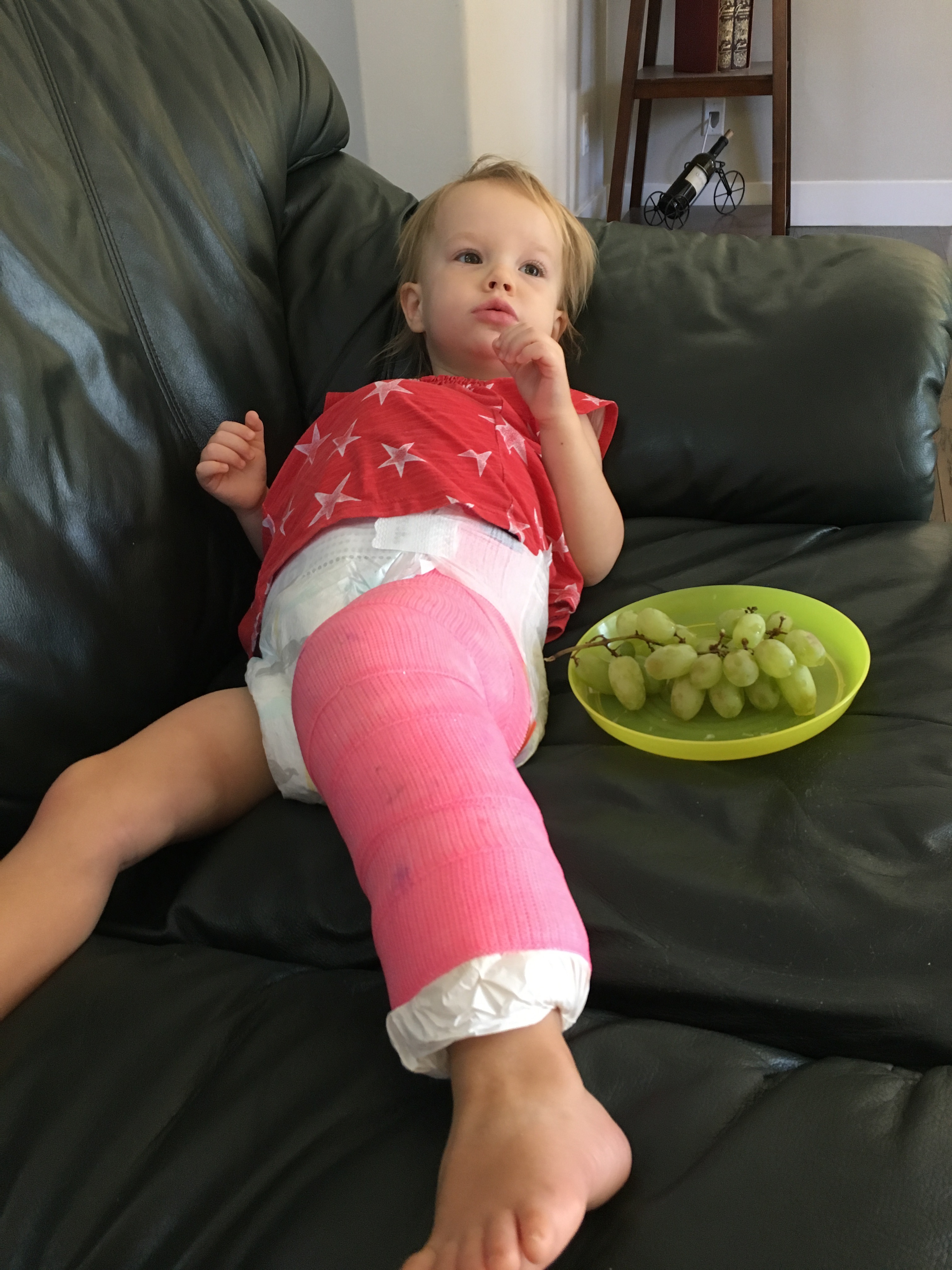 She'd had grapes earlier and was still recovering.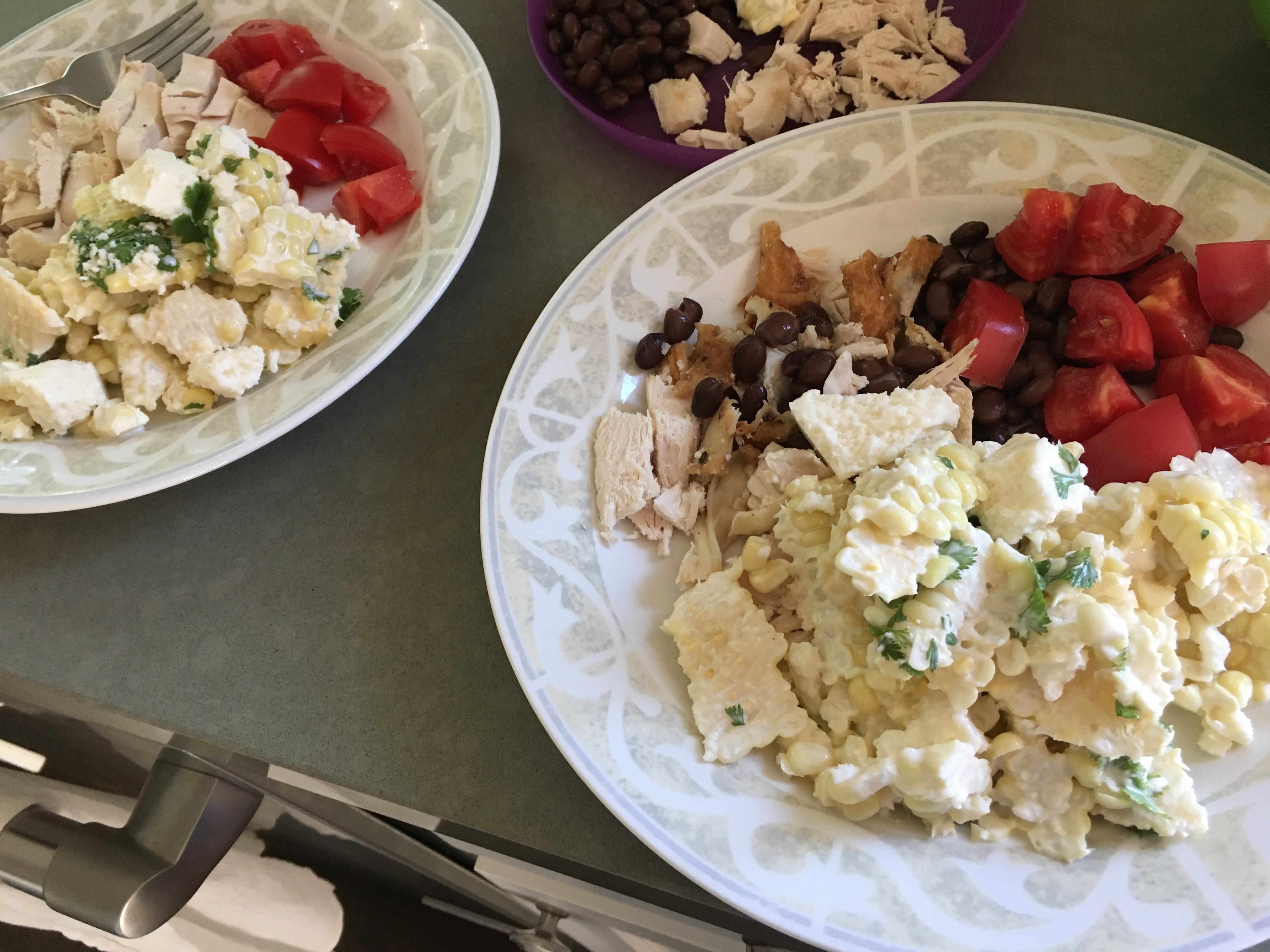 P didn't like the cotija cheese, for the record, which I find odd since it's crazy salty and yum, but no matter.  He tried it and didn't react to it, so that's enough for me.
He's had both goldfish crackers, cheez-its, and cream cheese at school without issues by the way.  So there's a bit of cheer to brighten up this bummer of a post.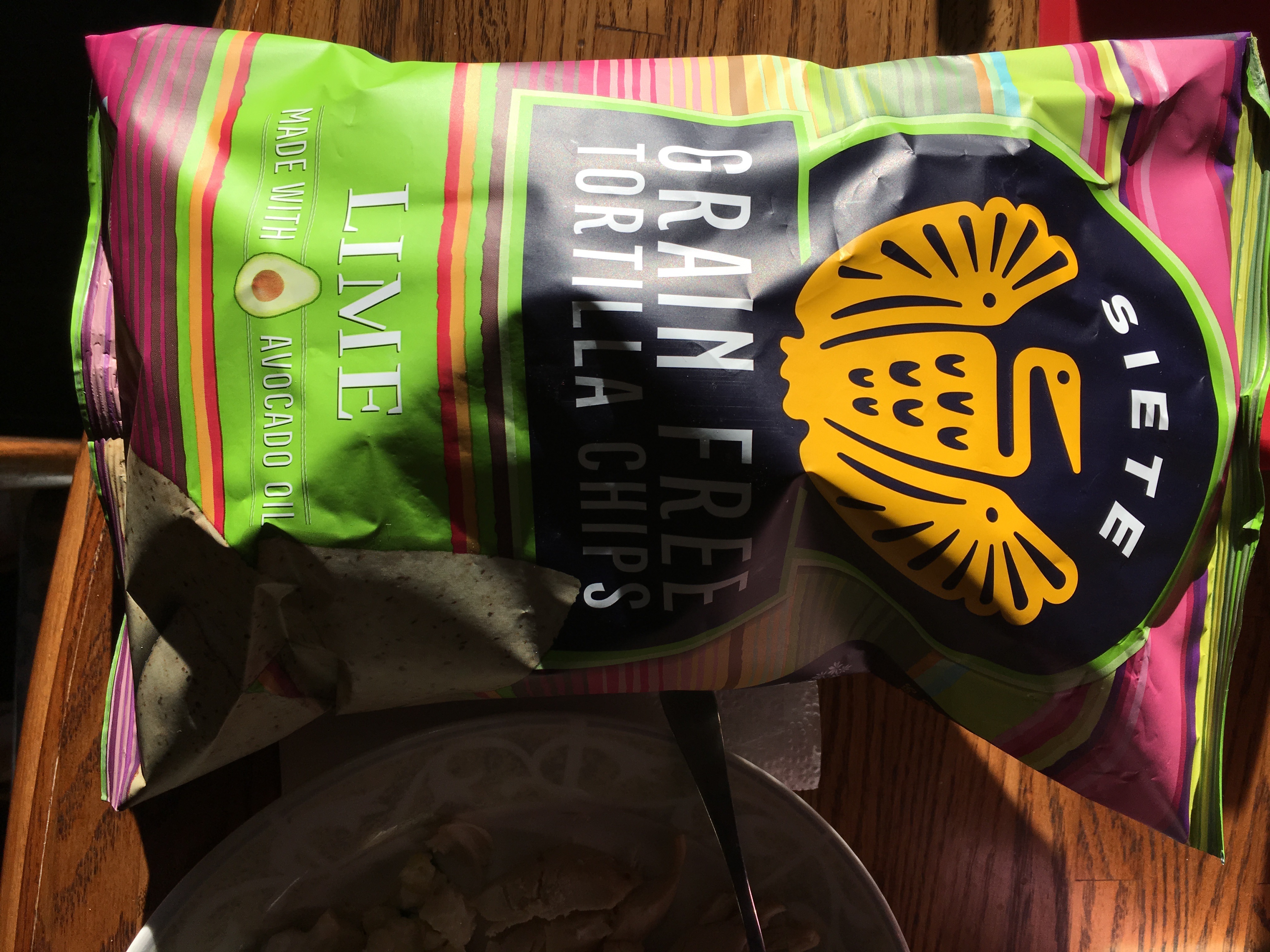 I didn't taste much lime in this, by the way, and ultimately chose corn chips to eat with the meal instead because they are salty and addictive as h-e-double-hockey-sticks.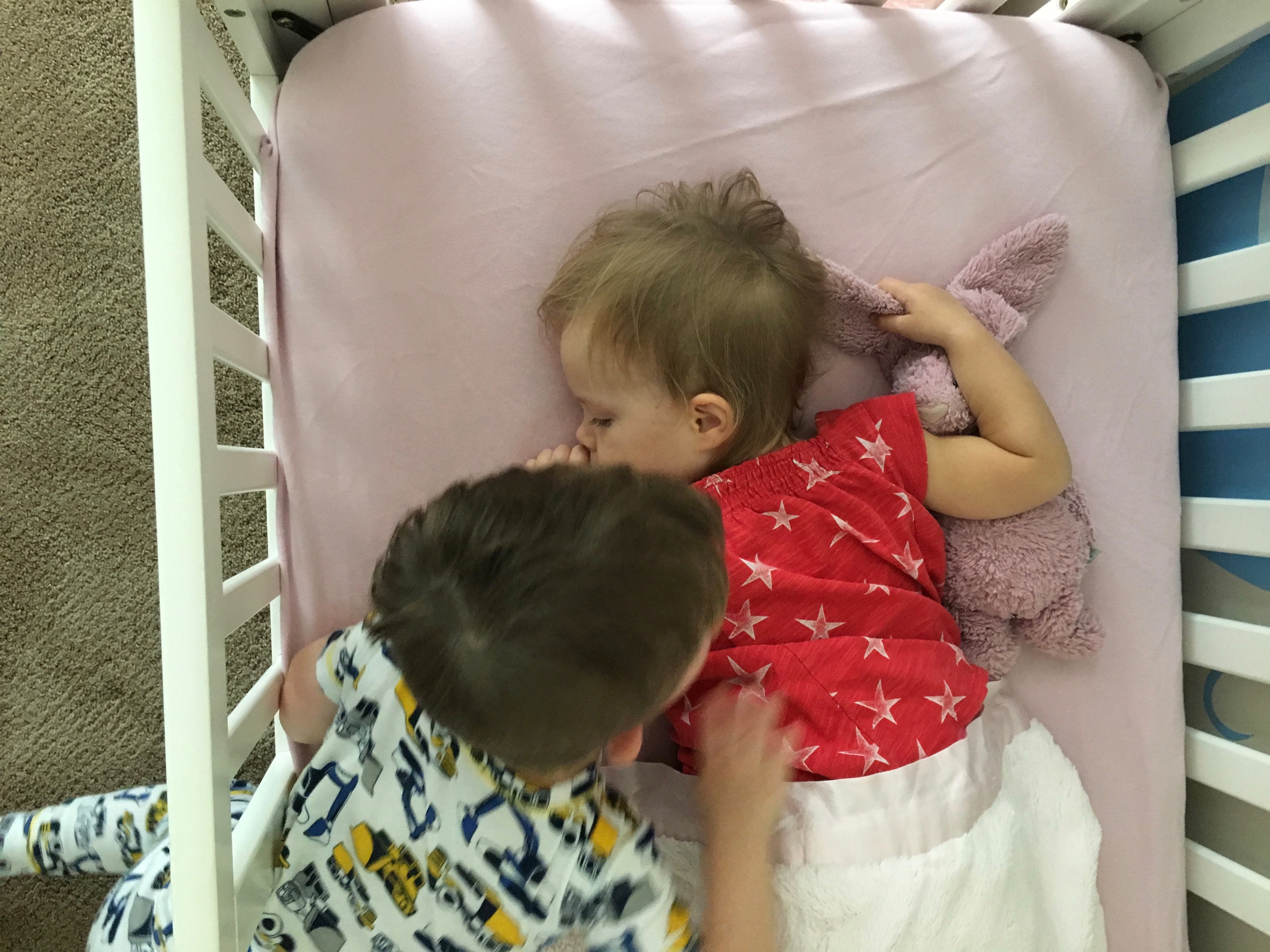 Night night kisses.
More chocolate coconut bombs.  I was out of candied ginger and tried to get more at WF last Friday but they only had ~1/4 cup left in the bulk bins so I am now going to have to find it in Davis asap.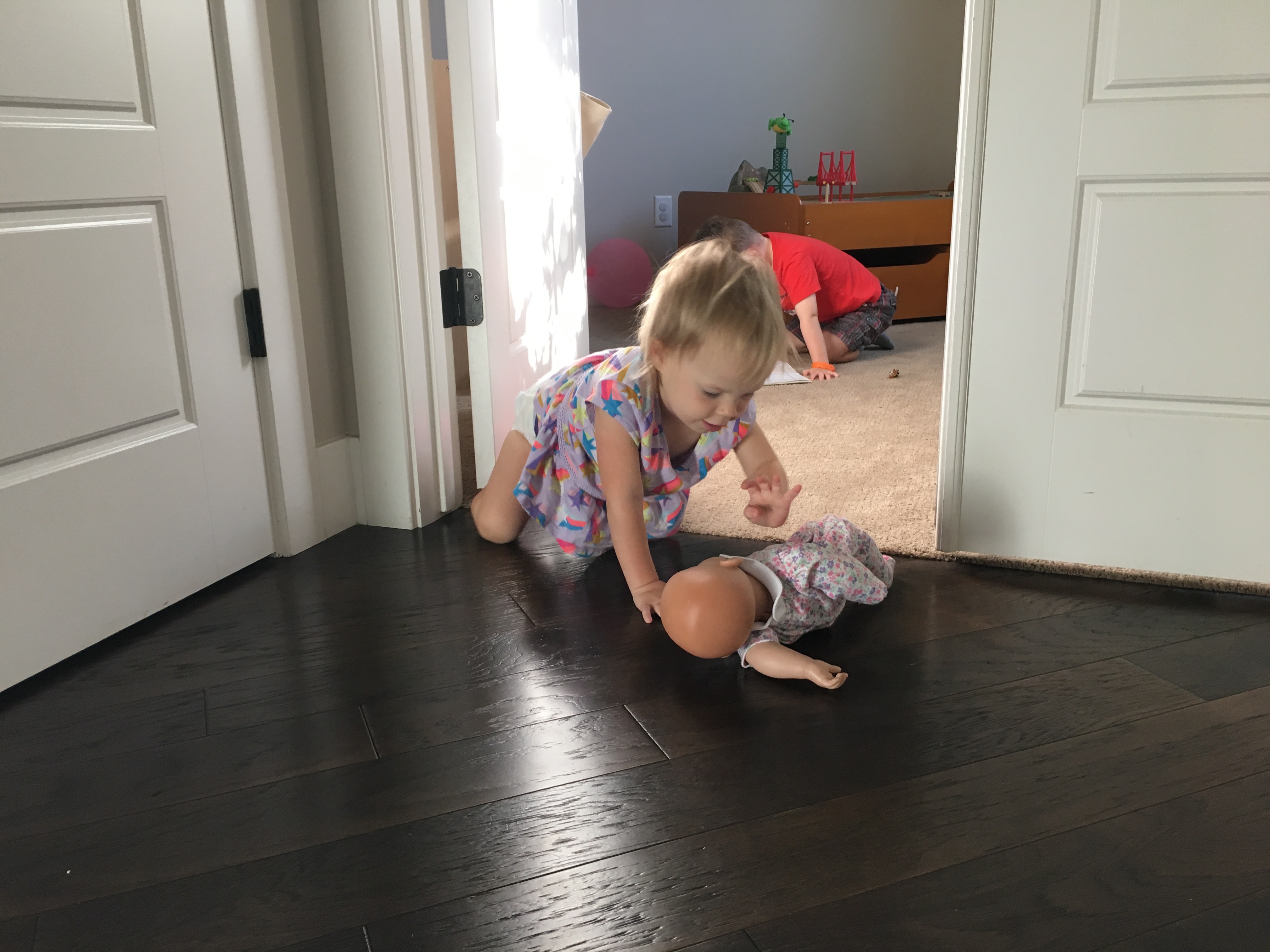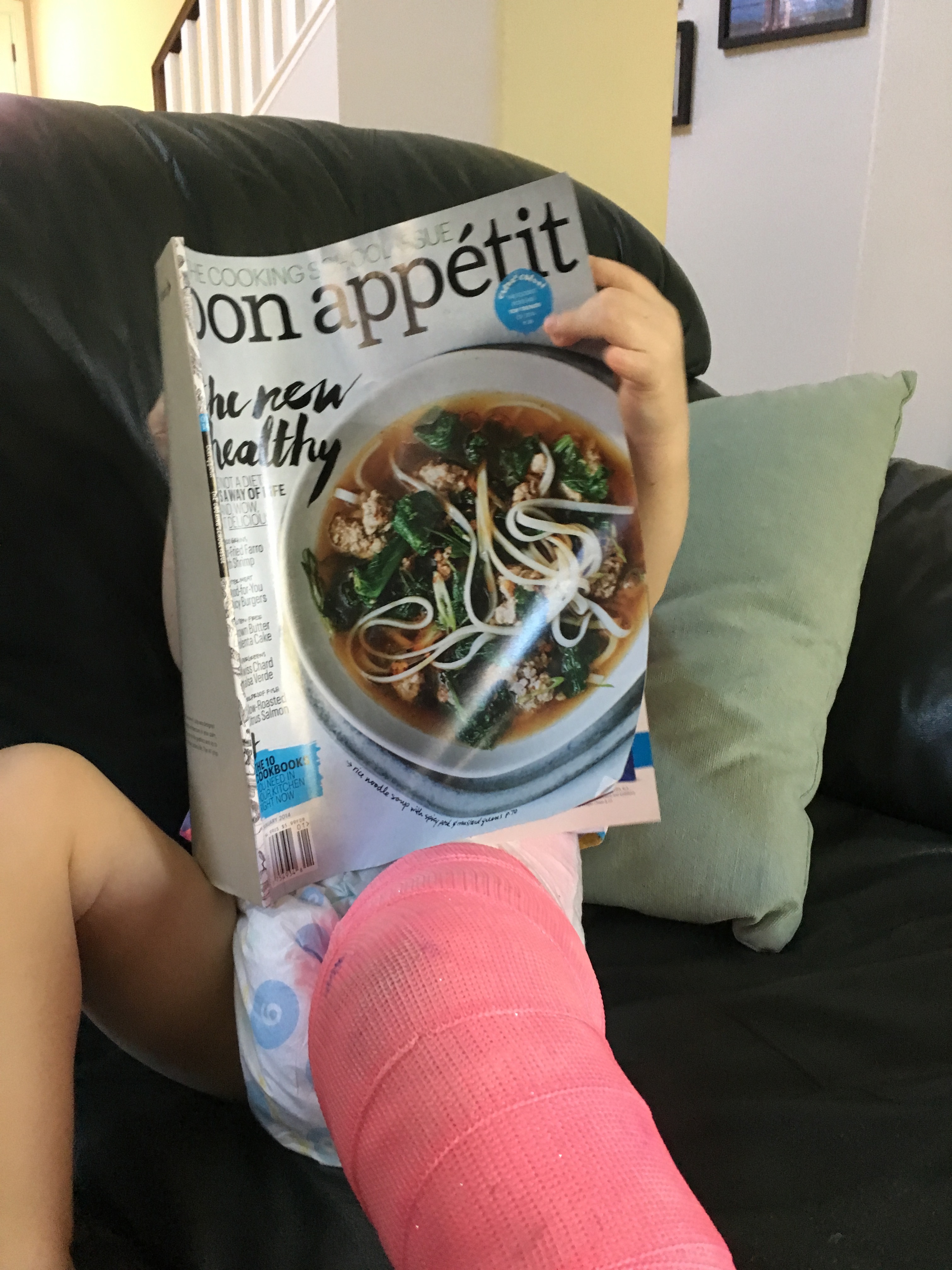 I'm not sure if this is shocking or just confirmation of what you already know about my personality, but V and I still made it to library this week.  I needed new material.  Reading the same 10 books for hours on end gets old by day 2, so by day 7 I am like LIBRARY NOW.
We also made it to stroller strides.  Happy endorphins for the win!  Now that P is in school in the mornings, it makes life a little more manageable with her.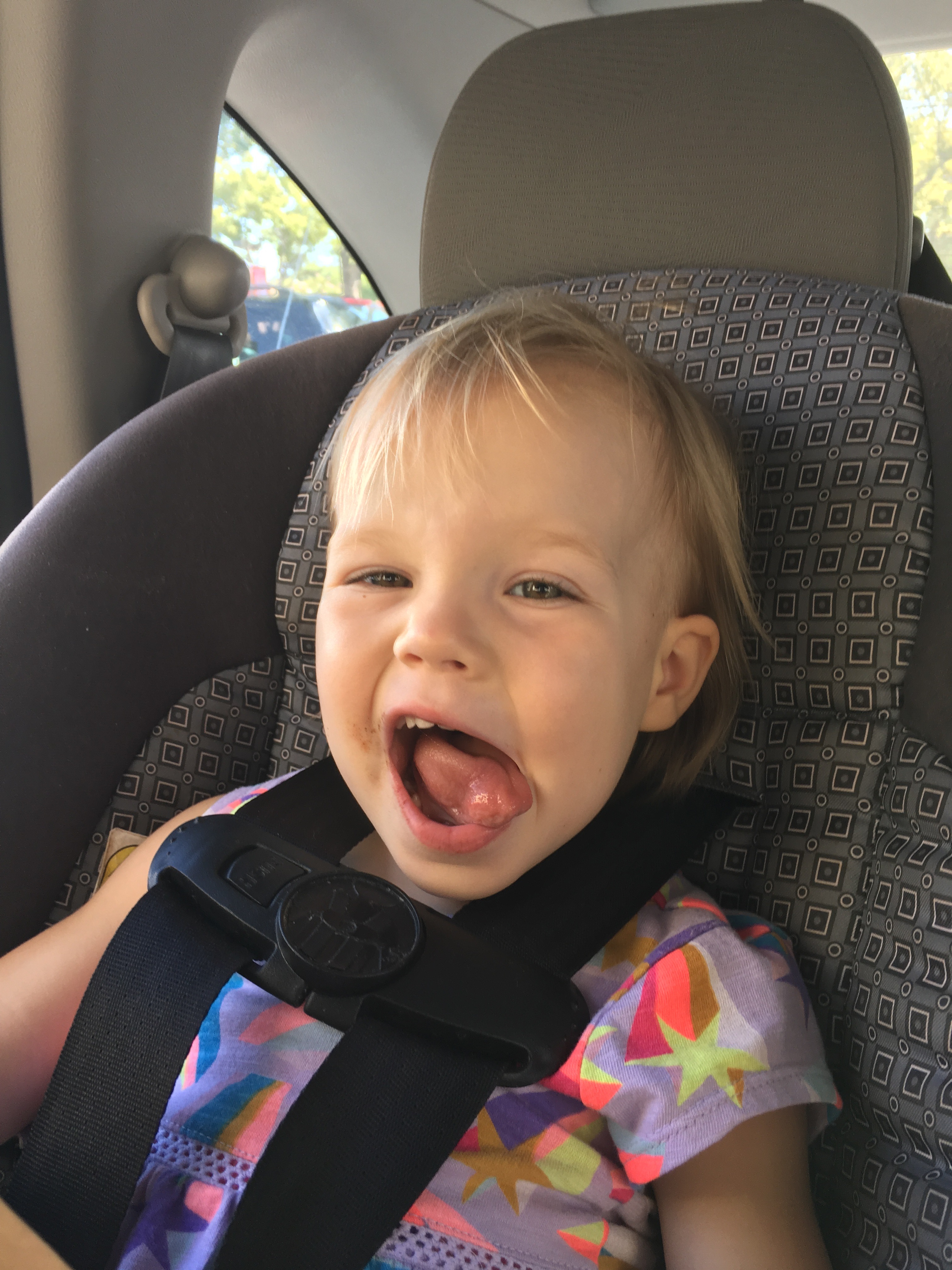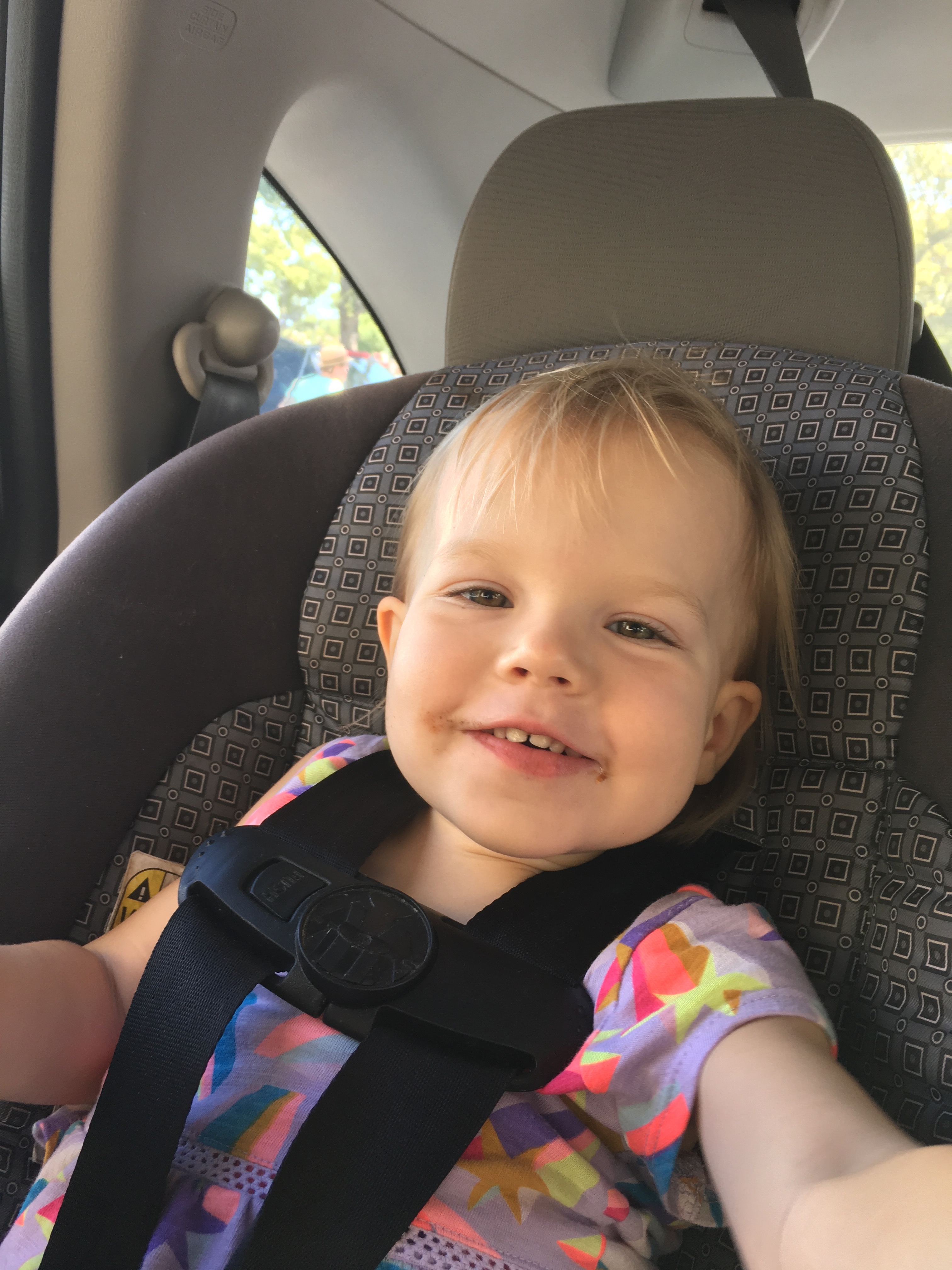 TJs had chocolate babka samples that she was VERY into.  Wednesday and Thursday she was seeming almost good again!  Hence my Trader Joe's run (and willingness to let her eat samples).  It's impossible to grocery shop with her because I can't fit her into anything but the BOB stroller and that's not conducive to holding groceries for the whole family.  But this small trip was ok because I only needed a few things (thanks to my friends and their meal train) so I just carried it all.  My biceps are going to be huge at the end of this.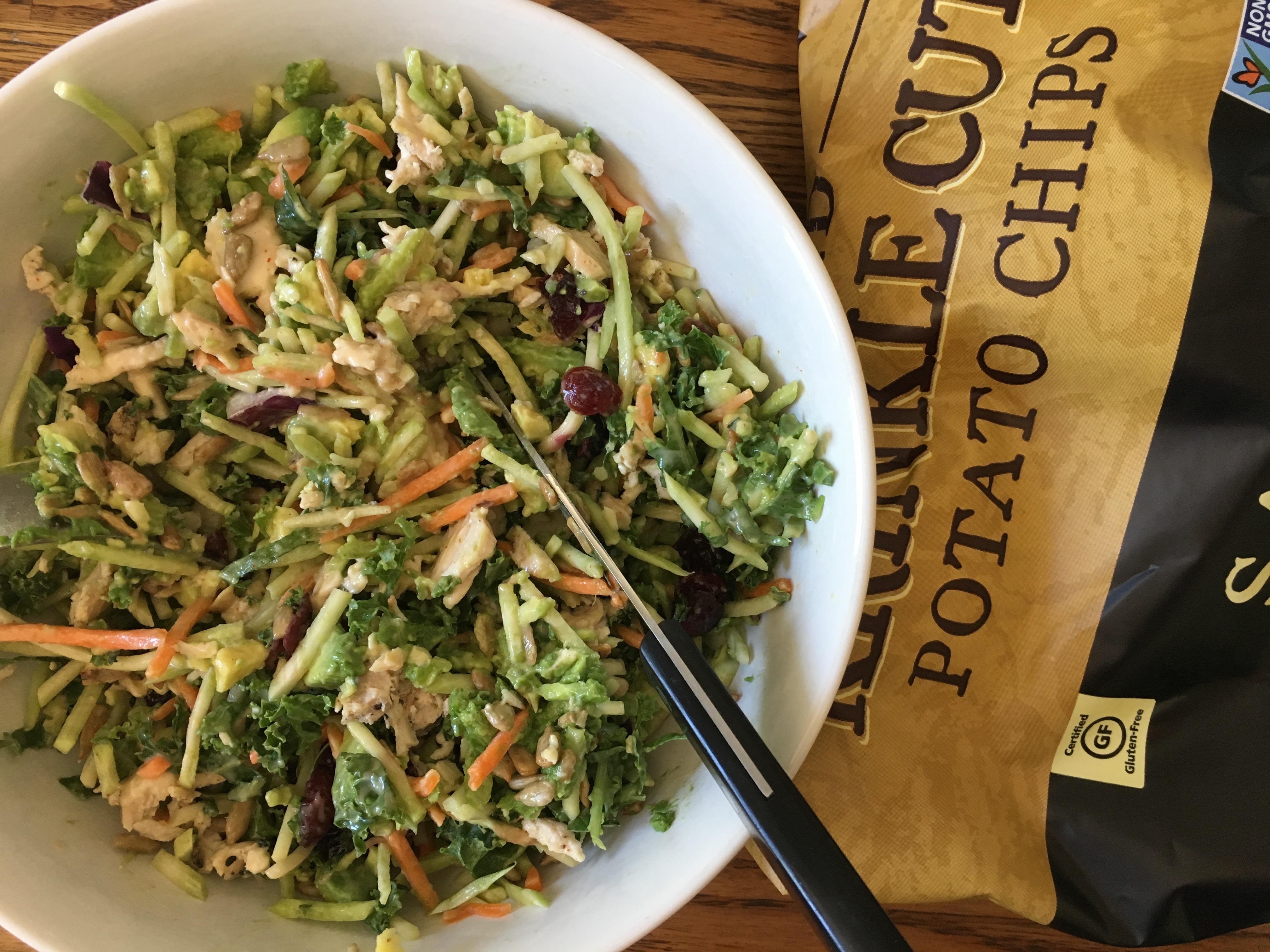 I was craving one of those TJs salads again.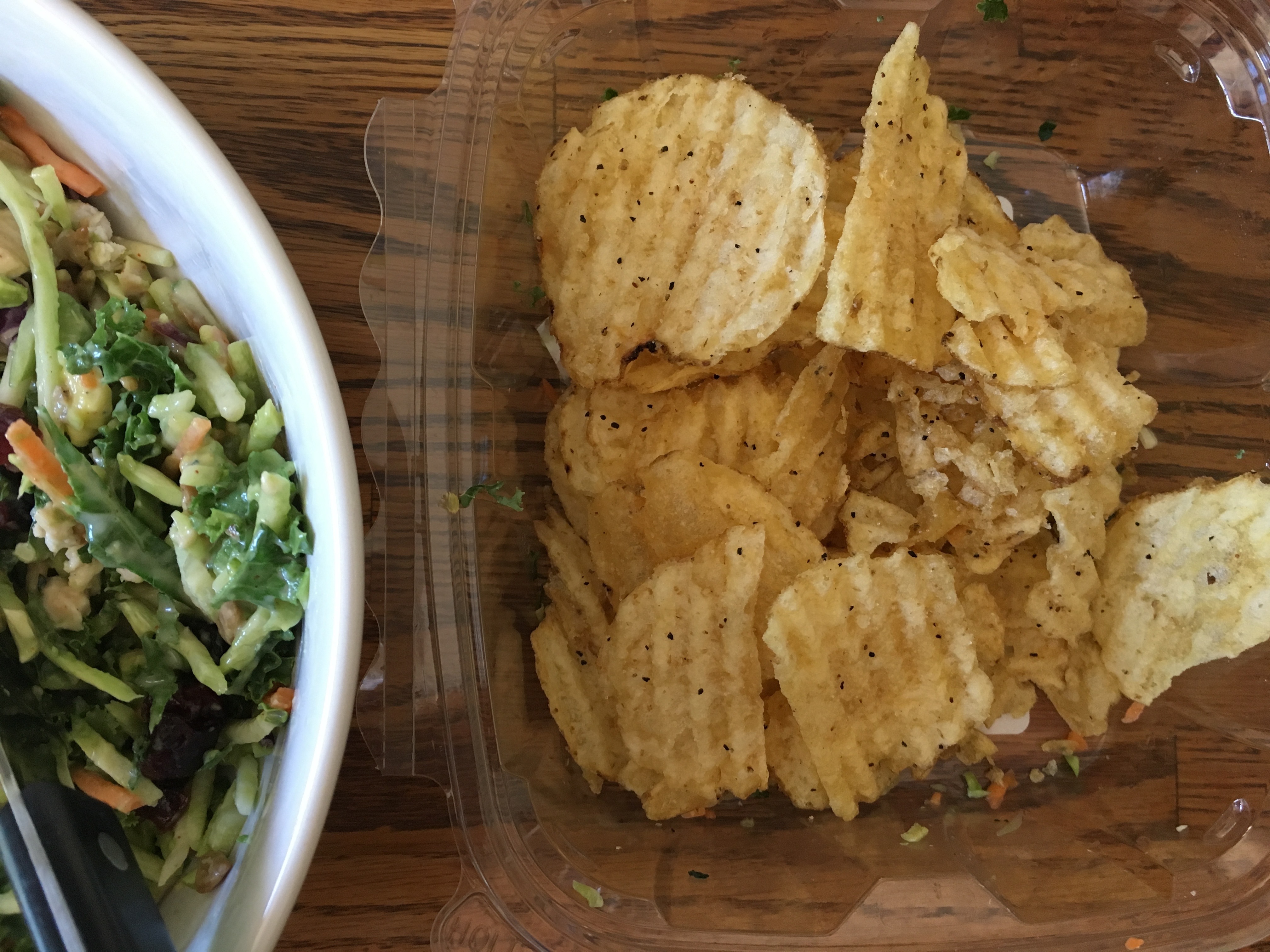 And chiiiiiiips.  I worked out hard, and needed carbs. Not that I wouldn't have eaten this on a normal (non stroller strides) day.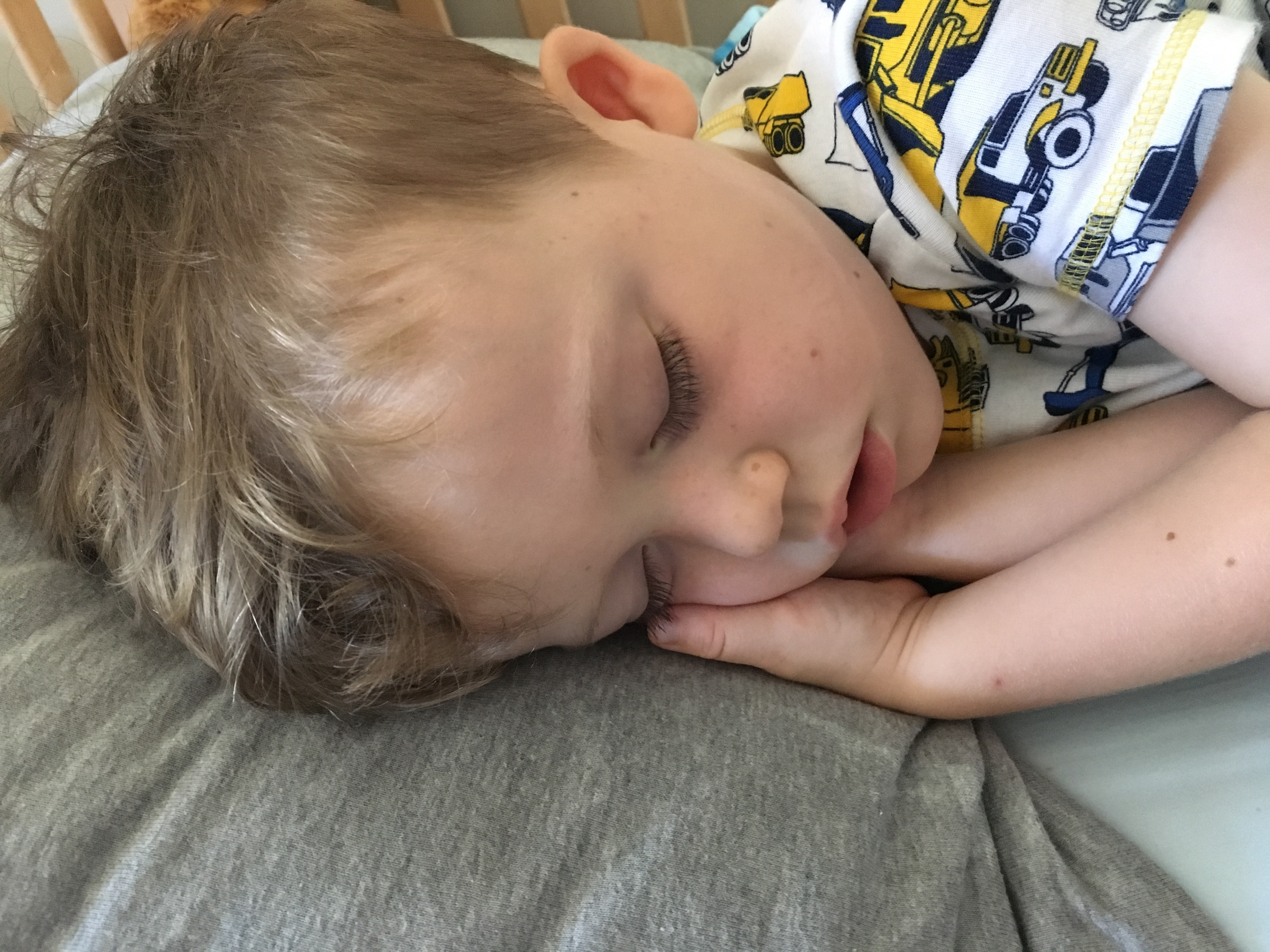 School has been working him out!  Two naps for him this week.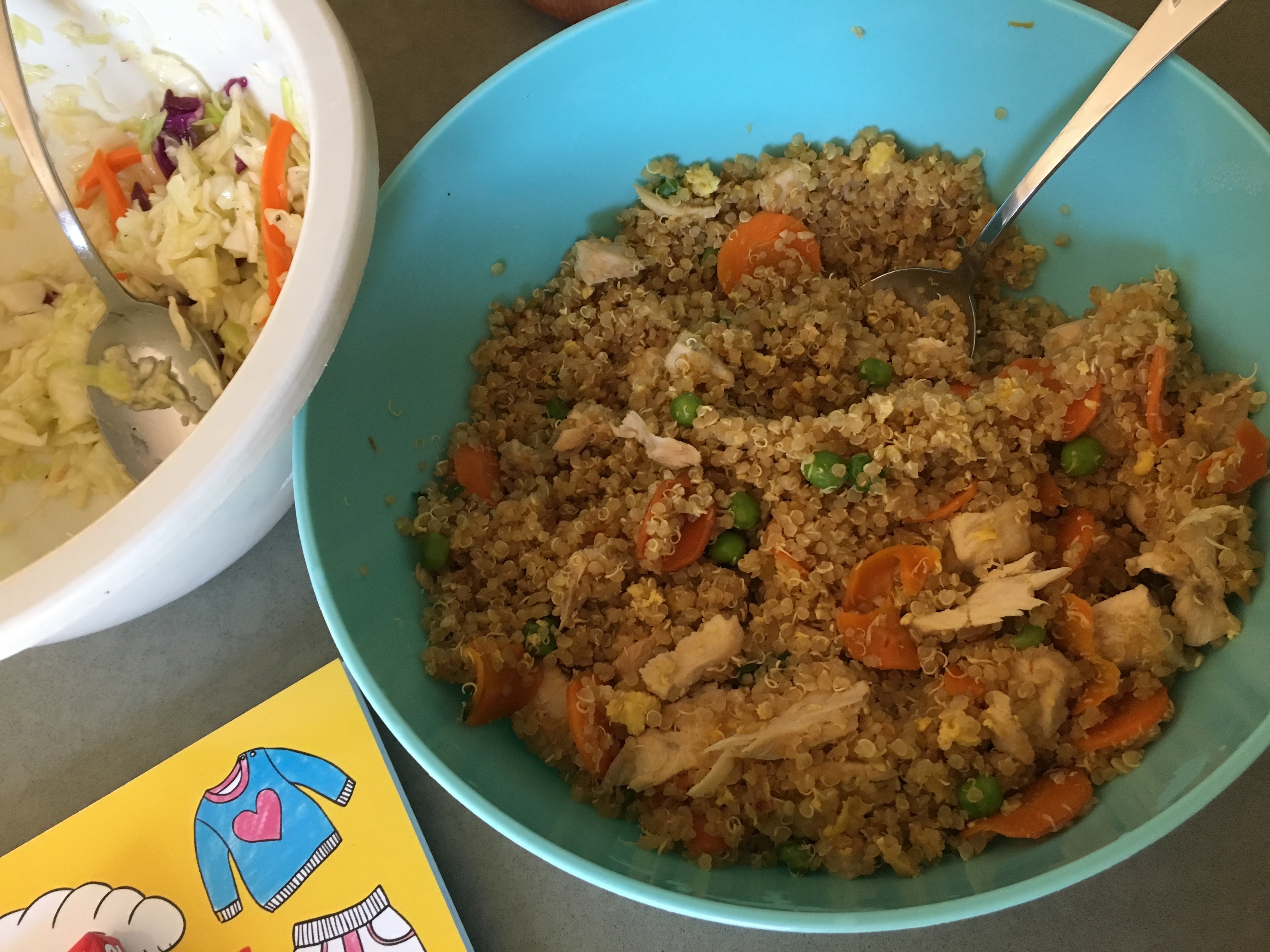 My friend brought us fried quinoa and slaw.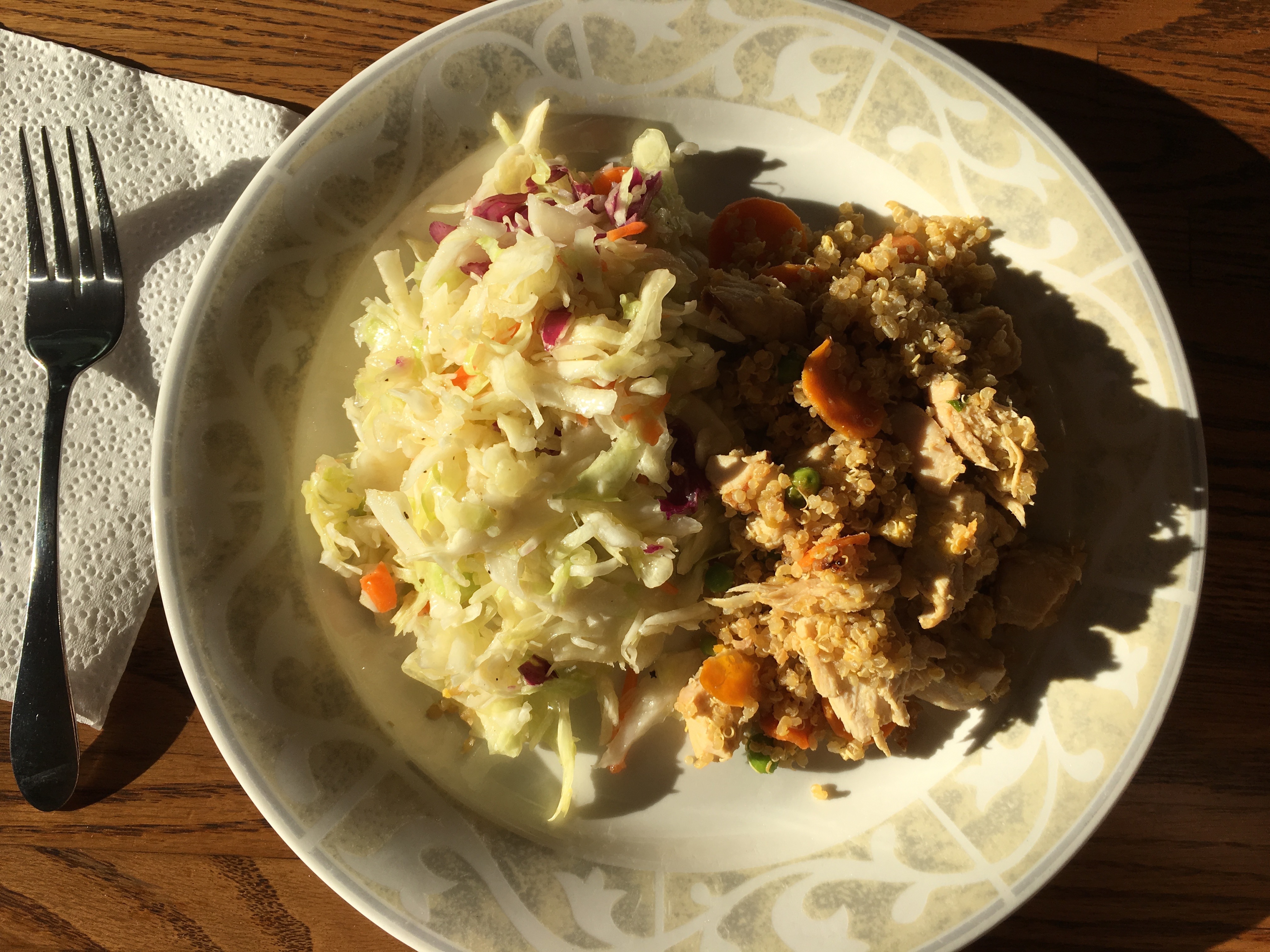 It was soooo good that I had another plate as big as this after.  Home cooking is especially comforting when you don't have to make it or clean it up.  Also, when your friends know all your dietary preferences and make things without garlic and onion…well, you know you have good friends.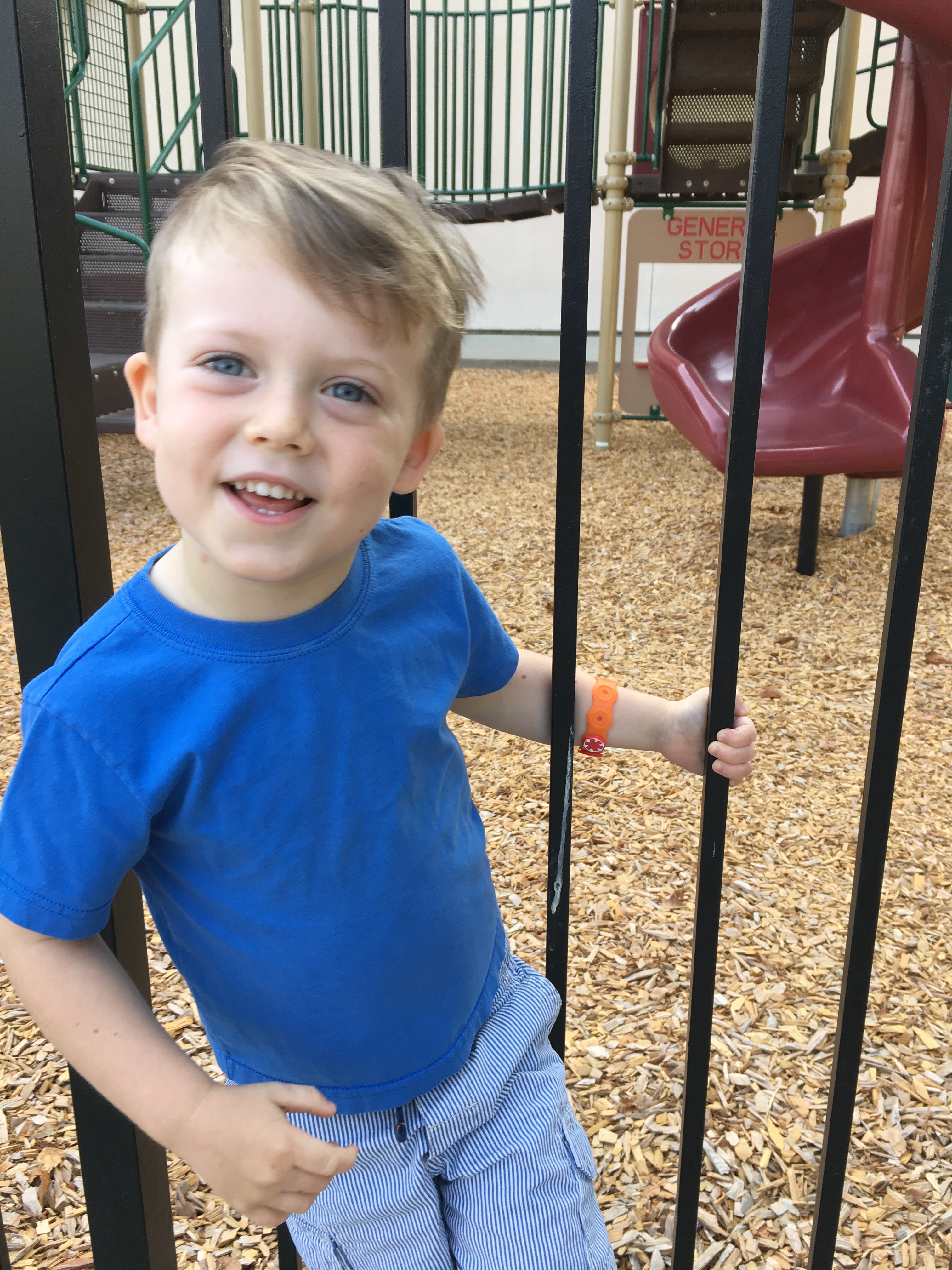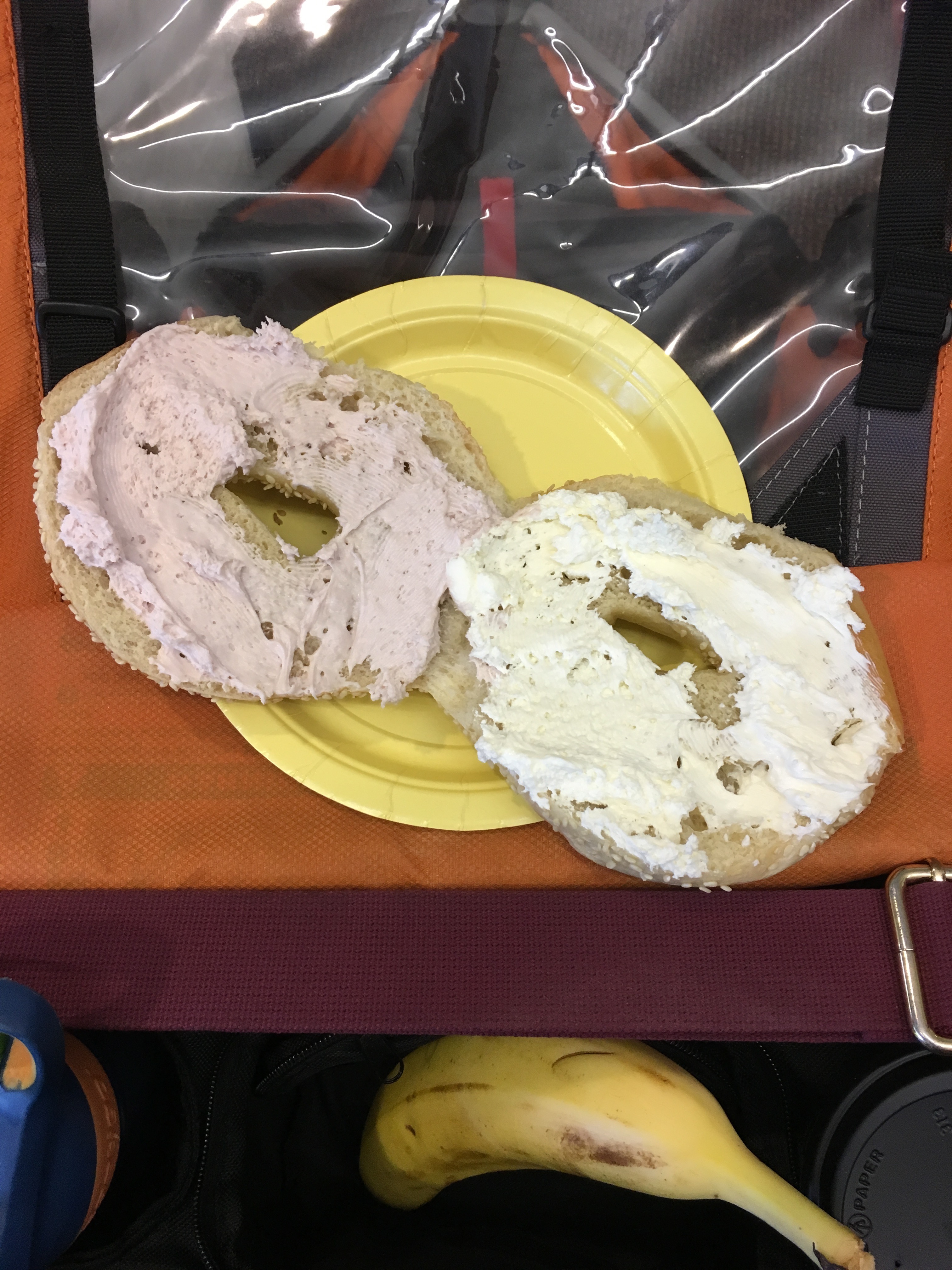 After preschool drop off his school hosted a coffee and breakfast date for the parents of all the classes.  I can't even tell you much I love his school.  I wish it went K-12!  The community it creates is exceptional – everyone is included and welcomed and you feel warmth emanating from the staff with each encounter.  He was waitlisted here all last year so I'm just SO HAPPY he got in.  It feels like he is exactly where he belongs.  I had a sesame bagel with strawberry cream cheese on one half and regular on the other half.  Dairy and wheat in overload, but I didn't care.  You have to live a little, even if it means the next morning you will have some major bathroom time.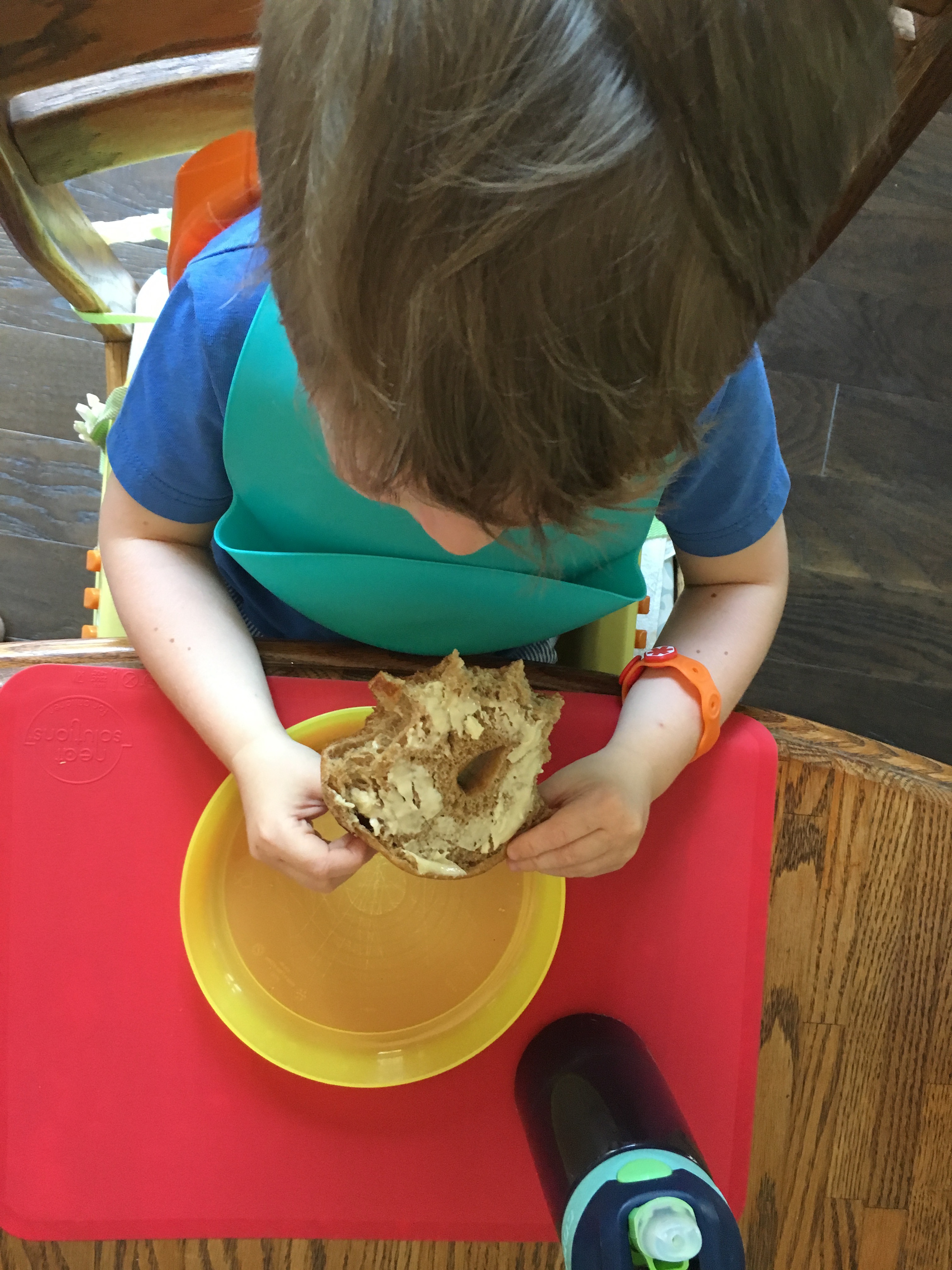 I swiped an extra bagel for the kiddos to share for lunch.  I spent the whole morning with friends at the coffee date (and then we continued the party at Target until pick up) that I didn't have time to make them anything real, so it was nice to be able to grab something pre-made from a bakery.  Thanks to OIT, Pattycakes can eat things like this now!  I added Earth Balance and then sliced up cucumbers and strawberries and called it a meal.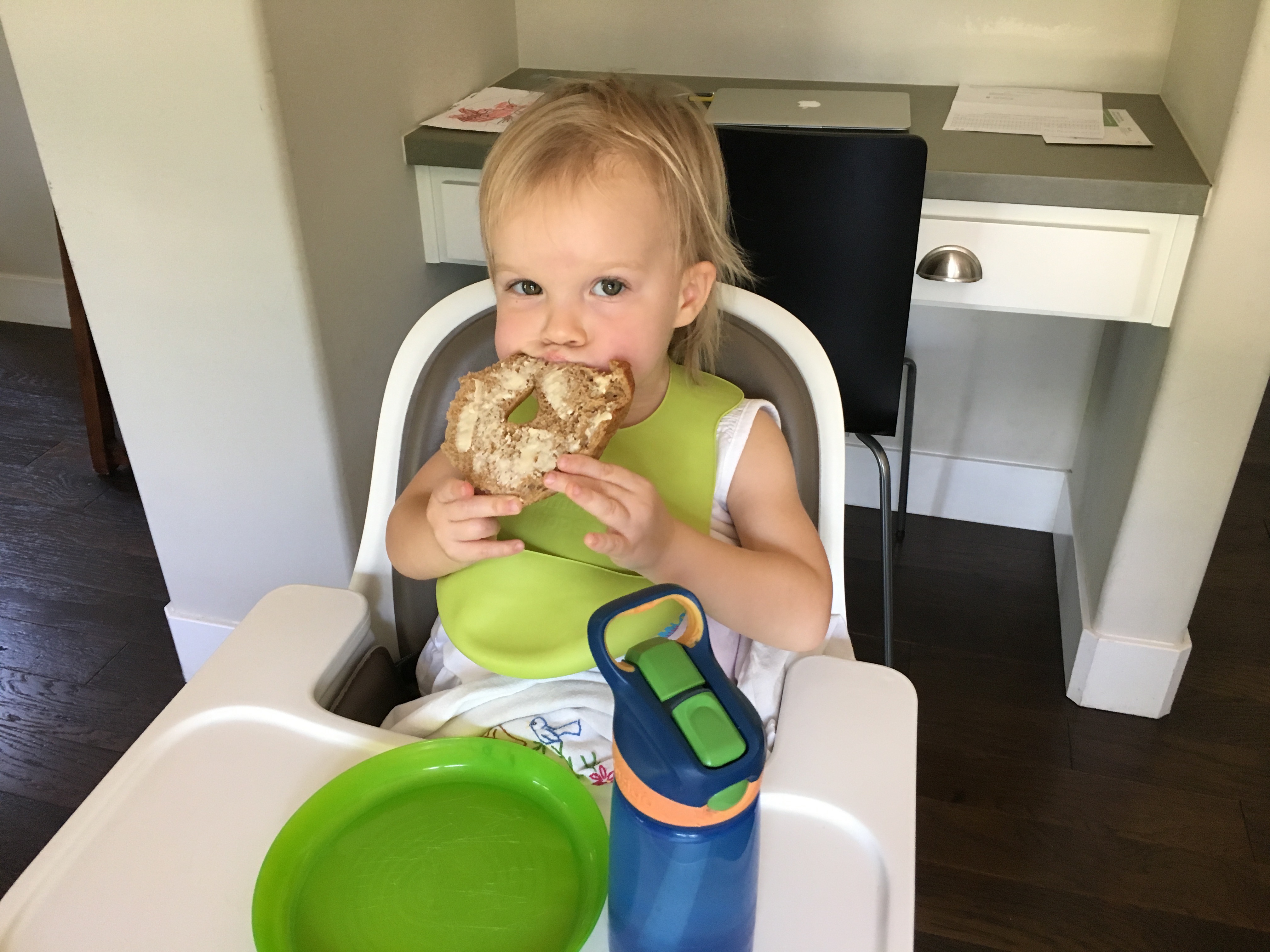 Her first bagel??  I can't think of when she would have had one before this, but my memory isn't amazing.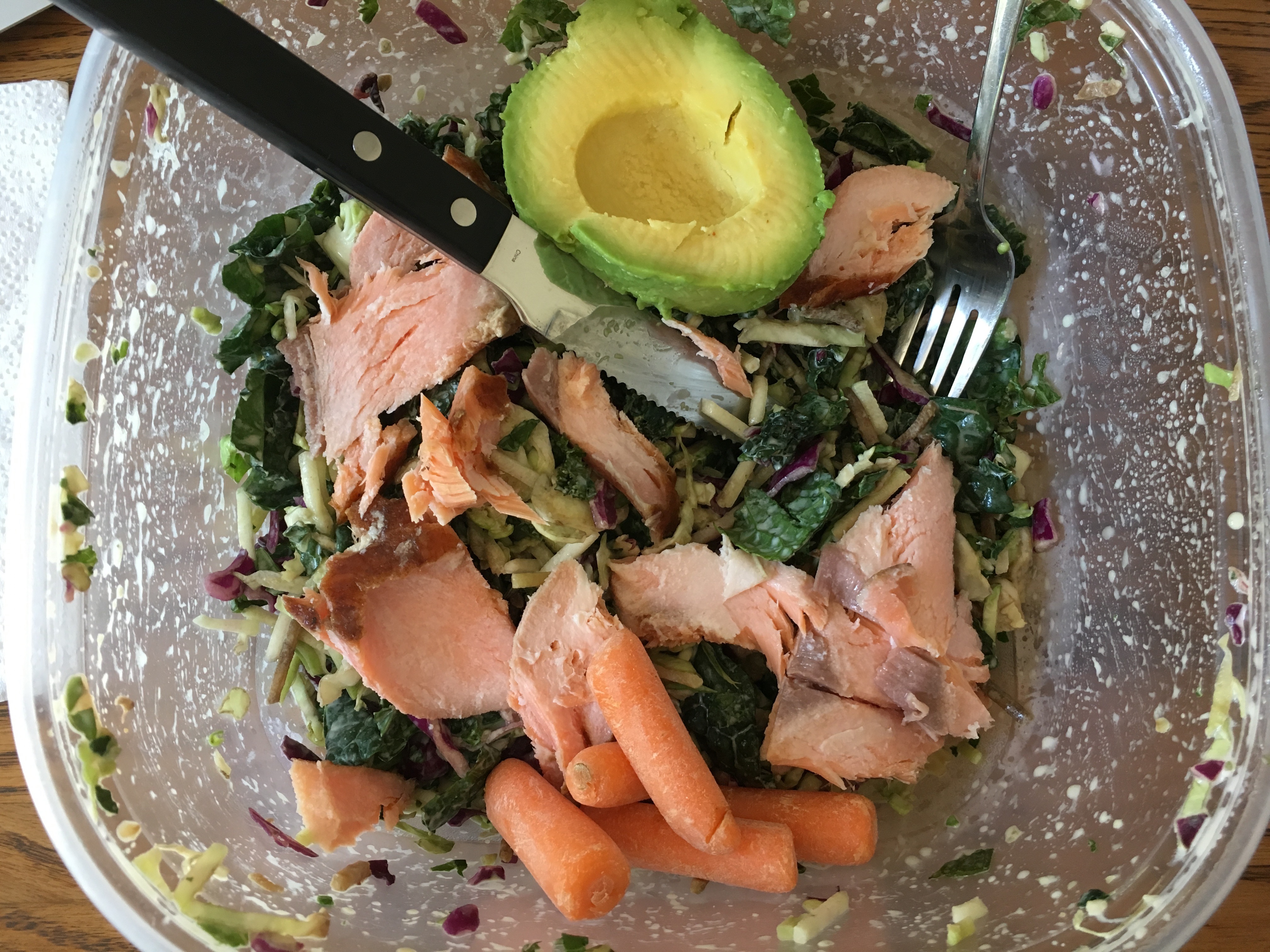 The rest of the same salad I made the day before.  You know how much I love soggy salad.  Mmmmm, massaged kale.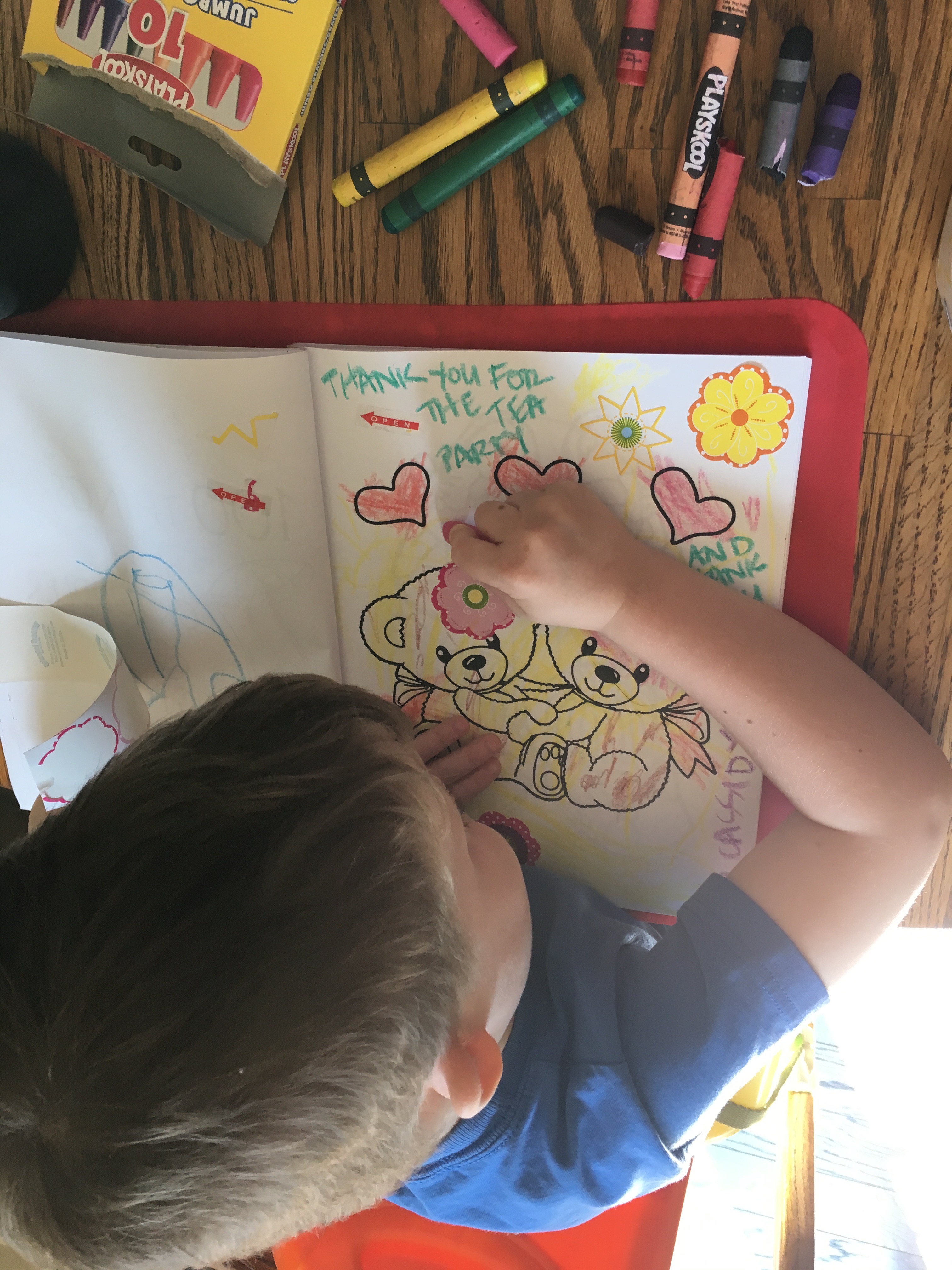 Every day we crafting.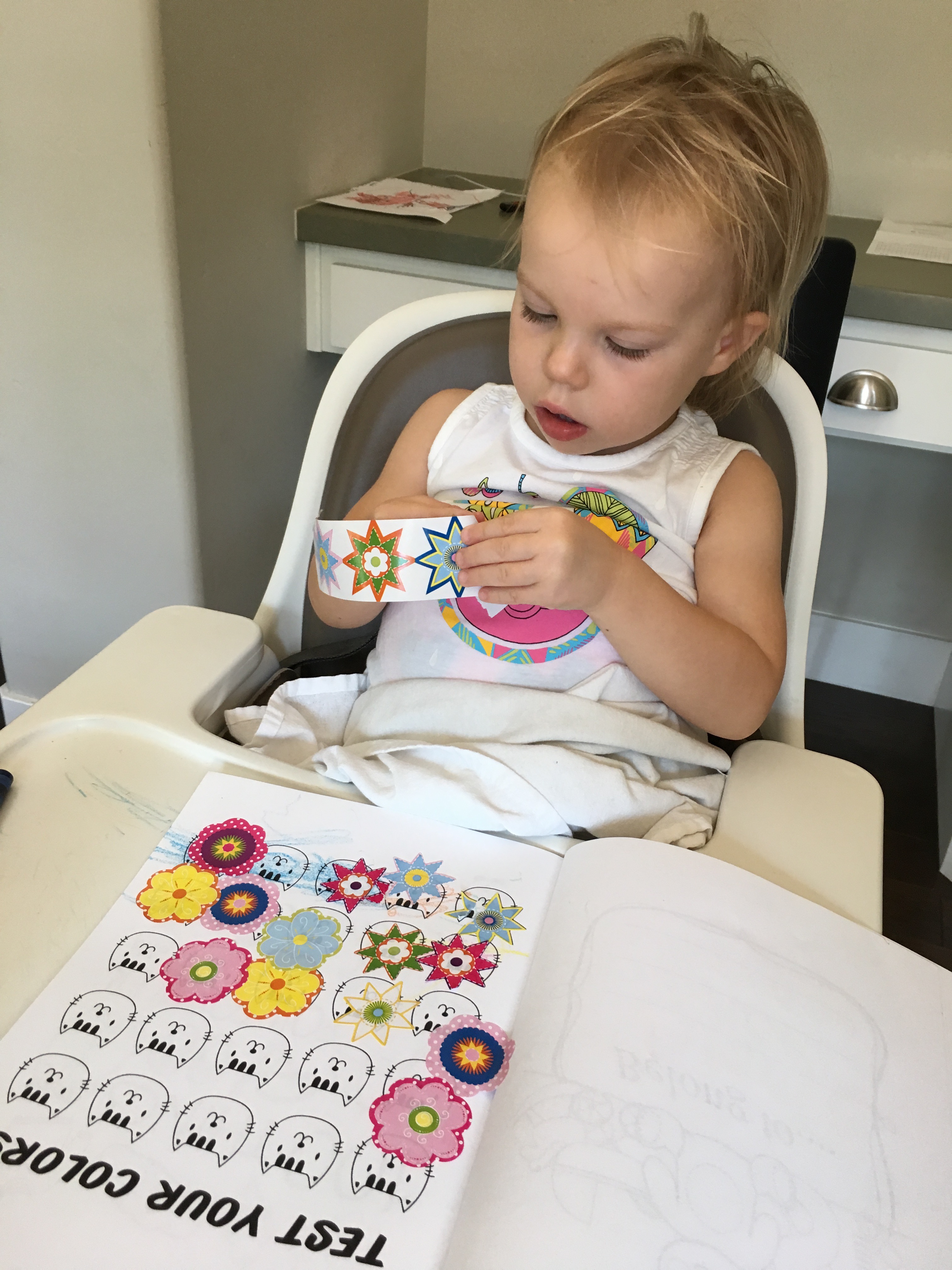 They aren't tired of it so whatever!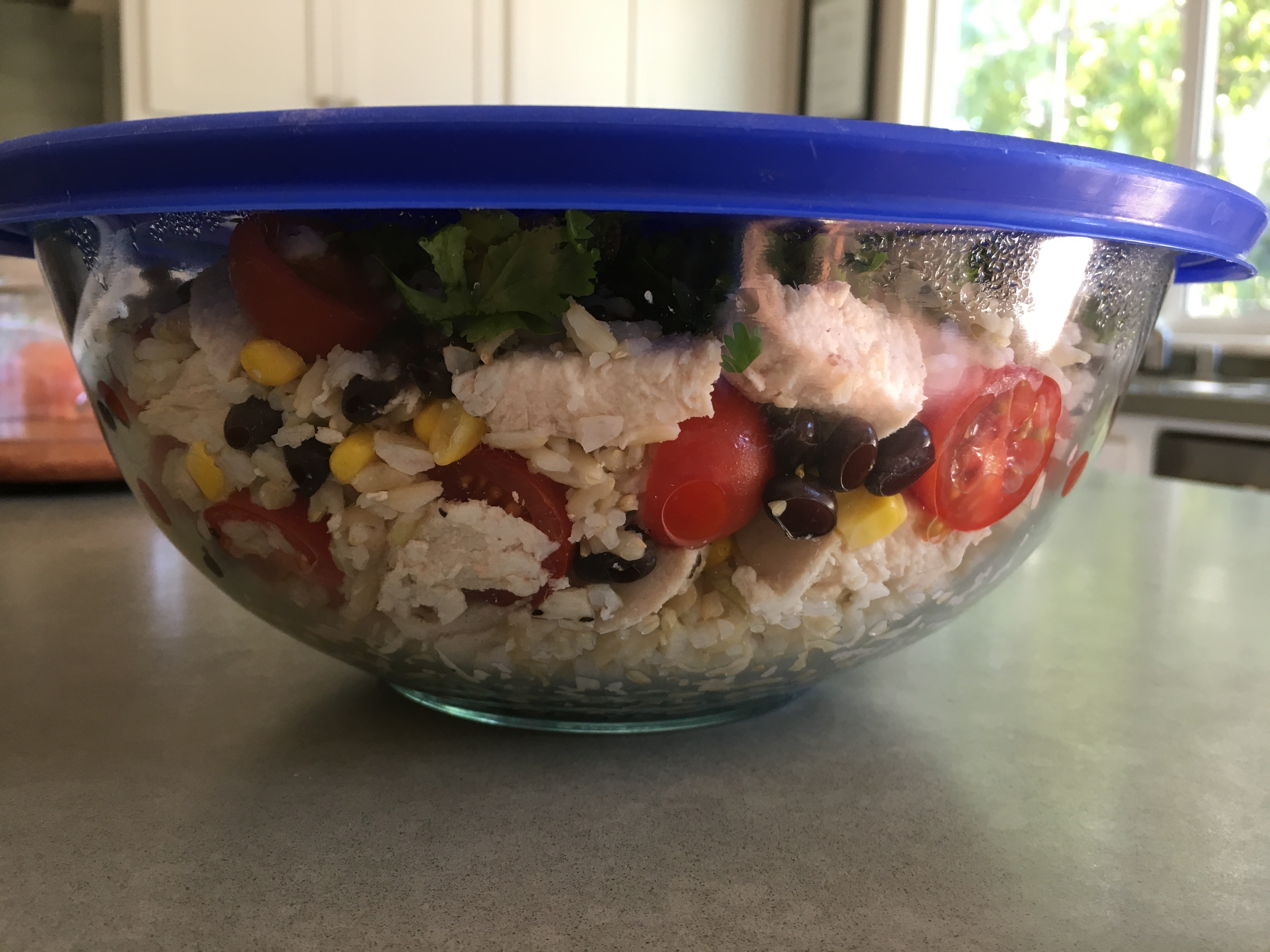 A friend came by with dinner 🙂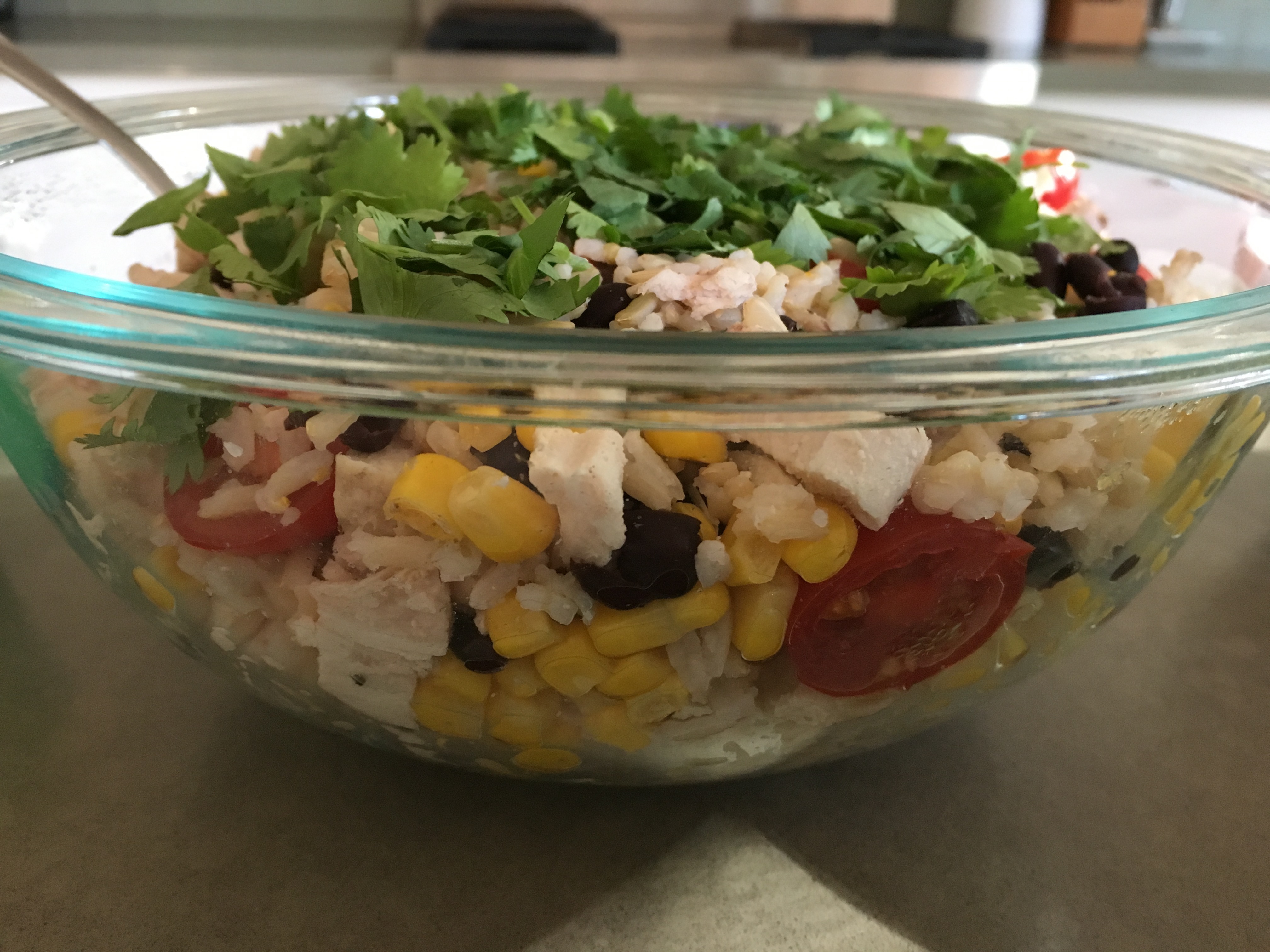 Check out this lovely layered dish with brown rice, corn, black beans, tomato, chicken and cilantro.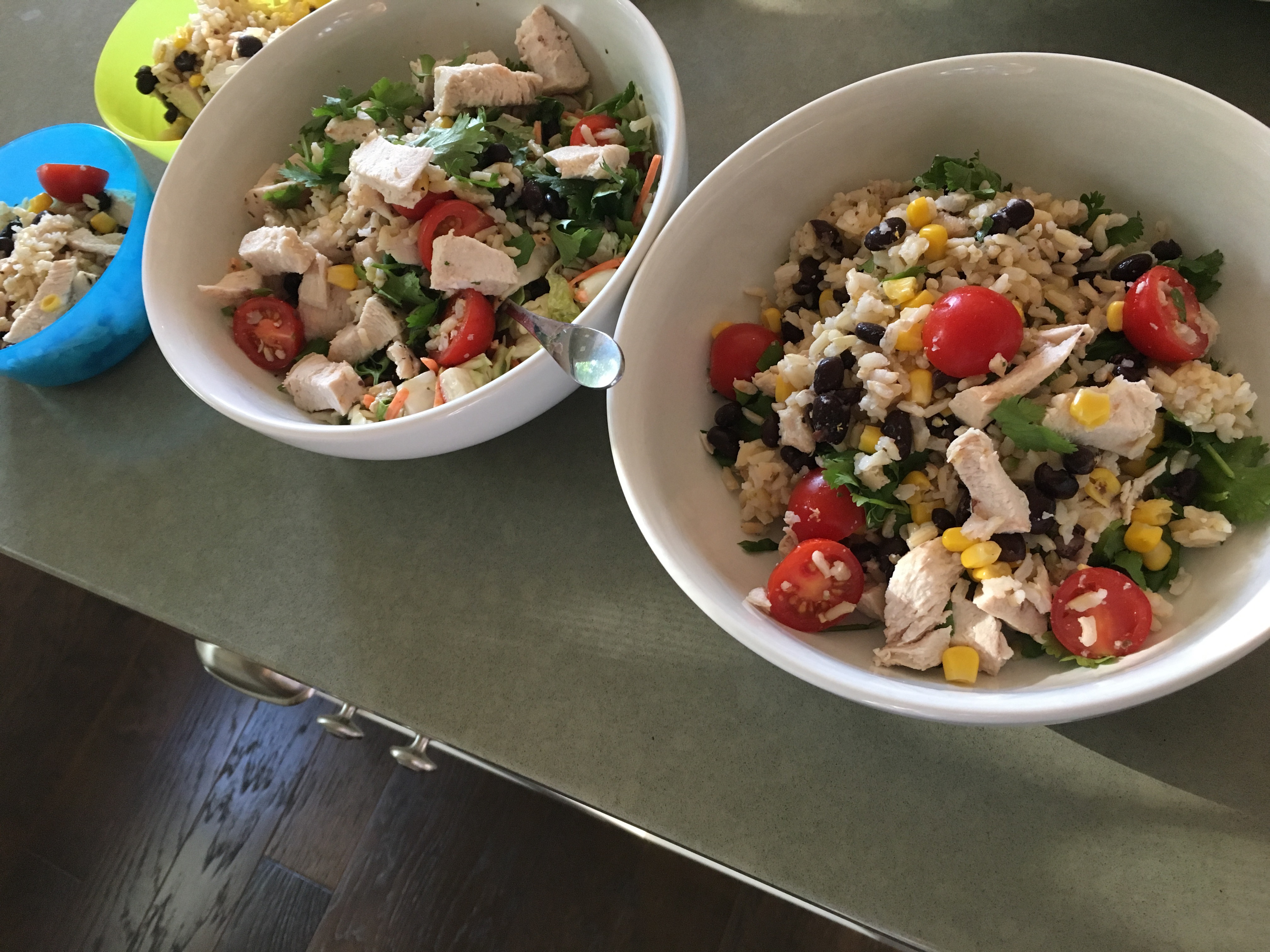 I added some avocado cilantro dressing that I had leftover to make it the most amazing burrito bowl ever. Unfortunately I saw this coming out V for the next 30 hours so it's not as thrilling to blog about now.  Both kiddos loved it and had triple portions.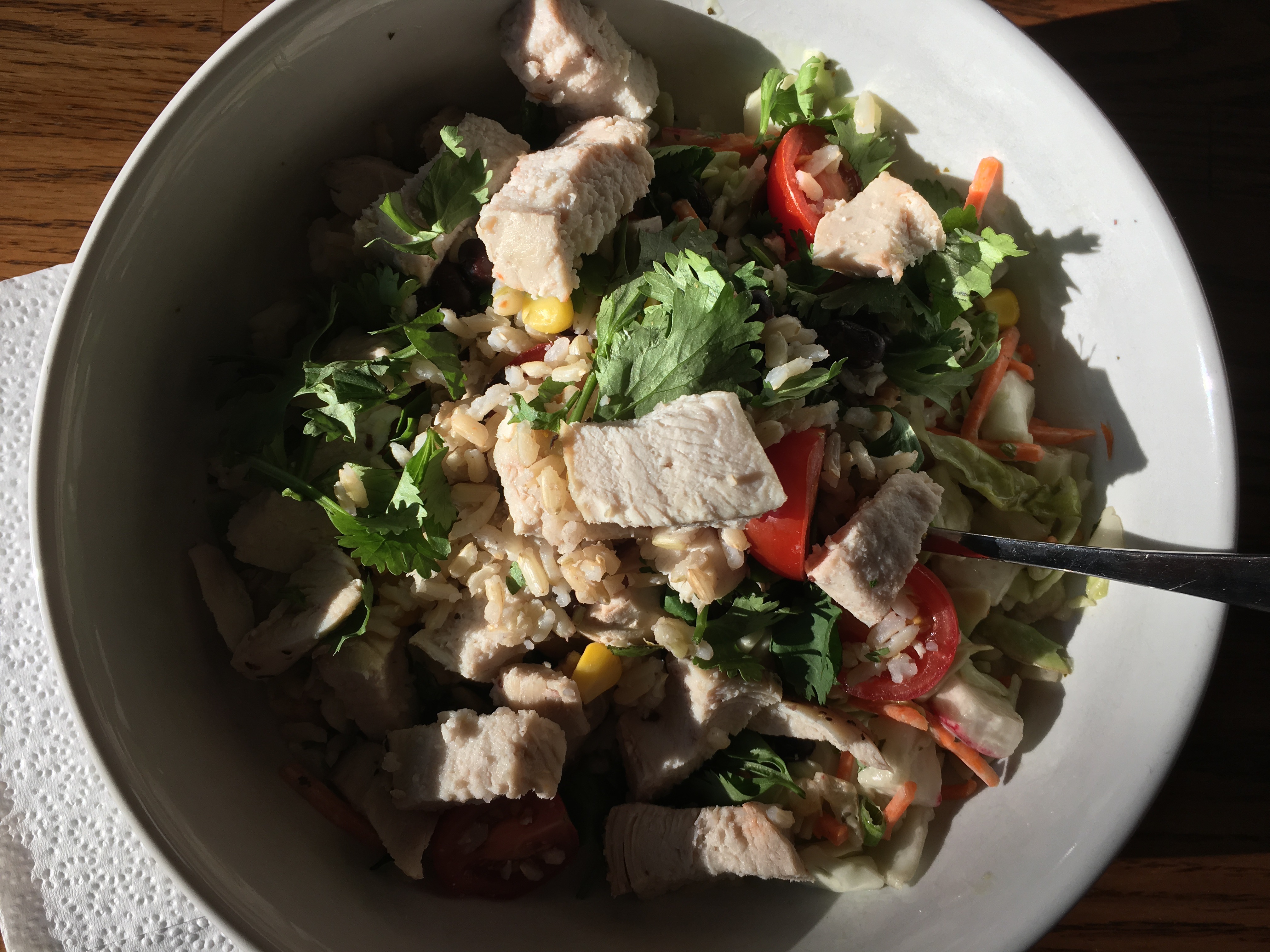 Mega chocolate sesh to satisfy my sweet tooth.  I had spent the rest of the day mopping the stairs and cleaning our bathroom from top to bottom (don't ask) so I was really tired by 9 pm.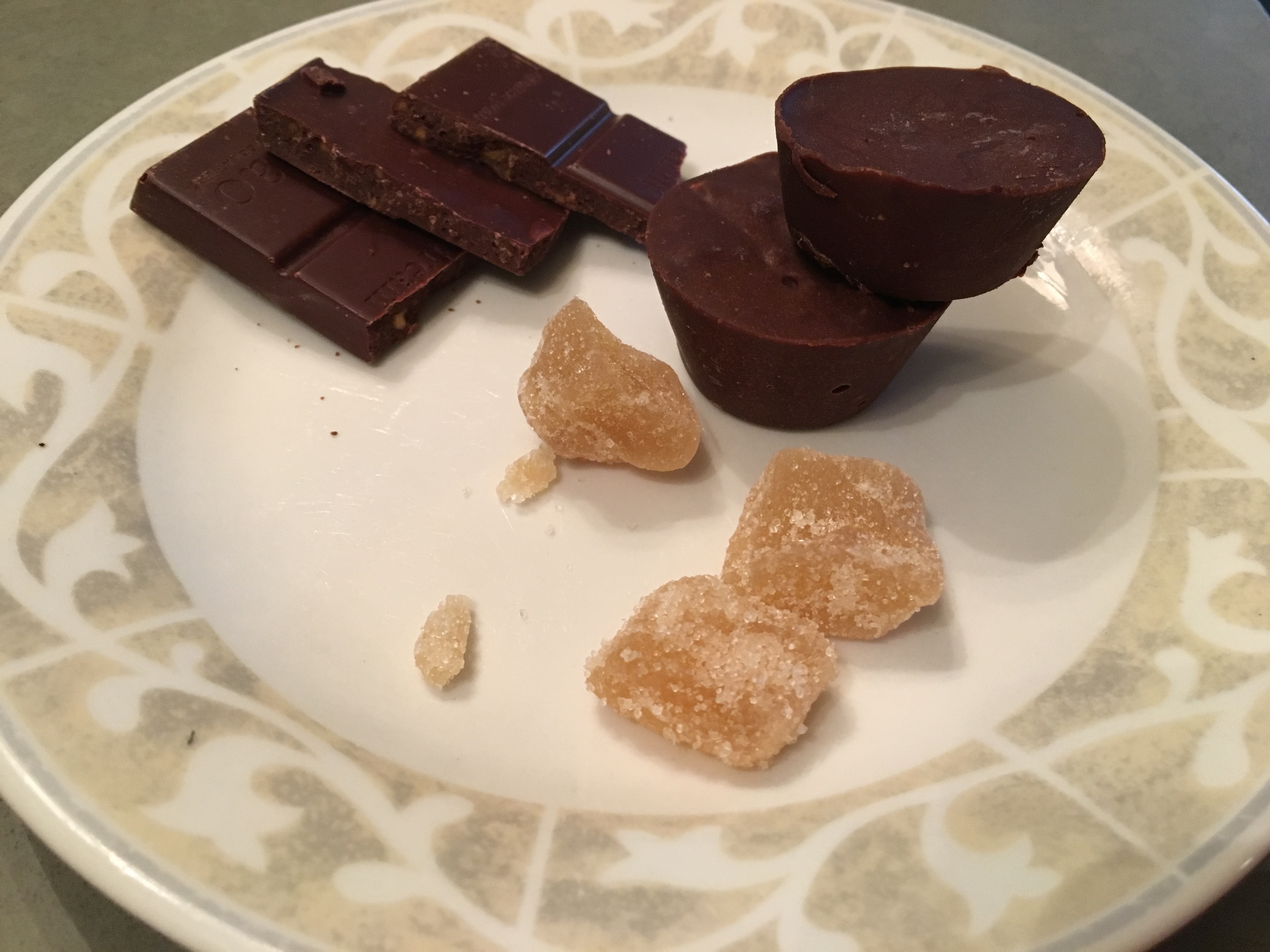 We went to bed early that day, but the joke was on me because I was up all night long with poor Valley girl. My arms (and whole body) were dead tired the next day.  I went on a walk with her at 6:45 AFTER feeding P breakfast because I didn't know what else would calm her down or distract her. She was in agony.  It was so sad. But once we were out of the house she was great.  Hesitantly, I took them both to stroller strides. This was the only thing that kept me from melting down the rest of the day.  Because it pretty much all went downhill from here.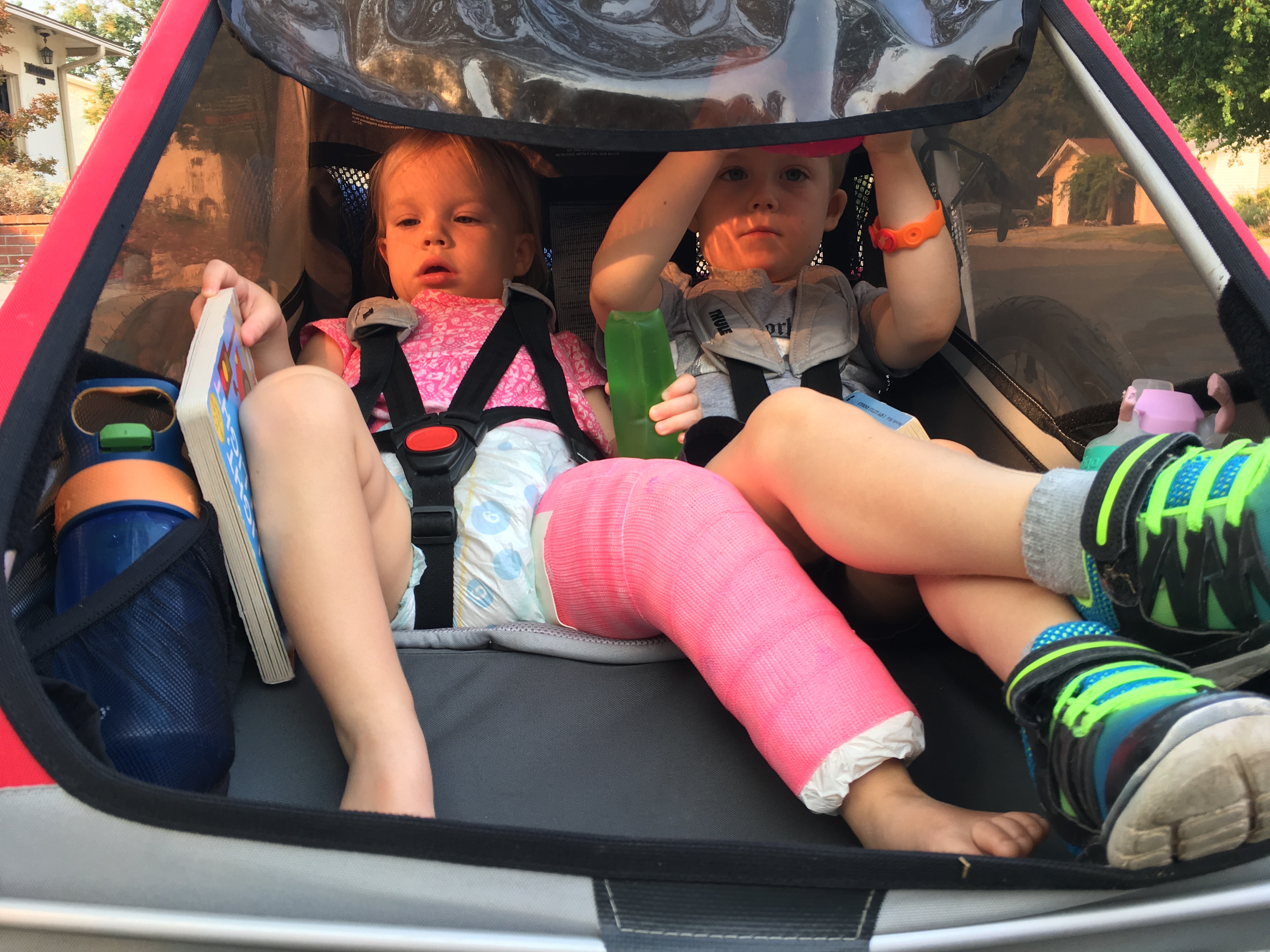 This was the first time they were both in the chariot.  Look how good he's being avoiding her cast that takes up most of the space.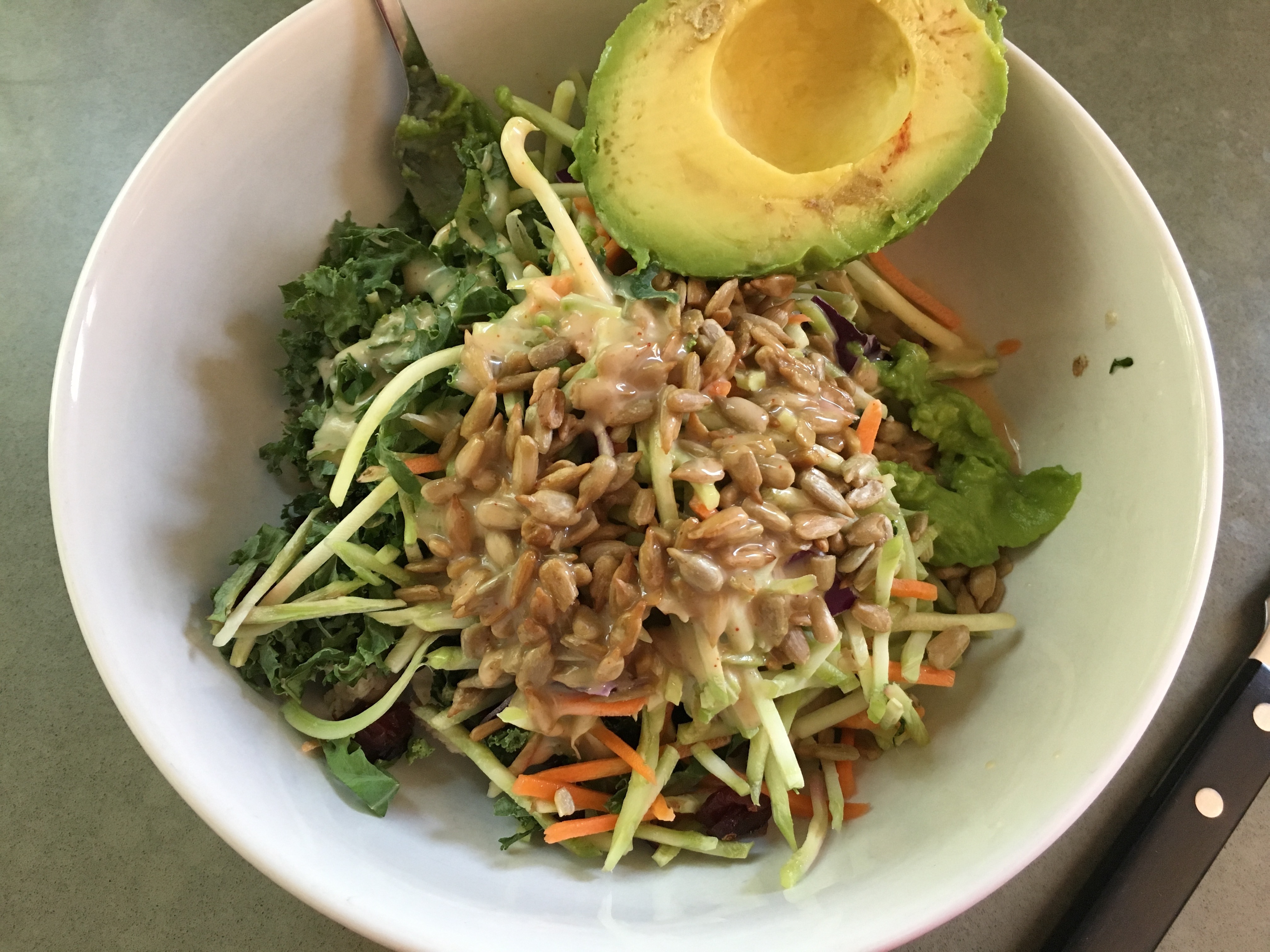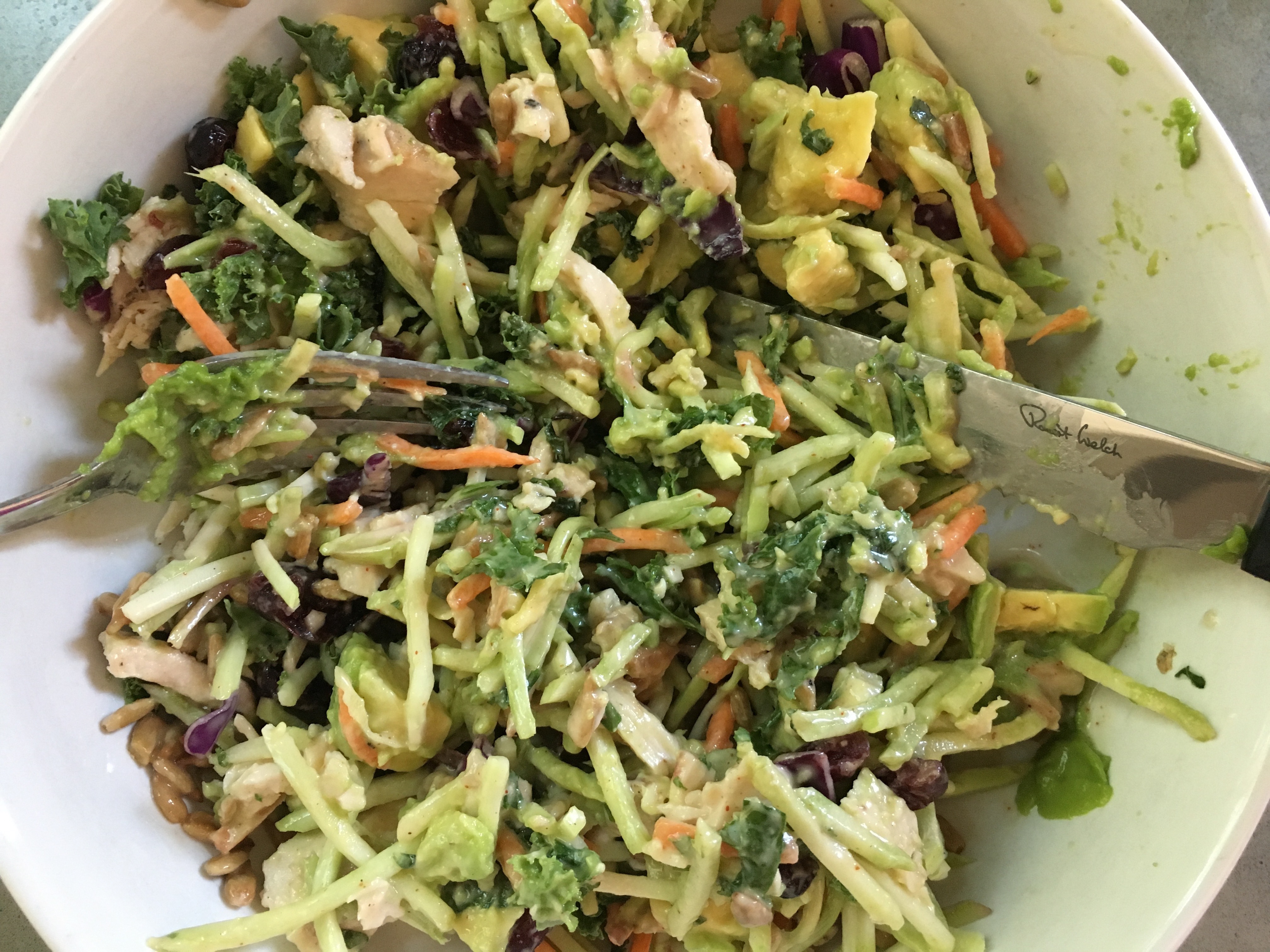 I put V down early because she was way tired being up all night, but she only slept 45 minutes before waking up with mega stomach pain. Luckily I had a TJs salad ready to go and ate it before she woke. From then on…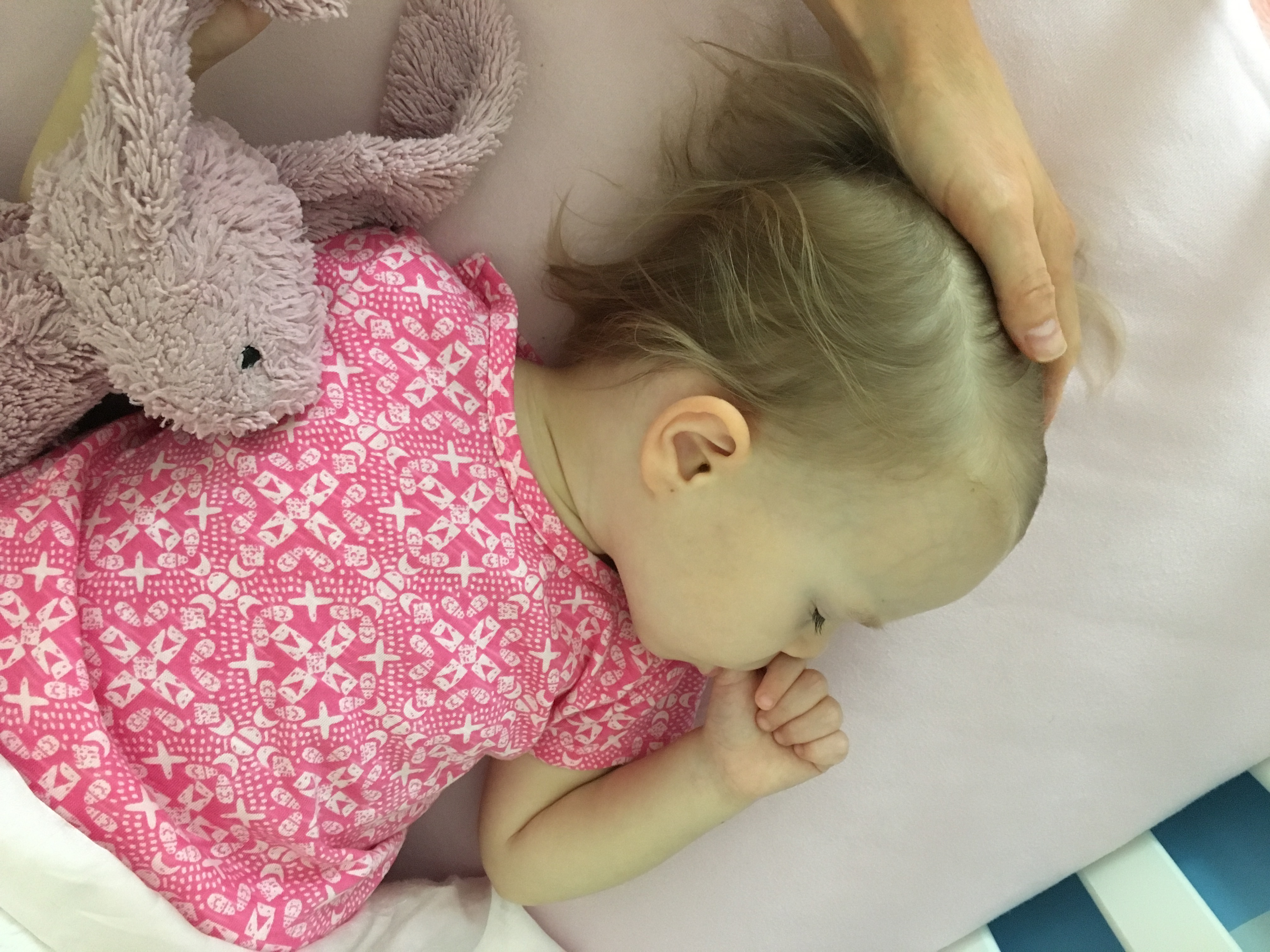 I was just doing anything and everything to make her feel better.  This photo was one of the sweetest moments. She actually fell asleep.  For maybe 3 minutes.  Until her GI pain woke her up again. This went on and on and on.  P was playing on his own "quiet time" so for the time being I was able to have all my attention on her, but I was very glad that my sister was on her way because I knew there was no way I was going to be able to take care of both given V's turn for the worse.
The afternoon went by so slow and so fast.  Kyle's friends were meeting at our house before leaving for a weekend in LA, so it was kinda chaotic as my nursing brain wrestled with my mom brain on whether or not I needed to go into the hospital.  She was writhing in pain for hours and hours without any resolution.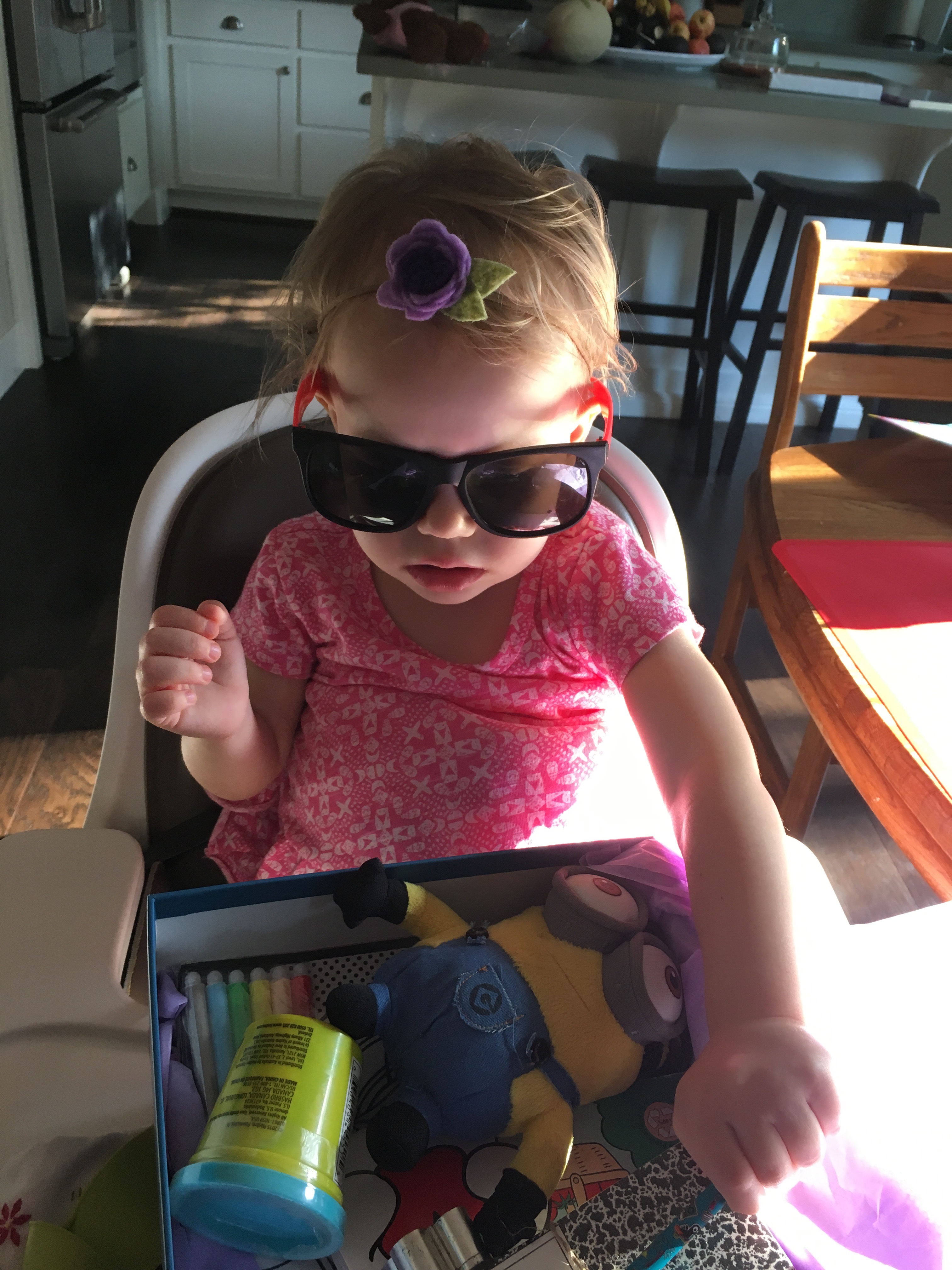 She had these brief moments in which she didn't seem to be in blinding pain, which gave me hope that it wasn't more serious…but I was SO NERVOUS.  I even tried TV and that didn't distract her from the pain!!
It was purely a waiting game.  I had no idea of what else to do.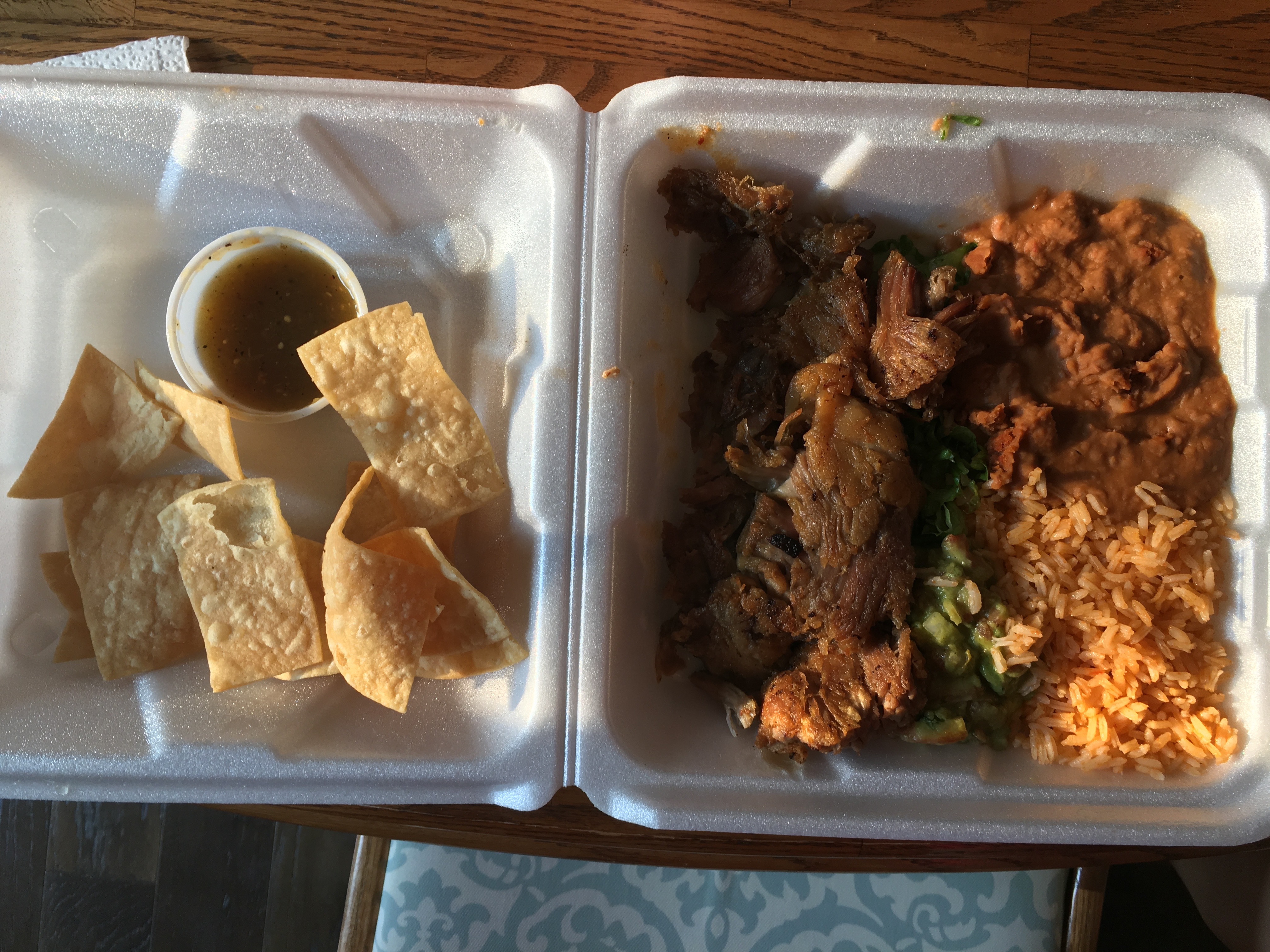 Guadalajara dinner plate for me!  Thanks sister.  🙂
I used the tortillas that came with mine to make burritos for P.  I gave V a plain tortilla against my better judgement. She wanted food!  After each bite she would shriek out and then go back for more.  So confusing!?
Finally I gave her a sink bath and put her in bed.  My sister took care of everything else with P – his bath and dose and quiet time – because for the following TWO HOURS I was doing nothing but changing her diaper over and over and over.  Each time tucking her in to bed after and petting her hair until she dozed off.  Until her sleep was interrupted with an enteritis episode and then we repeated the whole cycle again.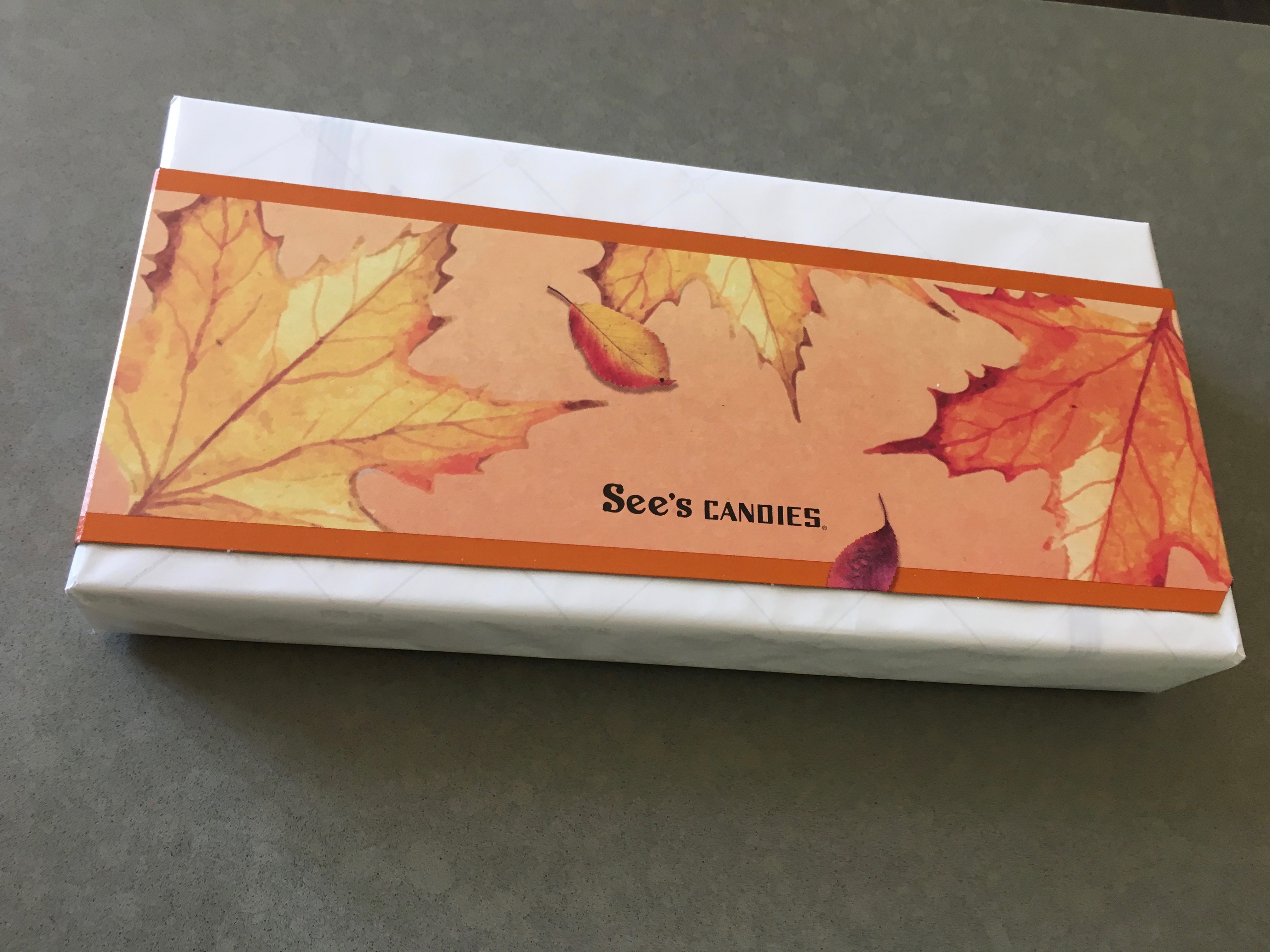 Thank goodness for See's.  And sister's who bring See's.  And brothers-in-law who tell their sister to bring See's.
And then when she was finally empty, she slept from 9 pm to 6 am!!!!!  Hooray!!!!!
I vowed to NOT give in to her demands for food the next day no matter how persuasively she begged.  Clearly her gut needed rest in a major way.  She wasn't able to see that, but I had to be strong.  Oof.  Hungry V is not a fun V.  She gets that from her mama.
My sister spent the night so she played with the kids while I went on a bike ride.
A good night's sleep + exercise + a shower = a whole new Elise.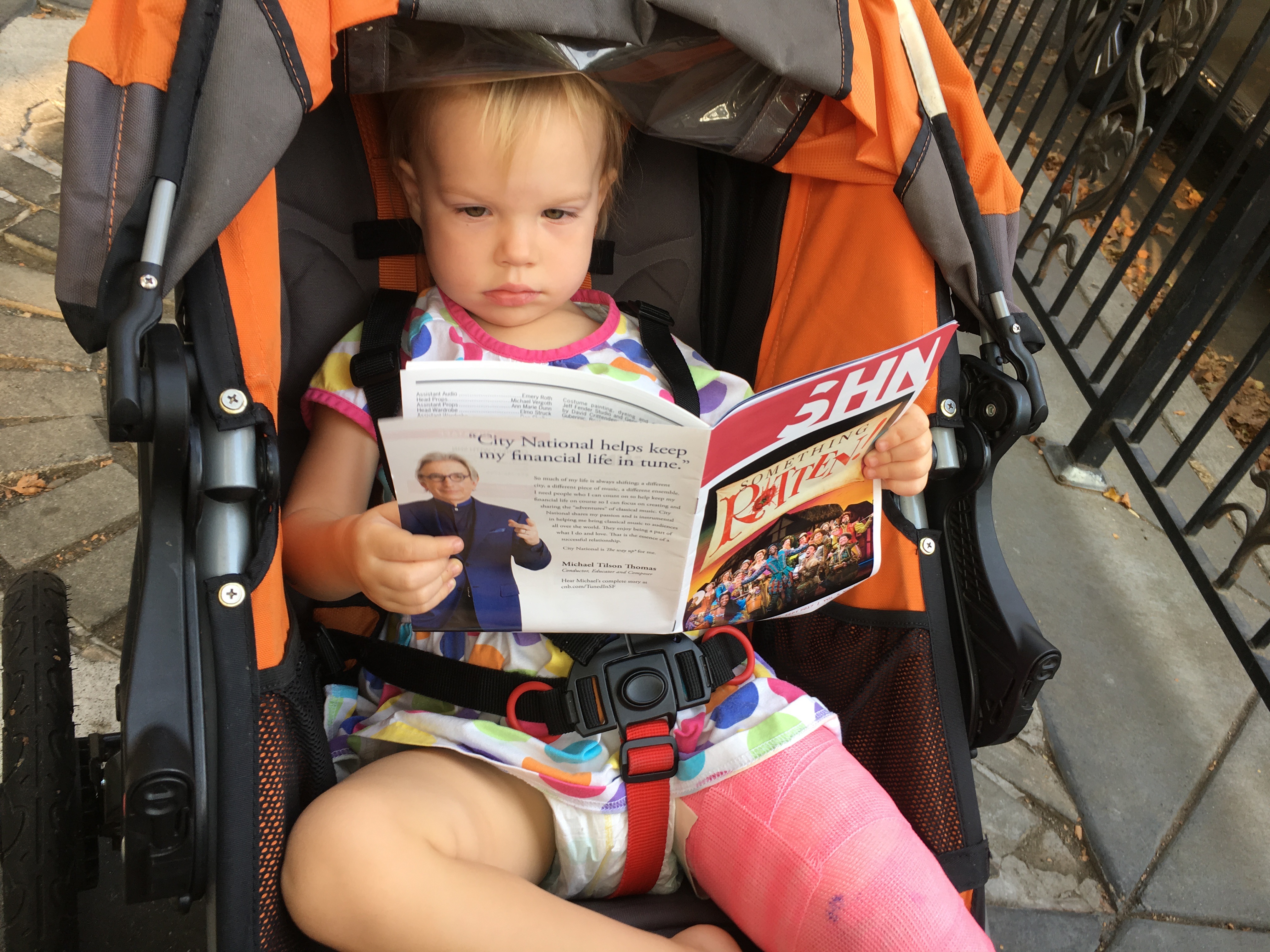 We went to Crepeville for breakfast.  V was not thrilled about everyone eating in front of her.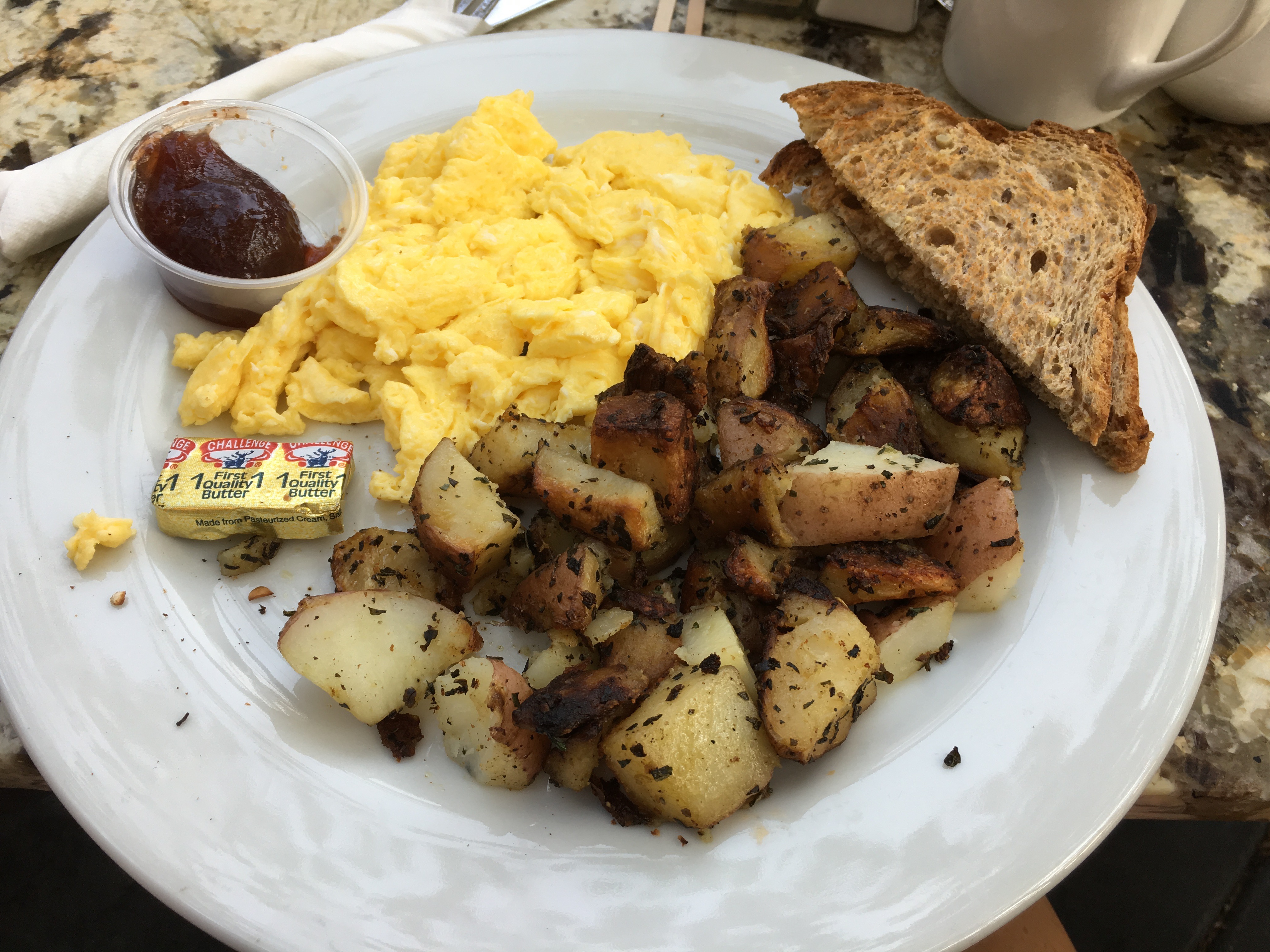 I got two eggs (scrambled) with potatoes (they make the best potatoes) and toast. I gave my toast to P. Along with a side of bacon.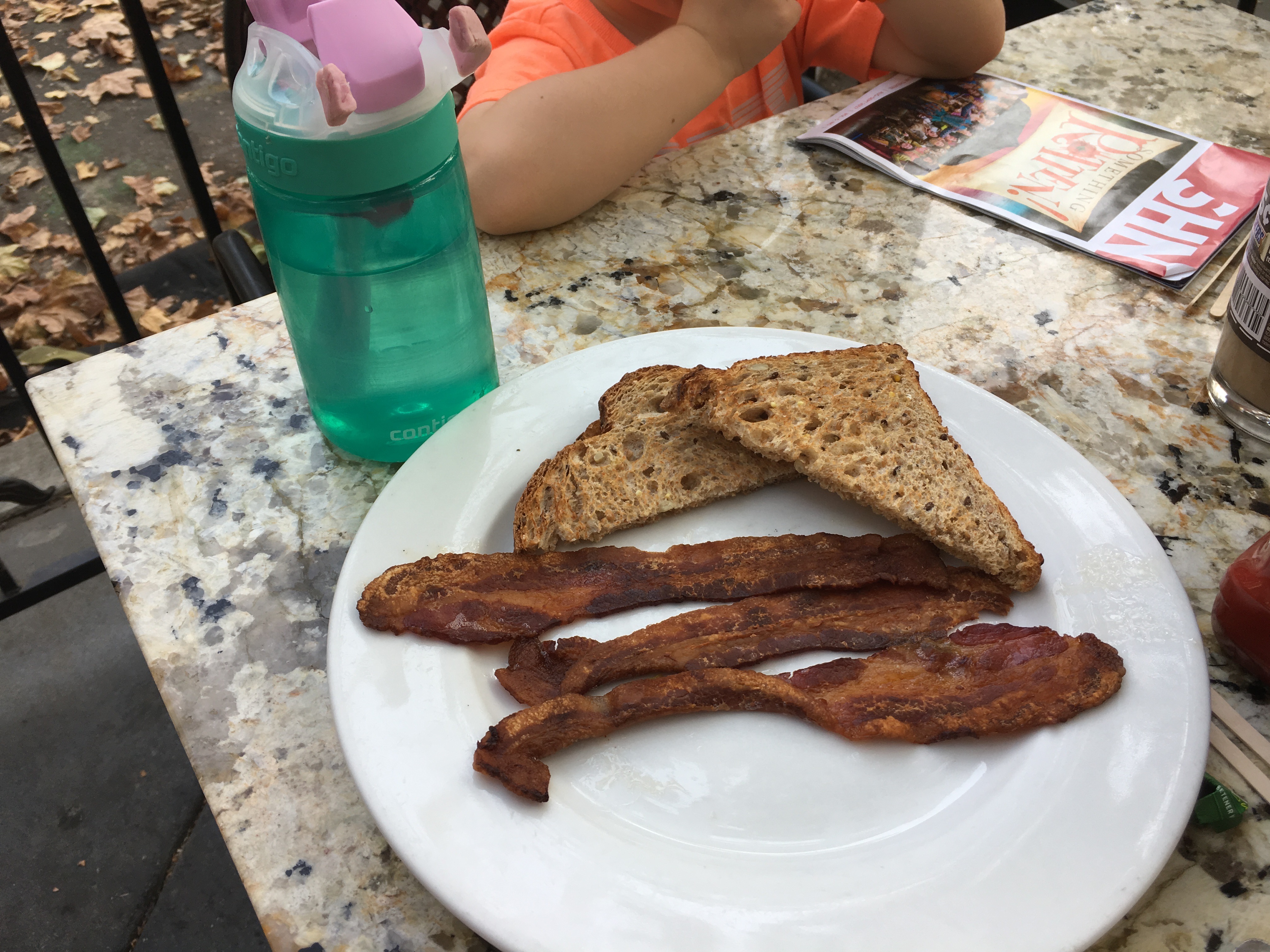 It was international bacon day and he didn't even know.  He would be happy to celebrate every day if he could.  In fact, I almost forgot when ordering and he was like "mama, don;t forget my bacon!"
After his milk dose and some park time, it got to be too hot.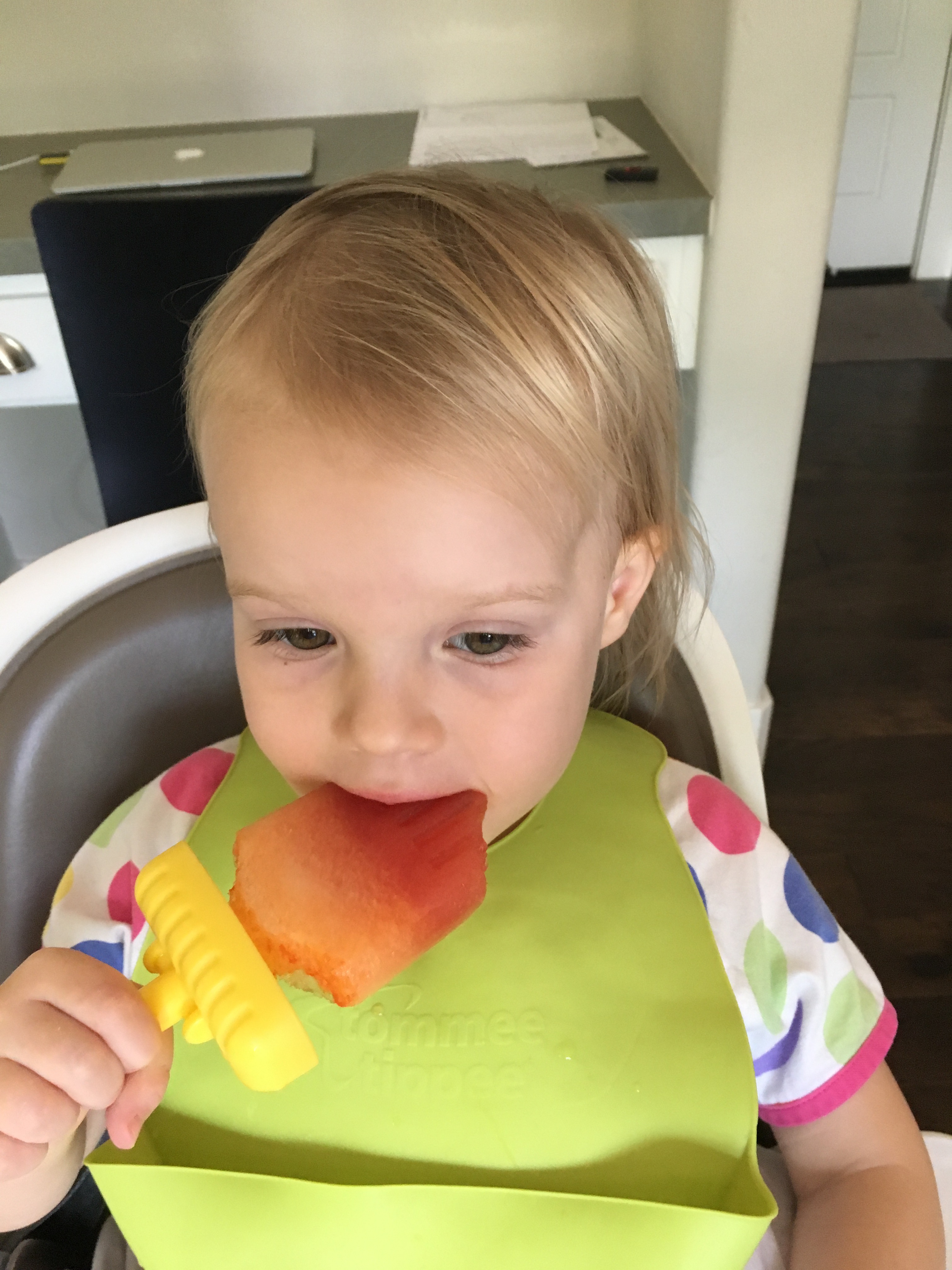 I gave her a watermelon popsicle (nothing but blended watermelon and salt) for lunch.  She was so into it.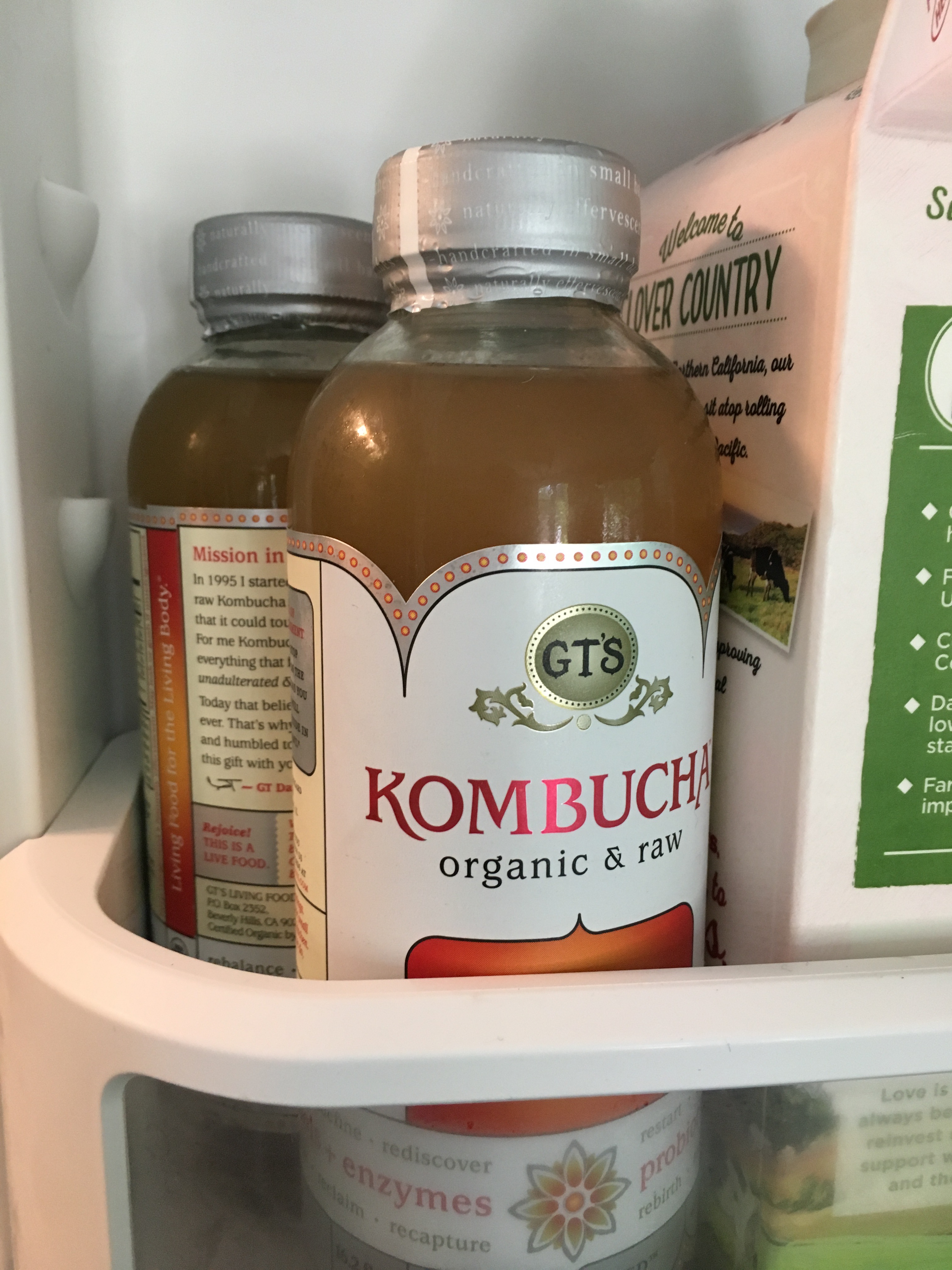 And then my sister left.  But look at how well stocked I am!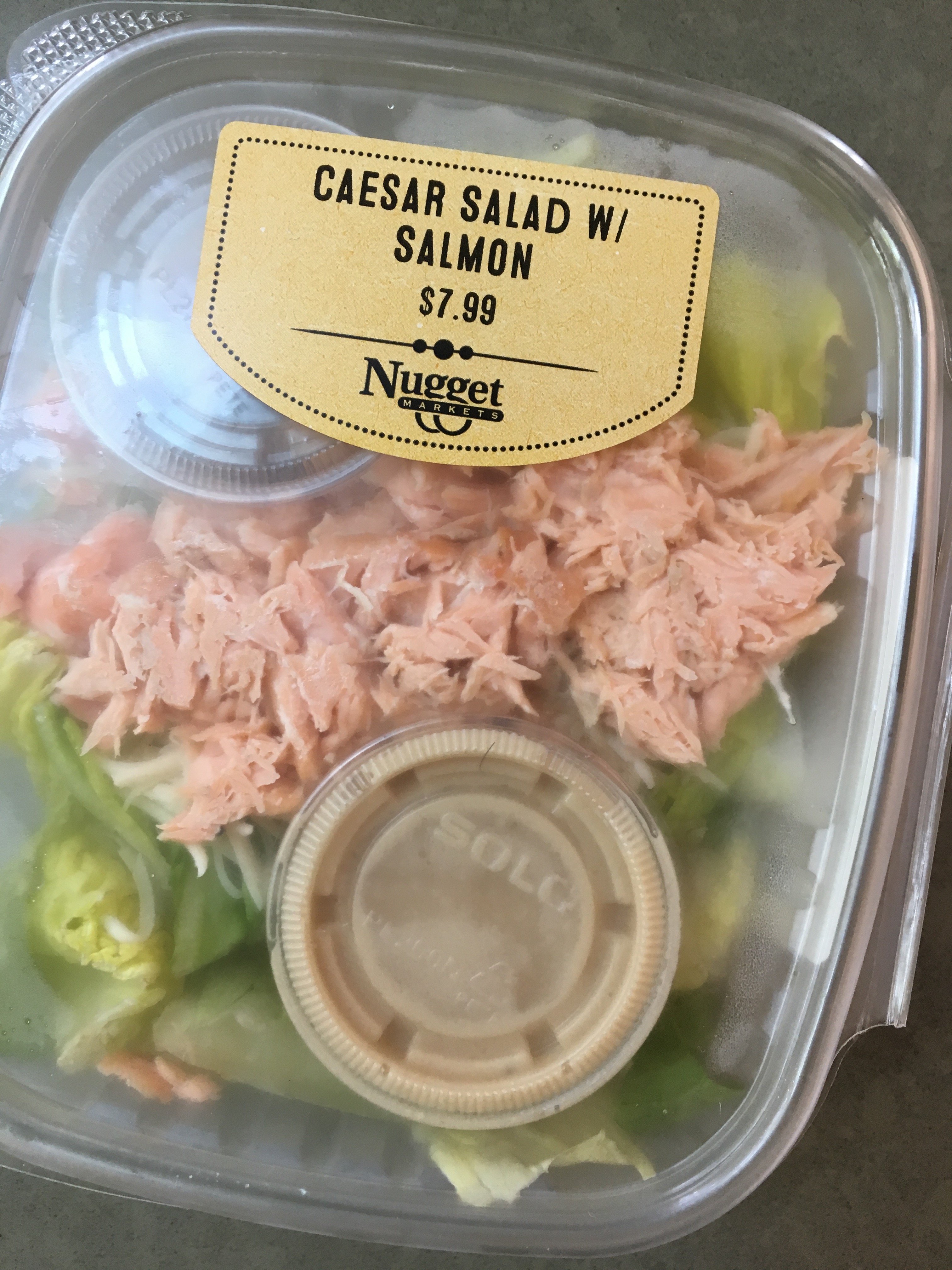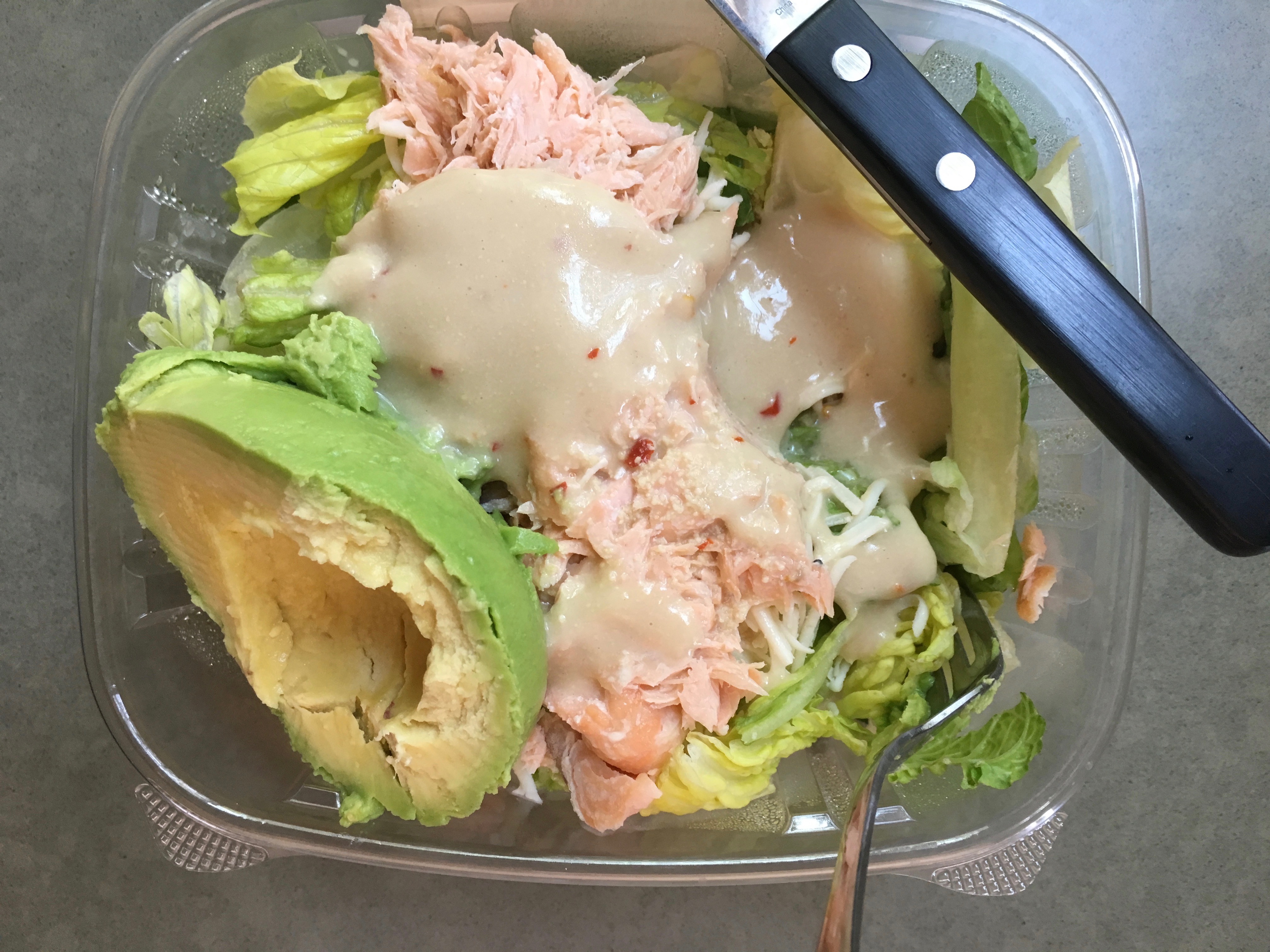 I tried the salmon Caesar for lunch – and added avo and extra dressing.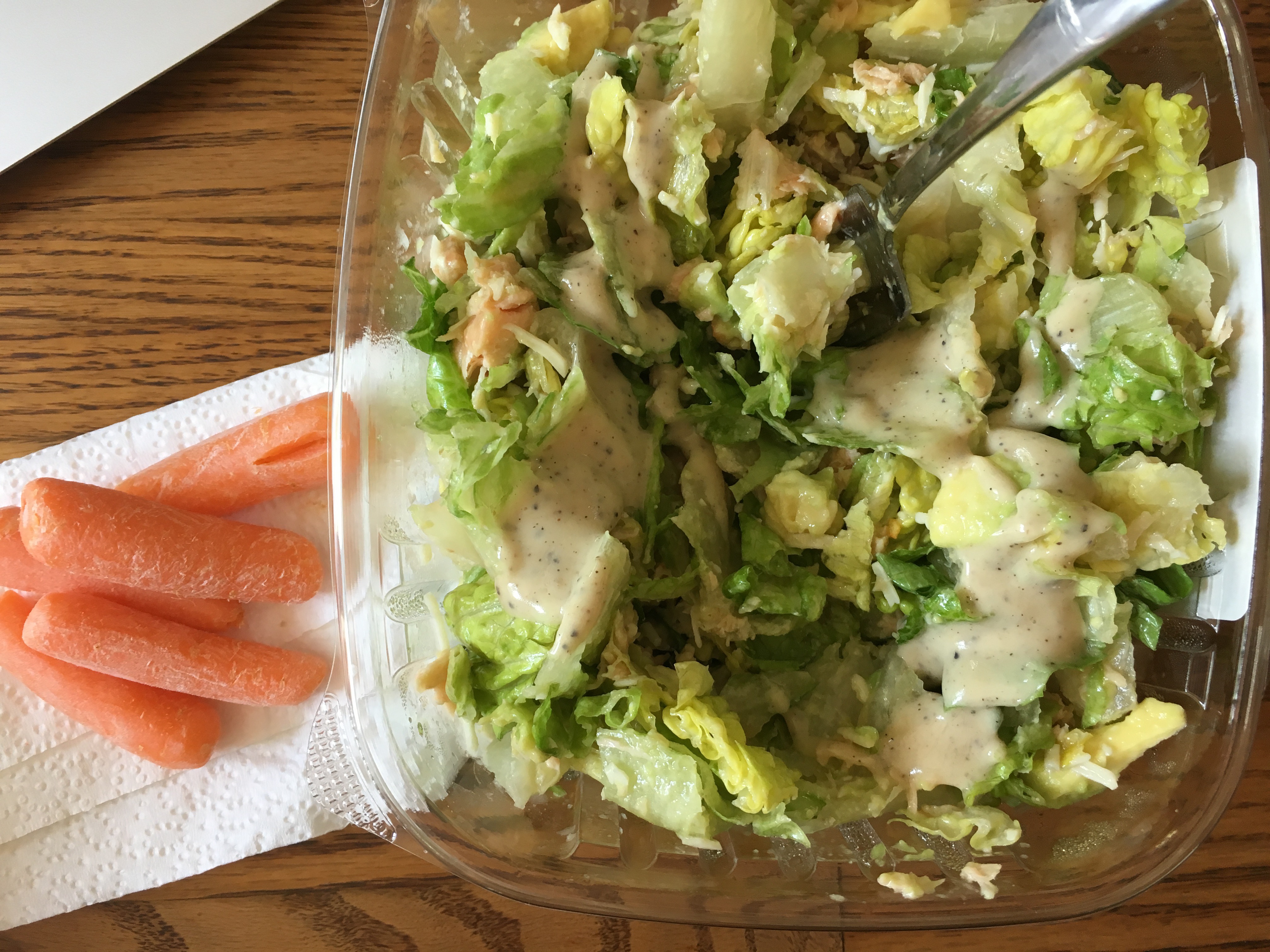 V was even sleeping while I ate which made the whole thing exponentially better.
I don't want to jinx things yet, so I won't say what I'm hoping.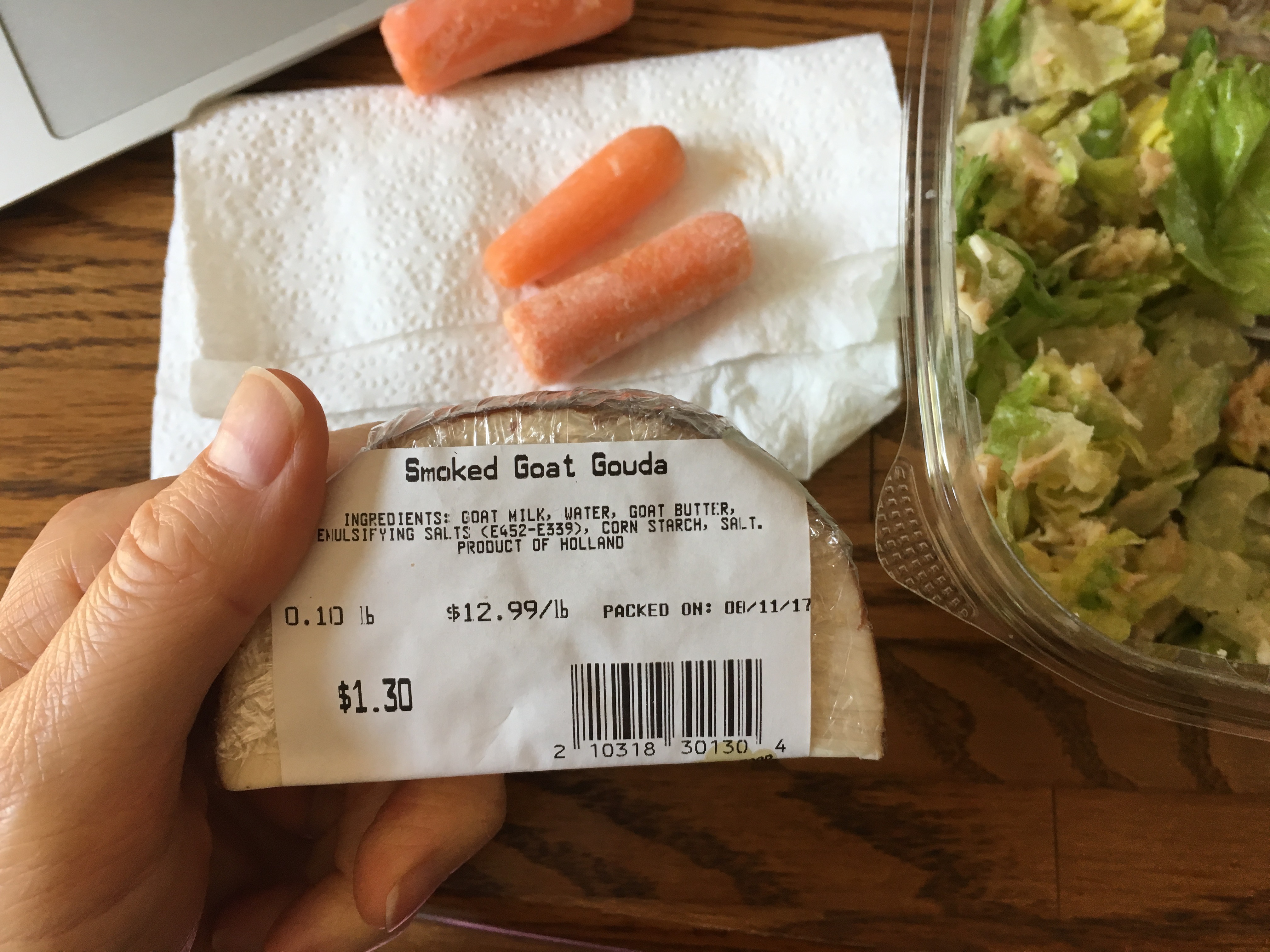 Oh and I had some of this cheese too.  It was good but I like the sheep pecorino romano better.
I'll let you know how the rest of the long weekend goes without Kyle.  Luckily I've planned more play dates for P and bought more crafts and board games to get us through this heat.  It's currently 110!!!  That's way too hot to even attempt anything outside (not that we could do any pool or water play with her cast).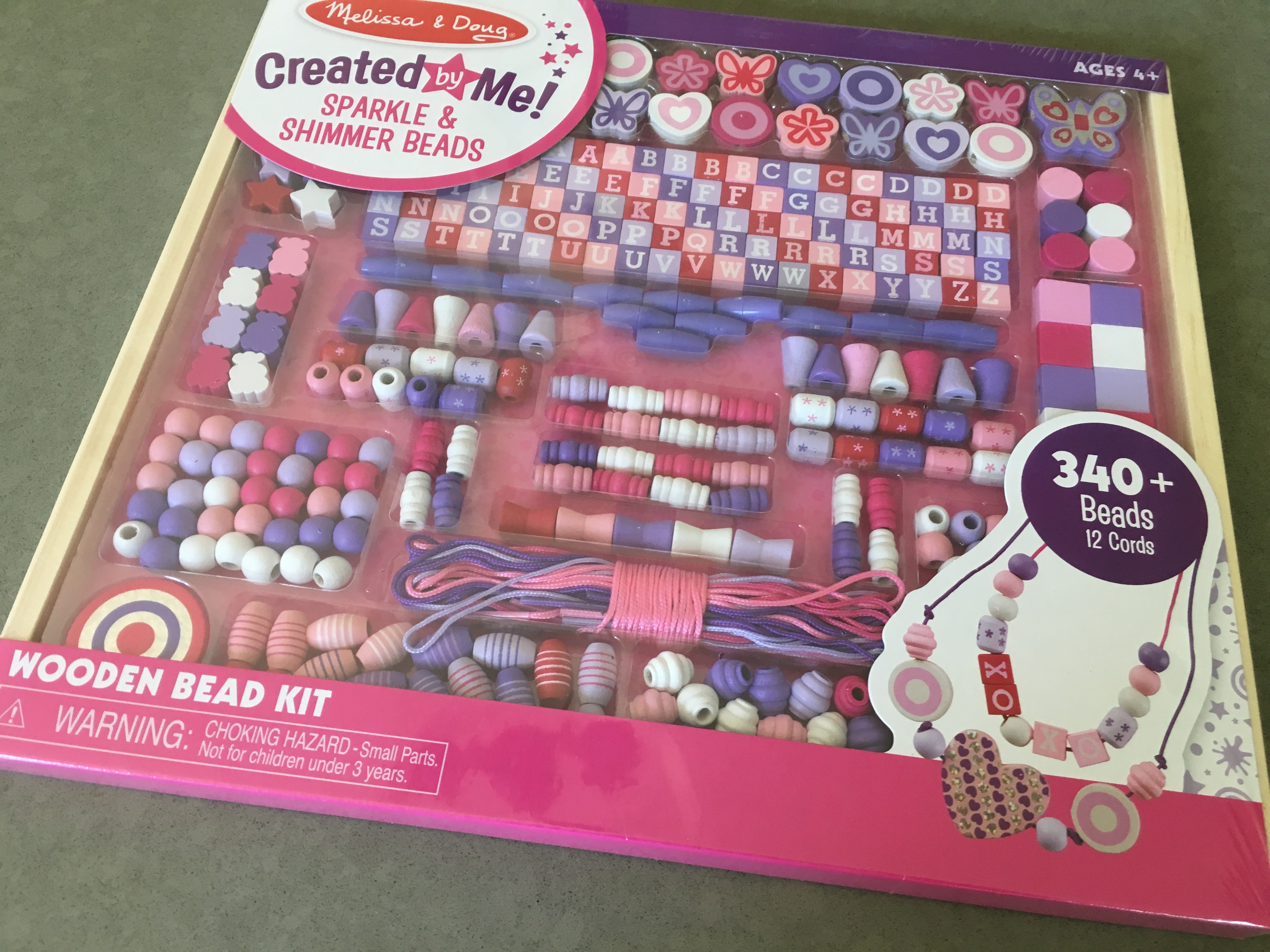 Wish me luck!  But mostly wish my littlest one well.  She's living on cereal and watermelon popsicles at the moment, but I have steel cut oats with banana simmering on the stove right now.