I had a big dessert face on both Saturday and Sunday nights, so I have to get my sweet tooth back in check. Chances I manage that with Kyle being out of town the start of this week?  Slim to I'm GOING TO MAKE IT HAPPEN.  Grit over chocolate.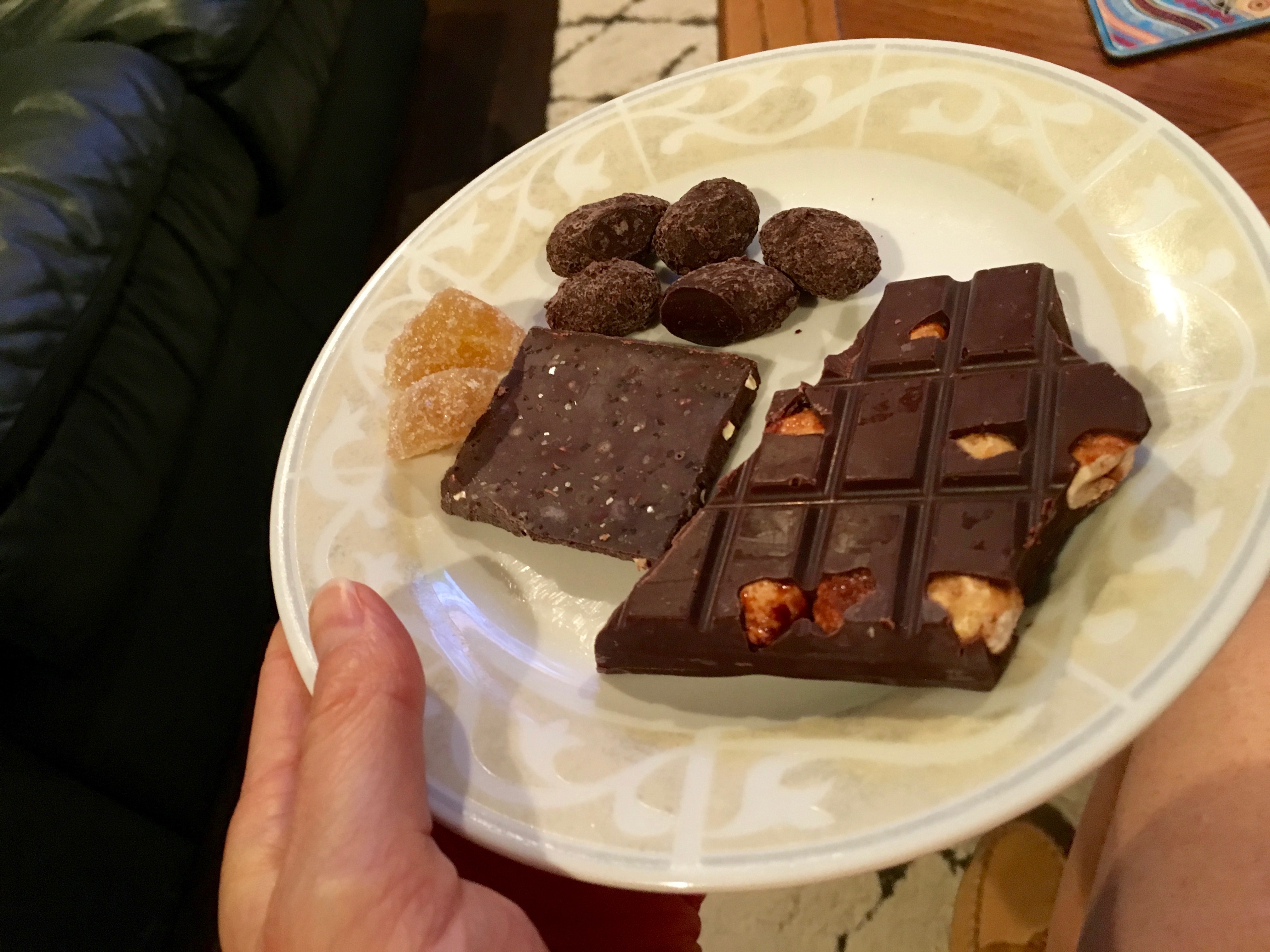 Look what I picked from the tomato plant!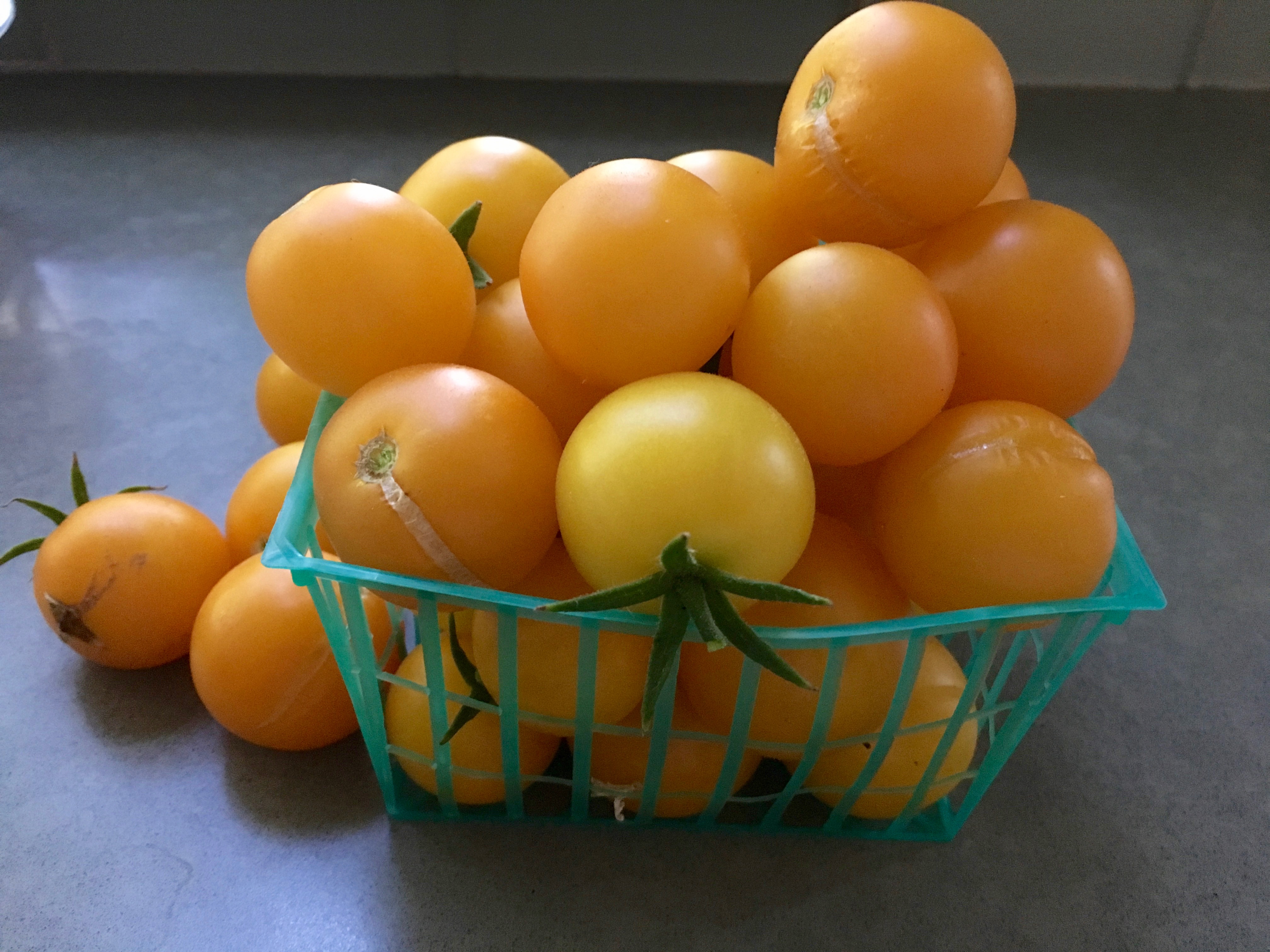 Finally.  It's grown to be the hugest monster of all time and yet, yields not very many tomatoes considering how ginormous it is.  No joke, I cannot believe how big this thing is.  P just chucked seeds into the planter and boom, we have a plant as big as Mexico in our backyard.
This pint was one of two that was eaten very quickly by my youngest.  There are a bunch more green ones coming soon though, so maybe some will make it into a dish, as opposed to straight into her mouth.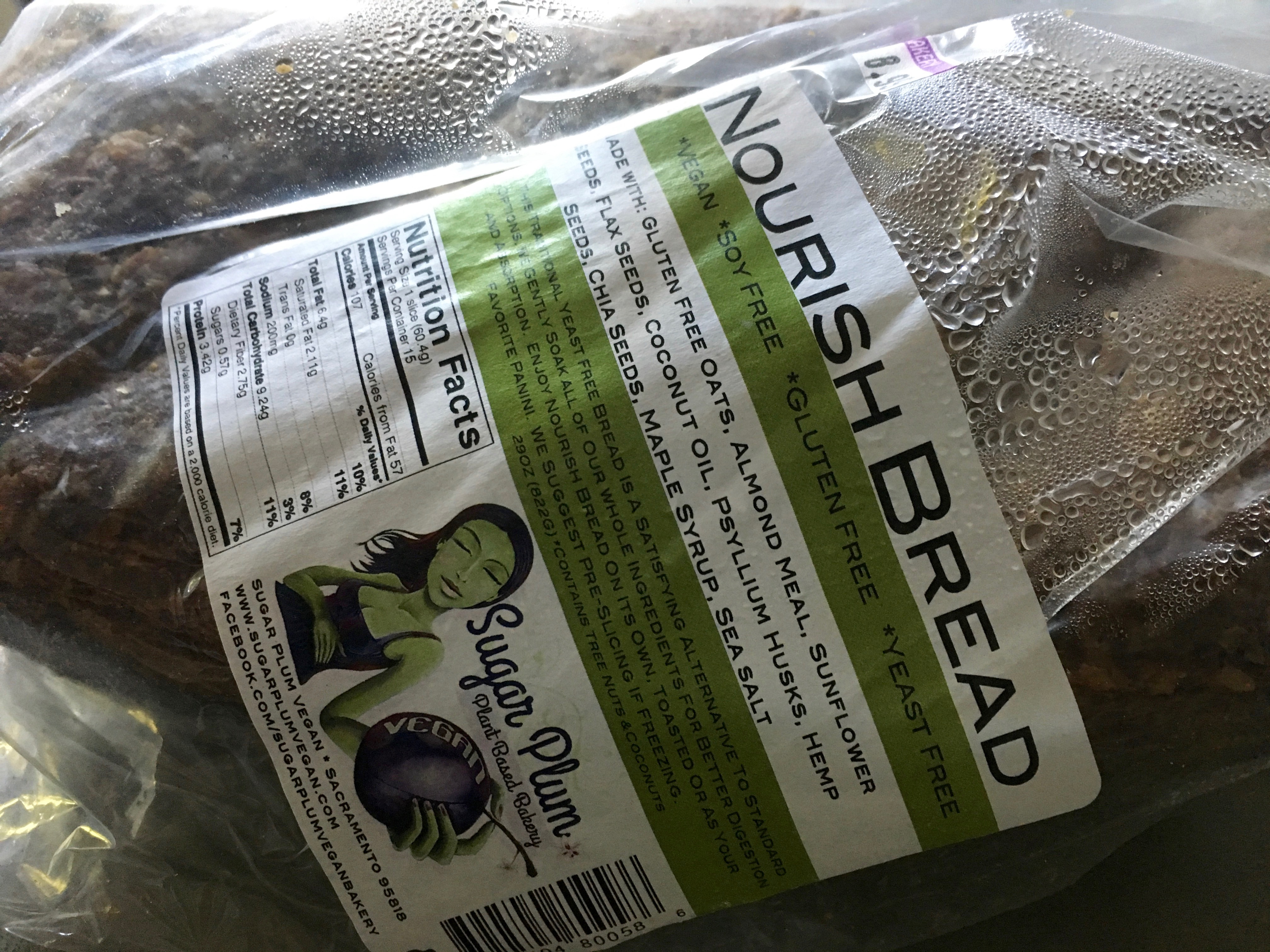 This was an impulse purchase when I went to the store on Doomsday (last Friday). It was basically the one moment I left the house before Kyle left and I had to get everything I thought I might need then and there. Which basically amounted to all the kombucha and diapers I could carry.  And this bread. It was $8.99 which is bananas expensive and cringe-worthy for my frugal face to admit, but it was a moment of weakness and Kyle actually made me do it because he was like "WTF Elise, if this is the only nice thing you do for yourself all weekend, then you better believe it's worth it."  Sometimes his words really work.  And so I did it.  I put it in my cart and didn't even do my usual "return it before I get to the checkout dance" or even my "buyers remorse in the parking lot". Yes, I know I have problems.  I'm a disaster.  Tip of the iceberg.  Just don't touch it.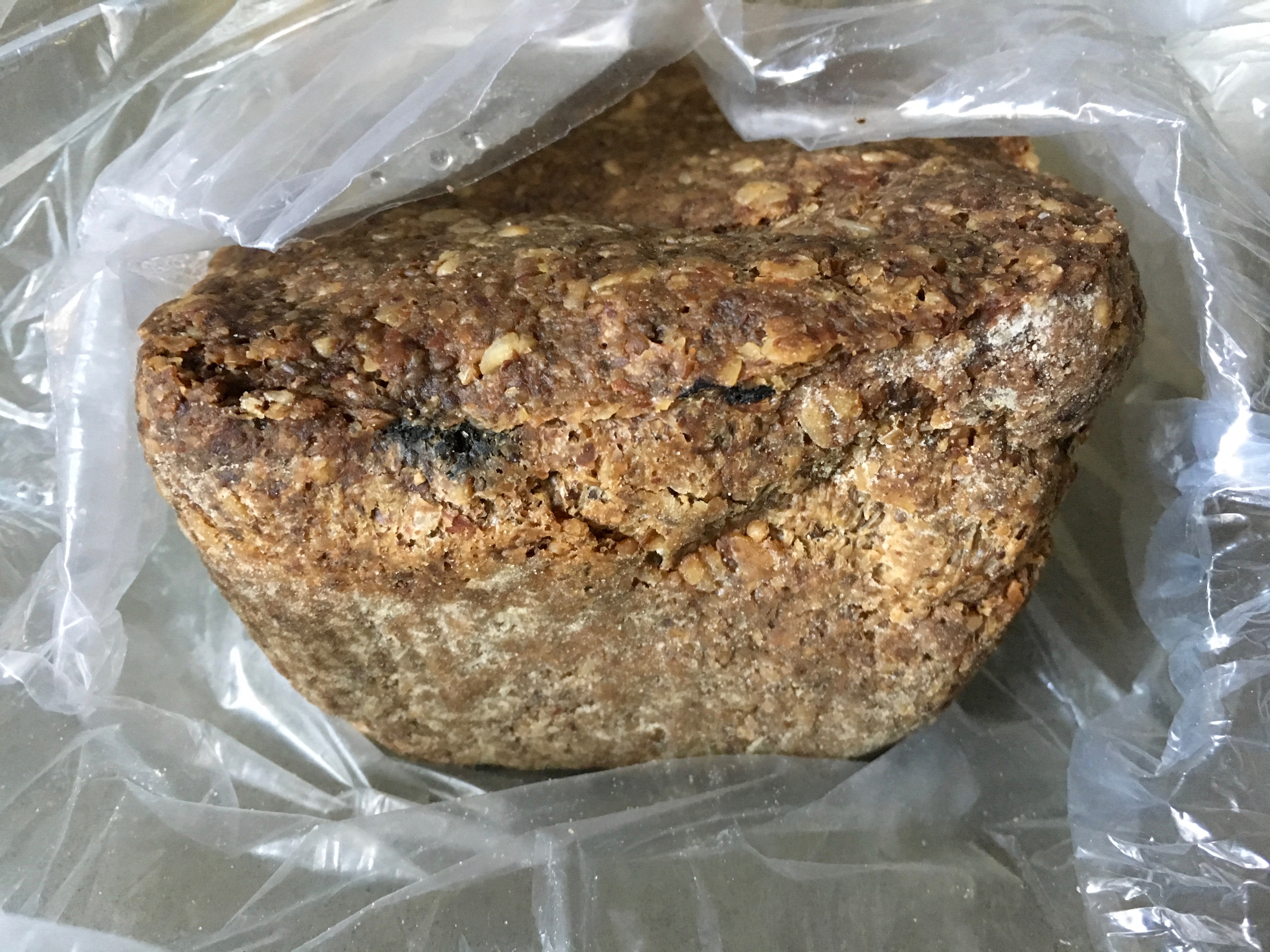 So let's just discuss the bread.  Because I finally got around to trying it.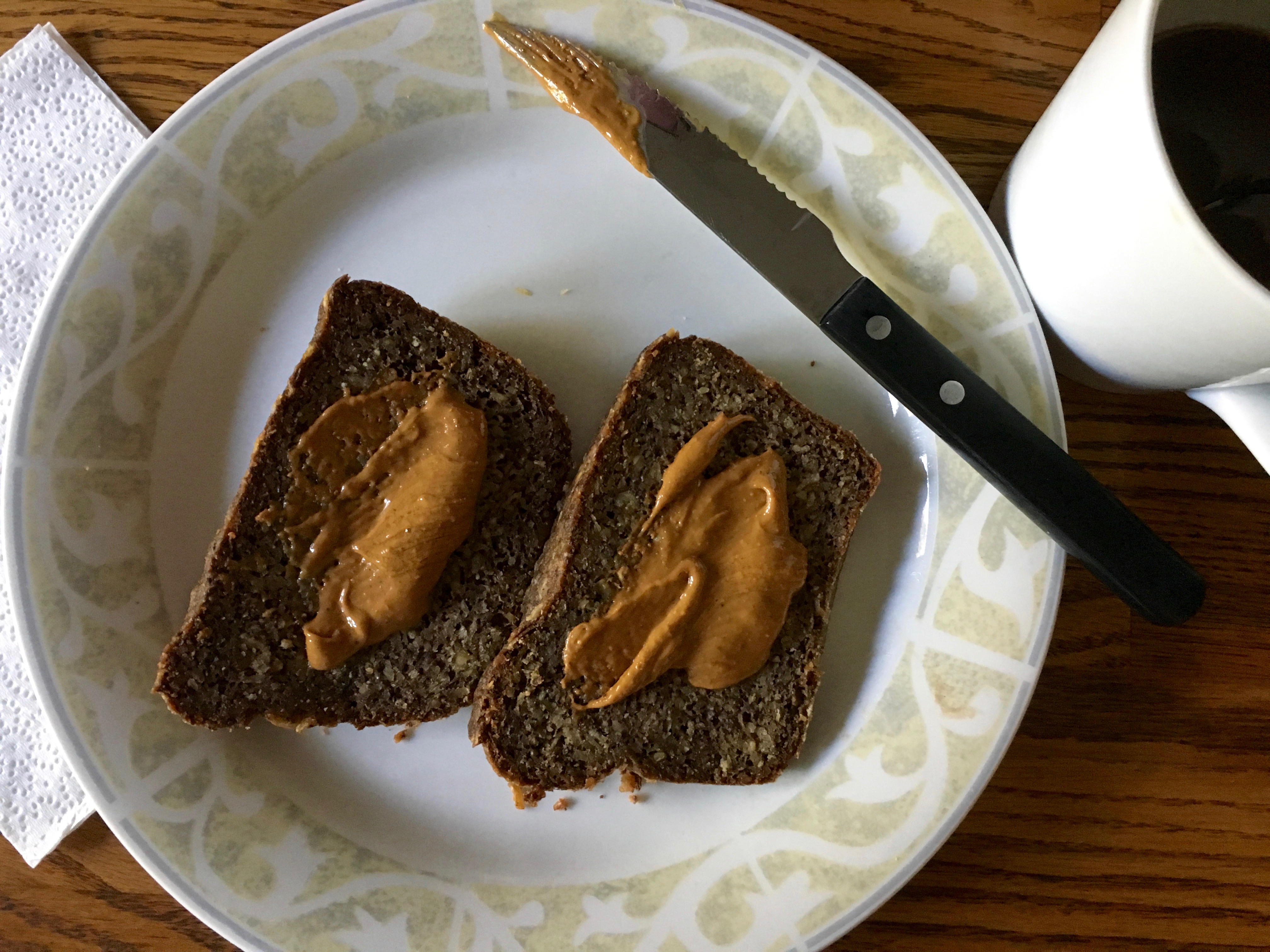 It is dense as all get out and REALLY DANG GOOD.  Reminds me of what I imagine this bread would taste like – which has been on my "to make" list since it was published oh so long ago.  I guess buying it for $9 is one way to do it.  I'm now very worried I will buy it again once it's out.  HALP.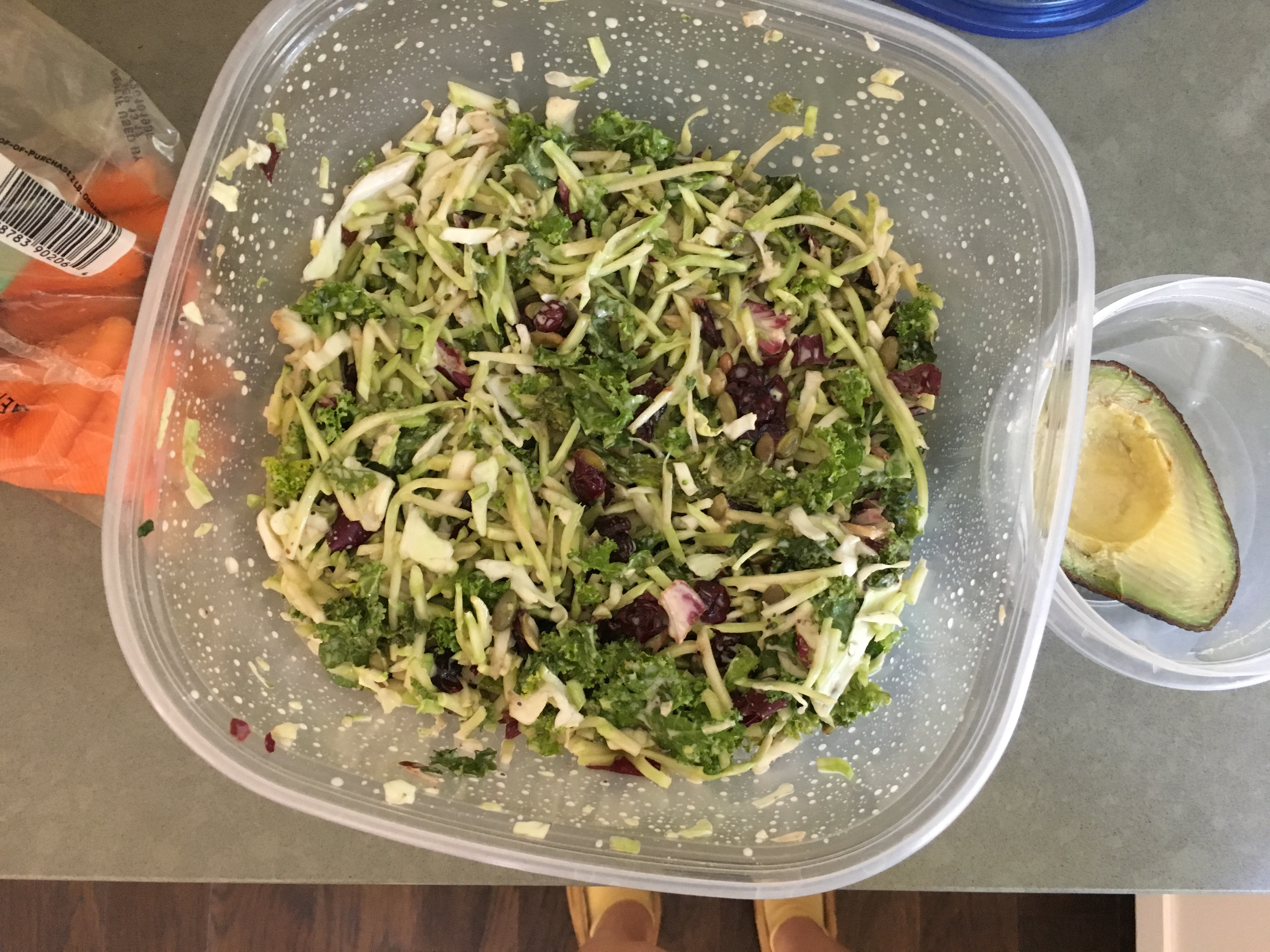 Salad salad bo balad, banana fana fo, oof.  I'll stop.  I'd been missing this one.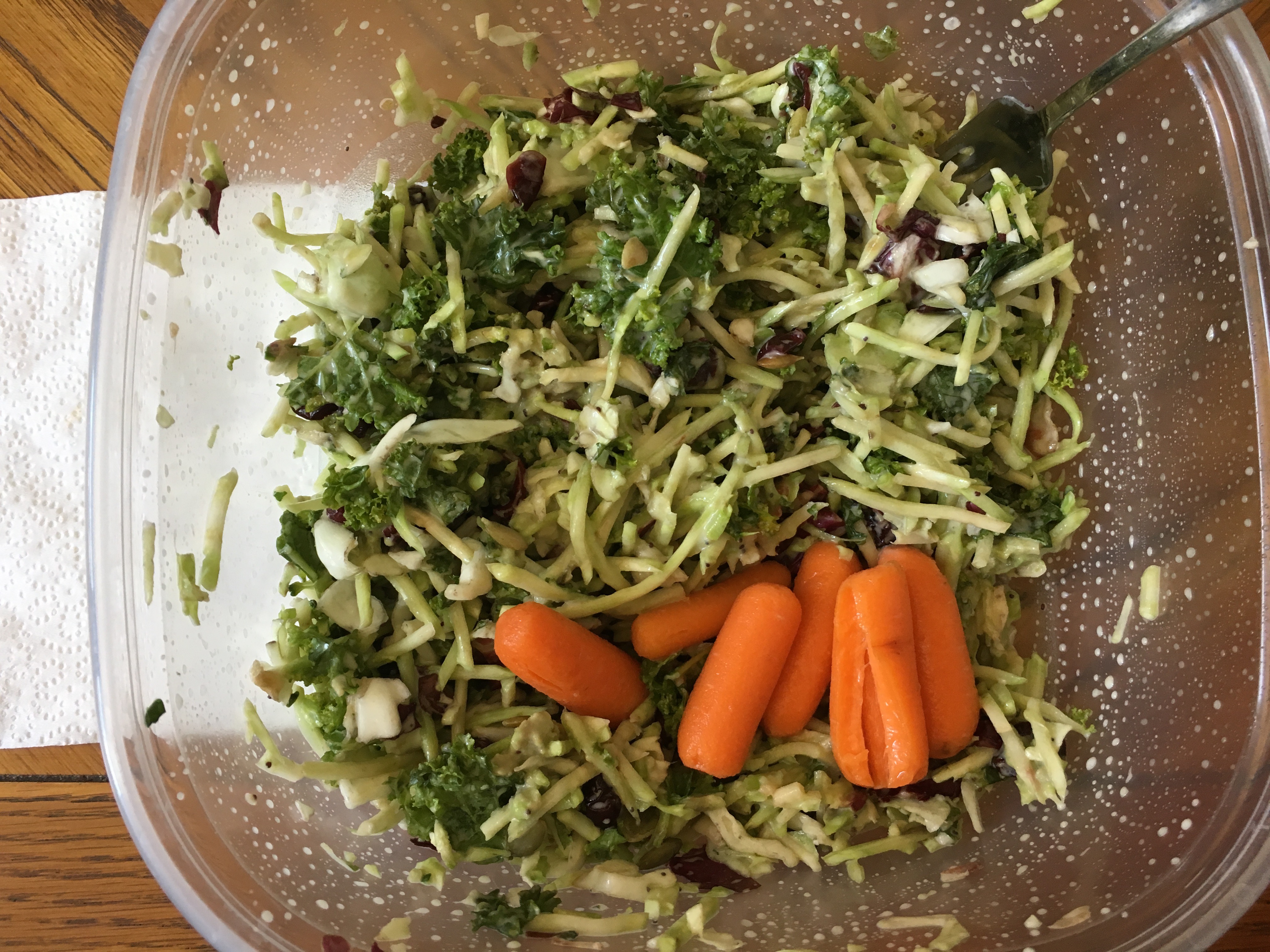 Same kale, brocc slaw, cabbage, pepita, cranberry, poppyseed dressing thing with half an avo.  But, drumroll pleaseeeeeee, no macadamia nuts.  [Insert audible gasp]  What is going on with my taste buds???  Friday and Saturday were both meatless (I had salmon at lunch but no other animal flesh), and then I go and skip the nuts in my beloved salad combo of heaven. Weird.  Just weird.  But it was good!  Obviously.  But didn't hold me over very well.  I was super hungry for dinner.  But you guys!  There was football on!  Sunday Sunday Sunday.  I am so happy for Sundays.  Between church and football I feel like there's not much else that can make the weekend better.  Oh, well, that whole wine trip thing helped too.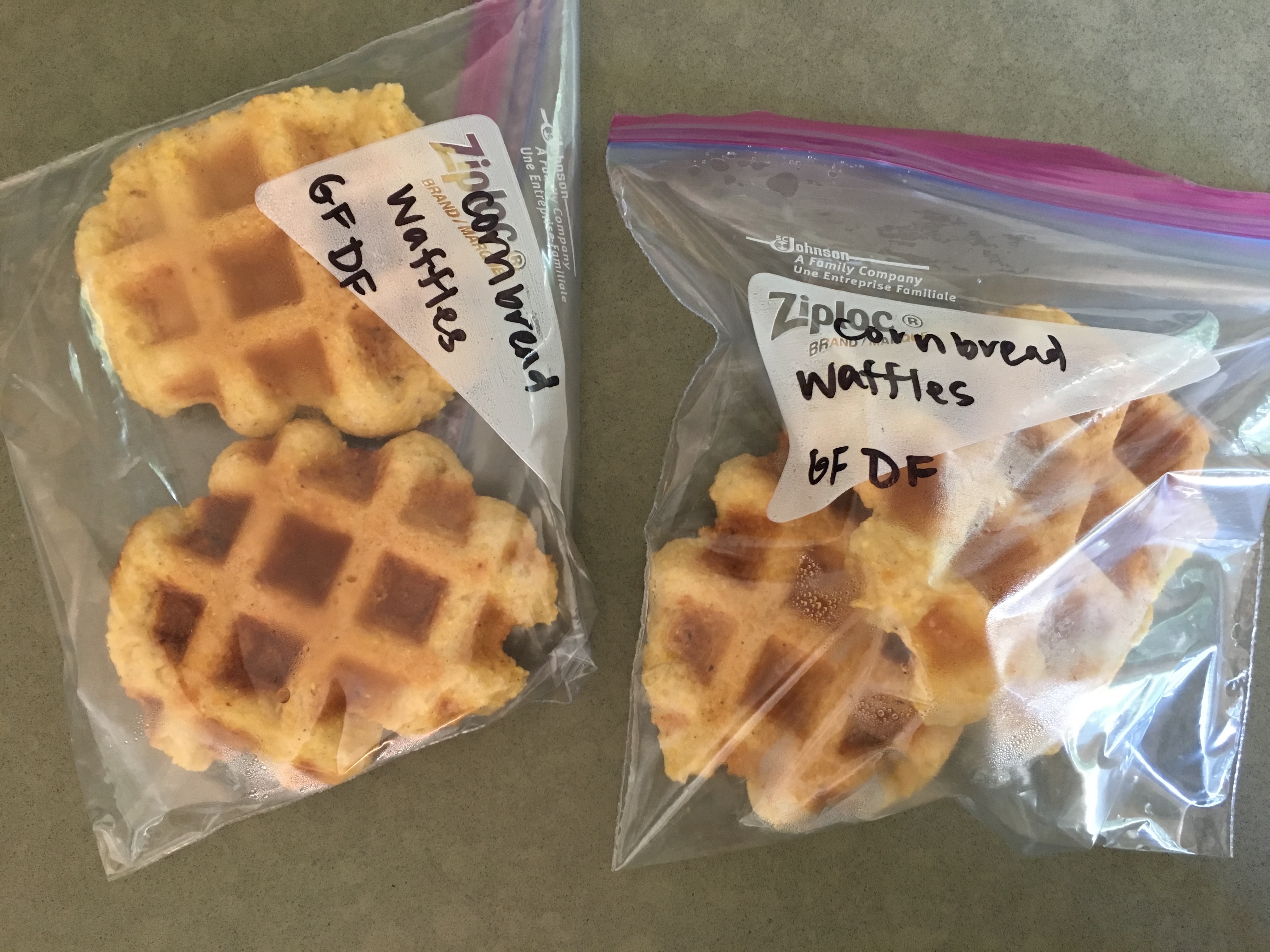 Cornbread waffles!  I pulled these out of the freezer and then brainstormed other things to eat with them.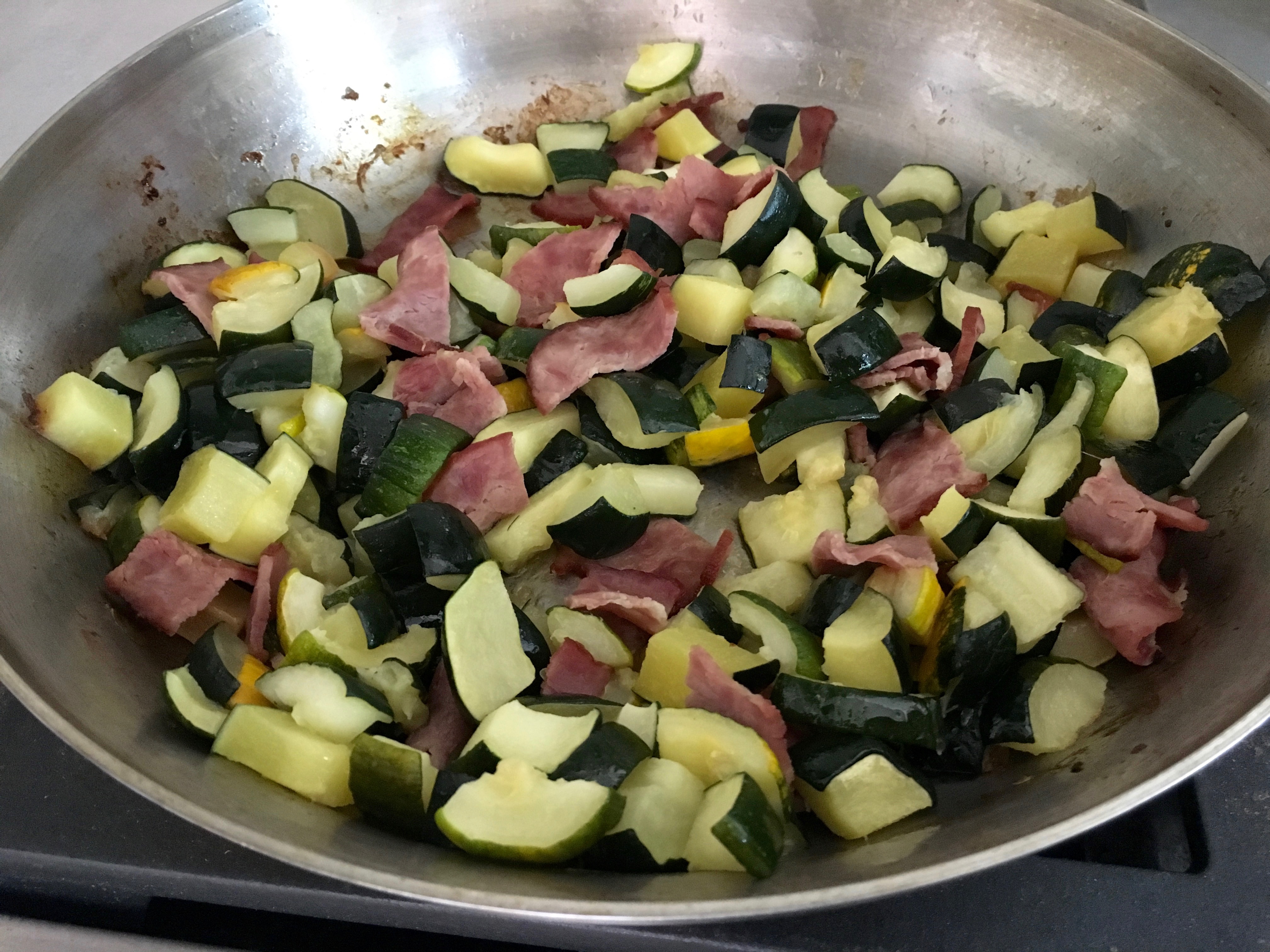 I had 6 zucchini staring me down from the fruit bowl so I had a marathon chop sesh during commercial breaks. I sautéed the with bacon because they were kinda bitter.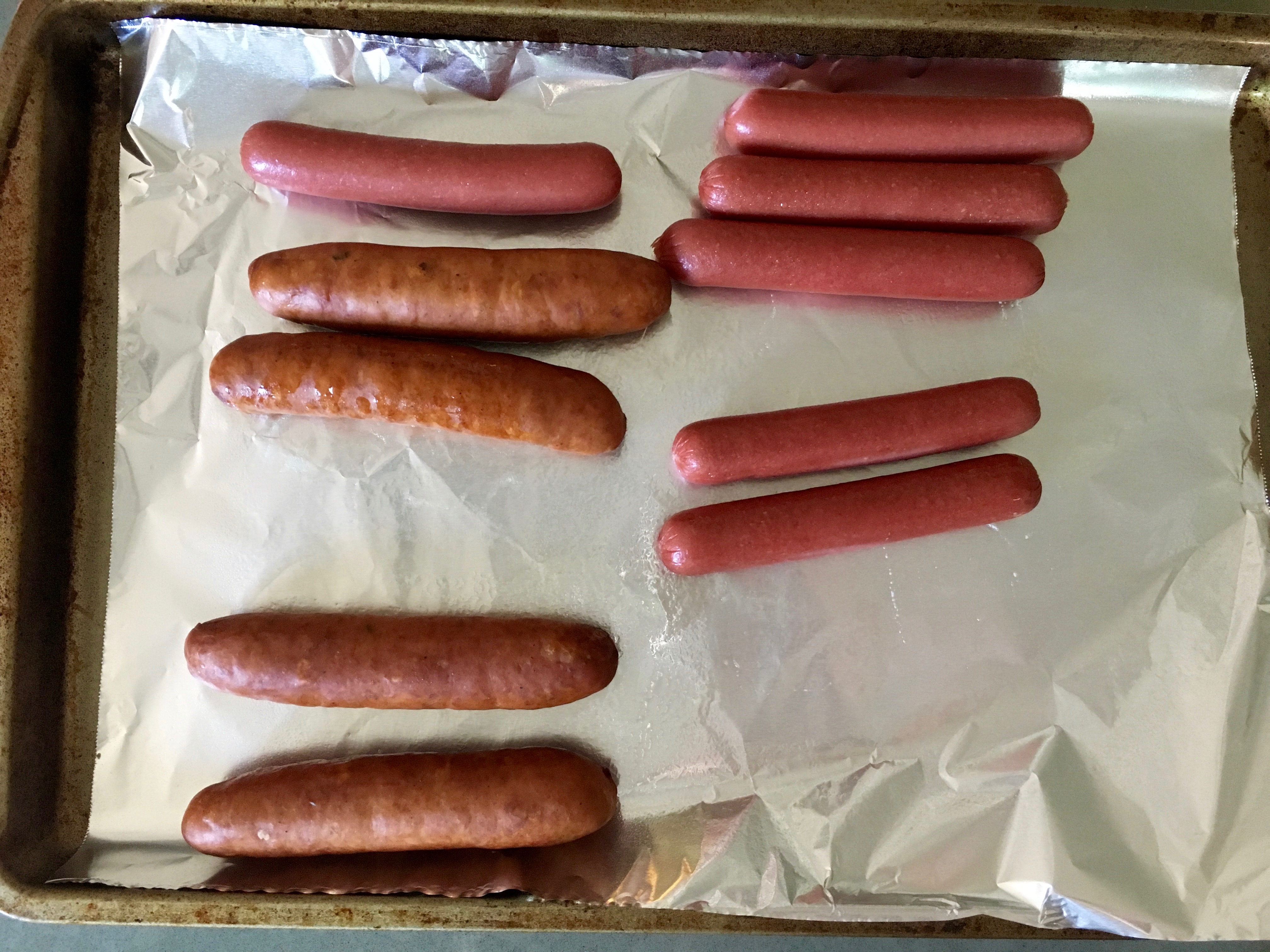 And I broiled sausage and hot dogs.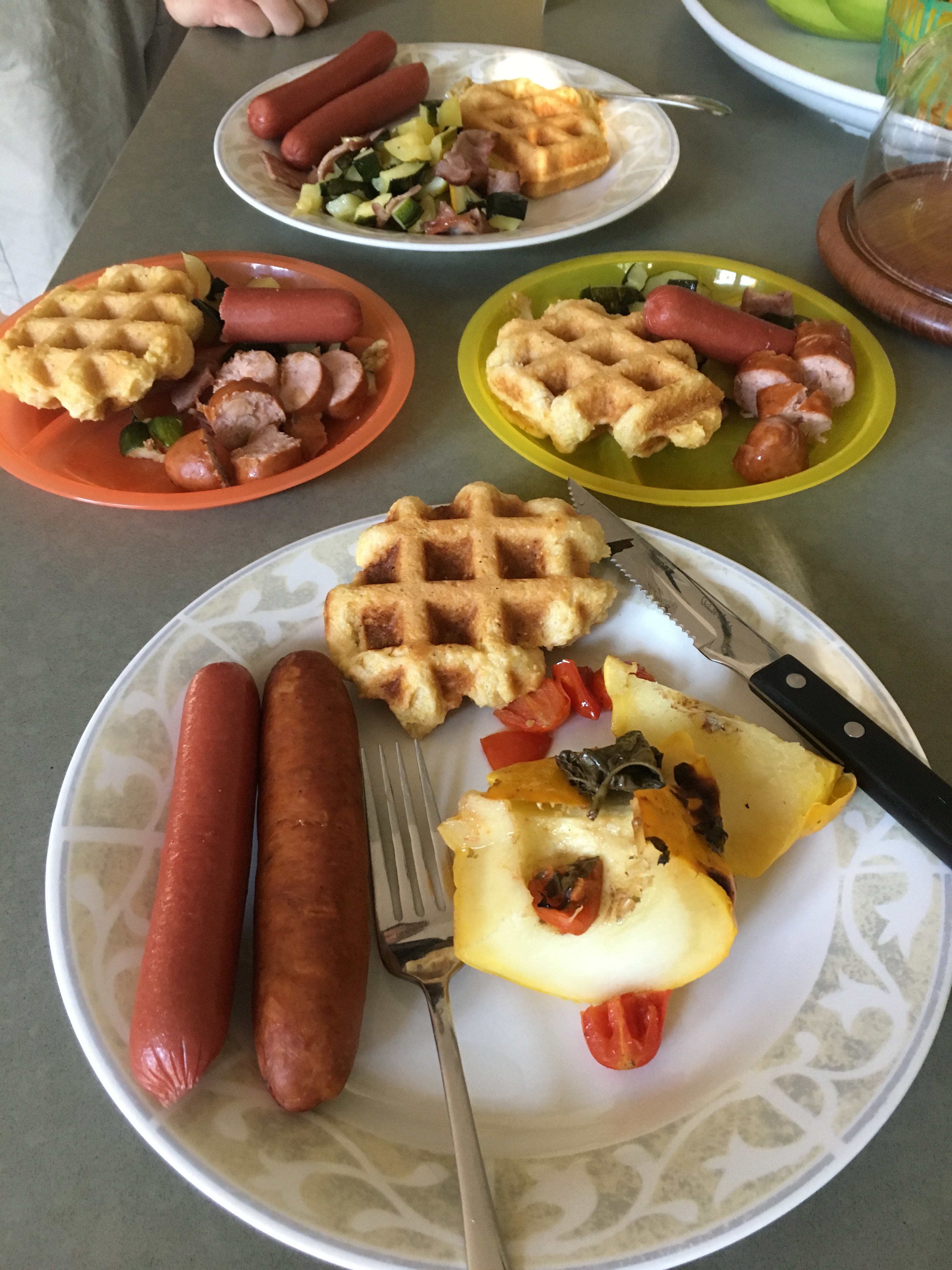 And called that a meal!  [Kyle's is the plate without zucchini – for some reason other non-green summer squash is fine with him though]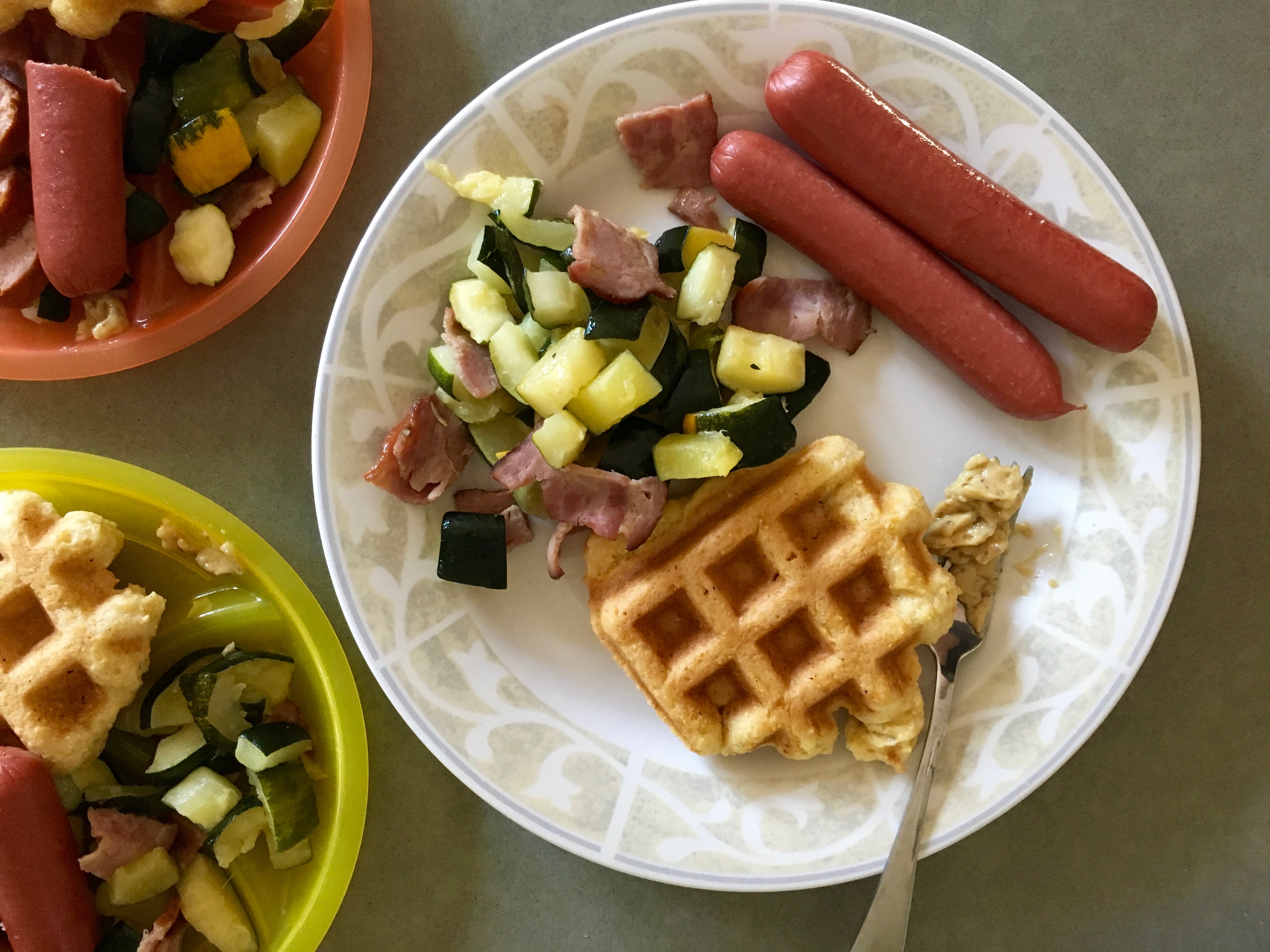 Here's my plate, with a fork swipe of dijonnaise too. I had a few more servings of zucchini too.  And dessert (see above).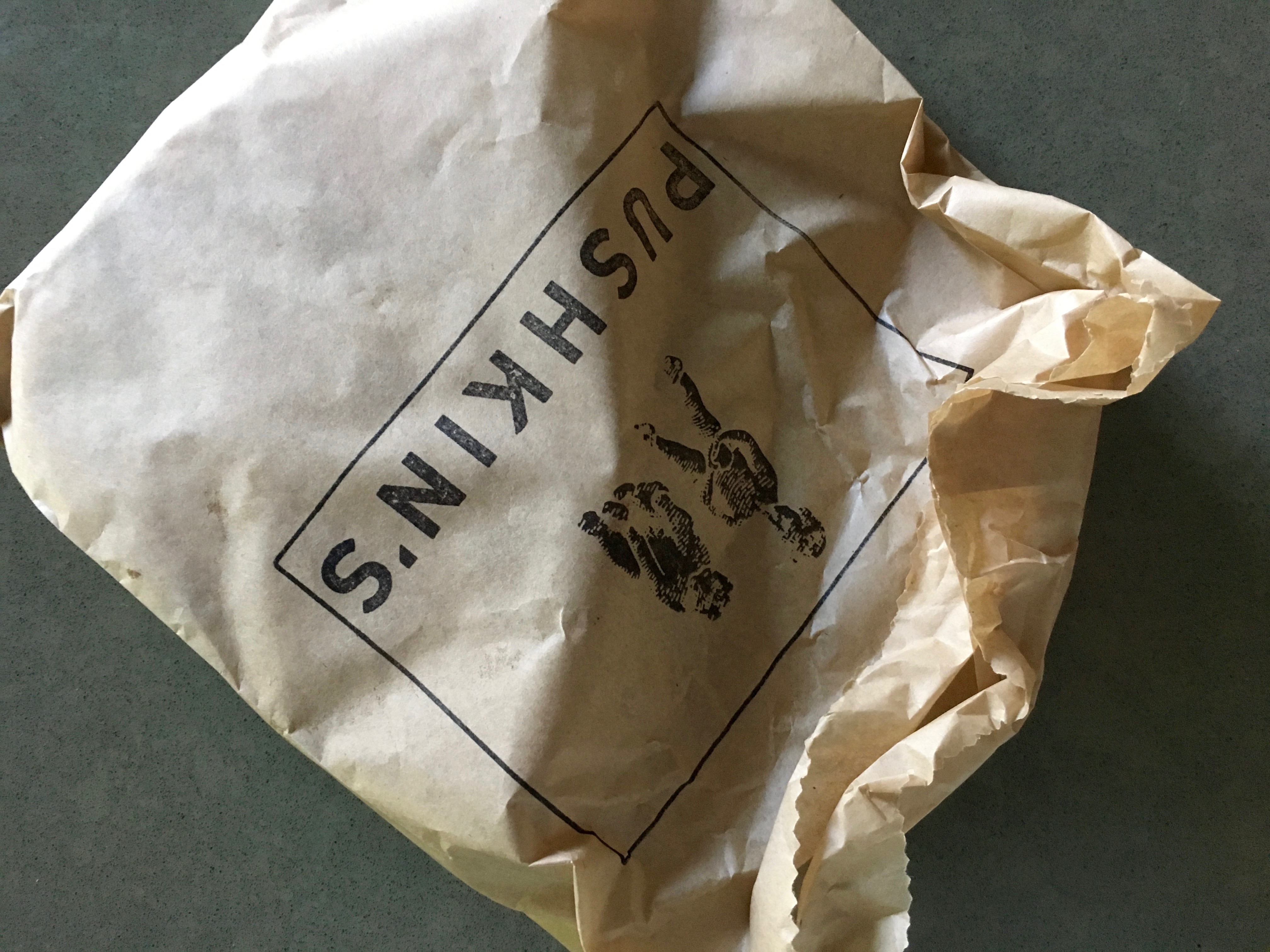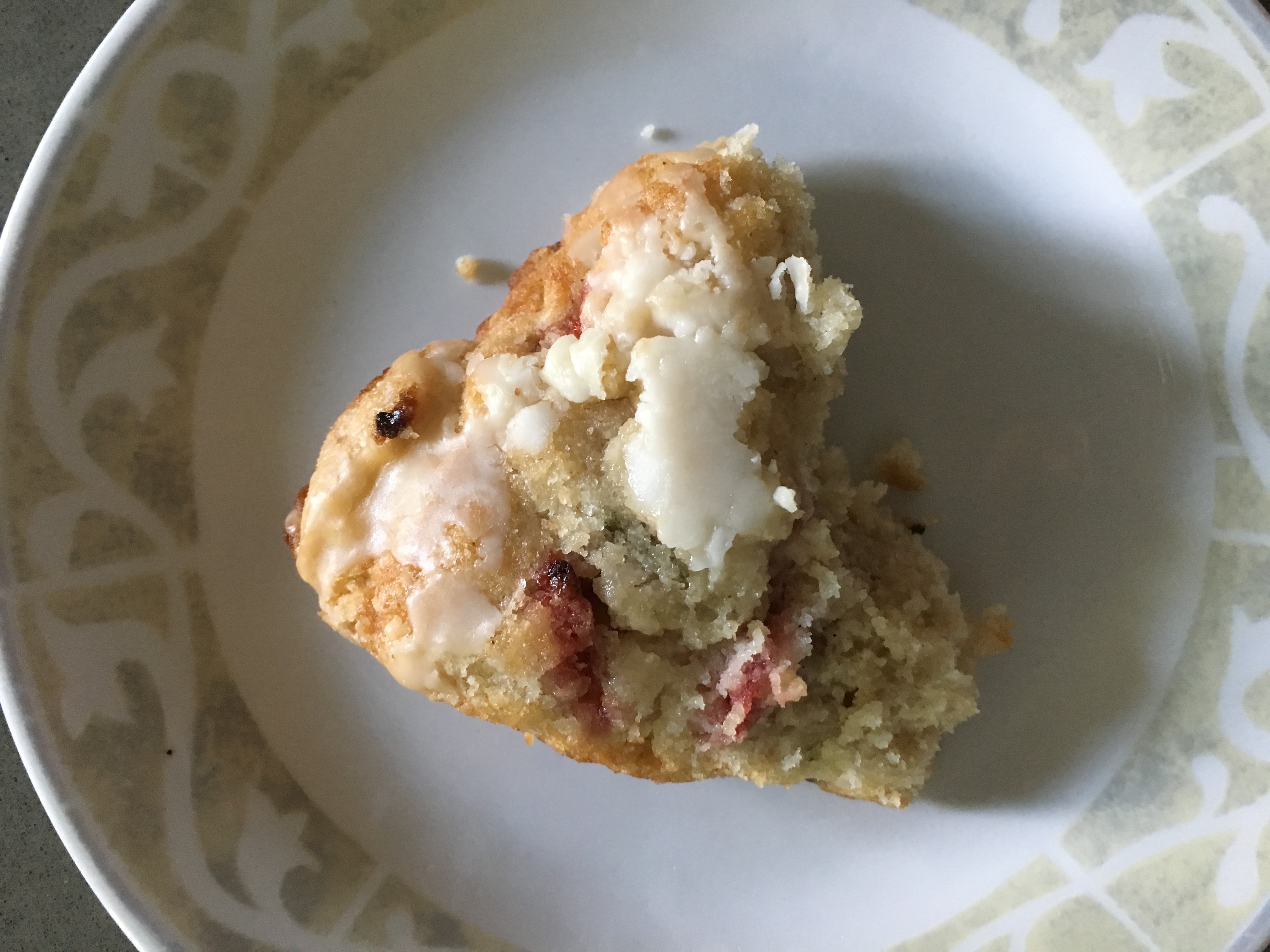 I forgot to take a photo until I was half way through with breakfast. At which point I added some nut butter, so oh well, you don't get the best idea of what this GF DF strawberry rosemary scone from Pushkin's looked like.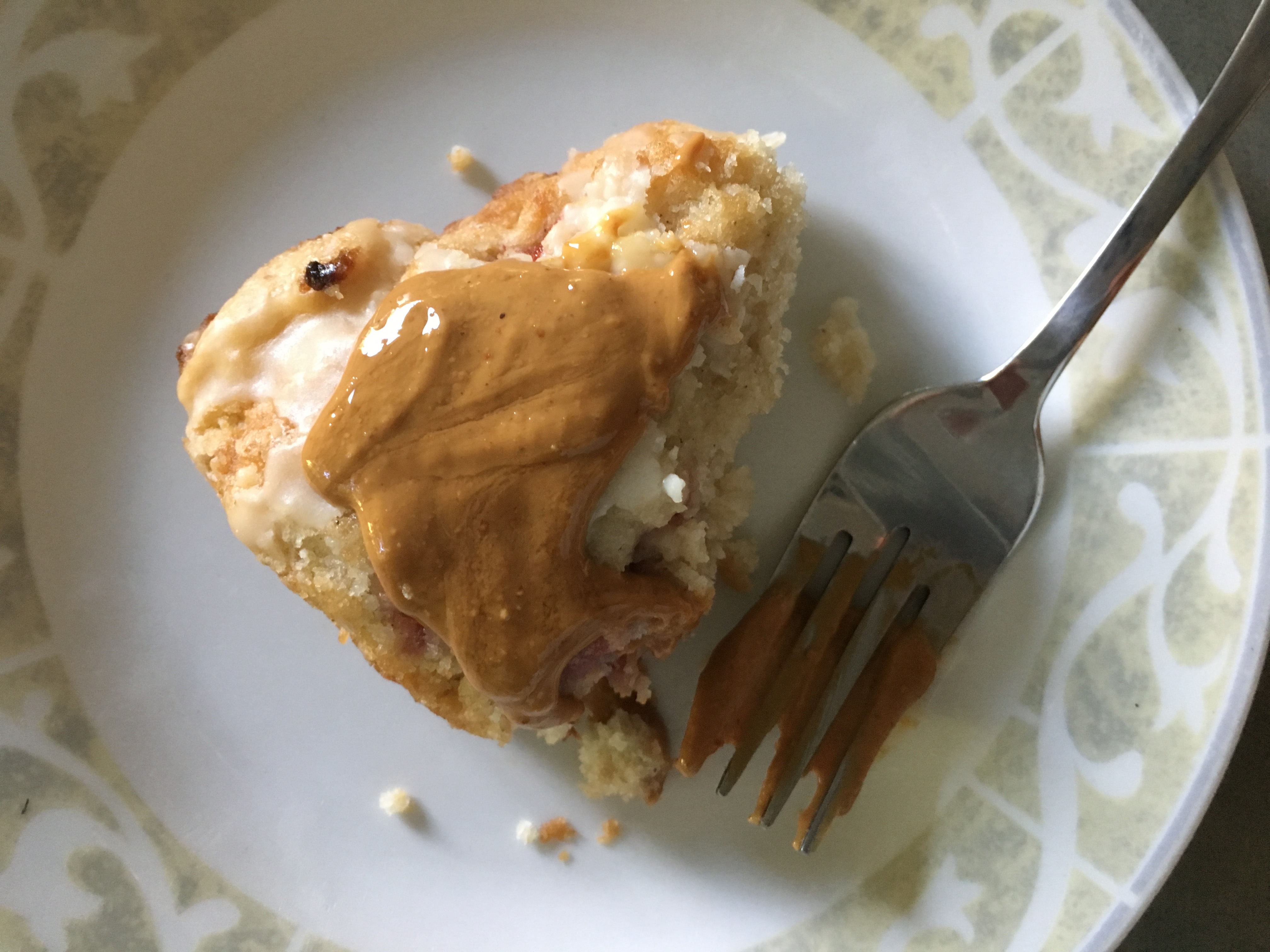 My belly was pleased with it.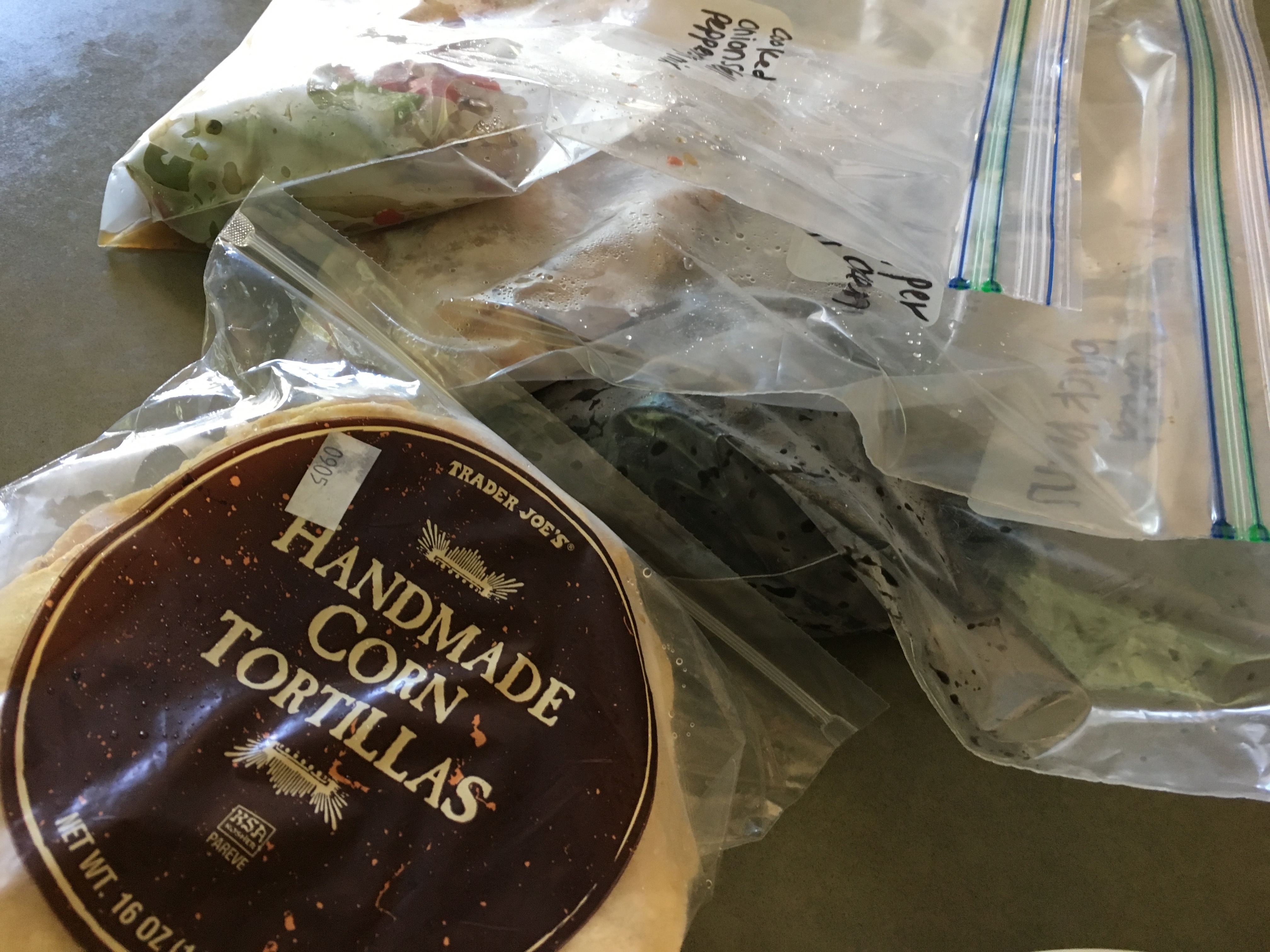 A friend made dinner for us, but I gave it to the kids for lunch because I didn't have anything ready.  As if they are going to turn down tacos twice in a day?!?!  No.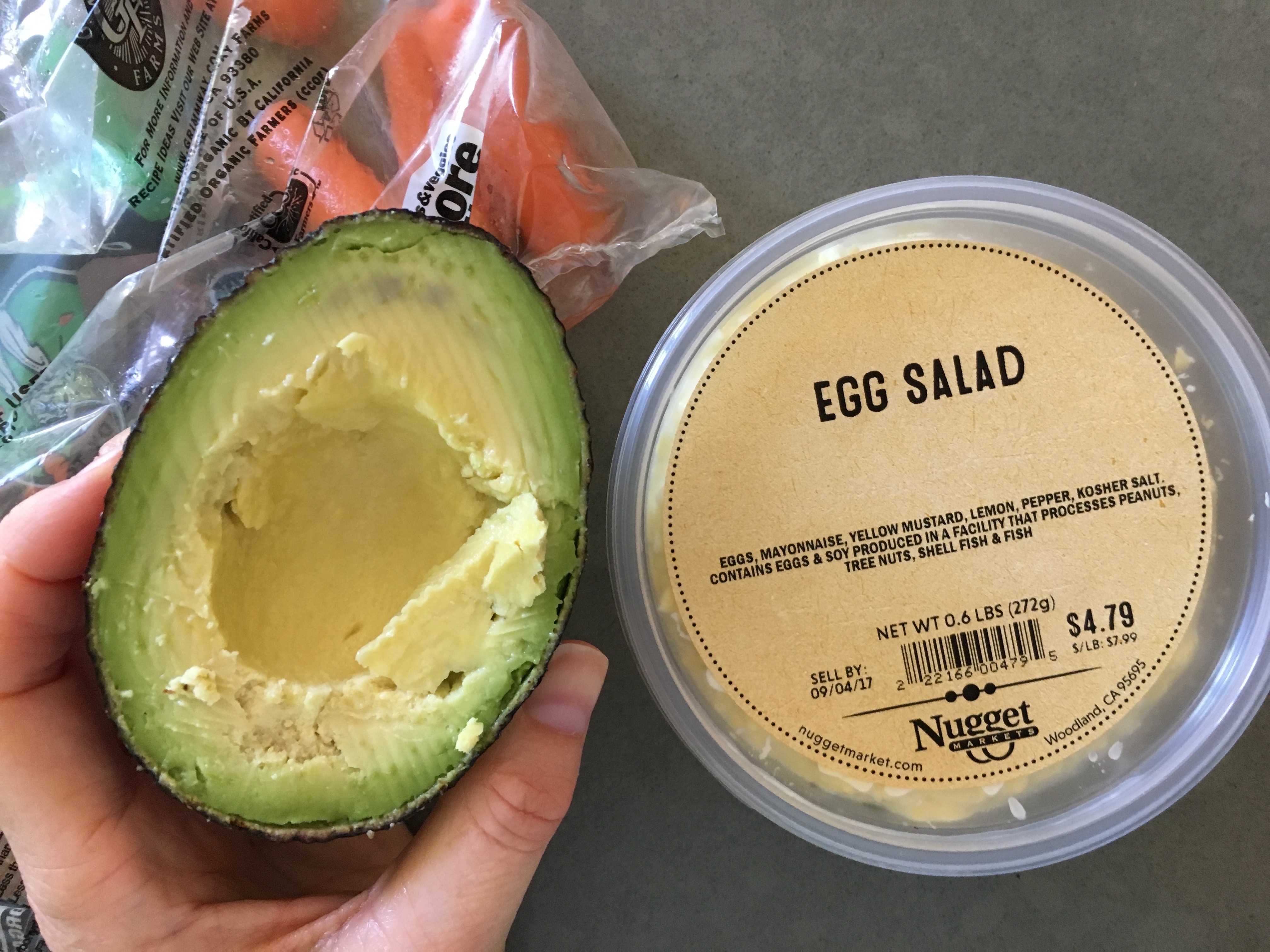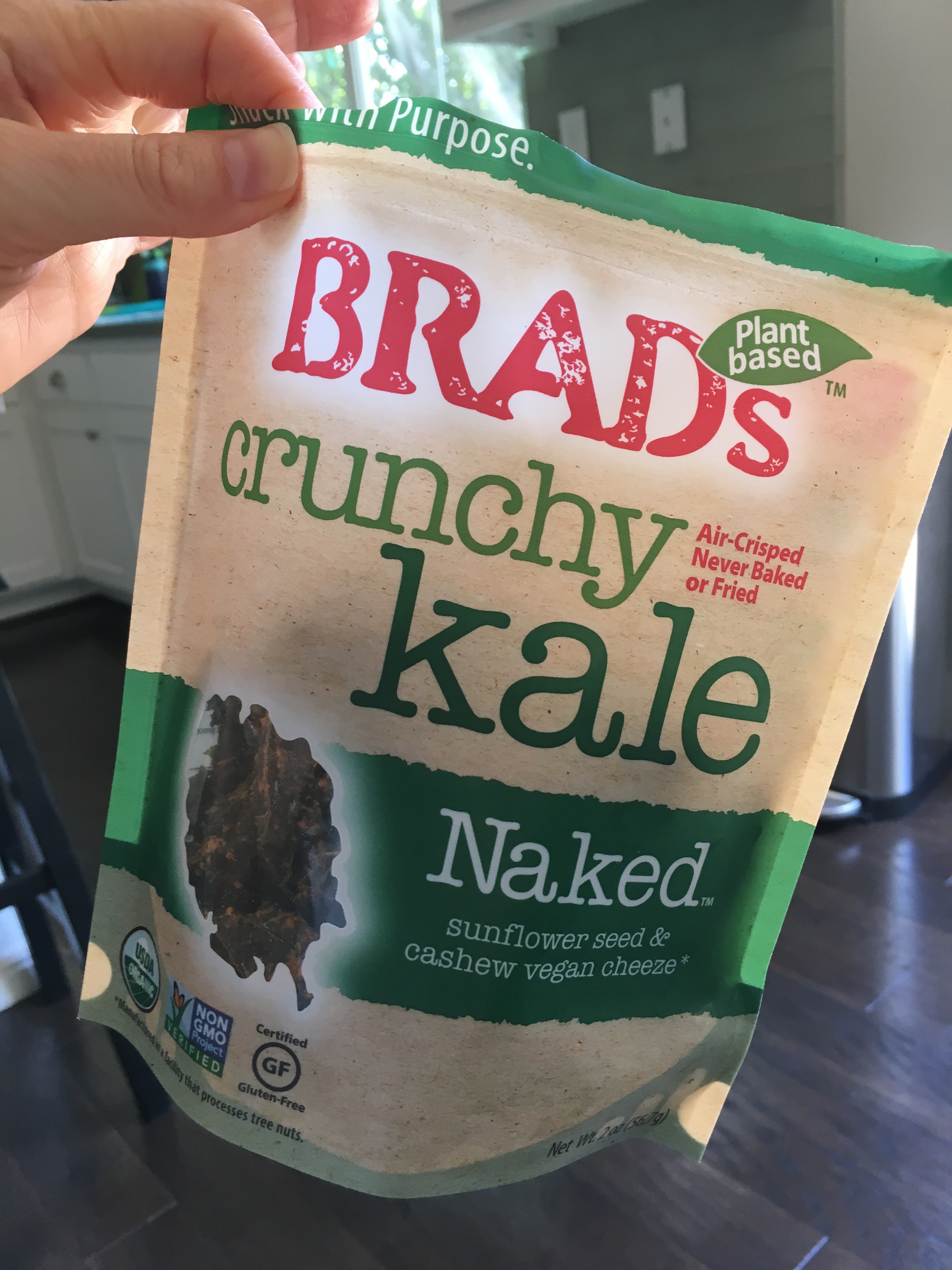 I had this Nugget egg salad (the whole thing), carrots, half an avo, and the whole bag of kale chips. And then was stuffed for the rest of the day. No joke. Total fail on moderation.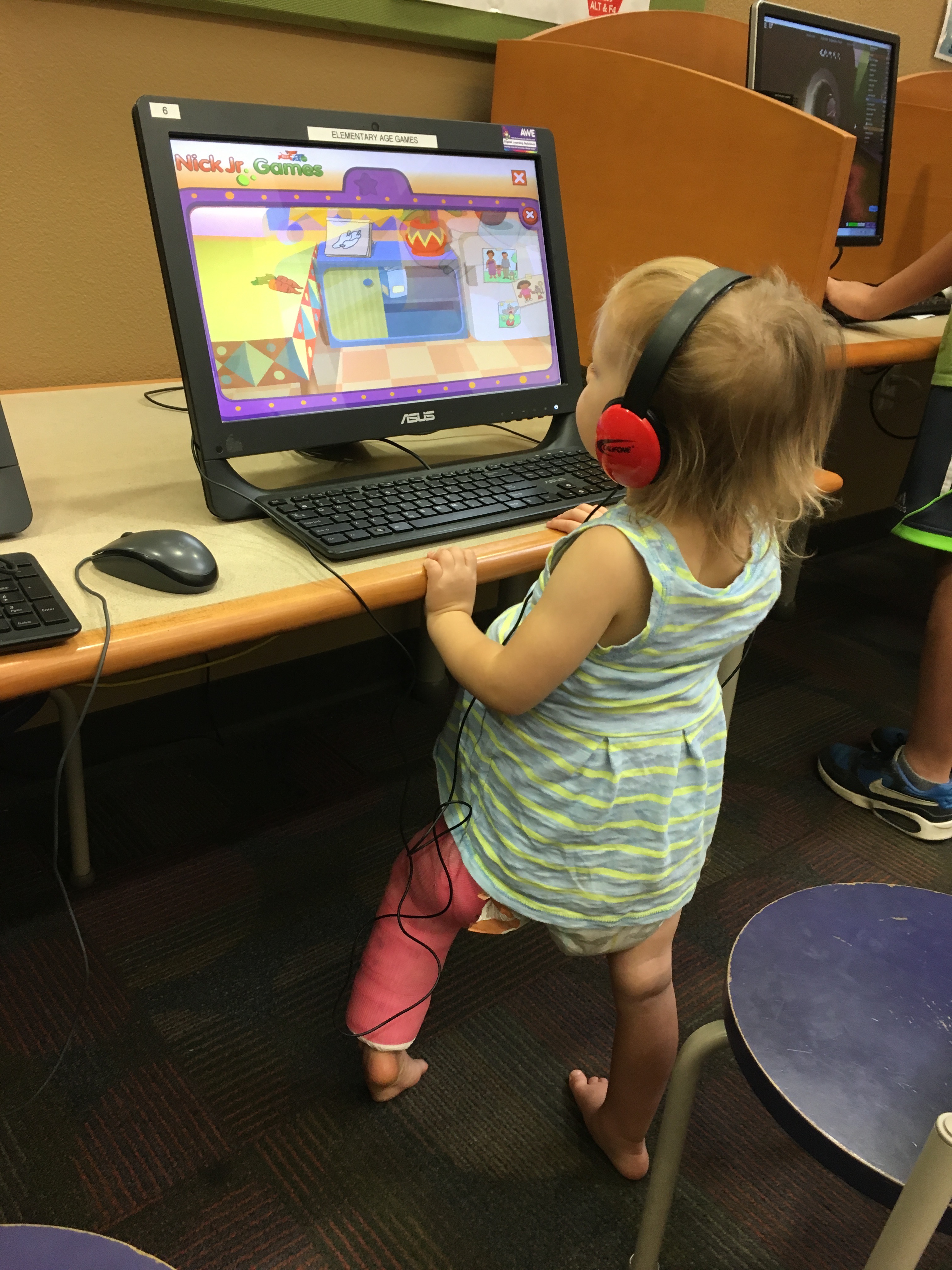 Killing the afternoon at the library.  There's only so much you can do with a casted child when it's 100 degrees outside.  For reals.
More tacos for dinner (Kyle is out of town so we can eat whatever we want, no matter how repetitive) and then kombucha for dessert.  No chocolate!  Yay me!
Hopefully I gave V her last "silly bath" in the kitchen sink that night.  Fingers crossed for our ortho appointment on Tuesday morning.
Oh and also don't forget you can get 6 gobble meals for only $6 until the end of September so you should totally give it a shot!  Really what do you have to lose?